Summary:
How did an idea to cruise with HAL's newest ship evolve into a northern Italy land tour with GCT?
We originally wanted to cruise with HAL's Nieuw Statendam to Greece and Croatia in September, starting and ending in Rome. After sketching out a pre-cruise DIY land tour in Italy to visit Bologna, Modena, Lake Garda, Verona, Padova and Rome, the land tour portion was already 11 days long. How about just doing a land tour without the cruise? Would it be a chore to drag luggage on/off trains every 3 days? Then we saw Grand Circle Travel's (GCT, www.gct.com) offer of a last-minute-special on its 15-day Northern Italy tour visiting some of the places we wanted to see and more, including the Italian Dolomites, part of the Alps mountain chain. Traveling with GCT would take care of all the logistics of transfer, so we signed up.
Our tour group consisted of 28 people. Our program director was Barbara Lafratta, a very capable young lady born and raised in Florence. She was named Barbara because her mother had been a fan of Barbra Streisand. When not leading tours for GCT/OAT, Barbara works as a local guide for Florence and some other areas.
Below is GCT's 15-day tour map, starting from Florence and ending in Padua. We added one night in Rome upfront, and extended two nights at the end to visit Bologna and Venice on our own. We flew from Boston to Rome, and home from Venice. The r/t airfare on Delta was $460/pp purchased 7 weeks before departure, a very good deal.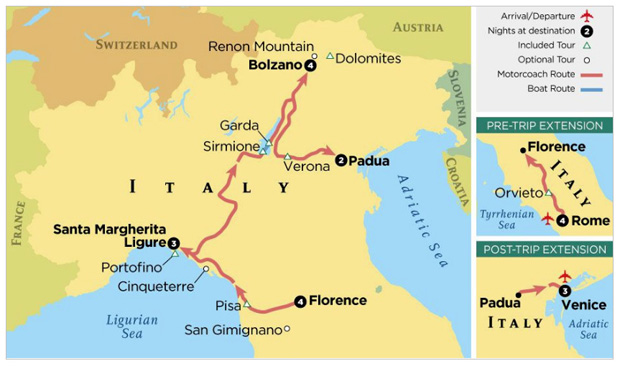 And below is our customized Google map with attractions at each stop highlighted.

Money Matters (Cash, ATM etc):

Almost everything can be paid by a credit card, except for taxi fares, small purchases, and train tickets from Italian train ticket machines.

Withdrawing Euros cash from a bank ATM gives the best exchange rate.

Bank of America's partner bank in Italy is BNL (Banca Nazionale del Lavoro). Withdrawing cash with a BoA ATM card from a BoA partner bank saves a $5 transaction fee from BoA, but it did not prevent BNL from charging us an $8 international transaction fee for using their ATM.

Trip Planning Resources:

1) Rick Steves' Italy Guide book
2) Google Searches and Google Maps
3) Google Translate English <--> Italian, learn a few survival Italian words, such as prossima fermata = next stop, biglietto=ticket, binario = train platform, partenza=departure, arrivo=arrival, etc.

Transportation:

AIR: We searched airfare on Matrix Airfare Search https://matrix.itasoftware.com/, and purchased tickets directly from Delta's website. We chose flights with a connection in Amsterdam both ways.

TRAIN: We used Italian State Railways' website, www.trenitalia.com, to search the schedule and purchase train tickets. One must enter stations' names in Italian-language spelling. If there is more than one station in a city, research beforehand to know which station name you should use.

All long-distance high-speed Trenitalia trains (for example, Rome to Florence) have airline-style pricing, so tickets are cheaper if you know which train you want and purchase tickets in advance. For short-distance regional trains, which were open seating and ticket prices do not change, we purchased these tickets at the station when needed.

At the station, the ticket machines would not accept our Visa card without a pin. Therefore, we had to feed cash into the machine to buy tickets, or take a queue number and wait for our turn to buy tickets from a station clerk.

Internet:

We depended on hotels' and cafe's free WIFI throughout the trip. We did inquire at both TIM and Vodafone stores for their SIM cards, but the smallest size they sold in Italy was 35GB + 500-min voice, and cost 35€. We were looking for something smaller, like "3GB for 10€" that we bought in London in May, but they did not offer that kind of SIM in Italy.

Lodging

We only chose the first night's hotel in Rome, and the last night's hotel in Venice on our own via booking.com. The rest were GCT's selected hotels. All of our hotel rooms were spacious, high-ceiling and with large bathrooms. The differences were in the decor, furniture and lighting, which made some rooms more charming than others.

Laundry:

We did not find any full-service laundry facility which charged by the bag. However, in Florence there was a self-service Laundromat on Via Il Prato (in between Carrefour Express and Trattoria Baldini) which was a 4-min walk from GTC's Florence hotel. In Bolzano there was a self-service Laundromat at VIA ROSMINI 39, about 20-min walk from GCT's Bolzano hotel along the bustling main shopping street. Wash and dry cost about 8 Euro coins.

Food:

We enjoyed many pasta, pizza, seafood, meats and gelato. The best meal we had was at the "Ristorante Da Michele" in Santa Margherita Ligure. The worst meal was in Venice, in a restaurant with a Grand Canal view by the Rialto Bridge called "Rialto Venezia". We knew that these Grand-Canal-view restaurants were tourist traps, but we did not expect them to produce a mixed fried seafood platter without fresh ingredients.

Travel Insurance:

We purchased an Arch "RoamRight Preferred" policy from SquareMouth.com, choosing mainly for the "Emergency Medical and Evacuation" coverage.
---
Itinerary and highlights:
Day 1 - Arrival in Rome (9/23/2019, Monday): Link to our photo
From Rome's Leonardo da Vinci airport (FCO), we took a Leonardo Express train to Roma Termini station, then walked 10-min to Hotel Quirinale. However, if you are more than 2 people, or if your hotel is not within walking distance of the Termini station, then it would be easier to take a taxi from the airport. The taxi fare from FCO to central Rome was fixed at €48 as of this writing.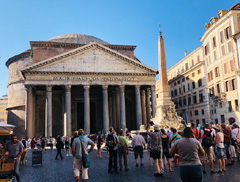 We liked our spacious room in Hotel Quirinale. Although we booked a 247-sq-ft standard double, they gave us a much larger corner room so that we could check-in sooner than 2:30pm.
Dinner was at the relatively new "Mercato Centrale Roma" (Central Market of Rome) just south of the train station. We also checked out the fairly new food court on the 2nd floor of the train station. Both were very bustling, the food on display was pleasing to the eyes. A popular gelato chain called "Venchi" had a retail store on the ground floor of the train station.
The next morning, after breakfast at the hotel, we took a taxi to Campo de Fiori and then walked to the Pantheon in the historic center. The taxi driver told us that Campo de Fiori had been in decline for 3 years by now. Locals did not go there to shop because prices were high. Only tourists went there, but tourists did not buy vegetables home to cook. Based on what we saw, the taxi driver was right. The flower and vegetable market was not as bustling as we last saw it in 2012.
Day 2 - transfer to Florence (9/24/2019, Tuesday): Link to our photo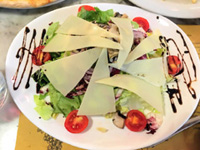 High speed trains from Rome to Florence took 90 minutes. Our discounted "Super Economy" tickets (no exchange or refund) purchased online 3 weeks before departure cost only 26.90€/pp, more than 50% off the same-day walk-up fare. Seats were assigned at the time of purchase.
We arrived at Firenze's Santa Maria Novella station at 3pm, then taxied to our hotel. It turned out that there were two NH hotels in Florence. For our particular one, the taxi driver needed to confirm with us that it was Hotel Anglo American that we wanted. (Omit the NH, because the other hotel was named Hotel NH Firenze.) A GCT rep was at the hotel lobby, so we checked in and got our room keys. At 6pm our program director Barbara led the group for a vicinity walk, where she pointed out a few restaurants to consider for meals on our own, as well as two banks for ATMs and a Carrefour Express to buy large bottles of drinking water.
Dinner on our own was at a restaurant 1-min walk from our hotel. It opened for dinner at 6pm, and we liked to have an early dinner so that we could unpack and get settled.
Day 3 ~ Day 5 - Florence (9/25 ~ 9/27/2019, Wed~Fri)
We last visited Florence in 1997, when we stayed for two days and visited the "David" sculpture in Accademia Gallery as well as some other sights, but there are still a lot more to see in this beautiful city rich in Renaissance art and history.
From Florence, Lucca, Pisa, Siena are all easy day trips on your own by train or bus. Or one could look up a local tour operator called CiaoFlorence.com for guided day tours departing from Florence.
9/25 Wednesday: Link to today's Photo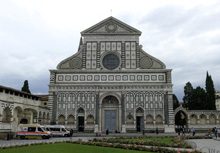 After a 90-min briefing and self-introduction at the hotel's meeting room, Barbara took the group riding a tram for one stop from our hotel to the train station, opposite the 14th century Church of Santa Maria Novella, which gave the train station its name. We toured the Perfume store (Farmacis di Santa Maria Novella), walked to the Self-Service-Leonardo cafeteria for a quick and inexpensive lunch, then our local guide took over, guided us to Piazza Duomo, Piazza Vecchio, Piazza Republic, and went inside the Santa Maria Novella church to appreciate the dawn of the renaissance art. We did not get to visit the Mercado Centrale today, but we had two more days in Florence to come back to cover loose ends on our own.
We walked past several Gelateria today. Barbara told us how to tell if a Gelateria is good by (1), it has to say home-made, and displayed in small amounts in the trays, not piled very high because they were injected with air and could not sell all that pile in a day; and (2), the colors of the fruits cannot be artificial. For example, the pistachio flavor cannot be in bright green, and the banana flavor cannot be in bright yellow.
Welcome dinner was at a local restaurant a short walk from our hotel. We had bruschetta as the appetizer, beef stew and vegetables as the 2nd course, and then chocolate cake as dessert. Dinner was good and the conversation with group members was lively.
9/26 Thursday: Link to today's Photo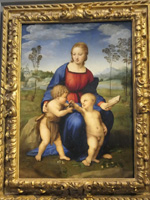 Today was a free day. One might plan an excursion to visit other towns, or book timed admission tickets to visit Uffizi Gallery or Accademia Gallery.
We pre-purchased our timed tickets for Uffizi online before leaving home for admission between 10:00~10:15am on 9/26. The official booking site was http://www.firenzemusei.it/. Cost was 24€/pp (20€ ticket + 4€ skip the line reservation fee.)
In Florence, one could not hail a taxi on the street. One must go to a taxi stand, or call a taxi to pick you up and pay a surcharge (about 3€ ?) on top of the meter fare. The walk from our hotel to Uffizi was 20-min, so we asked our hotel to call a taxi to take us there. Once in the museum, we followed Rick Steves' guidebook to tour the museum on our own. The museum exhibited many paintings by Botticelli, Raphael, some Michelangelo and Da Vinci. Raphael's paintings were in bright and vivid color, very cheerful to look at. It is unfortunate that Raphael died at the young age of 37, otherwise he would have left a lot more masterworks for later generations to appreciate.
After exiting the museum, we strolled the streets of the historical center, had two gelati in succession from two different famous gelateria (Venchi and a smaller establishment called "Perché No!".) We also checked out Florence's Eataly, then went to Mercato Centrale for lunch.
In the evening, we had a Home-hosted dinner. We were divided into groups of 6 and went on different vans to go to different families on the outskirts of Florence. We went to a family's home in Ravanella, about 30-min south of Florence. Leonardo and Giovanna were our host and hostess, they live in a farm with 500 olive trees and 9 acres of grape vines. Over dinner, we tasted olive oil from their farm and drank red/white wines from their farm. The home-made pasta (with pesto and tomato sauce) was delicious. The 2nd course was baked chicken cutlet and young tender green beans. The conversation was filled with laughter, making the evening a highlight of the trip.
(NOTE: the dinner hosts' homes and culinary skills were screened and pre-selected by GCT, and they were compensated by GCT. But the hosts had to enjoy meeting travelers like us in order to do this several times a month.)
Over dinner, our host regaled us with his encounter with Zubin Mehta about 10 years ago. The conductor's car broke down on the road near Leonardo's house. He rang Leonardo's door bell and said he was Zubin Mehta. Leonardo thought it was a joke, so he replied that, "I am Richard Gere." In the end, Leonardo called a mechanic to tow the car for repair, and Zubin Mehta saw that Leonardo had a detached house rented as a B&B, so he decided to spend the night at the B&B. Since then, the conductor has been back to stay at Leonardo's B&B several times.
9/27 Friday: Link to today's photo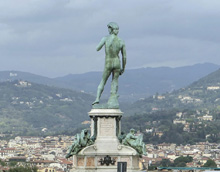 Today was another free day. GCT had an optional tour to San Gimignano, but we visited San Gimignano in 2012. So we decided to take it easy today. We took a tram from our hotel to the train station, changed to bus #12 in front of the train station to Piazzale Michelangelo. This square sits on a hilltop on the south bank of the Arno River, thus affording visitors a magnificent view of the city of Florence.
At the square there was an elegant restaurant called La Loggia where we had a lovely lunch- Ribollita Tuscan soup, pasta with clam, and fried calamari and shrimp.
On the way down, we intended to get off the bus near the Church of Santa Croce so that we could visit this area to the east of the city center. But, instead of continuing on taking bus #12 from where we got off, we took bus #13 from across the street, but bus #13 did not go near Santa Croce at all. By the time we realized the mistake, we decided to just go back to our hotel and call it a day. We had to pack tonight for moving town tomorrow.
NOTE: In Florence, a bus ticket cost €1.50 and was good for 90-minute (€2.50 if bought from a driver.) Your 90 minutes start counting after you validate your ticket by inserting it into a machine on your first bus (or tram) which prints a timestamp on your ticket. Within 90 minutes from that timestamp, you are free to use a combination of trams and buses. When going up to Piazzale Michelangelo, purchase extra bus tickets for your return trip because there were no ticket machines up there.
Day 6 - Transfer to Santa Margherita Ligure via Pisa (9/28/2017, Saturday): Link to our photo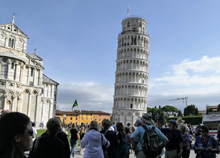 The group left Florence at 8:45am for Santa Margherita Liqure (for the rest of the trip report, it will be abbreviated as SML), and made a stop in Pisa for about 3 and half hours for sight-seeing and a included lunch.
Pisa was a powerful sea-trading city-state rivaling Venice and Genoa for three centuries from 1000-1300 AD. The Pisan Republic used its sea-trading wealth to build these grand monuments. During the time when the Crusaders were hiring Pisan boats to carry them and their supplies to the Holy Land, those boats brought back soil from the Holy Land and laid it on the field by the Duomo, now part of the field known as Campo del Miracoli (Field of Miracles).
Both of us visited Pisa in 2012 while based in Lucca for 3 days. Pisa's Miracles Field was as crowded as 7 years ago.
Barbara obtained "immediate" admissions from TI for those who wanted to go inside the Duomo, otherwise TI now parsed out a fixed number of admissions for every x-minutes interval for crowd-control, and individually, one would get a ticket for admittance about an hour later.
Lunch was in a restaurant named "Osteria I Santi" about an 8-min walk from Miracles Field, and the food was very good.
Continuing on the bus toward SML, Barbara told us that the Liguria area used to be ruled by the city-state of Genoa in its heydays, so people here speak Italian with the Genoese dialect while she speaks Italian with the Florentine dialect, which was chosen as the Italian national language after Italy's unification in 1861. In short, shopkeepers can tell she is not from here when she speaks.
After reaching the Best Western Hotel Regina Elena in SML, while the group was waiting for room keys, Barbara explained that since some rooms came with ocean views and some did not, the rooms were assigned based on seniority with GCT/OAT (i.e. How many times has one traveled with GCT/OAT combined?) The two of us were lucky enough to be assigned a room with an ocean view balcony.
Day 7 ~ Day 8 - Santa Margherita Ligure (9/29 ~ 9/30/2019, Sun~Mon)
There are more than one city named Santa Margherita. Therefore, to refer to this particular city by the Liguria sea, one has to say "Santa Margherita Ligure".
9/29 Sunday: Link to today's photo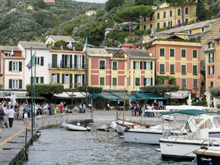 Today, our group visited Portofino in the morning, then had free time in the afternoon.
Portofino is a small, wealthy resort on the Italian Riviera. In the early 1900's, the British liked to come to the sunny Portofino to escape the gray environment at home. In the 1960's, the Hollywood luminaries and VIPs flocked here to enjoy famous parties.
From SML to Portofino, one may walk (3 miles, 75-min), or take the ferry (15-min), or take Bus#82 (15-min). Barbara checked in the morning to make sure the ferry to Portofino was running (because it could be cancelled when the wind was strong), then our group walked 20 minutes to the ferry dock in the city center to board a ferry.
Portofino could be seen in two hours, and since the fancy harbor-front restaurants had a reputation for not offering food quality to match their high prices, our group's itinerary was to leave Portofino on a noon ferry back to SML, then Barbara would walk us to some of her recommended restaurants area for members to choose their own lunch.
The two of us went to "Ristorante Pizzeria Palma" which was just across the wide Piazza Liberta from the ferry dock. After lunch, we visited the Duomo, browsed shops, took two gelato breaks then walked back to our hotel.
9/30 Monday: Link to today's photo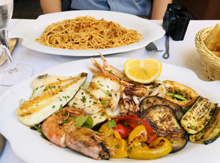 Today was a free day. GCT had an optional to visit a shrine on a mountain top and then lunch at an agriturismo. Two people from GCT group took trains to Cinque Terre on their own.
The two of us went to Cinque Terre in 2015, but we still wanted to use today to see a seaside town not too far from SML. An Italian member of a travel discussion board suggested Camogli, a small fishing village on the western side of the peninsula of Portofino. When our PD Barbara also did not hesitate to recommend Camogli, off we went to Camogli.
We bought round-trip bus tickets from our hotel and took bus #82 for 2 stops to SML train station, then took a 5-min ride on a regional train to Camogli. Camogli was a quiet fishing village with tall colorful houses facing the sea. Instead of a steep slope leading down to the beach, the town built several sets of stairs to help residents and visitors move between the town and the beach to save their breath.
After surveying some of the beachfront restaurants in Camogli, we decided to go back to SML for lunch for more choices, and it was a good decision. We retraced our steps by taking the train back to SML and then bus #82 for one stop to the city center. From there, we walked to "Ristorante Da Michele" where we had a "Grilled Mixed Seafood", which was our favorite dish of the entire trip. "Ristorante Da Michele" was one of our PD's recommended restaurants in SML.
Day 9 - Transfer to Bolzano via Lake Garda (10/1/2019, Tuesday): link to our photo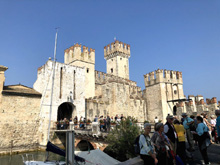 Today was a busy day. A bus and driver from a Bolzano-based company called "DOMANEGG" came to pick us up to drive us to Bolzano. On the way, we visited Sirmione at the southern shore of Lake Garda, then cruised 40 minutes on a speed boat to the town of Garda, which gave the lake its name.
Lake Garda is the largest lake in Italy and a popular holiday location. The town of Sirmione has a 13th-century castle, and can be easily reached from Verona and Brescia by public transportation. Hence it was crowded with day-trippers like us when we visited.
Cruising the lake on a speed boat was fun. Our boat captain pointed out a yellow house on the hills of Sirmione as "Villa Maria Calas", where the opera singer used to spent summers when she was married to her first husband, Meneghini.
We reached our hotel, Hotel Luna in Bolzano, in the late afternoon. Dinner was at the hotel's restaurant, and we were hungry because most of us did not have a proper lunch.
Day 10 ~ Day12 - Bolzano (10/2~10/4/2019, Wed-Fri)
Bolzano (Bozen in German) is the capital city of the province of South Tyrol in northern Italy.
The historical Alpine region of Tyrol had been an independent entity for about five hundred years. When the Meinhardiner dynasty died out in 1369, Tyrol was ceded to the House of Habsburg, thus became part of the Austria-Hungary empire. After the end of World War I, Tyrol was divided into 3 parts, with the defeated Austria-Hungary giving up South Tyrol to Italy in the 1919 Treaty of Saint Germain. Today, every town in South Tyrol has dual-language names, one in Italian and one in German. More than half of the population speaks German, and the South Tyrolean cuisine is more Austrian than Italian.
To add to the confusion, the Italians refer to this South Tyrol region as ALTO ADIGE, a French name coined in the late 18th century by Napoleon, when he occupied the territory of northern Italy near the Alps. (Adige is the name of the 2nd-longest river in Italy.)
The Dolomites is the name of the Alpine mountains in northern Italy. According to Wikipedia, the Dolomites, also known as the "Pale Mountains", take their name from the carbonate rock dolomite, which is a sedimentary carbonate rock that contains a high percentage of the mineral dolomite (白雲石).
10/2 Wednesday: Link to today's photo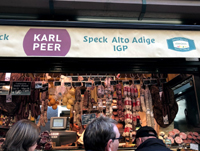 At 8:45am we had a discussion on the History of South Tyrol with a local guide named Leonhard. He covered several topics, including how the South Tyrol became part of Italy, how Mussolini populated South Tyrol with Italians, and the past tensions between the Italian-speaking and German-speaking residents. A most interesting discussion.
At 10am, we had a walking tour with a sweet local guide. Even though it was raining, the walking tour took place as scheduled. After the walking tour, GCT treated us all to a beer house for beer, sausages and pretzels.
In the free afternoon, we went with several tour members to the "South Tyrol Museum of Archaeology" to see Ötzi the Iceman. But the line waiting to go in was too long, so we browsed the busy shops and enjoyed a coffee/pastry break instead.
Piazza Erbe was very bustling. We saw many stalls and shops selling a local cured pork called Speck (a dry-cured and lightly smoked ham (not prosciutto) produced in South Tyrol.) We decided that we should taste it before leaving Bolzano.
Our Bolzano hotel was very well located. It was at the eastern end of the old town, with shops and restaurants right outside our hotel.
10/3 Thursday: Link to today's photo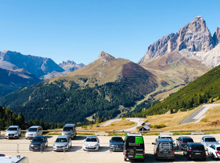 Today's excursion to the Dolomites to witness the amazing Alpine scenery was a highlight of the trip.

The good bus company in Bolzano, the Domanegg company, drove us today. We left the hotel at 8:40am and came back to the hotel about 8 hours later, making a counter-clockwise loop to the mountains. Along the way, we had a nice lunch at a restaurant at Pordoi pass. Then we drove to the beautiful Alpine resort town of Ortisei, where we stopped for an hour to explore, before continuing back to Bolzano.

To reach our lunch restaurant at Hotel Col Di Lana, our bus driver had to drive through 27 hair-pin turns. The beautiful hotel/restaurant is situated at 2239 meters (7344 ft) above sea level and offers spectacular views. Our lunch included a Salad buffet, Chicken Cutlet with Roasted Potato, and Mint Parfait with Chocolate Sauce. All were delicious, especially the salad buffet.

(INFO: Val Gardenia's bus schedule https://www.valgardena.it/en/bus-schedule/)

10/4 Friday: Link to today's photo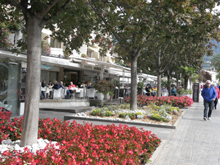 The choices to spend this free day were many. One might take trains to Brixen, Italy, or to Innsbruck, Austria, or take a half-day optional tour with GCT on a cable car to Renon Mountain.
We chose to take a train to visit an Alpine Spa town called Merano on our own. Merano is the second largest city in South Tyrol (after Bolzano). It is 22 miles north-west of Bolzano. Train time was 40-min one-way, train schedule: http://www.trenitalia.com.
Merano (German: Meran) is located within a basin surrounded by mountains. Merano was once the capital of Tyrol (13th-14th century). After Tyrol was handed over to the Habsburg, Meran gradually became less and less important until the 19th century, when Empress Sisi of Austria (1837-1898) liked its mild climate and came here for Spa. The Austrian aristocracy followed.
With the economic and financial development of the city as a spa for Empress Sisi and the royalty, the city flourished with luxurious lodgings and higher cultural institutions.
Today, Merano is a quaint Spa resort attracting vacationers, mainly Germans, throughout the year. The town is known for its high standards of comfort, service and good food.
We had a relaxed and un-hurried visit to Merano. We enjoyed the outing today.
Day 13 - Transfer to Padova via Verona (10/5/2019, Saturday): Link to our photo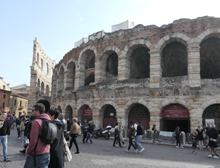 The same good bus company based in Bolzano, Domanegg, drove us to Padova today, with a stop in Verona for 3 and a half hours to sight-see.
A Verona local guide, Christina Zuegg, met our bus on a roadside prior to entering the old city of Verona. She gave us an overview of the city sights while our bus driver continued driving. Then we alighted the bus and walked to the old city center where the Roman Arena was.
Christina was an outstanding guide. She spoke excellent English, and gave us a lot of information without needing to pause or construct sentences in her head. In two hours we saw the Roman Arena, Piazza Erbe (Herbs Market), Piazza dei Signori (Square of the Lords), House of Juliet (totally fake, it has nothing to do with Shakespeare's play), the Scaliger Tombs and a few other sites.
In front of the Scaliger Tombs monuments, Christina told us anecdotes about the Della Scala family. The Della Scala family (literally, the Stairs family) ruled Verona from the 13th to the late 14th century for a total of 125 years. One of their daughters was married to a lord of Milan, who commissioned a church in 1381 and named the church "Santa Maria alla Scala" in honor of his wife. In 1776, while Milan was ruled by Austria, Empress Maria Theresa approved a plan for a new theater to be built on the site of the former church of Santa Maria alla Scala. That's why that theater in Milan was named Teatro alla Scala, in keeping with Della Scala's family name.
Barbara arranged for our group to have a quick and delicious pizza lunch at a restaurant facing the Piazza Erbe. Then it was free time. We used the time to enjoy gelato.
Our bus arrived at NH Padova hotel shortly before 5pm. Dinner was on our own. We Googled and went to a Japanese restaurant named "Zushi Padova" about 200 meters from our hotel. On a Saturday evening, the restaurant was very busy. Without a reservation, the kind hostess said that she could seat us only if we could vacate the table by 9pm, because that particular table had been reserved for 9pm. Sure, no problem. We ordered sushi, chirashi and two hot tea. The sushi rice and hot tea just hit the right spot. We finished our meal in 50 minutes, and even had time to chat with the young Italian family at the next table (both husband and wife had lived in Japan for a year.)
Once in Padova, Barbara had to take one of our group members to a hospital for stitches on her nose bridge because she fell on the uneven stone streets in Verona this afternoon. They spent 6 hours in total at the hospital waiting and then receiving treatment. It was not easy to be a program director.
Day 14 - Padova (10/6/2019, Sunday): Link to our photo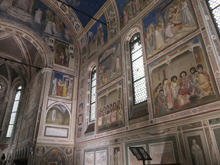 The Italian city Padova [PAH-doh-vah] is spelled as Padua in English, therefore both spellings work.
Padova is about 45-min drive from Venice. Padova has a prestigious university. The University of Padua is the 2nd-oldest university in Italy (founded in 1222.)
GCT provided a bus to transport us from the hotel to the historical city center in the morning, then a local guide took us for a walking tour of the historical old city for about 2 hours. The temp was in the low 50F, very chilly. Many of us were unprepared and without jackets, fooled by the views of sunshine from our hotel's 14th floor breakfast room window.
The highlights of our visit to Padova include:
1) The Scrovegni Chapel [skroh-VEHN-yee] - with 38 beautifully preserved and realistic fresco panels painted by Giotto and his assistants from 1303 to 1305 telling the lives of Jesus, his mother Mary, and Mary's parents. Yes, this is the same Florentine architect who built the bell tower in Florence. To protect the frescoes from excess humidity, only 25 people are allowed in the chapel at a time, so everyone must prepay online to book a timed admission ticket, €13/pp. Based on our PD's suggestion via email, we booked tickets for admission at 2pm. We had to pick up the actual tickets first, then waited in the air-conditioned waiting-room for 15 minutes (and watched a video), the time needed to stabilize the interior microclimate. Then we entered the Chapel for another 15 minutes. Visits last a total of 30 minutes. Rick Steves' guidebook has detailed explanations of the panels, so we were able to understand the stories the panels were telling. Here is a link to Rick Steves' short video about Giotto and fresco painting.
2) Palazzo della Ragione - Palace of Reason, once held the medieval law courts. Click on the Wikipedia link and then click on each picture to see the 3 very detailed, high-resolution pictures of the building's exterior and interior.
This evening's farewell dinner was held at our hotel's restaurant. Most of the west-coast tour members were leaving on early flights tomorrow morning. Barbara read out a list of who would leave the hotel (for the airport) at what time etc. Three members were transferred to Venice hotels to tour Venice on their own. The two of us were extending one night in Padova in order to day-trip to Bologna tomorrow on our own, and then we would move to a hotel in Venice for one night before flying home.
Day 15 - Day trip to Bologna (10/7/2019, Monday): Link to our photo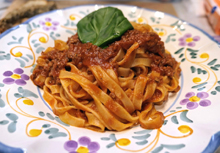 Bologna is Italy's gastronomic (美食) capital. It gave the world the famous Bologna-styled ragù sauce (called <something> alla Bolognese on any Italian restaurant's menu.) In Italy, ragù alla bolognese is a meat-based slow-cooked sauce, and is often referred to simply as ragù. In Bologna, the pasta to pair with ragù is a flat wide noodle called tagliatelle.
Bologna is also known for its cured meats, such as salami, prosciutto, ham, and variations of sausage. One Bologna sausage is what we call Boloney in the US.
Handmade egg pasta and stuffed pasta, especially tortellini and tortelloni served in broth, are specialties of Bologna.
Bologna has the oldest university in Europe. Founded in 1088, the University of Bologna is one of the leading academic institutions in Italy and Europe.
Since Padova is not far from Bologna, we extended one additional night at the NH Padova hotel to visit Bologna. Between Padova and Bologna, high speed trains took 1 hour and regional trains required 90 minutes.
From Bologna's train station we took a taxi to the old town's main square, Piazza Maggiore (Maggiore=Major, Main), where the TI was located. After getting a copy of the printed city map and using TI's free WIFI to download Bologna's city map to our iPhones, we were ready to explore, starting from the city's oldest market called Quadrilatero (四邊形, Quadrilateral).
In the late afternoon, we retraced our steps, took a taxi back to Bologna's train station and trained back to Padova.
Day 16 - Transfer to Mestre and Visit Venice (10/8/2019, Tuesday): Link to our photo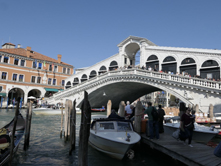 Even though trains from Padova to Venezia-Mestre were frequent and inexpensive, on this last day of the trip we did not feel like schlepping suitcases on/off the train. So we took a taxi from Padova hotel to our next hotel in Venezia-Mestre. The distance was about 26 miles and the taxi fare was 67€, not too bad and it saved us time and effort.
We chose a hotel on the Venetian mainland, not on the islands, mainly because staying on the islands often involves schlepping luggage over steps of stone bridges to get to your hotel. For just one night, it was not worth the effort.
Our hotel room at the "Best Western Plus Hotel Bologna" was not ready, but the friendly receptionist offered to hold our luggage and gave us tour info. We bought a 24-hour Venetian transportation pass from the hotel for 20€/pp. This transportation pass was good for city buses, trams and vaporetti. We took bus #2 from in front of the Mestre station to Piazzale Roma, then changed to vaporetto to tour the Venetian islands. On return, we retraced our steps, took vaporetto to Piazzale Roma, changed to city bus #2 and got off in front of the Mestre station.
We were last in Venice in December 1997. Venice was more crowded this time than 22 years ago. However, seeing the beautiful palaces along the Grand Canal and approaching St. Mark's square from the water (with the canal suddenly opening wide, and the beautiful white Salute church on the right-hand side) still ranks as one of the highlights of anyone's travel experiences.
Day 17 - Going Home (10/9/2019, Wednesday)
Our KLM (Royal Dutch Airline) flight home was scheduled to take off from Marco Polo Airport at 11:35am, which gave us enough time to enjoy a leisure breakfast at the hotel.
Between Mestre and Marco Polo airport, one may take a direct ATVO Fly Bus. The bus was every 20 minutes, and the ride was about 20 minutes and cost €8.00. In Mestre, the bus leaves at the small square next to the rail station (about 50 meters to the left of the station entrance.) You may purchase bus tickets from your hotel.
Armed with all that bus info, when we saw taxis waiting at the taxi stand in front of the Mestre train station, we decided to take a taxi instead. The taxi fare to the airport was fixed at €35.
Our flight home had a layover in Amsterdam. Both of the flights were full, and both of the KLM aircrafts (Airbus A330-300) were quite ancient. We'd think twice before choosing a KLM flight again.
MC developed a cold lasting for about 2 weeks after coming home, possibly due to the cold day's outing in Padova without a jacket.
~~ EPILOGUE ~~
This trip took us to several regions of Italy with different landscapes, climates and cuisines. We had a good time and also learned a lot. The highlights were many, because every day we encountered delightful discoveries due to something we ate, something we saw, or something we learned. If we have to name a few, then (1), The day in Florence when we visited Uffizi Gallery to come face-to-face with many masterpiece paintings and then went to a home-hosted dinner in the evening, and (2), The day in Bolzano when a bus took us on an excursion to see the amazing scenery of the Italian Alps.
A month after the trip, our program director Barbara emailed everyone several group photos she took, as well as this The Train of Life essay to thank us all for being on her train's journey. It was very touching to read it.