10/1/2019, Transfer to Bolzano via Lake Garda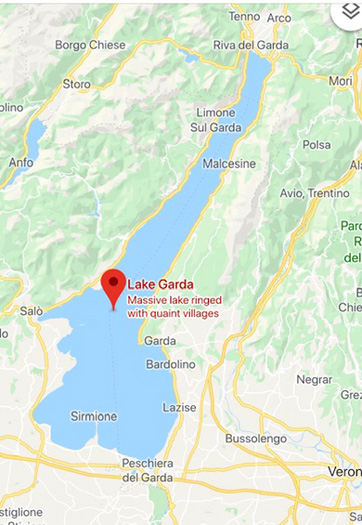 On the transfer from SML to Bolzano,
we stopped for a few hours to visit Lake Garda.
We spent 2 hours in the town of Sirmione (at the 6 o'clock location in the lower lake),
then cruised on the lake to the Garda town (at about the 2 o'clock location)
where our bus picked us up and continued on to Bolzano.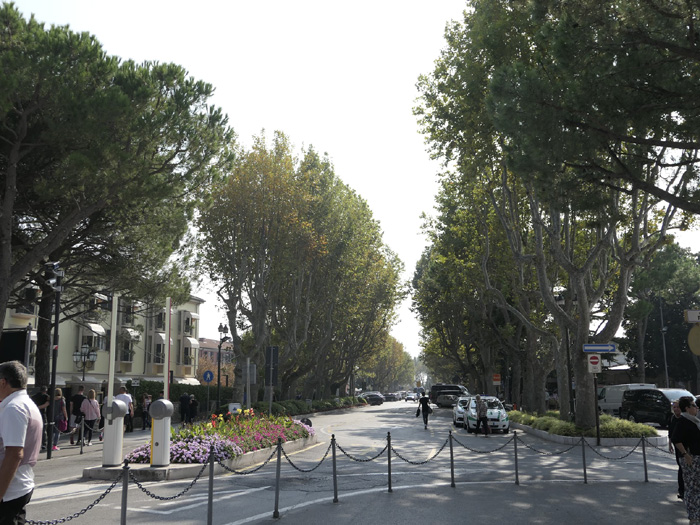 The town of Sirmione, a very upscale resort town.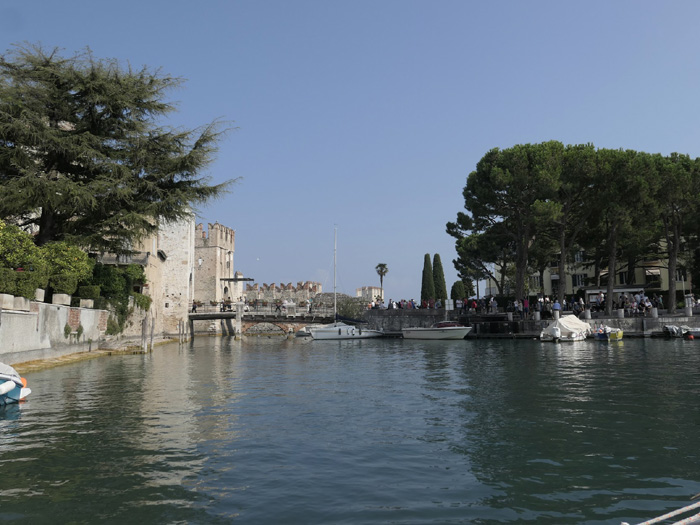 The castle at the entrance to Sirmione's historical old town.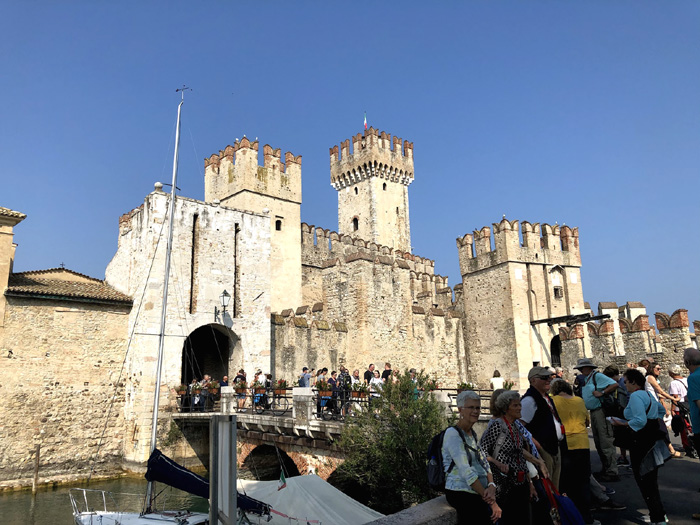 This 13th century Scaliger Castle with its drawbridge form the only entrance to the historical old town.
Scaligers were members of the "Della Scala" family, who was the ruling family of Verona and mainland Veneto
from 13th to 14th century for a total of 125 years.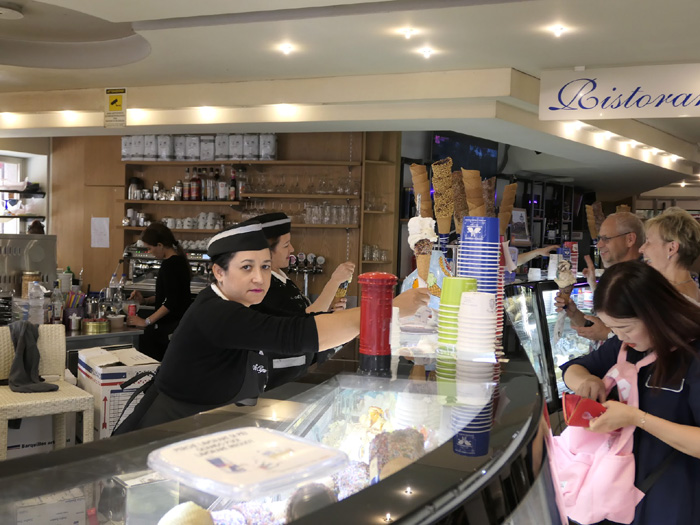 We actually had only about 90 minutes in the old town,
so there was no time for a sit-down lunch.
We bought gelato, ....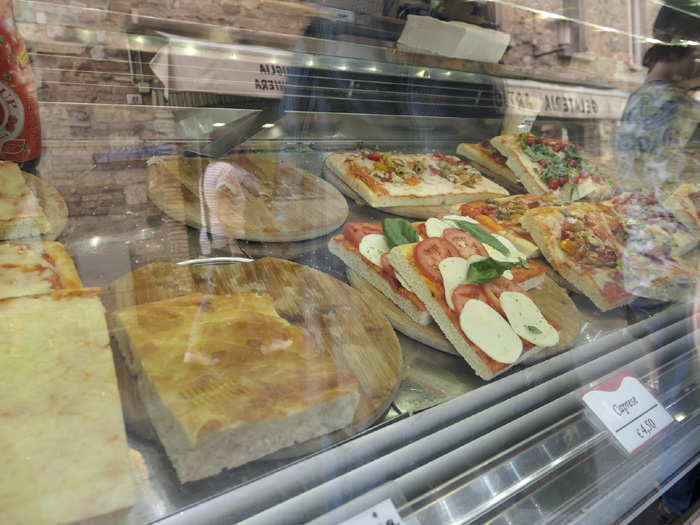 ... and some local specialty focaccia bread (the thick one in the middle-left),
which, the bakery would heat it up in the oven and cut into 9 small squares for you.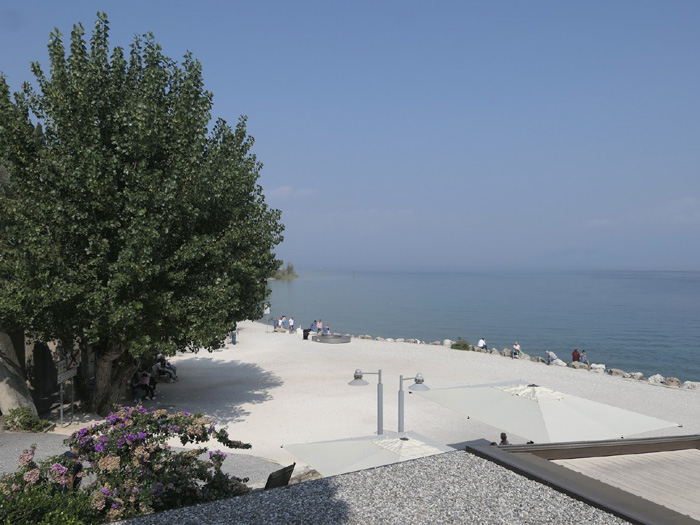 A sandy beach in the old town near the castle ground.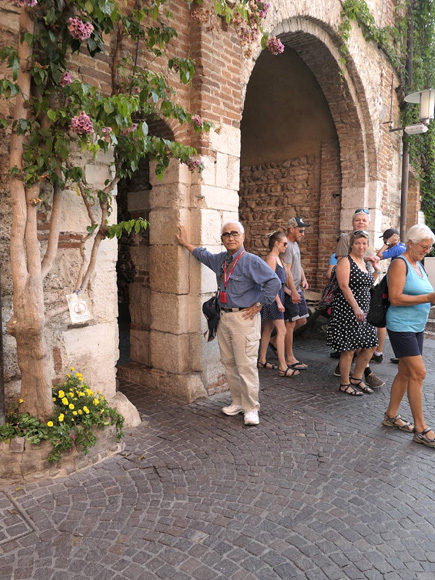 An ancient arch in the old town.
We were busy munching & walking that we forgot to take photos of the streets in the old town.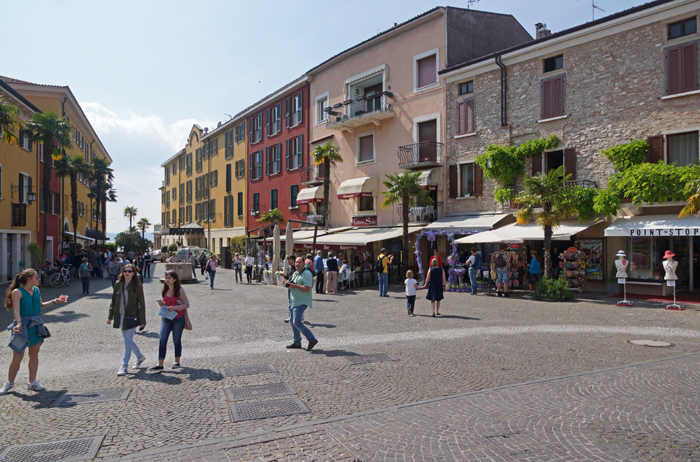 But here is a photo of the main street (found and attributed to Wikipedia page.)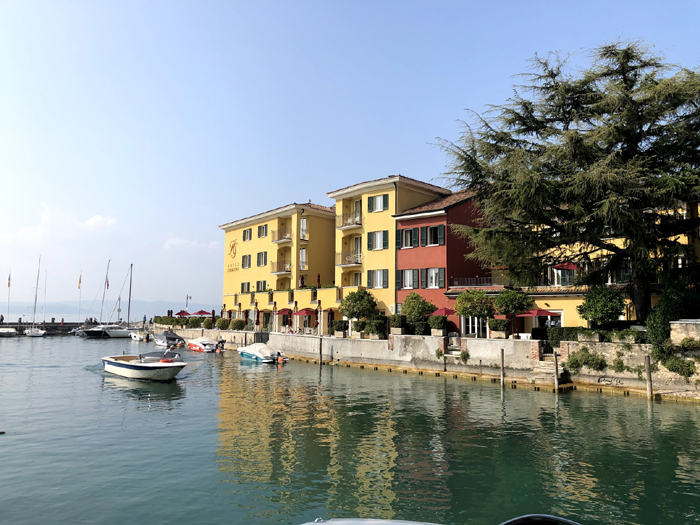 While waiting to regroup to board our lake boat, this is the view of Hotel Sirmione.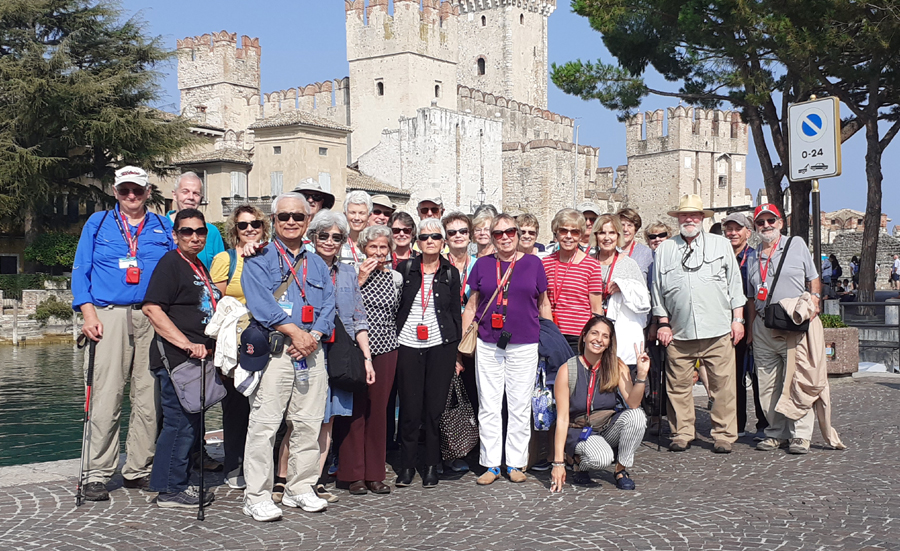 A group photo before boarding the boat.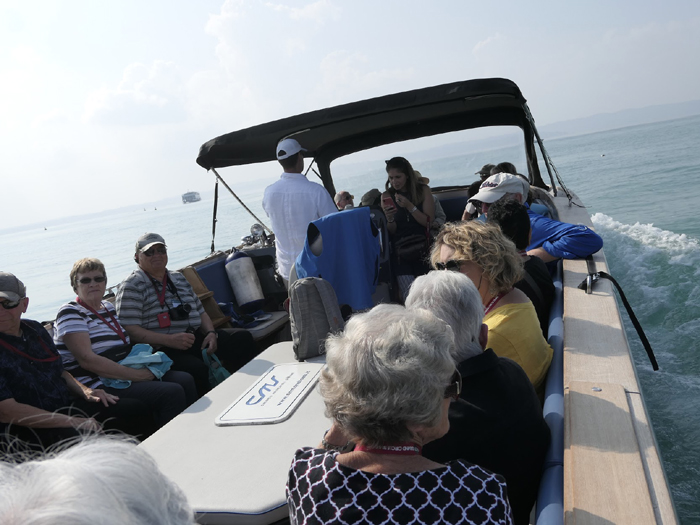 GCT chartered a speed boat for a 40 minutes cruise from Sirmione to Garda town.
The young lady standing is Barbara, our Program Director.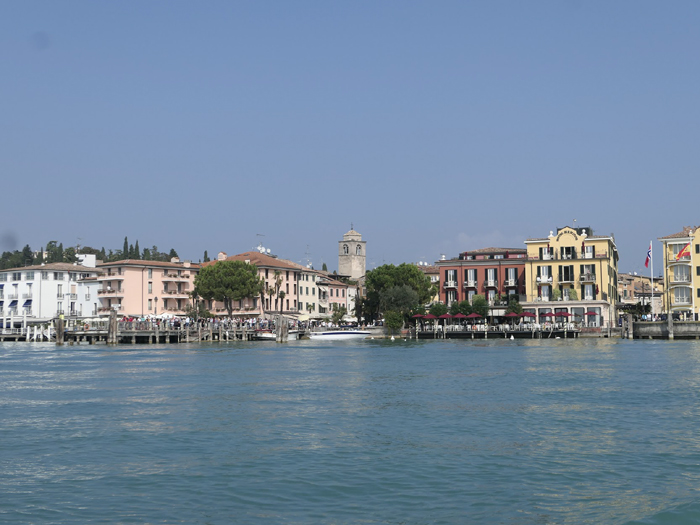 Sirmione's lake-front.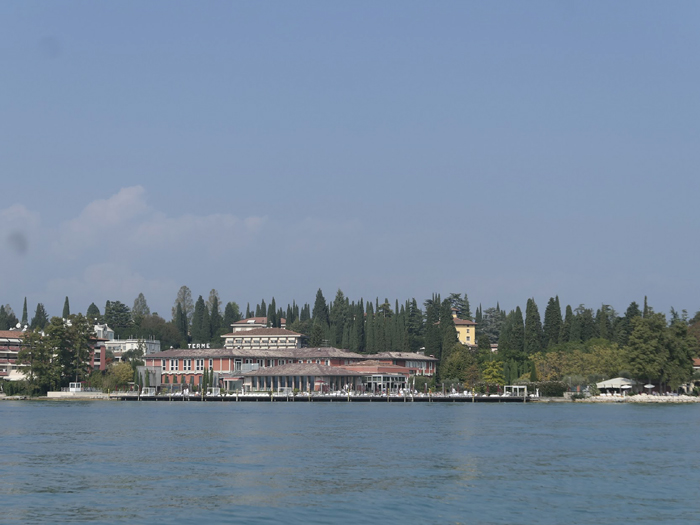 The 3-story yellow house half-way up the hill on the right of the picture was known as "Villa Maria Callas."
The property belonged to the opera singer and her first husband, a wealthy and older Italian industrialist named Giovanni Meneghini.
The singer furnished the house and summered here during their marriage.
After falling in love with Aristotele Onassis, Maria Callas and Meneghini were divorced in 1959.
Today, the Town of Sirmione maintained this property and uses it to host galleries and some big events.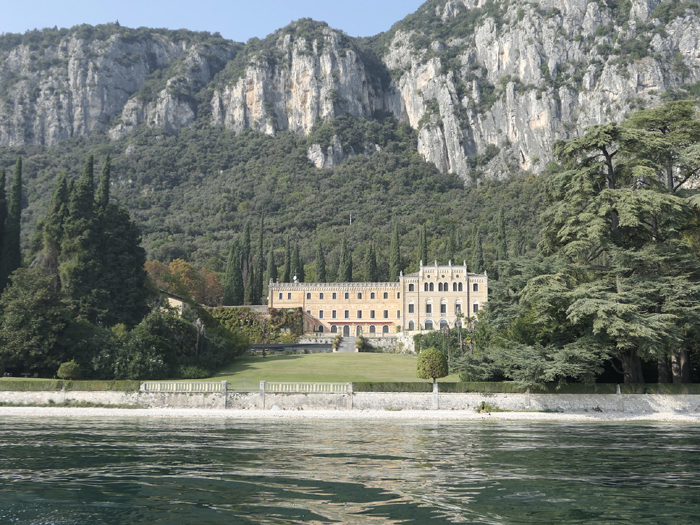 Shortly before reaching the Garda town, our boat sailed past by this stately mansion.
The property belongs to a count.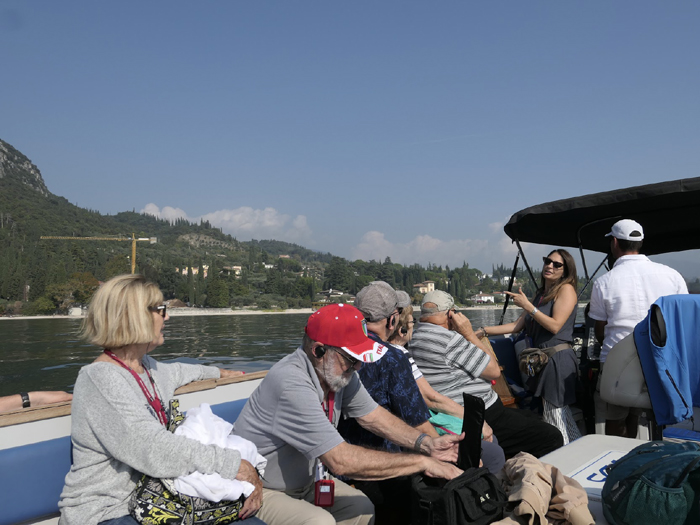 We were almost at the town of Garda.
Another photo with Barbara, our program director.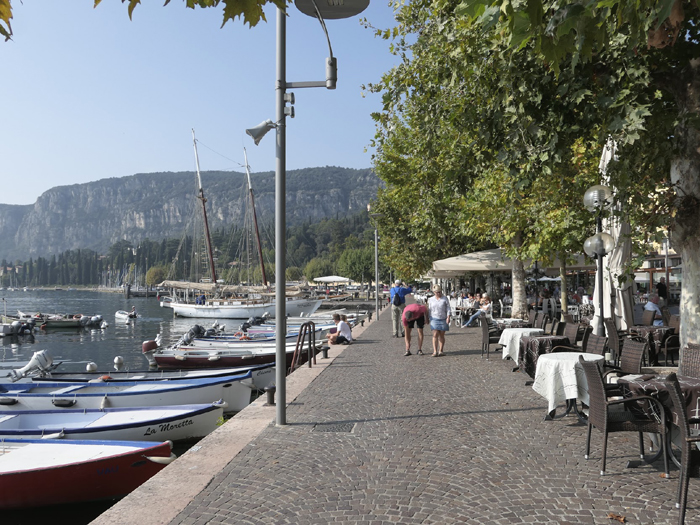 The town of Garda was much quieter than Sirmione.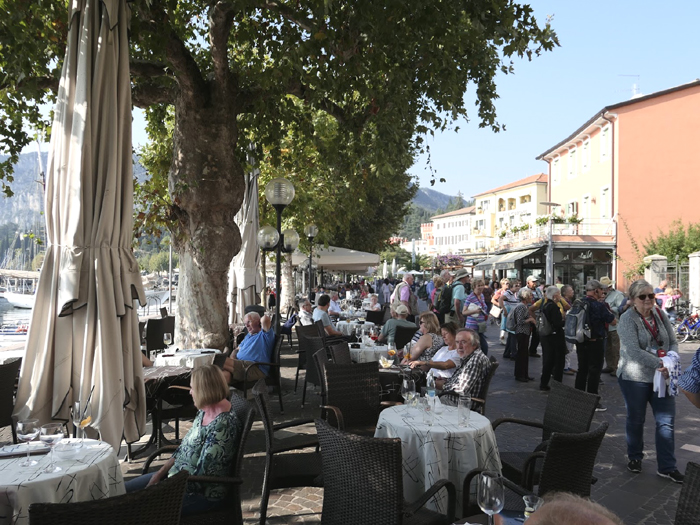 Many people enjoyed a relaxing afternoon in Garda.