9/26/2019, Florence

With print-at-home confirmation of our reservation,
we had to go to Door #3 first to get our actual tickets.
Then we went to Door #1 to enter the museum.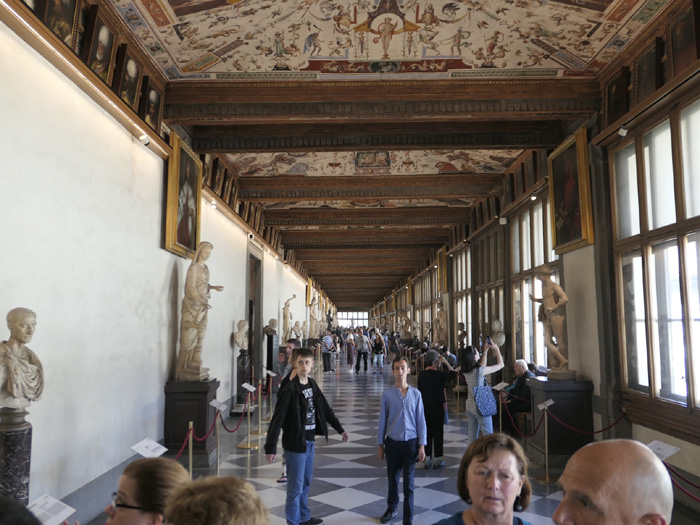 We took an elevator to the top floor and started from there.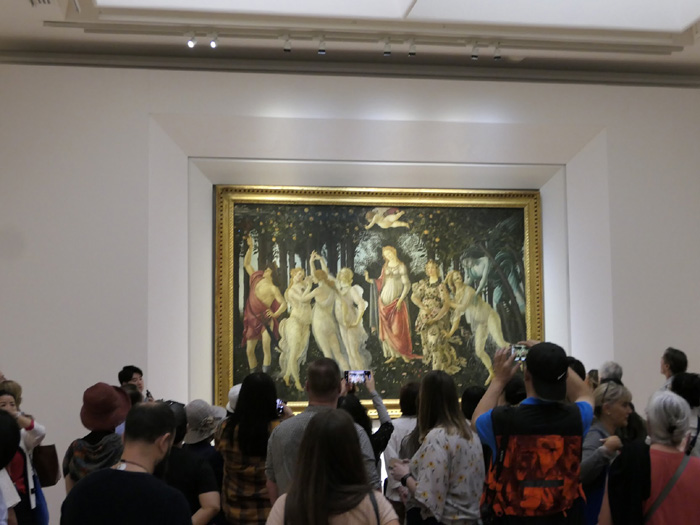 Botticelli's "Spring".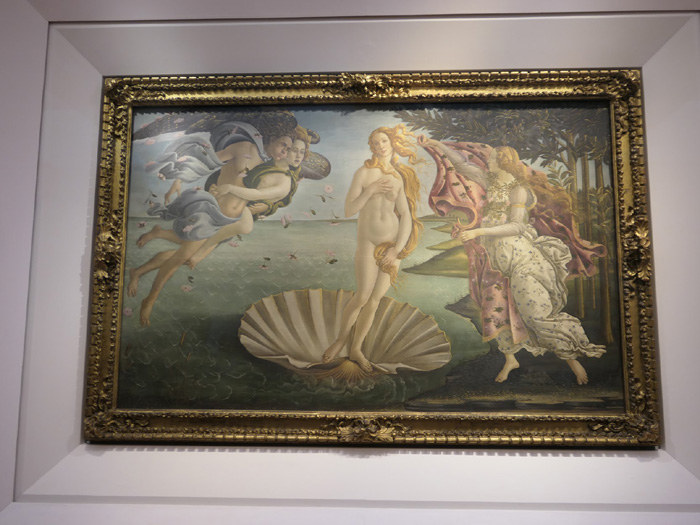 Botticelli's "Birth of Venus".
The goddess was born of the sea form near a rock in Cyprus.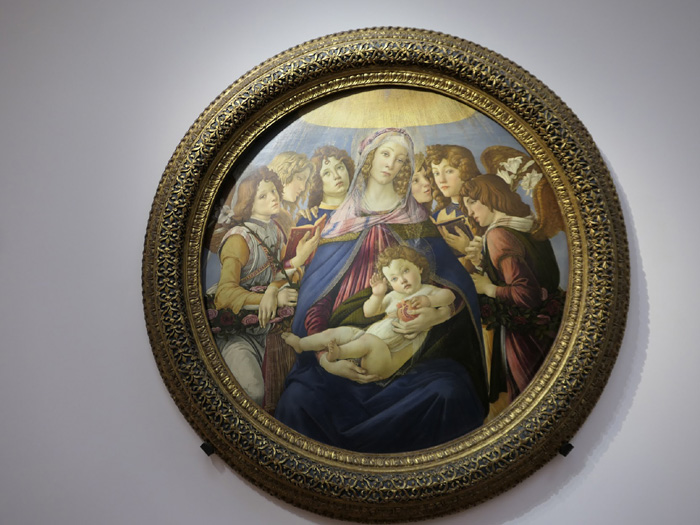 Botticelli's "Madonna of the Pomegranate".
depicting the Christ Child clutches a pomegranate and seated on his mother's lap.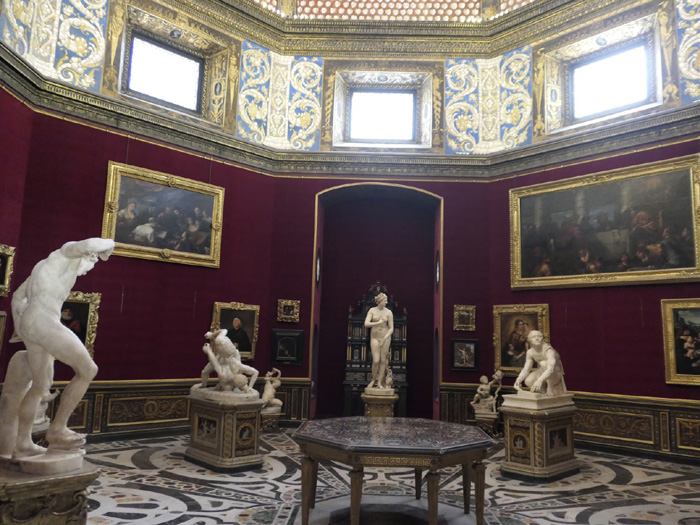 The octagonal classical sculpture room (under renovation, so we could only peek from a door opening).
The center piece was the sculpture named Venus de Medici at the focal point.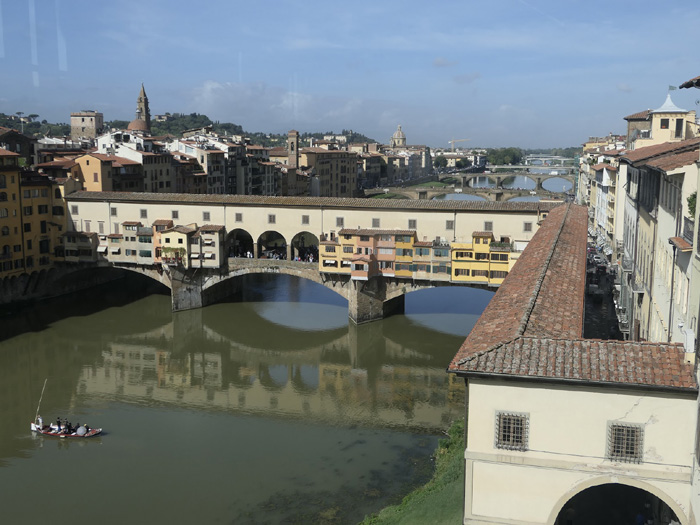 From the museum's window we had a very good view of the Ponte Vecchio.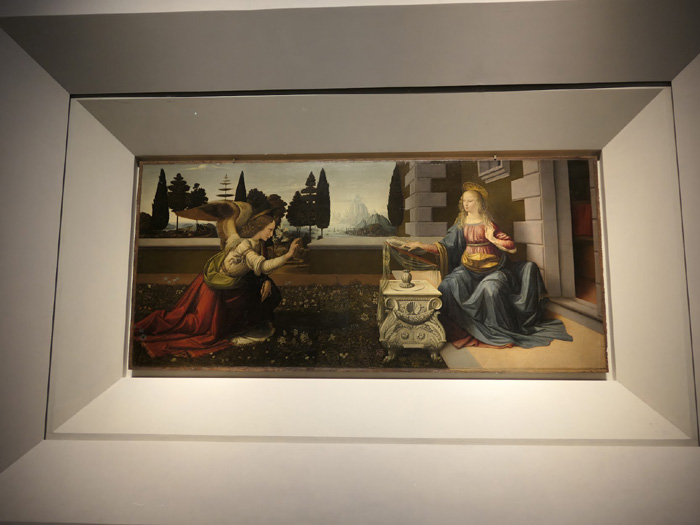 Leonardo da Vinci's Annunciation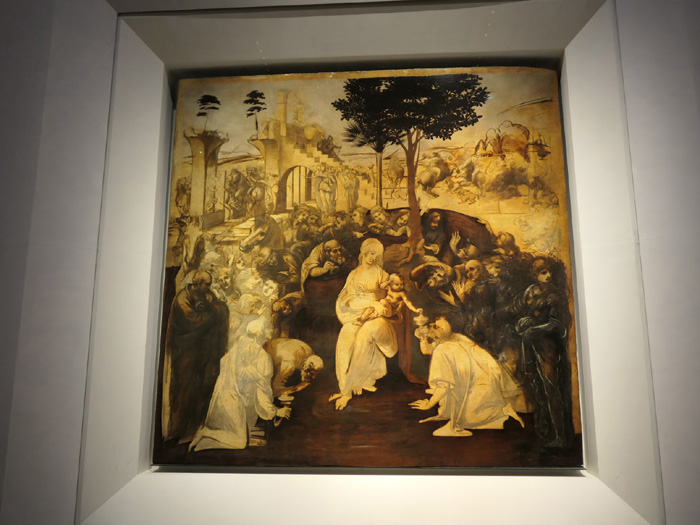 Adoration of the Magi, an unfinished painting by Leonardo da Vinci.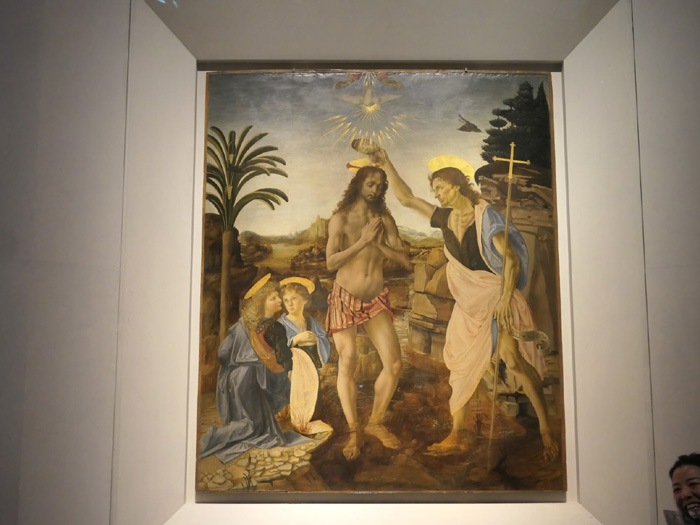 The Baptism of Christ, a famous painting believed to have been worked on by both da Vinci and his teacher.
(It was believed that Da Vinci painted the two little angels and the background scenery.)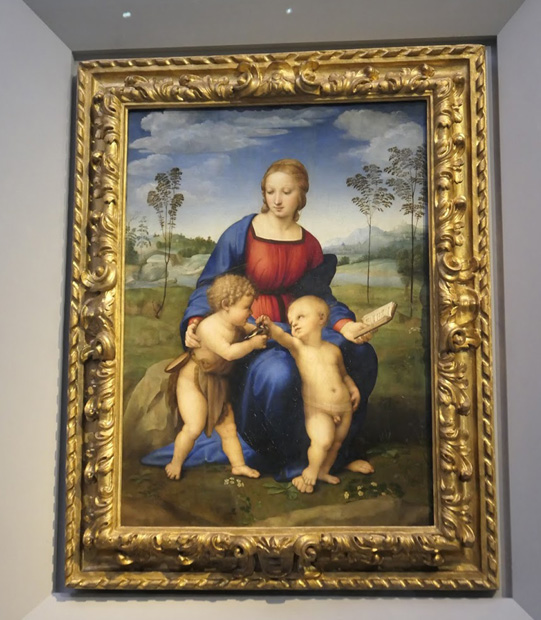 Raphael's Madonna of the Goldfinch.
depicting Madonna and Child with the Young St. John the Baptist who
held a goldfinch (金翅雀) in his hands.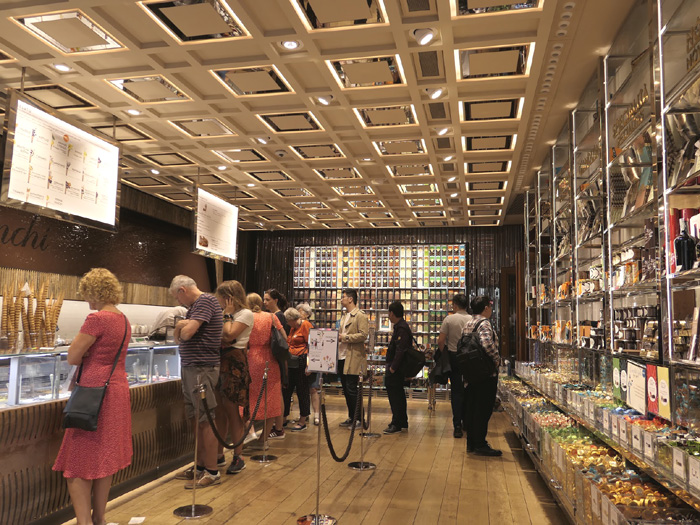 After exiting the museum, we went looking for the Venchi we saw yesterday.
But we found another Venchi, smaller, but closer to where we were.
(BTW, Venchi has a store in Taipie, at 新光三越信義廣場 A11 (Shin Kong Mitsukoshi Xinyi Place A11, 1st floor).
It also has two stores in Tokyo. One is in Ginza, 東京都中央区銀座4丁目3−2. The other is in Otemachi.)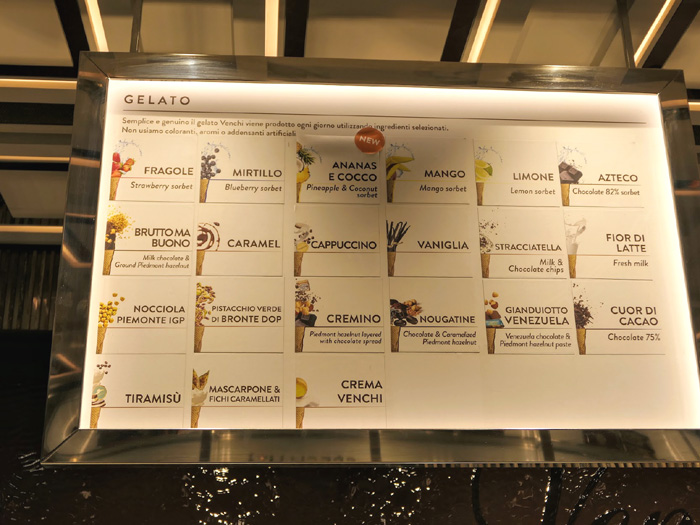 Some of the new flavors Venchi had. We loved the old fashioned pistachio.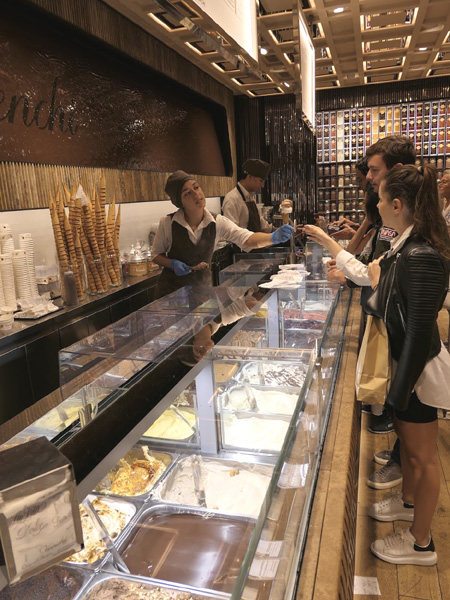 Look at the good gelato in the trays, they were not piled high.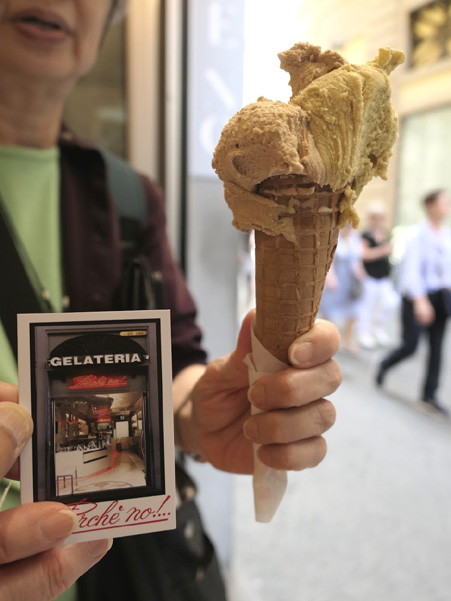 After a gelato break at Venchi, we went to another famous gelateria named
"Perché No!" (meaning Why Not!), to try their pistachio to see which one we like better.
We liked Venchi's pistachio better.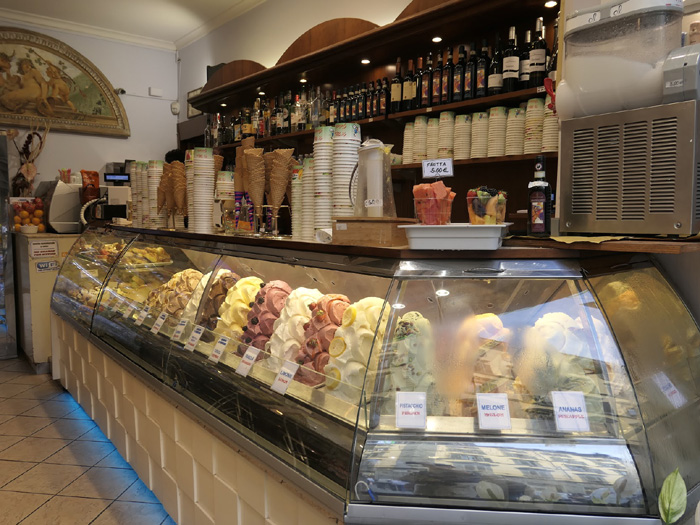 And this was a gelateria with piled-high gelato that you should NOT buy.
Our PD Barbara called these "fake gelato".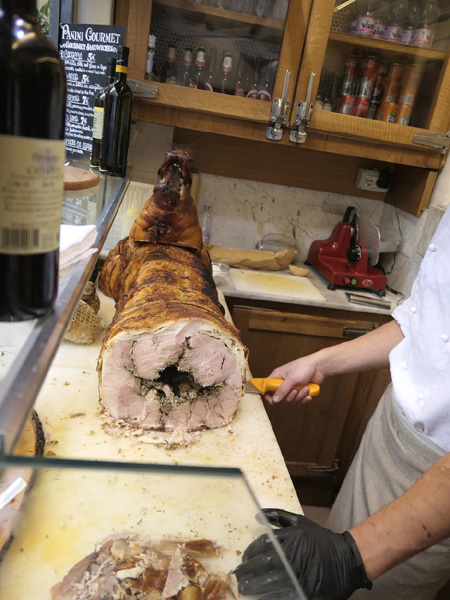 An eatery selling pork sandwiches.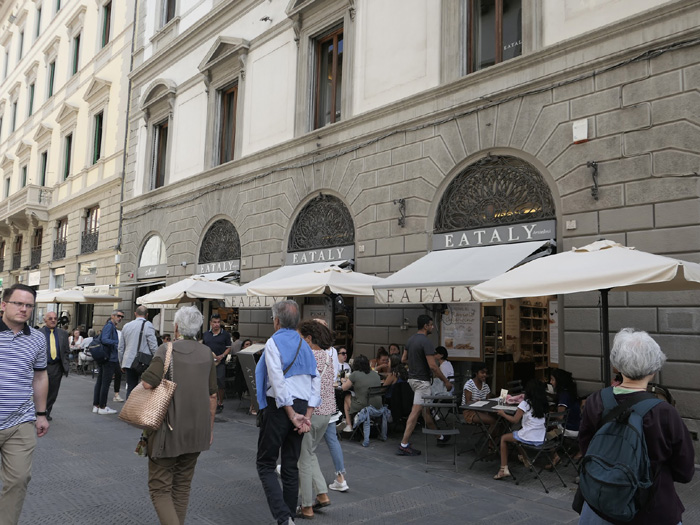 We went to check out Florence's EATALY,
to see if there was any similarity to Boston's EATALY.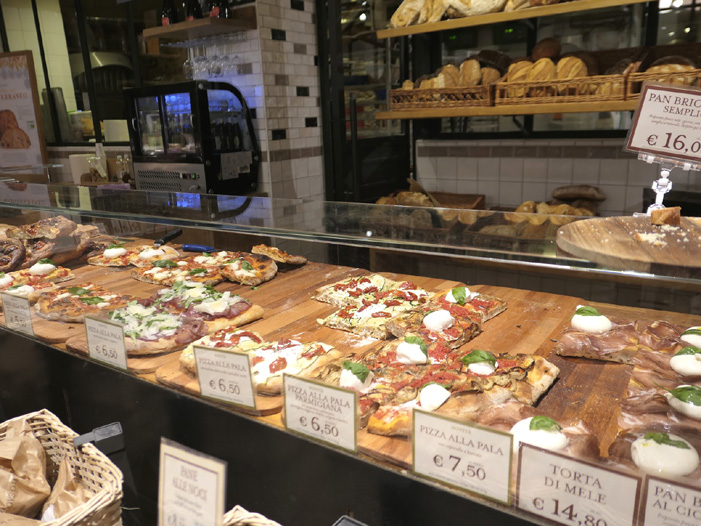 And it was setup similarly to Boston's, only this one was smaller.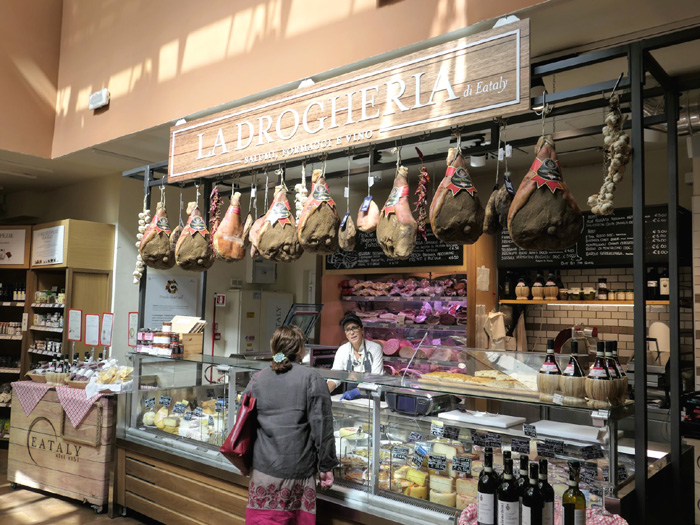 A Drogheria (grocery shop) in EATALY.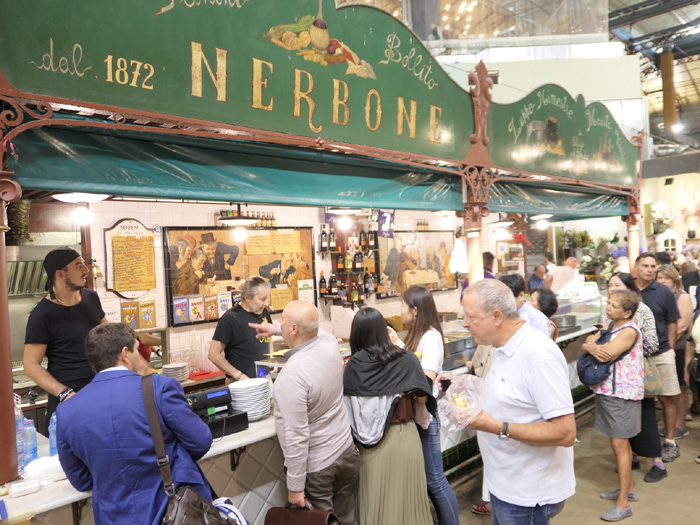 Our next destination was the Mercado Centrale (Central Market).
The first vendor we saw on the ground floor was this popular NERBONE,
famous for its tasty and inexpensive sandwiches of tripe, pork, or beef, etc.
But the queue was long, and their seating area was cramped.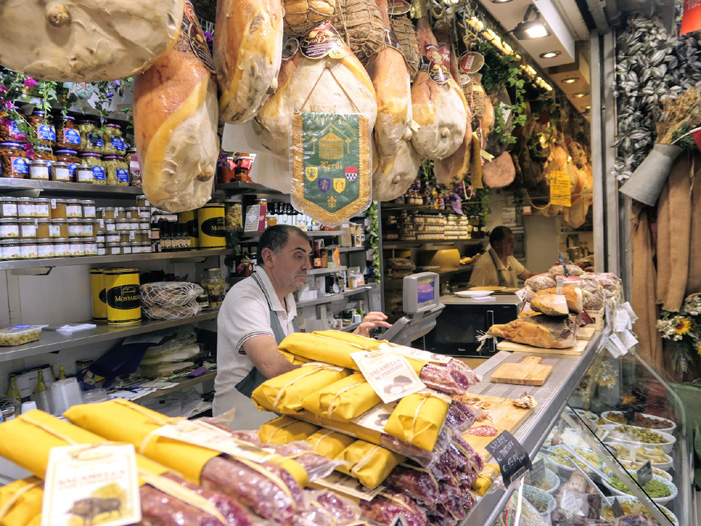 A grocer.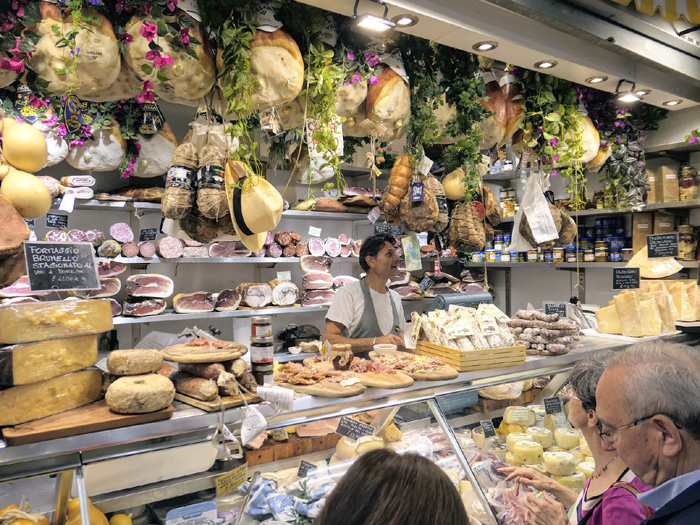 Another grocer.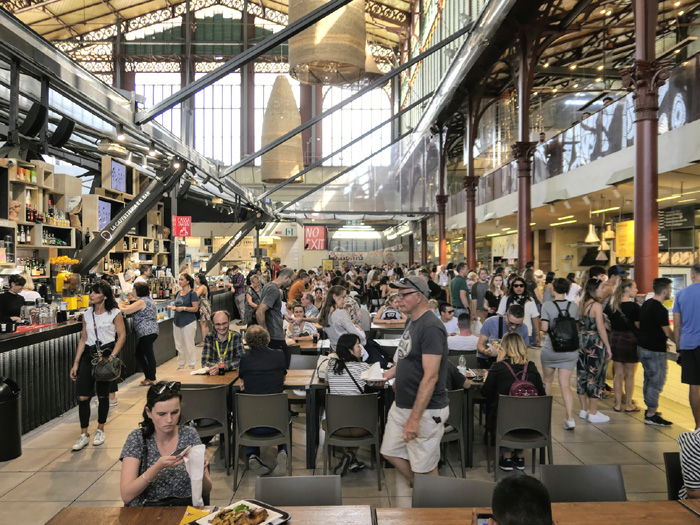 We went upstairs to the Central Market's food court where there were plenty of seats.
We had pizza with very thick dough from a vendor which we won't recommend.


A vendor selling sushi.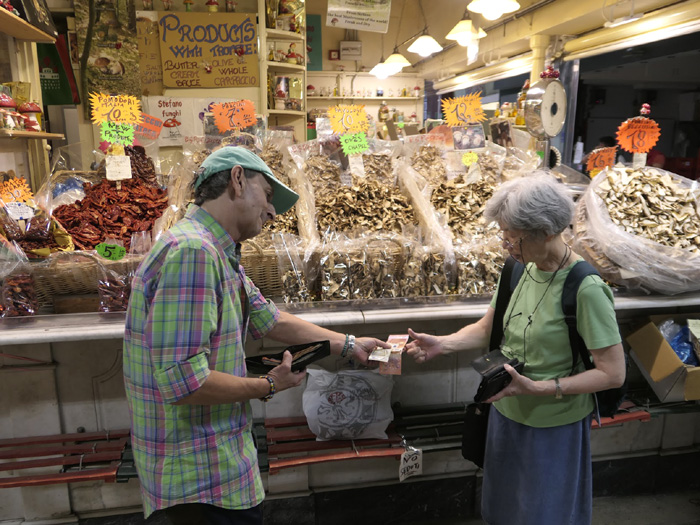 Before leaving the Central Market, MC bought sun-dried tomato and porcini mushroom
from this vendor. He took cash only.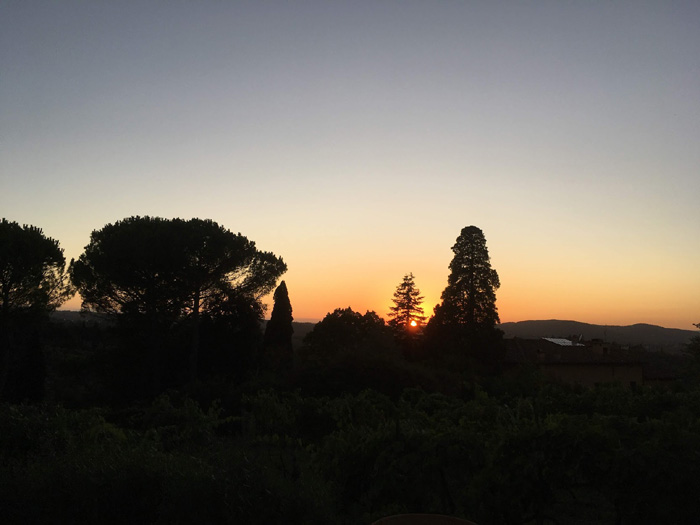 In the evening, we went to a Home-hosted dinner.
This was the sunset viewed from the farm behind the host's house.
The host's main business is renovating houses, he is not a full-time farmer.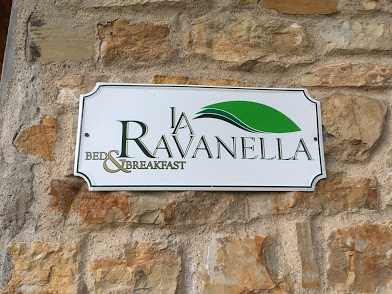 He has a stand-alone brick 2-story house in the property that
his wife uses to run a B&B business on the side.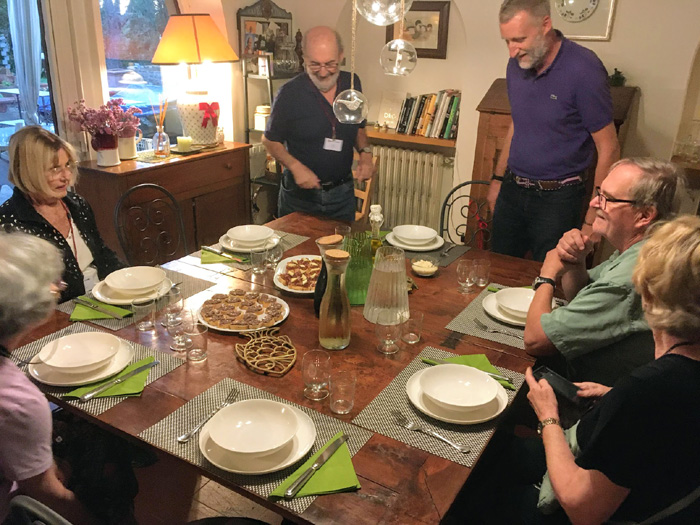 Bruschetta with chicken-liver pate, and bruschetta with caramelized onion.
The hostess, Giovanna, was at a hospital visiting her mother.
So Giovanna's aunt came to help in the kitchen.
Leonardo told us about how he learned to speak English,
(no formal training, he just picked it up here and there, and that his wife spoke better English than he did),
as well as about his 2 trips to the USA - once to Las Vegas and the canyons, another time to New York City.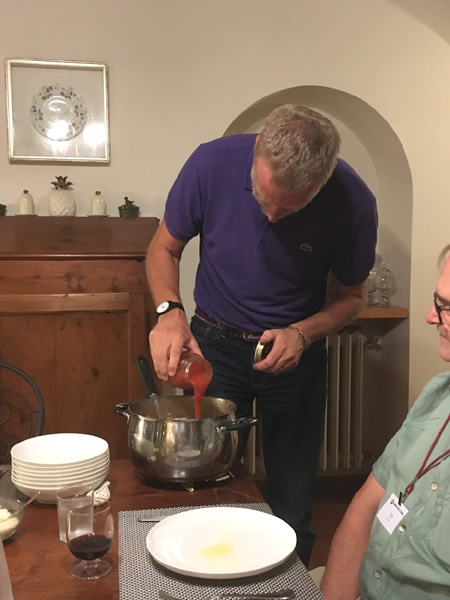 With hot boiled home-made pasta in the pot, Leonardo poured in
Giovanna's home-made pasta sauce, which was a mix of tomato sauce and pesto.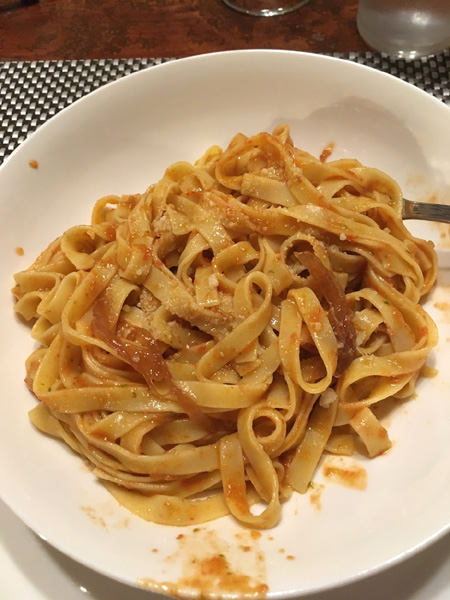 The platting could be improved, but the
pasta was delicious.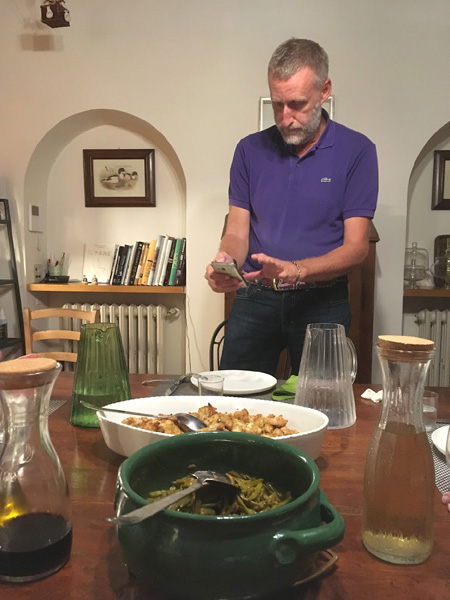 Leonardo FaceTimed his wife so that Giovanna could say hello to us and vise versa.
Do you think he can pass for Richard Gere?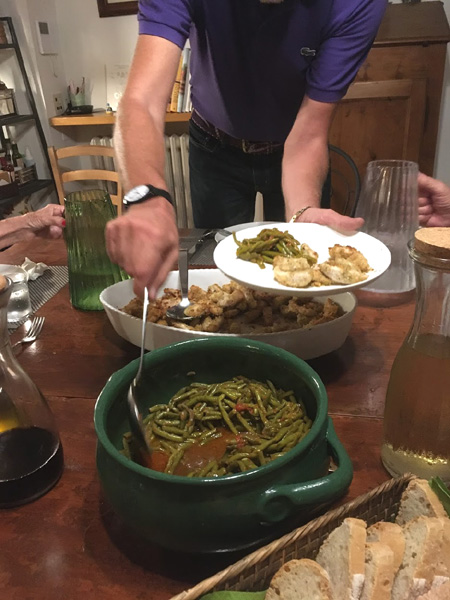 Our 2nd course was baked chicken cutlets with tender green beans.
An evening with interesting conversation and delicious food.
A good time was had by all.