Trip Summary: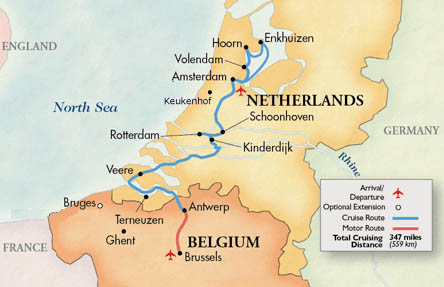 When spring came around in March, we were both eager to embark on a leisure trip. There were a few destinations we had in mind. High on our combined priorities were:
1) A European region where we had not visited before, and
2) an itinerary with a very relaxed pace.
On March 17th we received an email notification from GCT (Grand Circle Travel) about a special promotional sale on their "Holland & Belgium in Springtime" 12-day river cruise. We checked with Austin and Elena to clear out any conflicts with their schedule (mainly the grandparents' sessions with Angelina and Gabriella) before signing up for a trip departing on April 7th, returning on April 18th.
GCT owns a fleet of river ships cruising on the western European rivers - Seine, Rhone, Mosel, Rhine, Main, Danube, and Elbe. The "Holland & Belgium in Springtime" cruises are only offered from mid March to mid May, to coincide with the opening schedule of Holland's Keukenhof Garden, the world's largest tulip garden. Keukenhof is open to the public for only eight weeks out of a year. This year, it opens from March 24 to May 20. Keukenhof is located in the town of Lisse, a 40-minute bus ride from Amsterdam's Schiphol airport.
For the "Holland & Belgium in Springtime" cruise itinerary, one may choose to start from Amsterdam and end in Antwerp in Belgium, or to cruise in the reverse direction. We booked a trip cruising from Amsterdam to Antwerp, and were on a ship named MS River Harmony. (MS stands for motor ship). On the map above, the blue-colored route was the ship's cruise route. We started in Amsterdam, cruised north to a resort town named Enkhuizen, then turned back south to visit Hoorn, then followed by Amsterdam for two nights. After that, we continued cruising south to Schoonhoven, Rotterdam, Veere, Terneuzen (for visiting Ghent in Belgium), then to Antwerp in Belgium. We were aware that this itinerary did not visit as many big-ticket scenic towns as other cruises on the Danube or Rhine might have, but we were drawn to see tulip blossom, as well as visiting the two countries where we had not been before.
Of the shore excursions, some were included and some were optional, meaning you pay extra if you want to go. For us, the highlights of this trip were the visit to the Keukenhof Garden to see blooming tulips in vibrant color, and the visit to Aalsmeer to see live flower auctions. Aalsmeer is very close to Amsterdam's Schiphol airport.
The River Harmony is configured with 70 guest cabins. Therefore, it has the capacity for 140 passengers. On our cruise there were 134 passengers and 32 crew members. When we went on shore excursions, we were divided into 3 color-coded teams. Each team traveled with its own program director on its own bus. We were assigned to the red team. Our program director was Elly from Holland. The other two program directors were Johannes from Germany, and Anita from Holland.
All three meals were served on the ship. Breakfasts were buffets, lunches were also a buffet or you could order a la carte. Dinners were sit-down four-course affairs with wine, and usually offered with three choices for main and two choices for dessert. Daily menus were posted on the bulletin board outside the lounge. For the first five or six days, we felt a sense of great luxury - dining in a dining room with water-front views three times a day, and not having to be bothered with paying the bill after every wonderful meal and attentive service. So, what happened after the 6th day, you may ask? Well, we got spoiled. The sameness set in and we were yearning to dine in a restaurant in some town for a change.
Food-wise beyond the ship, we had an opportunity to sample the famous Belgium fry (twice-fried French Fry with a Belgium difference) in Antwerp, bought boxes of fresh Belgium chocolate in Ghent, but we did not have the opportunity to sample Belgium mussels - the Belgium national dish - while in Belgium. Elly told us these famous Belgium mussels are not in season until July. Do you see a trend here? Looks like Belgium is more famous for food than Holland.
All the photos were taken with a Sony H9 camera, with the exception of some food photos in the ship's dining room which were taken with an iPod Touch. On the 10th Day in Ghent, an iPhone was used due to the misplacement of the battery in our SONY.
Transportation:
We flew KLM/Delta from Boston to Amsterdam.
We flew home from Brussels to Amsterdam to Boston, also on KLM/Delta.
Guide Books:
Rick Steves' Amsterdam.
Fodor's Holland, and Fodor's Belgium.
---
Itinerary with links to picture pages:

Day 2 - Arrival at Amsterdam Photo

(4/8/2011, Friday):

Yesterday, our younger son Austin, came to Reading in the afternoon to give us a ride to Logan airport. In the car, he had an interesting conversation with us. He told us to be adventurous while in Amsterdam, because, he said, at this stage in our lives we are no longer holding jobs. Therefore, we do not have to worry about blemishing reputations or being fired from our job. At first, we were not certain what he might be referring to, until he said, "... some call these 'herbs of Amsterdam' ... ". OK, we got the message.

The KLM/Delta Airbus 330 flight was only about 25% full, so we each had a row on our own. Mei watched two movies, "The King's Speech" and "The Black Swan", while Vincent watched "The Social Network". We arrived at Schiphol airport at 6am local time, which was 12 midnight Boston time. Neither of us slept on the 7-hour flight over the Atlantic.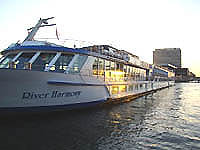 A team of GCT representatives greeted us at the airport and then escorted us (14 people) to a tour bus to our ship. River Harmony docked on the water just behind Amsterdam Centraal (Amsterdam's central train station).

We arrived at the ship at 7:30am and were the first group of passengers to arrive for the cruise starting today. The captain and the hotel manager were at the ship's landing to welcome us on board. At such an early hour, many passengers from the previous cruise ("The Great Rivers", cruising from Vienna to Amsterdam) were still having breakfast. They were taking turns to disembark based on their departing flight schedule. Therefore, cabins were not ready for the new passengers yet. We were invited to enjoy the breakfast buffet. After breakfast, the two of us left the ship for a walk in the city on our own. We walked through the train station to reach Dam Square, then wound around some canals. There was a lot of construction going on in front of the train station, and the streets by the canal where we walked were scattered with debris and garbage from the night life of the night before. In all, our first impression from this short walk in the city was that Amsterdam scored very low on the "charm" scale in our opinion. We hoped to see Amsterdam in a better light when we came back on the 5th and 6th days of the tour.

We noticed that bicycle riders are given a generously wide path along the sidewalks/streets, even along major highways! According to current Dutch law, bikers, even reckless ones, have the right of way over pedestrians in all bicycle lanes.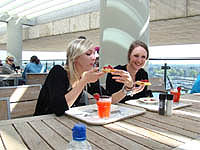 There were no GCT-scheduled activities on the arrival day. We originally planned to take a free walking tour offered by Sandeman's New Amsterdam Free Tour starting at 1pm in front of the TI office opposite the train station. Since the ship's lunch would not start until 12:30 today, it meant we'd have to skip the ship's lunch to look for a place in the city for a quick bite by 1pm. However, by mid morning we both felt a bit dizzy in our heads due to lack of sleep on the plane, so we decided to stay on the ship for lunch and then take a rest in our cabin.
Later in the afternoon, we took a leisurely stroll to the city's library (a short walk east of the train station). The library is new, modern, vast, with a very inviting cafeteria and a pleasant outdoor terrace on the eighth floor.
In the evening, River Harmony left Amsterdam for our next destination, Enkhuizen, 39 miles northeast of Amsterdam. We'd dock for two nights in Enkhuizen.
Day 3 - Enkhuizen Photo (4/9/2011, Saturday):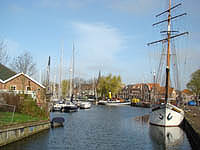 Enkhuizen became a city in 1355, and prospered due to its herring fishing industry and trade with the Dutch East India Company. Enkhuizen reached its peak in the 17th century when it boasted the largest herring fleet in Holland.

Enkhuizen sat on the edge of the Zuider Zee (Southern Sea), an inlet of the North Sea, until 1932 when the building of a dike linking North Holland with Friesland deprived Enkhuizen of access to the open sea. As a result, tourism has replaced fishing as Enkhuizen's main source of income. Today, many well-to-do Germans dock their pleasure boats in Enkhuizen and fly up to Enkhuizen on weekends or holidays.

In the morning, we had a walking tour of the town lead by our program director, Elly. The town is well preserved and very pleasant. We passed by a few warehouses originally used by both the East and West India Company.

In the afternoon, we split up into small groups of 8, 10, or 12 and walked to different host family's homes for coffee, cake and conversation. We had many laughs on the way there because Elly, who was leading two small groups walking the longest distance to the host family's homes, could not locate the streets she was looking for. Eventually, we did arrive. Maria was the hostess for the group of 8 that included Vincent and me. We had a good visit to her home. The conversation just flowed after we found out she had been an Elvis fan since 16. Yes, she wishes to go to visit Graceland some day.

Day 4 - Hoorn Photo

(4/10/2009, Wednesday):

Our ship left Enkhuizen around 8am to cruise to Hoorn, a harbor town 27 miles northeast of Amsterdam.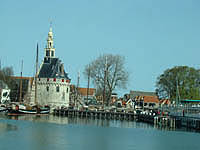 The Dutch word "Hoorn" means "Horn" in English. Hoorn, which dates back to 1357, was once one of Holland's richest port cities. It was a headquarters of the Dutch East India Company. The city went to sleep in the 17th century when England eclipsed Holland in the carrying trade, thus enabling visitors to step 300 years back in time to an era when Hoorn sent her ships around the world.
Hoorn played an important role in the "Age of Exploration", as three famous navigators are closely associated with the town:
Willem Schouten (1580-1625) was the first person to round the southern tip of South America in 1616, and named it 'Cape Horn' in homage to his hometown.
Jan Pieterszoon Coen (1587-1629) founded Batavia (today's Jakarta, the capital of Indonesia) on the Island of Java and governed this island from 1617 until his death 12 years later. Coen was instrumental in helping to establish Holland's empire in the East Indies.
Abel Tasman (1603-59) was the first European to sight New Zealand, Tonga, Fiji, and Tasmania, the latter being renamed after him in 1856.
Our ship docked in Hoorn from Day4's noon to Day5's noon. While walking through Hoorn's old town, we saw many buildings with richly decorated facades, all due to the town's many wealthy merchants during its golden age.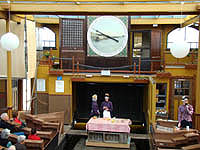 On Day4's afternoon, GCT took us on buses to a town called Broek op Langedijk (literally, pants on Langedijk) to visit its Veiling Museum (auction museum) and to participate in an old-fashioned vegetable auction. Produce was carried on boats, and the auction prices started high, then decreased in prices until someone pressed a button in front of the seat to bid on it. GCT gave each of us 50 cents to participate in auctions, or we'd have to make up the difference on our own if we bid more than 50 cents. It was a fun experience. Here is a link to photos of us bidding in the Veiling Museum.
Day 5 - Our Keukenhof photo (4/11/2011, Monday):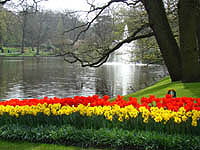 After an early lunch on the ship at Hoorn, we boarded three buses for a drive to Keukenhof garden. The ship would cruise from Hoorn to Amsterdam while we were away, then we'd return from Keukenhof to the ship in Amsterdam around 6pm.

Dutch word Keuken means "kitchen", and hof means "garden, court, courtyard". Keukenhof probably is THE major attraction in Holland during the 8 weeks in spring when it is open for public.

Besides numerous varieties of blooming tulips, there were also many kinds of daffodil and hyacinth. The day was warm and bright, a very nice day for picture taking. We took about 150 pictures, but only posted a selected few. Click on the Keukenhof photo link above to see them.

In the evening, we joined an optional guided walk in the red-light district in Amsterdam for $10 Euro/pp. This tour was not a part of GCT's program, but since many passengers had asked in the past, arrangements had been made to have an outside guide to lead a walk for passengers who were curious but did not feel safe to walk in the area on their own.

60 people signed up. We were transported by several taxis from the ship to the downtown red-light district near an old church. Then the guide led us for a walk. He told us if anyone wanted to take photos of the girls in the window, please take them across from a canal, not right in front of the window, to avoid capturing their faces close up to give them some anonymity. Because, he said, some of these women might come to Amsterdam to work in this profession for a few days a week, the rest of the time they were back at home taking care of their young children.

40 minutes' walk past quickly, we were transferred back to the ship by cabs again. It certainly was a very lucrative business for the guide, who collected 600 Euros for an hour's work. Here is a photo link to our red-light district walk.

Day 6 - A Day in Amsterdam Photo

(4/12/2011, Tuesday): We had a full day in Amsterdam today. We got up at the crack of dawn to go on a bus to Aalsmeer to see a flower auction, followed by an hour canal cruise in the morning. After lunch, we had the option of visiting one of the two museums,

國立博物館

(Rilksmuseum) or

梵谷博物館

(Van Gogh Museum).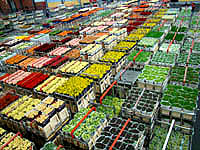 Aalsmeer, the town, is located 8 miles southwest of Amsterdam, near Schiphol Airport. Aalsmeer is home to the world's largest flower auction, which handles around 60% of the world's cut-flower trade. The town's name is derived from the Dutch for eel (aal) and lake (meer).
At FloraHolland Aalsmeer (the flower auction site we visited), around 48 million flowers and plants are auctioned every day. There is a viewing gallery that enables visitors to watch the action, which takes the form of a Dutch auction, with a huge clock showing the price dropping until the offer is taken. After auction, the flowers that were purchased were immediately trucked to European countries, or put on airplanes to other parts of the world. Elly told us in some European countries, trucks are not allowed on the highway on Sundays, unless you are a truck delivering flowers to its destinations.
Three tour buses drove all of us back to where the River Harmony docked (behind Amsterdam Centraal station), then two small canal cruise boats arrived to take us for an hour canal cruise. From the canal level, the buildings and the bridges along the canals looked very much like St. Petersburg, where we visited in 2004. (Here is a link to that 2004 trip.) Judging from the fact that Peter the Great (1672-1725) spent time in Holland when he was a young man to learn about ship-building, it is possible that St. Petersburg was modeled after some cities in Holland, if not Amsterdam.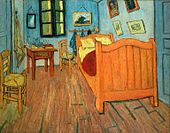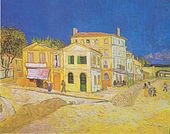 Of the two museums to choose for the afternoon, we chose to visit the Van Gogh Museum. It was too bad that we had to miss seeing Johannes Vermeer's paintings housed in the Rilksmuseum, but there was simply not enough time to visit both museums.
The collection in the Van Gogh Museum is significant and well organized chronologically throughout Van Gogh's life. We noticed several well known pieces he painted while living in Arles (southern France), where we visited in 2001 and are familiar with. Here is a wiki page about Vincent Van Gogh.
Vincent Van Gogh's younger brother, Theo, died within 6 months of Vincent Van Gogh's death. We read somewhere that says Theo's descendents chose to live abroad. Today, the museum is run by a foundation. Photos were not allowed in the Van Gogh Museum, so we don't have any photos from inside the museum.
Day 7 - Cruising Day Photo of the Ship (4/13/2011, Wednesday):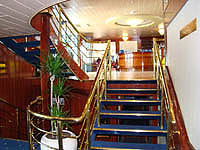 Today was a cruising day. Our ship cruised from Amsterdam to Schoonhoven, on our way south toward Rotterdam.
We could choose to stay on the ship all day, or take an optional tour by bus to visit The Hague. Most of the passengers chose to stay on the ship, so did Vincent and I. After the hectic schedule for the past two days in Amsterdam, we welcomed a day of no schedule to relax and recuperate.
In today's photo link, we collected all the pictures taken from inside the River Harmony to show the interior of our ship. However, please note that those pictures were taken over a span of several days, therefore, scenes outside the windows are not consistent; or one photo may show an afternoon sun while the next photo shows a morning light. Also, it looks like we are missing a picture of the dining room in this photo link, but you may see a photo of the dining room in Day 2, when we first arrived and were invited to a buffet breakfast.
[Note: When our ship docked at popular stops such as Amsterdam, Enkhuizen, Hoorn or Rotterdam, we sometimes docked alongside river ships belonging to other tour companies such as Uniworld, Viking, Avalon or Tauck. Some of those river ships looked a lot more luxurious than our River Harmony. However, I think GCT provided a better return/cost ratio, as Uniworld and Tauck were much pricier for a similar itinerary.]
Day 8 - Kinderdijk and Rotterdam Photo (4/14/2011, Thursday):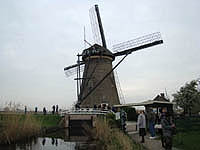 Our ship cruised from Schoonhoven to Rotterdam today. Along the way we docked at Kinderdijk to see its windmills, a UNESCO World Heritage Site since 1997.
Kinderdijk [Child's dike, 小孩堤防] is a village located about 10 miles east of Rotterdam. Kinderdijk is situated in a polder at the confluence of the Lek and Noord rivers. To drain the polder, a system of 19 windmills was built around 1740. This group of mills is the largest concentration of old windmills in the Netherlands. The windmills of Kinderdijk are one of the best known Dutch tourist sites.
[NOTE: A polder is a low-lying tract of land enclosed by embankments (barriers) known as dikes.]
In the parking lot of Kinderdijk, we saw two buses full of Japanese tourists. Maybe it was a good idea to go abroad amid the gloomy news of radioactive clouds at home after the Tsunami of March 11? We also saw tourists from Taiwan. Indeed, this is a popular tourist destination.
Then onto Rotterdam. Our ship arrived at Rotterdam at 1pm. Rotterdam is the largest port in Europe, and the 2nd largest city in the Netherlands. The port of Rotterdam was the world's busiest port from 1962 to 2004. Today, it is surpassed by Shanghai (in China) and Singapore in the world's ranking, but still is the largest port in Europe.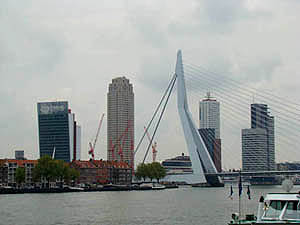 Starting as a dam on the Rotte river (That's how the city got its name!), Rotterdam has grown into a major international commercial centre. Its strategic location at the Rhine-Meuse-Scheldt delta on the North Sea and at the heart of a massive rail, road, air and inland waterway distribution system extending throughout Europe means that Rotterdam can rightly be called the gateway to Europe. Rotterdam is one of Europe's most vibrant and multicultural cities. It is known for its university (Erasmus), its cutting-edge architecture, its lively cultural life, its striking riverside setting and its maritime heritage.
Rotterdam was heavily bombed by the Germans in 1940 during WWII. Today's city is completely rebuilt from the ashes.
GCT determined that Rotterdam is not a tourist-friendly city, so this afternoon GCT offered an optional tour by bus to Delft, Vermeer's home town. However, the tour was not to trace Vermeer's footsteps, instead, it was to visit a pottery workshop, the New Church, and the market stalls. We therefore opted not to take the tour and chose to see Rotterdam on foot. Especially after studying about the strategic importance of the port of Rotterdam in both junior and senior high school geography classes in Taiwan, how could we not have a good look now that we are here?
Our ship left Rotterdam at 10pm, cruising all night to Veere.
Day 9 - Veere Photo (4/15/2011, Friday):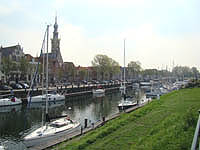 Our ship cruised all night last night to reach Veere at dawn.
The name Veere means "ferry". The small city is located on Veerse Meer (Lake Veerse), in the province of Zeeland (meaning "sea-land").
In the 17th and 18th centuries, Veere was a prosperous trading city. There were about 750 houses inside the city walls then, compared to about 300 now. As a result of the damming of the Veerse Gat inlet in 1961, the fishing fleet of Veere moved to a new home port in Noord-Beveland. Today, the main business of the town is tourism.
Veere is a very pretty resort town, and the town itself is very accessible from where our ship docked. We had a walking tour led by program directors in the morning. When we walked by the Great Church, Elly, our program director, told us that she was married in that church! So, Elly is from Zeeland.
While the group walked by some residential houses, Elly told us that if a house has a party, you can count how many shoes left at the front entrance to figure out how many guests are in the house. Because, in the old days, the Dutch left their wooden shoes at the door, they wore stocking feet inside the house. Today, even though the Dutch no longer wear wooden shoes, many folks are still in the habit of leaving shoes at the door. Ah, so it is not just Japanese or Taiwanese who leave their shoes at the door, the Dutch do that too. (Could it be possible that the Japanese picked up this habit from the Dutch in the 19th century? Because Taiwanese definitely picked up this habit from the Japanese in the early 20th century.)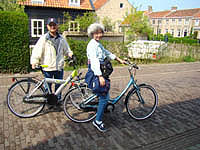 Veere has a pretty marina and a busy market square full of shops and restaurants with outdoor seating. In the afternoon, a few GCT members rent bikes to bike around town. Vincent and I, along with M & M, two retired teachers from New York state, biked together for about two and half hours. We had a good workout, and enjoyed the freedom of seeing scenery on two wheels.
Day 10 - Ghent photo (4/16/2011, Saturday):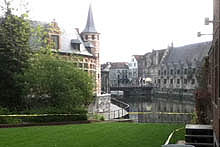 We visited Gent this morning, our first Belgium city during this trip.
The city's name is spelled as Gent (in Dutch), Ghent in English, and Gand in French. Located at the confluence of the Schelde and Leie rivers, this "City of 200 Bridges" was founded around 600 AD and boasts many beautiful buildings dating back to medieval times.
During the Middle Ages, Ghent was one of the richest and most powerful cities in Europe, considered second only to Paris. The impact of this rich past can be clearly seen when viewing the imposing architecture of churches and the houses of rich traders.
Medieval and Renaissance buildings tell the story of Ghent's past reign as a textile capital from the 11th century onward. When the people of Ghent were under Spanish rule and rose up against Charles V (1500-1558, the Holy Roman Emperor, the most powerful man in Europe at that time. Charles V was actually born in Ghent. We learned about his pedigree while preparing for our trip to Spain in December 2009) to protest taxes, he punished the city by making its nobles parade before him wearing nooses around their necks.
As Ghent is a part of Flanders, the main language is Dutch. Ghent is only a 30-minute train ride away from Brussels and is on the line from Brussels to Bruges. To facilitate textile exports, in 1822 a new canal was built to link Ghent's inland port with the North Sea at Terneuzen (in Holland), and Ghent became a major trade center again.
Our ship docked in Terneuzen, and GCT transferred all of us to Ghent on a 30 minutes bus ride. A local guide took each team on a walking tour of the historical city center. Vincent forgot to put a memory stick back into his SONY camera, so he could not use the SONY while in Ghent. Instead he had to use his iPhone to take pictures. Therefore, today's pictures in Ghent are not as sharp as the rest.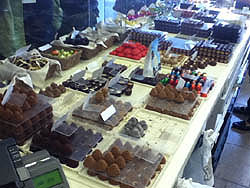 We wanted to buy fresh Belgium chocolates to bring home. Our local guide would not recommend a particular shop. All she said was that, "If it cost 15 Euro per Kilo, then it is not good chocolate." We had researched this topic on the internet before leaving home, so we knew of a few store names to look for. After the conclusion of our guided walking tour, there were three chocolate shops in the square. One of them was Leonidas, a name we had read about during our research, and Elly also confirmed that Leonidas' chocolates are of good quality, so Leonidas we went. Neither Vincent nor I are chocolate connoisseurs, but the Belgium chocolates we brought home from Leonidas were well received by our sons and daughters-in-law as well as granddaughter Angelina.

The whole group left Ghent around noon to go back to our ship in Terneuzen for lunch, then we had a free afternoon in Terneuzen. Ghent, Bruges, and Antwerp are often mentioned in one breath as the major tourist cities in Belgium. However, our half-day visit to Ghent was way too short to enable us to experience the charm of the city.

In the afternoon, GTC arranged a chocolate demonstration by a small local manufacturer. Various subjects on chocolate were explained and a variety of samples were tasted.




Day 11 - Antwerp Photo (4/17/2011, Sunday):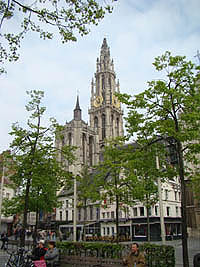 Today was our last full day on the tour. We docked at the Belgium city of Antwerp to spend the day visiting Antwerp, the 2nd largest port in Europe (after Rotterdam in Holland).
The city's name is spelled as Antwerpen (in Dutch), Antwerp in English, and Anvers in French. [NOTE that northern Belgium speaks Dutch, and southern Belgium speaks French. Brussels is bilingual, it has both Dutch and French as official languages.]
Located on the banks of the Schelde River, Antwerp is Belgium's major port and has been commercially important in European trade since the 11th century. Like Amsterdam, Antwerp is one of the world centers for diamond trading. In spite of damage suffered during both World Wars, Antwerp remains a city of beautiful historical architecture dating to the 16th century.
Yesterday while visiting Ghent, our program directors told us to do all our shopping in Ghent, because when we'd visit Antwerp the following day it would be a Sunday, and most stores are closed on Sundays. Well, guess what? We walked into Antwerp in the middle of the city's marathon event! There were thousands of people milling about in the old town, and all the stores were open.
We had a walking tour of the old town led by a local guide. We both liked Antwerp's old town very much; it is tourist-friendly, bustling, and very cheerful. We had many food pictures in today's photo link. Be patient when you click on the photo link.
Day 12 - Fly home to Boston (4/18/2011, Monday):
We were among the earliest groups to disembark the ship, because we had a 6:50am flight from Brussels to Amsterdam. After a quick breakfast at the ship's restaurant at 3 am, we boarded a bus at 3:30am for the 50-minute drive to Brussels airport. However, our connecting flight at Amsterdam would not depart until 11 am, so we had a loooong wait at Amsterdam airport. Our KLM flight from Amsterdam to Boston was full.
We arrived in Boston at 1pm. Austin picked us up at Logan to drive us home. This certainly was an exhausting day for us, considering the insane hour we had to get up, and that Antwerp was 6 hours ahead of Boston. We were glad to be home to get some needed sleep.
At home, besides the Belgium chocolates, we also savored the Dutch stroopwafel and Dutch almond cookies bought from Albert Heijn supermarket in Rotterdam, as well as the old-fashioned Dutch candy from Veere's candy store.

EPILOGUE
After a long New England winter, it was refreshing to visit a place full of springtime flavor, especially with lots of pretty flowers. Besides that, we really did not expect much out of our very first extended river cruise.

However, Holland impressed us with her charming villages and her tall, hard-working, and polite people. Canals, windmills, museums, flower gardens and markets, and squeaky clean small towns by the rivers were all very enjoyable and fun.

We only had time to visit two medieval cities in Belgium on this trip. There are plenty of good reasons for us to visit the country again, besides the famous Belgian chocolates, fries, and waffles.

GCT's river cruise was very relaxing with excellent on/off board services. We were happy to meet with many traveling members from all over the States. We have learned so much via chatting with them on a wide range of interesting subjects over many wonderful meals on the ship. It does add special memories to our overall cruise experience.