Day 11, Antwerp, Belgium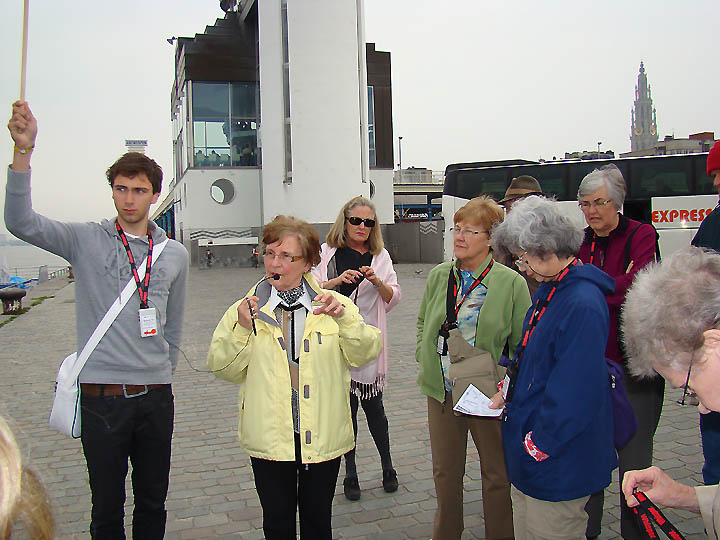 On walking the old town of Antwerp, our red team's local guide was a young college student.
He was holding a red flag and standing next to Elly, who was speaking.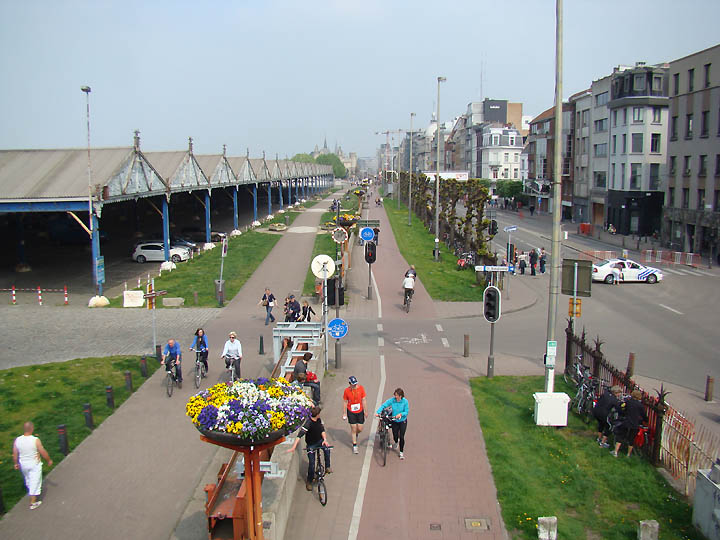 We walked along this sidewalk.
At the far end of the side walk you may see a glimpse of the castle,
and to our right is the old town center.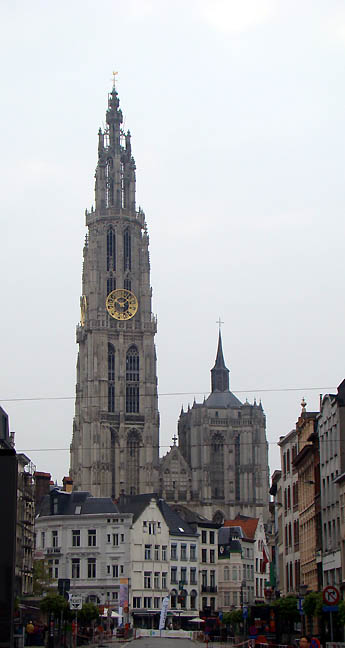 The Cathedral of Our Lady dominates the old town.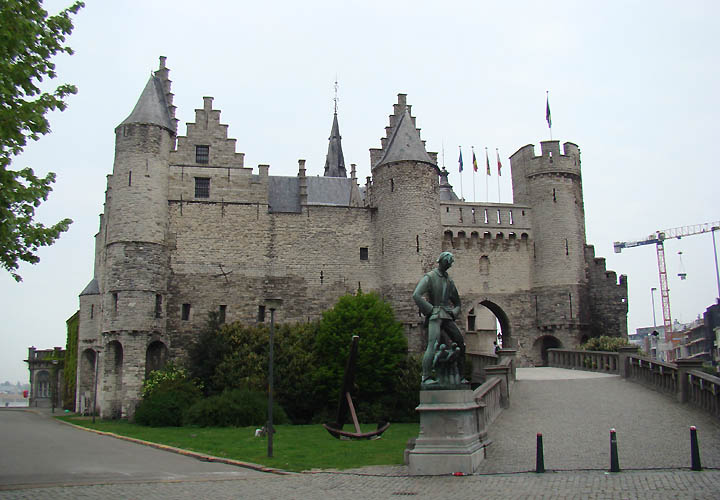 The castle, named "het steen" (The Stone.)
There is a story about the bronze statue of a tall man, but I did not catch what it is.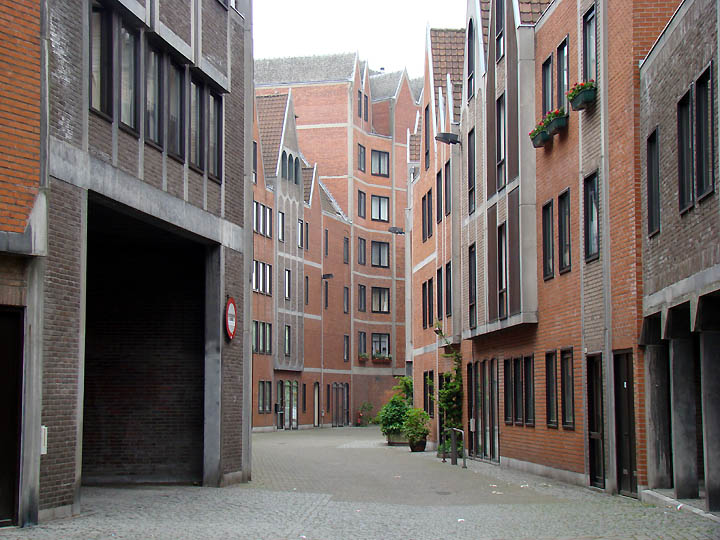 We turned right toward old town, and saw all these neat residential buildings.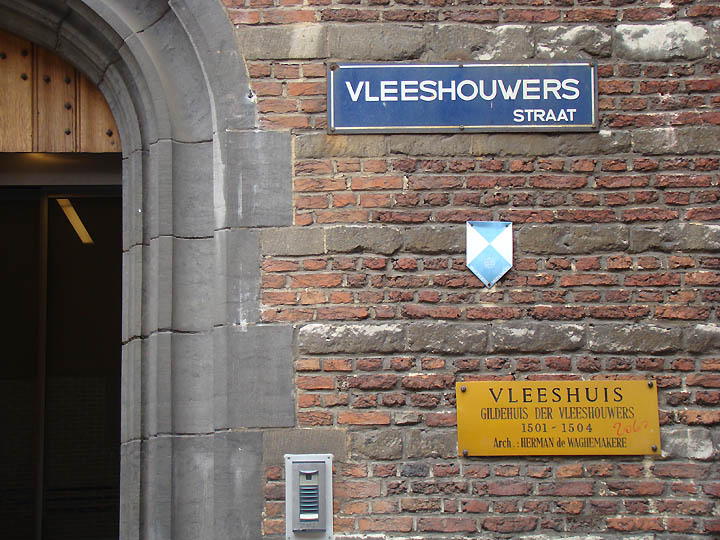 The guide told us this area is called the butchers' street,
because this area was where butchers set up their shops in the old days.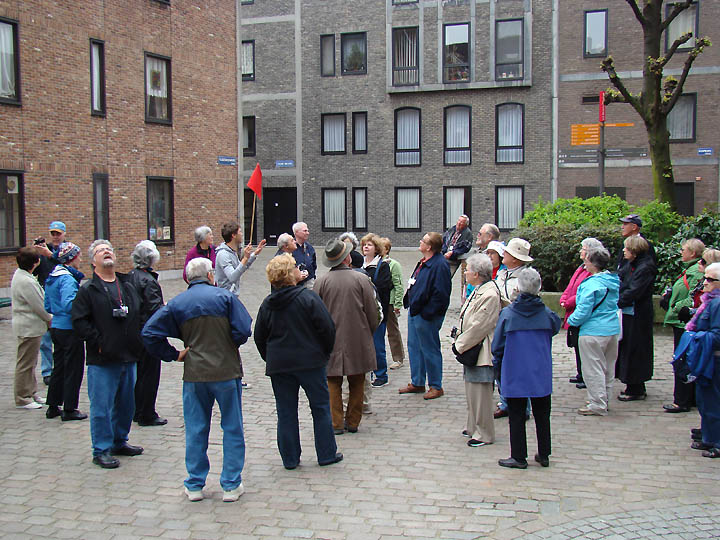 The government renovated the area and built these subsidized apartment housing.
People who applied to live here pay a rent according to their income.
As a result, most folks who live here are of very low income bracket,
while this is a prime location because it is in the old town center.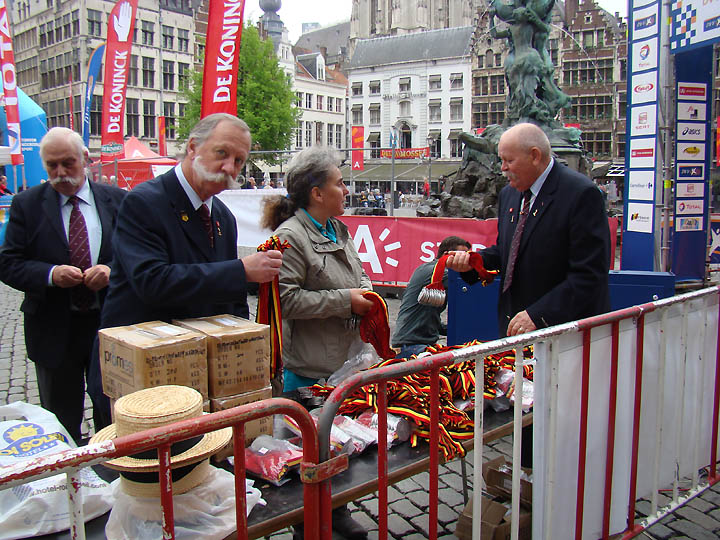 At the 'Main Square' in front of the City Hall.
City officials were setting up medals to give out at the end of the marathon.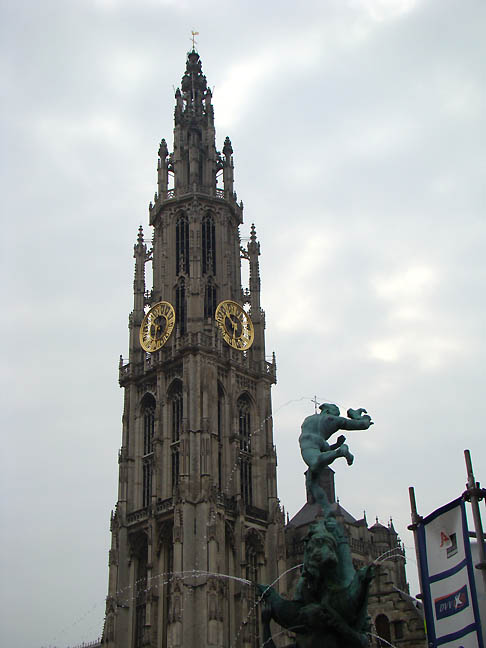 The construction of the 'Cathedral of Our Lady' started in 1352.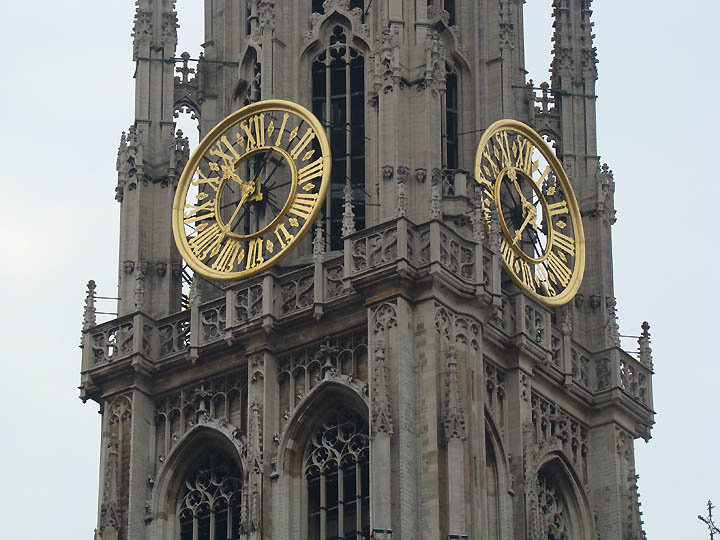 Lacework in stone.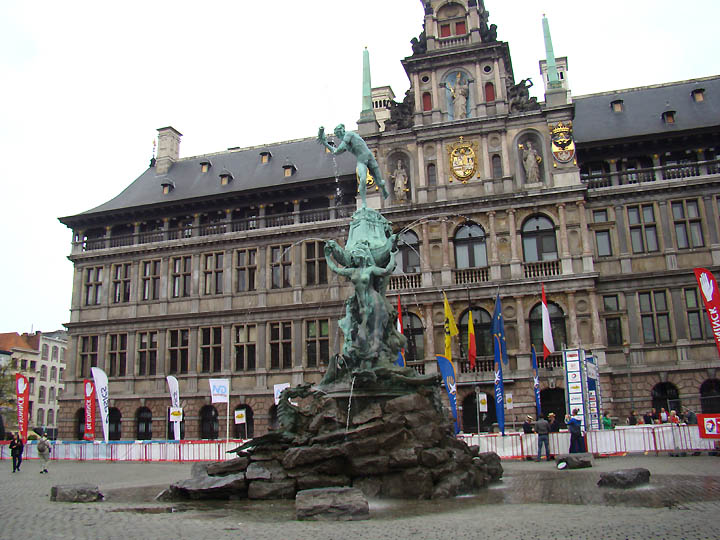 The City Hall, constructed between 1561 and 1565.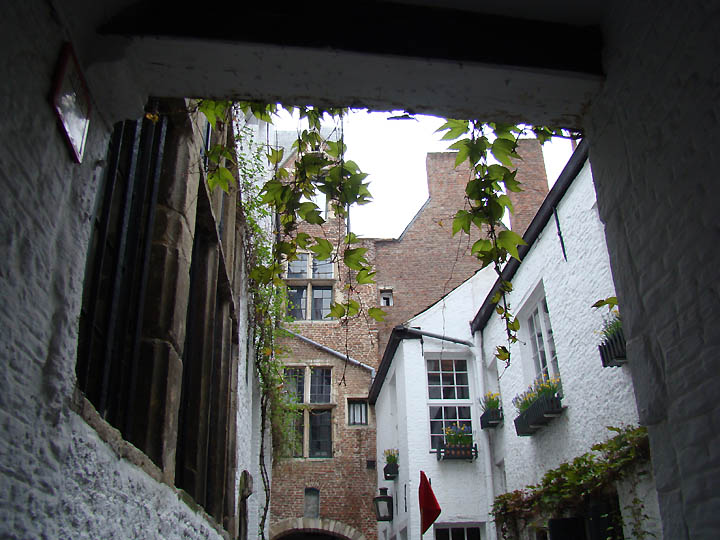 A very narrow street in the old town.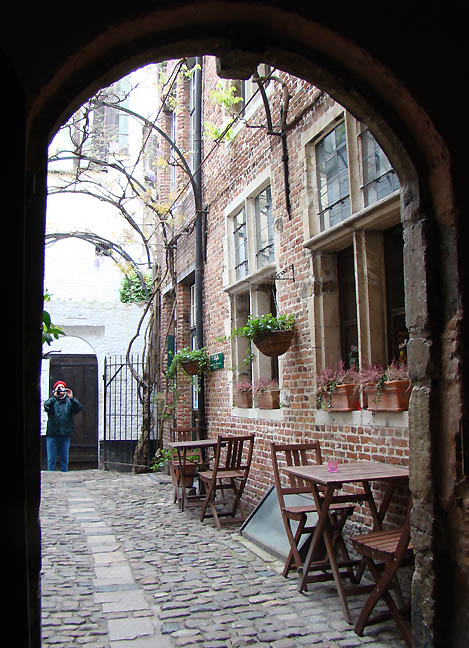 A restaurant and its courtyard in the old town.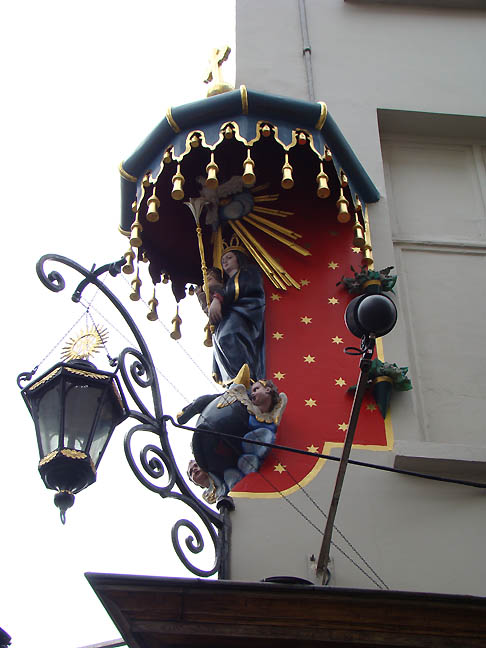 Interesting decoration. Is it all part of a street lamp?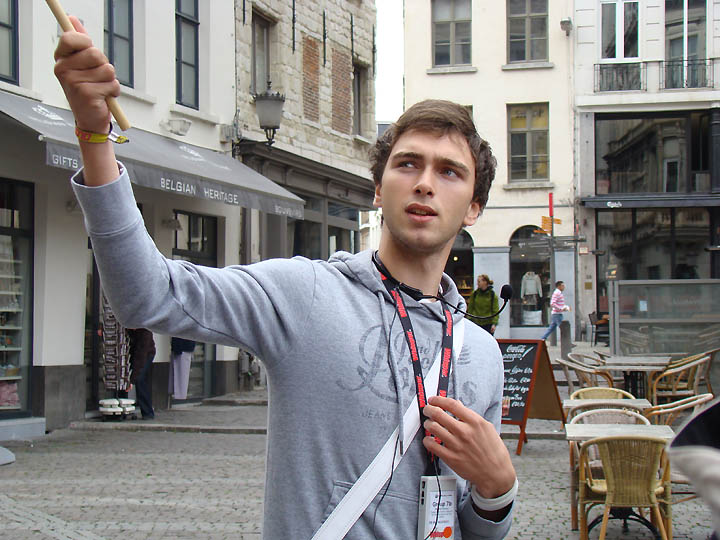 Our young student-local guide (majoring in tourism) did a fantastic job introducing the old town to us.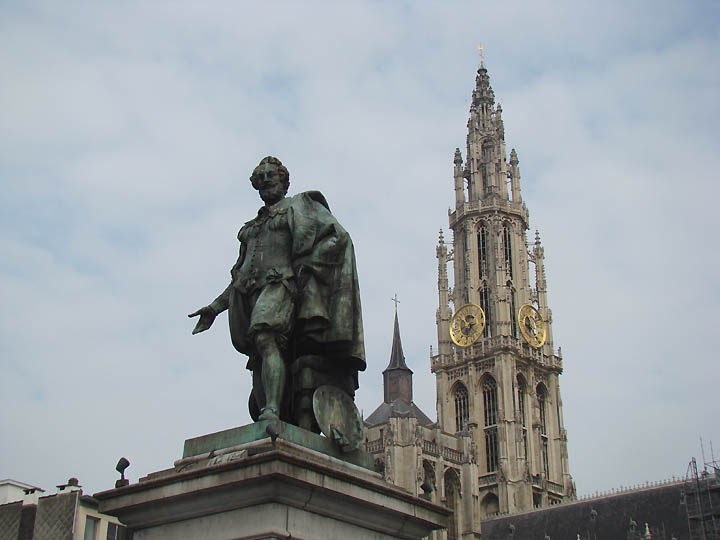 A bronze statue of artist Rubens graces the center of the Green Square.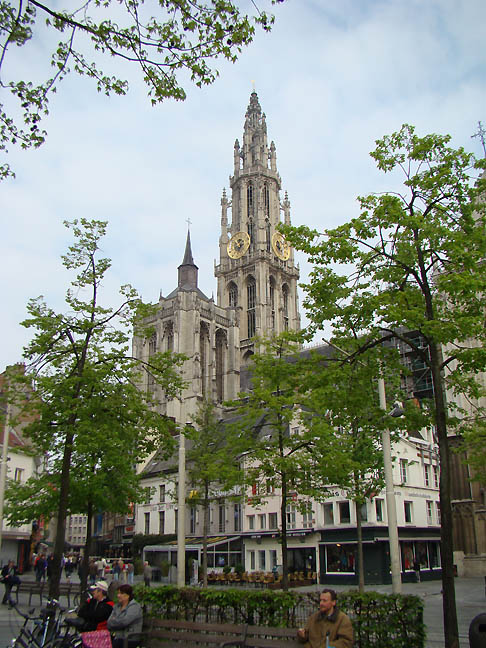 A view of the cathedral from the Green Square.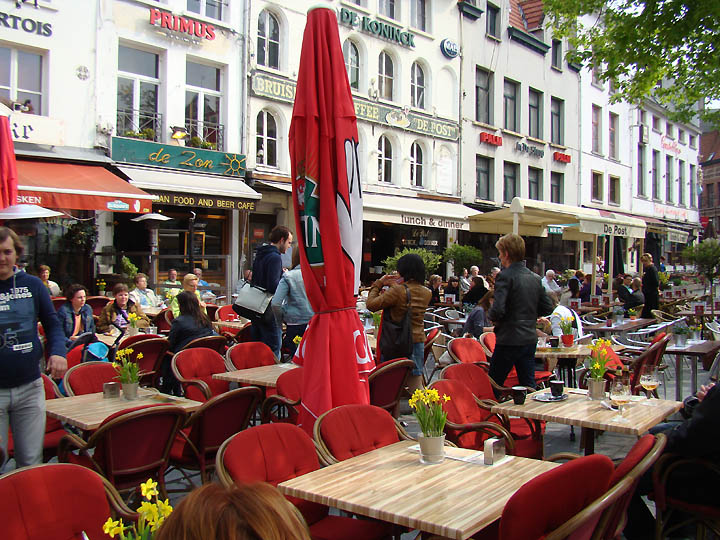 Lively cafes along the street near City Hall.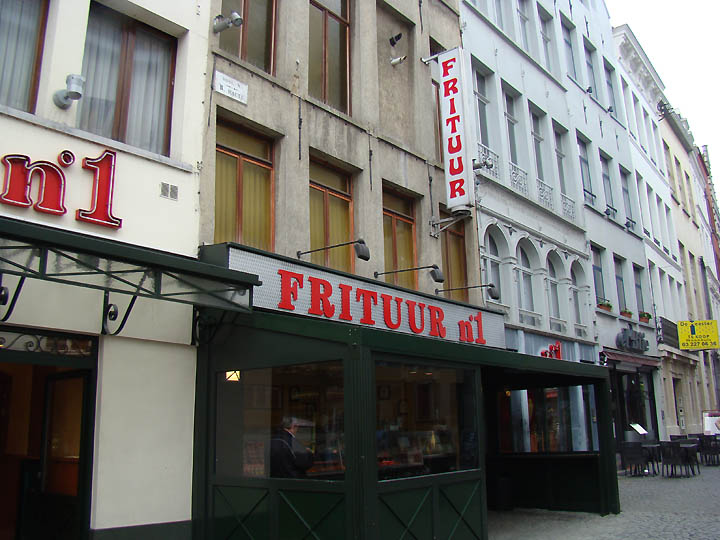 Our young guide pointed out this IS the oldest restaurant serving Belgium Fry.
The restaurant's name translates to "Fry No.1".
It is a self-serve. You order your food at the counter, and bring it to a table yourself.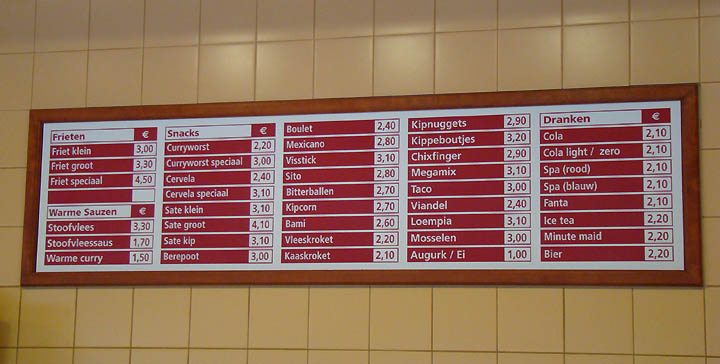 Price list on the wall. Small Fry for 3.00 Euro. Large Fry for 3.30 Euro.
Special Fry for 4.50 Euro, but we do not know what did "Special" mean.
Was it "Special" in size (as in Super Size)? Or was it "Special" in flavor?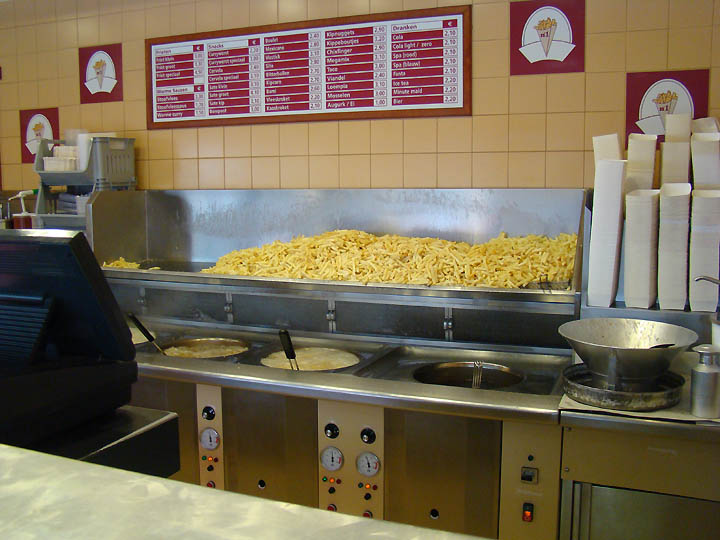 If you have seen Rick Steves' Belgium tour video, you'd know that
Belgium Fries are fried twice. First it was fried in a deep fryer with medium temperature oil,
and then just before serving it went back into a fryer for a bath in high temperature oil.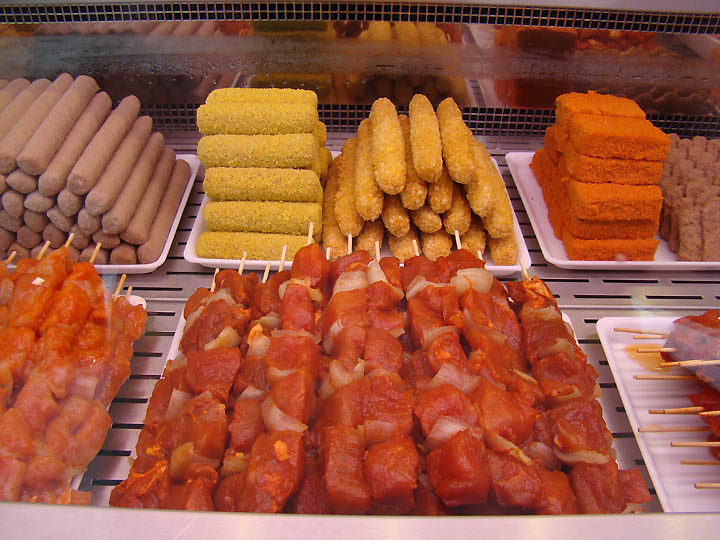 A glass case displayed many more food available to order.
But we did not know what kind of meat they were, or what were inside each of
the crumbed thing, so we did not order any of these.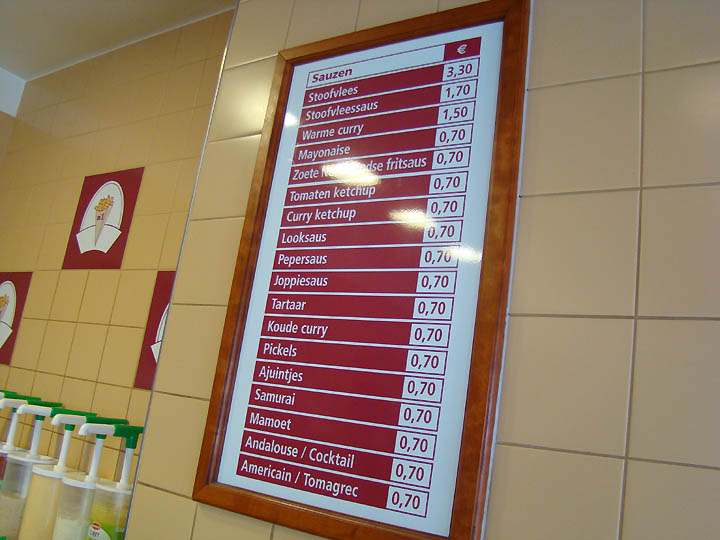 You may order special dips for your fry. As you can see, Pepersaus cost 0.70 Euro extra.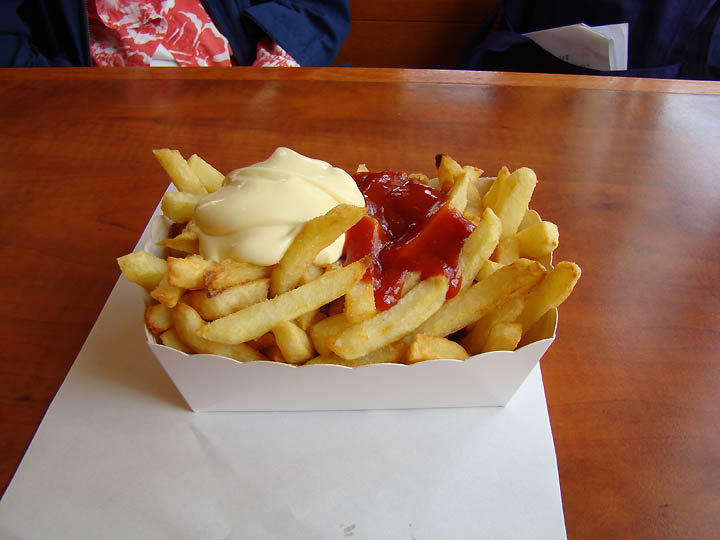 We played it safe. We ordered a large fry with mayonnaise and ketchup sauce.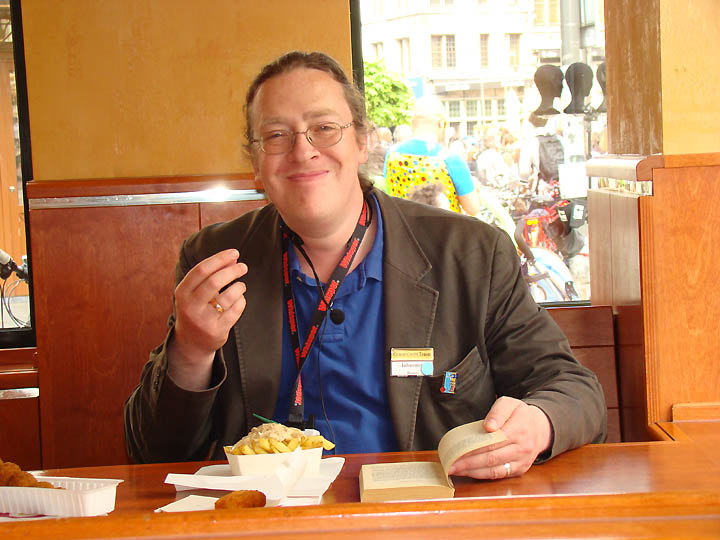 And who should walk into the restaurant sitting behind us?
- Johannes, the GCT program director from Germany!
Johannes told us whenever he is in Antwerp, he always comes to "Fry No.1" for lunch.
He had a large fry with spicy pepper sauce, and a few fried meatballs.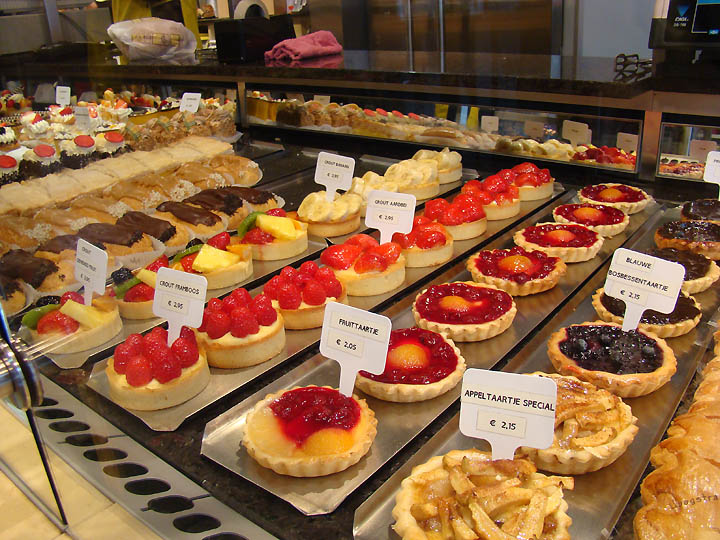 Both of us enjoyed browsing bakery shops.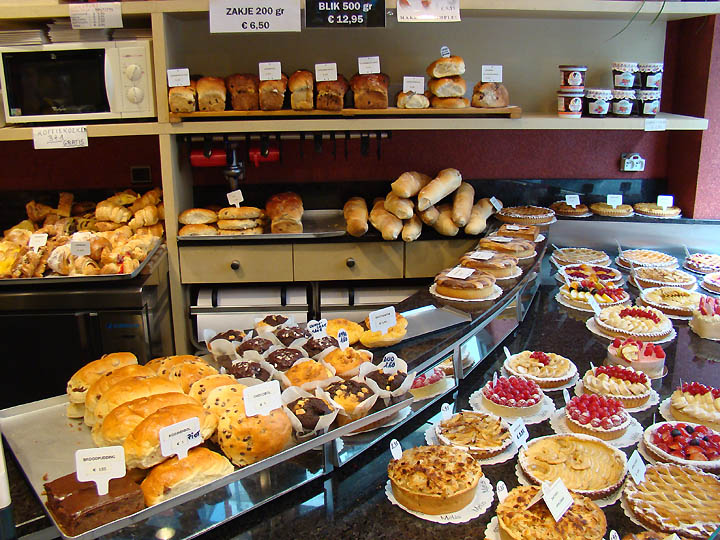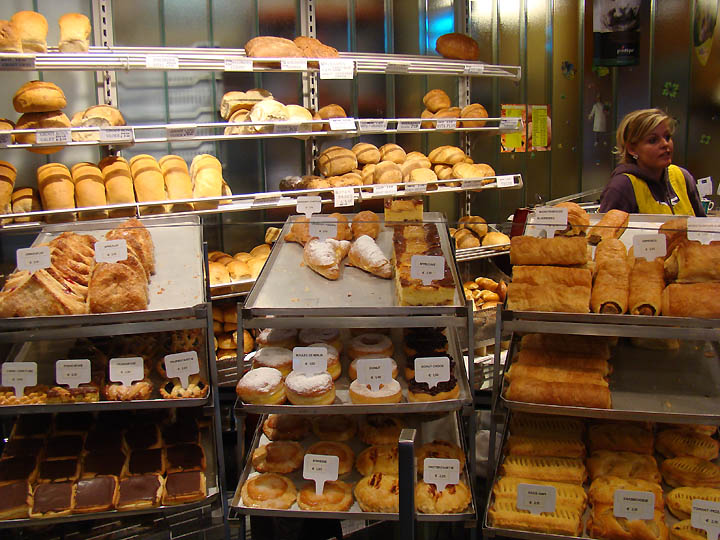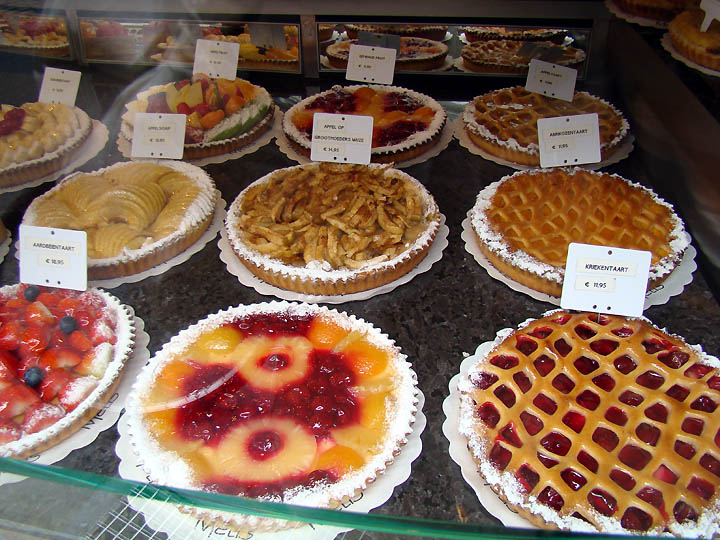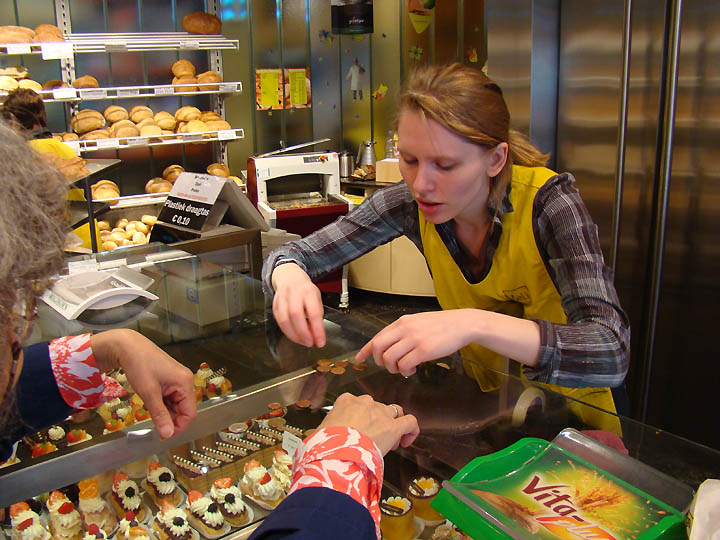 We purchased some pastries to eat. (And trying to use up our small denomination Euro coins.)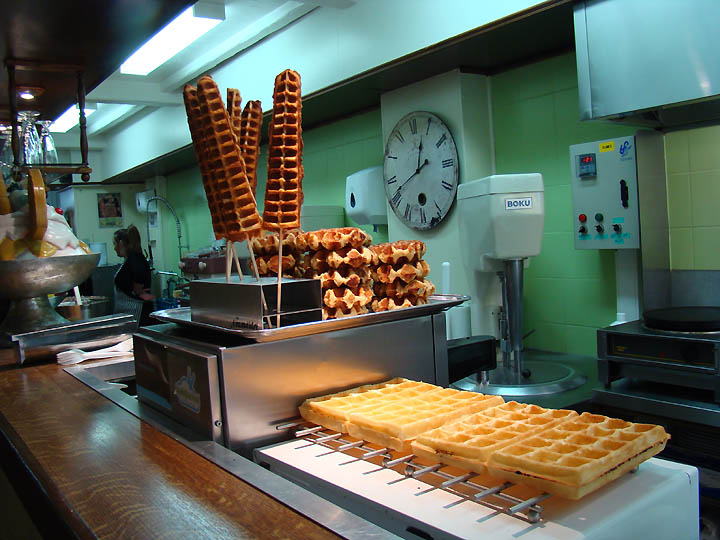 Another shop selling Belgium waffles. (2 Euro for a waffle on a stick.)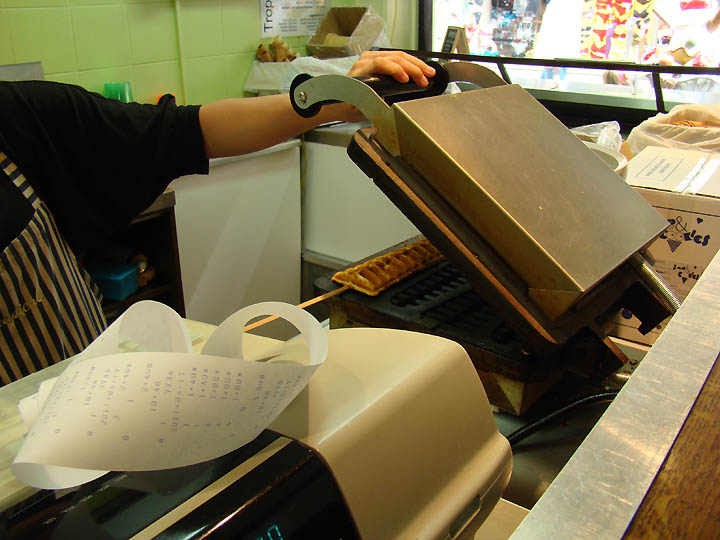 The clerk heated it up before handing it to us. It was very good, very cake-y.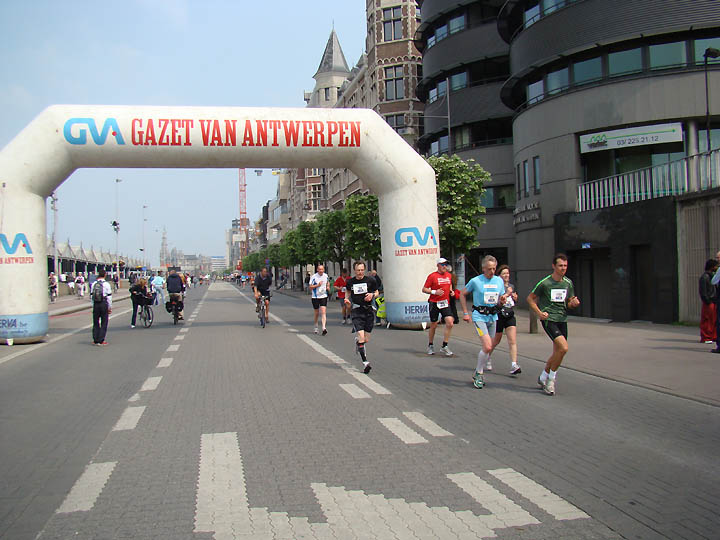 These runners were getting very close to the marathon's finishing line.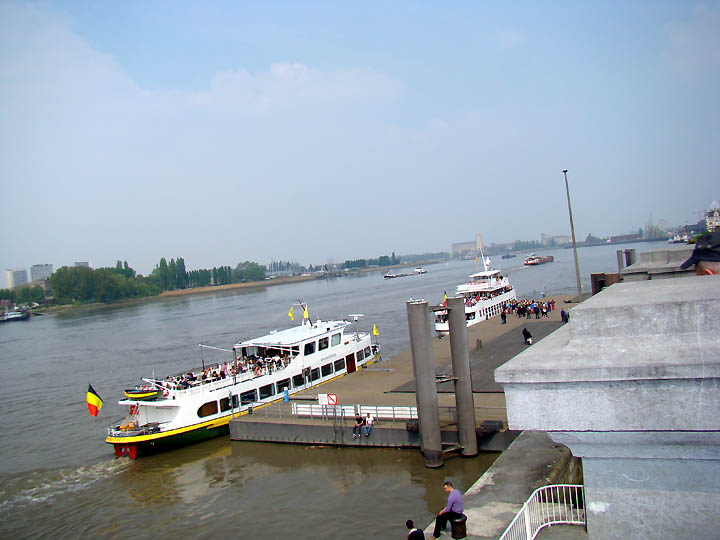 A tourist boat taking tourists for a cruise of the Scheldt river & harbor.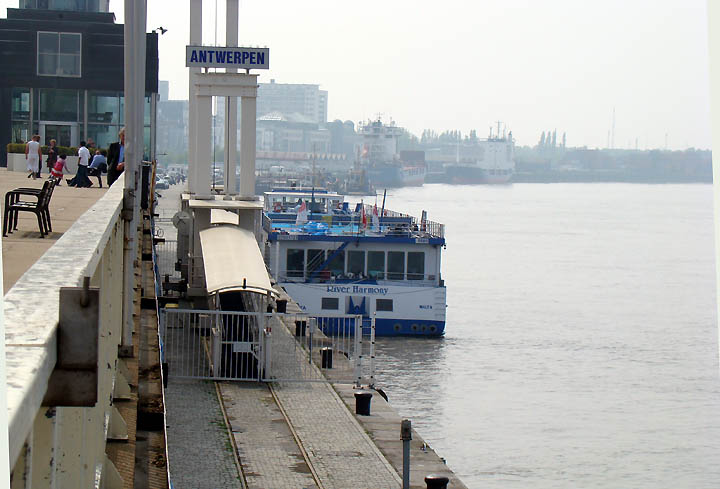 Our River Harmony docked on Scheldt river in Antwerp.
You are looking at the "stern", or the rear part of the ship.
Behind all these rows of large windows at the stern is the ship's dining room.