Trip Summary:
Having accumulated 80,000 American Airline miles we wanted to put it to good use. In July of last year, we scored a pair of open jaw tickets to Barcelona and coming home from Paris departing this April. We quickly drafted an itinerary to travel from Barcelona to Paris by train while visiting southwest France (Languedoc) and Loire Valley along the way.
Why Barcelona and France? We had been to many parts of Spain but not Barcelona. We had heard how vibrant and beautiful Barcelona was as a city, so we have always had interest in visiting. As for France, it is one of our favorite countries, so not much nudging was needed for us to go. Besides, Vincent often wished to go to Paris for a weekend, now we really were going to be in Paris for a weekend.
Our 15-day travel map is below. All the teardrops are destinations we stayed overnight. The pins are places we visited as daytrips. We started from Barcelona (5 nights), then trained to Toulouse (3 nights, as a base to visit Carcassonne and Albi), then to Amboise, our base in the Loire Valley for 3 nights, then to Paris for 3 nights.
Transportation:
We flew Iberia (AA's partner airline) from Boston to Barcelona by way of Madrid. Then flew from Paris to Boston by way of Madrid. To find availability and book award travel on AA's partner airline we had to call AA and pay a $25/pp booking fee.
Some of the trains we took were high-speed Spanish AVE or French TGV trains, some were fast IC (Inter-City, reserved seats) trains and some were local TER trains. TER are regional French trains with open seating. Even for regional trains, they are modern, spacious, comfortable and far sleeker than Boston commuter trains.
A lot of research went into when and how to purchase train tickets online, so here we devoted a whole section to HOW-TO travel by French trains.
We did not have enough train days to justify buying a rail pass, so we bought point-to-point tickets. French train tickets start selling online 90 days prior to departure. They are priced in tiers like airline tickets with limited seats slated for various discounts (PREM, Loisir, DECOUVER SENIOR, ... etc). PREM is the deepest discount and can be more than 50% off, but cannot be exchanged or cancelled. The walk-up full fare is the most expensive but also the most flexible. TER tickets are not discounted at all, but prices may vary due to peak/non-peak hours.
For rail passes in France, or multi-country rail passes, visit Rick Steves' website for a great tutorial. For some high speed trains or special scenic trains, you still need to pay a reservation fee with a rail pass. However, if you miss a train, all you'll lose is your reservation fee (mostly from €5 to €10), not the price of a ticket.
For French train help, read The-Man-in-Seat-61's webpage at: www.seat61.com/France-trains.htm.
To summarize:
The Official SNCF French train website is http://www.voyages-sncf.com/ (select 'Other countries (EUR)' from top right to go to the 'real' voyages-sncf.com in English with prices in Euros and full functionality), or try the direct English language link: http://en.voyages-sncf.com/en. Do not select "United States" from the country list, because you will be redirected to SNCF's North America marketing arm, Rail-Europe, and will be paying 3 times more for a ticket.
Many US-based credit cards are being rejected by SNCF's website, so if your tickets are all within French territory, a reliable alternative is to purchase tickets from https://www.capitainetrain.com, in English, US-credit-card-friendly, and same price. You get to specify your preferences for seats (forwarding facing, 4-seats or 2-seats, upstairs or downstairs if the car were a double decker) then you will receive an email with link to print your tickets from home, or a reference code to pick up your tickets at ANY French train station using a SNCF self-service terminal.
There are direct high speed trains between Paris and Barcelona jointly operated by French SNCF and Spanish RENFE. For our cross-border train from Barcelona to Toulouse (FR), www.capitainetrain.com could only display the schedule but could not sell us the tickets. So we had to purchase tickets from SNCF's website. We went to http://en.voyages-sncf.com/en. For our first attempt, we used Firefox browser and a BankOfAmerica Visa card, but the card was rejected during verification process. We called BankOfAmerica card services, but were told that there was no record indicating they had ever received a request from SNCF at all. So we switched to Microsoft Explorer and a CitiBank Visa card which succeeded. The difference this time was that during the verification process a smaller window popped up to ask a few security questions. After all questions were answered correctly, the verification process went through, and we received an email from SNCF to print train tickets from home.
We purchased all the long distance train tickets this way. Sometimes the price differences between a TGV 1st class and 2nd class tickets were very little, in that case we'd opt for 1st class for wider seats and more empty space. For short distance day trips, we only pre-purchased the outbound tickets to save time from having to buy tickets at a train station. We purchased return tickets in the afternoon walking up to the station counter. That way we were free to wander without time constraints.

Lodging:

We booked all our hotels in January. We selected our lodging based on guide books, word-of-mouth from Fodor's community boards, Google maps to see its location and street views, and also studied the hotels reviews on Tripadvisor. Most small European hotels' rooms come in various sizes and shapes, therefore room rates differ accordingly. Besides that, room rates also varied based on the cancellation policy you are willing to accept. Non-refundable ones were the lowest. We chose a rate with a cancellation period (x days before arrival) that we were comfortable with. Generally, B&B's (Bed & Breakfast) had more restrictive cancellation policies than hotels because they are unlikely to have last-minute walk-in guests.

Barcelona - The city center is Placa Catalunya. We wanted to stay near there and also wanted to be in walking distance of the La Boqueria market at 91 La Rambla. We booked Hotel Montecarlo located at 124 La Rambla, a "Big Standard Room with natural light" was €165.42/night. It was a convenient location and a quiet oasis in the middle of the busiest street in the city. Now that we have experienced the Las Ramblas day and night for 5 days, we'd say hotels within 3 blocks of Placa Catalunya are all central; hotels in Barri Gotic near the Cathedral square along the ones in El Born close to Jaume I metro station are good locations. The blocks in Barcelona are often so short that one can walk a block in a minute or less. So the important thing is to pick an area that is safe and bustling in the evening with a lot of dining options.

Toulouse - Hotel Albert 1er (1er=PREMIER) was our one and only choice. An American lady currently living near Toulouse often touted this hotel on Fodor's France board. We heeded her advice to book a larger room, a King Size Superior Room for €110/night including buffet breakfast for two. This was the least expensive lodging of our entire trip. Our room was equipped with a kitchen sink, a microwave oven and a (French version of the) K-Cup machine to make tea/coffee. Those were all god-send during our cold, windy and rainy visit.

Amboise - Au Charme Rabelaisien, ADDR: 25 Rue Rabelais, Amboise, 37400 France. This B&B was recommended by Rick Steves' France guidebook and also well-reviewed on Tripadvisor. Its cancellation policy was 4 days prior to arrival, otherwise we'd lose money for the ENTIRE stay (not just the first night). We booked the Comfort Double Room in the garden facing the swimming pool for €144/night, including breakfast and WIFI.
- A highly rated B&B with beautiful grounds and only a few doors down was Le Vieux Manoir. They are run by American expats Gloria and Bob. They had a very stringent cancellation policy which deterred us from booking there.

Paris - Hotel Le Clément in Saint Germain – 6, rue Clément, Paris 75006 France. We booked a Superior Double room at €152/night on an "INTERNET SPECIAL OFFER". Cancellation without fee was 3 days prior, otherwise a one-night fee. This hotel was in a great location, but our room still felt cramped despite staying in what they considered a larger room. METRO: Mabillon on M10. If you are staying five days or more, it is worthwhile to consider renting an apartment for more space and the amenities of home. Vacation In Paris, based in New Jersey, is but one of many reputable agencies handling vacation rentals in Paris.

Food:

In Barcelona, we enjoyed churros dipped in thick chocolate for breakfast. We also enjoyed tapas (or Pintxos in Catalan, they are tapas on sticks), and paella.

In France, we enjoyed a Languedoc's regional specialty called Cassoulet - a stew made with white beans and various kinds of meat (goose, duck, pork, and sausage). We also enjoyed salad with duck gizzard (see a photo link). It actually was pretty good. In rest of the France, duck is popular but Vincent is aversive to duck fat.

We did not try Foie Gras (duck or goose liver) - We just wanted to sample a bit without ordering a whole plate. Since the opportunity did not present itself, we did not get to try. Perhaps there will be opportunities in the future.

Money Matters:

Credit card - Most credit cards tack on a foreign transaction fee (between 1% to 3%), yet some credit cards charge no fee at all. Therefore, call your credit card bank before your trip to give them your travel dates and also to inquire about its foreign transaction fees, then decide which card will be your primary card for foreign travel.
Bank of American has a Visa card that charges no foreign transaction fee but gives you less points in reward. Consider applying for such a card for foreign travel.

- If a vendor offers to convert your charge to USD to charge to your credit card, decline this offer. His conversion rate will be so bad that you'll lose money and the foreign transaction fee will still be tacked on because the charges come from a foreign country.

Cash - Withdraw foreign currency with your bank ATM card will give you the best conversion rate. Banks used to charge a flat fee (up to $5) for foreign withdraw, but now some banks are charging a percentage fee (up to 3%) too. Call your bank before travel to determine your best option.



---
Itinerary with links to picture pages:
Day 1 - Arrival in Barcelona Photo (4/20/2014, Easter Sunday) Rain shower: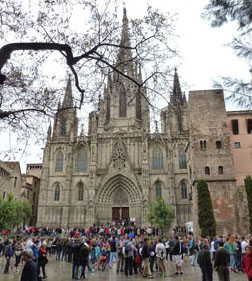 Austin gave us a ride to Logan airport yesterday for our 5:30pm departure. We arrived Barcelona on this Easter Sunday. Took a blue "Aerobus" to its last stop, the Placa Catalunya

[PLAS-sah cat-ah-LOON-yah], which was 300 meters from our hotel. Bus fare was €5.90/pp, pay driver.

Our room at Hotel Montecarlo was not ready upon arrival so we left luggage with the concierge and went for a walk. The friendly desk clerk reminded us to be careful of valuables because there were pickpockets on the street outside.

The street in front of our hotel, Las Ramblas (means "stream" in Arabic), is Barcelona's most colorful pedestrian thoroughfare; it connects the Columbus Monument by the sea to the Placa Catalunya in the city center. The Ramblas used to be a drainage ditch along the medieval walls that once defined what is now called the Barri Gotic (Gothic Quarter). "Las Ramblas" is plural, a succession of five separately named segments, but address numbers treat it as a single long street, thus the address of our hotel is "La Rambla 124".

We walked to the Cathedral in Barri Gotic, it was a very short walk because a block in this old town district is very short. We were happy to see the Cathedral square crowded with festive locals celebrating Easter Sunday. We found a restaurant facing the Cathedral square to enjoy people-watching and a delicious tapas lunch.

For dinner we walked to the popular Ciudad Condal at Rambla de Catalunya 18 (in Eixample) for tapas. We had to wait 30 minutes for a table. The place was a cut above your normal tapas bar but with reasonable prices.

NOTE 1: According to our tour guide in Toledo, Spain, "Cathedral" refers to the main church and is the seat of the bishop or archbishop. There may be many churches in a city but only one is called the Cathedral."
NOTE 2: Eixample

[eye-SHAM-plah], meaning Extension, is the modern residential area above the Placa de Catalunya. Antoni Gaudi's Sagrada Familia Church, as well as many upscale restaurants, shops and hotels are in this district.

Day 2 - Barcelona Walking Tour (4/21/2014, Monday) Rain shower: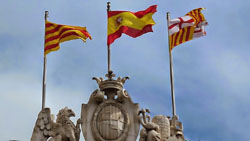 This was the Monday after Easter Sunday, a national holiday, therefore the Boqueria market was still closed.
In the morning we walked 2 minutes to La Pallaresa Granja-Xocolateria (Carrer de Petritxol 11. Daily 9-13, & 16-21) for a breakfast of churros dipped in thick chocolate, croissant, bread, and coffee Americano (steaming espresso diluted with hot milk). This shop must have been mentioned by many travel books because we saw customers walking in with guidebooks in hand. We had breakfast there four days in a row. The excellent coffee and thick hot semi-sweet chocolate dipping sauce for churros kept us coming back.
We had signed up for a 3-hour Sandemans New Europe Free tour of Bareclona. We booked online, received an email confirmation, showed up at the designated area to meet the group. Our guide for our group of around 30 was a young lady from UK named Ruby. The tour was good. We learned a bit of history about Barcelona. Around 15BC Roman soldiers founded Barcelona as a small hilltop town on the road between Rome and Tarraco (Tarragona). This Roman colony was named Barcino. It covered only about 30 acres, and centered roughly at where the Cathedral is today. The Roman city walls were built around 350AD. No wonder some streets in the Barric Gotic looked like they could have been in Rome and some narrower streets felt like we were in Siena. The biggest difference were the buildings being much taller in Barcelona than Siena.
Our walk covered parts of Barri Gotic and parts of El Born. El Born was cleaned up for the 1992 Summer Olympics and now looked very hip and cheerful with many restaurants.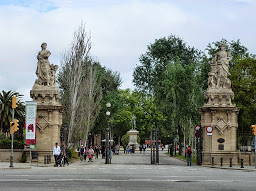 Our walking tour ended at Parc de la Ciutadella (Citadel Park, main site of the 1888 Universal Expo) near the waterfront district called Barceloneta.
We asked Ruby to recommend a good place for paella because we heard that the best paella restaurants were around the beach. We did find the restaurant and had their seafood with black rice. The food was good but the restaurant was in the middle of a sea of concrete and not the nice beach-front restaurant we had in mind. Oh well, that's the risk of listening to one person's opinion without checking against internet photos or reviews.
Hotel Montecarlo provided complimentary tea/coffee/pastries/fruits in its bar from 1pm to 11pm for guests. After having a very filling lunch we went to the bar to snack on pastries, oranges and tea/coffee which turned out to be our dinner for that evening.
Day 3 - Gaudi Tour and Boqueria Market Photo (4/22/2014 Tuesday) Cloudy: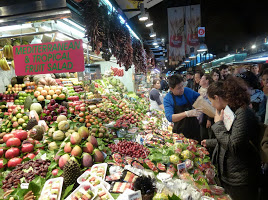 Today was the Tuesday after a long weekend, so the Boqueria Market was open. After breakfast, we went to La Boqueria to buy Clementine oranges, cut fruits in cups, and freshly squeezed orange/mango juice. The market was very bustling. As a matter of fact, the whole La Rambla street was always bustling. Yesterday's tour guide told us that Barcelona was the fourth most visited European cities after Paris, London, and Rome.
We walked 4-min to Placa Reial (Royal Plaza) which was the meeting point for our 11am Gaudi walking tour with Runner Bean, another highly recommended walking tour company. The competition for tours was so fierce that Runner Bean offered theirs for free. You were just required to tip the guide at the end. Most tipped €10 per person.
There were about 20 people in our tour. The itinerary required two metro rides. Our guide Jessie told us that everything we had heard about pickpockets in Barcelona were all true and they especially liked to work in metro area, thus she would call out "There is a Gaudi" to warn us when she spotted a pickpocket. Jessie advised us to safeguard our purses/bags while in metro by "carrying your bags in front of you, and placing one hand on top of your bag."
The tour started by a short walk to view Palau Güell, the wealthy industrialist Eusebi Güell's mansion built by Gaudi. Mr. Güell was Gaudi's patron. Several of Gaudi's projects bore Güell's last name.
We then took a metro to view Casa Batlló (at #43 Passeig de Gràcia) and Casa Milà (La Pedrera) (at #92 Passeig de Gràcia).
Soon after we walked into the Diagonal metro station Jessie called out, "There are two Gaudis", pointing to two women in their 50's sitting on a bench at the beginning of the platform. They were facing the tracks to observe passengers coming in. As soon as hearing Jessie's cry, they immediately stood up, turned around to face the wall so that we could not see their faces. Jessie told us to let the first metro train pass, walk to the center of the platform and wait one minute for the next train. She said pickpockets usually wait at the first car or the last car for a quick getaway.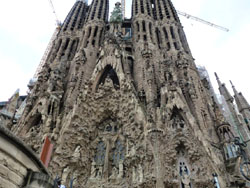 Then we took metro to view Gaudi's Sagrada Familia church (The Holy Family church). The tour ended outside this church.

We had pre-purchased tickets online to enter the Sagrada Familia church at 3pm. The lines to purchase tickets to the church snaked around the block. We were glad that we already had tickets in hand.

Sagrada Familia is undoubtedly Gaudi's greatest work. Gaudi worked on this church from the age of 31 until his death in 1926 at the age of 73. Gaudi spent the last 27 years of his life living in a hut on site at the construction site.

On June 7 of 1926, Gaudí was struck by a tram car while he was taking his daily walk to the Sant Felip Neri church for prayer. Due to his shabby clothing, the unconscious Gaudi was assumed to be a beggar and therefore did not receive immediate aid. He died three days later in a hospital.

The work on the church still continues to this day by others inspired by Gaudi's vision. The unfinished Sagrada Familia church has an optimistic completion date of 2026 or 2028 which is more than 140 years after it started! One reason why it has taken so long is that the funding for the church are strictly from donations and entry fees.

We enjoyed both of our walking tours yesterday and today.

Day 4 - Montjuic and Waterfront Photo (4/23/2014 Wednesday) Sunny and warm:

Today was St. George's day. It was finally sunny, warm and suitable for sandals and capri pants. St. George is the patron saint of more than 16 Christian countries including Catalonia. On this day in Barcelona, men gave women roses and women gave men books. That explained why there were so many flower stands and book kiosks on sidewalks today. The streets were filled with festive people.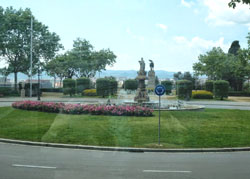 We purchased a two-day pass for a hop-on hop-off double-deck sightseeing bus called Barcelona Bus Turistic (27 Euros for a one-day pass, 35 Euros for a 2-day pass). Barcelona is very spread out so looking at city landmarks on top of an open deck sightseeing bus was very efficient. There were 3 color-coded bus routes. The red route went all main sites (Montjuic, Harborfront, and Barri Gotic), blue went to the northern suburb and most Gaudi sights, and green was for the waterfronts along the beaches. We decided to ride the red route and green route today, and save the blue route for tomorrow.

Montjuic [

MOHN-jew-eek] (literally, "Mount of the Jews"), is a small hill overlooking Barcelona's port. In 1929 the hill was redesigned and landscaped to host the Universal Expo (World Fair). It more recently hosted the opening/closing ceremonies and core events of the 1992 Summer Olympics. Today it is a large city park offering culture, leisure and sporting activities.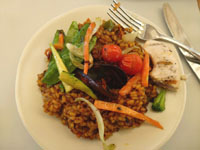 We rode the red route for almost the complete loop and then got off at the Port Olympic by the Mediterranean sea for a look and see. We found a nice restaurant in the marina/beach area for a very good seafood paella lunch.
After lunch we hopped on the green route bus to make a loop around the Olympic village area. The whole area was cleaned up for the 1992 Summer Olympics. Now the buildings are in good use as offices and apartments. The area was kept very clean and pleasant.
In the evening, we had pre-booked and printed vouchers to a Spanish Guitar concert performing at 9pm in a chapel inside Church of Santa Maria del Pi (Santa Maria of the Pine Tree), about 4 minutes walk from our hotel.
The guitarist's name was Manuel González. If you go to youtube.com, and search for "Manuel González Spanish Guitar", you would see a few youtube clips of him playing guitar either at this church or at a more elegant concert hall called the Palau (The Palace of Music of Catalan). Ideally, we would have liked to attend a Spanish Guitar performance at the Palau, but the timing of our visit did not coincide with such a performance.
The small chapel for our evening concert seats about 230 ~ 250, and it was full. Manuel Gonzalez included the popular "Recuerdos de la Alhambra" (Memories of the Alhambra) and "Aranjuez Ma Pensée" in his performance. The concert was enjoyable. Here is a Youtube clip of Manuel Gonzales performing "Memories of the Alhambra" in the same chapel we went to.
Day 5 - More Barcelona Photo (4/24/2014 Thursday) Sunny:
Today was our last full day in Barcelona, so we wanted to close a few loose ends on our list.
After breakfast we walked to the Cathedral to see the interior. The admission to the Cathedral was free in the morning but €6 in the afternoon. The interior of the Cathedral was not as rich or beautiful as many Italian churches we had been to.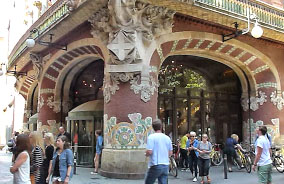 Next we walked to the Palau, short for Palau de la Musica Catalana (Palace of Catalan Music), a very beautiful concert hall designed by architect Lluís Domènech i Montaner in Catalan modernista style.
The concert hall was inaugurated in 1908. As soon as it opened to the public, the Palau de la Música Catalana became a center of Catalan cultural life and a symbol of Catalan nationalism. It is now a UNESCO site.
Back to Placa Catalunya to get on the 2nd day of hop-on hop-off sightseeing bus for a 2-hr ride to the north, with stops at Gaudi's Sagrada Familia church and Park Güelll. Park Güell was a failed housing project for the rich, because only two people wound up building houses in that park - Gaudi's wealthy patron Count Eusebi Güell, and Güell's lawyer.
After the bus tour we went to a well-reviewed restaurant called Cerveseria Catalana (Carrer de Mallorca 236, in Eixample) for tapas. The restaurant was open for business throughout the afternoon. We had skewered cod fish, grilled razor clam, grilled red shrimps, paella, and patata bravas. It was a very satisfying lunch.
Tonight we had to pack for leaving tomorrow. Barcelona exceeded our expectation. We found it to be vibrant, cheerful, beautiful and very clean. However, with a 40% unemployment rate, it is a very serious problem for the government.
Day 6 - To Toulouse, France Photo (4/25/2014 Friday) Cloudy + windy, in the 50F's:
Our train was to leave from Barcelona Sants station at 10:24. We had train tickets printed at home, but we knew luggage needed to go through security checks like an airport, so we left hotel for train station with plenty of lead time. Our taxi to Sants station took only 10 minutes in heavy rain but without traffic; the fare was € 11.55 total with 4 bags. (Each bag added €1 to the total fare.)
The 3-hr train ride passed green fields, snow capped mountains, lakes and costal shores. Our hotel in Toulouse was Hotel Albert 1er in the town center and was about 1000 meters from Toulouse train station. With luggage, we opted to take a taxi to the hotel. The ride was 6 minutes, the fare was €10.30.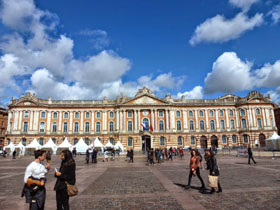 Toulouse is the fourth-largest city in France, after Paris, Lyon, and Marseille. It is the centre of the European aerospace industry, with the headquarters of Airbus in here.
As a tourist site, Toulouse did not have much to offer but we wanted to visit both Carcassonne and Albi. They are located in two different directions so Toulouse was the best central spot to base ourselves at. We would be able to stay in one hotel the entire time and have easy train connections for day trips.
After checking in, we walked 3 minutes to their city hall plaza, Pl. du Capitole. We were in hunt for a nice restaurant for a hearty meal. We were looking for a restaurant serving a regional specialty called Cassoulet, a stew made with white beans and duck meat. Unfortunately, such restaurants were closed after lunch and would not reopen until 7pm for dinner. This was a wake up call to us that smaller markets restaurants are not open throughout the afternoon.
We ended up eating at McD's at 5:30pm. We did not want to wait till 7pm, especially in this windy, rainy and chilly day. A large sandwich at McD cost €6.0, about USD$8.40. We are McD shareholders, therefore we were happy to see McD making a healthy profit overseas.
Day 7 - Day Trip to Carcassonne Photo (4/26/2014 Saturday) Cloudy in the morning and in the 50F's, sunny in the afternoon, and raining in the evening: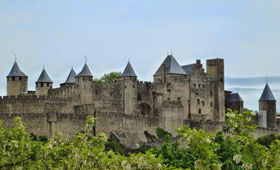 Carcassonne, in the southwest of France, is one of the best preserved medieval walled city in Europe. There is a legend which says 1200 years ago Charlemagne [742-814AD] and his troops besieged this fortress-town for five years. A cunning Madame Carcas saved the town. She fed the last sack of wheat to the last pig and tossed the pig over the wall. Charlemagne and his men were amazed that the town would waste a fat pig and decided they would never succeed in starving the people out. They ended the siege and the city was saved. Madame Carcas ringed the victory bell and La Cite had a new name, Carcas-sonne.
Carcassonne is about 2/3 of the way from Barcelona to Toulouse. On our way from Barcelona to Toulouse via train the day before, we did not get off at Carcassonne because its station did not have luggage lockers. Thus we continued on to stay in Toulouse and came back to visit Carcassonne as a day trip today.
This morning, our 9:49 IC (Inter City) train from Toulouse to Carcassonne was delayed for one hour. The station was crowded with passengers waiting to board their train. We used the waiting time to pick up all of our pre-purchased "print-at-station" train tickets from one of the ticket terminals. (You key in your confirmation code, then key in your last name. Voila, the machine printed and spat out your tickets.)
After arriving at Carcassonne we walked across the canal to look for a taxi, but could not find any. Next to the taxi stand was a bus stop. A uniformed city bus employee confirmed that our bus to La Cite was Bus #4. He pointed to a schedule on the wall to show us the next bus would come in 25 minutes. A walk from the train station to La Cite was 30 minutes, so we decided to save our energy to wait for the bus. Bus fare was €1 and was collected by the driver.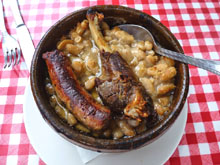 Within the fortified old city (La Cite) the buildings and shops were very cute, and the streets very clean. Many restaurants were set up with lovely outdoor seating. Several shops sold fabric craft in vibrant yellow and blue colors just like the ones in Provence we saw in 2001.
We walked to a leafy square (Place Marcou) to see a bunch of pleasant outdoor tables with patrons eating their bowls of cassoulet. That's what we wanted! Mei-Ching ordered a 3-course menu du midi (lunch special) for €13.80 with cassoulet as the main plate. Vincent ordered something light a la carte because of his aversion to duck and pork fat. This was a very tasty meal and very reasonably priced.
All the guidebooks said Carcassonne was touristy, but in late April we found Carcassonne to be very cute, lovely, enjoyable and not a tourist trap at all. (The weather being sunny during mid day certainly boosted our good impression.)
Around 5pm, we walked from La Cite to Carcassonne train station, passing the new town. Both old and new parts of the city were very neat and pleasant. There was no dog poop on sidewalks and no street litter. It would not have been a bad idea to spend a night in Carcassonne at all. The old city is flood-lit in the night which would have been a lovely sight to see, but we did not linger that long because it would not get dark until after 8 or 9pm.
Day 8 - Day Trip to Albi Photo (4/27/2014 Sunday) Cloudy, windy, rain + sun. In the 50F's: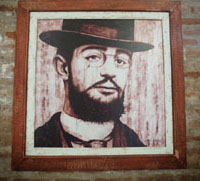 Today we took a local TER train for one-hour to Albi to pay homepage to painter Henri de Touloue-Lautrec. Albi not only has the largest collection of Henri Toulouse-Lautrec's paintings and posters, but also it is the town where the artist was born and raised.
Henri was born in 1864 in an aristocratic family (descendants of the Counts of Toulouse and Lautrec and the Viscounts of Montfa). He was crippled from youth, perhaps due to a genetic disorder because his father and mother were cousins (近親繁殖). After he broke his legs in age 13 and 14, his lower body stopped growing. Because of his deformity, Henri moved to the fringes of society where he gained affinity for people who did not quite fit in. Many of the subjects of his paintings were of Parisian underclass whom he befriended.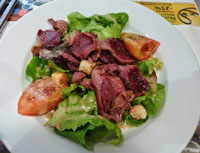 The museum was closed from 12 noon to 2pm, so we used that time to enjoy a leisure lunch at a nice restaurant across the square from the museum. Mei-Ching ordered menu du midi and chose salad with duck gizzard as the first course, cassoulet as the 2nd course and a slice of pie as dessert. The salad with gizzard was surprisingly good. Before ordering, the waitress tried her best to explain to us in English what "gésier" was. She kept saying "duck" then pointing to her neck. We were puzzled how could duck neck be made into a salad, but since it was duck something we'd give it a try. The "gésier" turned out to be slices of tender duck gizzard and was very good. Later we told the waitress that "gésier" is "gizzard" in English. Hope she could remember that word.
Toulouse-Lautrec Museum is housed in the Palais de la Berbie, once the fortified home of Albi's archbishop. We rented an audio guide, spent about two hours in the exhibition hall and also saw a 30-minute film about his life. The museum had a pretty garden which offered scenic views of the town across the Tarn River.
Like yesterday's day trip, we had pre-purchased the outbound train tickets from www.capitainetrain.com before leaving home, but purchased the return tickets by walking up to the counter. That way we could just walk back to the train station when done without time management.
Day 9 - Train to Amboise Photo (4/28/2014 Monday) Cloudy + rain, in the 50F's:
We asked our hotel to book us a taxi to the train station for our 9:04 train to Amboise. The taxi fare turned out to be €18.50! (When we arrived three days ago it was €10.30.) The taxi driver explained to us that when we booked a taxi (as opposed to flagging down a taxi at a taxi stand), the meter started running as soon as the taxi left its home location.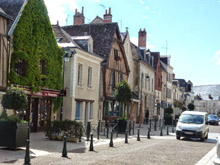 Today's train travel from Toulouse --> Amboise was 5.25 hours on two TGV trains and one TER train, thus two train changes. Unlike in Japan, the French did not paint markers on the platforms to indicate which train car would stop at which location. They used a few electronic boards to show that instead, but the TGV trains were very long with multiple locomotives making it difficult if you were not at the correct spot. For example, if you were assigned to train car #2 and you were in front of train car #12, and you think you can get onto car #12 then walk internally to car #2, you may be wrong. Because there might be a locomotive between car #2 and car #12, therefore you could not go through. You'd have to wait until the train stops at the next station so you could run to your assigned car to board again.
We arrived at Amboise at 2:20pm and took a taxi to our B&B, Au Charme Rabelaisien , located in the town center. We booked 3 nights in this B&B via Booking.com and selected the room called "Comfort Double Room" in the back facing the pool. Our room was very lovely. The owner, Madame Sylvie, was very friendly.
Amboise was the royal residence of France's Renaissance King Francois I (1494-1547), thus wielded great power back then. We walked 5 minutes to the TI office to get more detailed maps and to see the center of the town. Amboise's town center was located in the shadow of Chateau d'Amboise. The pedestrian-only commercial zone named "Place Michel Debré" was lined with restaurants and shops. We had an early dinner of duck confit and grilled salmon at one of the cafes with outdoor tables. Our dinner choices were limited since some restaurants were either closed on Mondays or did not reopen until 7pm.
We chose Amboise in eastern Loire as our base because the two castles we wanted to see were both in eastern Loire. Tours TI office was the largest meeting point for mini-van excursions to visit castles for both the eastern and western Loire. The Amboise TI office did this on a smaller scale. (Consult Rick's France guidebook for details of the mini-van companies and their respective websites.) We read that Tours was a concrete city without charm, so we chose to base in Amboise. But as you will see later on Day 11, the day-trip to Chinon (in the western Loire) by train was not as convenient as if we had been based in Tours.
Day 10 - Chambord and Chenonceau Photo (4/29/2014 Tuesday) Raining all day. In the low 50F's:
The bed and pillows at our B&B felt just like home, so we slept really well. Madame Sylvie prepared a very good breakfast for her guests - croissant, cake, boiled egg, coffee, orange juice, cut fruits, cereal, yogurt, and cold cut meat.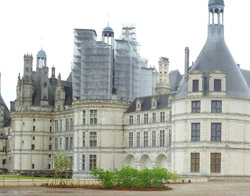 Touring châteaux [plural form of château, both pronounced the same] in the Loire region would be best done by car. Other than that, there are many mini-van excursions to choose from. Quart de Tours and Touraine Evasion are but two of the mini-van companies. We only wanted to visit Chambord (grandest) and Chenonceau (prettiest), so we booked a tour with Touraine Evasion a few days prior since they had an afternoon tour just to see these two chateaux departing from Amboise TI office.
Our van driver was Cecilia. She spoke Japanese to the other couple in our van and we were surprised how fluent she was. It turned out she was from Brazil and her mother was Japanese. She's fluent in Japanese, Portuguese, French and English! She came to France at age 26 and has resided here for the last 27 years.
We drove along the Loire river from Amboise to Chambord for a total driving time of 50 minutes. Cecilia pointed out a few landmarks on both sides of the river. We learned from her that Loire is the LONGEST river in France. It rained all day so we were glad someone with knowledge of the area was driving instead of doing it on our own.
At Chambord, Cecilia purchased discounted group admission tickets for us (we gave her the money). We were then left to tour the chateau on our own for 90 minutes. Chambord has a famous double-helix staircase, but the inside was almost bare. In the old days these chateaux were used as royal hunting lodges. When the royalty came, they brought their own furniture (including beds) with them.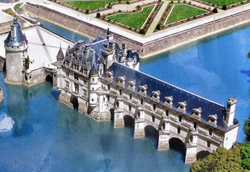 Cecilia then drove us to Chenonceau. This was another 50 minutes in the reverse direction because Chenonceau is just south of Amboise. The gardens and the settings were very pretty. It was raining and windy all day that Mei-Ching's umbrella broke. She bought a new umbrella at Chenonceau's gift shop. Now we have a souvenir to remember our time here.
Cecilia dropped us back at Amboise's TI at 6:30pm. We lingered around town center in hopes of snagging a table at a restaurant called Chez Bruno upon opening at 7pm. But we were politely told that they were booked full tonight. We then went to La Scala, an Italian restaurant, instead. The gourmet salad (fig, chicken breast, duck breast etc) was very good, but the French pizza was only tolerable. After dinner, we went back to our B&B and read the Tripadvisor reviews of Chez Bruno. So via Skype we called to make a reservation for 1pm the next day. We prefer a full lunch than a full dinner since we don't like going to bed soon after a big meal.
Day 11 - Da Vinci's Clos Lucé Photo (4/30/2014 Wednesday) Overcast, in low 60F's:
To Chinon, or not to Chinon? That was the question.

We originally planned to make a day-trip to Chinon to see the ruins of the Royal Fortress that was the primary residence of King Henry II of England (1133-1189) and his wife Eleanor of Aquitaine. The 1968 movie, The Lion in Winter staring Peter O'Toole and Katharine Hepburn was based on a story of events happening to them in this castle during X'mas of 1183. Although the story is fictional, all the characters are historical and real.
However, taking trains from Amboise (in eastern Loire) to Chinon (in western Loire) required a train change in Tours. The only morning train that could connect Amboise to a train in Tours was leaving Amboise at 08:38, arriving Tours at 08:57, then leaving Tours at 09:15 arriving Chinon at 10:02. Not only was it a total of 90-min on trains, but also it required a 20-min walk from our B&B to Amboise train station. That meant we had to have an early breakfast then hurry to the train station. The prospect of such an early start was not enticing because our energy was sapping. So we decided to leave Chinon for another trip, even though we knew Chinon was a very charming town loaded with history.
The decision to scrap Chinon from our plan was made the day before, before we called Chez Bruno to make reservation for lunch.
Chez Bruno was very busy when we arrived at 12:45 for lunch, but there was a corner table by the window reserved for us. Vincent ordered a three-course menu du midi (lunch special). Mei-Ching had her mind set on "Duck Breast with Armagnac Sauce" which had to be ordered a la carte.
Vincent's main plate turned out to be a potato casserole with cheese and bacon. (We could not understand what the main plate was from the lunch menu written on a chalk board in French. The waitress did her best to explain that it was potato and bacon and cheese, but that still left a lot to the imagination.) The potato casserole was just OK, not great, but Vincent was very happy that Mei-Ching's plate of duck breast in Armagnac sauce was fantastic. [NOTE: It was many years later that we learned this French potato dish, called Tartiflette as written on the chalk board, is quite a popular dish from Savoy in the Alps. See its Wikipedia page.]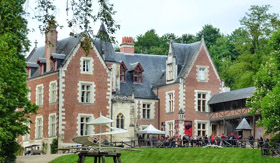 After lunch the sun finally broke through. We walked 10 minutes to Chateau du Clos Lucé (House of Light) – Leonardo da Vinci (1452-1519)'s home for the last three years of his life as an honored guest of the 22-year-old French Renaissance king, Francois I (1494-1547). Leonardo Da Vinci died in this house in May of 1519 at age 67 and was buried in Amboise, France.
According to Chateau du Clos Lucé's brochure, in the autumn of 1516 Leonardo da Vinci accepted the royal invitation and at the age of 64 he crossed the Alps on the back on a mule with several of his disciples, including Francesco Melzi and Battista de Villanis, his faithful Milanese servant. He brought with him three of his favorite paintings, one of them was a painting of a Florentine lady we now know as "Mona Lisa".
Francois I held Leonardo in high esteem, appointed him "First painter, architect and engineer" of the King. He made this residence available to him, as well as a princely allowance of 700 gold ecus a year, and financed his works, only asking in return for the pleasure of hearing him talk, a pleasure that he enjoyed almost every day.
The basement level of this house was filled with models of Leonardo's inventions built according to his notes - tanks, flying machines, gear systems, extension ladders as bridges, water pumps etc. Surrounding the house was a green park with kid-friendly playgrounds as well as life-size models of some of Leonardo's inventions.
Day 12 - Arrival in Paris Photo (5/1/2014 Thursday) Rain, in the 50F's:
Rain, rain, rain. We woke up before dawn due to the sound of raindrops hitting the roof.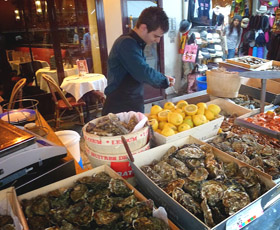 We had asked Madame Sylvie to book a taxi to take us to Amboise train station. The taxi showed up promptly, the 5-min taxi ride was €9.50 including luggage, and he did not start the meter until we got into the car.
We had to take a 12-min TER train to Saint-Pierre-des-Corps and then waited for 25 minutes to connect to a high-speed TGV train for one-hour ride to Paris. Our PREM-discounted train fare was €24.40/pp. From Paris Gare Montparnasse station we took a taxi to our hotel in Saint-Germain (6th arrondissement), taxi fare with luggage was €11.
We arrived at our hotel before noon. The room was not ready, so we left the luggage and took a walk with umbrellas. Vincent lost his umbrella in Amboise, but thankfully Hotel Le Clement had loaner umbrellas.
We had been to Paris a couple times in the past, so we really did not have a "must see" list for this trip. Our plan for the 3 days was very flexible, just to walk around, look and see and stop to eat as we like, in no hurry and no particular order.
We walked 2 minutes to Marche Rue de Buci, then to a Cosi Sandwiches (54 Rue de Seine) to have salad and sandwiches. Cosi's thin bread steaming hot out of the oven drew us back again and again in the following two days. You carry your tray to the upstairs seating area with classic music and wifi. We later Googled and learned that Cosi [ko-see] Sandwiches is an American company and has more than 100 locations in the United States, including several in Boston!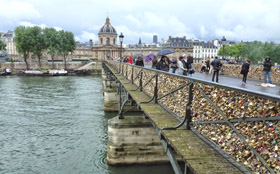 We walked on the pedestrian bridge, Pont Des Arts, over river Seine toward the Louvre Museum. There were millions of padlocks (love locks) attached to railings and sides of this bridge. The bridge was crowded with people. This was also the place where Mei-Ching felt someone touching her Baggallini shoulder bag from behind. She turned around, the two young women sharing an umbrella walking behind her sheepishly explained that it was their umbrella which accidentally touched her bag. But it was raining, their umbrella should be raised upright over their heads, not pointed forward to touch Mei-Ching's shoulder bag, which now was unzipped about 1/3 of the way. From that point on, she carried her shoulder bag with the zipper's pull tab in the front. Vincent's cross-body bag also had its zipper partially opened unexplainably, but we did not catch anyone doing that.
That evening, we saw a large sign of 湯面 (soup noodles in Chinese characters) near St. Michel Square. How temping on such a cold and rainy day! We thought for a few seconds then decided to enjoy some simple comfort food despite the fact that we were in Paris. We had a big bowl of noodle, fried rice, fried salmon, jumbo shrimps and Vietnamese spring rolls. It was a hearty meal.
Day 13 - Hemingway's Paris walking tour Photo (5/2/2014 Friday) Cloudy, rain then sun:
Café Américain <> Café allongé? That was today's discovery.

We walked to PAUL bakery near Rue de Buci for breakfast. PAUL is a 125 year old French chain of bakery/cafe with branches all over the world including one coming to the 3rd Avenue marketplace in Burlington, MA this fall. Besides pastries, we ordered two "American coffee" thinking it would be "Café allongé" - espresso diluted with hot water, but apparently, in this shop café Américain means a LARGE cup of weak coffee, therefore it cost twice of a cup of Café allongé, €3.60 instead of €1.80. From that point on we made sure to say two Café allongé. The bakery was doing brisk business in the morning, busy with customers. Vincent thought he saw Paul Simon (the musician) and his wife in the shop.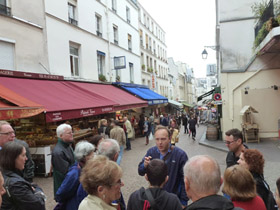 We joined a 10:30AM "Hemingway's Paris" walking tour with Paris Walks. The walk centered in Latin quarter and we went by places where Hemingway, James Joyce and Scott Fitzgerald lived. Our guide quoted many passages from Hemingway's "A Moveable Feast" and also threw in good anecdotes. We also went inside the "Midnight in Paris" church - the Church of St. Etienne du Mont where Gil was whisked away to a party from a mysterious 1920 automobile at midnight. The "magical" steps are to the side of the church, not the main entrance.
Our walking tour ended at Rue Mouffetard market at 1pm. With sight and smell of colorful fruits, vegetable, sea creatures, cheese, as well as many restaurants to choose from, it was a happy place to be when one was hungry for lunch. Earlier we had walked through a nice small street with many restaurants and outdoor tables, so we went back to this street to have sushi. All you can eat sushi lunch was €12.80/pp. You ordered off a menu and they brought food to your table. The sushi rice was too soft, other than that, it was a very satisfactory meal.
We saw an afternoon walking tour of Montmarte by "Paris Walks" that looked interesting, but thought two walking tours in a day would be too much. So we took a leisurely walk to St. Michel and sat at an outdoor cafe instead.
On our way back to the hotel we walked passed Rue de Buci. Two groups of street musicians were playing on the sidewalks now that it was not raining. The cheerful music really lifted up weary travelers' spirit.
Day 14 - free day in Paris Photo (5/3/2014 Saturday) Sunny finally, but windy: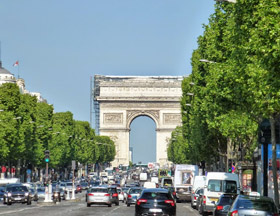 Since this was our last full day in Paris, we took a long walk along the Seine river on the left bank and then crossed the ornate Pont Alexandre III bridge with its gilt-bronze statues. The bridge was named after Russian's Tsar Alexander III, who had concluded the Franco-Russian Alliance in 1892. His son Nicholas II laid the foundation stone in October 1896 and it was inaugurated in 1900 for the Universal Expo.
After crossing the Pont Alexandre III, we came to Ave Champs-Elysees. We walked toward the Arc de Triomphe but stopped at the McD at the intersection of George V's for a rest and also to reminisce our last visit in 2001. From there, we walked to Eiffel Tower and then walked back to our hotel in St. Germain. It was about a 5-hour walk.
In the evening, we walked along Rue St. Andres Des Arts to St. Michael for a final stroll through the hub of the "Left Bank". We knew we'd be back in Paris again because there still numerous parts of France that we want to see. Paris is a convenient gateway going in and out of France.
Day 15 - Going Home (5/4/2014, Sunday) Sunny, very cold in the morning:
Our flight was scheduled to leave from Orly airport at 8:15am. A taxi ride from our hotel to Orly would take 25 minutes without traffic and cost about €50. Yesterday, we asked our hotel clerk to book a taxi for us leaving at 5:30am but she told us that they had a shuttle service that they often use and cost only €18/pp. We were hesitant due to the horror stories we had read about them but she reassured us that this one was reliable and on time. The hotel clerk collected €8/pp and then told us to pay the other €10/pp to the shuttle driver (which means the shuttle company only got €10/pp.)
A mini-van pulled up in front of our hotel at 5:30am sharp. There were already 4 passengers in the van. We headed to Latin Quarter to pick up one other passenger (who made all of us wait for 10 minutes) and we arrived at Orly at 6am. All turned out to be well and efficient.
Our trans-Atlantic flight from Madrid to Boston had many open seats. We touched down in Boston at 2pm. It was very nice to be home to relax but we knew before long we would be planning another trip.
Barcelona is a beautiful city, but Paris still has its special hold on travelers' hearts. We enjoyed all of our 4 stops. The lessons reinforced after this trip were: (1) choose May or September to travel to Europe for moderate weather (not too cold and not too hot), and (2) consider renting an apartment if staying for 5 days or more in a city.
---
Online Resources:
Fodor's France community board: http://www.fodors.com/community/europe/France/
Fodor's Spain community board: http://www.fodors.com/community/europe/Spain/.
You may post your train questions on one of the above boards. Mark Smith, the man behind seat61, often responded to train questions on Fodor's boards. Or you may email him directly via a link on his web site.
Spanish Guitar concerts in Barcelona, evenings concerts at Church of Santa Maria del Pi.
Spanish Guitar concerts at the Palau - Palau stands for Palau de la Música Catalana. Read its history.
Sandemans New Europe walking tours - They offer free walking tours in many cities. You tip the guide at the end of the tour. Most tipped €10 per person.
RunnerBean Walking Tours Barcelona - The competition was so fierce they had to offer tours free of charge, then you tip the guide at the end.
Barcelona Discover Walks - We did not take this one, but they offer free walking tours in Barcelona and Paris (and additional cities). See if an itinerary/schedule suits you better.
Paris Walks - This company was so established that they needed not to offer free tours to bring customers in. We took their Hemingway's Paris walking tour in the Latin Quarter, and enjoyed it. €12 per person.
Google search and Google Map are your best friends during trip planning. We created customized Barcelona and Paris maps on Google with recommended eateries plotted on the map. We printed out the maps to take with us. At any time when we were looking for a place to eat, we'd look at these maps to see what restaurants were close by, which worked very well for us.
Use Google French-English translation's speaker icon http://translate.google.com/#fr/en/ to learn to pronounce a few survival French phrases, as well as names of places you plan to visit.
Guide Books:
Rick Steves' Spain. – We tore off the Barcelona section to bind into a thinner book and only brought the section.
Rick Steves' France.