Day_10, Chambord and Chenonceau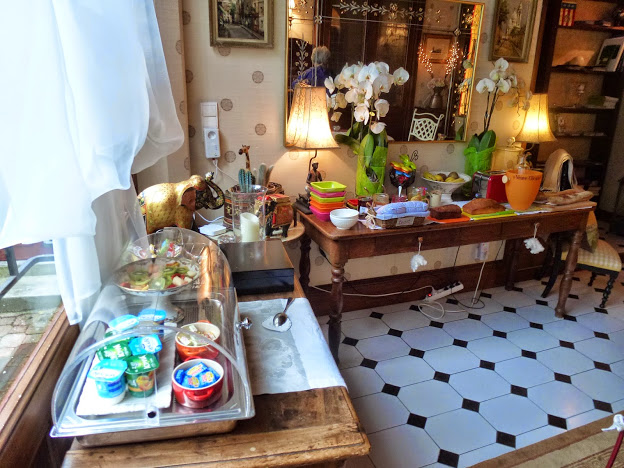 Our breakfast spread at the B&B's main house.
Yogurt, fruits, cake, croissant, coffee, juice, boiled egg and cold cut meat.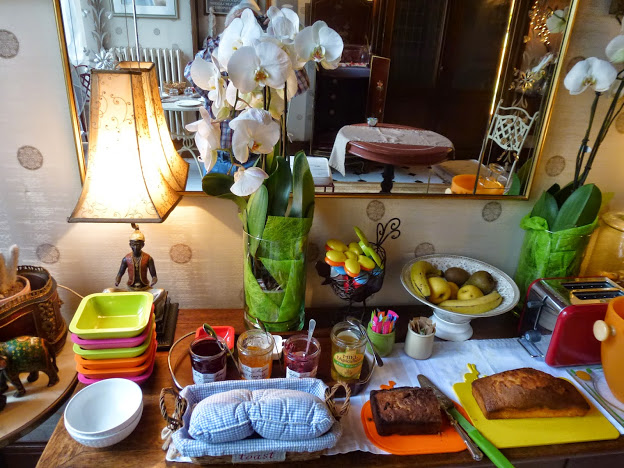 It was going to rain all day, so we decided not to go anywhere in the morning.
We just enjoyed our breakfast and relaxed at our B&B.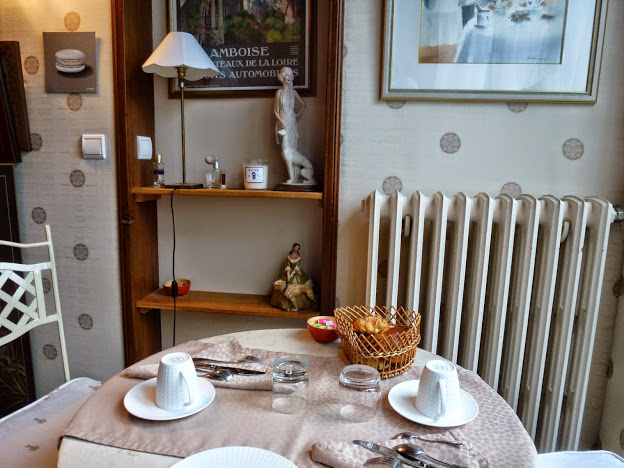 This was the breakfast table the two of us used for 3 days in a row.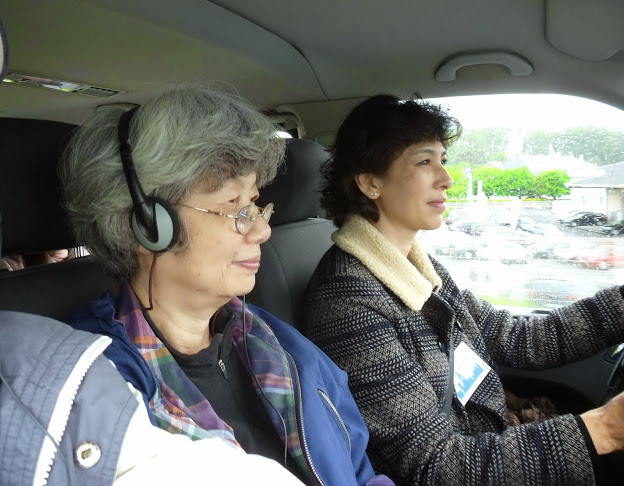 At 1:20pm, Touraine Evasion's mini-van picked us up in front of Amboise TI.
Cecilia, our driver, was a beauty of Brazilian and Japanese heritage.
The plan was to visit Chambord first, then Chenonceau after.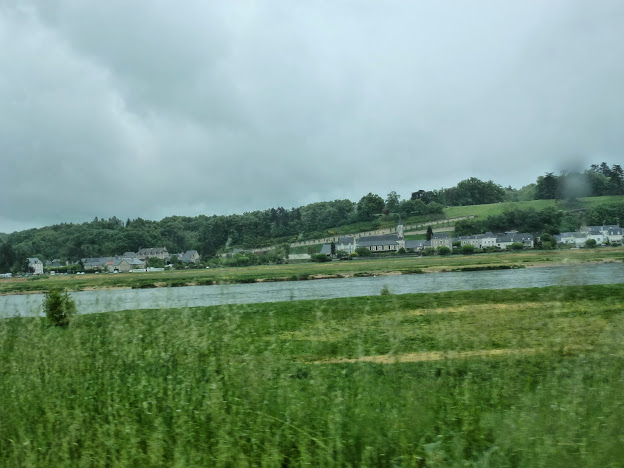 We drove along the Loire river heading north-east toward Chambord.
The sky was threatening.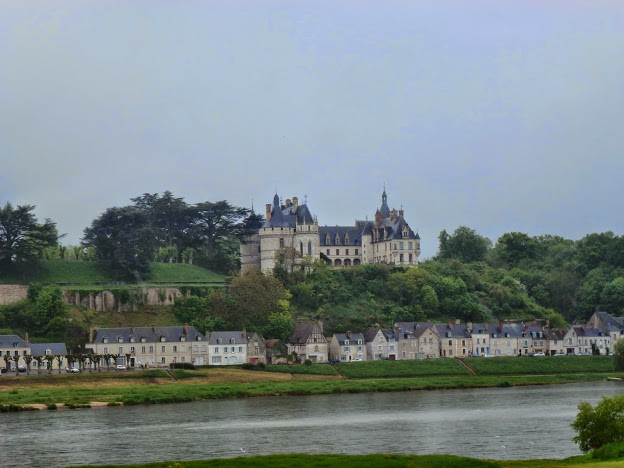 We drove past this Chateau de Chaumont-sur-Loire.
Diane de Poitiers, Henry II's mistress, moved here after she was evicted from
Chateau Chenonceau by Queen Catherine de Medici.
But I am getting ahead of myself.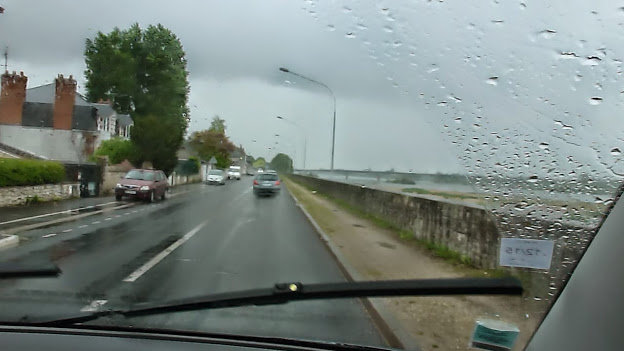 Drove on some town roads.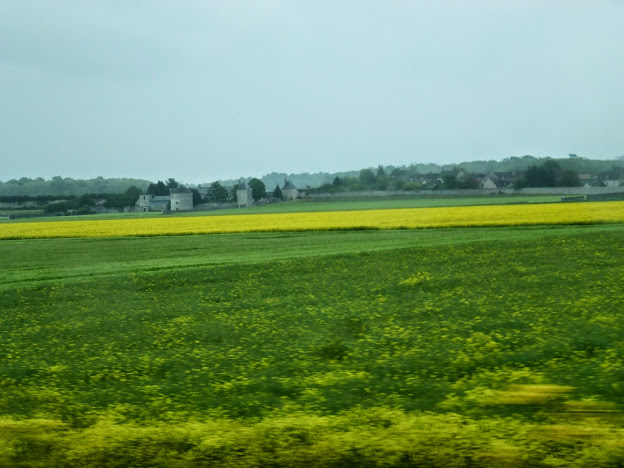 Saw some green fields and crops along the way.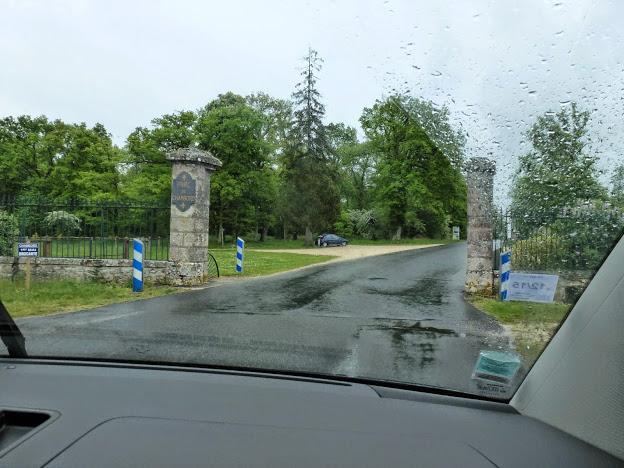 The entrance to Chambord.
It was a very long driveway before we reached the castle.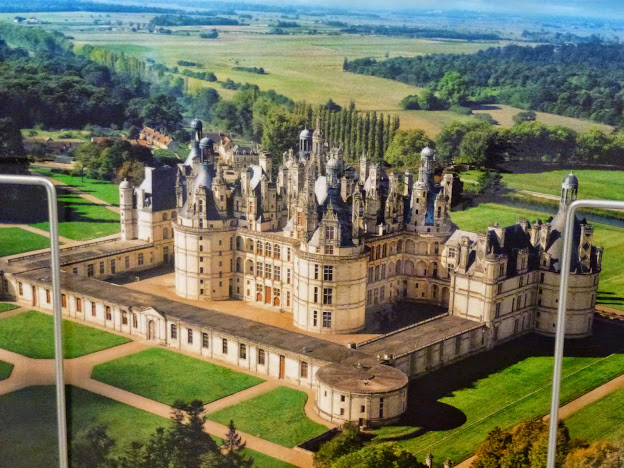 An aerial view of Chateau de Chambord from a postcard.
A central keep flanked by four large towers, two wings, and a curtain wall enclosing it.
This is one of the most recognizable castles in the world.
With 156-meter facade, it has 77 staircases, 282 fireplaces and 426 rooms.
You can also see the vast woods and forest that is part of the chateau estate.
Francois I started building Chambord in 1519. During the 32 years of his reign, he spent only 72 days at Chambord.
His son, Henry II, and Louis XIV, both were responsible for making Chambord look the way we see it today.
We will hear more about Henry II (1519-1559) later in Chateau Chenonceau.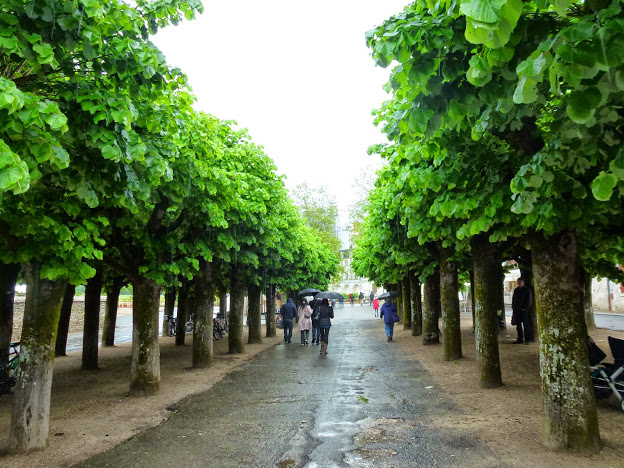 From the end of the long driveway, we walked to the chateau.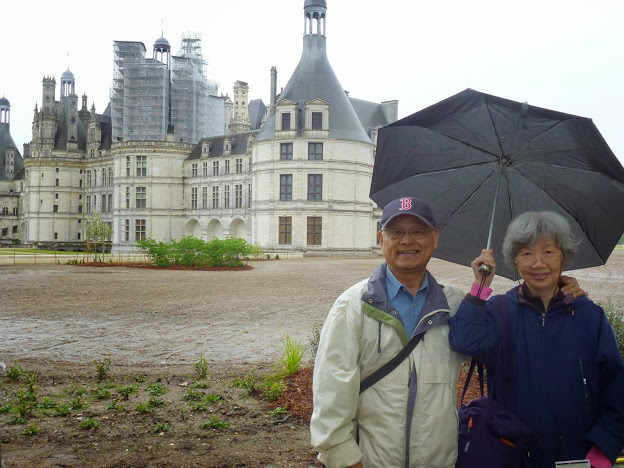 Of all its building materials, tufa, a soft and flaky stone, was worked with great skill.
The chateau has 3 floors, tourists were able to go up to the 3rd floor terrace.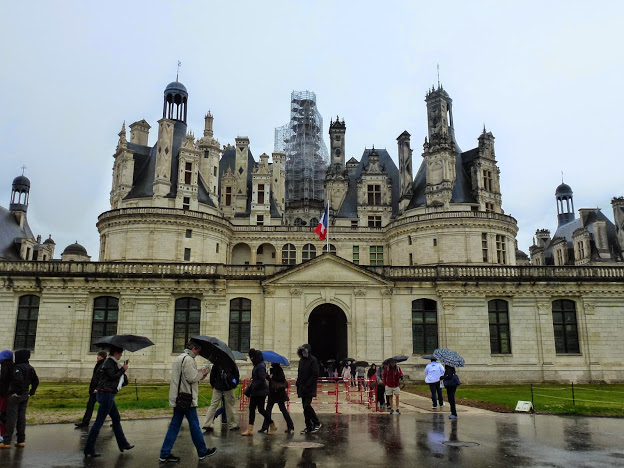 The chateau was built for hunting, not for military defense,
therefore the walls, towers and moat are purely decorative.
The roof line features eleven kinds of towers and three types of chimneys.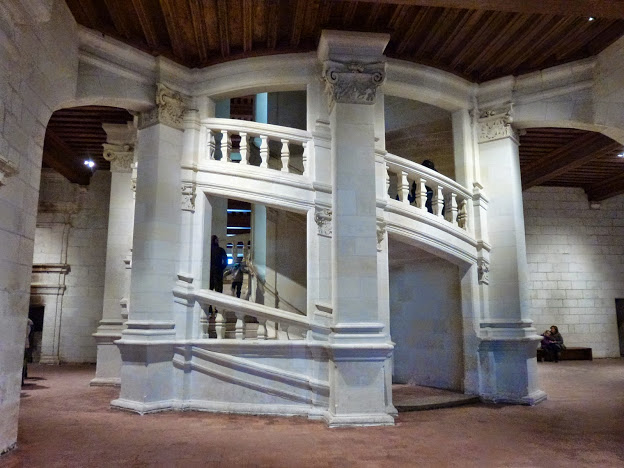 The famous double helix staircase linking the chateau's 3 floors.
If two people each took one flight, they would only see each other through central openings but would never meet.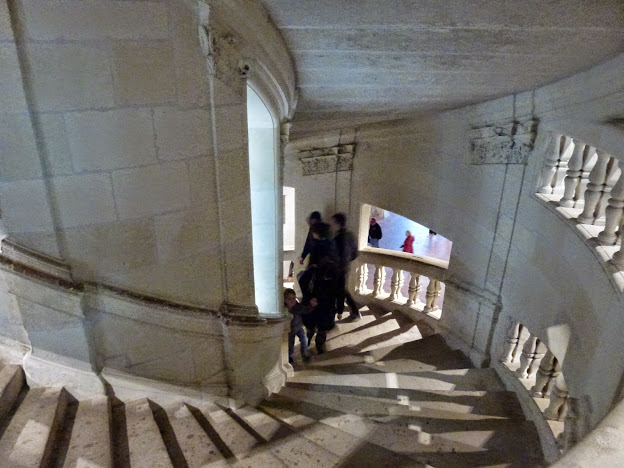 On the double helix staircase.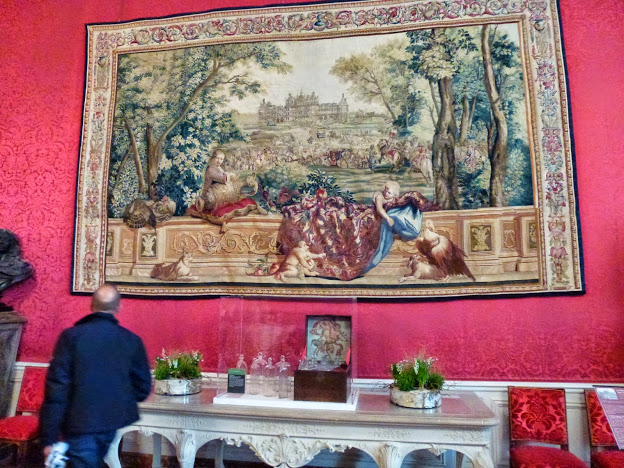 A tapestry depicting a royal hunting party at Chambord.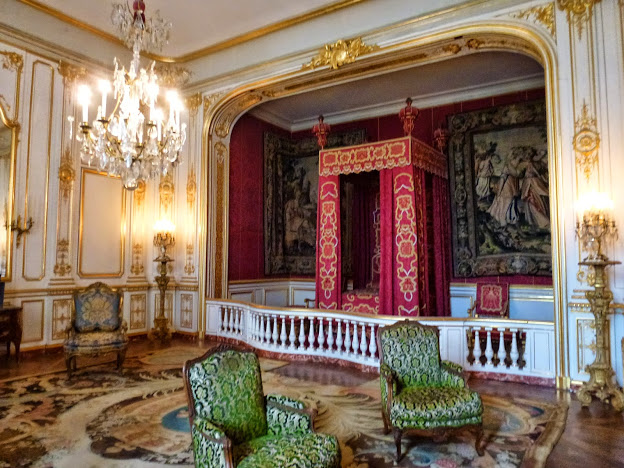 Louis XIV's (1638-1715) ceremonial bedroom.
King Louis XIV restored the keep, furnished the royal apartment, added a 1200-horse stable,
and used it as a hunting lodge for entertainment a few weeks a year.
Eventually he also abandoned the chateau.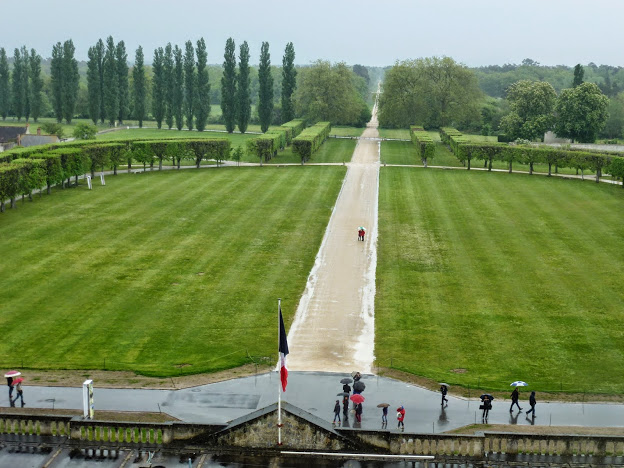 A long carriage path as seen from the 3rd floor terrace.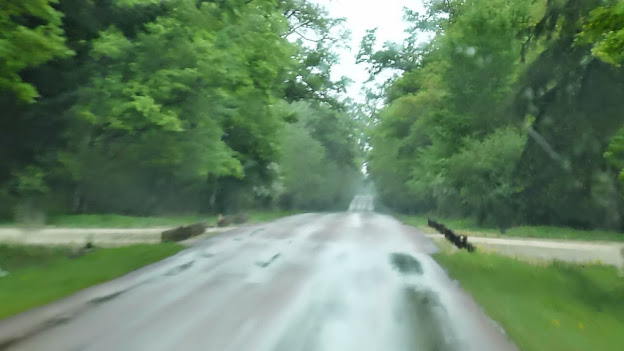 We left Chambord in driving rain.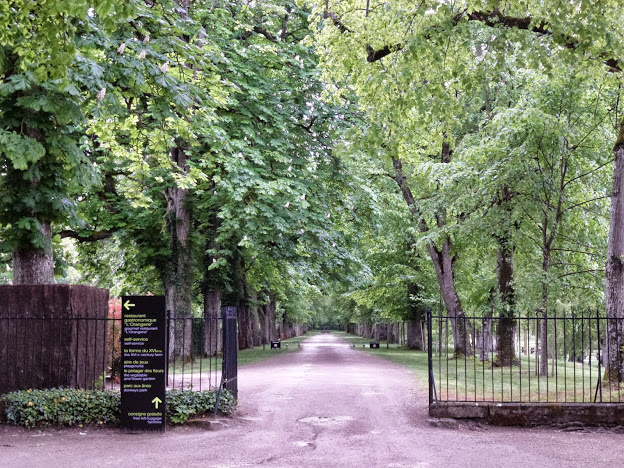 Another 50-min's drive, we arrived at Chateau Chenonceau's entrance.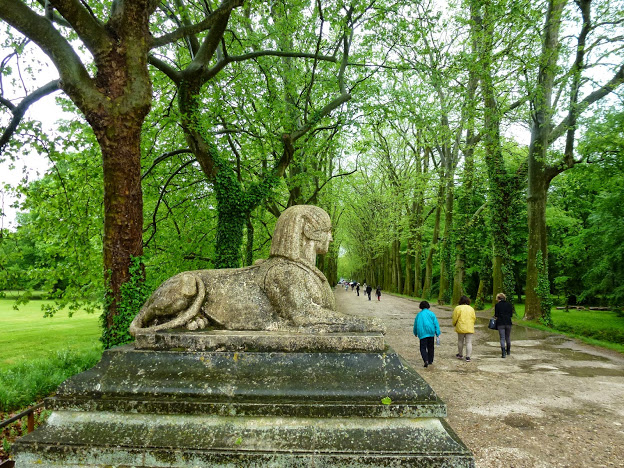 A path to Chenonceau flanked by a pair of sphinxes.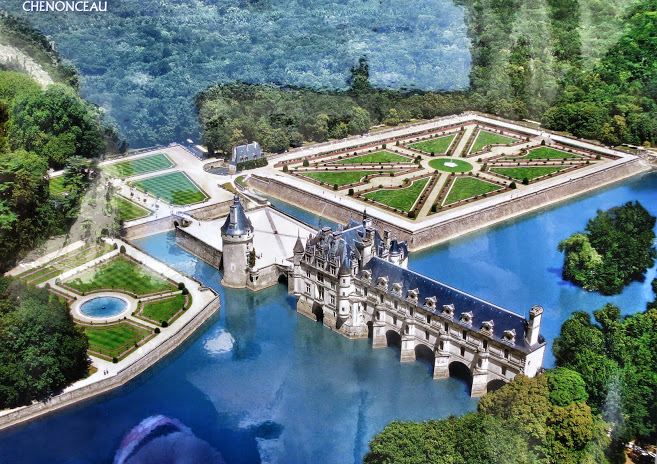 An aerial view of Chateau de Chenonceau from a postcard.
This is the second most-visited chateau in France, just behind Chateau Versailles.
This château was built in 1514–1522 on the foundations of an old mill.
Upon Francois I's death, his son Henry II gave Chenonceau to his mistress Diane Poitiers.
Diane cultivated a beautiful garden (with radiant paths on the right side of the picture above)
and in 1555 commissioned to build an arched bridge joining the château to its opposite bank over the river Cher.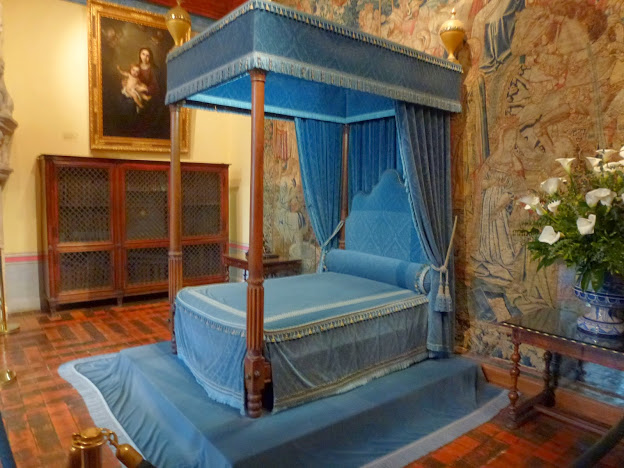 Diane de Poitiers' bedroom.
She was a 35-year-old widow and Henry was a 15-year-old 2nd son of King Francois I
when they were romantically involved.
Diane became Henry's most trusted confidante and wielded considerable influence.
Extremely confident, mature and intelligent, she left Catherine de Medici powerless to intervene.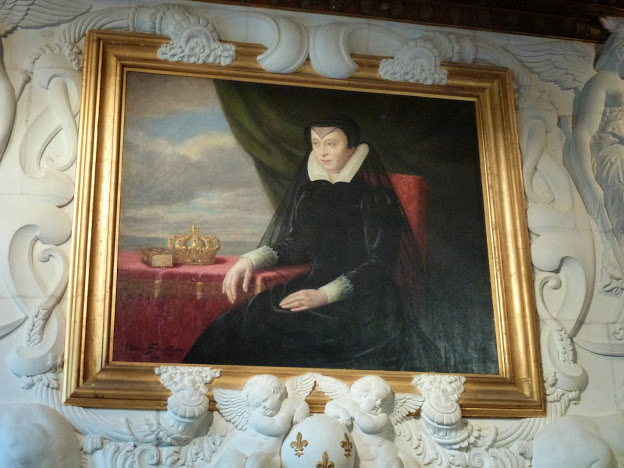 Henry II (1519-1559) died at age 40 after a jousting accident.
His widow, Catherine de Medici, evicted Diane Poitiers from Chenonceau
and hung her own portrait above the fireplace in Diane's old bedroom.
Catherine de Medici was a member of the ruling family of Florence,
she and Henry were married when they were both 14.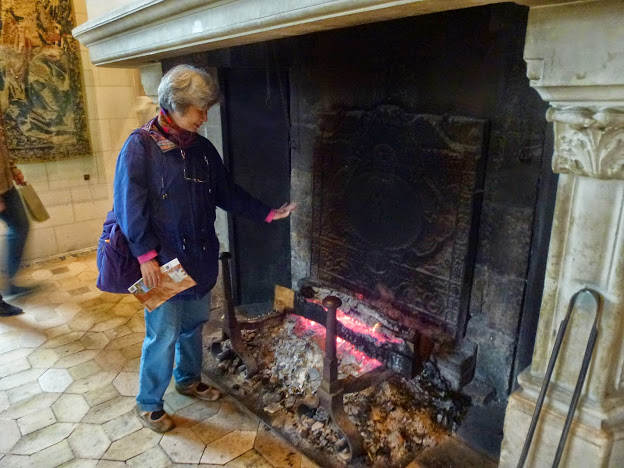 The Guards' Room, with a 16th-century fireplace still working.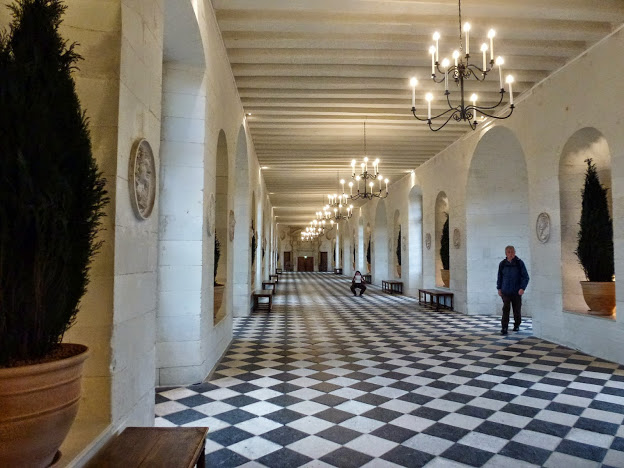 Catherine de Medici built this gallery upon Diane de Poitiers' bridge in 1576.
Catherine made Chenonceau her own favorite residence, adding a new series of gardens and expansions.
During World War II, River Cher corresponded to the line of demarcation.
The right bank was occupied by German, the left bank was in free zone.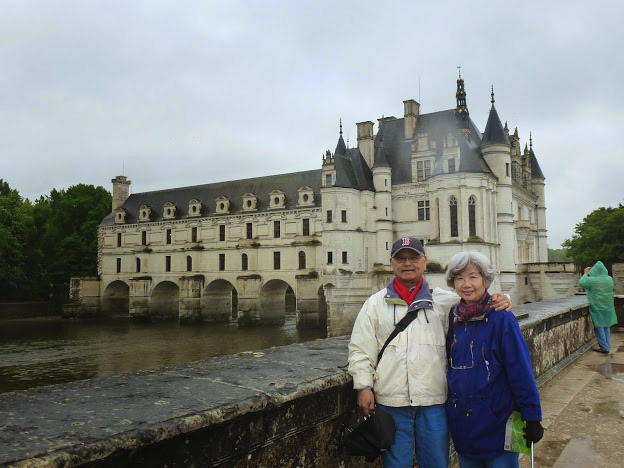 VT and MC with Chateau Chenonceau in the background.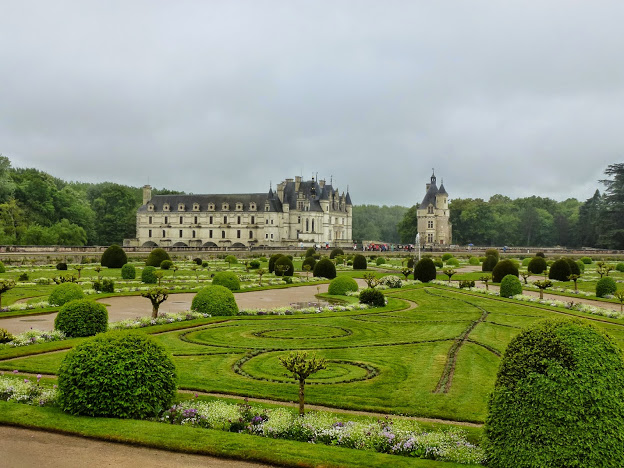 Chateau Chenonceau seen across from Diane Poitiers' garden.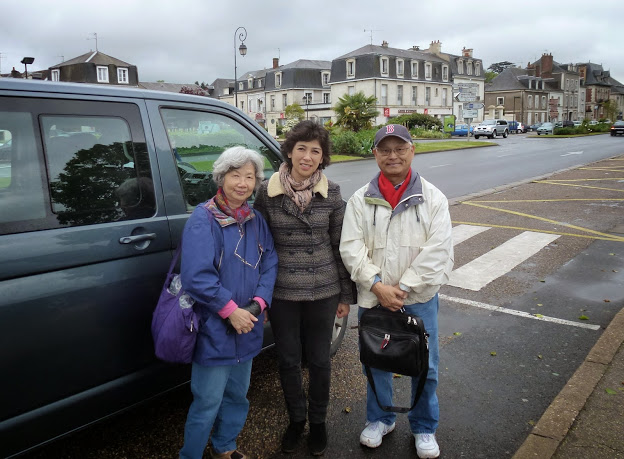 At 6:30pm, Cecilia dropped us off back at Amboise's TI.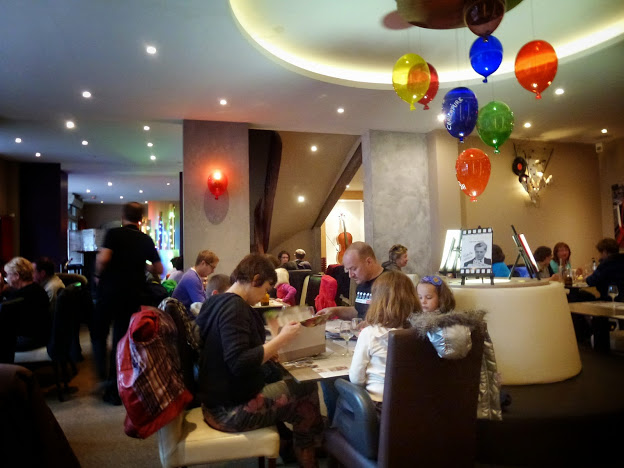 Chez Bruno was fully booked, so we had dinner at this Italian restaurant called La Scala.
Many families with children came to eat pizza.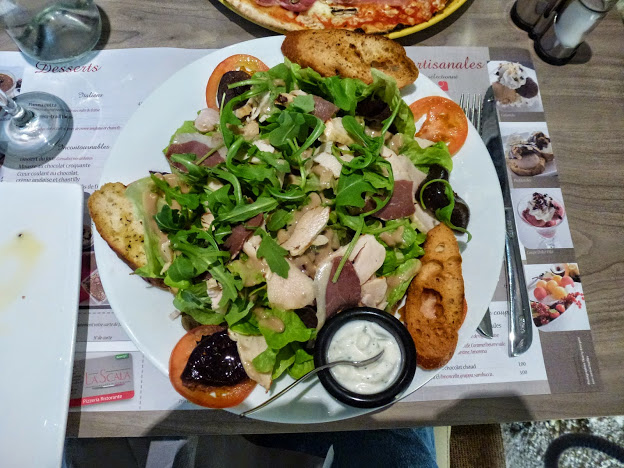 We ordered a gourmet salad with figs, duck breast, and chicken breast.
This salad was pretty good, €12.0.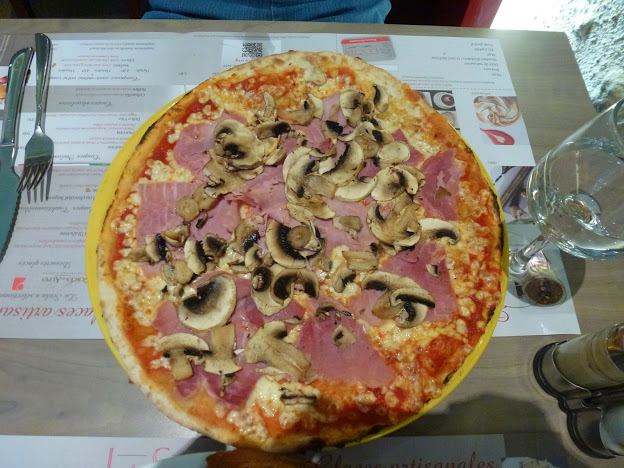 We also ordered a ham and mushroom pizza.
This pizza did not look good and did not taste good either. €9.0.