Day_7, Day Trip to Carcassonne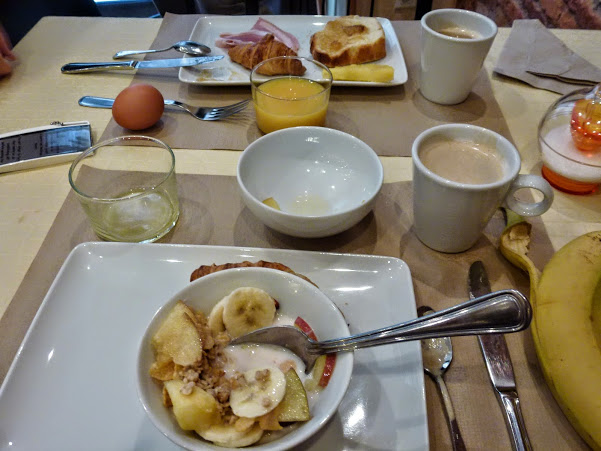 Our included buffet breakfast at Hotel Albert 1er.
Plenty of choices - bread, jam, cold cut meat, freshly squeezed OJ, boiled egg, ....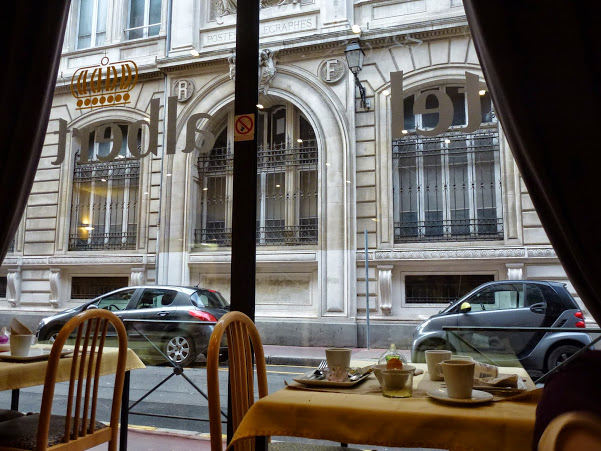 Views outside the hotel's breakfast room window.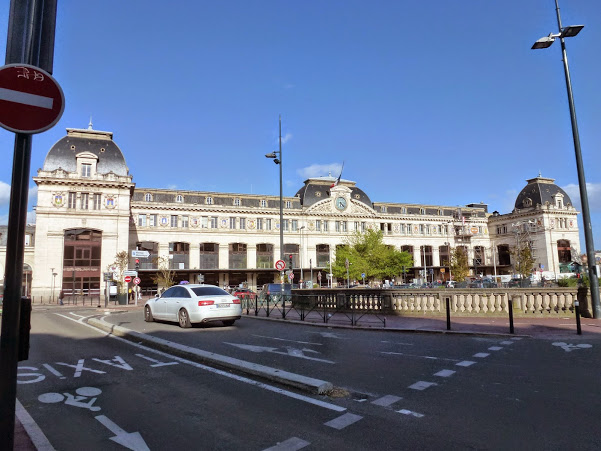 Toulouse's main train station, Gare Matabiau SNCF.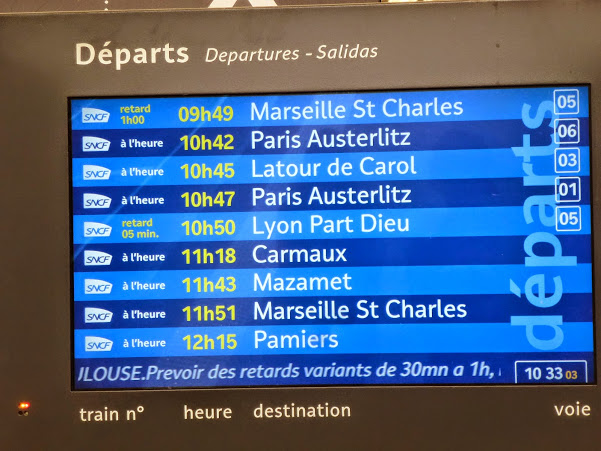 What? Our 09h49 train is "retard 1h00" (delayed for 1 hour)?

Gare de Carcassonne.
This train station did not have lockers thus inconveniencing many visitors.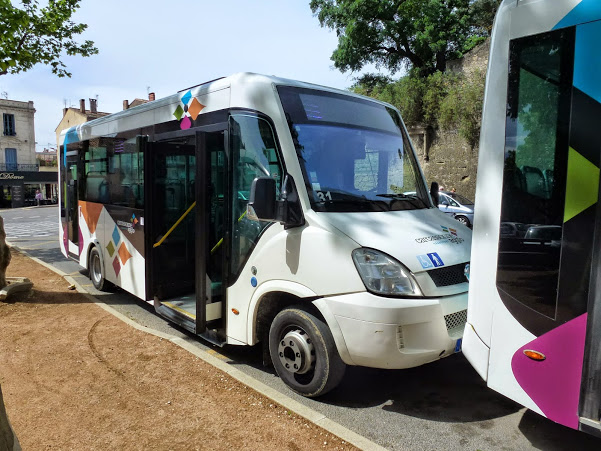 Carcassonne's city bus.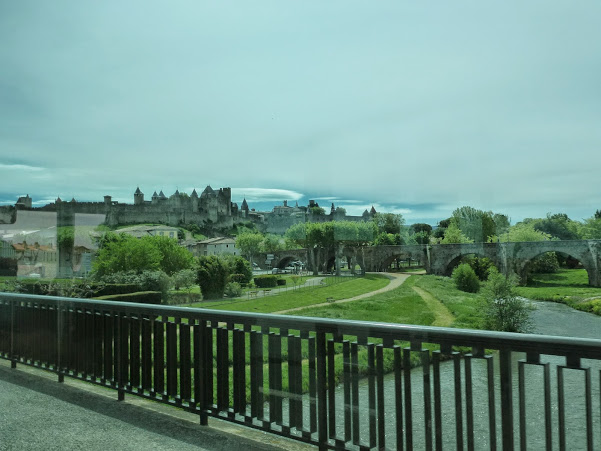 Our bus was on the Pont Neuf (new bridge) heading toward La Cite.
You can see the 14th-century Pont Vieux (old bridge) up stream a bit.
In the distance you can see towers of the Medieval City on a hill.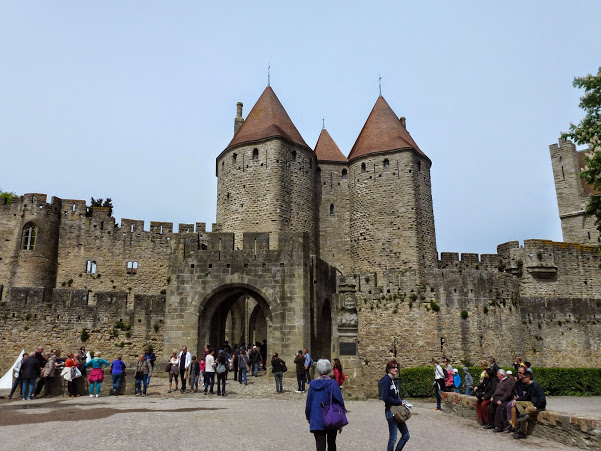 Narbonne Gate on the eastern side was visitors' entrance.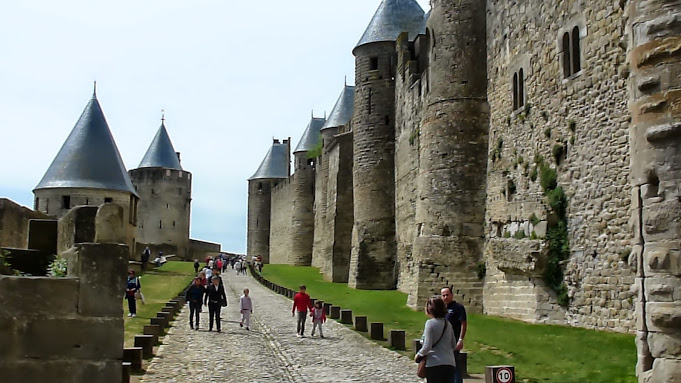 The space in between the two layers of ramparts.
From the 17th Century onwards, the poorest residents of Carcassonne built their homes here.
Those homes were leveled in the 19th Century when Viollet le Duc restored the Cite.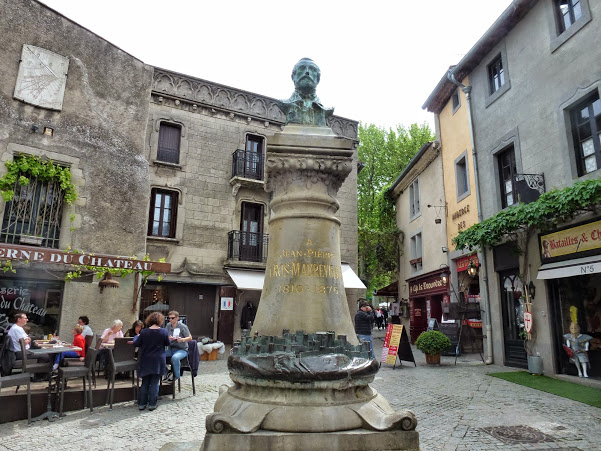 A street in the walled medieval city, "La Cite".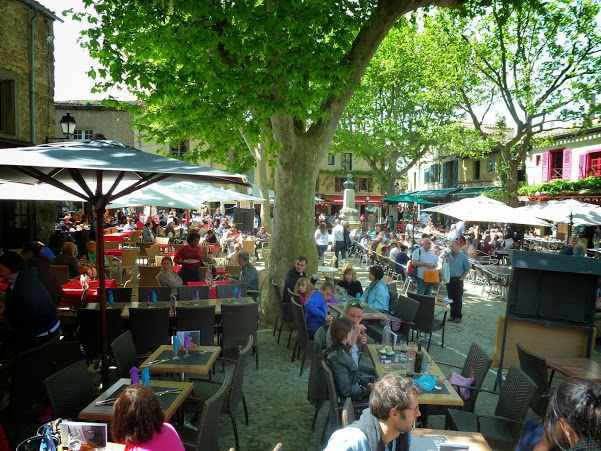 Place Marcou, a leafy square with many restaurants.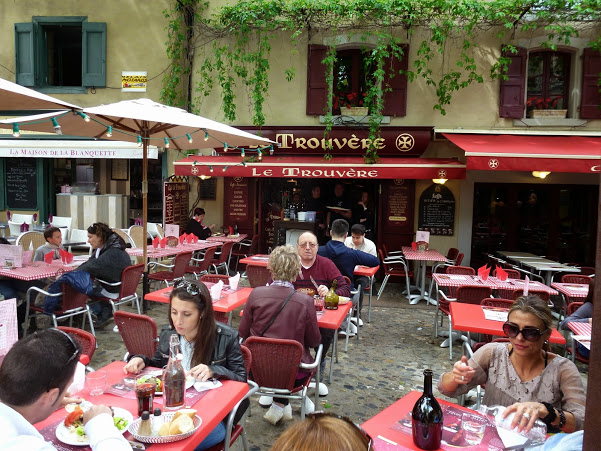 We saw many people with a bowl of cassoulet on their table.
This was what we wanted, so we sat down.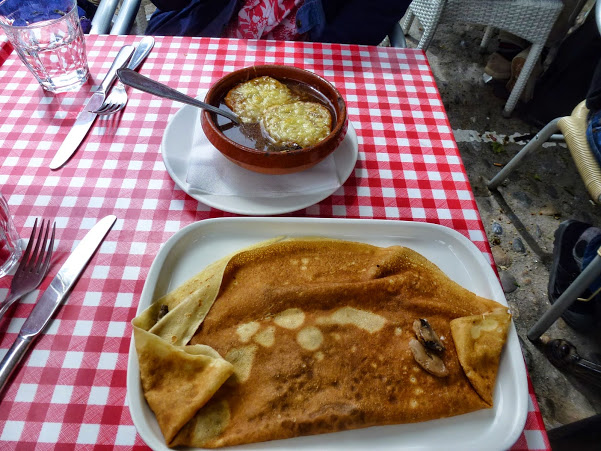 Vincent had a mushroom crepe and French onion soup.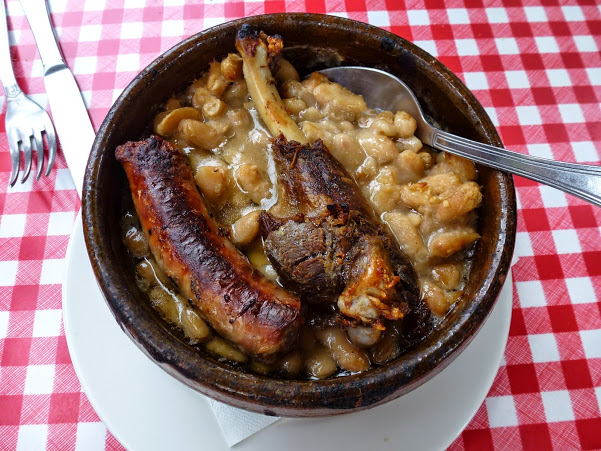 Cassoulet, Mei-Ching's main plate.
Baked white bean, duck leg, and pork sausage. All very tender and flavorful.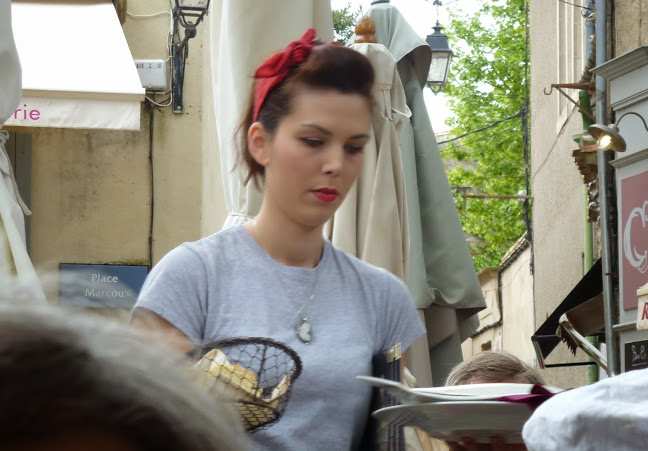 A very pretty waitress.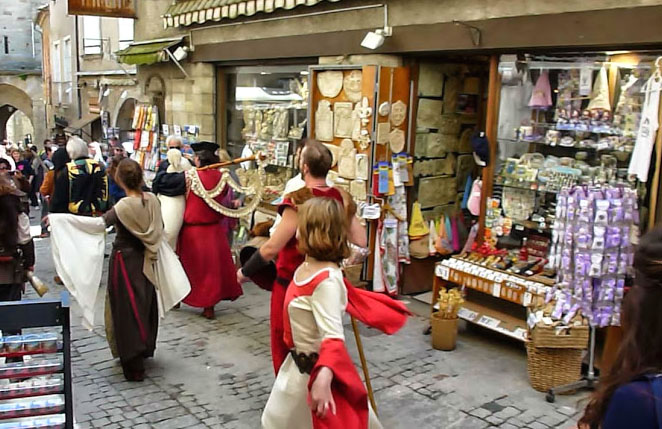 A troupe of performers parading the street blowing horn and playing drum.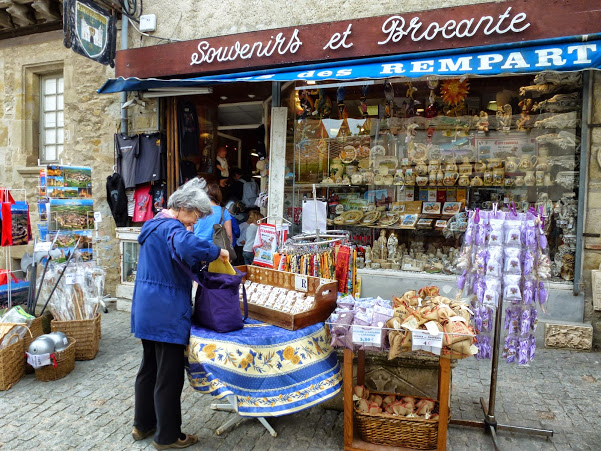 This shop sold table clothes with vibrant colors like what we saw in Provence in 2001.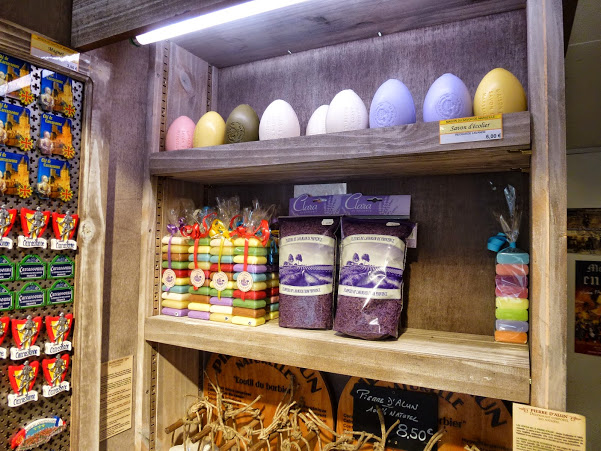 Some shops sold dried lavender, as well as soaps of many different scents.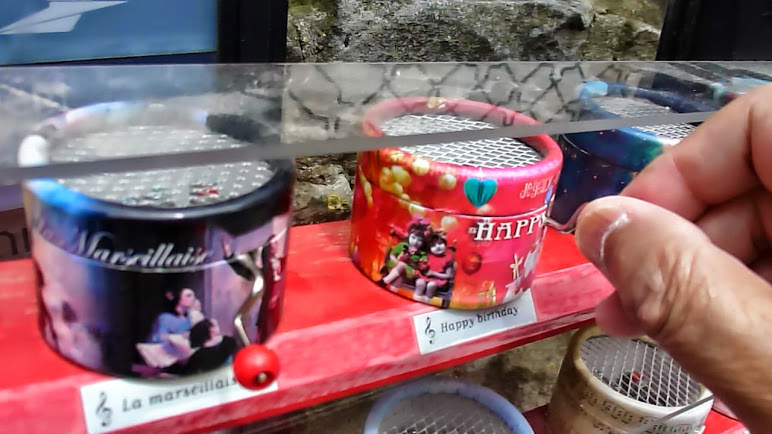 We brought back two of these music boxes for our granddaughters.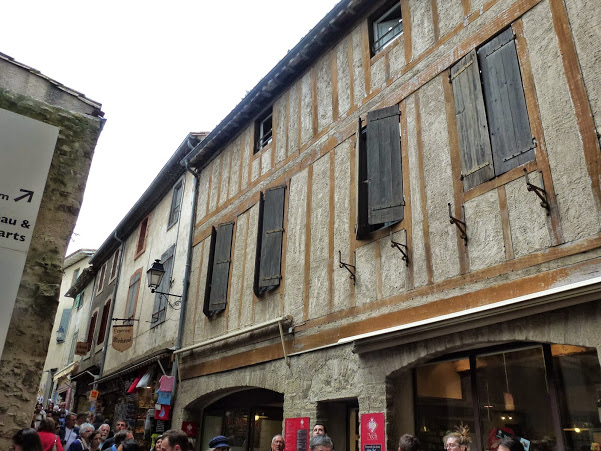 A very old building was maintained to look ancient but not crumbling.
The ground floor were shops or restaurants.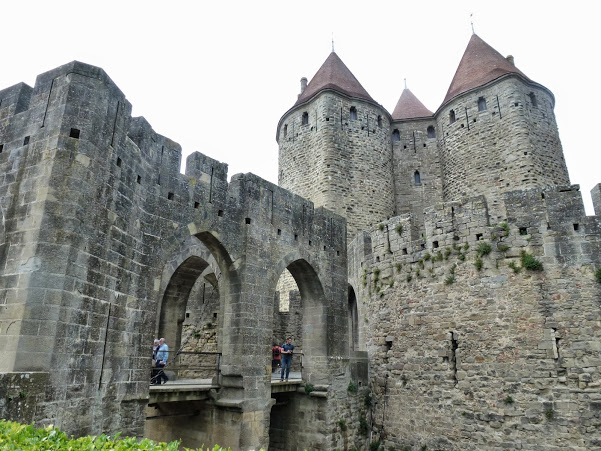 Over the bridge is the Chateau Comtal.
Originally built in 1125, this was La Cite's 3rd layer of defense.
The 1990 movie "Robin Hood: Prince of Thieves" starring Kevin Costner
turned the entire Cite into a movie set.
This chateau became the "Nottingham Castle" in the movie.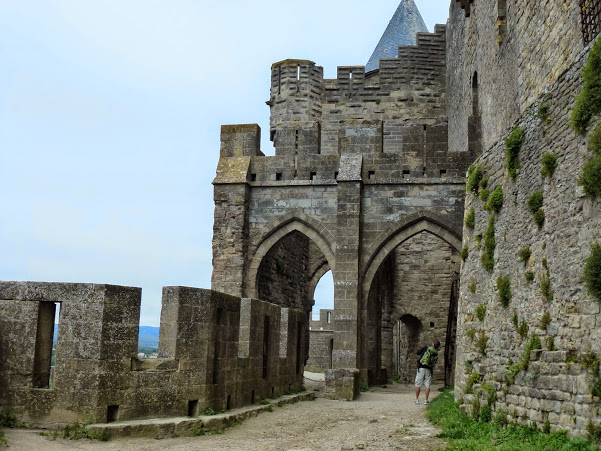 A 13th Century gate on the external Ramparts.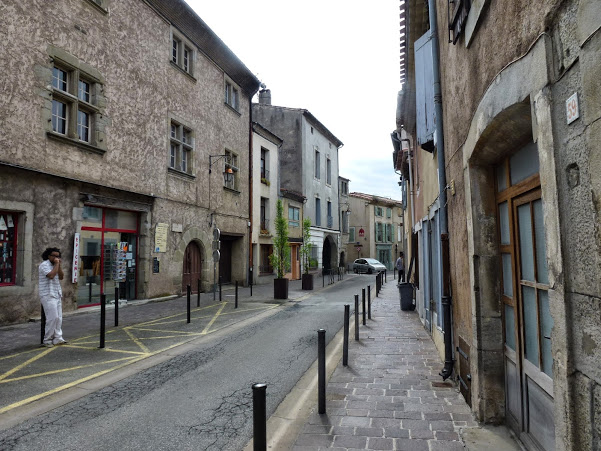 We left La Cite on foot and leisurely walked toward the new town and then the train station.
This was a street in the Lower Town outside of La Cite.
Vincent remarked on how clean the street was, free of dog poop and litter.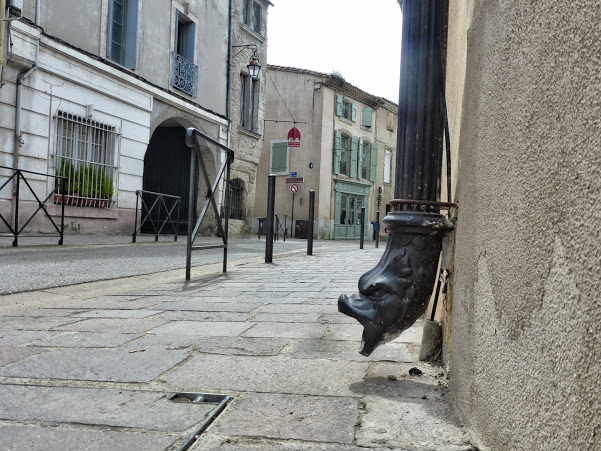 A fierce-looking downspout.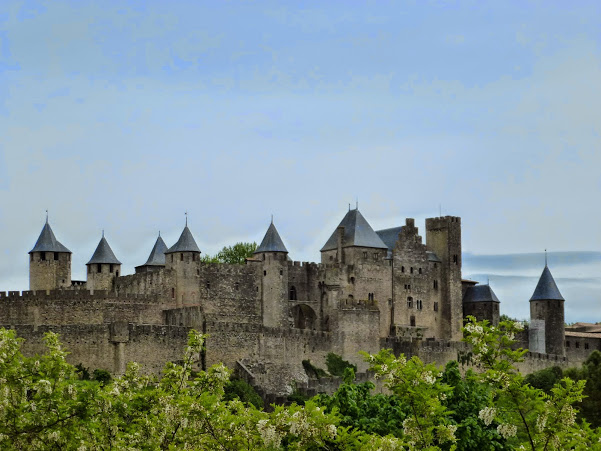 From the lower town we had a good view of La Cite.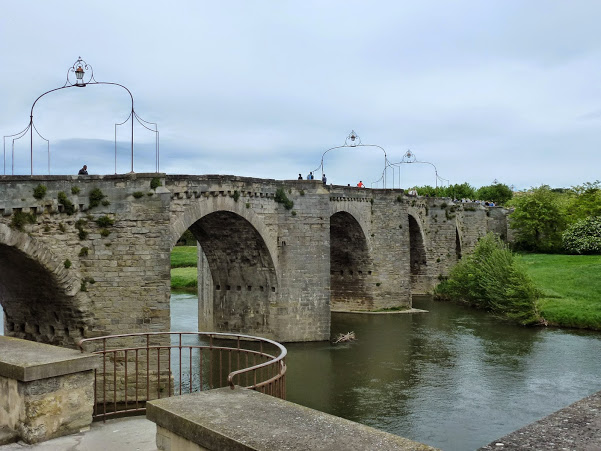 The 14th Century Pont Vieux (old bridge). Now it is pedestrians only.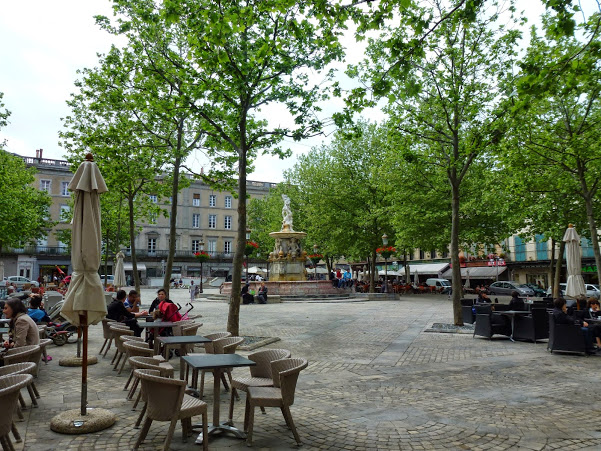 In the new town of Carcassonne. This is Place Carnot with an Italian fountain.
We stopped here for coffee and ice cream before continue walking to the train station
to take a train back to Toulouse.