Day_13, Hemingway's Paris walk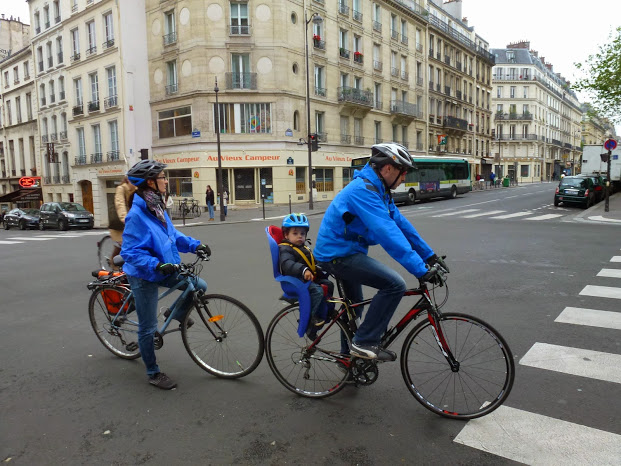 You can tell from the picture that today was grey, rainy and chilly.
On Blvd Saint-Germain, we saw this family on bikes. We were on our way to
Rue Monge in Latin Quarter to meet the "Hemingway's Paris" walking tour at 10:30am.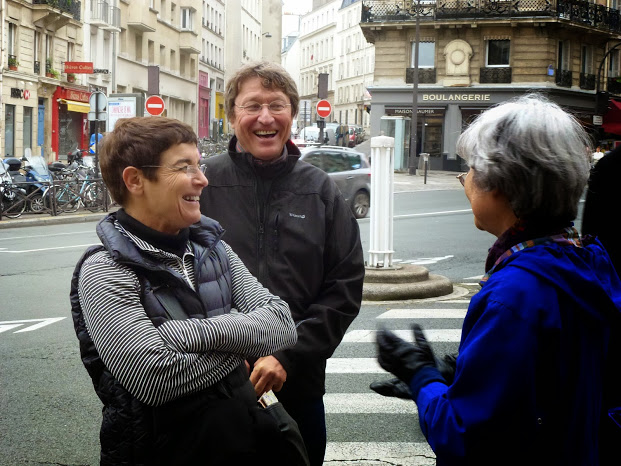 The meeting point was at metro Cardinal Lemoine.
We met this couple from Israel who had lived in Wisconsin for 5 years.
In 2001 we stayed in a hotel in this area.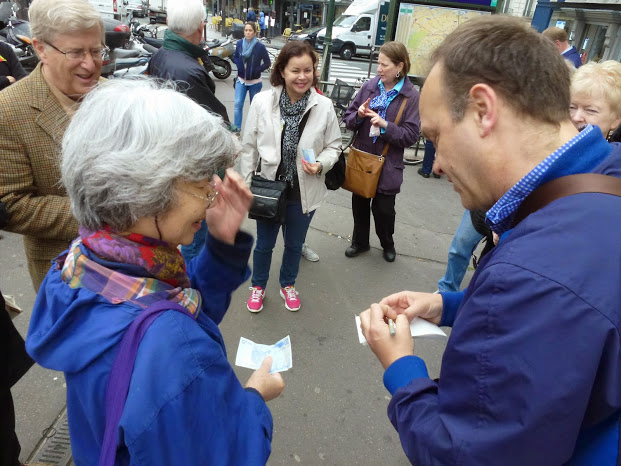 Ah, but we saw a larger group forming across the street at the other exit of
metro Cardinal Lemoine, so we quickly crossed the street to pay €12/pp to the guide.
Our guide was Chris from the UK.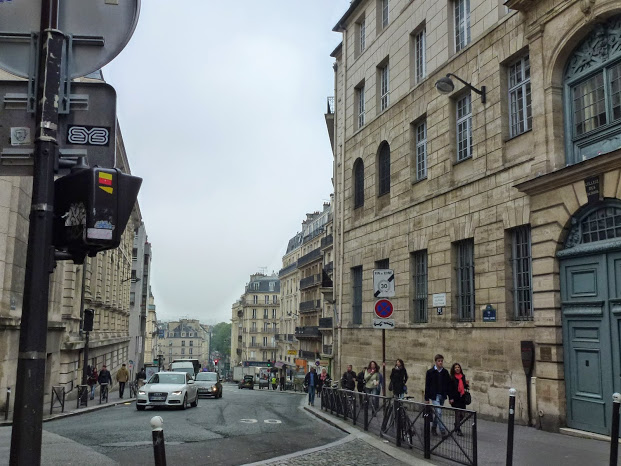 In the 1920's, this area of the Latin Quarter was not a prime location,
therefore housing rent was more affordable to young struggling writers.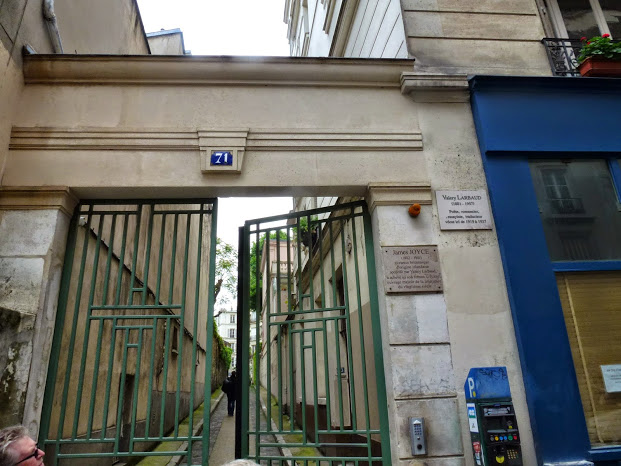 The gate to an apartment where Irish writer James Joyce once stayed.
The gate was locked but Chris knew the code to open the gate.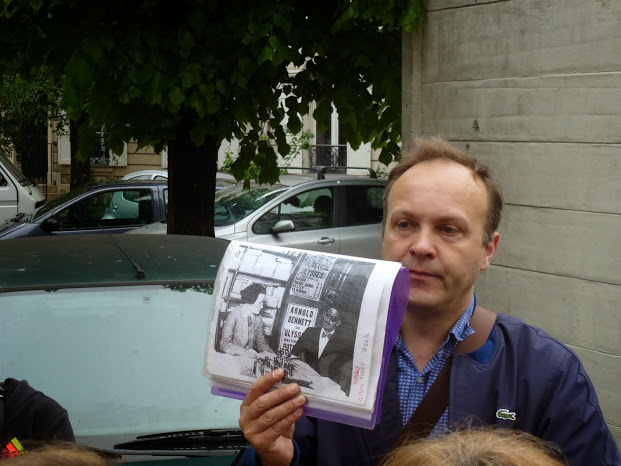 Chris held a print of an old picture showing Sylvia Beach and James Joyce.
Sylvia Beach was an American-born bookseller and publisher who lived most of her life in Paris.
She is known for her Paris bookstore, Shakespeare and Company which published
James Joyce's controversial book Ulysses and helped making him famous.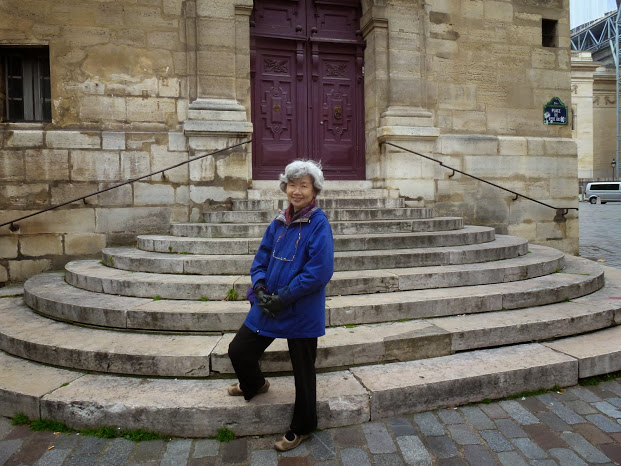 The magical steps on the side of St. Etienne du Mont church where
Gil was whisked away to a party from a mysterious 1920 automobile at midnight
in Woody Allen's popular 2011 movie "Midnight in Paris".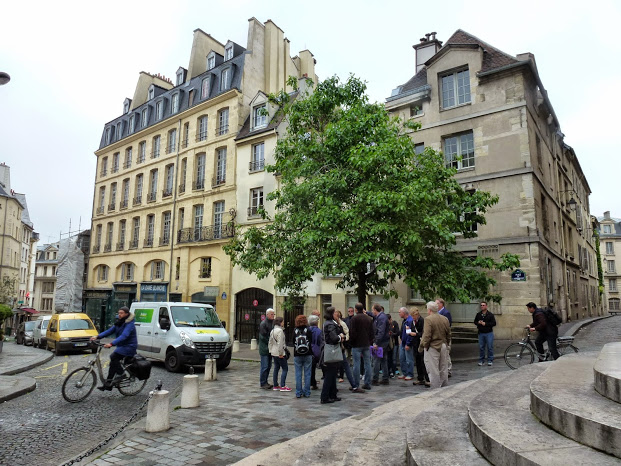 The street in front of the "magical" steps.
Again, this was only a side entrance of the church.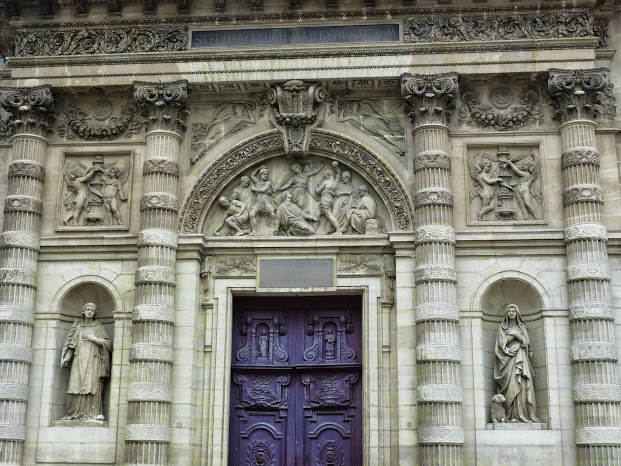 The front door of the St. Etienne du Mont church ...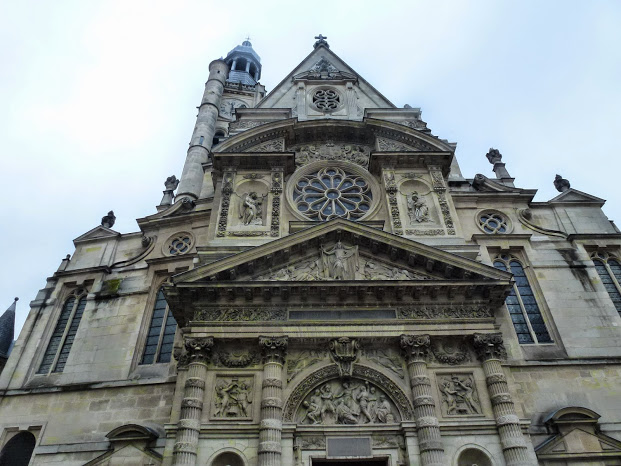 ... and the facade above the front door.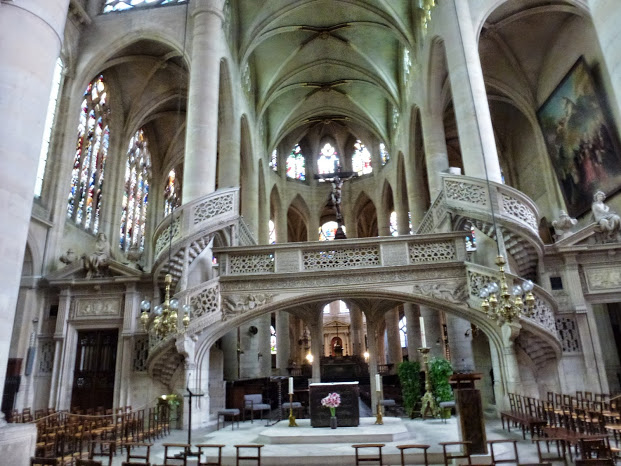 Interior of the St. Etienne du Mont church.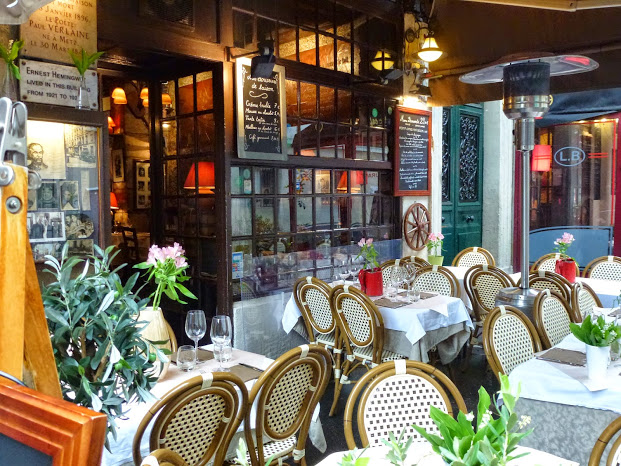 Next we walked to a restaurant where Hemingway used to rent
its attic floor as his writing studio.
Why on the attic floor? Because he wanted to save money on heating in winter.
By renting the attic floor his studio would be warmed up when the lower floors were heated.
A white plaque on the left upper side of the photo stated that Hemmingway lived here.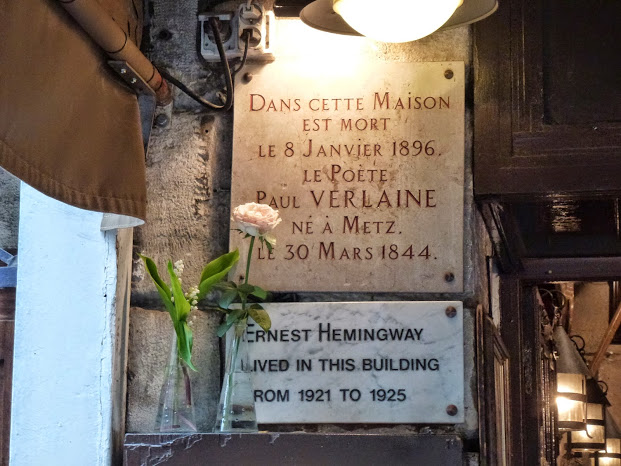 The white plaque.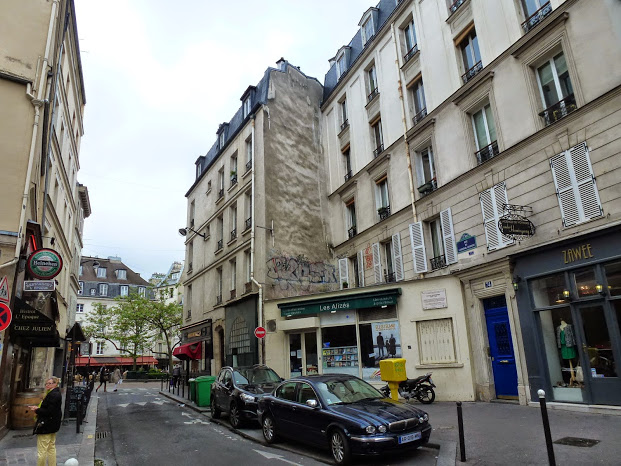 From 1922 to 1923 Hemingway and his family rented a 3rd floor apartment in the building on the right.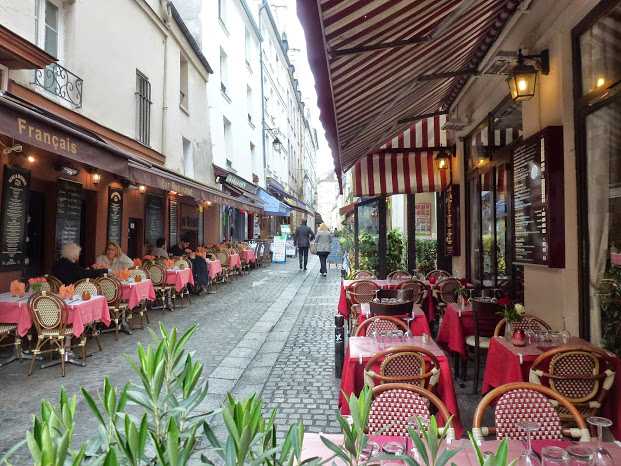 We walked through this cute little street called Rue Du Pot De Fer (Iron Pot street).
The street was lined with pretty restaurants, one of them was a sushi restaurant,
so we decided to come here for lunch after our tour ended.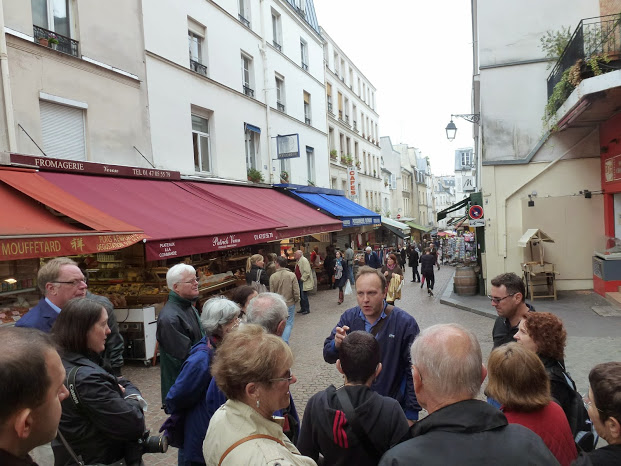 Our 2.5-hour walking tour concluded at the Rue Mouffetard market.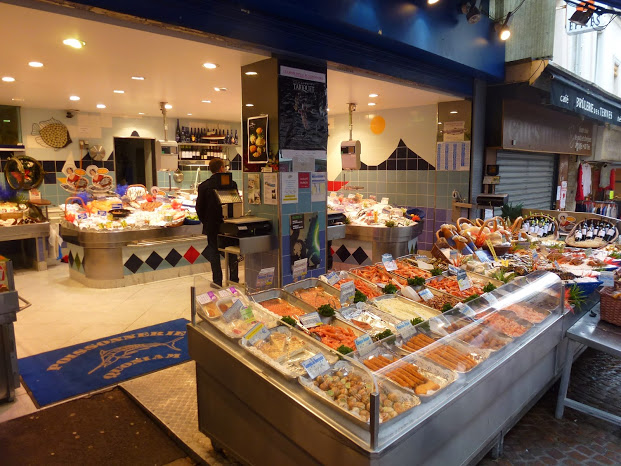 A shop at the market.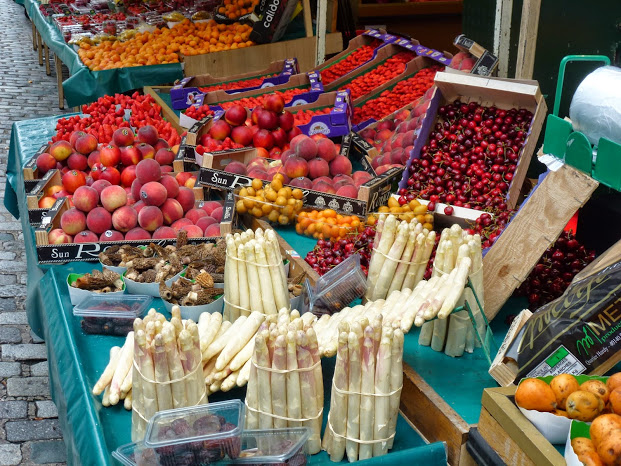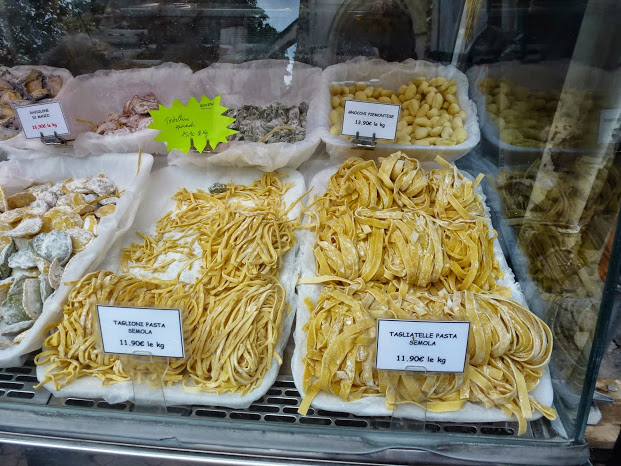 Fresh pasta at €11.90 a kilogram,
which is USD$7.36 a pound at today's conversion rate.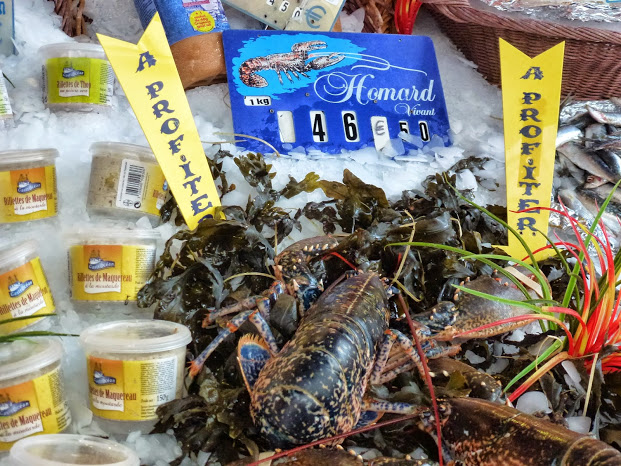 Lobster at €46.50 per kilogram,
which is equivalent to USD$28.80 per pound.
No doubt lobster is a very expensive delicacy in Paris.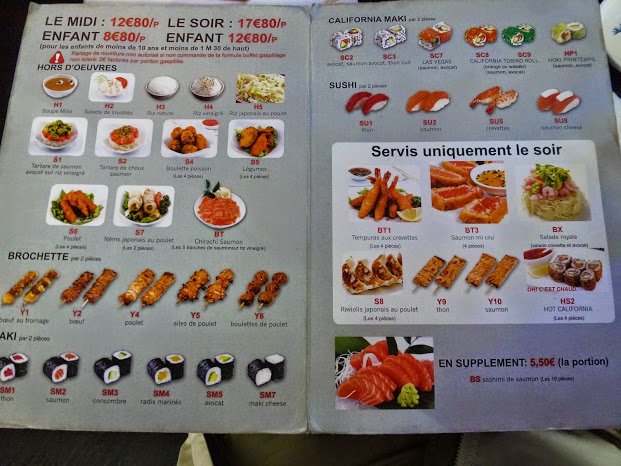 Menu from the Japanese restaurant we had lunch.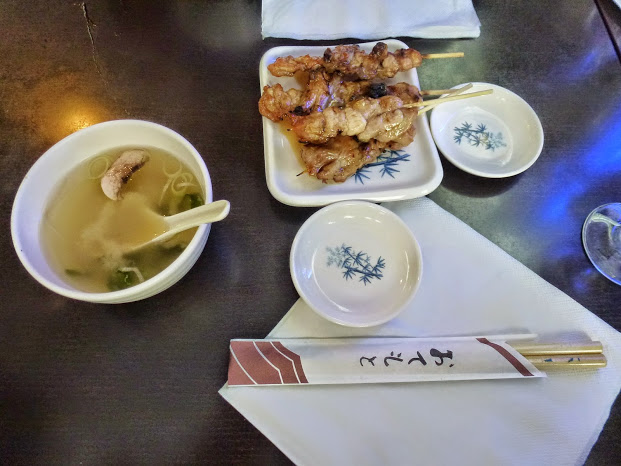 Miso soup and skewers of grilled chicken and beef.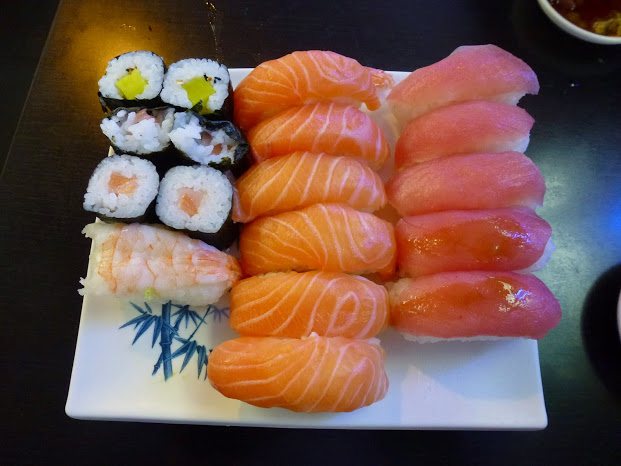 Our sushi. Every item came in a pair, here we had already eaten some pieces.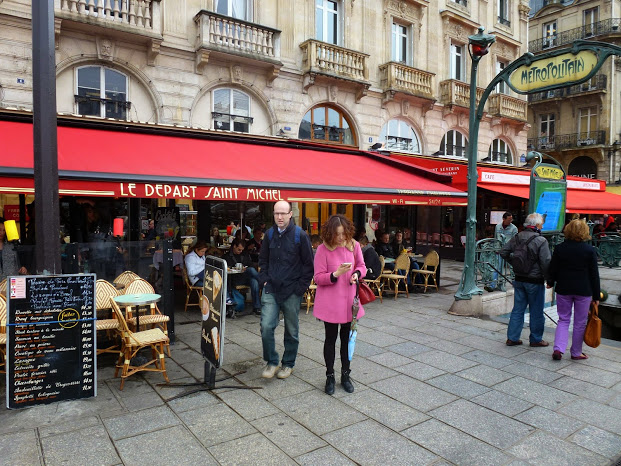 A cafe in Place St. Michel, which is the hub of the Latin Quarter.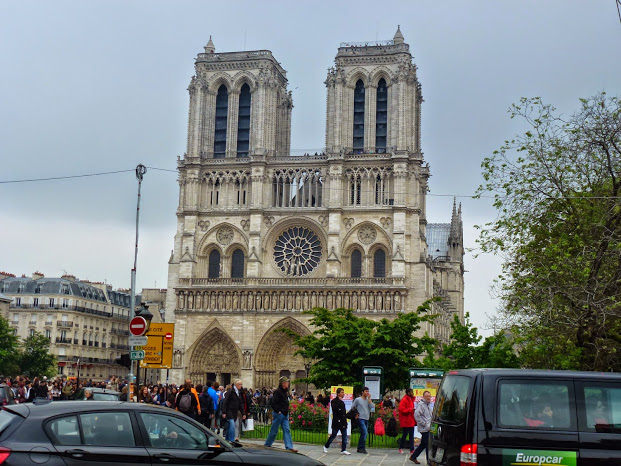 This was the closest we saw Notre-Dame cathedral during this trip.
We did not attempt to go inside.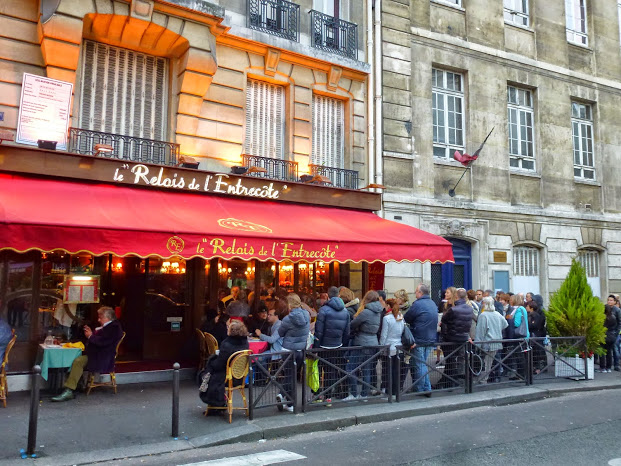 In the evening we walked around Saint-Germain to look for something light to eat.
We saw a long line in front of this restaurant.
We Googled the restaurant by name, found out that it served just one meal - steak and fry.
Yet the line stretched very long.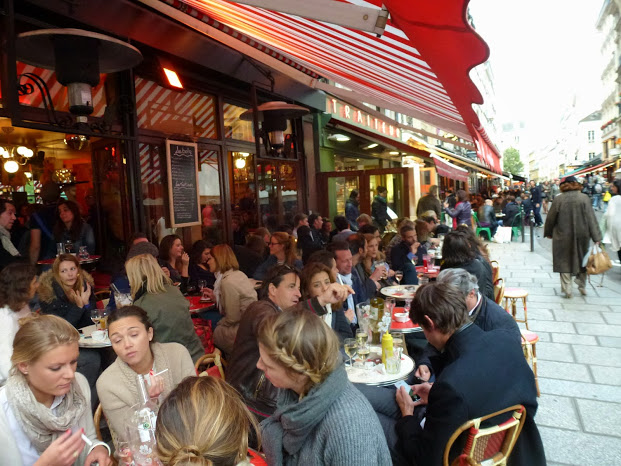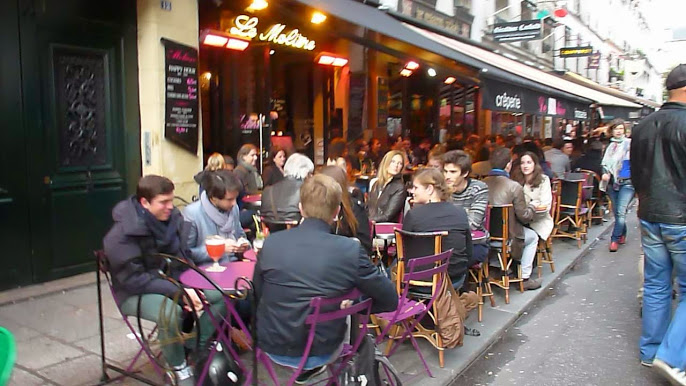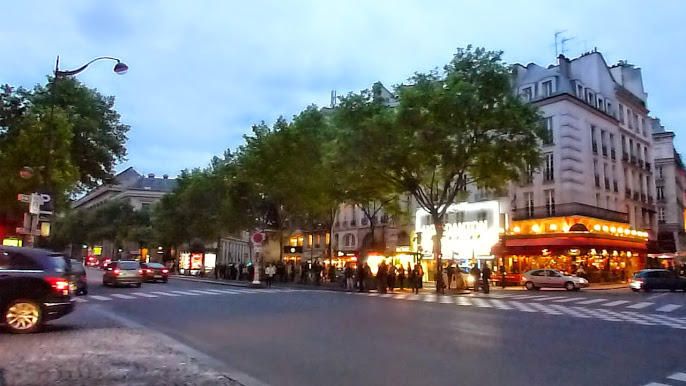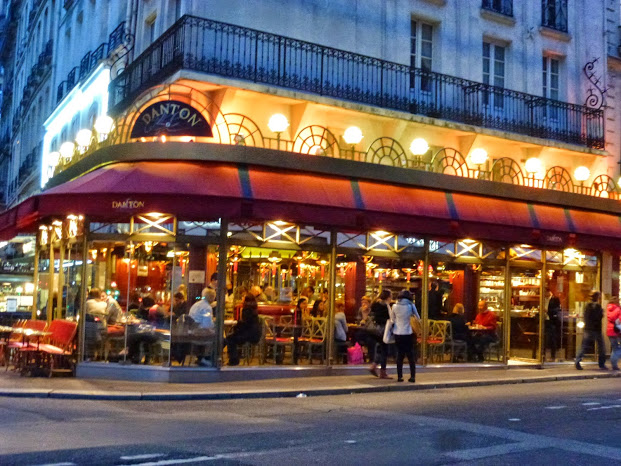 We ended up eating salad and bread at COSI and then coffee at PAUL.