Day_12, Arrival in Paris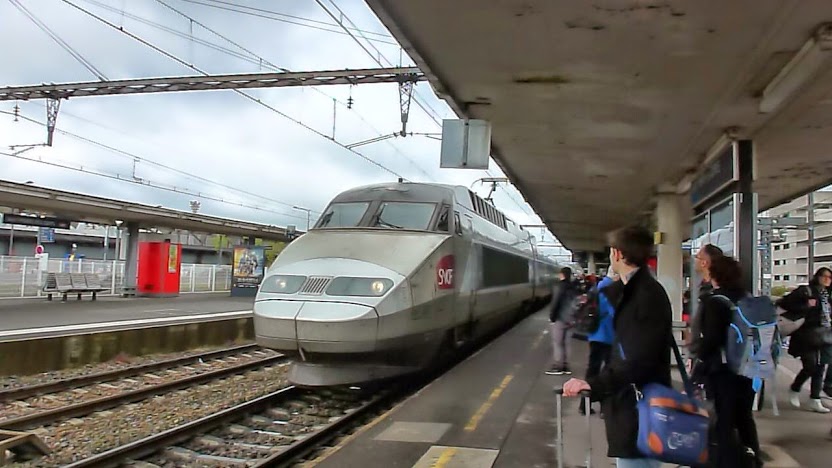 Our TGV train at Saint-Pierre-des-Corps train station.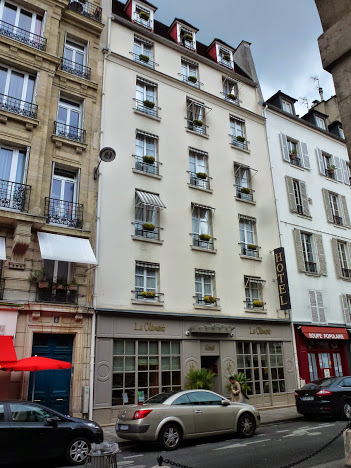 Our Paris hotel.
We were on the 5th floor, the 1st window from left.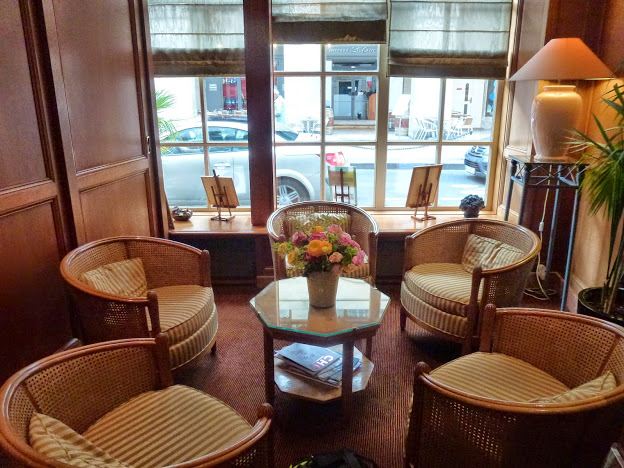 The hotel lobby.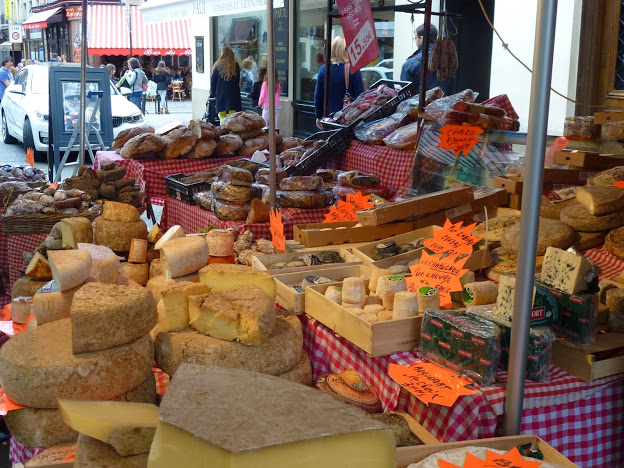 We walked 2 minutes to Marche Rue de Buci to see what's on offer.
This was a cheese shop at the street market.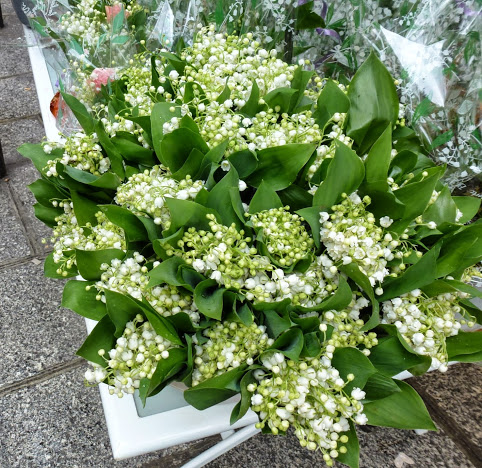 The plant with white small fragrant flower is called Muguet in French,
and is "Lily of the Valley" in English.
Today was May 1st, it was a special day that men give female friends
a bouquet of Muguet to wish them good luck.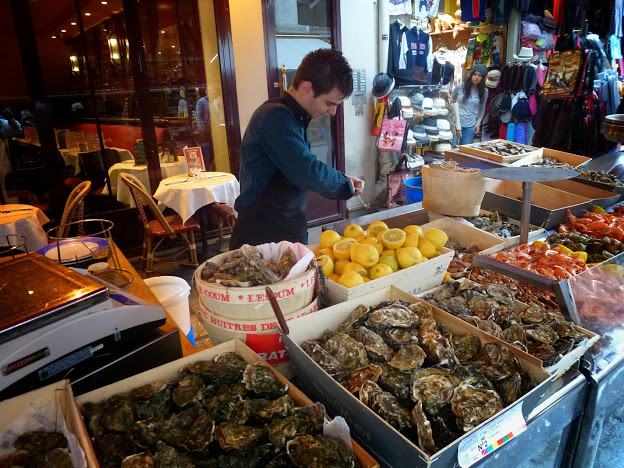 A young man shucking oysters outside a restaurant.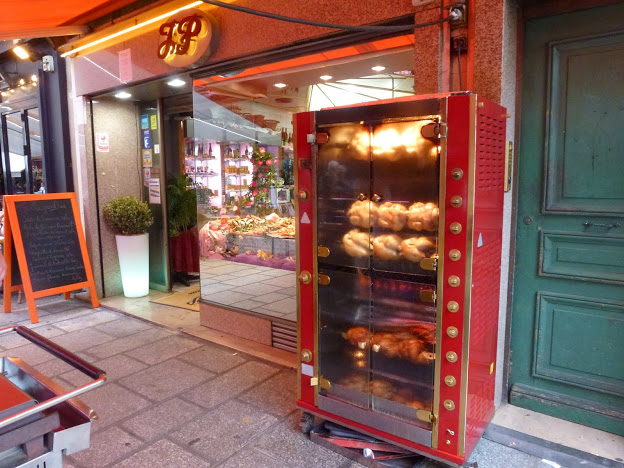 Rotisserie chicken.
Small potatoes were placed on the bottom rack to be roasted while drenched in the dripping fat.
Wish we had an apartment to buy chicken and potato home to eat it.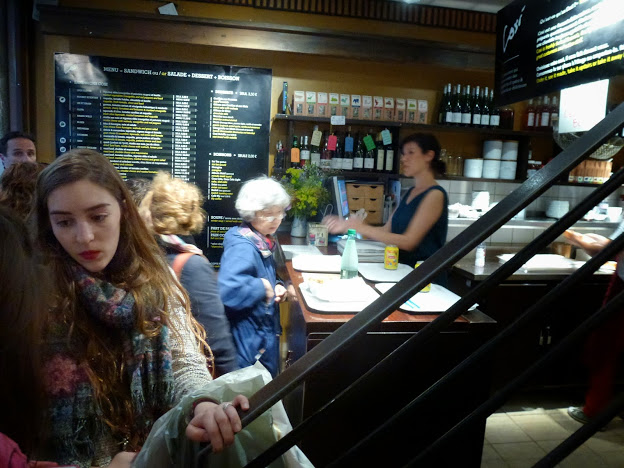 Cosi Sandwich on 54 Rue de Seine was our lunch destination.
You order in downstairs, then carry your tray to upstairs to sit.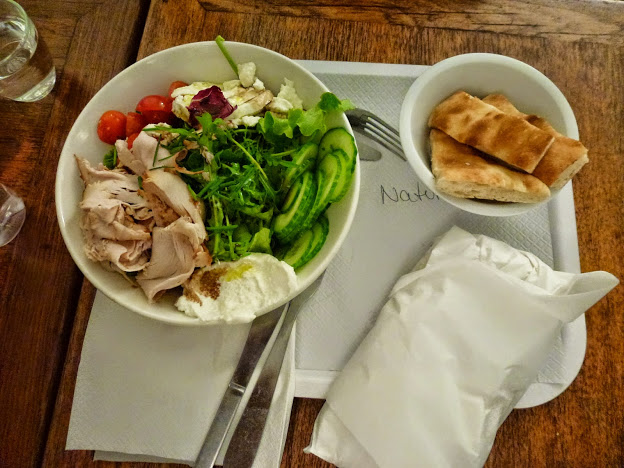 A turkey salad.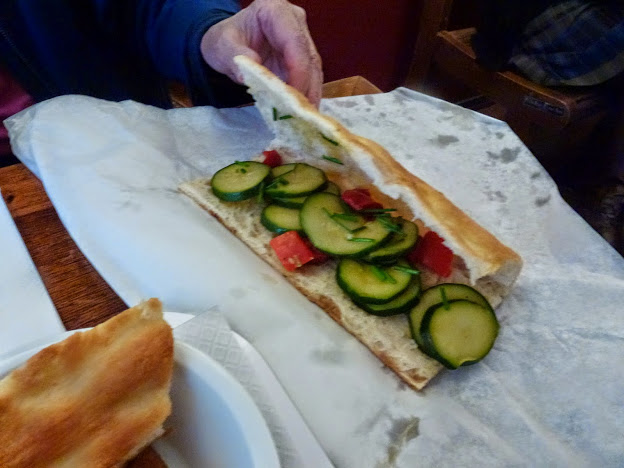 You may buy a sandwich, or buy an extra Cosi bread to
assemble a sandwich yourself out of the ingredients in your salad bowl.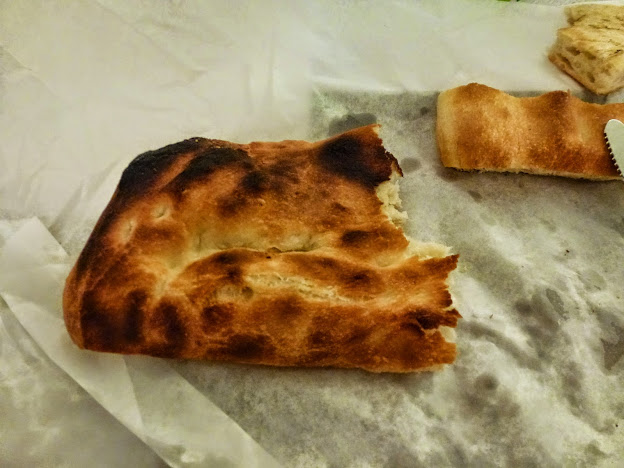 These thin crusty chewy hot Cosi bread was what drew us back again and again.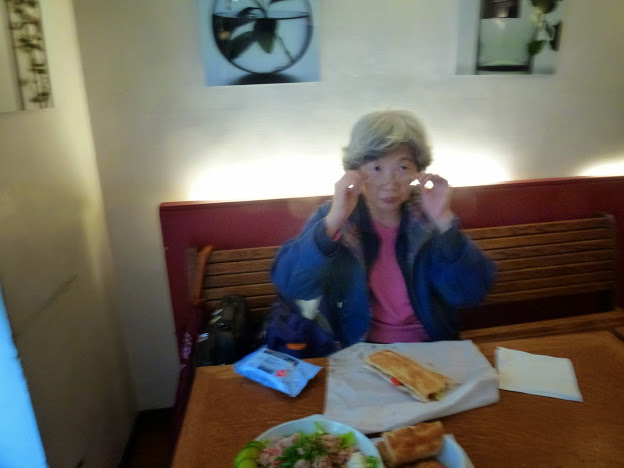 Cosi's upstairs seating area.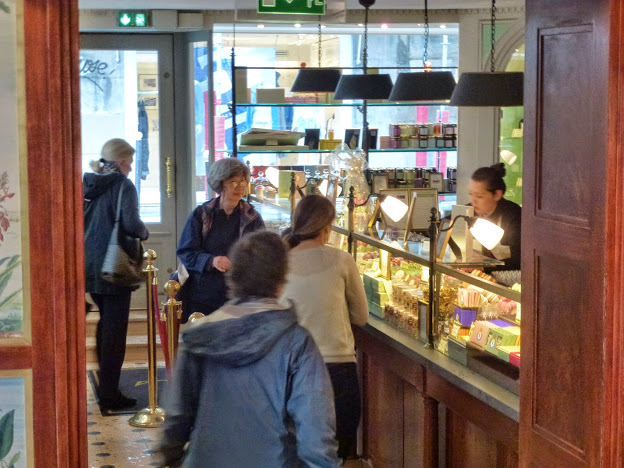 At Ladurée on Rue Bonaparte.
Ladurée is a high-end sweet shop.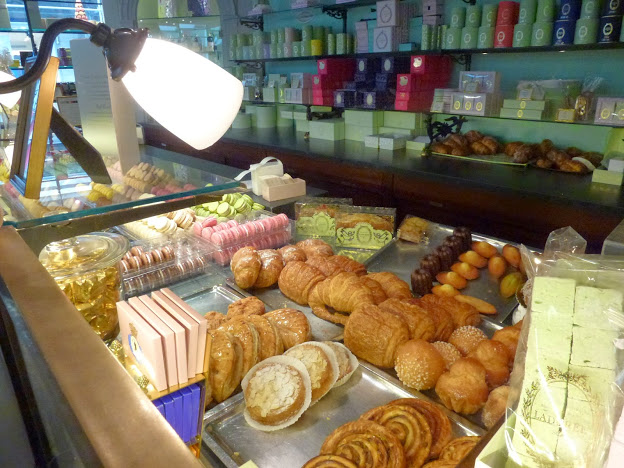 Ladurée is famous for its macaron. We bought a few to munch while walking.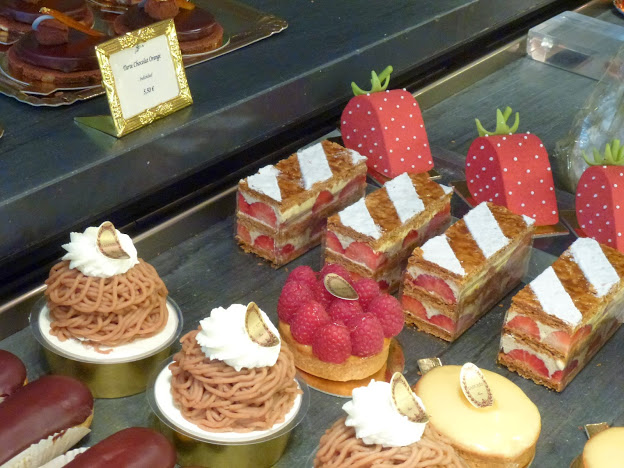 The noodle-shaped sweet was made from chestnut paste.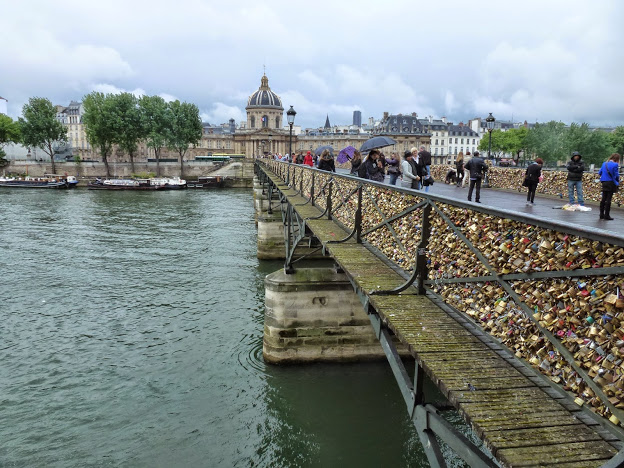 Pont des Arts, a pedestrian bridge.
There were so many love locks on the sides and railings of the bridge that it has become
a safety hazard (too heavy). The mayor of Paris threatened to get rid of all the locks.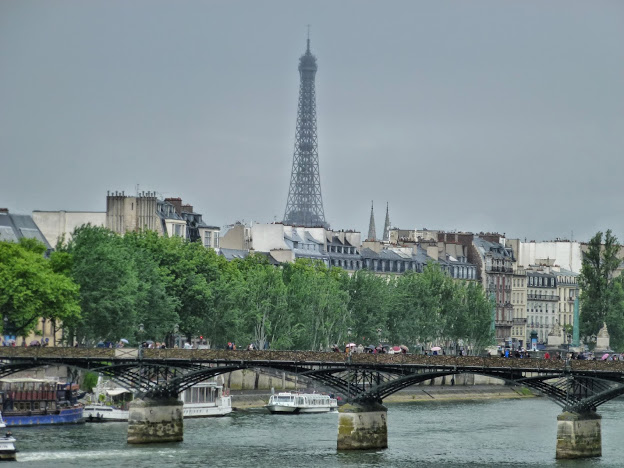 Eiffel Tower.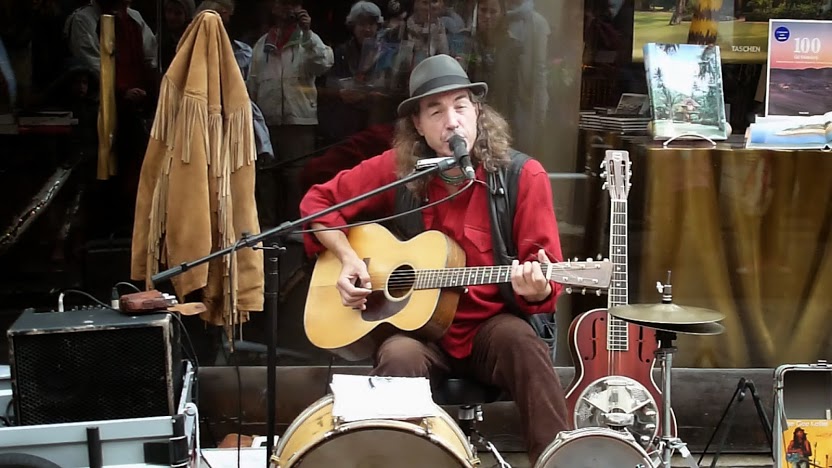 The rain had stopped, street singers were out performing on Rue de Buci.
This musician sang country music competently.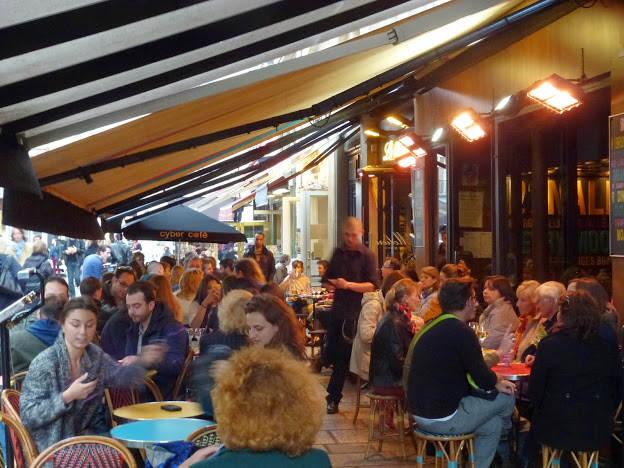 All of Rue de Buci was bustling.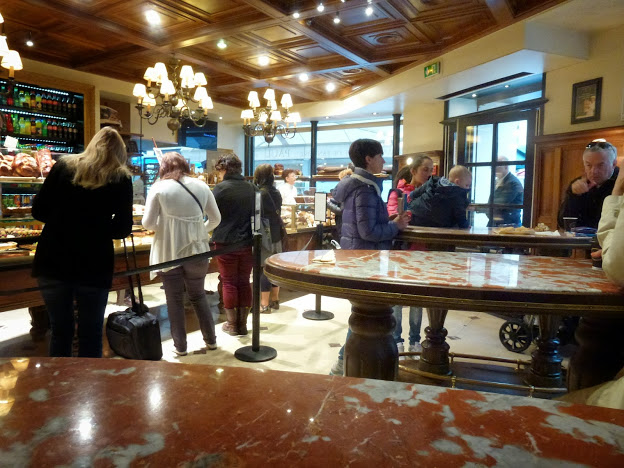 A PAUL bakery at the corner of Rue de Buci and Rue de Seine.
We decided that this would be our breakfast spot every morning.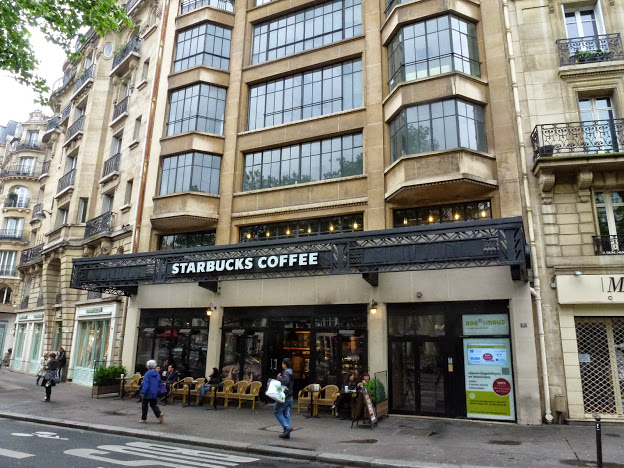 A Starbucks on Blvd Saint-Germain.
Vincent remarked that Starbucks in foreign countries almost always set up in prime locations.