Summary:
We last visited Vienna in 2000 as a family trip with our two sons. The four of us traced Mozart's footsteps in Vienna and Salzburg, then took a train to Italy, ending the trip in Milan.
Vincent and MC had planned to visit Vienna again in 2020 to follow Beethoven's footsteps. 2020 was Beethoven's 250th birthday. The world was going to celebrate this occasion with more than 1,000 performances planned throughout Germany and Vienna. However, Covid-19 intervened and all events were cancelled.
In October, after 2 shots of Covid-19 vaccine and 3 boosters, we decided to take this delayed trip to Vienna for 10 days.
Composer Ludwig van Beethoven (1770-1827) moved to Vienna twice. The first time, in 1787, when he was 17 years old and meant to study under the tutelage of Wolfgang Amadeus Mozart. But as soon as he'd arrived, he got word his mother was near death. He traveled back to Bonn, Germany, his hometown, to stay by her side. Beethoven ended up staying in Bonn for five years, and while he was there, Mozart became ill and died in December 1791.
Beethoven moved to Vienna again in 1792 when he was 22, intending on studying under Franz Joseph Haydn. However, Beethoven and Haydn's pupil / teacher relationship (from 1792 to 1794) did not develop very well, because Haydn was more structured musically than the young Beethoven was at that time. Antonio Sallieri was Beethoven's teacher around 1801/1802, primarily in the Italian vocal composition style. You remember Sallieri, right? He was the court composer villainized in the "Amadeus" movie.
Beethoven remained in Vienna for 35 years, composing the entire time through his worsening and ultimately total deafness. He moved more than 60 times while in Vienna, and performed throughout the city at various theaters and halls. He died in 1827 at age 56, from liver cirrhosis (肝硬化).
Among the more than 60 addresses that Beethoven called home at one time or another, some no longer exist. Some do exist, but they are private residences so cannot be visited. A handful have been turned into museums and are open to the public. We studied various articles and videos and selected several Beethoven sites that we wanted to visit.
Below is our customized Google map with all our "places of interest" highlighted. Beethoven's sites are marked with red stars, Franz Schubert's sites are marked with orange stars. Please click on the "View Larger Map" symbol (

) on the upper right corner below to view the map in a larger window.

Money Matters (Cash, ATM etc):

Almost everything can be paid with a credit card, except for some taxi drivers who preferred cash, as well as some transportation ticket machines that only took cash.

We bought some Euro currency from our local AAA in North Reading before the trip (when Euro was about on a par with US Dollars), therefore we did not have to use an ATM to get cash in Vienna.

Trip Planning Resources:

1) Rick Steves' "Vienna Salzburg & Tirol" guide book. This book has a very useful colored map with Vienna's Tram lines superimposed on U-bahn lines.
2) Google Searches and Google Maps
3) Use Google translate to learn a few survival German words, such as: ZU=to; ZUM=to the; VON=from, of;
EINGANG=entrance; AUSGANG=exit; ABFLUG=departure; ANKUNFT=arrival;
Roh=raw, as in raw salmon; Lachs=salmon. (Sushi is very popular in Vienna!)

Transportation:

AIR: We searched for airfare on ITA Matrix Airfare Search https://matrix.itasoftware.com/, but purchased tickets directly from Lufthansa's website. We chose Lufthansa because the connecting time in Munich was reasonable. The first checked bag to Europe was $75 one way if your ticket did not include checked bags. Therefore, we purchased the kind of tickets that included one checked bag each, and these tickets also allowed us to choose seats up to 23 hours before flight departure.

We flew BOS->Munich->Vienna, and flew back the same way in reverse. The 1-hour short hop between Munich and Vienna was actually on an Air Dolomiti's metal, not a Lufthansa airplane. We were happy that no flights were delayed or cancelled, and both our luggage arrived without incident.

While the outbound flight from Boston to Munich on Monday had many empty seats, the inbound flight on the following week's Thursday was almost full.

Local Transportation: The only transportation ticket machines we know of which took credit cards were the ones in front of the ÖBB office inside the main train station (Wien Hauptbahnhof). However, we imagine that other large train stations with an ÖBB office on site probably have this kind of machine as well.

Bus, Tram, and Subway(U-Bahn) are all on the same ticket. You may buy subway/bus/tram tickets or passes at a station machine or at tobacco shops near any station.

Single ticket: €2.40, valid for one ride including transfer.
Senior ticket: €1.50 for a single ride.
24-hour transit pass: €8.00. Stamp it only for the first time of your pass. But some machine would have already stamped for you at the time you purchased it. Therefore you don't want to purchase a pass too far ahead of time.
48-hour: €14.10
72-hour: €17.10
Weekly Travel Pass (Wochenkarte): €17.10, valid for a week within the specified week from Monday to Sunday. This is NOT a 7-day pass. It is a very good value if you can use it for more than three days.

To purchase a Weekly Travel Pass (Wochenkarte), we had to go to the ÖBB office inside the main train station (Wien Hauptbahnhof). Only ticket machines at an ÖBB office sell this Weekly Travel Pass.

For the most up-to-date ticket price info: https://www.wien.info/en/travel-info/transport/tickets

Vienna tram map: see Tram map. Vienna U-Bahn map: see U-Bahn map.

Internet:

We purchased a 10GB SIM card for MC's unlocked iPhone, and this iPhone also served as a hotspot for VT's iPhone. There was a different version of the SIM card which came with 4GB data and x minutes of calling time and y number of text messages; both were priced at €9.90 each. We opted for the 10GB data because we did not anticipate needing to call anyone. We let the clerk at the shop register and activate the SIM card for us (because it would be hard to activate ourselves when the screen display was all in German.) For this, we paid €15 total (a SIM card plus registration and activation.)

Since we already had sites of interest marked on our customized Google map, we needed to access this map on our iPhone to get to our destinations without making wrong turns. At the end of the trip, we only used close to 1GB data. Therefore, in hindsight, we could have chosen the 4GB data plus calling time, just "in case" we needed to make phone calls.

If you plan to cross borders into other European countries, tell the sales clerk you want a SIM card which can be used in certain additional European countries. As far as we know, there are no more roaming charges between EU countries, therefore a SIM card should work for multiple countries.

Lodging

Because we were to be staying in one hotel for 9 nights, we searched for apartment-type hotels like Marriott Residence Inn - a spacious room that comes with a kitchenette and coffee maker etc. We found Adina Apartment Hotel, which is an Australian (the country with kangaroos) hotel chain with many locations in Australia and Germany. In several other countries around the world, the hotel chain has one hotel in the capital city. As in this case, Adina has a hotel in Vienna, and it was newly opened in the year 2021.

In August, we booked a room directly on the hotel's English website. Since we booked for more than 5 nights, the hotel offered us a plan with 20% off but the booking was non-refundable. We took that offer.

We paid for the hotel's breakfast separately as we went, €19/pp/day.

However, if you only have a few days in Vienna, then we'd recommend staying in the old town or within walking distance of the old town, so that you may soak in the charming atmosphere of the old town day and night.

Laundry:

Our hotel room came with a small laundry machine which could do both the washing cycle and drying cycle, but only up to 1kg of clothes per load. Laundry detergent (powder but in tablet form) was provided in the room. We did one load on the 5th day. It took an extra drying cycle to dry the clothes.

Should you need laundry service by the bag, then "Kaiser Putzerei Laundry" at Krugerstraße 9, 1010 Wien, in the old town, is recommended by Rick Steves in his guide book. This address is located in the area between Kärntner Straße and Haus der Musik. We walked past this shop on our way to Haus der Musik on Day#5, and saw that the shop was open for business. They charged by weight, the price included wash, dry and fold.

Food:

Where to begin? We did not have a bad meal except for the arrival day's mediocre dinner.

We had very enjoyable Austrian traditional meals at Heurigen on two occasions. (Heuriger [HOY-rih-gur]= wine garden restaurant. The plural is Heurigen [HOY-rih-gehn].) If the weather is cool then one may sit inside. The word "Weingut" is also used for this type of establishment, which means wine-producing estate.

We enjoyed the original Sacher torte at the famous Sacher Café right behind the Vienna State Opera house. It was worth the 40-min wait to be seated.

The beef noodle soup and Home-style Tofu (家常豆腐) we had on a rainy day's afternoon at a Chinese restaurant were very hearty.

The "Nordsee" German fast food restaurant chain on the Kärntner Straße location was spacious, bustling and offered many seafood selections. We had lunch there twice, and really enjoyed their grilled salmon and fried fish.

The coffee and cakes in many McCafé were very good too. Clean, efficient and no long lines, we stopped by when between sites and needed to rest our feet. To order an American coffee in German language, you'll have to ask for Café-Verlängerter, which means one shot of espresso diluted with hot water. (Verlängerter=extended.)

Travel Insurance:

We purchased a "Seven Corners RoundTrip Basic" policy from SquareMouth.com, choosing mainly for the "Emergency Medical and Evacuation" coverage.
---
Itinerary and highlights:
Day 1 - Arrival in Vienna (10/11/2022, Tuesday): Link to our photo
Arrived at Vienna airport at 12:35 pm as scheduled. Took a taxi to our hotel, "Adina Apartment Hotel Vienna Belvedere", located between the Vienna central station (Wien Hauptbahnhof) and Schloss Belvedere (Belvedere Palace.) Our taxi driver spoke very good English. We asked him whether the taxi fare to the city center was fixed or metered. He said metered. The driver was originally from Bosnia and he had been to California (Disneyland!) and Florida (Disney World!) vacationing with his wife and kids.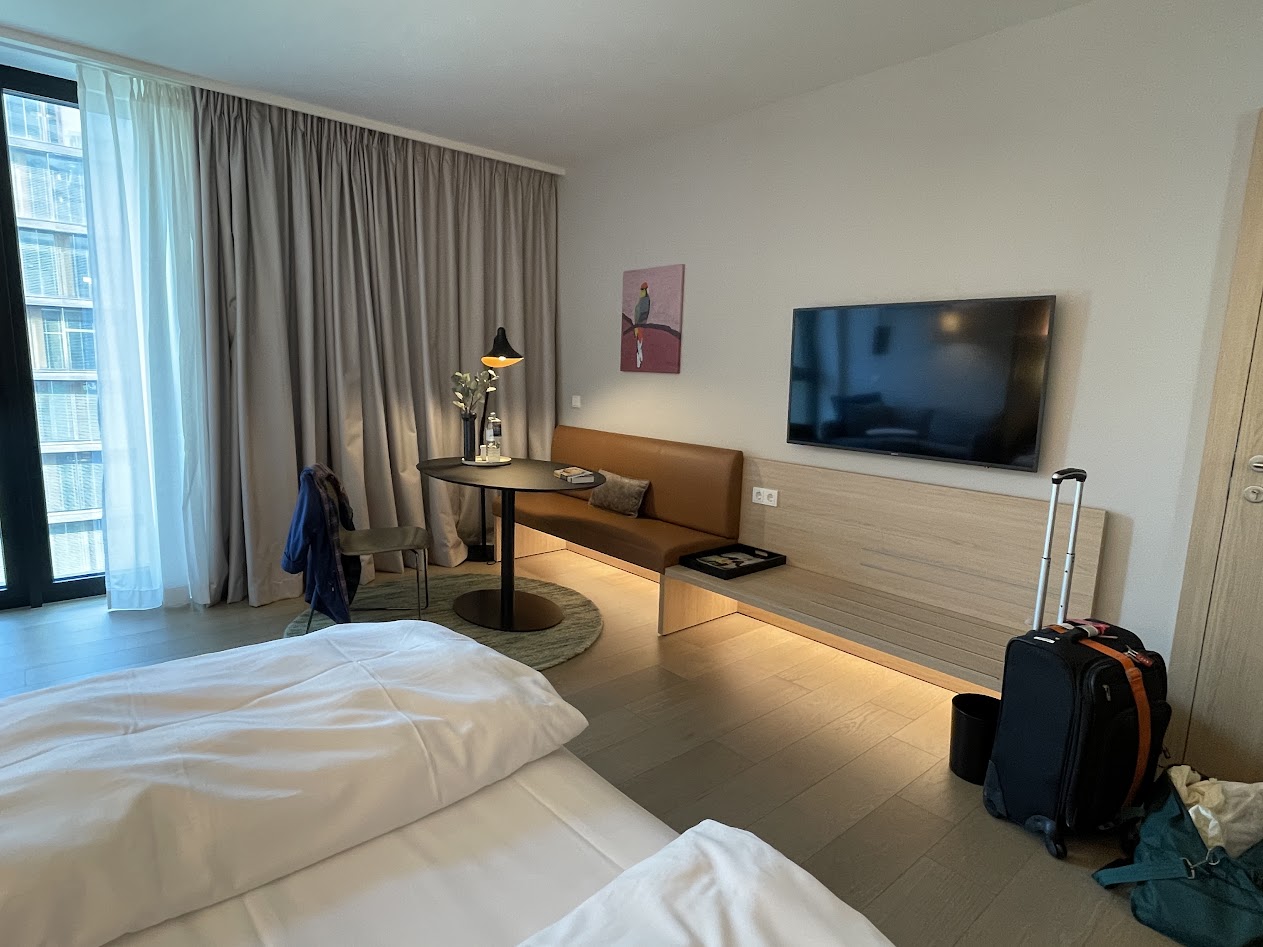 After about 25 minutes, we arrived at Adina hotel. The taxi driver said there was a problem with his credit card machine, therefore he'd take US dollar if we did not have Euro. We had already swapped the contents of our readily-accessible wallets to have only Euros while overlaying in Munich airport, so we gave him 50 Euro to cover the 46 Euro meter fare. This situation was very similar to our experiences in London in 2019. Every taxi driver wanted cash instead of a credit card.
We liked our spacious and bright room. It came with a kitchenette, frig, coffee maker, kettle, oven, dish washer, and a laundry machine.
We did not do much today other than to find out where the supermarket was (to buy fruit and bottled water), checked out the 3 restaurants recommended by our hotel (4-min walk), and went to the train station to buy two Weekly Travel Passes (€17.10/pp, valid Monday- Sunday, same price as a 72-hour Travel Pass) good for tram, bus, and U-bahn.
Day 2 - Reminiscence in the old town (10/12/2022, Wednesday): Link to our photo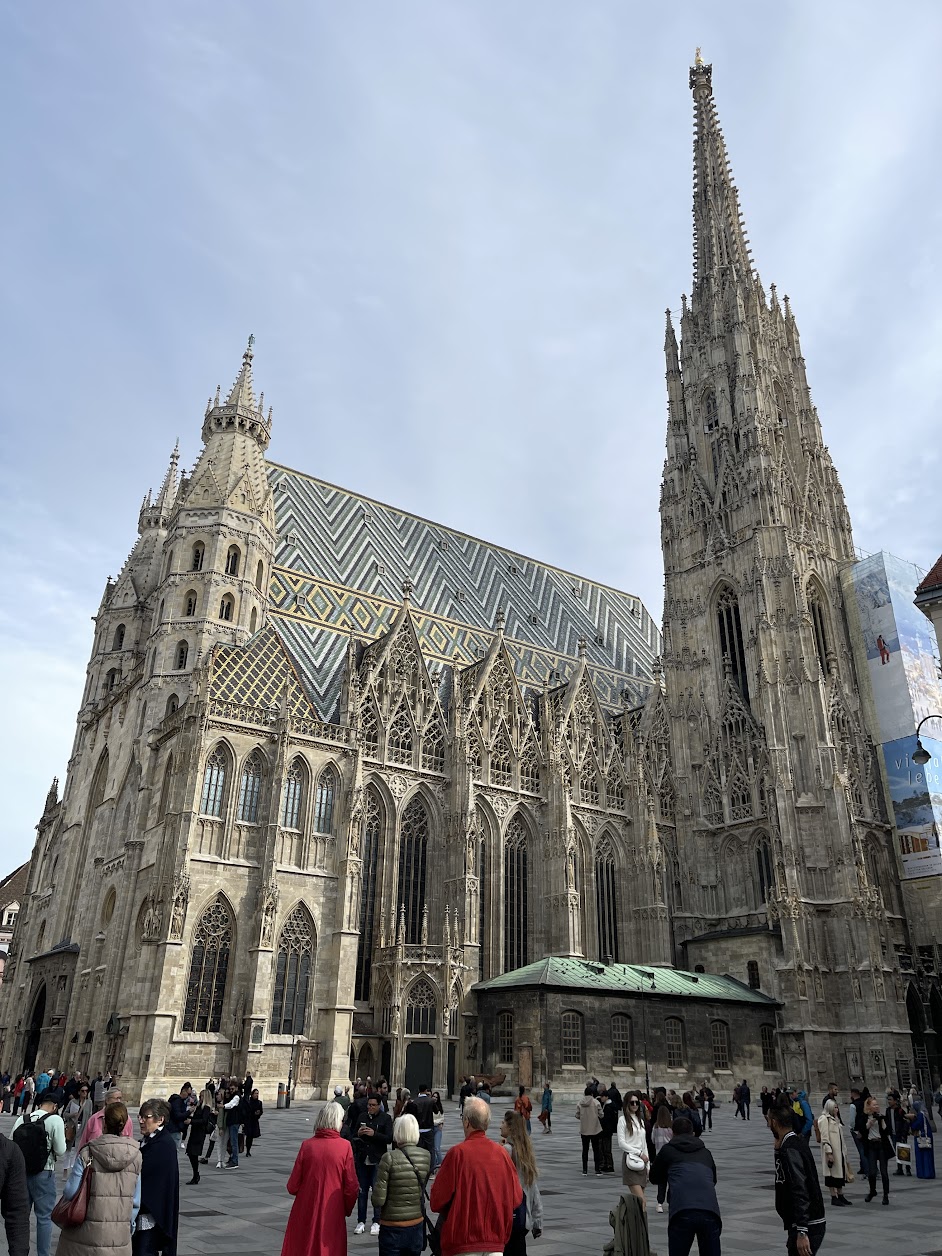 Today's activity was to see the old town and walk on the Kärntner Straße from the State Opera to St. Stephen's Cathedral, a charming and bustling street we walked almost daily 22 years ago, because our hotel at that time was only one block from St. Stephen's Cathedral.
Tram line D (see its route map) was our lifeline from the hotel to the old town. We got on Tram D at the Hauptbahnhof Ost stop, rode 6 stops to Oper/Karlsplatz, disembarked, we'd be in front of the Hotel Bristol and there, the majestic Vienna State Opera was just standing across the street.
Kärntner Straße has ushered in many new vendors for those who can afford the high rent. Now there are two McDonald's, one Burger King, and a Nordsee (NorthSea, a German fast-food restaurant chain) that we saw several in Berlin a few years ago but did not give it a try.
The square in front of St. Stephen's Cathedral was crowded with hundreds of tourists speaking all kinds of languages from the world.
The first order of business this morning was to visit the Drei (meaning "3") cell phone store in the cathedral square to buy a local SIM card for one of our iPhones.
After visiting St. Stephens Cathedral, we walked past the cathedral and turned right to check out Hotel Konig von Ungarn (meaning King of Hungary. This hotel was part of a 17th century building that was once a lodging for Hungarian noble families during their stays in the Austrian capital. ) The exterior of the hotel looked exactly the same as from 2000 when we stayed, although the hotel's website shows that some of the rooms have been drastically modernized.
We purchased tickets to visit the Mozarthaus museum, formerly called Figarohaus. Mozart's actual apartment between 1784 and 1787 was returned to its original structural condition and open to the public. He wrote The Marriage of Figaro in this residence, and entertained the likes of Haydn.
We stopped at Julius Meinl am Graben, a high-end gourmet food store with a café and sushi bar. We also went to St. Peter's Church (Peterskirche, a very ornate church just off Graben) for a 3 pm free organ concert. St. Peter's church also hosts classical concerts in the evening at 8:30 pm, performed by the "Classic Ensemble Vienna". Check its website for details.
From the shopping street of Kohlmarkt (Vienna's most elegant shopping street, with the emperor's palace, Hofburg, at one end), we walked past many Habsburgs buildings, including stopping at the historical Michaelerplatz (you must see an old photo of this plaza in the second half of the 19th century, before the front was finally converted to joint together), eventually ending in front of the State Opera to take a Tram#D to go back to Hotel Adina.
Day 3 - Three Beethoven sites (10/13/22, Thursday) Link to today's Photo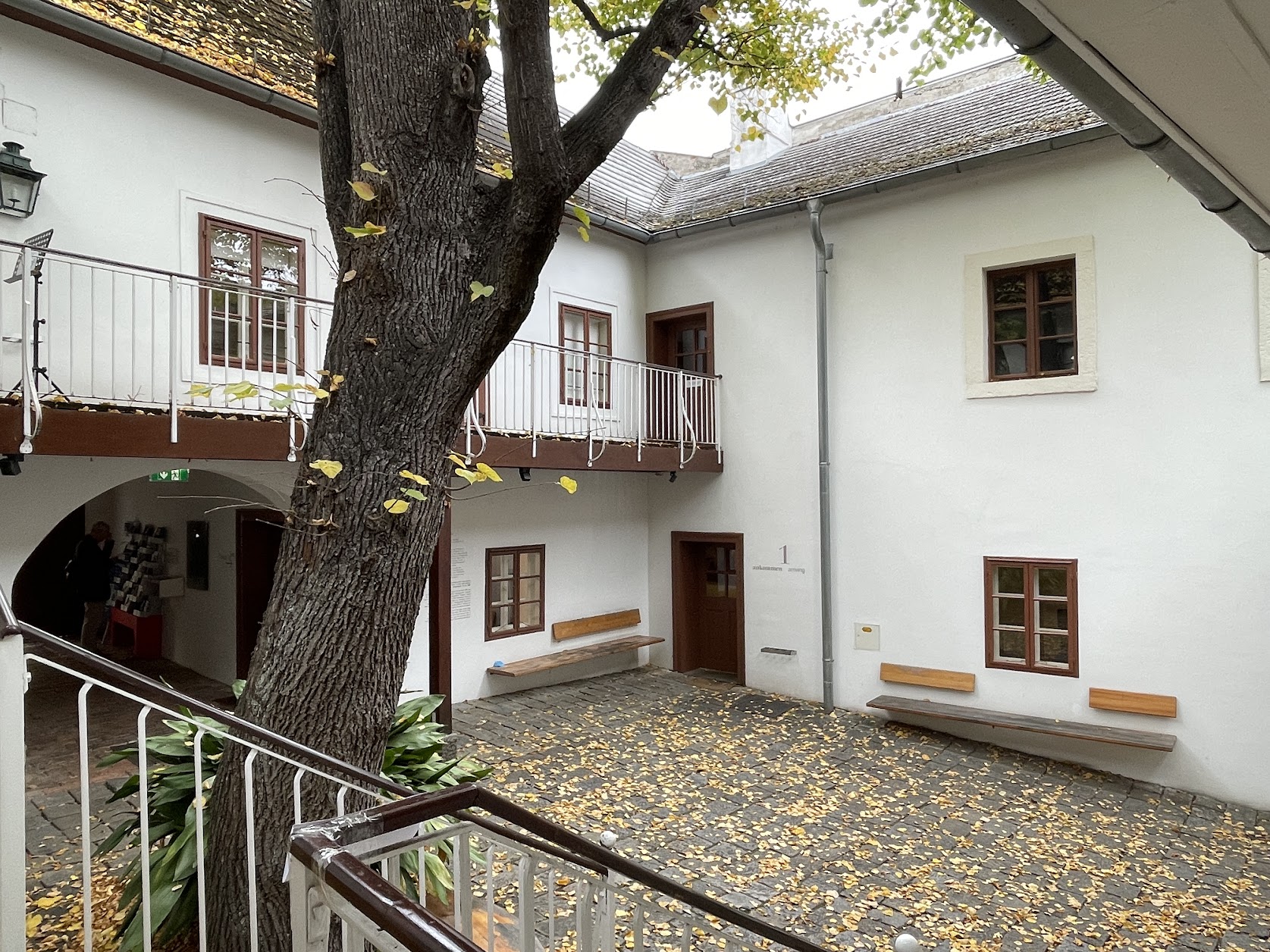 Of the 5 Beethoven sites we planned to visit, we saw three today, starting from the furthest, in the northern suburb of Heiligenstadt.
Beethoven Museum (Probusgasse 6) - located in Heiligenstadt, a rural suburb of Vienna at the edge of Vienna woods. Beethoven is said to have lived here in the summer of 1802, for its healing mineral water and to walk in the woods. The premises (a former country bakery) surround a small courtyard and feature six display areas.

Beethovenhaus am Pfarrplatz - 100 yards down the road from the Beethoven Museum. For a short time in 1817, Beethoven lived in an upstairs room at the winery Mayer am Pfarrplatz, which has been producing wine since the 1600s. (Pfarrplatz=parish square, because there is a church in this square.) There, he worked on his 9th Symphony. The house is now a restaurant within the winery, which honors Beethoven's legacy by prominently featuring his image on the wine bottles.

Beethoven Pasqualatihaus (Mölker Bastei 8) - right on Vienna's city ring road. Beethoven spent 8 years (1804-1808, and then 1810-1814) on and off living on the fourth floor of the Pasqualatihaus, an elegant building owned by Josef Benedikt Baron Pasqualati. Here, he worked on his 4th, 5th, 7th and 8th symphonies, among others, as well as his only opera, "Fidelio". Beethoven's top-floor apartment consisted of five spacious and bright rooms. In Beethoven's day it was a massive building comparable to a Fifth Avenue penthouse apartment in New York City today. When Beethoven lived elsewhere, the Pasqualati family kept the rooms for him (without renting out to other people) in case he came back.
There are several ways to get to Beethoven Museum (Probusgasse 6) in Heiligenstadt. We took Tram#D to its last stop in the north, Nussdorf/Beethovengang, then walked back downhill 5 minutes to the town square to find a taxi at the taxi stand. The taxi fare to the museum was about €9. The museum was in a very quiet neighborhood, and the exhibition was not as well presented as the Beethoven museum in Bonn, Germany, where we visited in 2017. But, we were happy that we came to see the village where Beethoven escaped from the city to be among nature. There were headphones placed in various parts of the museum to let visitors listen to selected Beethoven's music while reading texts on display. But we were still in the Covid era and people were reluctant to pick up a shared headphone to put on their heads. I am sure our experiences were diminished by not being able to listen to his music on site.
Beethovenhaus am pfarrplatz - is currently a Heuriger (wine garden restaurant) named Mayer am Pfarrplatz. Both the garden and the restaurant were lovely and cozy. We enjoyed a lunch of traditional Viennese Schnitzel and fried chicken in this charming establishment.
[NOTE: An alternative way to come here is to take the U-4 subway line to "Heiligenstadt" station. From there, take bus #38A towards Kahlenberg and alight at the "Fernsprechamt/Pfarrplatz" stop, then walk 5-min uphill to Pfarrplatz.]
After lunch, we asked the restaurant to call a taxi to take us to Beethoven Pasqualatihaus (Mölker Bastei 8). The taxi fare was about €18. This museum is on the ring road, therefore is just a short walk from Schottentor station, reachable via U-2 subway and various tram lines (1, 37, 38, 40, 41, 42, 43, 44, 71, D). However, we were happy to let a taxi driver drop us off at the address. Beethoven completed many works while living here. A few days later, while visiting the Haus der Musik Museum, we read a text display which speculated why Beethoven was so productive while living in Pasqualatihaus - it was because the Feng-Shui (風水) of this apartment was in harmony with Beethoven's basic energy.
Day 4 - Golden Hall (10/14/2012, Friday): Link to our photo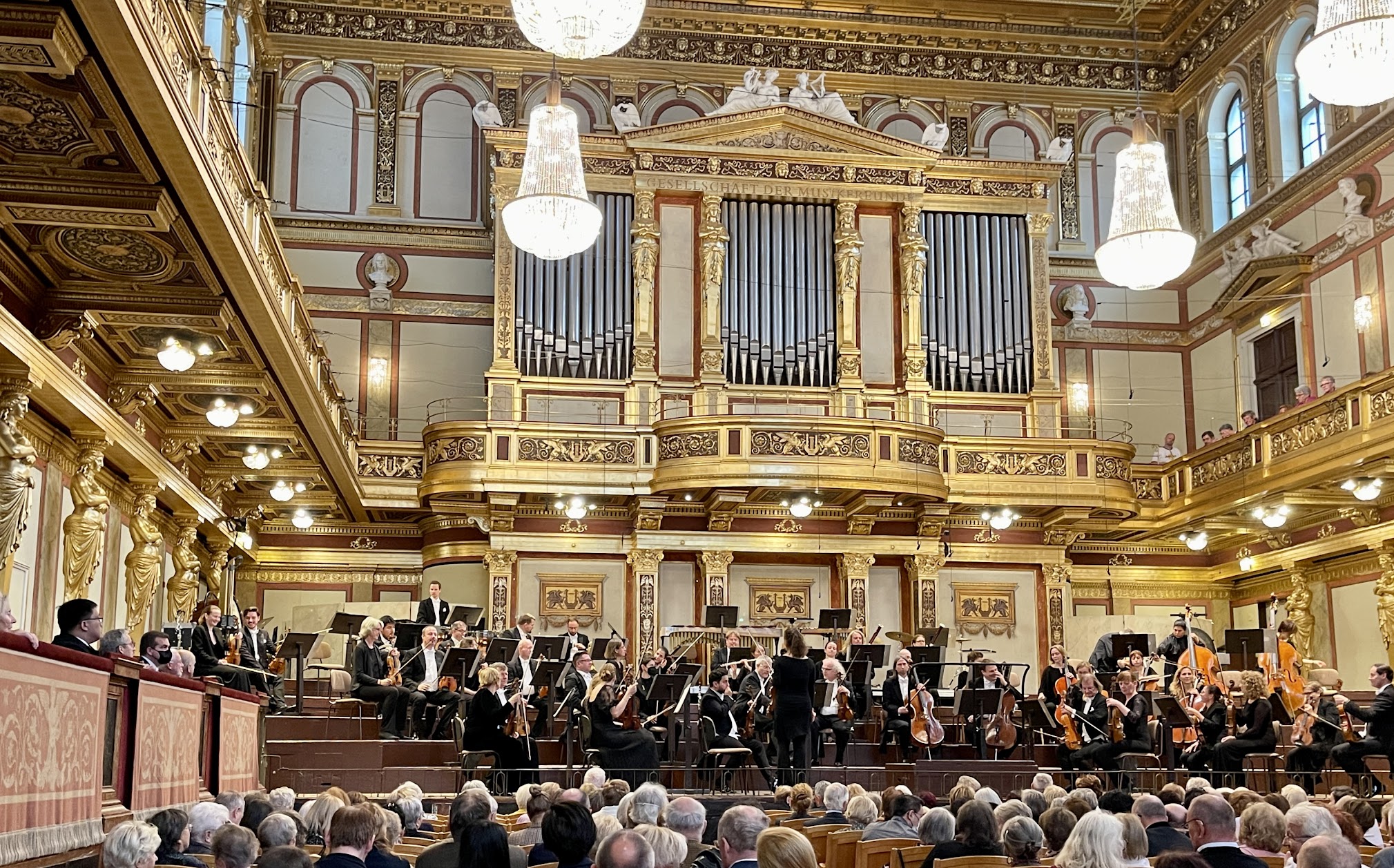 One of our must-see sites for this trip was to visit the Golden Hall (GROSSER SAAL, Great Hall) in the Musikverein where the Vienna Philharmonic calls home and also performed the annual New Year's Day concert which is broadcasted on TV to the world.
We booked an English guided tour at 1 pm, and also purchased tickets for the 3:30 pm concert of the Berlin Symphony Orchestra (not to be confused with the Berlin Philharmonic) performing in the Golden Hall.
Musikverein is located just behind the Imperial Hotel on the ring road. We took Tram#D to Oper/Karlsplatz, then walked 5 minutes to the hall. The 1 pm tour guide told us that:
Musikverein means "Society of Friends of Music". Before Musikverein was completed in 1870, concerts in Vienna were mostly performed in private homes or palaces; therefore, they were not accessible to the ordinary working folks. A group of advocates pushed for the building of a large concert hall for the citizens.
This building was built in the Greek temple style, because the Danish architect had spent 8 years in Greece, so his design had a Greek influence.
This concert hall was all made of wood, and hollow wood at that. The ceilings, the floors, the walls are all hollow, so it resonates with the sound just like a musical instrument does.
Musikverein was originally built with only two halls - a large hall and a small hall. The large hall is also called the Golden Hall due to its interior golden-colored decoration. The guide said that all the golden colors are painted, there is not an ounce of real gold in the decoration.
The Golden Hall seats 1744, with an additional space for 300 people standing in the back.
Wikipedia of Musikverein: https://en.wikipedia.org/wiki/Wiener_Musikverein
Concert schedule & tickets: https://www.musikverein.at/
Our 3:30 pm concert seats were about 90% full. The acoustic was very good. The audience gave the orchestra a resounding applause. We also saw large tour buses bringing people to the concert. Cannot help wondering, where are they from?
Day 5 - Haus der Musik (10/15/2022, Saturday) Link to today's photo
We were saving the big museums for Sunday when most other places were closed. However, it was raining today, so we shuffled our plan to stay indoors. That's why we visited the Haus der Musik today.
Haus der Musik – (House of Music) https://en.wikipedia.org/wiki/Haus_der_Musik is a fun interactive "sound museum", located in the old town between St. Stephen's Cathedral and the State Opera.
The museum has a room dedicated to the history of the Vienna Philharmonic, and also a mini concert hall continually playing videos of highlights from the 1/1/2022 New Year's concert performed in the Golden Hall and conducted by Daniel Barenboim.
Another floor dedicates a room to each of the famous composers associated with the city, including Beethoven, Mozart, Haydn, Schubert, Strauss and Mahler. In Mozart's room it included a hand-written letter from Mozart to his father explaining why he could not stay in Salzburg.
In Beethoven's room, there was a framed text speculating why Beethoven was so productive while living in the Pasqualatihaus, because, it said, the Feng-Shui (風水) of this apartment was harmonious with Beethoven's basic energy.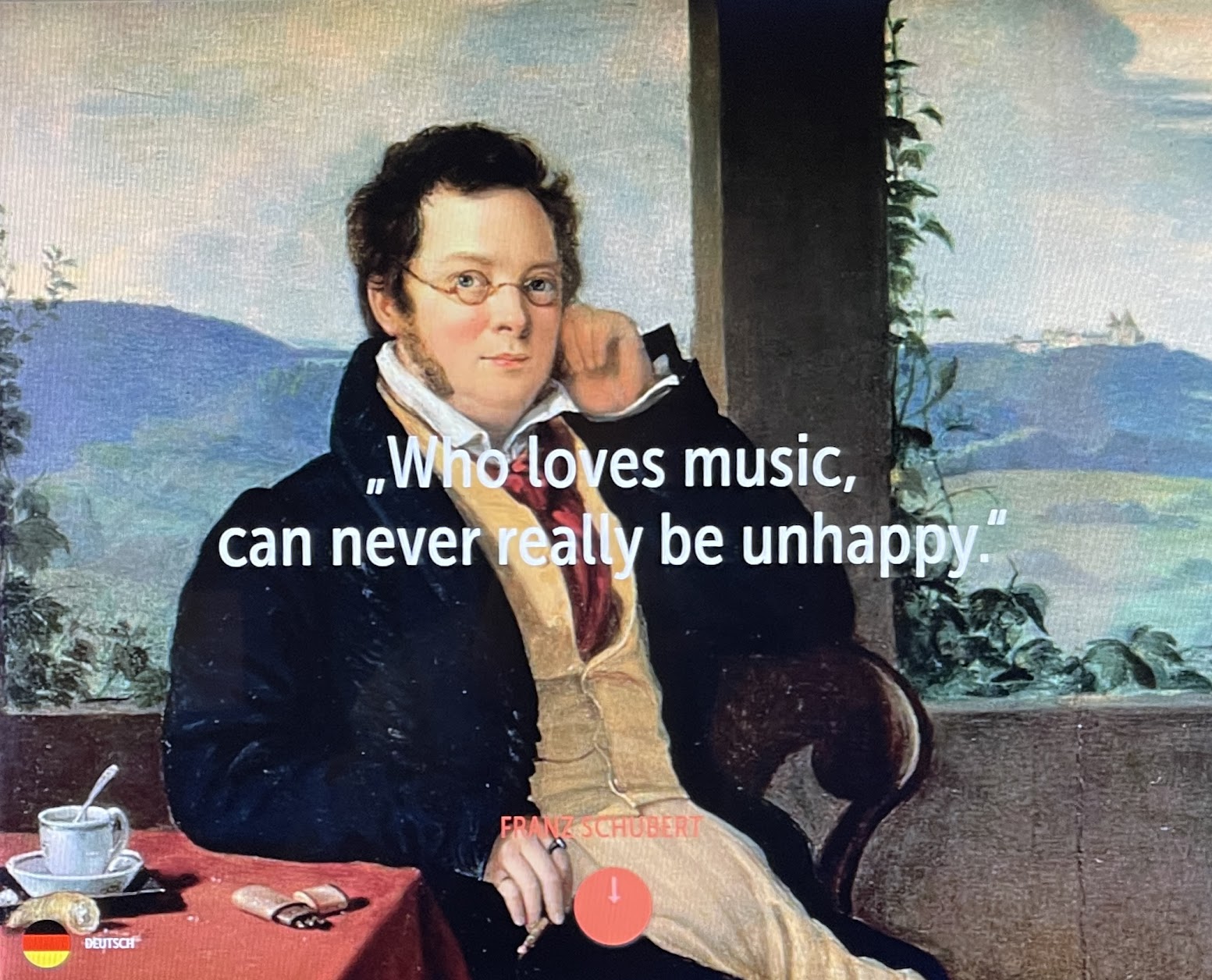 In Franz Schubert's (1797-1828) room, photos of several people who were important parts of Schubert's short life were displayed - family members, friends and benefactors. Schubert was not wealthy and lived with friends most of his adult life. This room probably exhibited more items from Schubert's life than his birthplace museum or last-residence museum. There was text on display which said Schubert was an admirer of Beethoven. Although Schubert wrote more than 600 songs that are sung today, he did not think much of himself, therefore he did not have enough confidence to approach the "Great" Beethoven. And the two never met, until Schubert was one of the 36 torchbearers at Beethoven's funeral. Schubert died a year after Beethoven. On his deathbed, he requested to be buried next to his idol, Beethoven. He was indeed buried near Beethoven in Wahring cemetery, which is called "Schubert Park" today. Wahring cemetery was closed in 1888, and the mortal remains of Schubert and Beethoven were transferred to honorary graves in the Central Cemetery where he lies next to Beethoven.
On the short Krugerstraße (running in the East-West direction) leading off from Kärntner Straße to the Haus der Musik, there were 4 Asian restaurants in this 50-meter-long block, 2 Chinese and 2 Japanese (and a laundry service at Krugerstraße 9, in case you need a wash, dry & fold service.) As it was raining hard when we exited the museum, we ducked into one of the Chinese restaurants. A bowl of beef noodle soup and a Home-style Tofu (家常豆腐) with vegetables were happily consumed. They were very hearty on this rainy day. The cashier thought we had come to the city on a river cruise boat. It was true that we almost signed up for a Viking river cruise this past June to cruise from Regensburg to Budapest. Had we been on one, we'd have had only one-and-half days in Vienna.
Afterwards, we browsed the souvenir shops along Kärntner Straße trying to find a nice coffee mug which would remind us of this beautiful city of Vienna, but did not find any that we liked.
The IKI Japanese restaurant near our hotel was closed on both Saturdays and Sundays. The Hoffer supermarket near our hotel was closed at 6pm on Saturdays and closed all day on Sundays. Therefore, we were glad that restaurants in the old town stayed open on weekends.
Day 6 - Eroica Hall and Kunst historisches Museum (10/16/2022, Sunday): link to our photo
The sky was grey in the morning; we did not see sunlight until after 11am.
Speaking of the Viking river cruise, we saw two groups of people walking behind their respective guide holding a "Viking" flag in the old town.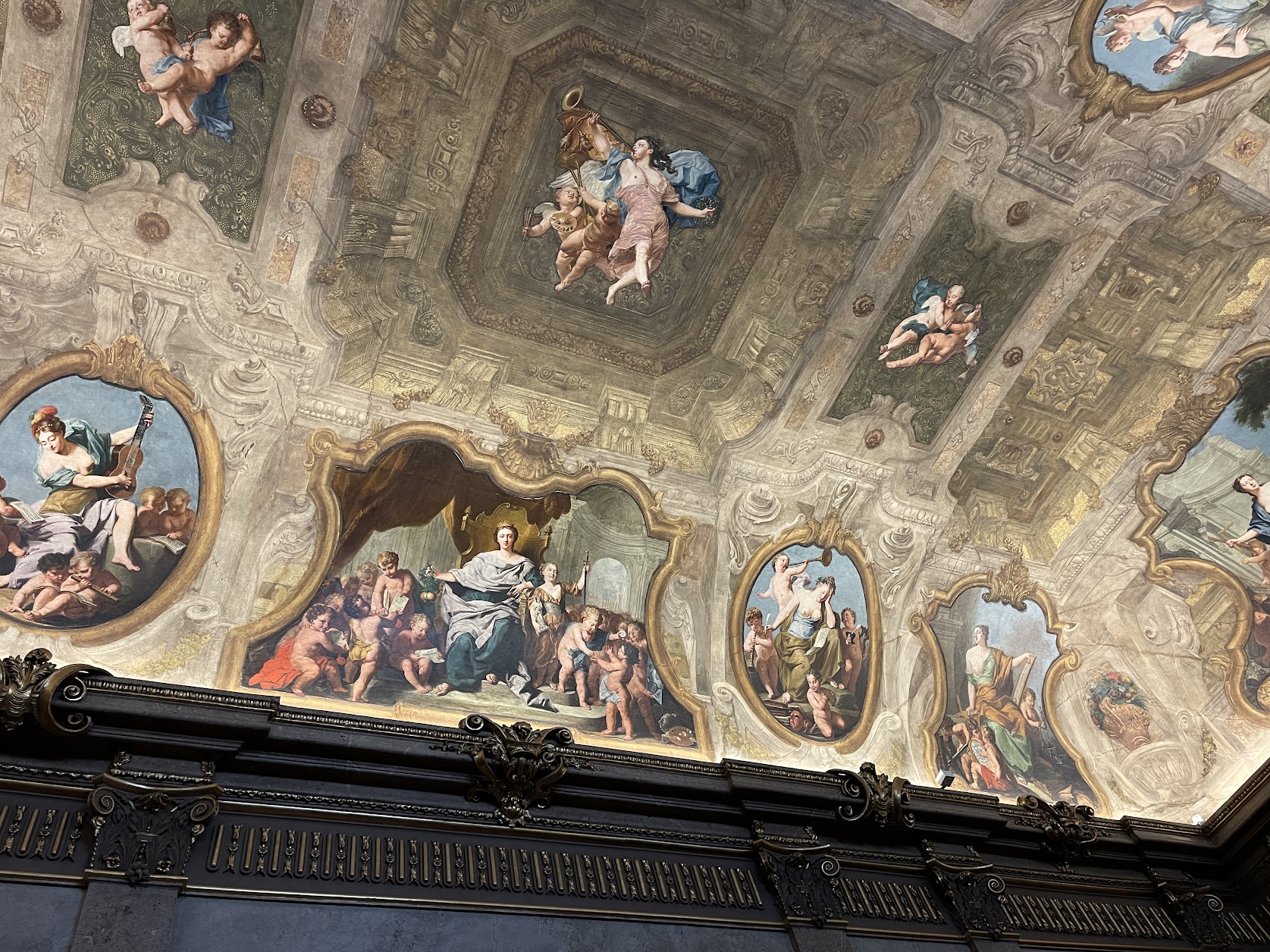 Today we went to visit another Beethoven site, the Palais Lobkowitz in the old town. In the early 19th century, Beethoven was often a guest in the palace, since the owner at that time, Prince Franz Joseph Maximilian von Lobkowitz, was an important patron of the composer. Beethoven's Third Symphony was dedicated to the prince, which is why the festival room of the palace was named "Eroica Saal" (Heroic Hall). In 1804, Beethoven's Third Symphony was performed (privately) for the first time in Vienna in this hall, with the composer conducting. (And here is a 2-hr YouTube video dissecting Beethoven's Eroica Symphony by conductor Michael Tilson Thomas.)
Palais Lobkowitz has been turned into a "Theater Museum" exhibiting a nick-nack of theater stuff which were not of interest to us, but we came here to pay homage to one of the palace's halls.
When the Third Symphony was published in 1806, Beethoven was angry with Napoleon after the latter declared himself emperor of France that he struck off Napoleon Bonaparte's name from the first page so forcefully that he tore a hole in the page. Beethoven dedicated the piece to Prince Franz Joseph von Lobkowitz (1772–1816) instead.
After lunch at the Nordsee Restaurant on Kärntner Straße, we waited in line for 40 minutes to be seated in Café Sacher to savor a piece of their famous Sacher Torte. Every time we passed by this café, there was always a line of people queuing on the sidewalk.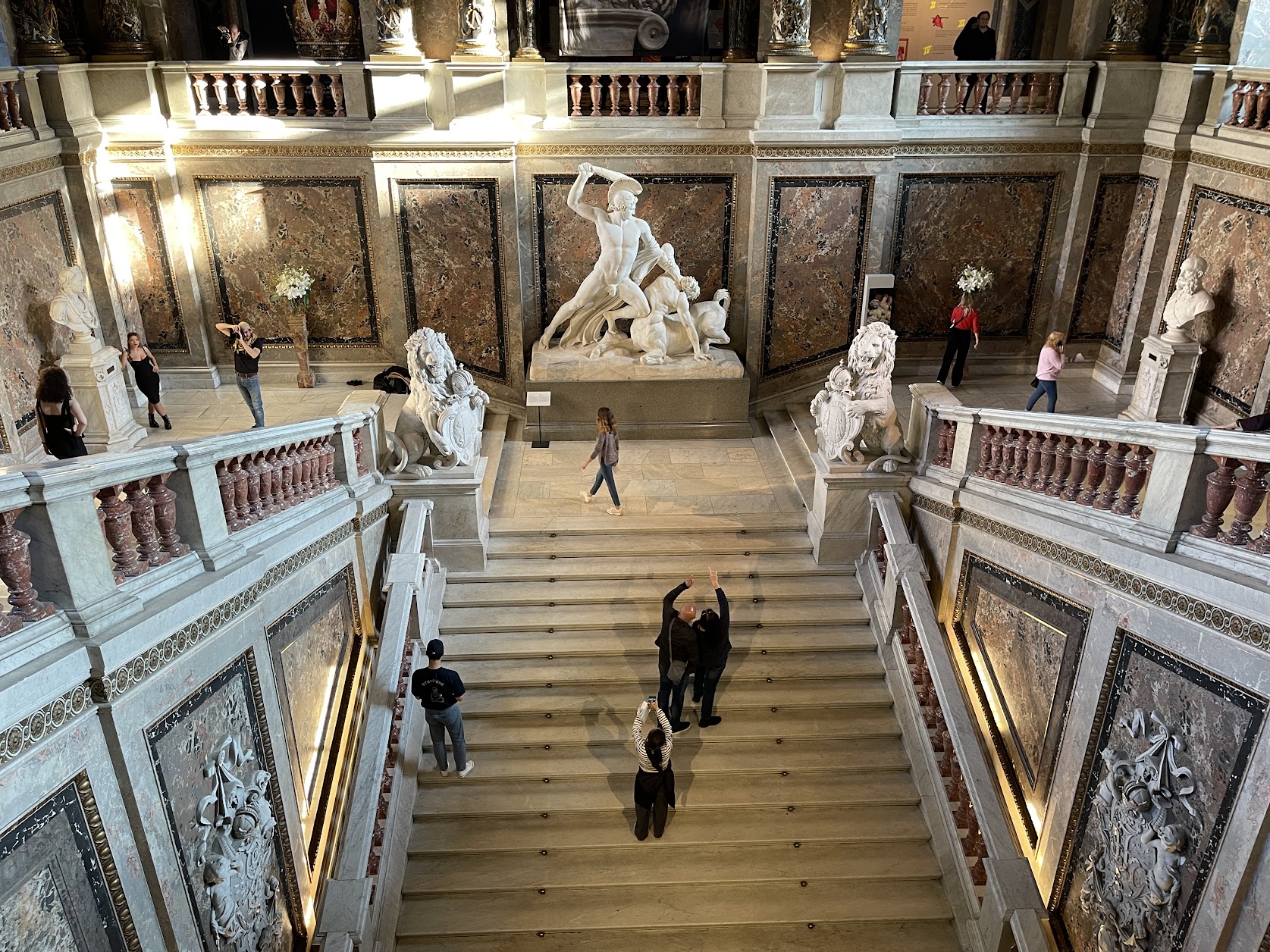 The last place we visited today was the Kunst historisches Museum (literally, the Art History Museum, similar to our "Museum of Fine Arts") housing the Habsburgs' art collection. We only had time for a small portion of the painting gallery - we saw selected Caravaggio, Titian, Raphael, and Velazquez paintings in the Italian, Spanish & French Art rooms, and a Vermeer painting in one of the Northern European Art rooms. We also saw a painting of Emperor Joseph II and his younger brother. Emperor Joseph II (1741-90) was the music-loving emperor featured in the Amadeus movie who told Mozart that his music had "too many notes". It is amazing that the actor who portrayed Emperor Joseph II in the movie was made up to have an uncanny facial resemblance to the emperor in person.
While walking toward tram #D stop to take a tram to come home, we saw Hao Noodle & Tea (Opernring 19, 1010 Wien). It was a contemporary Hong Kong style Chinese restaurant run by a group of young and polite staff. We took out dinner from there to enjoy in our apartment. It seemed that Chinese restaurants in Vienna were heavy with cooking oil when stir-frying food.
Day 7 - Theater an der Wien and the Waltz King (10/17/2022, Monday): Link to our photo
VT took a few photos from our hotel's breakfast this morning, so that you may see what they were like.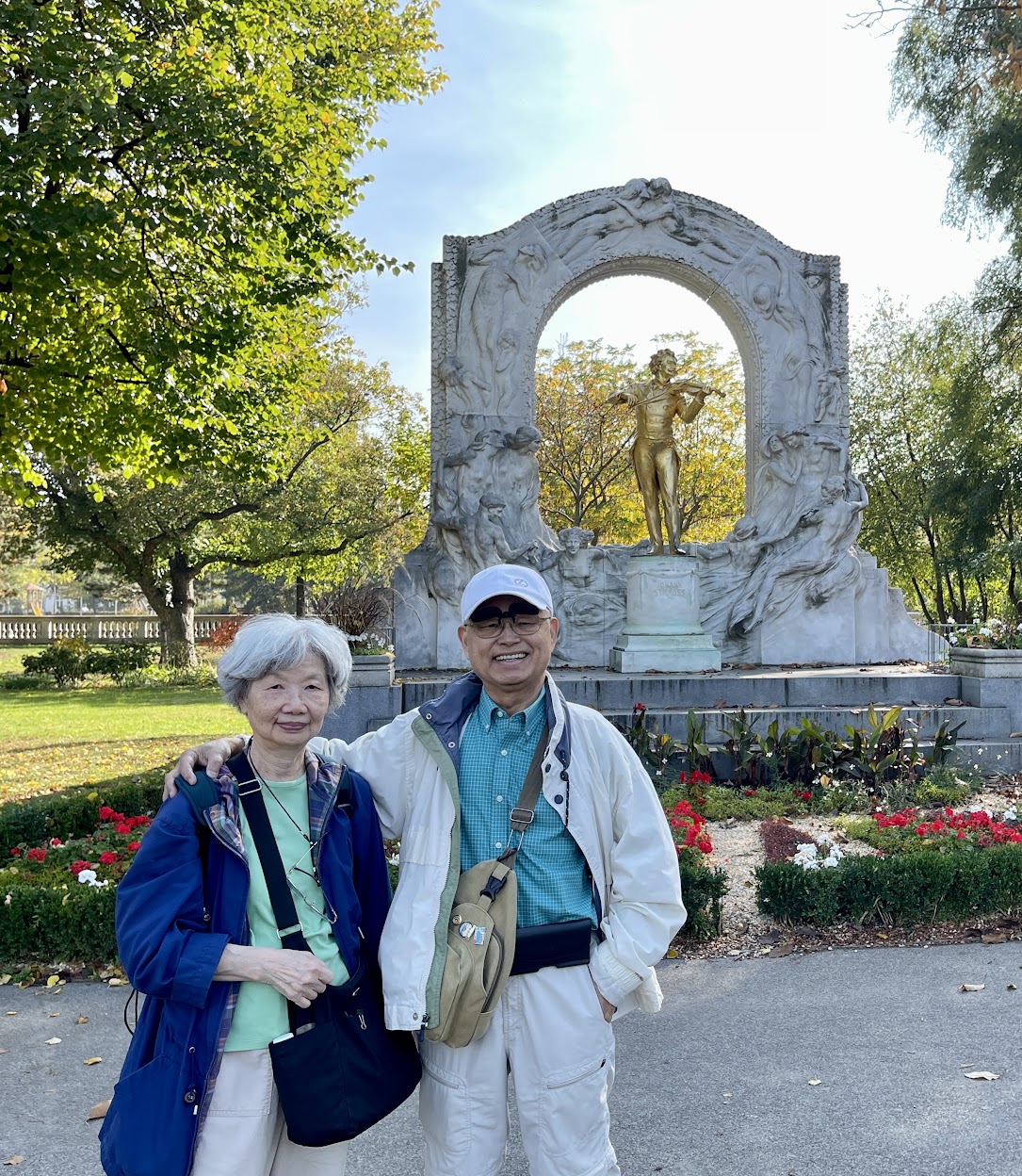 We wanted to attend a Johann Strauss concert which was performed at the Kursalon concert hall located in a city park called "Stadtpark". VT also wanted to go to the park during the day to take photos of the Waltz King's golden statue. So we visited the Stadtpark this morning intending to purchase two tickets at the box office while there, for this evening's performance. [Transportation: Tram#D to Oper/Karlsplatz, then change to Tram#2 east direction two stops to Weihburggasse.]
The concert's name was "Strauss and Mozart concert in Kursalon". This concert hall, Kursalon, was where the "Waltz King" Johann Strauss Jr. (1825-1899) gave his first concert in 1868. The Kursalon thus became a popular place for concerts and for dancing. Today, there is a Strauss concert almost every day at 8:30 pm. Tickets are divided into 3 categories based on their distance to the stage. They are the VIP (rows 1&2), category A (rows 3 to 8), and category B (rows 9 and beyond); priced at €105, €75, and €63 respectively. Seats are not assigned; an usher will lead you to an empty seat in your ticket category. Shows last about 2 hours.
We wound up purchasing two concert tickets from a kiosk near Johann Strauss Jr.'s golden statue in the park. The man at the kiosk asked if we needed concert tickets and that he could sell us tickets at a discount. We were curious why he was able to sell at a discount. He said that he bought tickets in bulk at a discount, so he passed on the savings to customers. He offered to sell us two catalog A tickets at €50/each. We were skeptical whether these tickets were legit, but decided to trust this man so that he could, at least, recoup his capital investment. Besides, since the concert was unlikely to sell out on a Monday, the worst scenario that could happen to us was to buy two new tickets at the box office, and treat this as lessons learned.
From the Stadtpark we took Tram#2 to Oper/Karlsplatz then walked south to see Theater an der Wien and Naschmarkt.
Theater an der Wien (Theater at the Wien River): This theater was completed in 1801 (ten years after Mozart passed away) to perform Mozart's operas.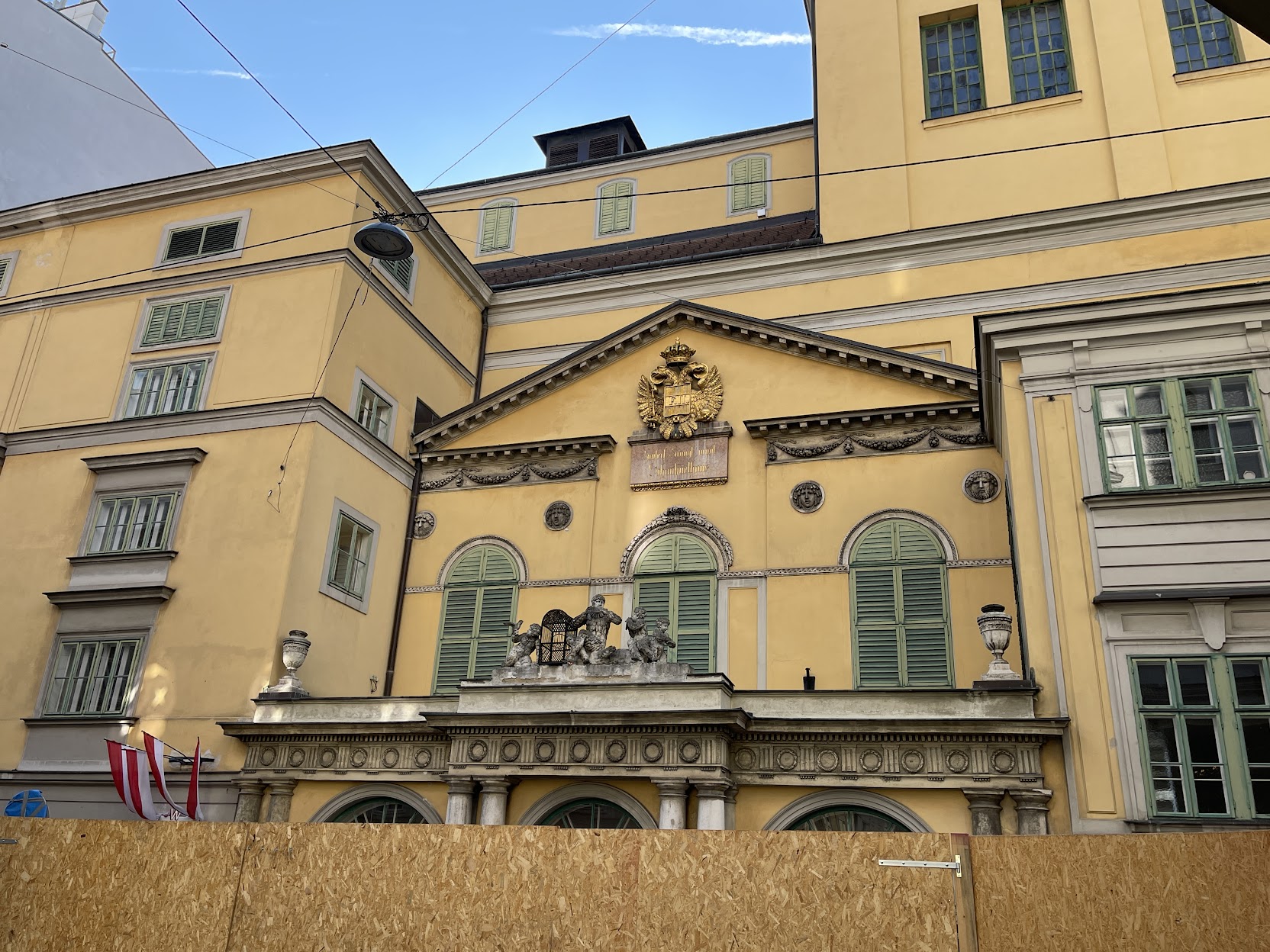 A theater impresario and friend of Mozart named Emanuel Schikaneder, who wrote the libretto to Mozart's "The Magic Flute" and played the role of Papageno in the opera, built this theater outside the old city walls (today's ring roads) to stage Mozart's operas for the ordinary working folks.
Beethoven worked in this theater for a while (from 1803 on) and was provided with an apartment in the theater complex. Therefore, this is another Beethoven site where he lived for a while (in 1803 and 1804). Several of Beethoven's compositions premiered here too.
Naschmarkt (Nasch = nibble) – Just opposite the Theater an der Wien, it is Vienna's most popular outdoor market with about 120 stands and restaurants. This market was created by covering up the Wien River. We had lunch here at a pleasant pan-Asian restaurant which had Chinese, Japanese, Thai, and Vietnamese cuisines on the menu.
In the evening at Kursalon, we were admitted to the concert hall without any problem. On an ordinary Monday night's show, the orchestra consisted of only 9 members (therefore it was only a subgroup of the full band taking turns to perform in the evening), plus two dancers dancing to the waltz tune, and two singers singing Mozart's opera arias. It was very touristy but fun.

Day 8 - Belvedere and Haydnhaus (10/18/2022, Tuesday): Link to our photo
Another sunny and beautiful day!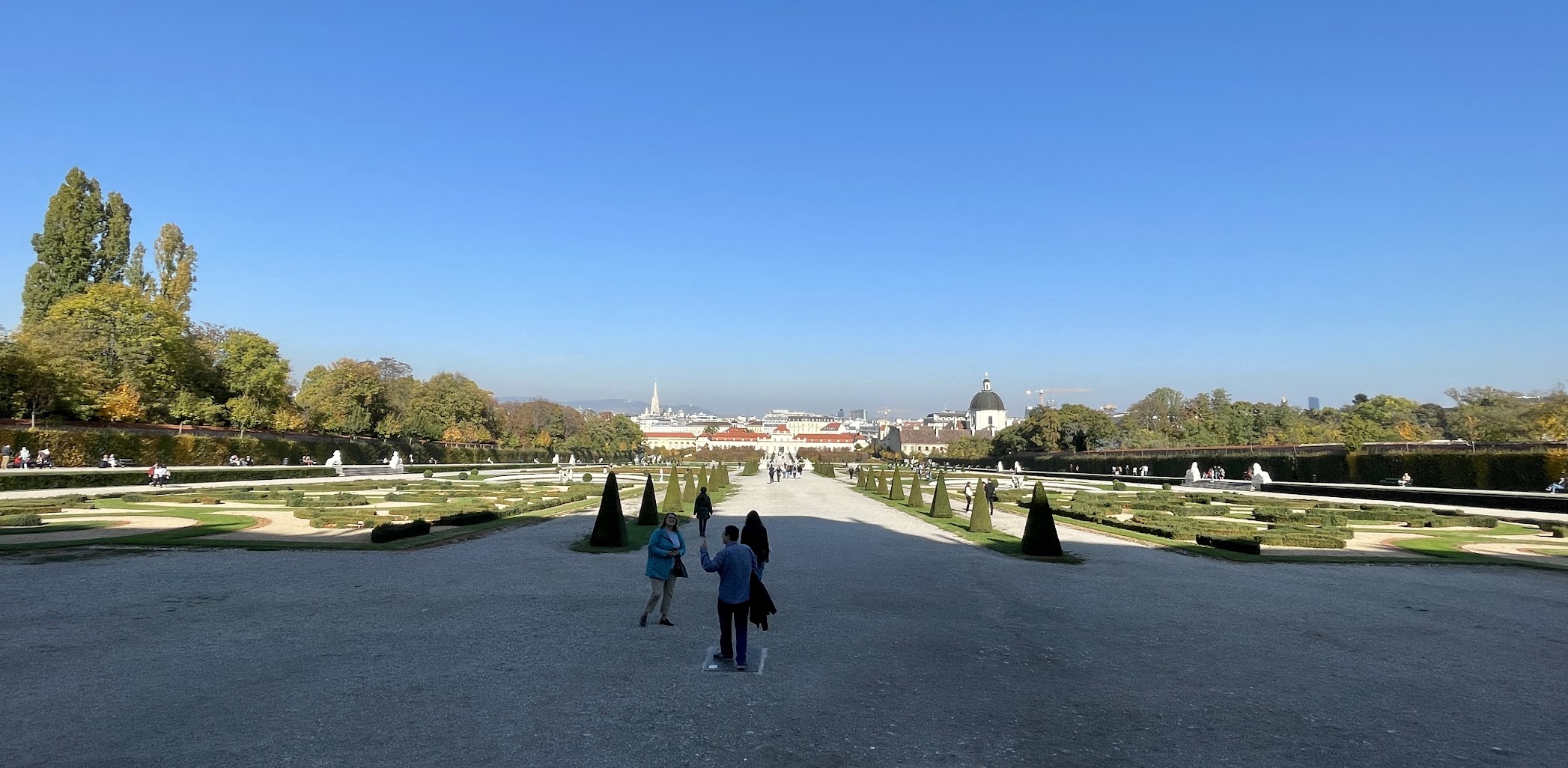 Today, we decided to walk through the gardens of the Belvedere palace near our hotel.
Schloss Belvedere (Belvedere Palace) – the palace was built by the military genius Prince Eugene of Savoy (1663-1736). Eugene was a French man. He was considered too short and too ugly to be in the service of the French King Louis XIV, so he offered his service to the Habsburgs. He fought many wars on behalf of the Habsburgs, including winning a decisive victory against the Ottomans in 1697 at the Battle of Zenta, which ended Ottoman dominance in Europe. For all of his military accomplishments, he was rewarded handsomely. That was why he was rich enough to build several elegant palaces including this one.
After exiting the Lower Belvedere onto Rennweg Street, we paid attention to the street signs across the road. We were looking for an apartment building with an entrance at Auenbruggergasse 2, where Gustav Mahler lived for 11 years, 1898-1909.
Gustav Mahler (1860-1911) was the director of Vienna's State Opera for 10 years, 1897-1907. Mahler resigned from the Opera in 1907 due to both emotional constraints and a public push of anti-Semitism. He died in Vienna. The apartment Mahler lived in was not open to the public. He was in a 4th (top) floor apartment facing Strohgasse street.
From there, we found a stop for Tram#D and rode Tram#D to Oper/Karlsplatz. We could not help wondering how Mahler commuted to the State Opera for work during his days? Did he walk? (About 1km, 15 minutes.) Did he ride a bicycle? Or did he use a man-powered or horse-powered carriage?
With the weather being warm, the old town was very lively. We bought some Mozart balls (chocolate) from a shop on Kärntner Straße to bring home as souvenirs. Had lunch at the Nordsee Restaurant on Kärntner Straße again, where we enjoyed lunch just two days ago.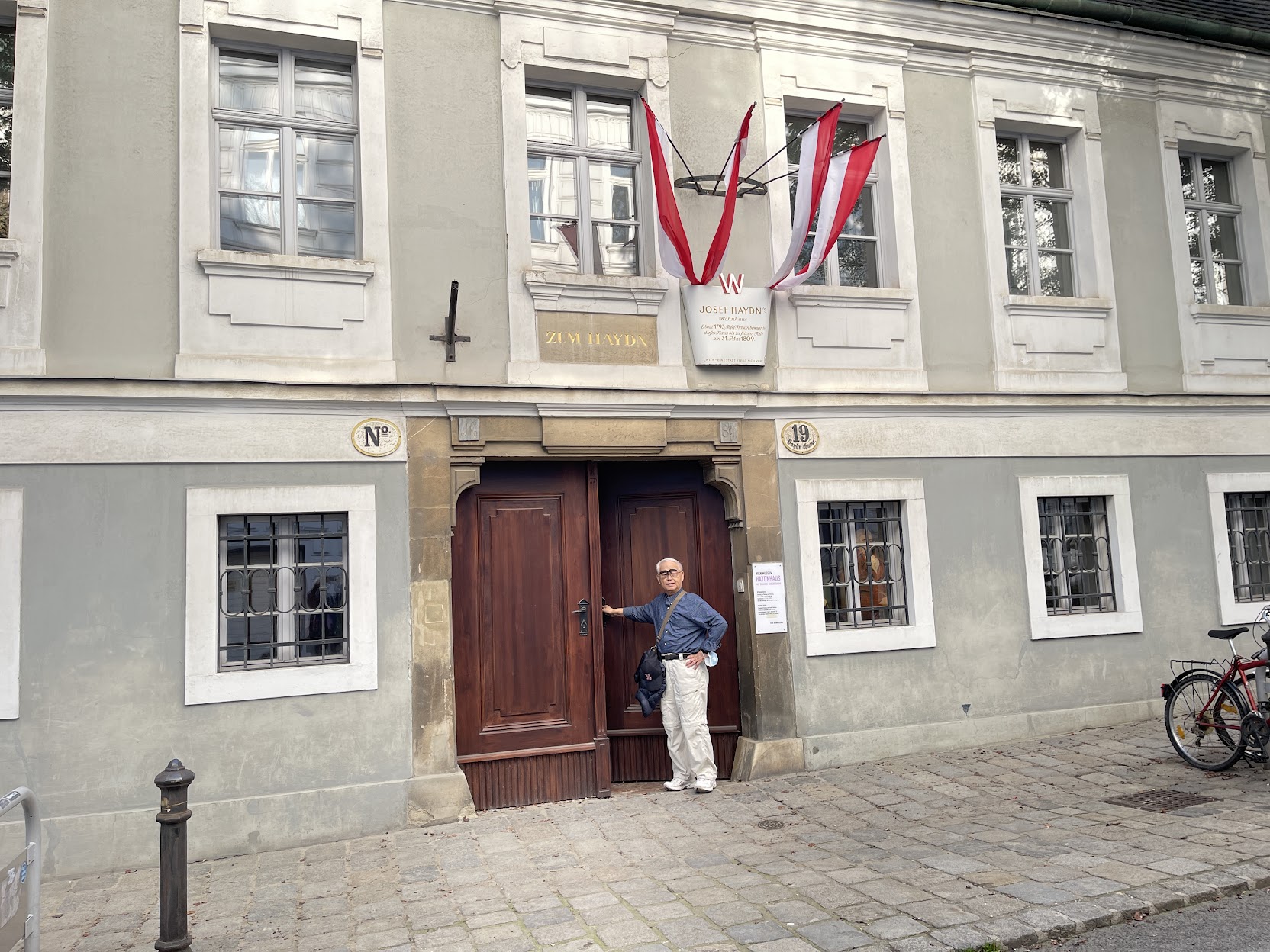 In the afternoon, we went to visit Joseph Haydn's house in Vienna. This was Haydn's residence for the last 12 years of his life. Having bought this house between two periods of stay in England, he moved in at the age of 65 in 1797. Haydn died here on May 31, 1809. [Transportation: Subway U-3 to Zieglergasse station, then walk 5 minutes to the museum.]
From 1761 to 1790, Haydn spent nearly 30 years (age 29 to 58) being employed as a court conductor by the wealthy Esterházy family at their Eszterháza Castle, which is located in today's Fertőd, Hungary, and is about 100km (62 miles) south of Vienna. Until the later part of his life, this isolated him from other composers and trends in music so that he was, as he put it, "forced to become original".
Haydn left the Esterházy court in 1790 only after his employer and supporter, Prince Nicholas Esterházy I, died, and his son and heir, Anton I, disbanded the orchestra to save expenses. Haydn moved to Vienna, then traveled on to London in December of 1790.
On PBS's "Now Hear This" series, host Scott Yoo called Haydn the "King of Strings". For much of his career he was the most celebrated composer in Europe. Haydn composed "Keiser's Hymn" from 1796-1797. This hymn was the Austrian national anthem for 140 years, and is still the melody of the German national anthem.

Wien Museum Haydnhaus: https://www.wienmuseum.at/en/locations/haydnhaus
Haydn (1732-1809) Wikipedia: https://en.wikipedia.org/wiki/Joseph_Haydn
Day 9 - Schubert and Vienna Woods (10/19/2022, Wednesday): Link to our photo
This morning was reserved for visiting a Schubert site. Then we'd go to Vienna Woods in the afternoon.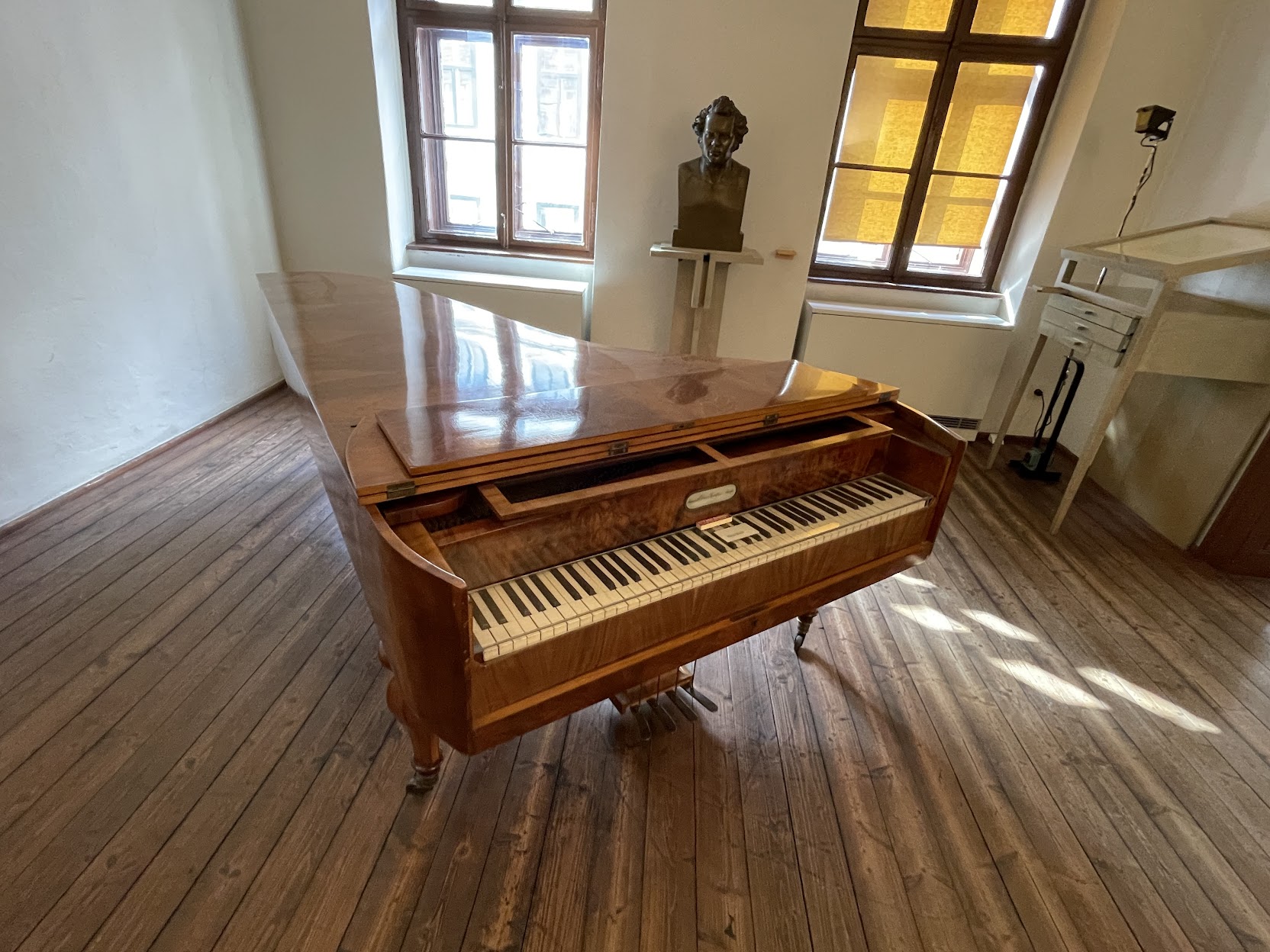 Schubert has two sites that belong to the "Wien Museum" system. One is the Schubert Geburtshaus (birth house) and the other is the Schubert Sterbewohnung, the apartment where he died. We chose to visit the latter, because it is closer to the city center.
[Transportation: Subway U4 line to Kettenbrückengasse station then walk 5-minute.]
Franz Schubert (1797-1828) was a musician who was born in Vienna, died in Vienna, and worked all of his 31 short years of life in Vienna. Schubert was not wealthy and spent a large amount of time living in the apartments of friends.
Franz Schubert's father wanted him to become a school teacher, but by all accounts, Schubert was miserable being a school teacher. He continued to give music lessons to make some money, and composed on his own time. He won a position as a music teacher to the children of Count Esterhazy, which provided him with both more money and more time to compose. (Remember this Esterhazy family? They were the long-time employer of Joseph Hayden from 1761 to 1790.)
This 3-room apartment where he died was Franz's older brother Ferdinand's apartment. Ferdinand moved here with his wife and several children when the apartment was new. Franz moved in as a guest, but two and half months later, he died of typhoid fever on November 19th, 1828. He was buried two days later in Wahring cemetery near Beethoven. (And in 1888 both were relocated to Vienna's Central Cemetery.) Although this museum did not have much of Franz's personal belonging to display, with the old rooms, old floors and a few pieces of old furniture, it allowed us to imagine what life was like in these rooms at that time, squeaky floors and all.
Vienna Woods + Heurigen dinner in Grinzing
We only decided to go to Vienna woods the night before, after realizing that we had a free afternoon today. Even though we had been to Vienna Woods 22 years ago by bus 38A, we did not remember which stop to get off to enjoy a bountiful BBQ lunch with views to the city. However, with today's advancement of Google maps on our iPhone, we should be able to wing it. We knew we had to take the subway U4 line to Heiligenstadt then change to bus 38A to Kahlenberg.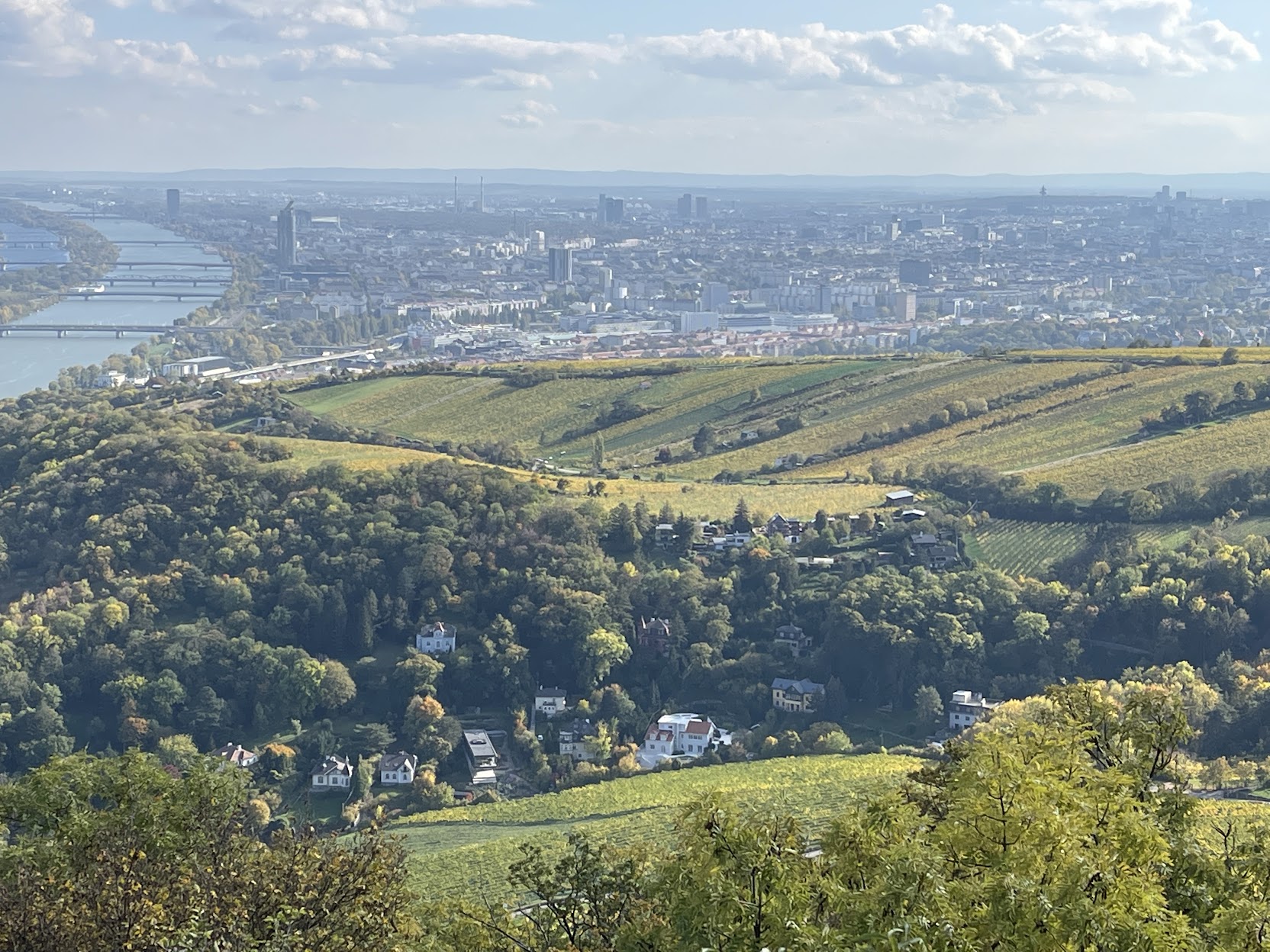 While looking at a bus departure board at Heiligenstadt station, a gentleman asked in English if he could help us. Not only did he lead us to Bus 38A, he also got on the bus with us and rode all the way to the last stop at Leopoldsberg, a famous hill top in Vienna. (NOTE: Not all 38A buses went all the way to Leopoldsberg, but the bus that came immediately did.) This Viennese gentleman told us that Views and Dining are two separate tasks. For views, Leopoldsberg is the best. For dining, he recommended a Heuriger in Grinzing named Maly ( www.heurigermaly.at ) but Maly did not open until 4 pm.
This kind gentleman stayed with us at Leopoldberg, and made sure that we stopped at every spectacular view point. He also took the same returning 38A bus with us. Upon hearing that we had not had lunch yet, and that we'd need to find a place for coffee/pastry to tie us over until 4 pm, he motioned for us to alight the bus with him at the stop just prior to Grinzing, and walked us to a Heuriger named Zum Martin Sepp ( www.zummartinsepp.at ). He said he did not know how the food was at Zum Martin Sepp, but he knew that it opened before 4 pm, so we could at least have coffee or pie in the bar.
Zum Martin Sepp was a welcoming place which opened daily from 12 noon. It was already 3:30 pm when we arrived. After looking at the dessert menu and dinner menu, we decided to have dinner there. Our dinner was enjoyable. As for Maly, which received great reviews on Google, maybe some friends will try Maly when they visit Vienna in the future?
We walked downhill to Grinzing center to take bus 38A to Heiligenstadt, then continued on Tram#D back home to our hotel. Grinzing was a pretty town.
Day 10 - Going Home (10/20/2022, Thursday)
Our Lufthansa flight was scheduled to depart at 1:15 pm, so we had plenty of time to get ready this morning.
At 10:40 am we asked our hotel to call a taxi to take us to the airport. The driver was a middle-aged man who was born in Vienna to Turkish parents; therefore, he identified himself as Turkish. This was the 2nd taxi driver we encountered who was either from Turkey or born to Turkish parents.
At the end of the ride, we asked the driver how much we owed him. He said the taxi fare to the airport was fixed at 39 euro. We were glad that the hotel arranged a fixed-rate taxi for us.
Our flight home was quite full, and on time.
We enjoyed our trip very much. Staying in an apartment-type hotel for an extended period of time allowed us to visit the destination without a rush. Vienna is a city full of culture, events and music to hold our interest. Also, Vienna is very safe. We never once had to worry about anything like pickpockets at all.
~~ Addendum ~~
As the title indicated, we chose to "slow travel" in Vienna this time. Every day we set out around 11 am, and came back to the hotel around 6 pm. A more energetic person could cover what we did in half the time.
Three major tourist attractions in Vienna that we did not visit this time were, 1) Hofburg Imperial Apartment / Treasury, 2) Schönbrunn Palace, and 3) Vienna State Opera, mainly because we visited them in 2000. Schönbrunn can be reached from downtown Vienna in 10-min by the U4 subway line.
And here is a brochure map of 7 musicians' apartments which belong to the "WIEN MUSEUM" system. The NO.#7 museum at the bull's eye location is Mozart's Figaro apartment near St. Stephen's Cathedral. These are all reachable by subway or tram, or combined with a taxi ride.
There are walking tours of the old town available. One of them is Old Town Free Tour (English): daily 10 am & 2 pm, conducted by "GOOD VIENNA TOURS" https://www.goodviennatours.eu/ . Duration: 2h30m. Reservations are required.