Trip Summary:
2018 marks the 50th anniversary of Vincent's sailing from Yokohama to New York on a Taiwanese ship named SS Caroline. So it is befitting that we do a Trans-Pacific cruise to commemorate the milestone.
Today's Trans-Pacific cruises usually take place in the spring (April-May) or in the fall (Sept-October). While we were still undecided on which cruise ship and what itinerary, Holland America emailed us a promotion for booking a Suite to receive free gratuities and $400/suite OBC (On Board Credit). We cruised with HAL Rotterdam last year and felt HAL had given customers good value, so we booked a Signature Suite on the HAL Westerdam, cruising 14 nights from Vancouver to Yokohama. We tacked on 11 days in Japan on our own after disembarkation. Westerdam is a ship with 1900 PAX capacity and 800 crew, one of HAL's 4 Vista-Class ships named after the 4 points of a compass in Dutch (Oosterdam, Westerdam, Zuiderdam and Noordam).
We packed winter gear for Alaska, and light jackets for Japan. Our last trip to Japan was in October 2013 amid the MLB World Series, and the Red Sox beat St. Louis Cardinals to win the championship.
For motion sickness remedy, MC brought along a pack of over-the-counter Non-Drowsy Dramamine with Natural Ginger, as well as a package of MotionEaze (a topical oil to dab behind the earlobe.) These can be found in most drugstores, including Walmart.
Below is our 14-night cruise map and itinerary. There were many sea days between Kodiak and Hakodate, but we had no problem finding things to do.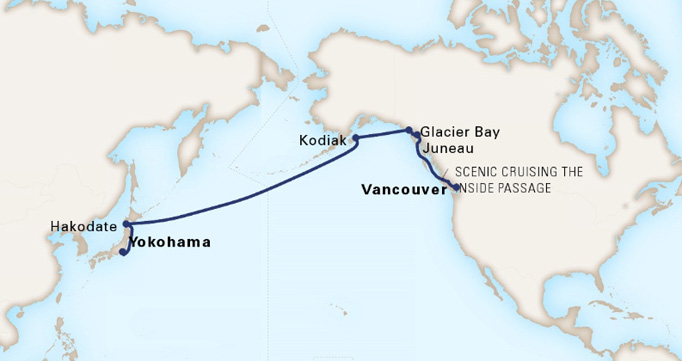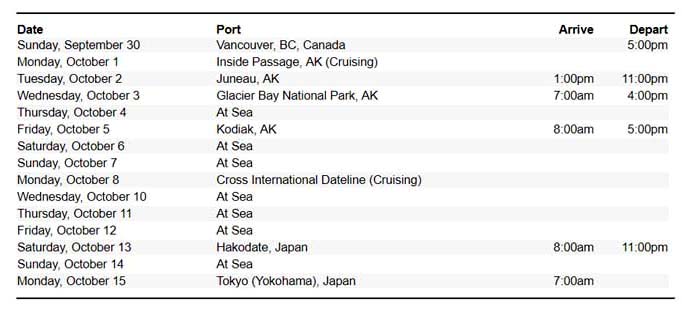 Below is the customized Google map showing our land route and stops in Japan.
(Click on the "View larger map" icon on the upper-right to view it in a larger window.)
Transportation
CRUISE: We booked our cruise in February with VacationsToGo.com and chose a Signature Suite on deck 6 midship. Midship and not too high a deck, so that motion would be less of an issue. Our cruise fare in a suite was $2322/pp, with Pre-Paid Gratuities and $575/cabin OBC, a very good deal.
We also chose our stateroom on the port side (the left-hand side of the ship) so that we'd be on the sunny side when crossing the Pacific Ocean. Last year's Atlantic crossing on the Viking SUN taught us this lesson. Depending on which direction your ship is heading and which side (north or south) of the ship the sun is shining at that time of the year, choose your cabin carefully if you would like to have more sunlight in your room.
AIR: We booked a one-way flight from Boston to Vancouver on Delta, and a one-way flight from Tokyo to Boston on AA. The one-way airfare from Tokyo to Boston was quite steep at $860/pp, so we used American Airline's FF miles to book this flight, 32,500 miles/pp.
TRAIN: We only had two long train days spanning over a 9-day period and only confined in a small area. The nation-wide consecutive 14-day JR Pass would have been an over-kill, therefore we purchased a regional JR East Nagano Niigata Area Pass which was good for any 5 days within a 14-day period. The 14-day period started ticking from the day this pass was purchased or a voucher was exchanged into a pass. We then patched up with a point-to-point train ticket from Kanazawa(金沢) to Joetsu-Myoko(上越-妙高) to string together all our train needs.
Here is a list of various Japan rail passes: https://www.japan-guide.com/e/e2357.html, and
here is the Japan train Timetable and Route search: http://www.hyperdia.com/.
Even if the cost of a rail pass comes out a bit higher than the sum of all point-to-point tickets, a rail pass is still preferable, because a pass gives us great flexibility and low stress if we were to miss a train. (Although we have not missed a train so far.)
BUS: We took Nohi (濃飛) Bus, instead of a train, from Matsumoto -> Takayama and also from Takayama -> Kanazawa, mainly because our Nagano-Niigata Area train pass did not cover these train routes, and also we read that the mountain bus' scenery was breathtaking. Indeed, the scenery was very beautiful, especially the segment between Matsumoto and Takayama.
Nohi Express Bus info: https://www.nouhibus.co.jp/english/highwaybus/
A sample schedule: https://www.nouhibus.co.jp/english/highwaybus/matsumoto.pdf
Online Resources:
Guide Books:
Japan By Rail – by Ramsey Zarifeh – great guide for train travel. Recommends lodgings convenient to train travel.
(New) Japan Solo by E. Kanno and C. O'Keefe – great detailed city maps and local transportation guide. However, lodging information was lacking.
Lodging

We booked 4 different hotels in Japan and used a combination of Booking.com and Agoda.com to book them. Even though these two sites are both owned by Priceline, rates differ for the same hotel/room/date! When price differences were negligible, we went through Booking.com because we liked its user interface more. For this trip, we went half and half between the two sites.

Japanese hotel rooms tend to be small, therefore you'll need to pay close attention to the room size in square footage described on the booking site so as not to book a room that turned out too small for comfort. For more detailed review of each hotel, please read the "Itinerary and Highlights" section below.

Internet:

On the cruise, we purchased HAL's unlimited "Surf Plan" which was $169 for 14 days. We found the internet speed to be slow. A fellow passenger told us that HAL's newer ships have faster WIFI.

For the land portion in Japan, we considered either renting a MIFI (a pocket WI-FI router) or purchasing Data SIM cards. These would be convenient for looking up maps or train schedules when we were out and about. In the end, we managed by using free WIFI from our hotels, train stations, and cafes.

We also enrolled in ATT's International $10/Day-Pass plan (for land only, not applicable while on the sea) as a back up. It was $10 per 24-hour period, one may talk/text/data for $10 within a 24-hour period using international roaming services. However, it turned out that we did not need this service at all, so we did not have to pay ATT.

Money Matters (Cash, ATM etc):

We had Japanese yen prior to arriving, but in the past had used ATMs at the airport and at Japanese postal offices to withdraw yen. Many restaurants/eateries in Japan were cash only.

At the time of our visit, 1 USD = 112 Japanese Yen.

Laundry:

Westerdam did not have a self-service laundry facility, so we signed up for the "Unlimited Laundry" package at $9/per day/per room, but for this service one must sign up for the entire length of the cruise. The turn-around time was usually the next day, and all the shirts and pants came back pressed and on hangers. At $126 per room for 14 nights, it was very reasonable to us.

On land, some of the hotels we stayed in had washers/dryers available.

Food:

Too many to mention, see our pictures during the cruise and in each Japanese city for highlights. In summary, Matsumoto: pickled vegetables (信州漬物) and 3-year-old miso; Takayama: Hida beef; Kanazawa: sushi; Tokyo: eel rice (Una Don). In Japan, the Oden & stewed Daikon in many 7-Eleven and FamilyMart convenience stores were delicious.
---
Itinerary and highlights:

PreCruise

- Arrival in Vancouver, Canada (9/29/2018 Saturday)

This was a long traveling day. A taxi picked us up at 5am, the flight departed Logan at 7:25am for Seattle, then connected to another flight to Vancouver. We were lucky that there were no weather-related flight delays.

The taxi fare from Vancouver airport to downtown was fixed at CAD$35. The city was already quite dark with cloudy skies at 3pm.

CruiseDay 1 - Embarkation in Vancouver, Canada (9/30/2018, Sunday): Link to our photo

The city was drizzling all day, a grey day without sunshine. We were told that this was the beginning of their rainy season, which would last till March of the following year.

Vancouver's cruise terminal is at Canada Place, only 700 meters from our hotel. However, it was still too far to walk. A long line of guests formed at the Hyatt Hotel to wait for taxis to the cruise terminal. On a rainy day with 3 cruise ships embarking, taxis were in short supply.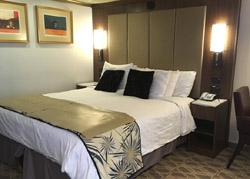 We were on board before noon and our room was ready! We loved our spacious Signature Suite. It came with 2 desks, USB chargers at each side of the bed and plenty of closet and drawer spaces. The bathroom came with a double sink, a bath tub and a separate shower. The balcony had two lounge chairs and a round table.

The 50-inch flat screen TV in the room had channels for ESPN 1 & 2, and a channel for "Special Events", which on that day (a Sunday) was broadcasting Sunday-night football. We anticipated it would show Monday-night football, Thursday-night football as well as some of the Major League Baseball games, much to Vincent's delight.

CruiseDay 2 - Inside Passage, AK (10/1/2018, Monday): Link to our photo

This morning we saw a school of whales spouting white columns of water not far from our ship. We did not actually see any whales jumping out of the water, only white water columns spouting upward like symphonic fountains.

We joined the Cruise Critic's "Meet and Greet" at 10am with about 100 attendants. Many folks were continuing on beyond Yokohama to Shanghai or Hong Kong or Singapore.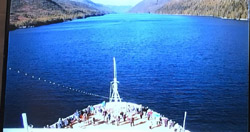 As our ship cruised along the narrow channel of water called the "Inside Passage", many passengers went out to the open bow on deck 3 to take photos, much like what we did last year when cruising the Norwegian fjords.
Attended a lecture about different species of northern Pacific whales, how smart they are and how they communicate.
Attended a lecture about Pacific salmons. There are 5 kinds of them: Chum (Silverbrite), Sockeye, King, Silver (Coho), and Pink (Humpback). Each have their own distinctive color/shape of body, skin, mouth, gum, and tail fin. King salmon is the largest, and the largest King salmon caught was 126 pounds.
The evening show on the MAIN STAGE was a rock-n-roll band of 4 young men paying tribute to Buddy Holly. Then there was a duo of pianists singing Chart-topping hits at the Billboard Lounge from 8:30pm to midnight; further down was a stage with a dance floor with a blues band called B.B.King's; further down at a smaller venue called "Lincoln Center Stage" was a classic quartet playing music from old masters. Safe to say, from 7pm until midnight, there was something for any music lover if one just walked down along the starboard side of Deck 2.
We gained an extra hour tonight and had a series of 25-hour days during this cruise. Juneau is 1-hr behind Vancouver, and therefore 4-hr behind Boston.
CruiseDay 3 - Juneau, AK (10/2/2018, Tuesday, highs 53F, sunny): Link to our photo
Westerdam arrived at Juneau shortly before noon. Our ship (and another ship named Norwegian Pearl) were the last ships to visit Juneau for the year.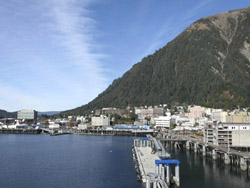 Juneau is Alaskan's state capital. Surrounded by water, forest and mountains, the city of around 32,000 welcomes more than a million visitors each summer.
The Macaulay Salmon Hatchery was already closed for the season, as was the city trolley tour. We did not want to take a bus to see Mendenhall Glacier (because we'd be seeing glaciers from the convenience of our balcony the very next day), so we walked to downtown, saw shops and the Red Dog Salon, whose fame precedes the actual place. This afternoon the temperature was about 52F, sunny and no wind. It was very pleasant to walk.
We did not eat at the popular "Tracy's King Crab Shack" in Juneau, instead, we dined at the elegant specialty restaurant on the ship called Pinnacle Grill for King Crab and King Salmon.
CruiseDay 4 - Glacier Bay National Park, AK (10/3/2018, Wednesday, highs 46F, sunny): Link to our photo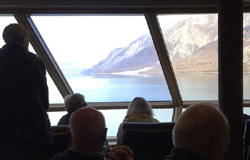 Today was the highlight of our cruise. Three Glacier Bay Park Rangers (and two additional staff) joined Westerdam at 7:15am, and they stayed with us till 6pm. One of the Park Rangers spoke on the PA system to tell us about the history of Glacier Bay, as well as narrating the outside scenery along the way. They also gave a talk about "The Wonders of Glacier Bay" at the main stage theater at 2:30pm.
Our ship cruised to the face of the (21 miles long) Margerie Glacier and then cruised to the Johns Hopkins Glacier (yes, named after the university in Baltimore.)
The narrow Johns Hopkins inlet can only be sailed through after September 1st, because it is a nursery ground for baby seals (born each year around June), so cruise ships cannot go into the inlet until the baby seals are big enough to look for food themselves. Only two cruise ships per day were allowed to sail into the Glacier Bay National Park, and the ship must also meet some "Green" criteria. We were the last ship to visit Johns Hopkins Glacier this year. Our captain shut down the engine, so that our ship could linger in front of the face of Johns Hopkins Glacier for a while.
Only 250 years ago, the whole area was covered by one giant sheet of glacier. Today it is separated into pockets of smaller glaciers. Glaciers are rivers of ice.
CruiseDay 5 - At Sea (cruising the Gulf of Alaska, 10/4/2018, Thursday): No photo link
We ate in the main dining room for breakfast and lunch and shared tables with travelers from different parts of the world. Quite a few were cruising for 42 days - continuing 14 more days from Yokohama to Shanghai, and then another 14 more days from Shanghai to Hong Kong.
Attended a lecturer about Alaska the Territory. TV's "Special Events" channel carried Thursday-night Football live, Patriots vs Colts. Vincent watched the game live on TV and exchanged comments with Philip and Austin using iPhone text via the internet. The wonders of technology!
CruiseDay 6 - Kodiak, AK (10/5/2018, Friday, highs 52F, sunny): Link to our photo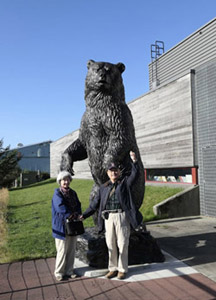 Kodiak is an island with its main town also named Kodiak. We were warned that this area rained a lot, but we arrived to sunny 50'F weather. The cruise dock was about a mile from the town center, so the port authority used several school buses to shuttle us from ship to town. These were the only buses available on the island.
Kodiak was the capital of Russian Alaska until the United States purchased the territory in 1867 for 7.2 million, but the Alutiiq natives called it home a millennium before the Russians arrived in the 18th century.
The harbor front was dotted with many fishing boats. We walked a bit in the town, saw a few museums and stepped into the blue-domed Russian Orthodox church built around 1925. We found the Aquamarine Café, intending to try its "Mouthwatering crab cakes", but the restaurant did not have them available that day. We did not ask whether it was because the crab season was over, or because the port guides were outdated.
Dinner was at the Lido buffet for its "Alaskan Salmon Bake" of baked wild salmon as well as seafood soup of clams, mussels and shrimps. They were all very good.
CruiseDay 7~12 - At Sea (10/6/2018 ~ 10/11/2018, Saturday ~ Friday): Link to our photo of GPS locations as well as many food pictures
10/6/2018 Saturday:
The sea was calm, which led to smooth sailing. Lunch at Pinnacle Grill was a very good deal for just an additional $10/pp.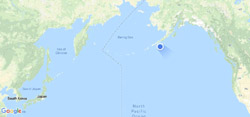 Attended a lecture about who owns the Arctic Ocean, and the conflict in southeast Asia on the 200 miles of Economic Zone.
Attended America's Test Kitchen show at 11am where Laurie talked about chilies (not all of them are hot.)
Attended a lecture of Japanese History given by Terry Greenberg.
10/7/2018 Sunday: Cruising the Bering Sea
Around 4pm, our ship started sailing parallel to a gale wind, and the Captain announced that this strong wind condition would continue until the next day. Even with that, we still had a great dinner and an enjoyable conversation with a nice couple from Toronto (Karen and Gerry) at the Lido buffet. We ate together a few more times for the remainder of the cruise.
The ship's clock turned back one hour tonight. We were 7 hours behind Boston.
10/8/2018 Monday: continued cruising the Bering Sea
We crossed the International Date Line this evening at 10:30pm. All we had to do was turn the clock back one hour, and then the following morning turn the calendar date to October 10th, skipping October 9th all together. So, instead of being 8 hours behind Boston, tomorrow we'd be 16 hours ahead of Boston, and 4 hours ahead of Japan. We'd be in the same time zone as Petropavlovsk-Kamchatsky, Russia.
10/10/2018 Wednesday:
We would continue to have a series of 25-hour days by dialing our clock back one hour at a time. By the time we reached Hakodate, Japan on 10/13, we'd be only 13 hours ahead of Boston.
10/11/2018 Thursday:
We were invited to a Mariner Society lunch hosted by Captain Mark Rowden in the main dining room. One becomes a Mariner Society member after one has cruised with HAL, therefore this was an event to welcome repeat customers.
We were cruising along the southern side of the Kuril Islands of Russia (千島列島 https://en.wikipedia.org/wiki/Kuril_Islands ), which is a long string of 56 volcanic archipelago stretching from Hokkaido, Japan, to Kamchatka, Russia, separating the Sea of Okhotsk from the north Pacific Ocean. To set the correct time zone on our iPhone, we had to select the time zone of Magadan, Russia, a large city in the same longitude.
10/12/2018 Friday:
Spent time at the ship's shop trying to use up all our remaining OBC before our cruise concluded in two days' time.


CruiseDay 13 - Hakodate 函館, Japan (10/13/2018, Saturday, 64F, Partly sunny): Link to our photo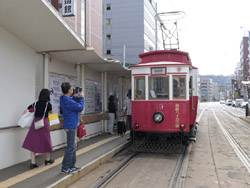 We docked at an industrial port called Ichiei (一映) Marina at 6:30am, 2.8km north of downtown Hakodate. The port authority provided free shuttles from 9am to 5:30pm between our ship and downtown Hakodate train station. Each way was only 20 minutes.
Attractions in Hakodate:

• Hakodate Asaichi (函館朝市, Hakodate Morning Market) - approximately 280 shops offering eat-in and take-home seafood and fruit products.

• Fort Goryokaku (五稜郭)- a star shaped, Western style citadel built to defend from foreign invaders, and ended up used only during a civil war. However, we skipped this site because it required a fair amount of walking.

• Mount Hakodate (函館山, Hokodateyama) - offers magnificent night views of the city and its surrounding bays. But the rope-way to the mountain top was closed for maintenance when we were in town, and the bus schedule to the mountain top was sparse until after 16:30. So we had to decide between visiting the mountain top and the Kanemori Red Brick Warehouse. We chose the latter.

• Kanemori (金森) Red brick warehouses - warehouses in the bay area converted into a unique shopping mall. May be Kaohsiung's 駁二特區 was developed after this type of renovation?
Specialties: Seafood products - Fish, Crabs, Sea Urchin and Squid. The main cluster of restaurants in the Morning Market are at どんぶり横丁市場 (Donburi-Yokochō market). We had lunch at 朝市食堂二番館 (Asaichi Shokudo Nibankan, 位於 駅二市場 的二樓) instead, after reading an internet blogger's journal, for its more spacious seating area. The grilled mackerel, miso soup, and pickled daikon were all very good.
Squid was a specialty in this area, many eateries served it raw on Donburi or as sashimi. We ate grilled squid two different ways, and one was much better than the other. See today's photo for details.
In the evening, a group of Shinto priests came on board to perform three Shinto Ritual dances on the stage. Most of these Shinto priests looked like they were in their 20's or 30's.
CruiseDay 14 - At Sea (10/14/2018, Sunday, at sea, 65F, cloudy): No photo link
From the right-hand side of the ship we could see the shapes of land. We sailed past the city of Sandai (仙台) around noon. We were to arrive at Yokohama the next day at 6:30am.
We spent the afternoon packing; luggage had to be placed outside the cabin door by midnight, but we decided to self-disembark and roll our own bags down the ramp. This was after reading stories about how customers could grab the wrong bags at the pier, since so many bags looked alike. We still had 11 more days of traveling and did not want to chance being without our bags.
Disembarkation in Yokohama 横浜, Japan (10/15/2018, Monday, 62F, cloudy): Link to our photo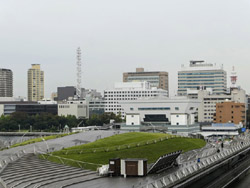 Westerdam pulled into Osanbashi pier at 6:30am. About 1000+ of the 1800+ passengers were disembarking today, and new cruisers would embark the ship to go on to other ports in Japan, Korea and then to Shanghai.
Vincent went to the open deck to take photos of the city. He could not stop telling people that he was here 50 years ago boarding a ship to the USA.
We spent most of today traveling. First by taxi to Yokohama station to get our JR East Nagano-Niigata Area Pass and train tickets with reserved seats, then took a 3-hour train ride with one transfer to Matsumoto.
Our hotel was only a 5-min walk from Matsumoto station.
Vincent was quite pleased with the fast WIFI at the hotel, compared to what we had on the HAL Westerdam.
Day 1~3 - Matsumoto 松本, Japan (10/15 ~ 10/17/2018, Monday ~ Wednesday): Link to our photo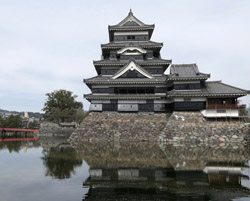 The main attraction in Matsumoto is the 400-year-old Matsumoto Castle (松本城 維基百科), which is ranked among one of the top 3 castles of Japan (Himeji, Matsumoto, and Kumamoto).

Matsumoto castle was built on flat land, and because of its dark exterior, it is also called "Crow Castle" 烏城. We read on brochures that English Goodwill guides were available near the castle entrance, so we looked for them and luckily found one to guide us all the way to the top of the keep (天守閣, the central tower.)

Local specialties include: Soba noodle, Shinshu Miso (信州味噌), Apples and Watermelons.

Shinshu 信州, is an ancient name for the region in about today's Nagano Prefecture 長野県, therefore, any produce grown or manufactured in Nagano Prefecture can be called Shinshu Specialties 信州特產。Shinshu miso has the largest share of the Japanese miso market, and Matsumoto area is one of the major production centers for it, the cool climate and pure air makes it ideal for aging miso. We visited the Ishii Miso (石井味噌) factory, had a delicious miso-themed lunch, and got a courteous 12-min guided tour in English.

The miso barrels are made from Japanese cedar and hold about 4.5 tons of miso, about 10,000 pounds. After 6 months of fermentation, the miso in the barrel gets a top-to-the-bottom stir by shovels. After 1 year, some will be sold as a 1-year miso, some will get moved into a different barrel and warehouse to continue fermenting until the 3-year mark. A small amount will continue to be fermented until age 10, but our guide said he liked the 3-year miso better than the 10-year.

Day trip to Karuizawa (輕井澤一日遊):


On the third day, we took a day trip by train to Karuizawa (輕井澤), a mountain resort popular among the urban dwellers of Tokyo. MC had been curious about that name, 輕井澤, after reading that name in the lyrics of a song sung by Misora Hibari (美空 ひばり), so now she is happy that she has finally visited the place.

Review of Hotel Dormy Inn Matsumoto - Good location, only 5-min walk from train station, and friendly staff. However, we did not like it as much as we liked the Dormy Inn in Nagasaki where we stayed in 2013. We booked a 236 sq-ft "Standard Twin Room Non-Smoking", but the room's layout did not feel comfy at all. The first floor's lobby and its adjacent breakfast area had a persistent fry-oil smell from the tempura-frying in the kitchen that produced a tasty breakfast every morning.

Day 4~5 - Takayama 高山, Japan (10/18 ~ 10/19/2018, Thursday ~ Friday): link to our photo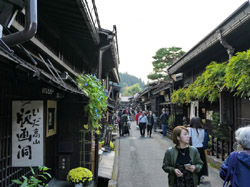 We took a 2 and 1/2 hour highway bus to Takayama in the Japanese Alps. The scenery along the bus route was spectacular.
Bus tickets from Matsumoto to Takayama were open seating and tickets could only be purchased on the day of departure. For full bus schedule, see https://www.nouhibus.co.jp/english/highwaybus/
Takayama Local Specialties: Hida Beef (飛騨牛, from the Japanese black cattle), Hoba Miso (朴葉味噌, a grilled dish with miso on hoba leaves), Hida Ramen Noodle, Sticky rice flour ball dipped in syrup (dango), Hida Soba (handmade buckwheat noodle) and Hida Tou-Fu (豆腐).
Hida (飛騨) is the name for this mountain region (also known as the Japanese Alps), therefore towns in here often add Hida in front of their names. For example, Japan has more than one city named Takayama, so people often say Hida Takayama (飛騨高山) to refer to this particular one in Hida region.
Takayama is a very pleasant town to stroll around. We saw many tourists from other Asian countries.
Highlights in Takayama include:
Review of Hotel Spa Alpina Hida Takayama - We loved it. It was a delightful stay; a nice onsen and a comfortable room. We booked a 217 sq-ft Twin Room - High Floor - Non-smoking, and were assigned a spacious room on the 8th floor with views of the mountains. We could not have been happier. The hotel is a 4-min walk from Takayama station, with friendly staff, soft-colored decor and wide hallways with thick clean carpet. Good Onsen facility on the 9th floor. A coin-operated Laundromat is just diagonally across the street next to the post office.
Day 6~8 - Kanazawa 金沢, Japan (10/20 ~ 10/22/2018, Saturday ~ Monday): Link to our photo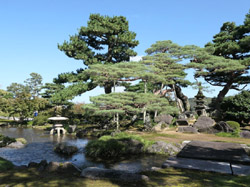 For today's transfer from Takayama to Kanazawa, we took a Nohi bus through the mountains for 2 hours and 20 minutes. The scenery was not as spectacular as the prior segment between Matsumoto and Takyama, because this time we went through many long tunnels where we could not see any scenery.
Seats on the bus between Takayama and Kanazawa were reserved and we bought ours as soon as we arrived in Takayama two days ago. On the day of the bus ride, we saw people being turned away because seats were sold out. For a full bus schedule, check https://www.nouhibus.co.jp/english/highwaybus/
Kanazawa (金沢), bordered by the Sea of Japan to the west, is a mid-sized city rich in culture and arts & crafts. See its wikipedia page for history, and its Japan-guide page for attractions. We loved our 3 days here. Vincent said he could move here, especially after two days of lunching on Mori Mori Sushi, we were enchanted.
During the Edo Period (1600-1868), Kanazawa served as the seat of the Maeda Clan(前田), the second most powerful feudal clan after the Tokugawa in terms of rice production and fief size.
The Maedas channeled their vast wealth into arts and crafts, instead of military pursuits, and Kanazawa became the centre of the "Million-koku Culture", which helped ease suspicions held by the Shogunate over the domain's wealth. Accordingly, Kanazawa grew to become a city of great cultural achievements, rivaling Kyoto and Edo (Tokyo).
The Maeda clan continued to rule Kaga Domain (加賀国, an ancient name) from Kanazawa Castle until 1871, at the end of the Edo period. During World War II, Kanazawa was Japan's second largest city (after Kyoto) to escape destruction by air raids.
To get around Kanazawa, we used the loop bus and purchased a day-pass for 500 yen/pp from our hotel concierge. Therefore, even though we chose our hotel in the central downtown, we think choosing a hotel near the train station won't be a bad idea at all, because one can get to attractions by the frequent loop bus, and the train station has many dining options nearby.
Our highlights in Kanazawa include:

兼六園 Kenroku Garden:日本三名園之一, Considered one of Japan's "three most beautiful landscape gardens". The spacious grounds used to be the outer garden of Kanazawa Castle and were constructed by the ruling Maeda family over a period of nearly two centuries. (Free admission for over 65-y-o. Show your passport with your birth date on it.)

金澤城 Kanazawa Castle - 14 generations of the powerful Maeda Clan ruled from this castle for more than 280 years. Most of the castle was burned down from the 1881 fire. Today's castle is mostly rebuilt.

近江町市場 Omicho Market:Omicho Market has been Kanazawa's largest fresh food market since the Edo Period, with over 200 stalls. Today, it is a busy and colorful network of covered streets lined by about 200 shops and stalls

東茶屋街 Higashi Chaya District: A chaya (lit. teahouse) is an exclusive type of restaurant where guests are entertained by geisha who perform song and dance. During the Edo Period, chaya were found in designated entertainment districts, usually just outside the city limits. Kanazawa has three well preserved chaya districts, Higashi Chayagai (Eastern Chaya District) is the largest and the most interesting.

Nagamachi Samurai District 長町武家屋敷跡 : Nagamachi (長町) was a samurai district located at the foot of the former Kanazawa Castle, where samurai and their families used to reside. The area preserves a historic atmosphere with its remaining samurai residences, earthen walls, private entrance gates, narrow lanes and water canals.

Eat sushi at Mori Mori - high quality sushi made fresh at reasonable price, what's not to like? Mori Mori has two locations in Kanazawa, one at Omicho market (open till 4pm) and the other on the 6th floor of the Forus building next to the train station (open till 11pm). Mori Mori also has branches in Kyoto, Kobe, Osaka etc.
Review of Hotel Trusty Korinbo: It is an elegant 4-star hotel with a very good breakfast, a convenient location but small rooms. The layout of the room was not ideal. They should get rid of the couch and the oval coffee table, replace them with a bench-type desk top and a chair for the desk.
Day 9~11 - Tokyo 東京 , Japan (10/23 ~ 10/25/2018, Tuesday ~ Thursday): Link to our photo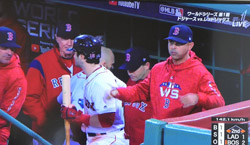 We departed Kanazawa on a 10:56 Shinkansen and arrived in Ueno at 13:46. Our hotel (Mitsui Garden Hotel Ueno) was just across the street from JR Ueno station's east entrance. Our room was ready when we checked in! We were assigned room 1401, on the top floor with a view of the Ueno park.
Our 5-day rail pass still had 2 days' validity left, so we used it one day to ride the JR train Yamanote line (the green-colored 山手線) to Shibuya (澀谷) and Yurakucho (有楽町). On the last day, we used the pass to ride the Narita Express train to Narita airport. It was not a good use of rail pass days to ride these inexpensive train rides, but our pass had already paid for itself and the last two days were just bonuses.
The highlights of our 48 hours in Tokyo include:
Kappabashi Kitchenware street (合羽橋 道具街): We wanted to buy some plastic sushi models for our granddaughters to play with. Kappabashi is situated between Ueno and Asakusa districts. The shops stretch for almost 1 km in a north-south direction. We walked 15-min from our hotel to Kappabashi, but took a taxi back. There was a famous shop selling high quality kitchen knives here. The closest station is Tawaramachi station(田原町) on the subway Ginza Line.

Shibuya(澀谷) Crossing : From Shibuya Station take Hachiko Exit (Exit #8), which leads to Shibuya Crossing. The surrounding area is a lively, popular destination for people of all walks of life. We also stopped at Yurakucho (有楽町) for a look-n-see and coffee break. Yurakucho is only a short walk to Ginza, but we decided not to make the trek to Ginza.

Eat: Tempura Don at Tendon Tenya, and Unadon (鰻丼), grilled eel rice.
Tendon Tenya is a very popular chain with reasonably priced tempura over rice. They have many locations in Tokyo, some branches are larger than others depending on location.
On the departure day, the hotel's check-out time was 11am, but guests could pay 2000Yen/hour to delay check-out. So we paid 6000 Yen to check out at 2pm, allowing Vincent to finish watching game 2 of MLB World Series on TV in our room. Our AA flight departure was delayed from 5:50pm to 8pm.

We checked out of the hotel at 2pm. With the last valid day of our rail pass in hand, we walked over to Ueno station to get two reserved seats on the 15:33 Narita Express train departing from Tokyo station to Narita Airport. We then hopped on one of the many trains from Ueno heading to Tokyo station, then changed to our 15:33 Narita Express to NRT. Changing trains and finding the correct platform in the correct area of the huge Tokyo station take time, therefore allowing extra time in between train connections, and don't hesitate to ask a vendor or train station employee for directions in rudimentary Japanese, such as "Narita Express wa doko desu ka?" and follow his/her hand gesture.

Vincent purchased a Sony WH-1000XM3 Noise Cancellation Headphone specifically for the long flights and was very pleased with it.

Review of Mitsui Garden Hotel Ueno - We booked a 194 sq-ft high-floor double non-smoking, and got assigned a room on the 14th floor with windows facing the Ueno station. The space in the room was cleverly utilized; it had a large desk top and enough room to open two suitcases. The double bed was pushed against a wall, so one person needed to be nimble to climb up and down from the foot of the bed.
PRO: Convenient location, good bathroom amenities, cotton slippers, daily bottled water, and an Android mobile phone with 4G for guests to use during their stay.
CON: the breakfast room was cramped and the selection not exciting. The hotel was very busy with many international clients.

Epilogue

:

We really liked this cruise - very relaxing, and our suite was spacious. We could watch many TV programs and live sporting events in our room. Besides, there was no morning rush to make a shore excursion.

It took us more than 3 weeks to recover from the jet leg at home. The two of us often talked about what we ate and saw in Japan. Japan has always been a delightful destination for us, and safe too - we do not have to worry about pickpockets or mugging, nor have we ever suffered an upset stomach after eating street food. We enjoyed our time in Matsumoto, Takayama and Kanazawa. Tokyo was just a blur. Maybe it was just too crowded and too busy?

We wish that there were restaurants near home serving the kind of breakfast food like our Kanazawa hotel did; or a sushi restaurant serving outstanding sushi like Mori Mori's.
---
Practical Tips:
Travel Insurance:
Once again, American Express stops selling a-la-carte medical emergency/evacuation policies, so we turned to SquareMouth to purchase a RoamRight Preferred policy for medical emergency/evacuation. SquareMouth has a good reputation on what it sells. We rely on our Citibank Double Cash credit card to cover trip cancellation for covered reasons.