10/13/2018, CuriseDay 13, Hakodate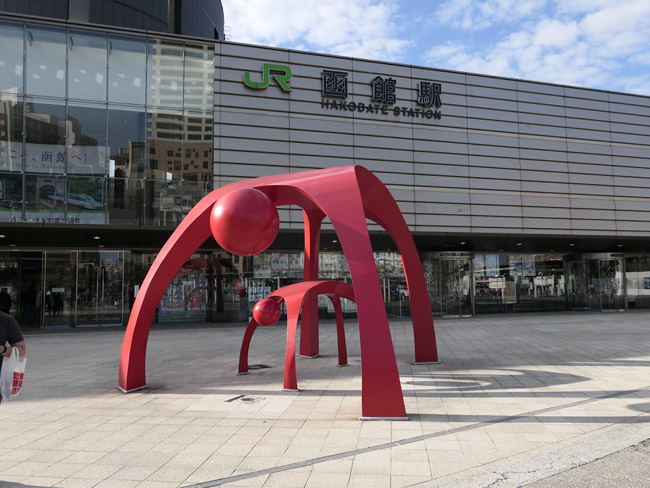 The shuttle bus dropped us off in front of this JR Hakodate station.
Locals explained that this sculpture represented family, with the child being protected by the parent.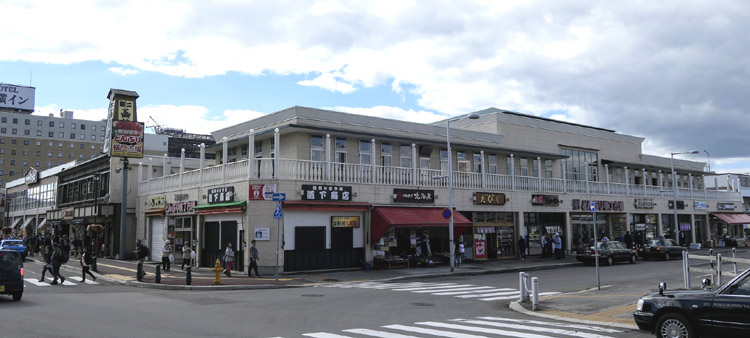 A few minutes walk from the station is this 横丁市場 (Donburi-Yokochō market),
with many donburi restaurants inside.
This is all a part of the Morning Market (函館朝市)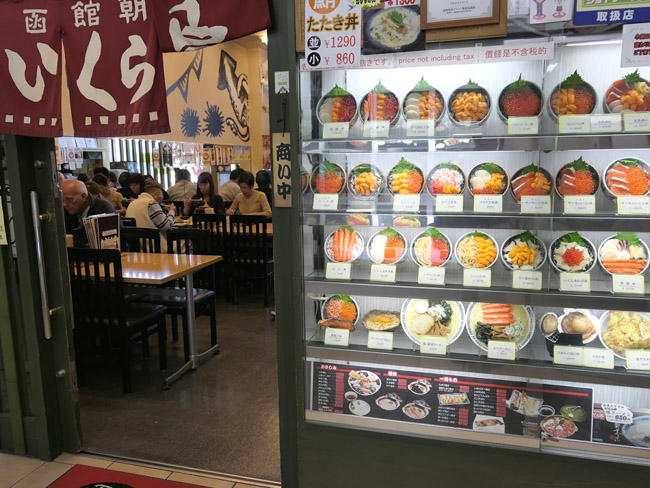 Each restaurant displays models of their dishes and prices.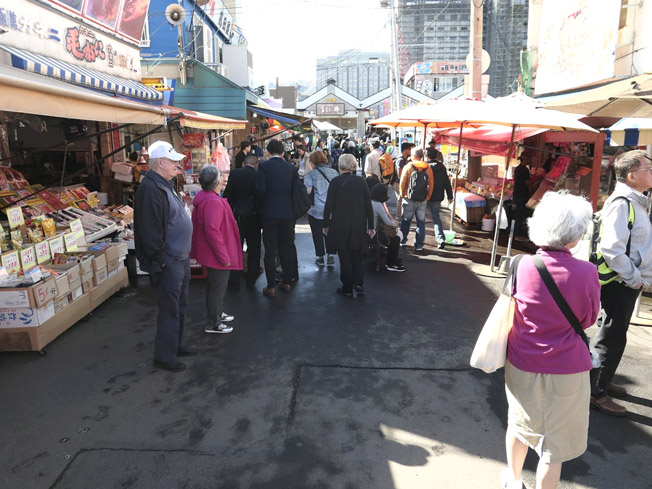 Further down is the Morning Market,
which occupied a few blocks of shops and restaurants.
We saw guided tour groups from Taiwan, as well as from China.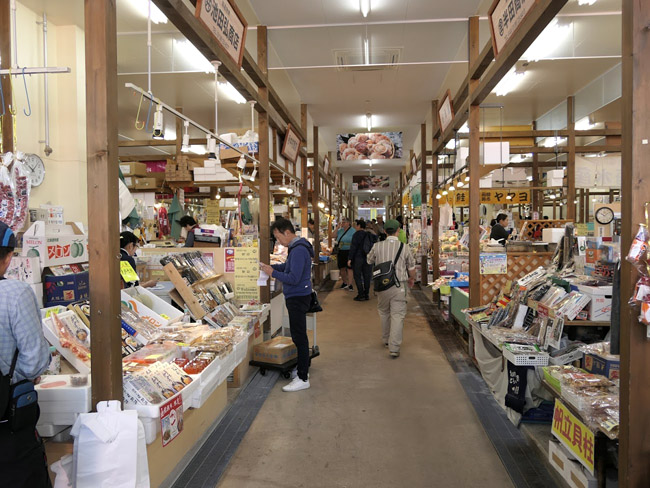 An indoor market hall.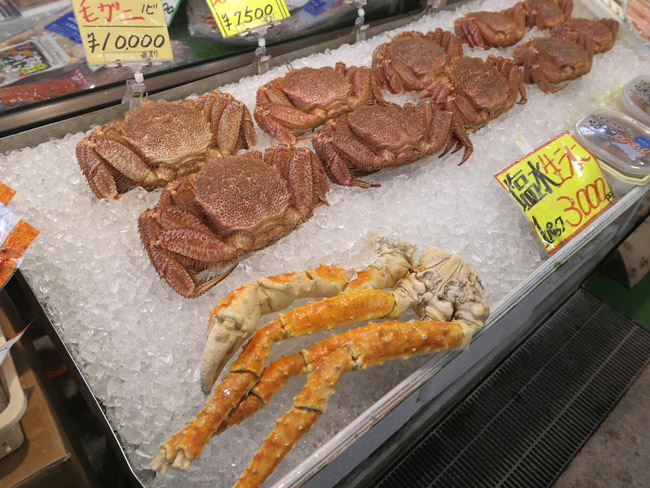 Hairy crab and king crab legs.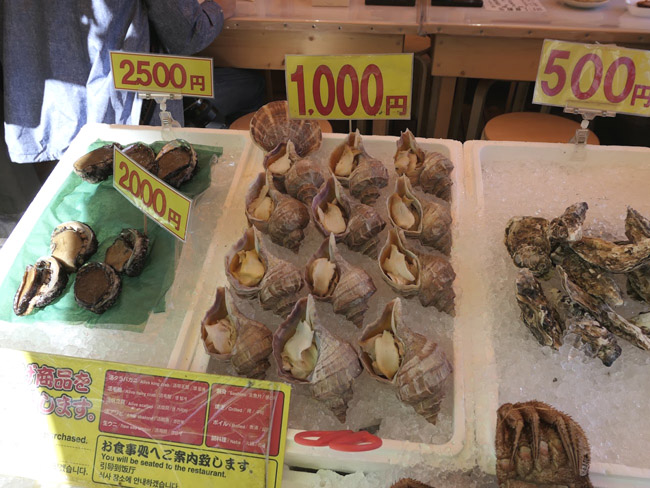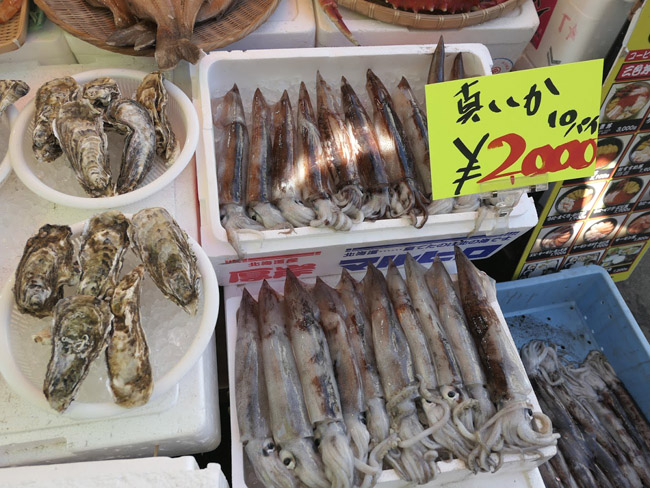 Oysters and squid.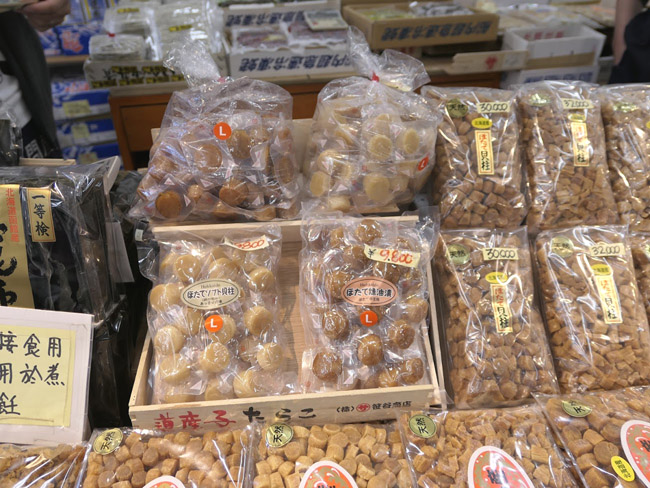 Dried scallop, quite expensive.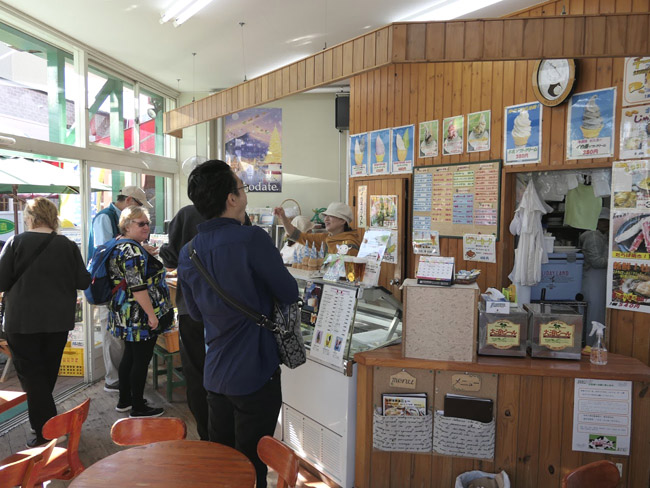 This soft ice cream shop sells squid-flavored ice cream.
(We did not try.)

We bought a bag of these shredded BBQ squid.
It was very good.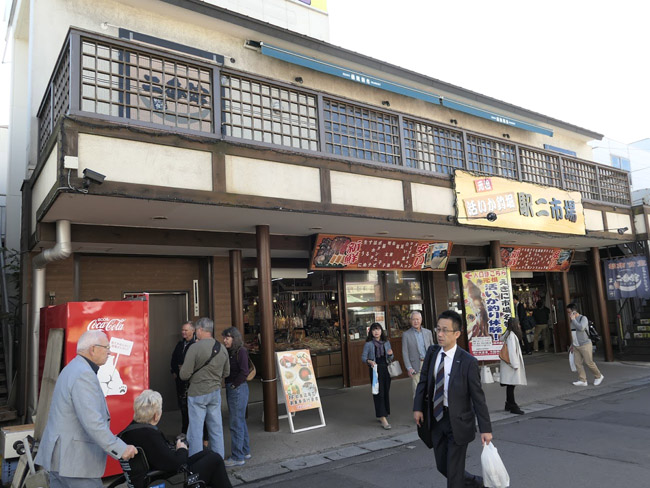 We had lunch at a restaurant on the 2nd floor of this market hall by
following an international blogger's post. She said the seating area was
pleasant and spacious with help-yourself hot green tea.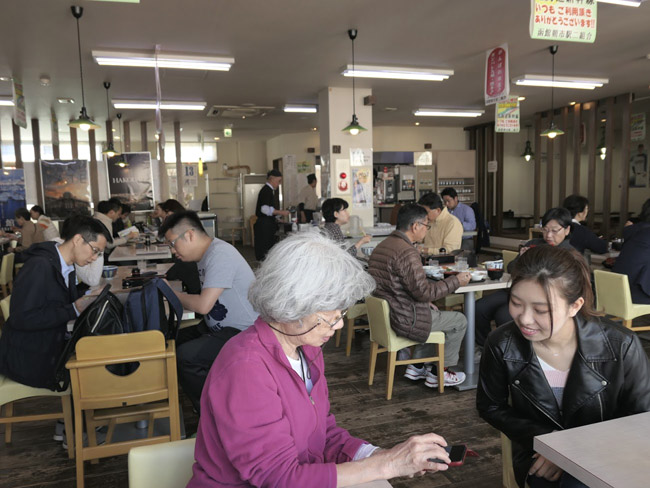 We chatted with two Japanese girls seated next to us.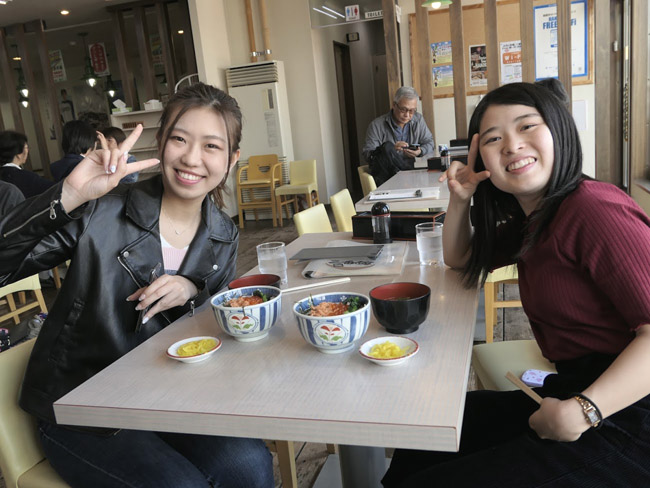 They were from Sapporo and came to Hakodate for the day.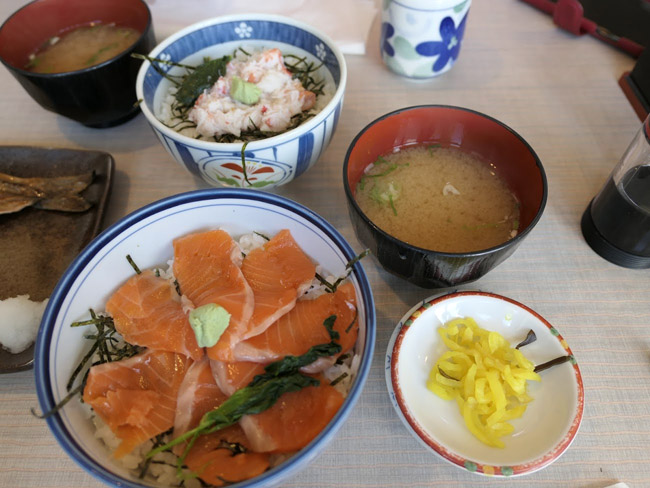 This restaurant did not display plastic models outside the window,
so we ordered from their English menu with pictures and prices.
Even the side dish of miso soup and pickled daikon were delicious.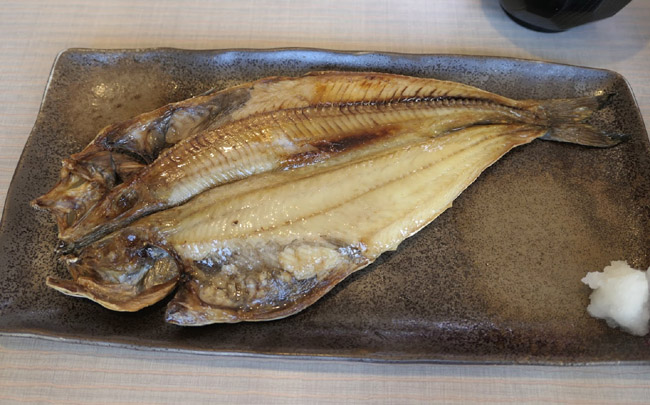 We also ordered a mackerel.
It was very good and only cost 700 Yen.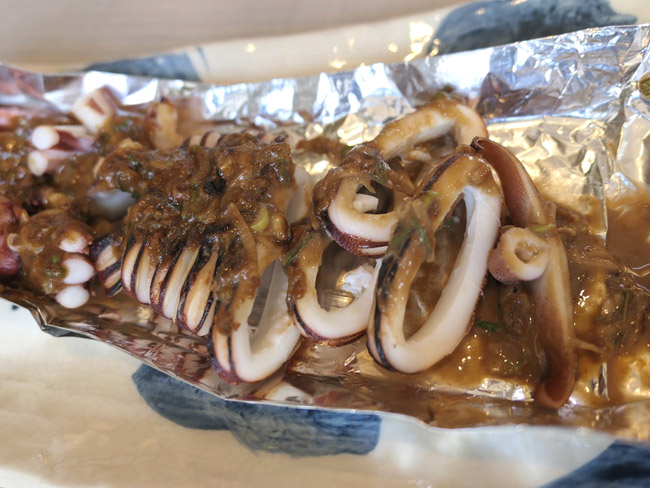 A plain grilled squid at 700 Yen, and with miso sauce at 900 Yen.
We ordered one with miso sauce but it was a mistake.
The salty miso sauce over-powered every bite of the squid.
Well, you cannot win them all.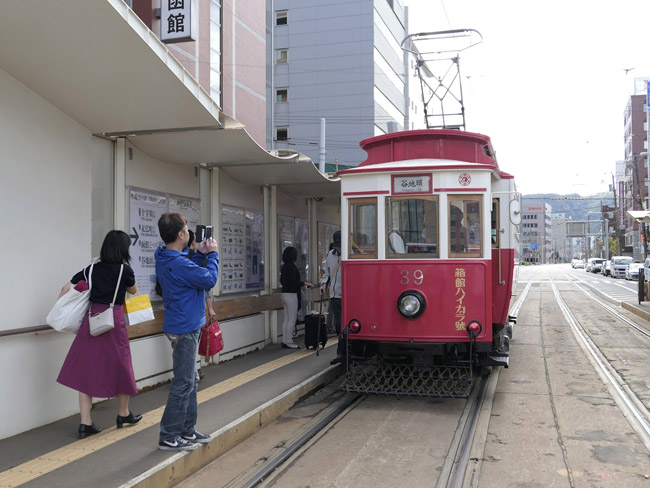 We walked back to the station square to take a vintage tram to
Jujigai (十字街) to get to the Kanemori (金森) Red brick warehouses.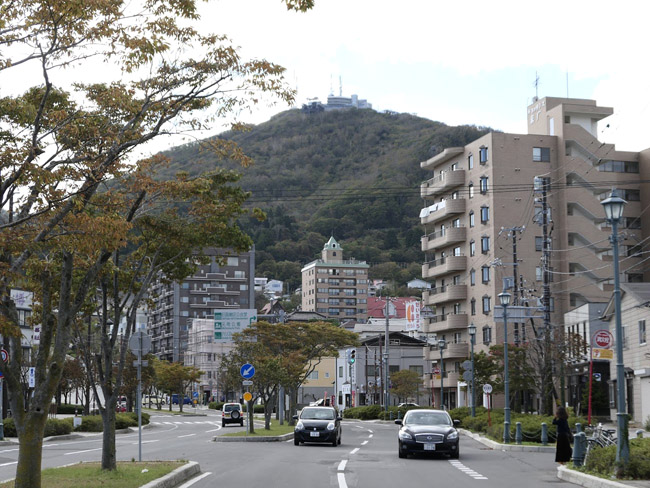 Jujigai (十字街) tram stop is near where one takes a ropeway to the mountain top.
See the observation building at the top of the mountain in the photo?
However, the ropeway was down for annual maintenance, and the bus was sparse
until after 4pm, so we did not get to go up there.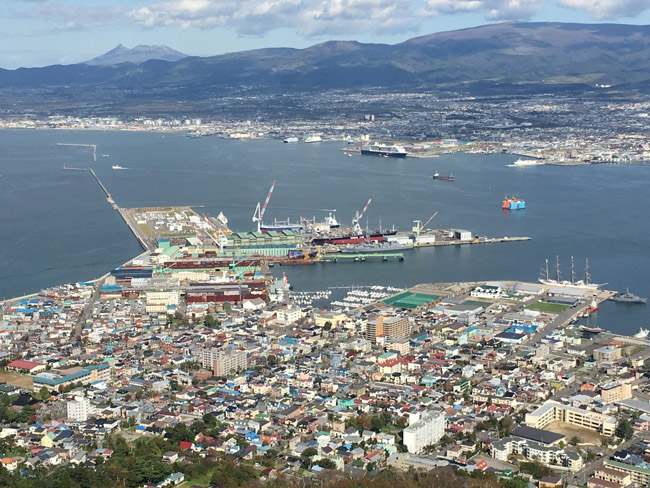 A cruiser we had dinner with gave us this photo, which he took from the mountain top.
The HAL Westerdam is visible in the picture.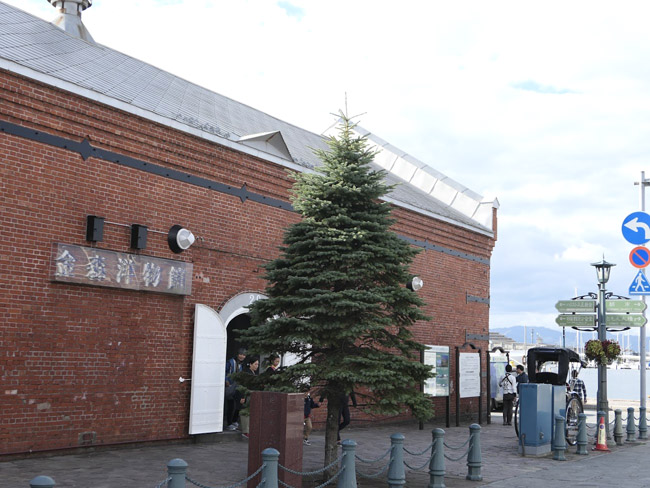 The Kanemori (金森) Red brick warehouses converted into shops.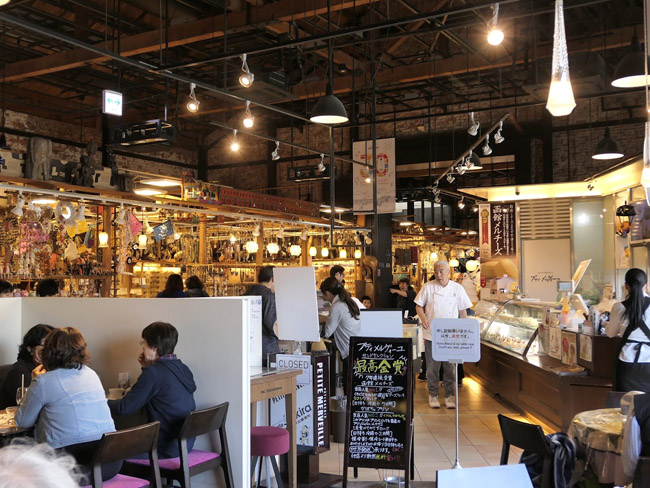 Shops and cafe inside one of the Red Brick Warehouses.