10/2018, Kanazawa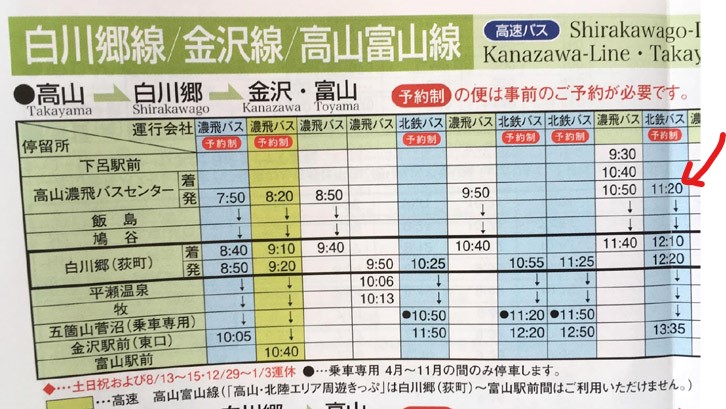 We took the 11:20 bus from Takayama to Kanazawa.
The bus stopped at Shirakawago 白川郷 for 10 minutes.
Bus seats are reservation only, so buy your bus tickets ahead of time.
Some took the bus only from Takayama to Shirakawago,
some boarded the bus in Shirakawago and went to Kanazawa.
As an alternative, one may take a train from Takayama to Kanazawa,
but to go in/out of Shirakawago, there was no train.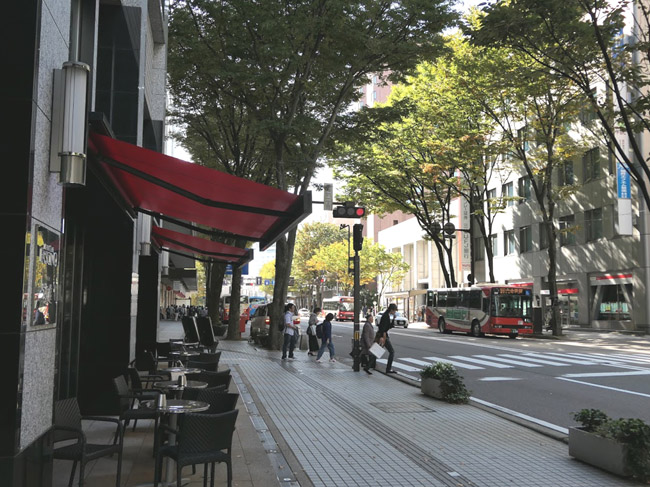 The building with the burgundy awning was our hotel, and further
past that was Daiwa (大和) Department Store with a food hall on the B1 level.
There were two more hotels across the street.
This area is called Korinbo 香林坊, in central downtown.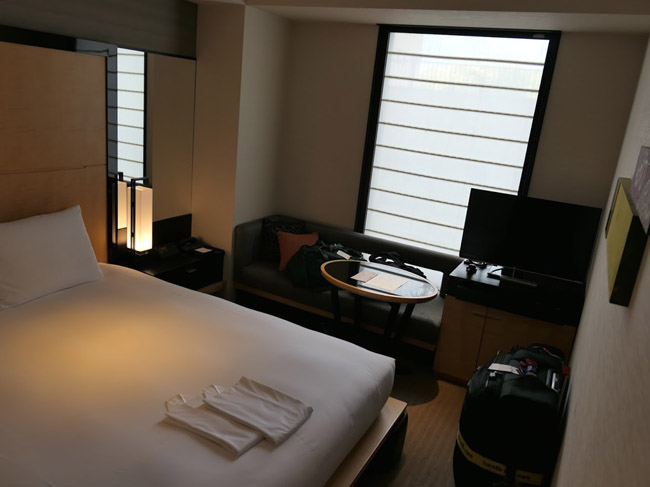 Our room at Hotel Trusty Kanazawa Korinbo.
This standard double at 190 sq-ft did not have enough space for us to open 2 suitcases,
because the bathroom was very big and took too much space from the total square footage.
We upgraded to a 247 sq-ft Superior Double for the next two nights.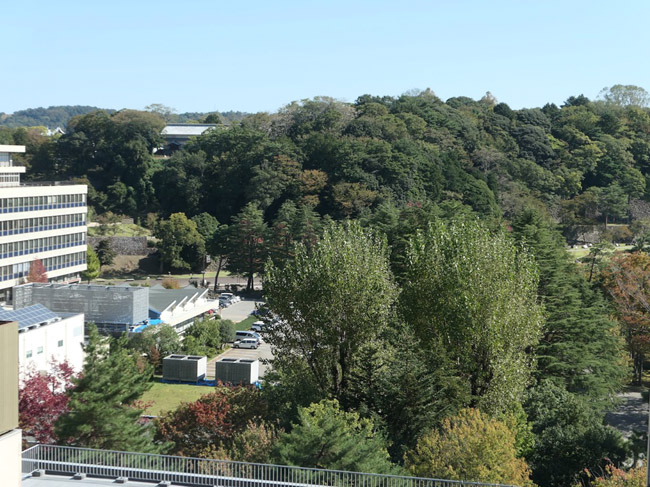 The Superior Double on the 10th floor came with a nice view out the window.
The white rooftop of the castle is visible above the tree lines on the upper left of the photo.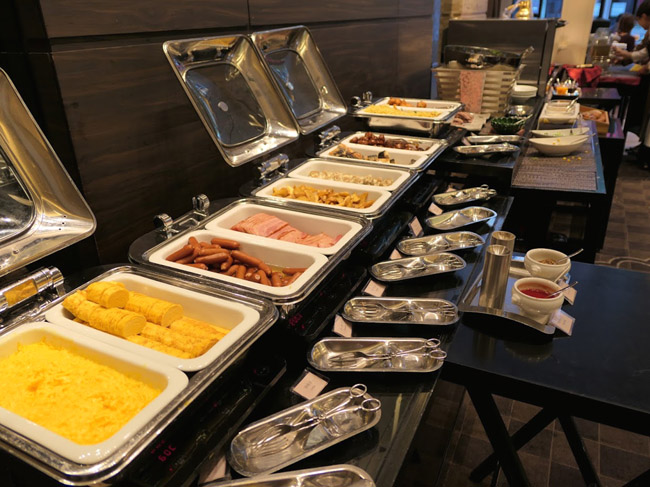 The hotel's breakfast spread in the morning.
This was the best hotel breakfast we had during this trip,
mainly because it offered many delightful items to choose from.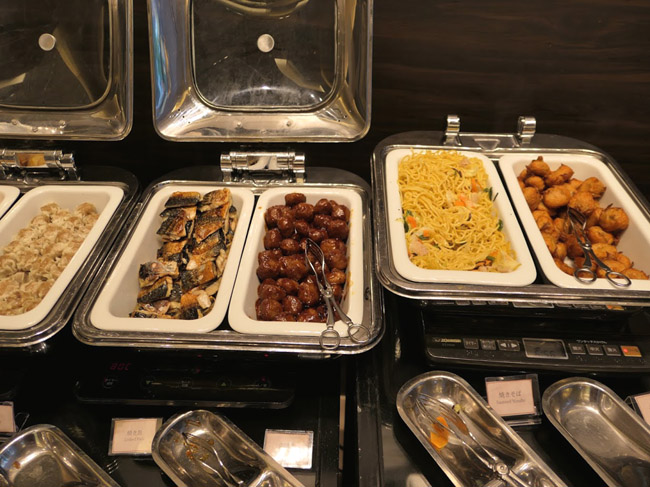 This was part of the spread along one side of the room.
The top right looked like karaage (唐揚げ), Japanese fried chicken, which were often served at hotels'
breakfast spread and were supposed to be very good, but we have never had room to try a piece
because there were so many other items vying for our attention.


On the other side there was a Japanese food section.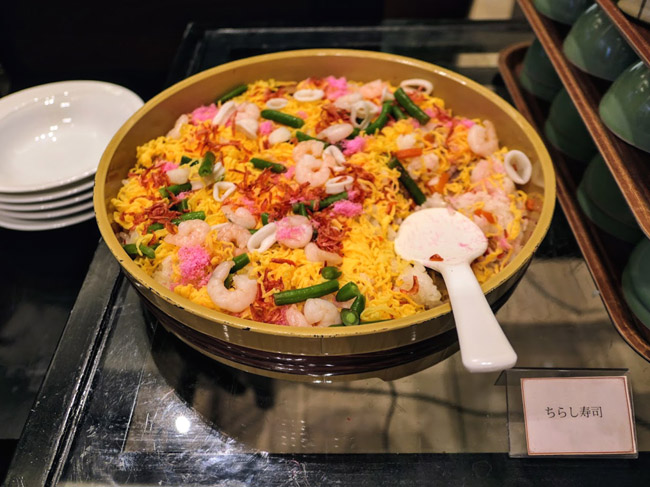 Among the Japanese section was this chirashi sushi.
Vincent and I called this "Amy's rice", because our friend
Amy Chuang brought a dish like this to one of our potluck lunch.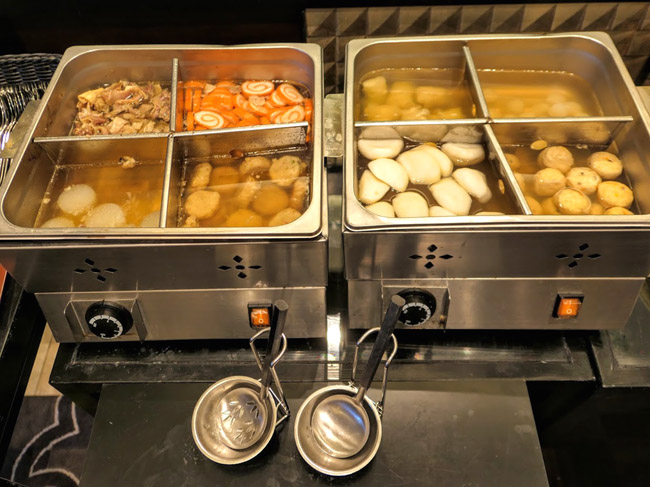 And then there was Oden for breakfast.
MC loves Oden (おでん, Japanese fish cake and daikon stew).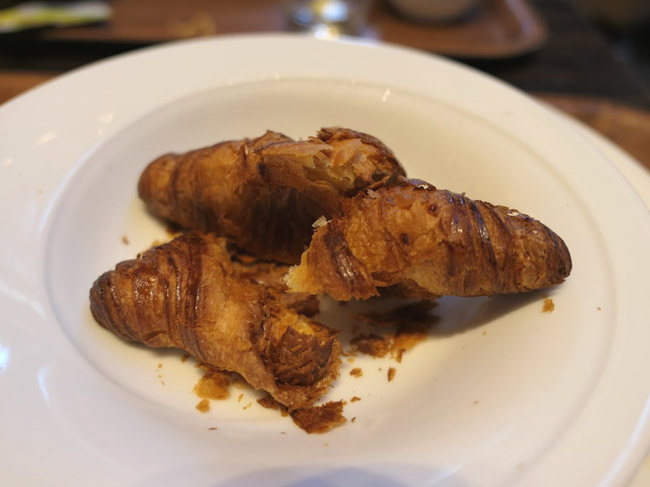 The hotel's kitchen baked its own croissant.
They were very tasty when just out of the oven.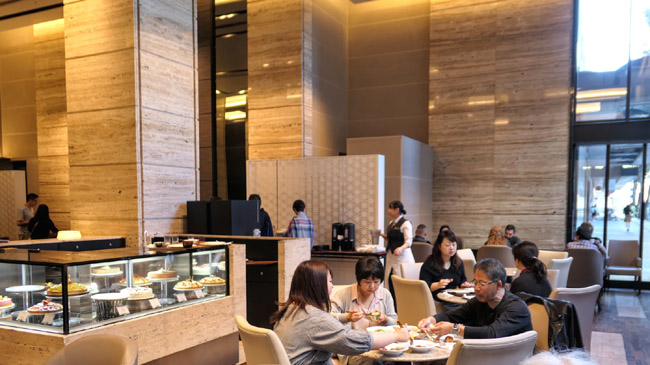 The cafe area of the hotel was where we took our breakfast.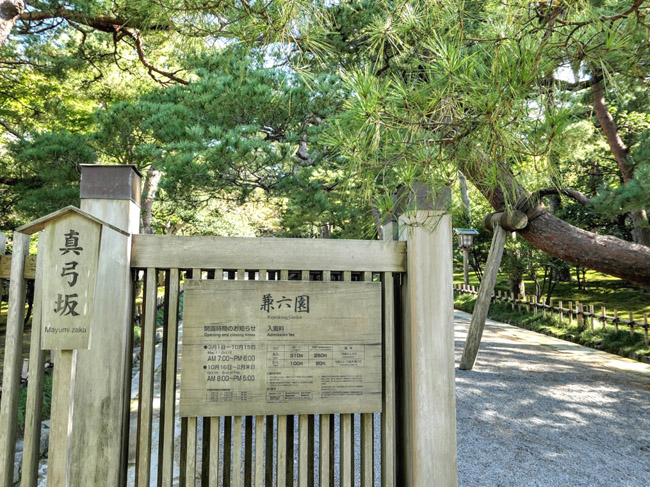 Kenroku-en, 兼六園
The garden had more than one entrance, we walked in through this Mayumizaka entrance
because it was closer to Korinbo.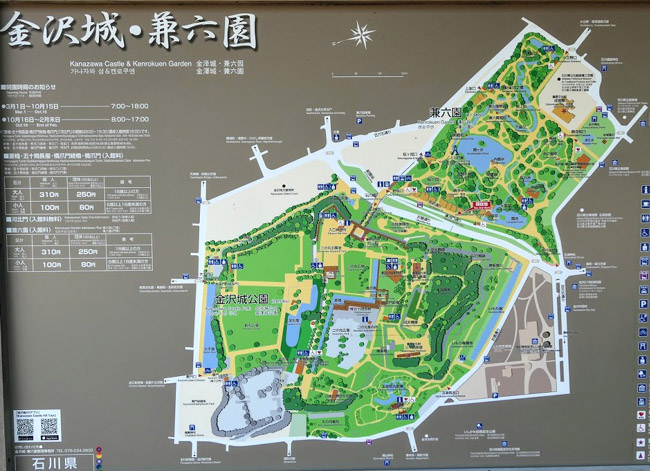 Kanazawa castle and Kenroku-en are
adjacent to each other.
But this map has the NORTH pointing to the lower left.
On Google map, Kenroku-en is to the south-east of the castle.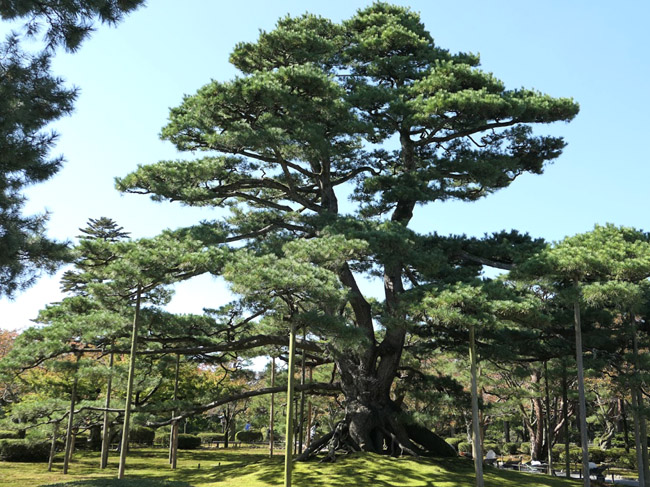 Kenroku-en.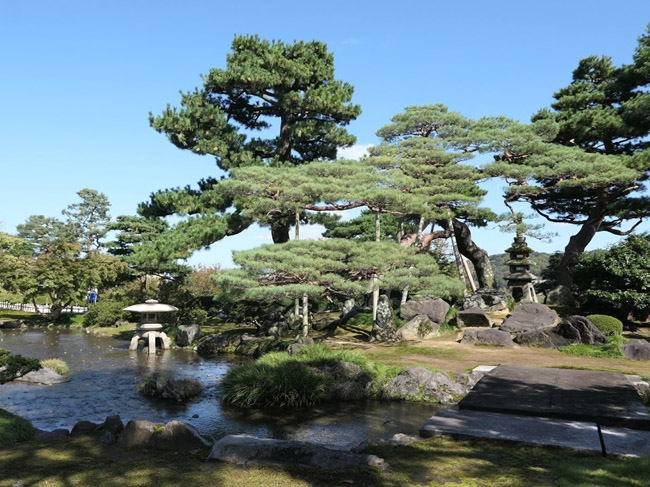 Kenroku-en.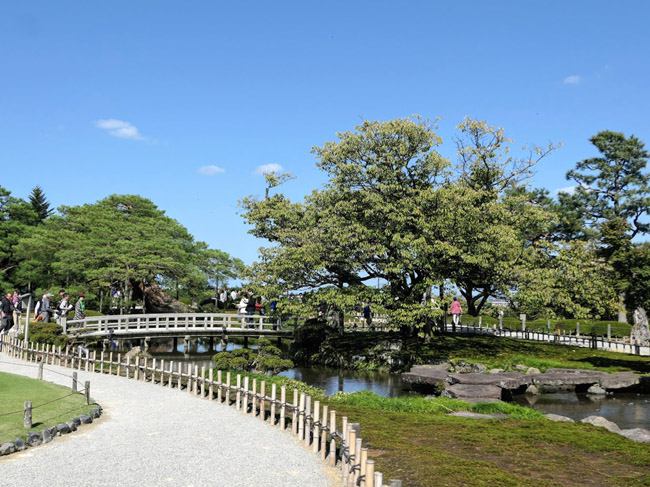 Kenroku-en.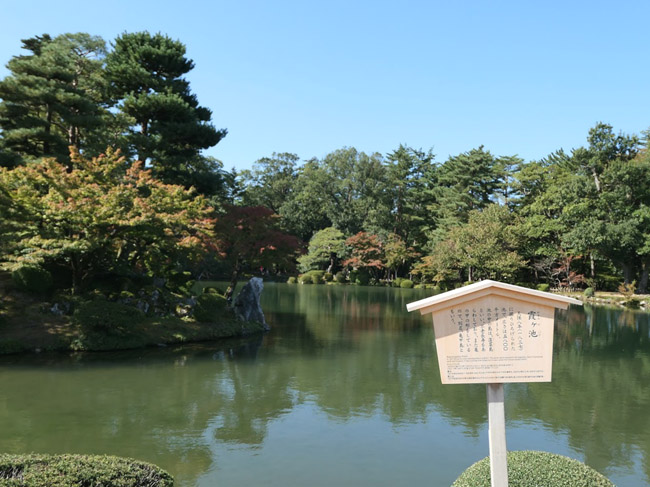 Kenroku-en.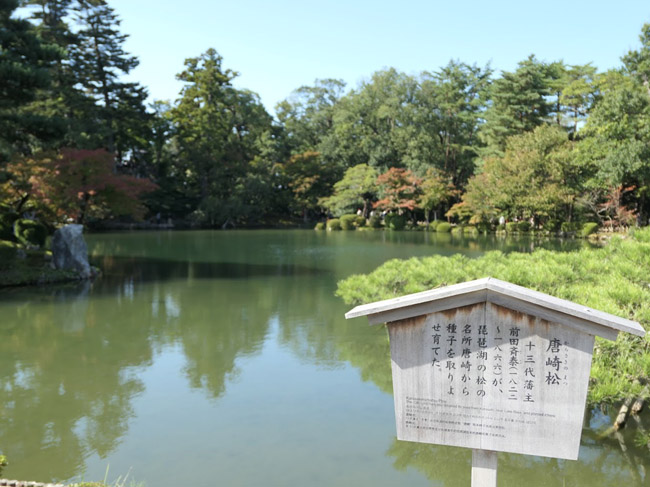 Kenroku-en.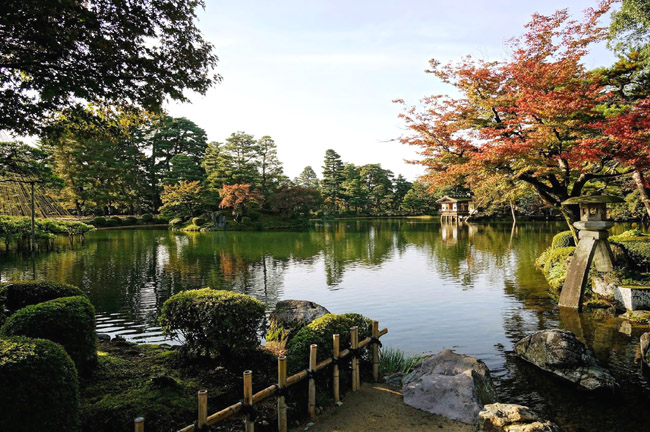 An iconic shot of the 霞之池 pond in Kenroku-en.
This is an often-seen picture of Kenroku-en with the stone lantern
called 琴柱燈籠 (Kotoji-toro Lantern) on the far right of the photo.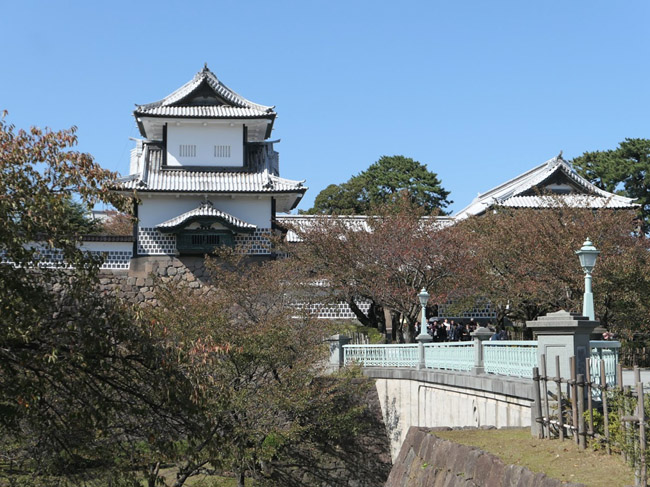 Crossing this foot bridge and you will be at the castle ground.
The Maeda clan ruled from this castle for 14 generations until
1871, at the coming of Meiiji restoration.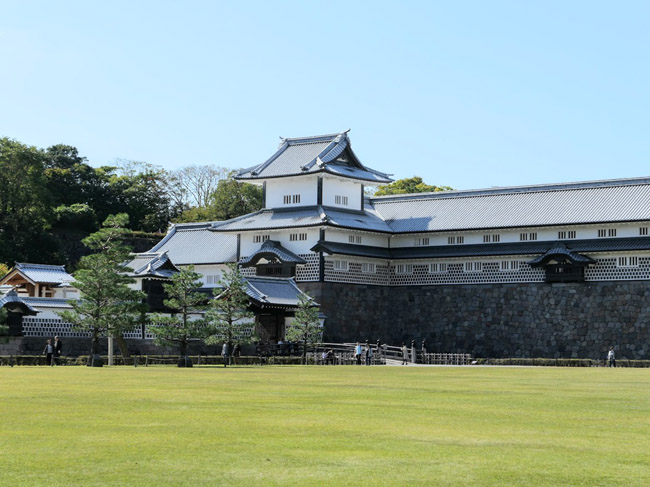 Only two storehouses and a gate survived the 1881 fire,
the rest was rebuilt.
It looked like a sprawling compound requiring a significant amount of walking to see.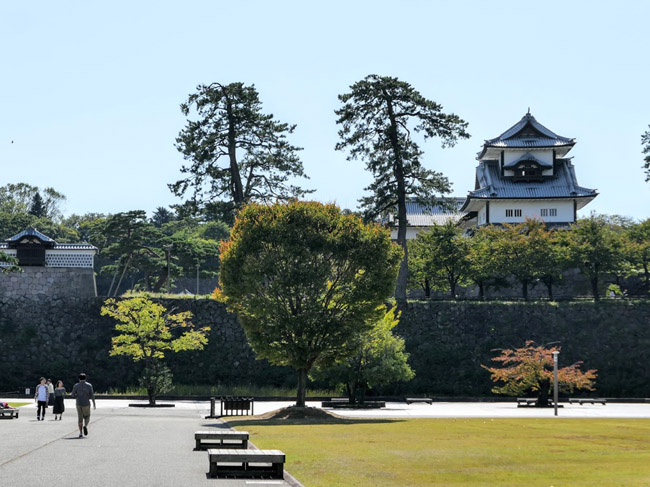 But we were hungry and wanted to go to Omicho market for lunch.
So we by-passed the castle, cut through its park to Omicho market.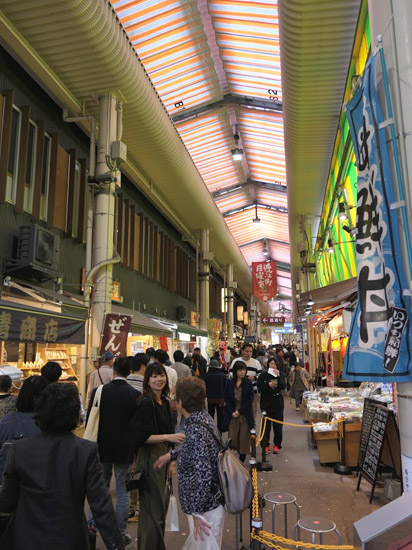 One of the entrances to the Omicho market, Kanazawa's kitchen.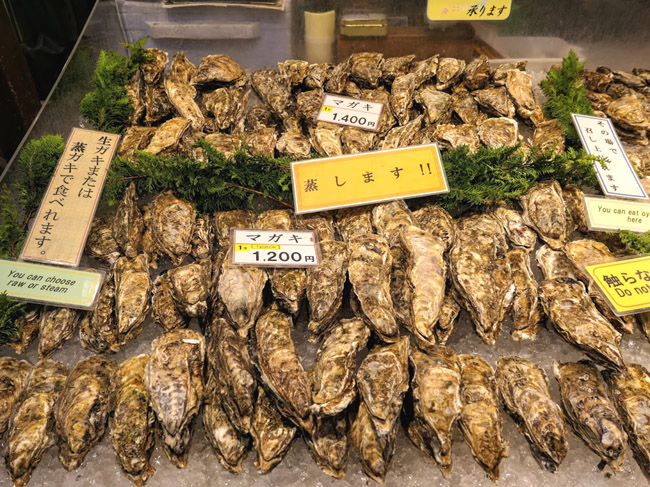 Fresh oyster at 1200 Yen per pop (about USD$11).
(In October/2013 we had grilled oysters on Miyajima Island and they were 250 Yen per oyster.
Don't understand why prices varied so much.)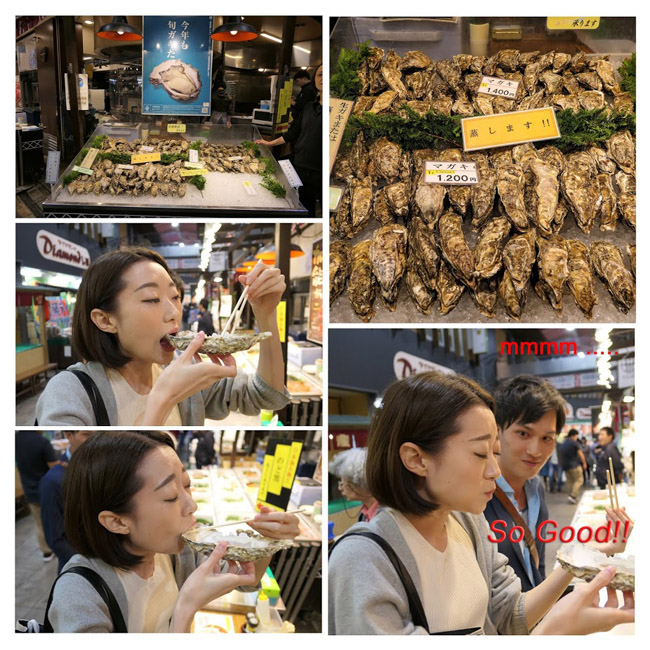 A lady was about to devour one.
Vincent asked for her permission to take her photo.
It was SO GOOD.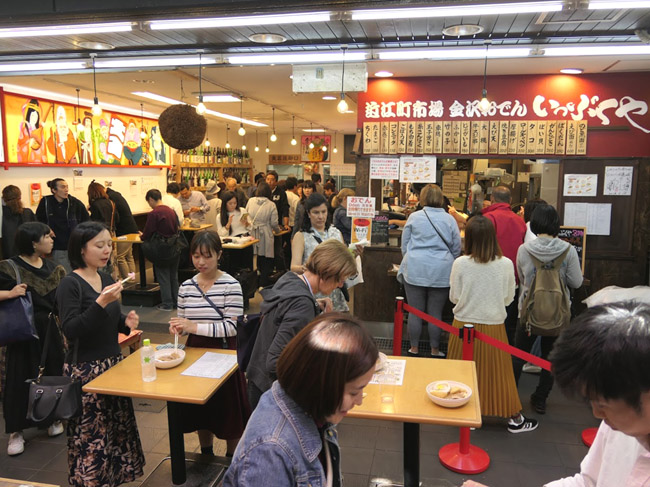 This shop had a crowd. What were they eating?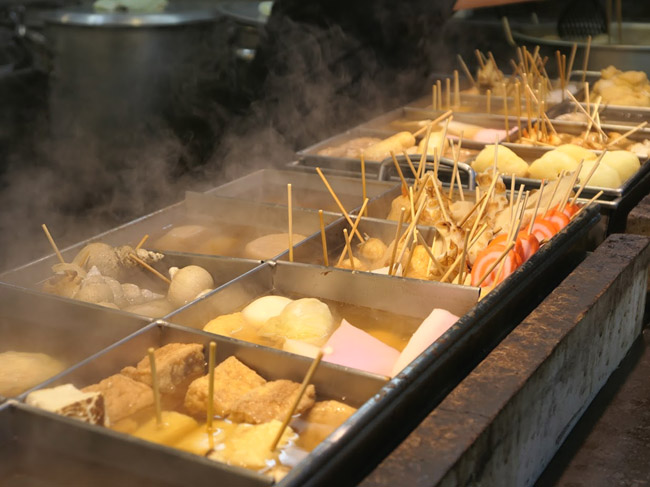 Oden! Very tempting to MC.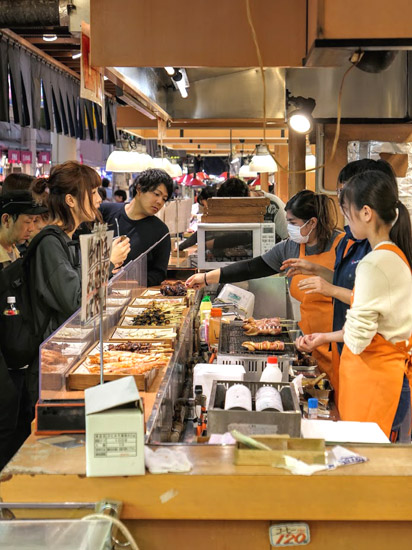 Grilling squid and prawn.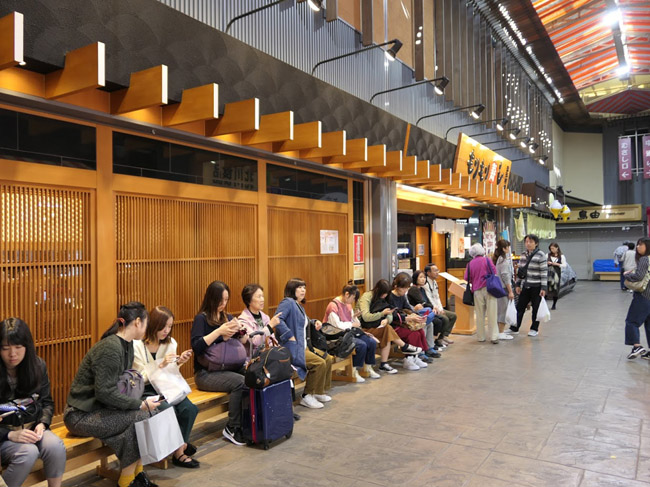 We used iPhone's GPS to guide us to the Mori Mori Sushi in the Omicho market.
But with so many narrow alleys, we still had to ask for directions from a
fruit vendor who kindly directed us to cut through her store and immediately turning right to reach it.
We had to go to the machine in the center to punch in how many people in our party
to receive a printed number slip. Then the wait began for our number to be called.
This was a Sunday afternoon at 1:30pm, and we waited for 1-hour to be seated.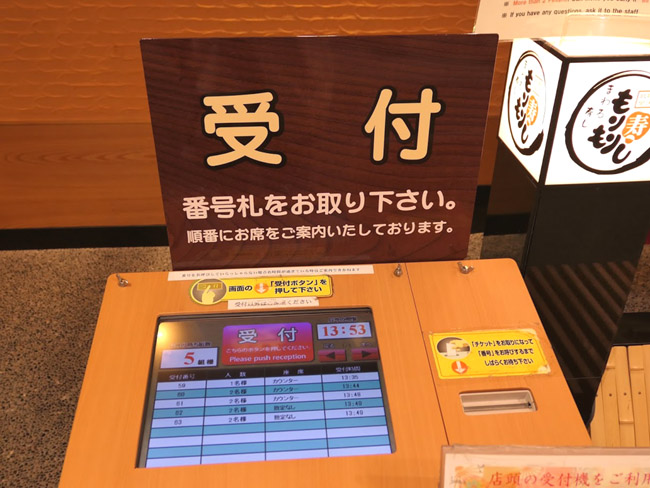 This was the machine where we punched in the number of people in our party
to receive a printed number slip to start waiting.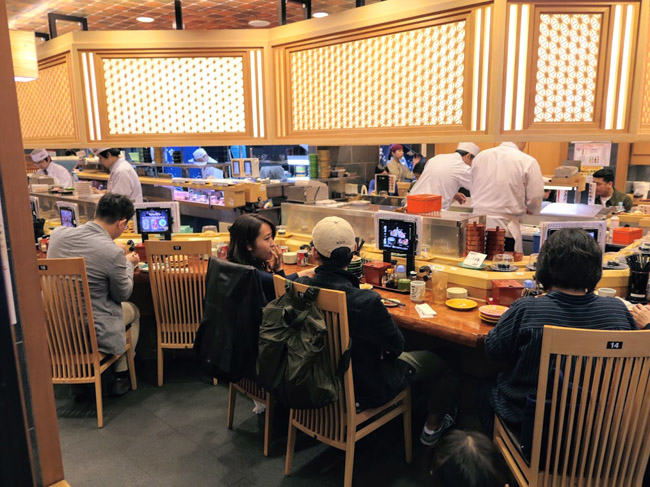 Inside the Mori Mori Sushi restaurant.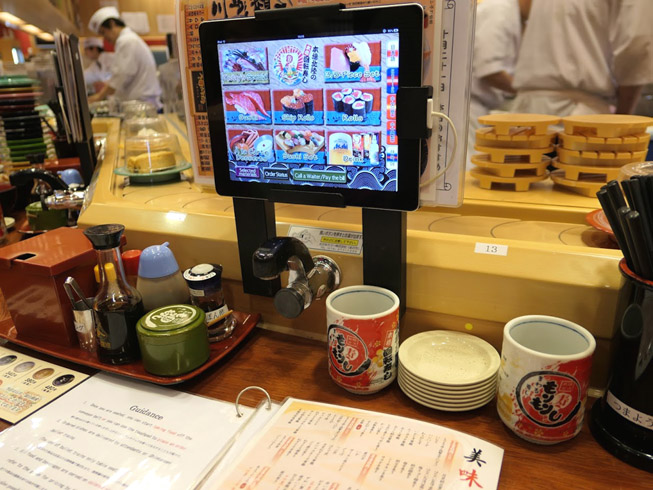 Between every two customers there was a touch screen for customers to place order.
Every item had a picture and price, so there was no language barrier.
A chef would make your order and hand it to you.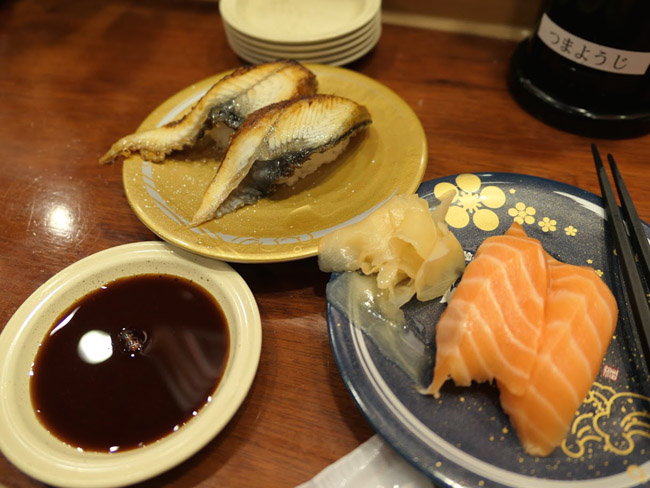 After devouring the first piece of salmon nigiri, all the time spent in waiting was worthwhile.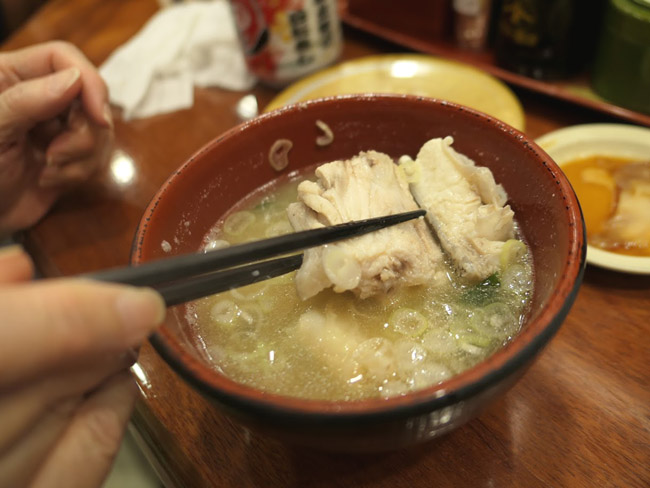 The Fishermen's style fish soup was so good and should not be missed.
We had two kinds of fish soup to choose from, white fish soup or yellow tail fish soup.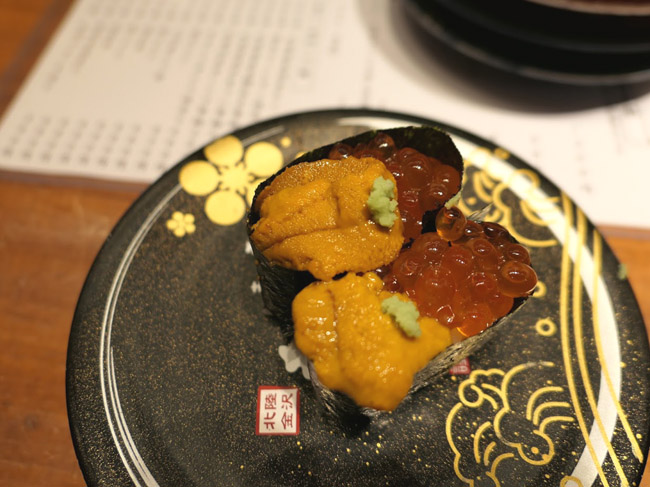 Vincent ordered these, Uni (sea urchin) and Ikura (salmon roe).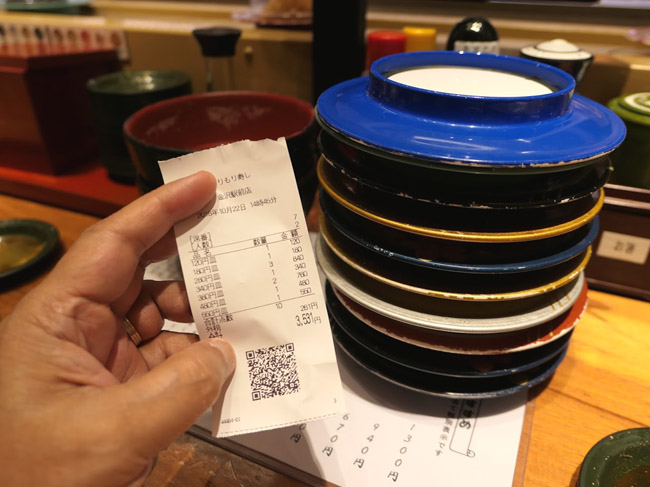 A waitress swiped a hand-held device down the edges of this stack of plates
to tally the total (different colored plate had different price),
then the device printed out your bill.
Once your account had been totaled, the waitress turned the top plate
upside down to indicate you were done.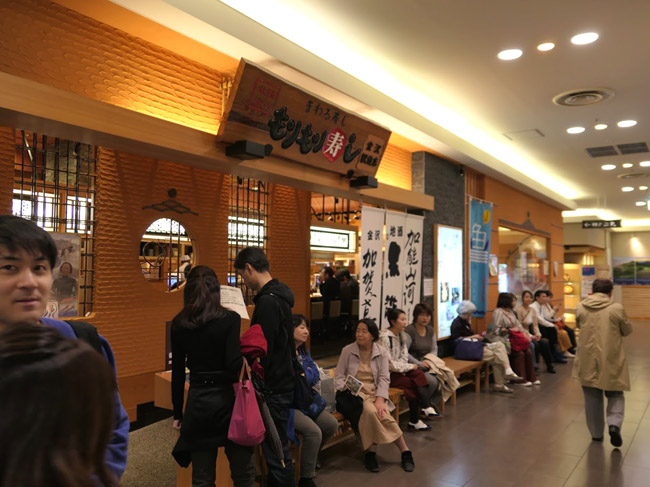 On another day we went to the Mori Mori Sushi near the train station
hoping to have a shorter wait, and it was.
Since it was a Monday at 1:30pm, and this restaurant had a bigger capacity,
we only had to wait for 20 minutes.
This restaurant had both counter seats and table seats.
If you choose a table seat, then your order would arrive in a mini-shinkansen train,
because you'd be too far for the chef to hand your order over the counter.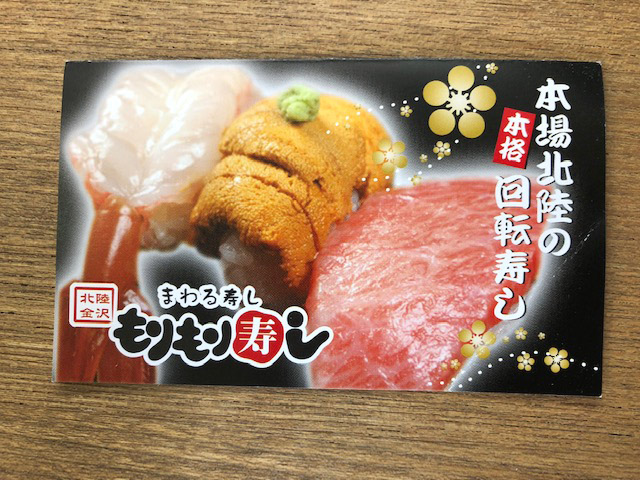 The restaurant's business card.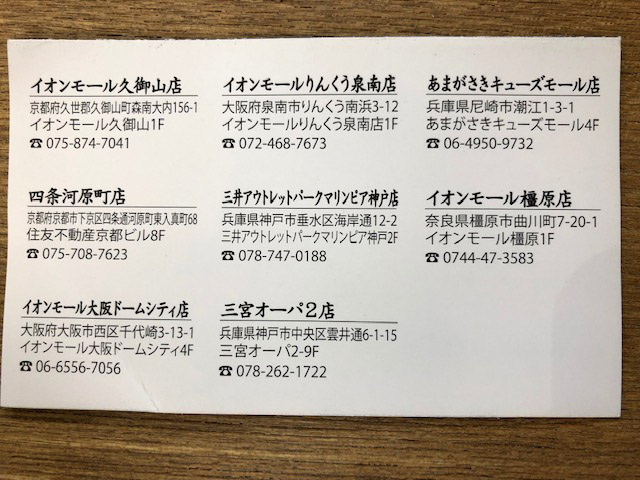 Mori Mori's branch locations in Kyoto, Osaka, Kobe and Nara.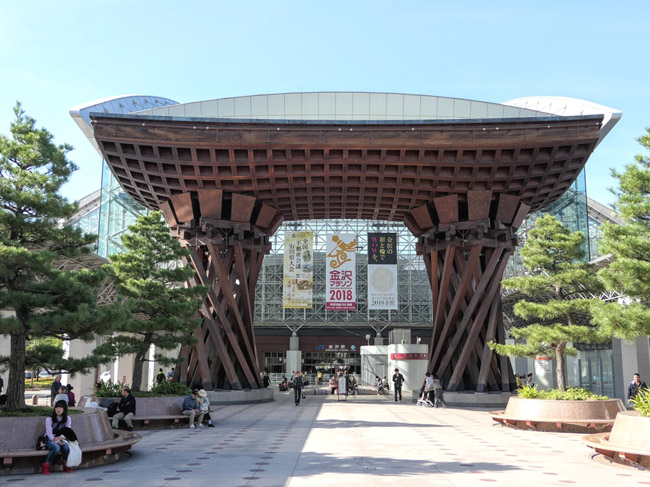 On the 3rd day morning we took a bus to the train station to buy a point-to-point train ticket
for tomorrow (Kanazawa->Joetsu-Myoko, which was outside the coverage of our train pass),
and also to check out its shops to plan for tomorrow's departure to Tokyo.
This is the Drum Gate in front of the Kanazawa train station.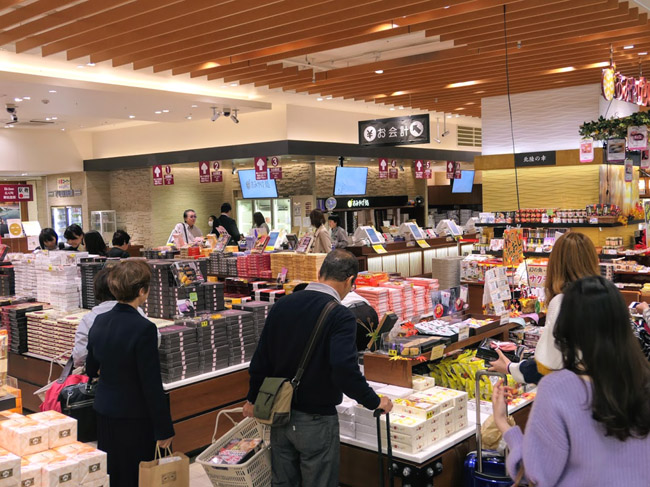 Checking out what kind of food items were being sold.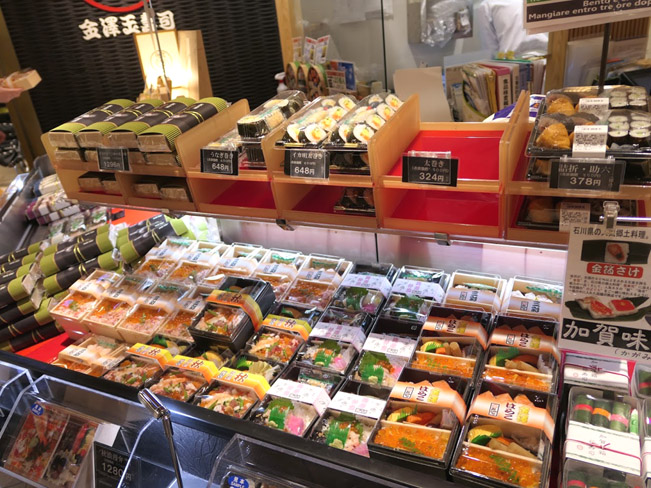 We checked out Ekiben (eki=station, ben=short for bento) ahead of time, so we knew
which bento to get the following morning (as lunch for our 3-hr train to Tokyo).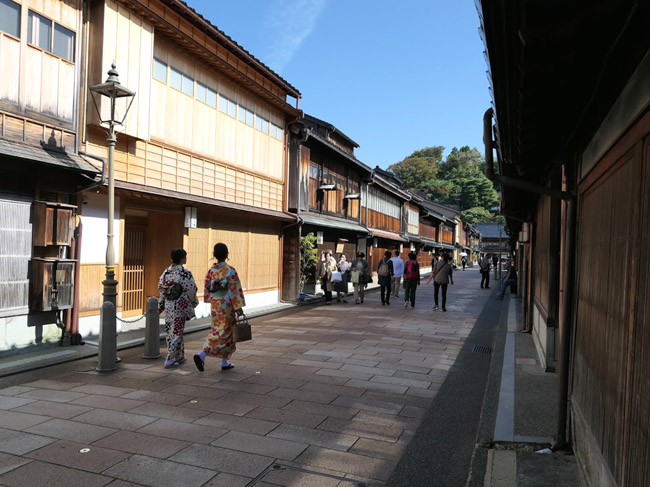 From train station we boarded a loop bus to 東茶屋街 Higashi Chaya District
where geisha used to sing and dance to entertain guests.
We saw many young Japanese girls clad in beautiful kimono strolling the streets.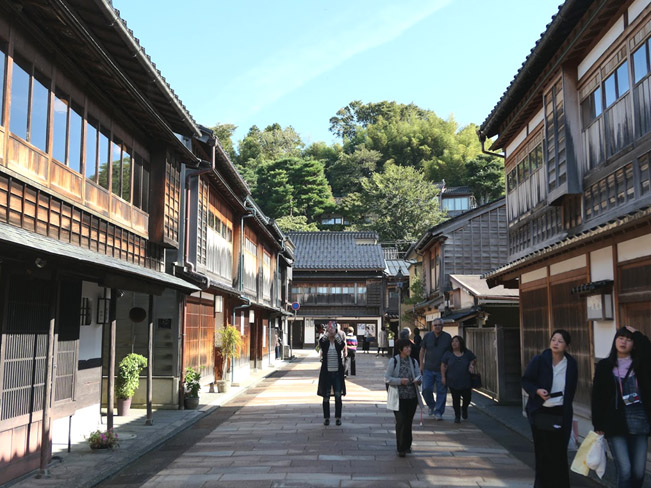 Well-preserved houses and shops.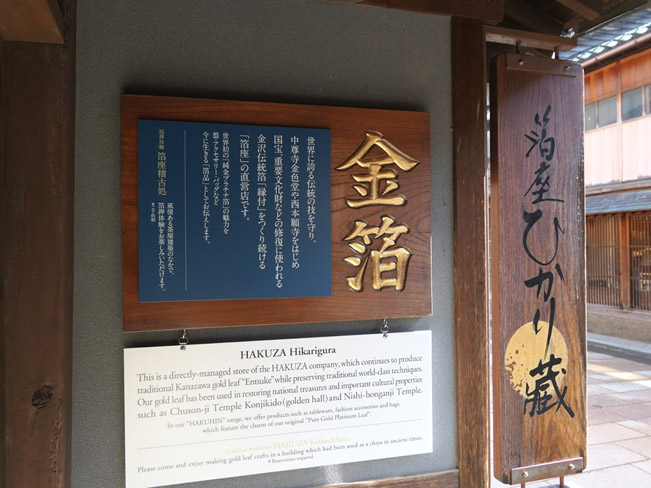 A shop specializing in gold foil.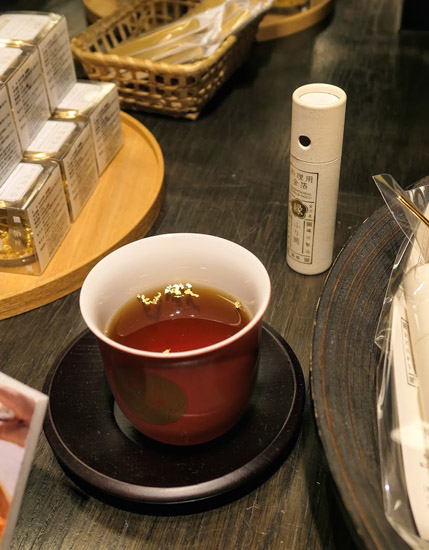 A shaker of gold foil bits for 1000 Yen
to sprinkle into your tea for drinking.
But, who wants to do that?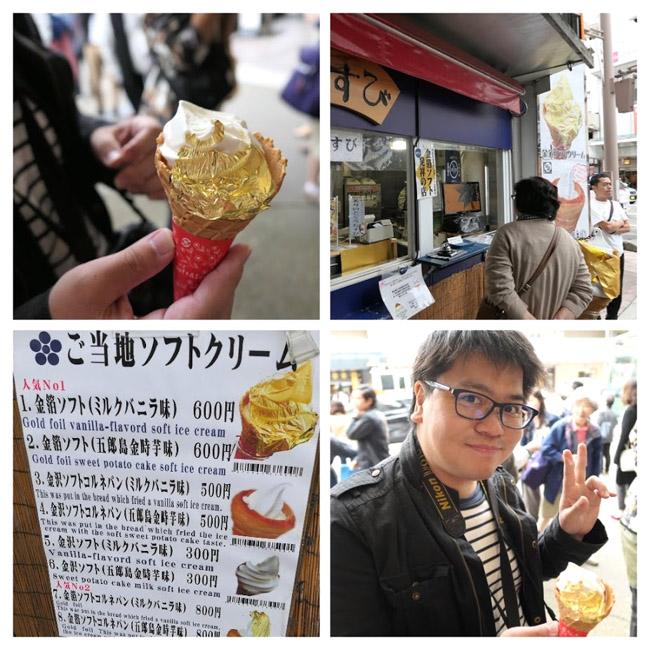 Gold-foiled soft ice cream cone for 600 yen was very popular.
Whatever material it was made of, who wants to digest this?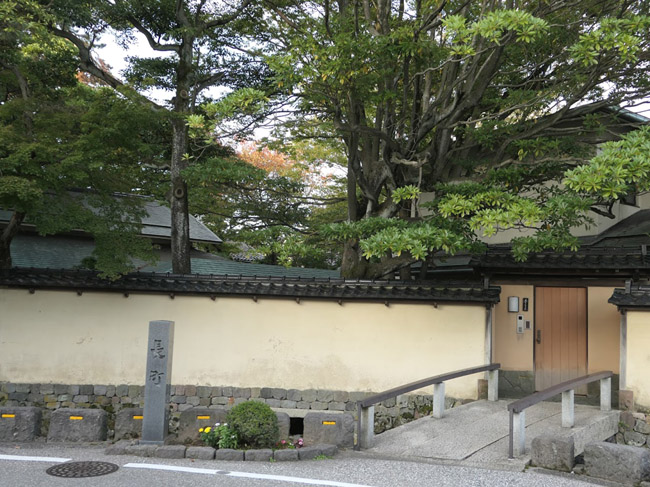 On the afternoon of our 3rd day, we walked to Nagamachi (長町) samurai district
where samurais lived with their families while working for the Maeda lords in the castle.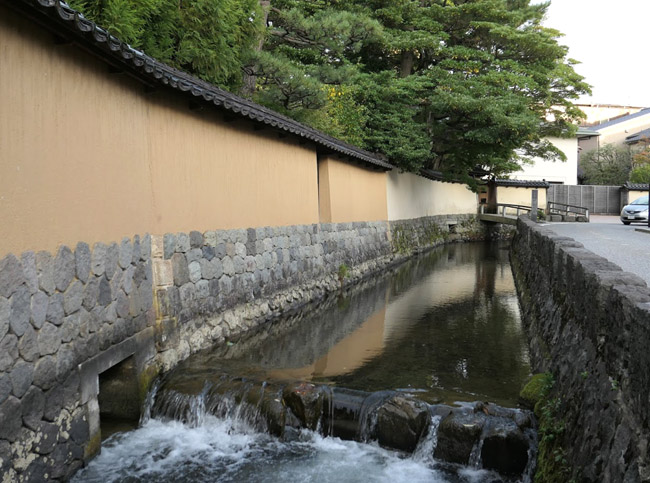 The area felt like in another world, very quiet and tranquil.