10/2018, Takayama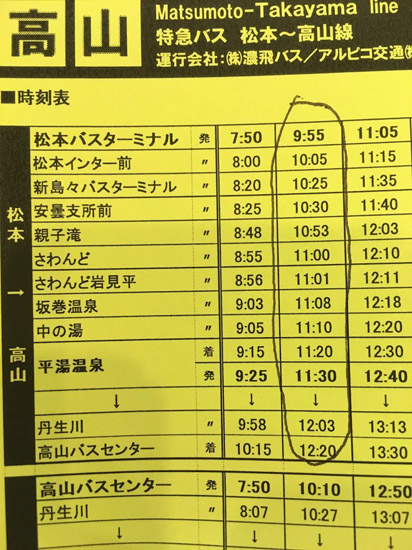 We took the 9:55 bus from Matsumoto to Takayama.
The bus stopped at 平湯溫泉 resort for 10 minutes.
There were about 6 buses daily to Takayama.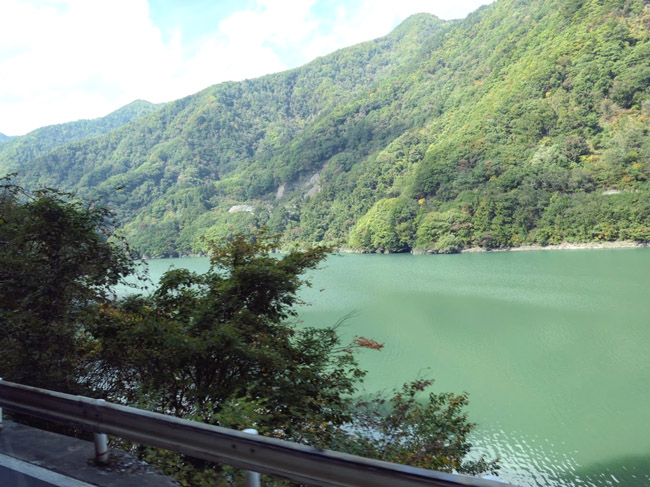 Part of the scenery seen from our mountain bus.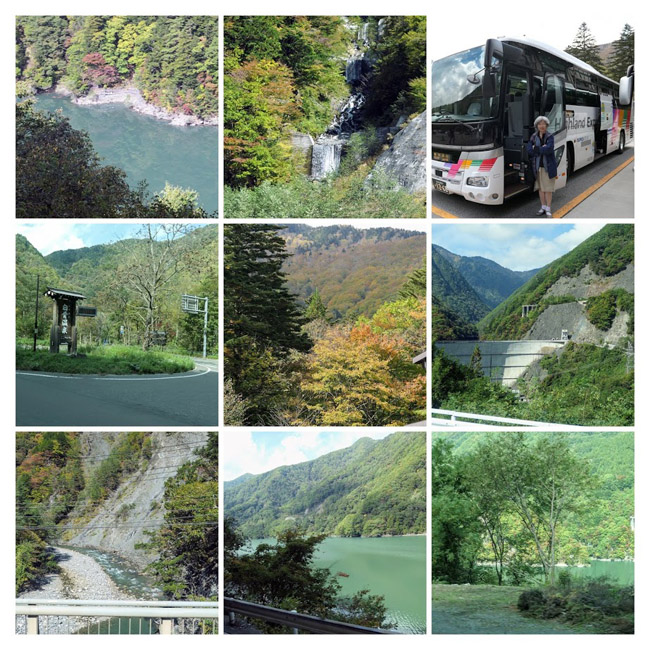 A collage of beautiful scenery on the bus route.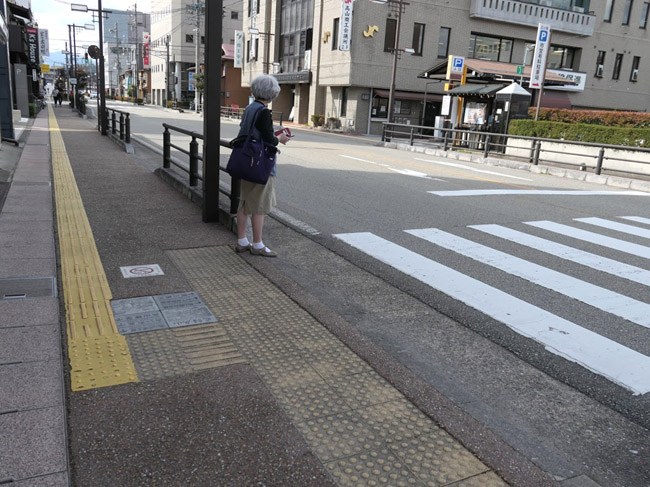 Takayam, the street in front of our hotel, Spa Alpina Hida Takayama.
Do you know what the stripes of grooves (painted in yellow) on the sidewalk are for?
They are not for rolling your roller luggage.
They are for visually impaired person to walk by following the grooves on their walking sticks.
These are called tactile bricks, and was invented by Mr. Seiichi Miyake in 1965.
Now the system has been adopted all over the world in train stations and airports.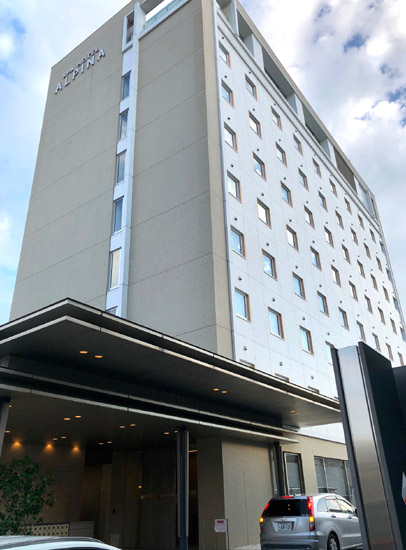 Spa Hotel Alpina Hida Takayama.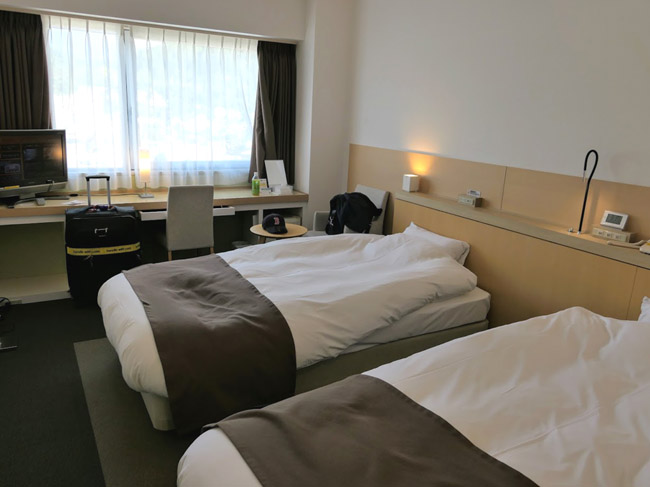 Our twin room on the 8th floor, very comfortable with adequate desk-top space.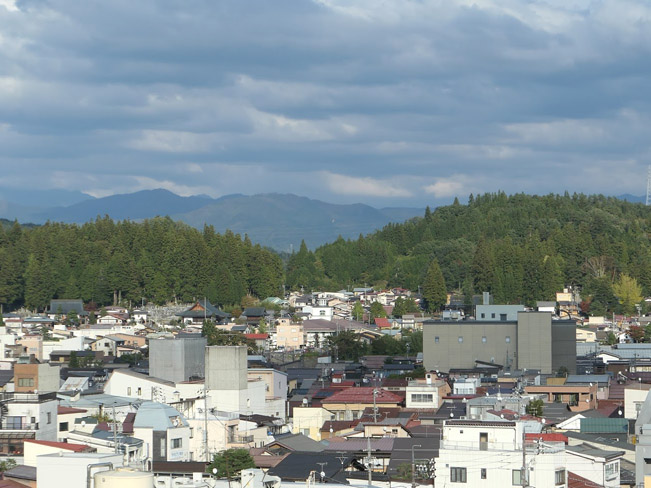 The view to the mountains from our room window.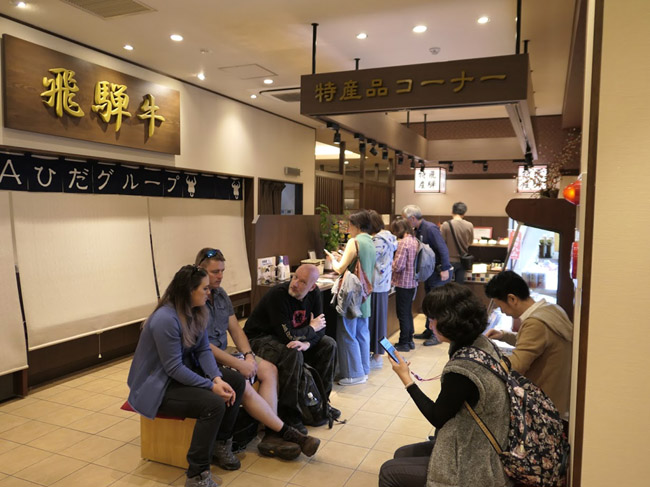 Hida beef dinner at Ajikura Tengoku 味蔵天國.
This was one of the waiting area, there was another bigger waiting area.
We put our name on a sheet of paper and waited for 1-hr to be seated.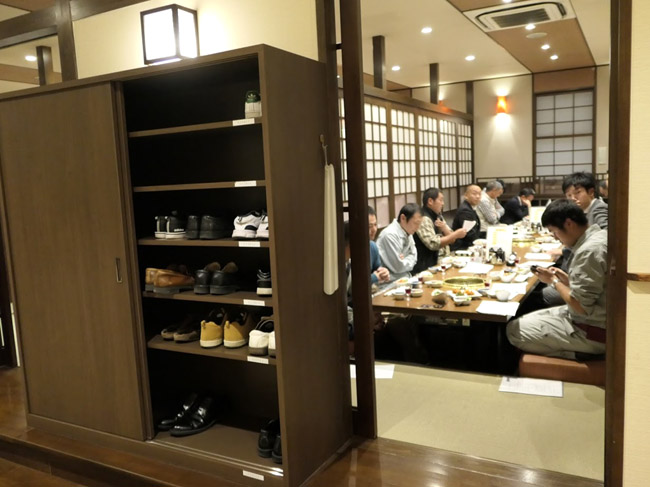 A noisy party was going on two rooms next to ours.
Shoes had to be off before stepping into your dining room.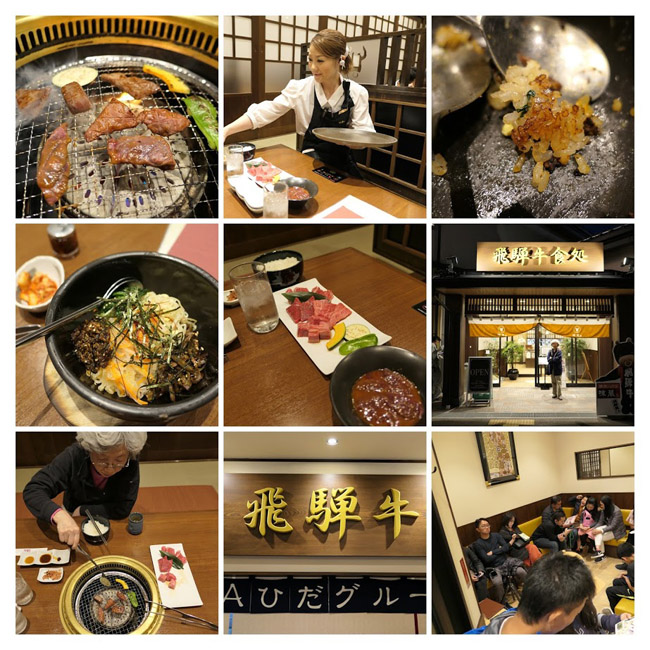 A collage of pictures taken from our dinner at Ajikura Tengoku.
The bottom row, right, is the other waiting area.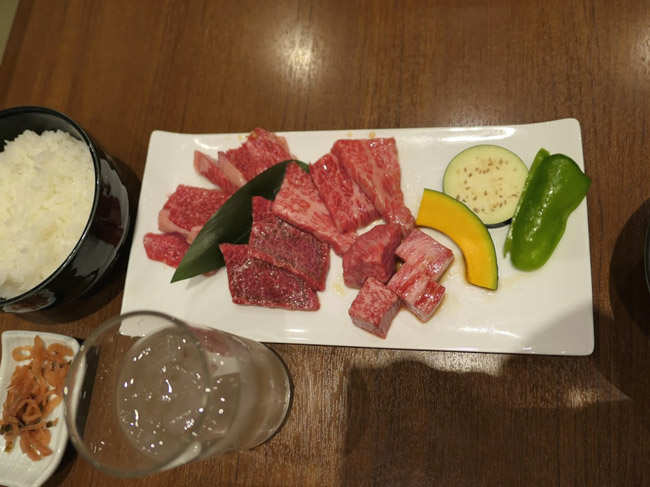 MC's 3 kinds of Hida beef for BBQ.
It came with a bowl of rice, some pickles, and miso soup.
VT stayed away from marbled beef, so he ordered something else.
(As this was our first experience ordering in such a restaurant, we did not know to order
extra side dishes of vegetables when placing our order. Well, we now know for the next time.)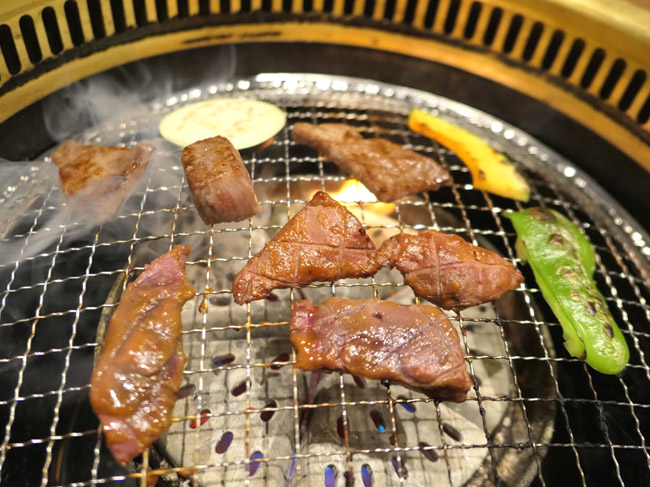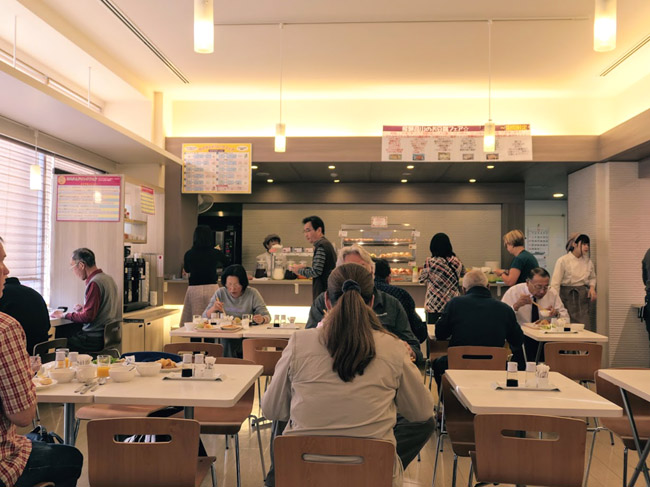 Breakfast at our hotel the next morning.
If breakfast were not included in our hotel room rate, we'd just pay
at the front desk each morning to buy hotel's breakfast.
This hotel charged 1200Yen/pp for breakfast.
The other three hotels we stayed at charged 1500Yen ~ 1600Yen/pp for breakfast.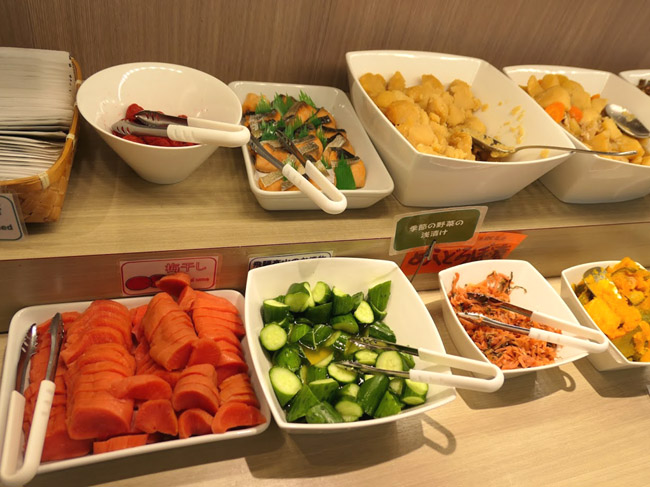 Part of the breakfast spread.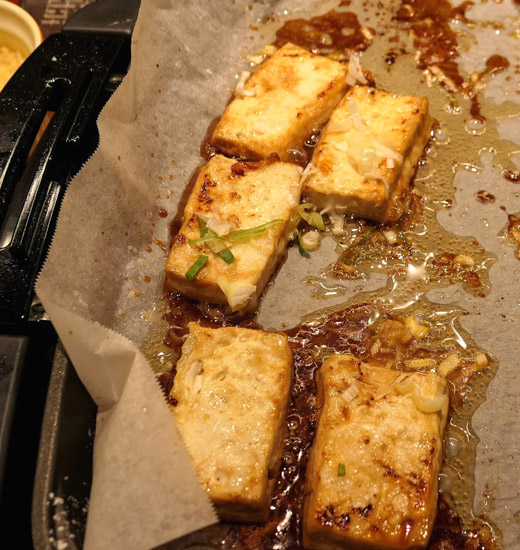 The hotel was very proud to serve 5 kinds of Tou-Fu
made from mountain water in this region.
This was Tou-Fu number 1.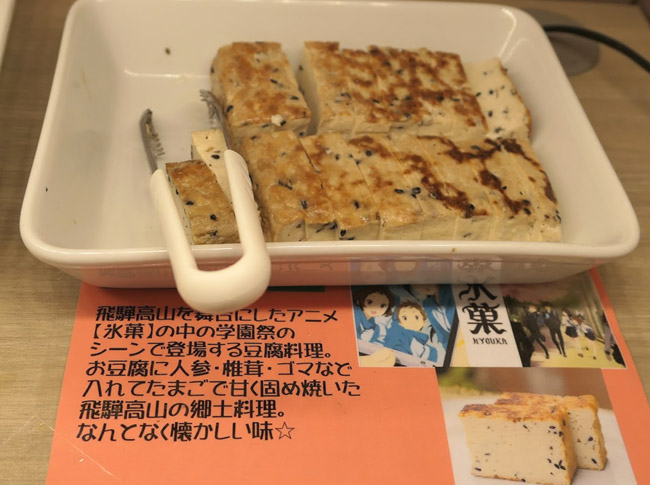 Tou-Fu number 2.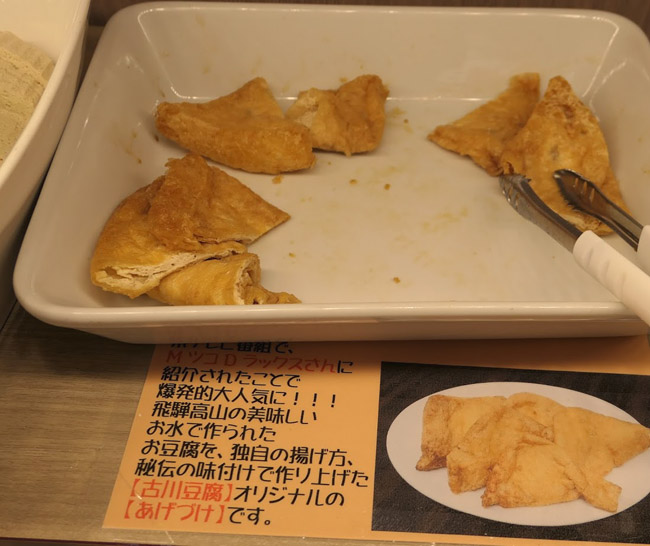 Tou-Fu number 3.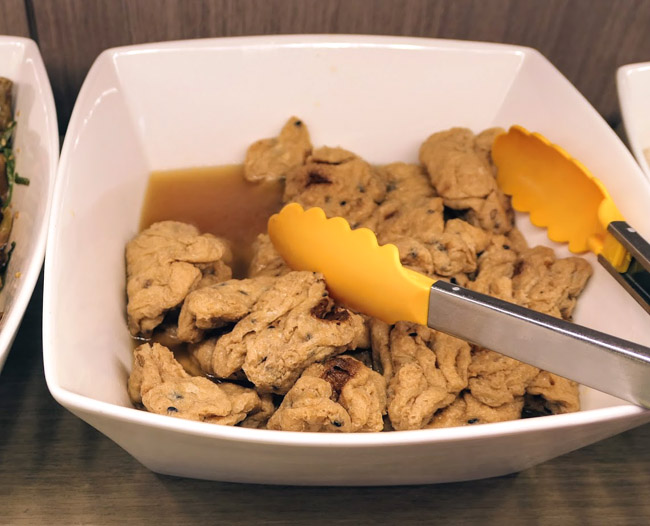 Tou-Fu number 4.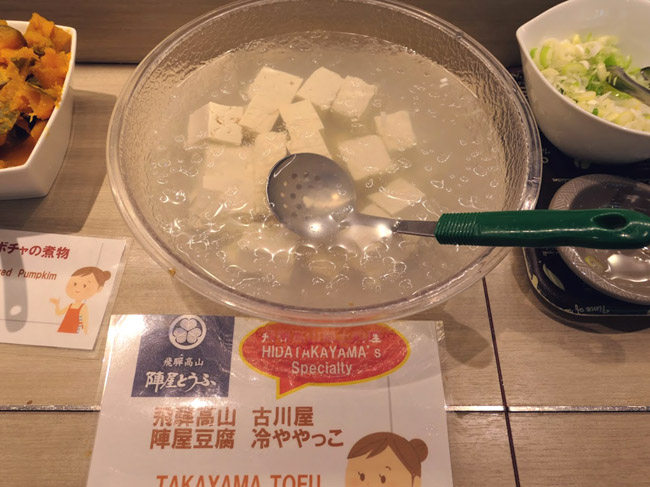 Tou-Fu number 5.
They were all very delicious.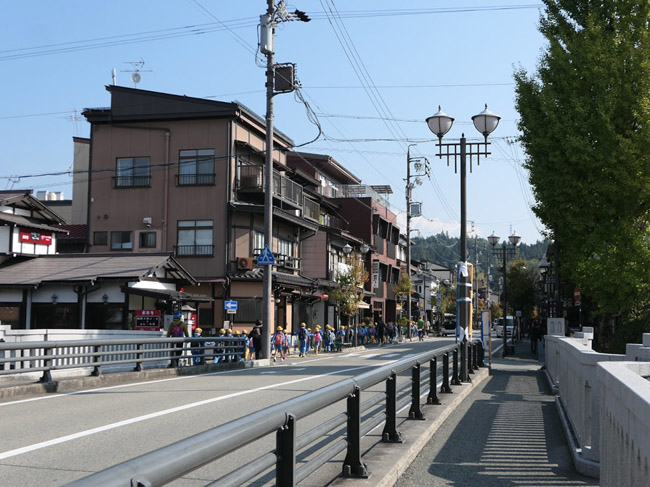 The street in front of our hotel where we walked to the old town.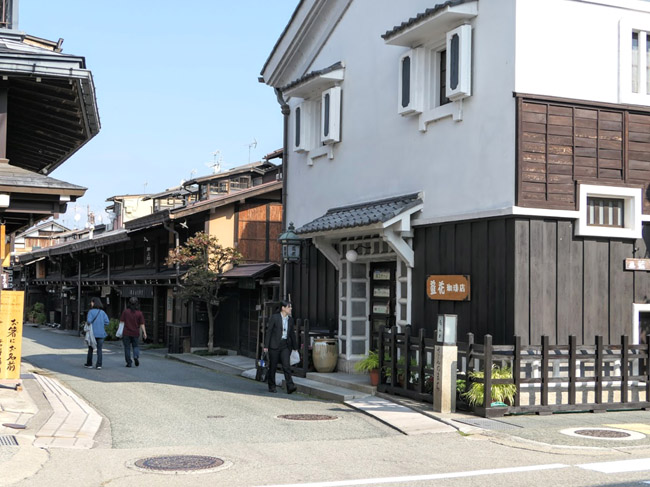 One of the old town streets.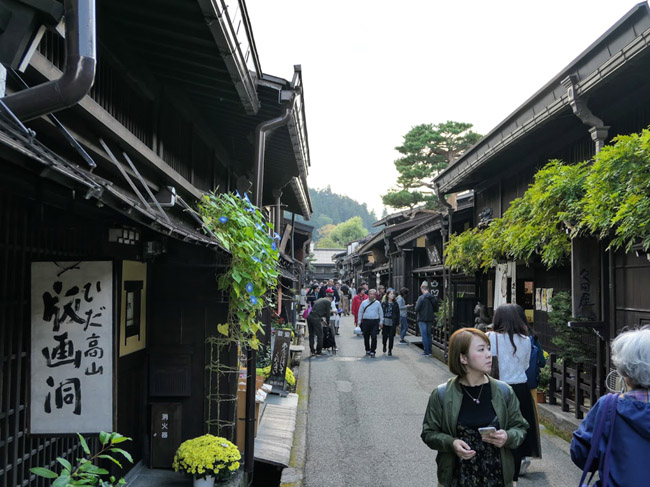 Well-preserved street of shops dating back from the Edo period.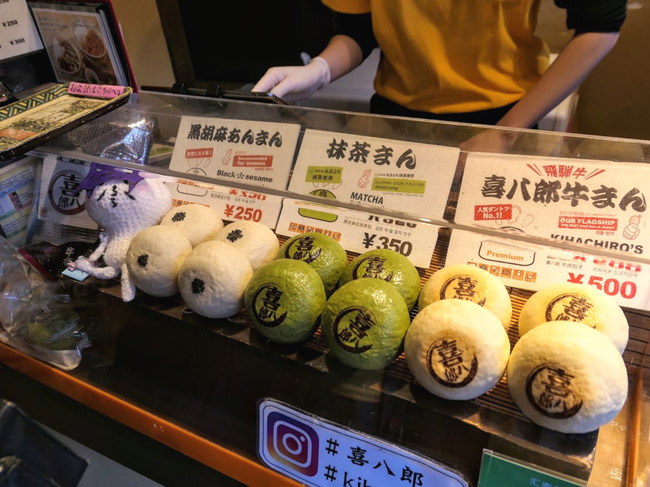 Hida beef meat bun at 500 Yen each.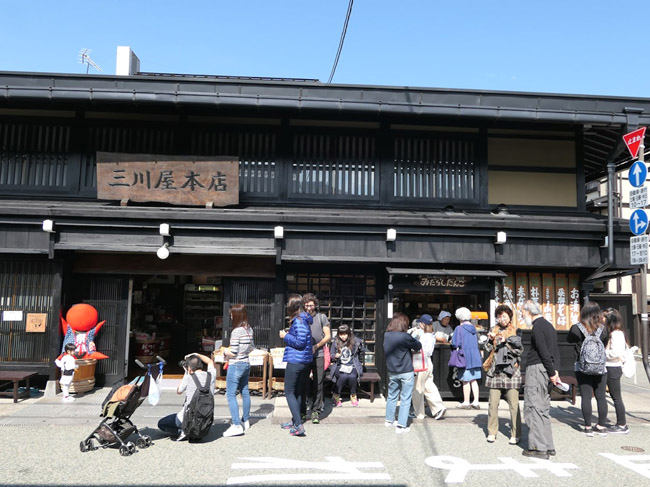 A shop selling dango (団子), grilled sweet-rice flour balls in a syrup.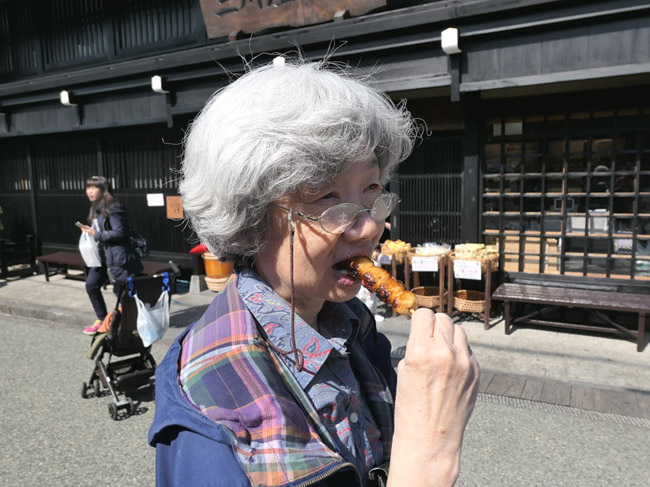 The outside of the odango (お団子) was soy sauce, the inside of the sweet-rice flour balls had no flavor at all.
Needless to say, it was not a hit with us.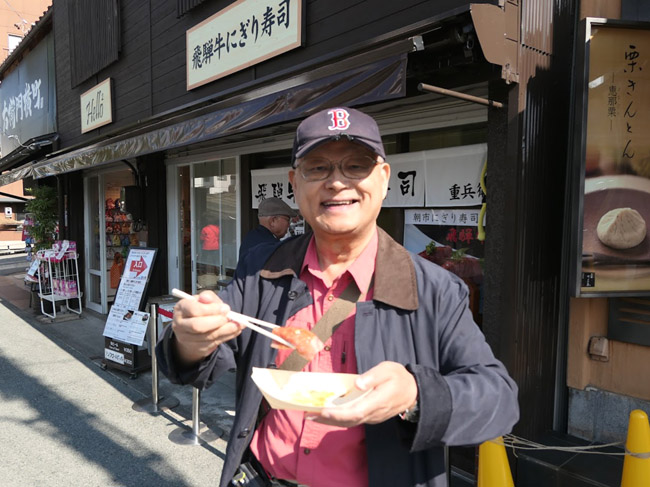 Vincent bought a pair of Hida beef sushi.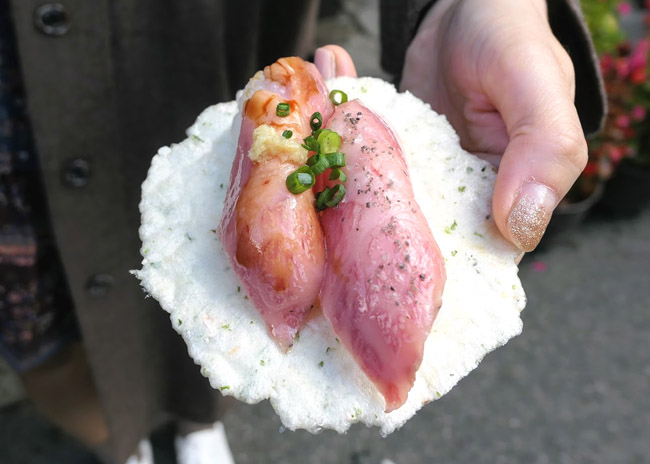 He said it tasted like eating rare beef with rice.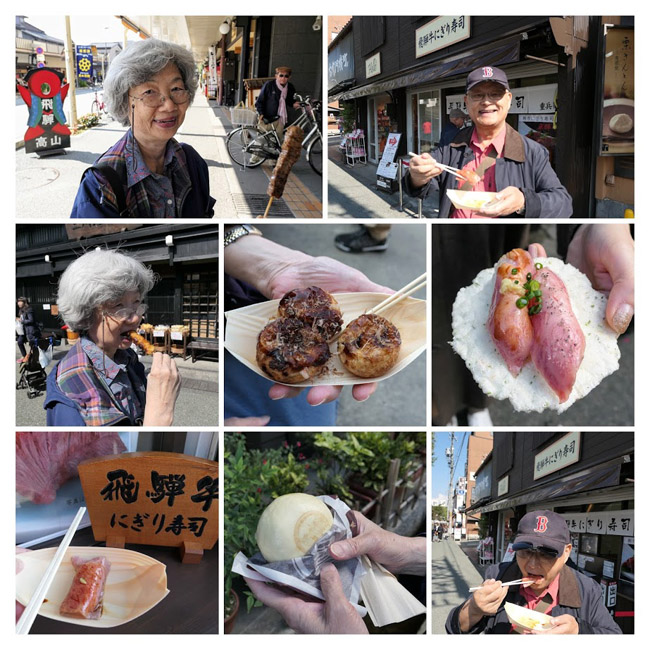 A collage of pictures taking in the old town.
Top row, left, is a kushiyaki (

串燒)

of Hida beef.
It was too fatty to our taste, another instance an online recommendation did not work for us.
Middle row, center, is Takoyaki 章魚燒, very gooey inside and tasted like under-cooked.
We did not like it 5 years ago in Osaka, and still did not like it this time.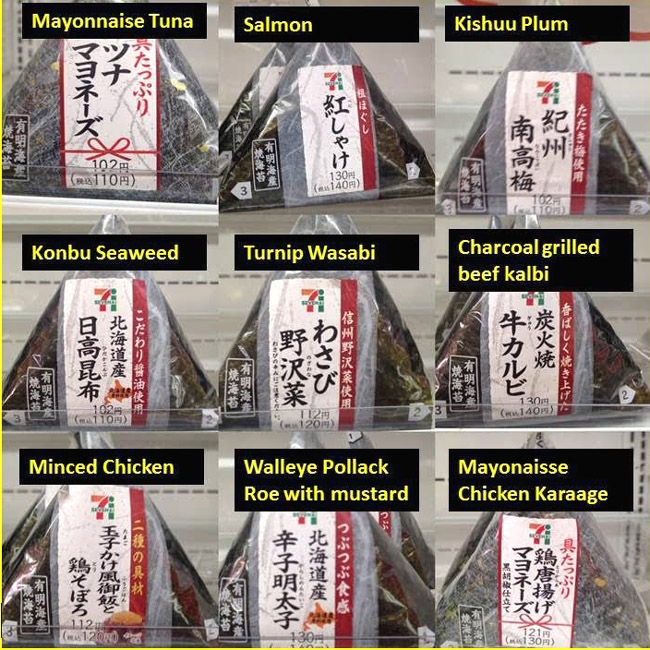 Vincent also loved the onigiri snacks available in a 7-Eleven near our hotel.
He liked the one with salmon the best.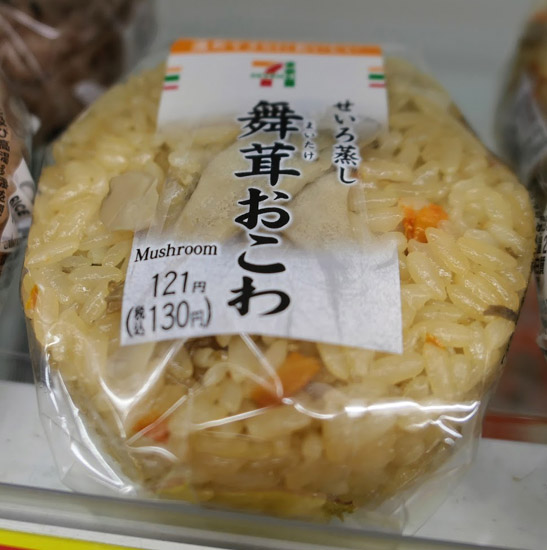 Vincent also liked this one.
He said it tasted like sticky rice, 油飯.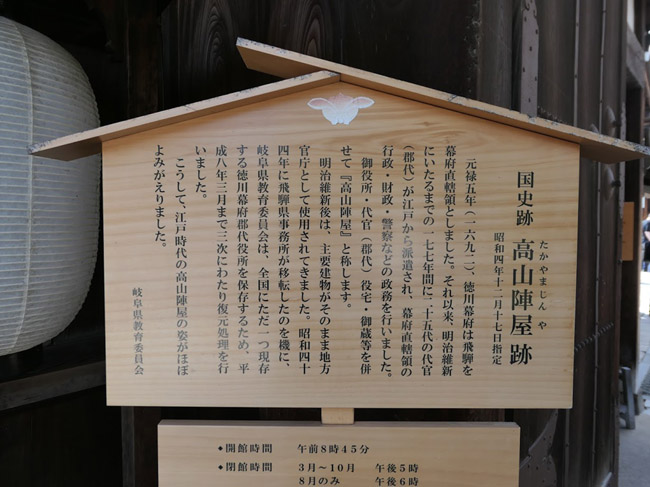 Takayama Jinya (高山陣屋), the local government office complex.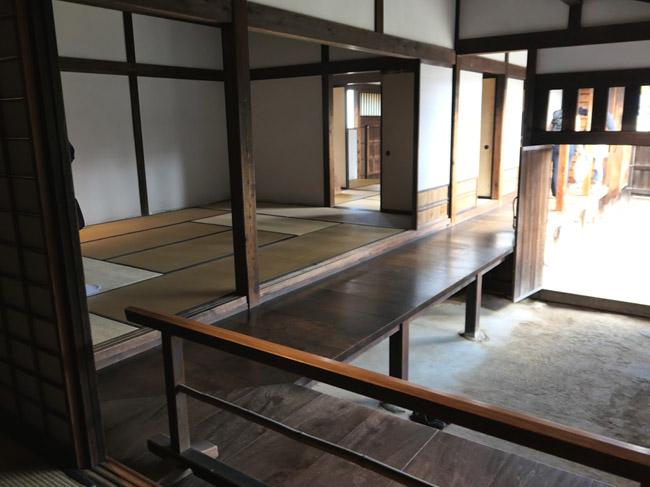 It was a very big complex serving many purposes.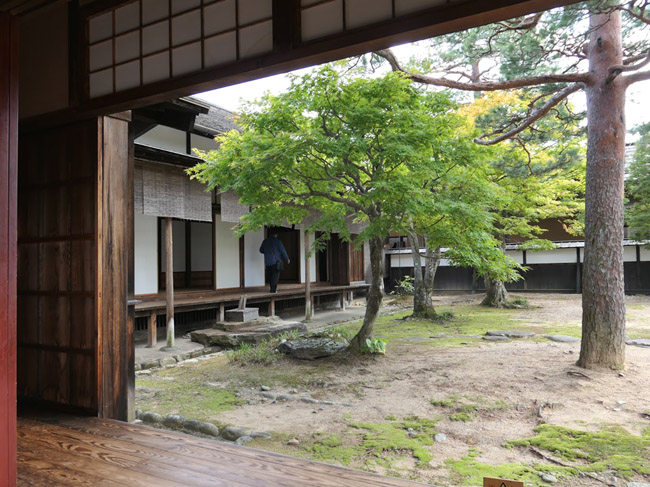 This was the residential area.
It reminded us of samurai movie set, where a samurai had to fight with sword
and backing out at the same time (且戰且走) to escape.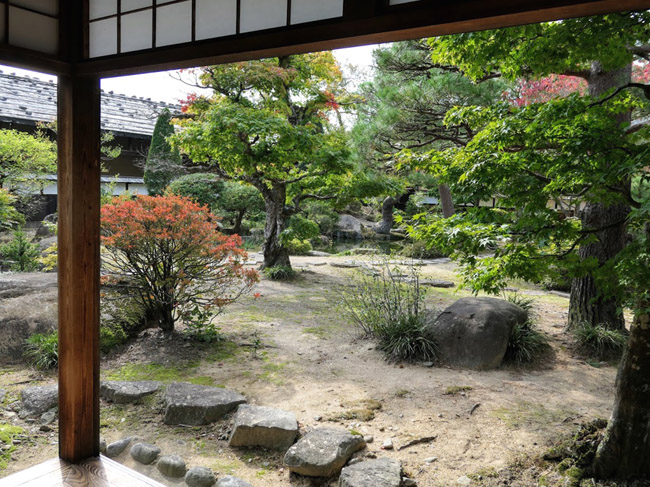 Gardens in the residential area.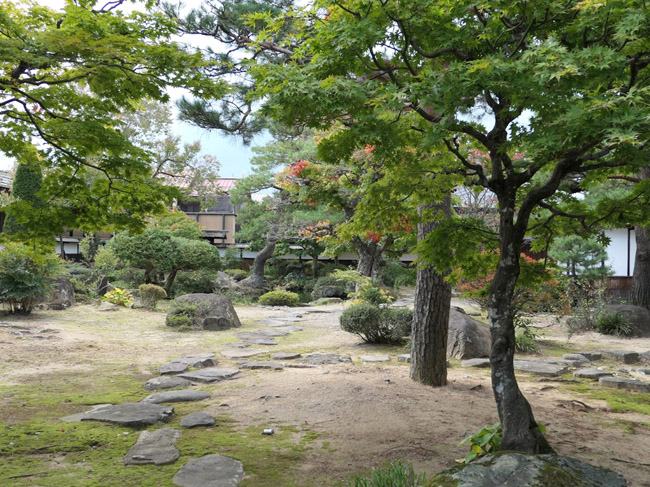 Another view of the garden.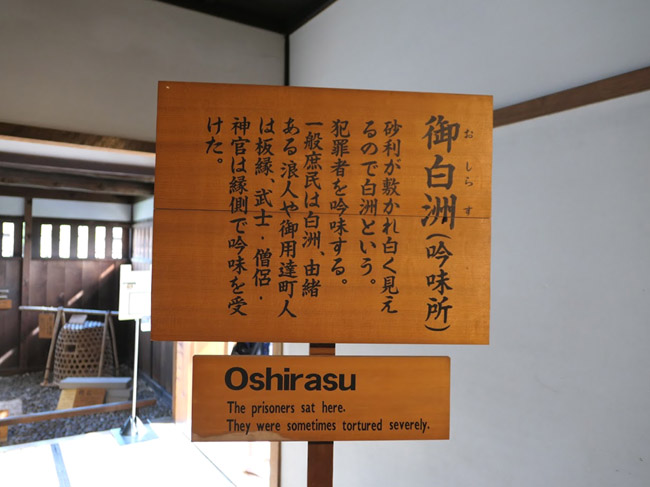 Prisoners' tortured area.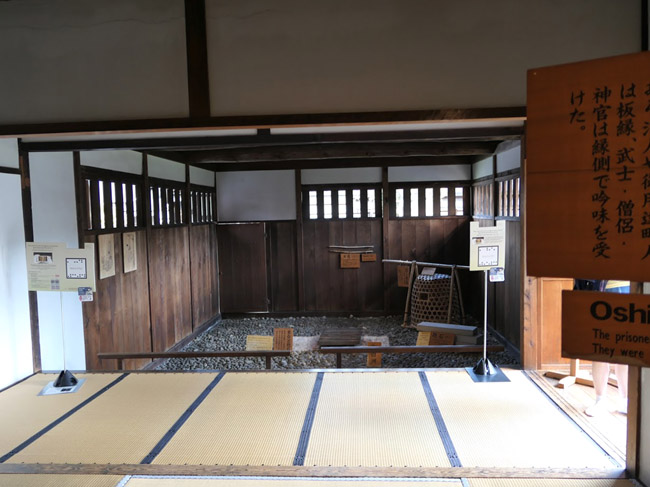 Prisoners' tortured area.