Trip Summary: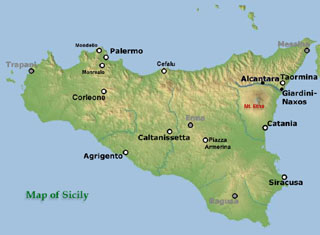 Vincent, Mei-Ching, sister Susan and Brother-in-law Ken, had a great time with our trip to the Greek Islands last June that we decided to go to the Mediterranean region again this year. We chose Sicily for several reasons - scenery, history, food, and mild weather. On top of that, one of our in-laws, Tony, is from Messina, Sicily, so our little granddaughter Angelina is one-quarter Sicilian. It would be nice to experience the island's multi-layered culture and cuisine.
OAT (Overseas Travel Adventure) does not operate tours to Sicily but its sister company GCT (Grand Circle Travel) does, so we signed up for a 2-week tour to Sicily with GCT from 5/15 to 5/28. We chose the month of May to avoid the steaming heat we experienced last June in Greece.
GCT's Sicily tour is an "extended stay". Instead of moving from hotel to hotel every couple days, we stayed 6 nights in Taormina and then moved town to stay 6 nights in Palermo. We made day trips from these two bases. The plus side is that you don't have to pack and unpack every so often, and you get to know a city very well after spending so many nights in that city. The down side is that some of the day trips required 2 hours' bus ride each way, therefore a round trip was 4 hours on transportation alone, more than twice the time we spent visiting an archeological site.

Many of the day trips on this tour are "optional" - meaning you pay extra if you want to go. We joined a couple of these optional tours when the sites are important and the availability of a local guide could enhance our experiences (for example, Siracusa, Agrigento). The non-archeological day trips that are easy enough to do, we did on our own (Catania, Cefalů). Here is our trip preparation document for Sicily, including the URL to look up bus schedules and train schedules in Sicily: http://www.tzengs.com/Sicily2009/Italy-Sicily_GCTItinerary.doc.
Food wise, we had many highlights. All kinds of grilled vegetable appetizers(antipasto)! Arancini (fried rice balls with meat/ragu or ham/cheese or spinach/cheese fillings), Anguria granita (watermelon Italian-ice), Mandorla ice cream (almond gelato), almond cookies, fried sardine, mussels, grilled sepia, pasta, seafood risotto, pizza, local wines and drinks, etc. etc. etc. ....., all very unique and delicious.
Transportation:
Our tour started in Taormina and ended in Palermo.
We flew Alitalia from Boston to Rome, then from Rome to Catania, on the east coast of Sicily.
We flew home from Palermo to Rome, then Rome to Boston.
Guide Books:
Lonely Planet Sicily.
Supplementary material : Frommer's Sicily; Eyewitness Travel Guide's Sicily.
---
Itinerary with links to picture pages:

Day 1 - Arrival at Taormina photo

(5/16/2009, Saturday):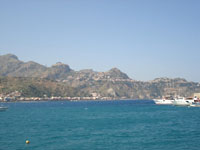 Austin drove us to Logan airport yesterday. While getting out of Austin's car, Vincent realized he had forgotten to bring his camera! It was left on the dining room table at home. What a crisis in the making, but wait, Austin happened to have a spare old Sony DSC W50 in his car, so we borrowed his old Sony. All the photos and movie clips posted here were taken with this Sony W50, except for a few photos which came from brother-in-law Ken's camera.
Alitalia flight 615 left Boston 2 hours late, so we arrived in Rome too late for our original 10 am connecting flight to Catania. We took the next connection and arrived at Catania airport at 2:15 pm. A GCT representative collected all 8 tour members on the same flight. We rode a van for the one-hour ride to Taormina.
It was raining. Luckily, this was the only rainy day we encountered during our 2-week stay on the island.
Taormina sits on the terrace of Mounte Tauro, with the Ionian Sea in its east and south-east, and Mt Etna in its west. Taormina is the number one resort town in Sicily. Many Europeans vacation here. Our home for the next 6 nights is Hotel Ariston in Taormina. The location is very convenient; its back entrance is opposite the bus terminal in Taormina. From the hotel's front entrance it is a 400 meter walk along the edges of Villa Comunale (public garden) to the town center on Corso Umberto I (pronounced as Corso Umberto Primo. Maurizio told us "Corso" is always named after a king.)
There were 26 members on this tour. Two of them had been visiting other parts of Europe and would not arrive until very late, so our program director Maurizio switched the welcome dinner to the following night. Tonight we were on our own. Ariston Hotel offered our members a great deal on its dinner buffet. Since it was raining outside, we took a dinner buffet at the hotel's restaurant. Its wide selection of grilled vegetables alone is worth the 10 Euro price.
Day 2 - Taormina photo (5/17/2009, Sunday):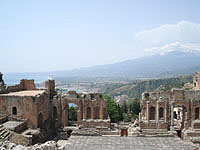 A local guide took us for a half-day walking tour of Taormina. We visited the public garden, the Greek Theater, as well as walked through the town's lovely streets and landmarks. Many pastry shops displayed mouth-watering goodies.
Taormina's Greek Theater is the 2nd largest Greek theater in Sicily. Siracusa's Greek Theater is larger, which we'd visit on Day 4.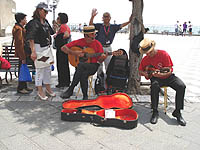 Taormina's prettiest square is Piazza IX Aprile (April 9th Square). Why April 9th? Because it was believed that on April 9th 1860 Giuseppe Garibaldi (a key military figure in the unification of Italy) arrived in Sicily. During the six days we were in Taormina, we came to this square almost every evening, either to have dinner or to take a walk after dinner.

In this Square, we saw two street musicians singing Speak Softly Love, theme song from the Godfather movies by Italian composer Nino Rota. How befitting to hear Speak Softly Love sung in Italian and in Sicily! Vincent took a movie clip of these two street singers singing in Piazza IX Aprile. (And here is a Youtube clip of Andy Williams singing the theme song with English lyrics.)

In summer months (June, July, August) when cruise ships come calling, each ship will dump more than one thousand tourists onto the streets of Taormina. Imagine the town packed and restaurants full during this time.

Day 3 - Catania photo

(5/18/2009, Monday):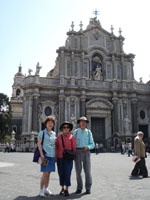 Catania [ca-TA-nia] is Sicily's second largest city (Palermo is the largest). Mt. Etna's eruption in 1669 covered most of Catania in boiling lava, destroying the city and changed its landscape.

The airport nearest Taormina is in Catania. Many tourists arrived at Catania airport and went directly to Taormina, by-passing Catania all together. The reasons we visited Catania were because we had many days in Taormina, and were only 70-minute away by bus. GCT offered an optional tour to Catania for $70, but it was easy enough that we took public bus and toured Catania ourselves. (Bus schedules are available at http://www.interbus.it/interbushtm/ Select a FROM city, a TO city, time of the day, day of the week, and submit to see results. Or read our preparation document for more details.)

Since many of the buildings are made from lava stones, the streets of Catania look dark and buildings look dark, not a cheerful combination of colors. We visited the Duomo, toured the famous Pescheria (fish market). Vincent took this movie clip of seafood vendors in action. There seemed to be an abundance of sword fish ("Spada" in Italian) because we saw sword fish in many fish stalls and saw spada listed on many menus. We had lunch at a seafood restaurant called Trattoria La Paglia right in the Pescheria and recommended by locals. Later we found out this trattoria was also recommended by Lonely Planet's Sicily guide.

Taormina's Via Luigi Pirandello is named after the Sicilian 1934 Nobel laureate in Literature. This road is a major automobile road in and out of Taormina. Every day when we leave Taormina on a bus or come back to Taormina on a bus, we always drive along this winding and scenic road with several hair-pin turns. Ascending if we were coming back to Taormina, descending if we were leaving Taormina. Here is a movie clip of our bus driving along Via Luigi Pirandello on the way back to Taormina.

This evening we had three restaurants in Taormina to choose from for the first of our two dine-around dinners. Maurizio posted menus from each of the three candidate restaurants in our handbook, but being Monday, one of the restaurant was closed, a second restaurant was busy with a tour group, so the only remaining choice was the 3rd restaurant, IL Ciclope on Corso Umberto I. The whole group walked to IL Ciclope together led by Maurizio, we crowded into their indoor dining room (other patrons dine alfresco at outdoor tables). Every person could choose one appetizer from 5 choices, and one entree from 4 choices off a customized menu. Dessert, wine, and mineral water were also supplied. Maybe all 26 of us descended at the same time overwhelmed the kitchen. This meal was not as memorable as the second dine-around we'd have the following day.


Day 4 - Siracusa photo (5/19/2009, Tuesday):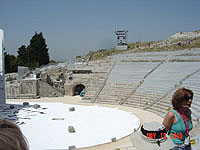 Siracusa was founded by Corinth (in Peloponnese, Greece) in about 735 B.C. At that time many city-states existed in Greece. Corinth was at war with Sparta in the southern Peloponnese and wanted to establish a safe place where they might evacuate people. At its heyday, Siracusa had a population of 300,000, ruled all Sicily, and rivaled Athens in power and prestige.
We joined the optional tour to Siracusa. During the two-hour bus ride to Siracusa, Maurizio told us anecdotes of everyday life in Sicily, which brought us a step closer to understanding today's Sicilian life.
At Siracusa we met our amazing local guide, Rosa. Rosa emigrated from Sicily to Farmington, Connecticut with her family when she was nine years old. After graduating from high school, she moved back to Sicily, went to college and settled near Siracusa. At 44 years of age, she speaks rapid American English and is full of energy. While showing us the 3rd BC Greek Theater in Siracusa (the largest Greek theater in Sicily), she educated us on the following fundamentals:
1) The word "arena" in Latin means "sand". Why is the center of a theater called "arena"? Because the Romans used sand at the center of a theater to absorb blood from gladiator fights.
2) Greek theaters are typically semi-circular, and always have seats facing the sea (except for two, but no one interrupted her to ask which two theaters are the exceptions) to take advantage of blowing sea breezes carrying acoustic from the stage to the audiences on seats carved out along mountain slopes.
3) Roman theaters are called amphitheater, amphi- means both sides. Amphitheater are full-circle to give spectators the best "visual".
Therefore, it is erroneous to say "Greek amphitheater", because a Greek theater is not a full-circle. Therefore, it is not an amphitheater.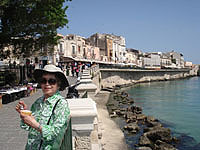 After visiting the archeological site, we did not have much time left. We got on our bus to go to the island of Ortygia where Rosa met us again (she drove her own car). We walked past a few streets quickly to visit the Duomo, after that it was time to say good-bye to Rosa.

Maurizio walked us to a seaside restaurant in Ortygia for a quick sit-down lunch. But a sit-down lunch is never "quick", it still lastes more than one hour. After lunch, it was time to board the bus to go back to Taormina. Ortygia is the spiritual and physical heart of Siracusa, and is a living museum. It was in Ortygia that the famous geometrician Archimedes ran naked through the streets, crying 'Eureka'. Our time in Ortygia was much too short. We did not have time to wander its streets at all.

This evening in Taormina, we went to La Piazzetta Restaurant for our second dine-around dinner. La Piazzetta is recommended by Lonely Planet's Sicily, so we chose to dine there. We enjoyed this dinner very much.

Day 5 - Mt. Etna, Castelmola (5/20/2009, Wednesday):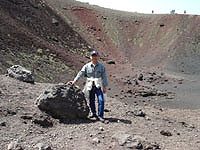 Vincent joined with 13 other members for an optional tour to Mt. Etna. This GCT tour only went to 7000 feet above the sea level where buses' parking is. To go higher, one would need to ride a 15-minute cable car, get on an all-terrain vehicle, and then do some more hiking (add 2.5 hours to the trip). However, GCT did not plan time to do all of that. Instead, GCT took everybody to a very tranquil winery for a fabulous lunch.
On the way to Mt. Etna, Maurizio took the group to visit a local family-run honey farm. Visitors may sample many interesting flavors of honey collected from a variety of flowers grown in the fertile volcano soil on the mountain slope. Maurizio also taught us well about the vast difference between 4 levels of vegetation and plantation starting from the volcano base to 7000 ft in altitude.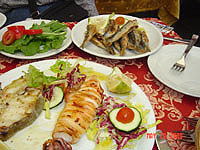 The rest of the members not interested in seeing the moonscape chose to visit Castelmola on their own. Castelmola is a medieval village perched high on a rock, a 15-minute bus ride from Taormina through many hair-pin turns. Mei-Ching, Susan, and Ken went to Castelmola. From the ruins of its castle we enjoyed one of the best panoramic views in the world.

Back in Taormina, Mei-Ching, Susan, and Ken went to a restaurant called La Grotta Azzurra for lunch. La Grotta Azzurra displayed seafood packed in ice in a glass case. We saw sardines that looked fresh, so we inquired if they could make fried sardines. Yes, (even though fried sardines was not on their menu). How about Calamari? Yes, fried or grilled? We also ordered a grilled calamari. (Always understand the price before you order anything that is not on the menu.) The fried sardine was so crispy and tasty that we rated it one of the best seafood we had in Sicily.

Day 6 - Jewel store and home hosted lunch (5/21/2009, Thursday):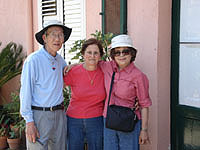 The main event today is to visit a local family in their home to share a traditional home-cooked lunch. Such a visit allows us a glimpse into a local family's everyday life and is always fun.
On the way to the host's home we stopped at GI. Val jewelry factory in Giarre to see (or purchase) jewellery. The jewelry factory treated our group to an awesome spread of sweets and cocktails (see today's photo link). Some jewellery on display was lovely and affordable, so several members made purchases.
Our lunch-host's home is not far from Gole dell'Alcantara (Alcantara Gorge), so at the request of team member Donna, Maurizio and the driver, Salvo, made a stop near the gorge's entrance for us to take a peek before arriving at our host's village. Our group of 26 were divided into two smaller groups to go to two different family homes for lunch. We enjoyed our lunch and conversations. The lunch lasted till 3 pm.
Today was the half-way point of our 2-week vacation, and was the last day we'd be in Taormina. Tomorrow we move town to Palermo by way of Piazza Armerina to visit Villa Casale. So in the evening, the four of us strolled to the lovely April 9th square. Vincent and Ken each had an arancini, and also took photos of night scenes of Taormina. We'd leave Taormina with fond memories.
Day 7 - Villa Casale (5/22/2009, Friday):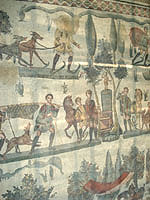 Villa Casale [ca-ZA-le] – http://en.wikipedia.org/wiki/Villa_Romana_del_Casale is a UNESCO site located 5km to the south of the town of Piazza Armerina in central Sicily. Villa Casale was constructed in the 4th century AD, with major excavation in 1950 ~ 1960, and is probably the most important Roman site in Sicily. Mosaics are what attracts tourists here. The "Corridor with Hunting Scenes", and "Hall of the Female Gymnasts in Bikini" have been shown on TV several times.

After Villa Casale, we had lunch at an agriturismo farmhouse in the countryside near the town of Caltanissetta. (Calta-... is an Arabic word meaning "castle of …", and Caltanissetta means "Castle of beautiful women".) We enjoyed the home-cooked lunch prepared by the owner's family.

We continued on and arrived at Palermo in the late afternoon. Checked into our hotel, the modern 4-star "Grand Hotel Garibaldi", a GHS hotel just opened in December 2008. The hotel is on Via Emerico Amari, facing the south side of Teatro Politeama, a very nice and safe area for tourists in the evening. GCT tours used to stay at a hotel in the "old" city near Quattro Canti (Four Corners), but due to safety considerations they have since changed to a hotel in the area of the "modern" city. Teatro Politeama is Palermo's #2 theater. Here is a movie clip of Teatro Politeama and the surrounding area. Our hotel is the 7-story building shown in the movie immediately after the theater.

From reading guide books and from our tour director's advice, we understand it is not safe to venture south of Teatro Massimo (or in the general area of the "old city") in the evening.

Maurizio took us for an orientation walk in the neighborhood of the hotel, our home for the next 6 nights. He walked us to a supermarket, pointed out a few eateries and a McDonald's along the way. This is his town. Maurizio lives in Palermo with his wife and a young son not far from our hotel.

Having just arrived in town thirsty but not hungry, we had a quick bite at the McDonald's in Politeama square, then set out on a walk to Piazza Giuseppe Verdi to take a look at Teatro Massimo. We can not wait till tomorrow.

Day 8 - Palermo and Monreale tour (6/23/2009, Saturday):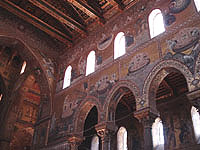 Palermo is Sicily's largest city and its capital. With wide boulevards, chaotic traffic, street litter, the first impression reminded us of New York City.
Palermo's culture is multi-layered and fused from Byzantine, Arab, Norman, Spaniard, to name a few of its invaders. We went on a half-day city tour with a local guide, Laura Lanza. We stopped at the Cathedral of Palermo to have a quick look. This Cathedral has been rebuilt many times over the centuries. It was originally an ancient basilica, transformed into a mosque by the Arabs, then rebuilt in the Norman style in 1184. It is large but the interior, although impressive, did not wow us.
We then continued driving 6 miles southwest of Palermo to a town called Monreale [mon-re-A-le]. This hilltop town has one of the greatest cathedrals in all of Italy - the Monreale Cathedral, which is a pinnacle of the achievement of Arab-Norman art. Monreale Cathedral was launched in 1174 by Norman King William II. The interior is completely covered with gold mosaics representing episodes from the Old Testament. Laura pointed out each mosaic panel and explained the associated bible story of the episode to us while in the cathedral.
Laura also told us there are two weddings every day in Monreale Cathedral (one in the morning, one in the afternoon), and quipped that it is easier to find a man than to find a date (to wed in Monreale Cathedral). After our tour at Monreale, we stayed in the cathedral to wait and see a wedding ceremony at 11am. Vincent took this movie clip of the wedding in Monreale Cathedral that we were spectators of.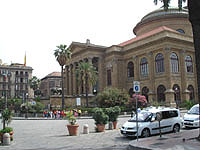 After visiting Monreale, our bus took us back to Palermo to Teatro Massimo. Since there were no opera performances during the 6 nights we were in town, Maurizio made a special arrangement for our group to tour inside the opera house. The Italian word Massimo means maximum, utmost, the best, the greatest; therefore, every city may have a theater of its own named Teatro Massimo. But Palermo's Teatro Massimo is the 3rd largest 19th-century opera house in Europe, just behind Paris and Vienna. (Note the two qualifiers - "19th century" and "in Europe".) Godfather Part III shot many scenes inside and outside this opera house. It was on the front steps of this theater that Michael Corleone and his daughter were shot in the movie.
Day 9 - Cefalů photo (5/24/2009, Sunday):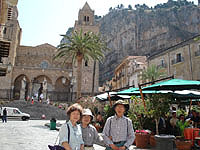 Cefalů [che-fa-LU] is a fishing village with beautiful squares, unspoiled medieval streets, historical sights in the old town, fantastic sandy beaches running almost the entire length of the town, and only one-hour away from Palermo by train. Cefalů has been a popular movie location, Cinema Paradiso shot many street scenes in Cefalů.
Since it was easy enough to tour Cefalů ourselves, there were only 4 people signed up for Grand Circle's $110 optional tour to Cefalů. And because an optional tour required a minimum number of participants, 4 was not enough to make an optional tour possible. Therefore, Maurizio posted train schedules on a bulletin board in the hotel. We have also printed out train schedules before leaving home, so folks who were interested in going to Cefalů formed their own small teams and went to Cefalů in groups of two, four, or six.
We spent time in Cefalů's old town, walked its quaint streets, saw Cefalů's Cathedral (a Norman art of mosaics in the interior), but the mosaics in this cathedral is very humble compared to the splendor of the Monreale Cathedral.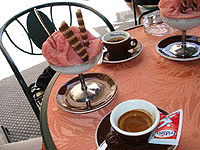 Yesterday in Palermo, Laura Lanza told us the Italian word for watermelon is Anguria, and said we should try watermelon ice cream before leaving Sicily. In a pastercceria (usually a bakery and ice cream combination shop) in front of Cefalů's Cathedral we saw Anguria granita (watermelon ice), so we ordered two large Anguria granita and two coffee, sitting in their outdoor seats. When the bill arrived, we found out each of the Anguria granita was 8 Euro sitting down! (5 Euro if you buy Anguria granita in a paper cup and not sitting on their outdoor seats.)

For lunch we went to a seafood restaurant called La Vecchia Marina (recommended by Lonely Planet). We ordered grilled sardines, fried sardines, and grilled sepia. (None of these were on their menu, we had to inquire if the kitchen would make these and how much each cost.) Both the sardines and sepia were excellent. We ordered sepia only because the restaurant told us they did not have calamari but had sepia which tastes just like calamari. The grilled sepia was very tender, much easier to chew than grilled calamari.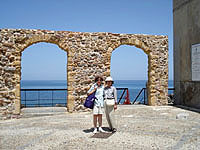 Mei-Ching had seen a picture of a lovely stone gate with a deep blue ocean in its backdrop on Rick Steves' Sicily tour web page. Based on the places Rick's tour visited, she deduced that the stone gate must be in Cefalů. After studying a street-by-street map of Cefalů on Eyewitness Travel's Sicily, she deduced the stone gate might be Cefalů's Porta Marina at the western tip of the seashore in the old town. Indeed it was. The picture of Mei-Ching and Susan in front of Porta Marine is posted to the left; the gate is not far from the restaurant where we had our grilled sepia lunch.

It was also in Cefalů that we learned about a Sicilian delight, gelato and brioche. It comes with two scoops of ice cream sandwiched in a sweet bun. This summer's favorite is sold for 2 Euros everywhere, and you get to choose two flavors of ice cream to put in your brioche.

Day 10 - Corleone Photo (5/25/2009, Monday):

Remember "The Godfather" movies? The small village of Corleone became famous in the early 1970's after Mario Puzo published his classic Gadfather and Francis Coppola made it into movies.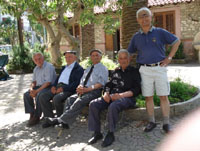 The visit to Corleone includes an authentic Sicilian lunch at a countryside restaurant. This is an included tour not an optional tour, which means Grand Circle really wants everyone to go.

Corleone is 60km south of Palermo. On the bus ride to Corleone, we saw beautiful countryside scenery - trees, hills, mountains, and fields with all shades of green dotted with colorful blooming trees and floral plants.

Corleone has a population of 11,000 people and has 101 churches. That is a very unusually high ratio of church/population, averaging about 1 church per 100 people.

Gino, our local guide, is a Sicilian who emigrated to Great Britain when he was a young boy but moved back to Sicily when an adult. (Therefore, Gino speaks British English.) He is now married with a young daughter. Gino took us inside the anti-mafia building and gave us a frank talk about the history of the Mafia and Ithe talian government's anti-mafia efforts. Even today, there is still a Mafia boss in Corleone. Although he is in jail, he still wields great power over events outside of the jail.

A team member asked Gino if any part of the Godfather movies was shot in Corleone. He replied no. Back in the early 1970's, shooting a movie in Corleone, one needed not only a permit from the town but also many locals to act as extras, and apparently, it was impossible to obtain both in Corleone. According to Lonely Planet Sicily guide, the village scenes where Michael Corleone married Apollonia were shot in a tiny village called Savoca on the eastern coast, a little distance north of Taormina.

Gino also said that Al Pacino's parents were from a village not far from Corleone, and that when Al Pacino visited Corleone he refused to come into the anti-mafia building, claiming he had a tight schedule and therefore no time to visit. The anti-mafia building is the only sanctioned place in town to learn/discuss about the Mafia. Outside this building, you don't talk about the Mafia because the friend you talk to may have a relative who is a Mafia member. Gino also told us the story of how this anti-mafia building was funded - by then UN Secretary General Kofi Annan. An airplane landing strip was built in town in preparation for Annan's visit at the grand-opening, but Annan canceled his visit at the last minute due to an unexpected world event breaking out that demanded his attention (I cannot recall what Gino said the event was). The airplane landing strip was not used even once.


Day 11 - Agrigento (5/26/2009, Tuesday):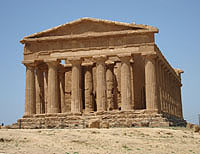 Every tour comes to Agrigento to see the Valley of the Temples, a UNESCO site. The five Greek Doric temples actually stand along a ridge, not a valley, designed to be visible from all round and a beacon for homecoming seamen.

21 members of our group signed up for the $130 optional tour to Agrigento, including a lunch. One-way bus ride from Palermo to Agrigento is two hours. A local guide, Giovanni, met us at the Valley of the Temples archeological site. She educated us on the following:

1) A temple is built to be a house for a god. Therefore, a temple needs to have rooms built inside the temple, usually a front room for worshipers, a middle room to house a statue of the god you built the temple for, and the back room as a treasury to store valuable offerings from worshipers. The materials used to build these temples in Agrigento are limestone found locally, not marble.

2) Since a god will have many houses built for him/her, how do you make sure your god will come to stay in the house you built for him/her? That's when you make offerings, hoping god will come to stay.

3) There are probably more than 70 Greek temples in Agrigento not yet excavated. With so many temples within one city, it shows Agrigento was once a very wealthy and powerful city-state.

The best preserved temple along this ridge is the Temple of Concord. Giovanni told us there are only two other Doric temples as well preserved as the Temple of Concord. One of them is the Parthenon of Athens, the other is in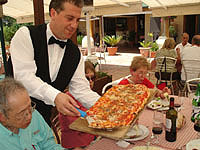 Paestum. We think the Parthenon of Athens is prettier because it is made from glistening white marble, while the Temple of Concord is made from limestone and is in tan.
After visiting the Valley of the Temples, the group went to a restaurant in a villa called Villa Kephos next to the archeological site to enjoy a bountiful lunch in an outdoor setting. It was here we had the best pizza we have ever eaten. Click on today's photo link for details. There was also a musical band singing to entertain lunch guests. Vincent took this movie clip of the band's singing.

Day 12 - Palermo (5/27/2009, Wednesday):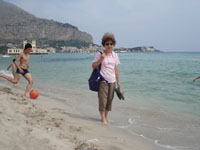 Today was our last day in Sicily. Other than a farewell dinner in the evening, today was a free day.
A few group members expressed a desire to visit the medieval village of Erice on the western coast. Erice is time-consuming to get to without your own wheels, so Maurizio arranged a private van with an English-speaking driver to run an excursion to Erice for those folks.
Susan and Ken wanted to spend this morning shopping for souvenirs. So Vincent and Mei-Ching took city bus No.806 to Mondello [MON-de-lo], the sandy beach north of Palermo (20-minute by bus). A city bus ticket costs 1.2 Euro and is good for 2 hours after validation.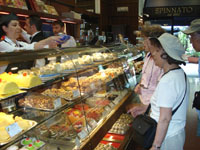 After Mondello, we came back to Palermo to meet with Ken and Susan to have lunch together. They had also completed their souvenir shopping .

Spinnato (http://www.spinnato.it) is a popular pastry-ice cream-coffee shop on P. Di Belmonte near Teatro Politeama that we frequent. So, on this last day in Palermo, we went to Spinnato one more time for coffee and their delicious Mandorla ice cream ([MON-dor-la] meaning almond]. We rode some more city buses. Soon it was time to go back to the hotel to pack and get ready for a farewell dinner. Time really flies.


Day 13 - Fly home to Boston (5/28/2009, Thursday):

We were among the 13 members scheduled to leave on a 7:30am flight from Palermo to Rome. So we had a 3:30 am wake-up call, left the hotel on a bus at 4:30am, arrived at Palermo airport at 5am. Our flight from Palermo to Rome was on time, but our Alitalia flight 614 from Rome to Boston was 2 hours late at take-off.

At Rome airport, while on a transit bus getting from gate to tarmac to board Alitalia 614, a man called Vincent by name. He turned out to be Danny Oh, a former colleague from Chomerics who had just concluded a 2-week vacation in Orvieto with his wife. They were on the same flight home to Boston. What a small world.

We had lots of fun. In some ways, this trip is like an extension to our Greece trip from last year. We think Sicilian cuisine is a notch up over Greek in sophistication. GCT and Maurizio have been great, all the local guides GCT contracted throughout this tour were all outstanding.
---
What's next for us?
This Sicily tour is our third trip to Italy. We enjoyed all three trips and may go back to Italy again. Next time we hope to have a long stay in the beautiful Florence and Tuscany region.

Thanks for reading this travelogue, Arrivederci!
Special Note: This travelogue was featured in Harriett's Corner of Grand Circle Travel site. 7/28/09