Trip Summary: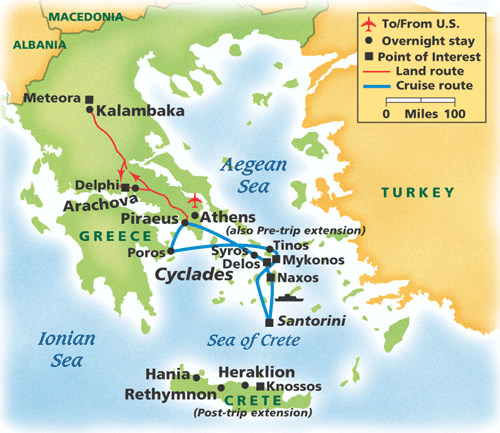 Vincent, Mei-Ching, along with sister Susan and Brother-in-law Ken, joined a Classic Greece and Greek Islands tour from OAT (Overseas Adventure Travel) for a 2-week vacation in Greece from 6/16 to 6/30. Our itinerary consists of one week on mainland sites and another week of cruising the Greek islands on a privately chartered small ship.
The three small ships chartered by OAT for this itinerary are the traditional Galileo, the 3-masted Panorama, and the sleek Harmony G. Each ship has cabins to accommodate up to 50 paying guests. Each of the small ships has a cruising speed of 9 -11 knots. We chose the 6/16 departure in order to cruise on the traditional Galileo.
OAT tours are small groups of no more than 24 members. While on Galileo, two separate OAT teams shared the ship's space, each has its own team leader. Our team of 22 was led by a young Greek man named Menelaos. The other team has 19 members and was led by a young woman named Katia. Both team leaders were very good.

Due to strong winds in the Cycladic Islands while we were cruising (6/23 ~ 6/28), we had to alter plans and make use of public ferries in order to visit the Cycladic islands. To read the details about that account, as well as introductory links to historical sites, please refer to our trip preparation document at http://www.tzengs.com/greece2008/Greece_notes.PDF.
Transportation:
We flew Delta from Boston to JFK, then flew from JFK direct to Athens.
For the first week on the mainland, our team of 22 traveled on a 50-seater bus. Plenty of space to move around.
For the 2nd week, our team and another OAT team of 19 sailed on the Galileo together.
Guide Books:
·         Frommer's "Greek Islands" (very good island guide with ferry guide, and also includes Athens. Easy to read)
·         Lonely Planet Greece (More in depth, but the small fonts and the black and white maps made the book hard on eyesight.)
Online Travel guides:
     1) http://www.greektravel.com/     (American Matt Barrett's popular Greek guide)
     2) http://www.athensguide.com/    (Matt Barrett's Athens survival guide)
     3) http://www.greektravel.com/lesson1/   (How to visit islands on your own, from Matt Barrett)
---
Itinerary with links to picture pages:

Day 1 - Arrival at Athens photo

(6/17/2008, Tuesday):

The four of us arrived at Athens' International airport at 9am. An OAT representative collected us at the airport. After withdrawing Euro at a CitiBank ATM, we boarded a mini bus to go to Holiday Suites, our downtown hotel located near Megaro Mousikis (Music Hall) Metro station, two stops east of Syntagma Sq on the blue line. The hotel is on a shaded side street. Our room on the 5th floor was very spacious and pleasant.

In a way, Athens feels just like Taipei - buildings old and new adjacent to each other; rows of cars parked on both sides of the street; roaring city buses passing by; food vendors at every street corner; small eateries and 7-11 type stores abound.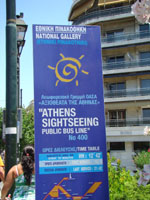 Since team members were arriving throughout the day, there was no team activity until 6:30pm. So, after dropping our bags at the hotel, we went to a corner store to buy ice-cold bottled water, then went out for a day's sightseeing on our own. We took the Athens Sightseeing Public Bus Line (5.0E ticket. Bus No. 400, covering 20 key locations to get a city orientation without walking. We also used the same ticket to ride Tram #4 for 40 minutes to Flisvos, a town with beautiful beaches along the coastline to the south-west of Athens. The 5.0E sightseeing bus ticket is good for 24 hours of Metro and Tram rides. If we had more time, we could have taken Tram #5 for a longer ride along the coastline, but we did not want to miss the team briefing at 6:30pm.
We met all team members at 6:30pm for a cocktail, self-introduction, and then a group dinner at the hotel. After dinner, the four of us went out by Metro to Syntagma Sq for an evening stroll and to have a view of the Acropolis in the night.
Day 2 - Athens City Tour photo (6/18/2008, Wednesday):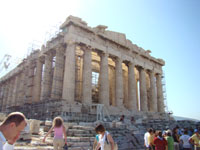 We toured the Acropolis in the morning. It was very hot high up on the rock, and also crowded with many tourists, including several groups from cruise lines. The Parthenon was roped off, and had a giant crane in the middle. No one could walk inside to take a closer look. People lived on the Acropolis as early as 5,000 B.C. When the population reached 250,000, people moved down from the Acropolis to the neighboring area.

After Acropolis, our team walked through Plaka to a jewellery shop on Mitropoleos Street. The jewel shop was air conditioned and provided us with complimentary ice-cold beverages, a very welcoming relief. The jewels on display were very pretty but also very expensive. A few team members purchased Greek-designed necklaces.

With lunch on our own, we walked to O Thanasis : (Mitropoleos 69, just off Monastiraki Square. Metro: Monastiraki.) for a casual lunch of souvlaki. Frank and Betty Jackson from Vancouver also joined us. We ordered and shared Tomato-Cucumber salad (Greek salad without Feta cheese or olive), tzatziki (a white yogurt sauce with cucumber and a lot of garlic with Pita bread, French fry, chicken souvlaki, pork souvlaki, and shish kebab (with mixed lamb and beef). Everybody loved the tender chicken souvlaki and their exceptional tzatziki. The total bill for the 6 of us came to 36 Euro. Thanasis does not serve seafood, therefore no grilled octopus or squid. But all of us enjoyed an inexpensive and hearty meal at Thanasis.

After lunch, we walked along Mitropoleos toward Syntagma Sq (Constitution Sq) to meet our tour bus at 3 pm for a ride back to the hotel. Since the afternoon temperature was about 100F, we decided to go back to the hotel for a shower and chill out in our air-conditioned rooms.

For dinner on our own, we took the Metro to Monastiraki Sq to look for a restaurant with a night view of the floodlit Acropolis. To Kouti (The Box) at 23 Adrianou Street was recommended by a travel discussion group member, but we found it serves just Mediterranean food, no Greek food, and also it has no views to the Acropolis - the upstairs windows were too small for a view to the Acropolis. So we settled at Diodos (Two Roads) at 19 Adrianou Street, two doors down from To Kouti. Diodos has a very pleasant outdoor seating area with un-obstructed views to the Acropolis from the north. Since we were looking toward the Acropolis from the north, the temple high above the rock we saw was the Erechtheion, not the Parthenon, and it was very pretty.

Day 3 - en route to Kalambaka photo

(6/19/2008, Thursday):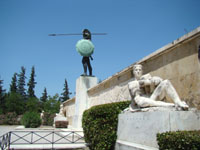 Our team left Athens in the morning on a bus. We headed north to Kalambaka, one of the ancient cities of Thessaly (Central Greece), near the rock towers of Meteora. The journey took about 6.5 hours, with a lunch stop along the way. About half way, our bus passed through a place called Thermopylae (about 20 km south of Lamia). Menelaos pointed out a battle monument and told us the heroic story of King Leonidas I of Sparta and his brave men guarding the narrow coastal passage to block the massive Persian army in 480 BC. This Battle of Thermopylae was made into a movie called "300" in 2006.
We checked into the 4-star Divani Hotel Kalambaka around 3pm. The outside temperature was scorching, so a few immediately went to the hotel's outdoor pool for a swim.
After a team dinner at the hotel, it was free time. The four of us walked down the main street to the town square. There is just one main street, with three squares. No need for a map - that was what the lady at the hotel front desk said. This hotel charges 5 Euro/first hour for internet connection in your room. 3 Euro for each additional hour. No discount for 12 or 24 hours.
Day 4 - Meteora photo (6/20/2008, Friday):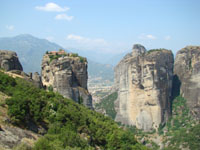 There are only 6 monasteries open to the public, the rest are either not open to the public or are abandoned. Our tour bus took us through many hair-pin turns to visit a monastery named Varlaam, a convent named St. Stefanou (Saint Stephen's), and stopped near Holy Trinity (Agias Triados) for us to take a look at the Holy Trinity from outside, because one of the 007 movies shot locations outside the Holy Trinity. Varlaam and St. Stefanou were chosen for our tours because they are easy to walk to from bus parking.
Back to the town of Kalambaka, our group had a delicious lunch at Restaurant Meteora (Ikonomou 2 , in the Town Hall square). For dinner on our own, we enjoyed the Taverna Panellinion, also located in the Town Hall square, across the street from Restaurant Meteora.
Day 5 - en route to Arachova photo (6/21/2008, Saturday):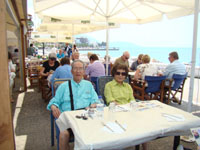 The bus ride from Kalambaka to the mountainous village of Arachova was about 3.5 hours. We stopped at a lovely seaside resort, Itea, for lunch before checking in at the

5-star Santa Marina Arachova. This hotel offers free wireless internet access in the lobby, provided you have your own laptop, which we did. So for the next two days, we enjoyed getting connected - checking email, catching up with Red Sox scores and seeing what the rest of the world was doing.

Arachova village was not as interesting as Delphi village, and did not have as many restaurants to choose from as Delphi village. I wish we could have stayed in Delphi village. Maybe there were not enough modern hotels in Delphi village to accommodate constant tour groups like us? While in Arachova, we had Rooster in Tomato Sauce for two dinners in a row in two different restaurants. Rooster meat was cooked with herbs, tomatoes, potatoes, and vegetables till fork-tender. Yummy.

Day 6 - Delphi photo (6/22/2008, Sunday):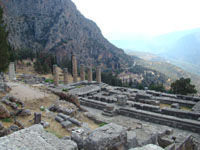 We visited Delphi archeological sites and its museum in the morning. The whole 4th-century BC site was just excavated in 1892 by a French team led by Theophile Homolle of the College de France. The ancient site was buried beneath a village. The whole village was moved to another location so that this archeological site could be excavated.
Personally, Vincent and Mei-Ching felt Delphi was more interesting than Meteora. Meteora is just too far out of the way to get to. But Susan and Ken were more impressed with Meteora, because Meteora is very unique. So there you go, 2 - 2, a tie.
Day 7 - To Piraeus photo (6/23/2008, Monday):
The drive from Arachova down to Piraeus was about 3 hours, we had plenty of time to get to Piraeus by 2pm. We had lunch at a highway stop. It would have been nice if we could break for lunch at one of the restaurants lining the Piraeus harbor but it was not in OAT's plan.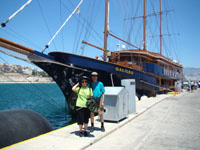 We checked into our cabin on Galileo. Vincent and Mei-Ching were assigned cabin #1, Susan and Ken were in cabin #2. We were scheduled to set sail for the Saronic Island of Poros in the afternoon, but due to strong winds in the Cycladic Islands, our captain decided we should wait and not start sailing today. So Galileo docked at the Zea Marina (Limin Zeas) overnight. After our on-board dinner, OAT had two buses taking us two teams to the picturesque Small Harbor (Mikrolimano) for ice cream. There were many lovely restaurants lining the Mikrolimano waterfront, any one of them would be ideal for dinner, but we had already had dinner on Galileo.
Day 8 - Poros and Aegina photo (6/24/2008, Tuesday):
Galileo set sail around 5:30 am for Poros. When we heard an engine sound and could tell from our window that the ship was moving, we jumped off bed, put on jackets and ran to the open deck to watch Galileo pulling away from Piraeus, and to wait for sunrise. (See our photo link page for a sun rise over the Aegean sea.) Later that evening we also caught a sun set. Our opinion is that sunset is prettier than sunrise - sunrise happenes too quickly and too blinding, while the sunset splashes a rainbow of colors in the sky for all to enjoy and linger on.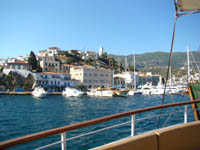 When approaching Poros, the mountains rising above the sea, the red-roofed houses along the harbor, and the tall Cyprus trees dotting the hills reminded us of the lovely scenery at Lake Como in northern Italy.

The Saronic islands are protected on 3 sides by the mainland and the Peloponnese Peninsula, so the sea is normally calm here even when the Cycladic Islands are suffering from winds of 6 ~ 7 Beaufort.

We were supposed to cruise all night tonight eastward to the Tinos island in the Cyclades. But because of the persistent strong winds in the Cyclades, we cruised north to Aegina, another Saronic island, instead. Concerned with this kind of route and losing precious time, several team members let Menelaos know that we'd be mighty disappointed if we could not get to Santorini, the furthest Cycladic island on this trip.
Day 9 - Aegina and Syros photo (6/25/2008, Wednesday):

After breakfast, Menelaos took us for a walking tour of Aegina's harbor to see fishing boats, vegetable and fish market.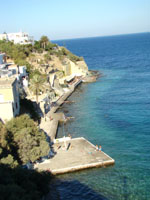 At 11:15am, from Aegina, we boarded a Seaway public ferry for a one-hour ride back to Piraeus. From Piraeus we changed to a large ferry for a 3-hour ride to Syros island, the administrative capital of the Cyclades. We had a walking tour of the pleasant waterfront of Syros, walked up the hill to see former Venetian mansions with many converted to hotels today.

Meantime, Galileo sailed this morning from Aegina with just 17 crew and our luggage, plus one guest who had a problem with feet, so should refrain from walking, to Syros with a plan to arrive at Syros by 7pm. The public ferry we took was 3 times the speed of Galileo, that was why Galileo arrived at Syros behind us. Why was Galileo able to sail with just the crew to Syros but not with all the guests? We were told it was for "comfort and safety reasons".

Syros' capital, Ermoupolis, is also the administrative capital of the Cyclades. We saw well-maintained streets, as well as many nice neoclassical buildings, a grand town hall, the theater of Apollon - a micro-copy of La Scala in Milan. We had a very good impression of Ermoupolis. In the 19th century, this was the busiest port in Greece – far busier than Piraeus – and a center of ship-building. "Signs of the island's former affluence are concentrated in the vicinity of the harbor where mansions abut the rocky waterfront."

Day 10 - Mykonos photo (6/26/2008, Thursday):

There was excitement in the air during breakfast, because the activity board in the dining room stated we were to visit Mykonos today, but it was still up in the air if we were taking Galileo to Mykonos or taking a public ferry.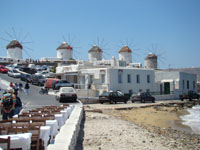 The captain decided not to sail Galileo to Mykonos because the winds were too strong at Mykonos to dock safely. So we all took a high speed Catamaran public ferry to Mykonos. We spent 3 hours on Mykonos, walking the mazes of shop-lined small streets, seeing the two pelicans up close. We could feel the winds were indeed very strong at Mykonos harbor. We left Mykonos on a 2:15pm ferry to go back to Syros to return to Galileo, and then dinner and over night. We skipped Delos. There was no time for Delos island because we needed time to ferry back to Syros.
At dawn the next morning, Galileo started cruising to Naxos island, a direction getting us closer to Santorini.
Day 11 - Naxos and Ios photo (6/27/2008, Friday):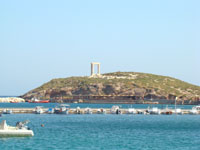 At breakfast, Galileo was still cruising. The ship rocked slightly, so some of us ate very little for fear of suffering from motion-sickness. We docked at Naxos soon after breakfast.

Naxos is the largest island in the Cyclades. The Venetians ruled this island from 1207 until the island fell to the Turks in 1566. Some descendants of the Venetians still live here.

We went to a home-hosted lunch at a family's home in Naxos. The host's house was very spacious and pretty, with marble floors and white marble steps. The husband is a construction contractor, the family owns 3 cars, quite well-to-do by Greek standards. We had a delicious home-cooked meal. All vegetables served were from the family's garden.

In the afternoon, Galileo sailed to Ios for overnight, getting us very close to Santorini.

Day 12 - Santorini (also known as Thira) photo (6/28/2008, Saturday):

(WARNING: The Santorini's photo link above contains more than 40 pictures. You may need to wait for the browser to complete loading all the pictures before starting to drag the page's scroll bar, to avoid freezing up your browser.)

Galileo set off around 5 am for Santorini. We were briefed that we'd dock at Santorini at 8:15am, so a few of us skipped breakfast and went to the upper deck to watch Galileo approaching the caldera harbor. We passed the village of Oia on our left. A while later, we docked at Skala Fira, right by the cable car station and donkey path up to Fira, the main town above the cliff.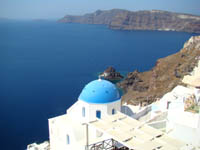 The 4 Euro ticket was good for a cable car ride or a donkey ride, but Menelaos told us to take the cable car up to Fira, so as to save everybody's time. After a short walk, we boarded a bus that drove us to Oia, the beautiful village on the northern tip where many beautiful sunset photos were clicked from.
After some free time at Oia, we boarded our bus for a restaurant in Pirgos village, in the lower central part of the island, for lunch. The restaurant had a very pleasant outdoor seating area, served very hearty Greek food.
A visit to a winery was scrapped because our time on Santorini was changed due to plan changes. After lunch, our bus took us back to Fira to visit a museum with collections excavated from the ancient Minoan city of Akrotiri (Akrotiri site itself was closed due to a collapsed roof). Then it was free time in Fira until 4:15pm. Santorini was our last opportunity to buy souvenirs before going home, so everybody went into Panic-buying. Have we forgotten to mention that it was very hot? It was very hot under the sun! We went back to Galileo a bit early to take a shower and chill out.
We were supposed to start sailing at 5pm towards Piraeus, stopping at one island or two en route, and reach Piraeus on Sunday night, 6/29. But at 5 minutes before 5, the captain learned his request to sail Galileo to Piraeus was denied by the port authority, due to a near-gale wind in the vicinity of our path.
If Galileo could not start sailing this evening, most of us would have missed our flights home Monday morning. So plan B kicked in, we had to pack quickly, get into a tender to go to a different harbor to take the 7:30 pm Blue Star ferry back to Piraeus. Our tickets included cabins to sleep in. We were all treated to a first class dinner in the ferry's first class dining room.
Day 13 - Athens, Cape Sounion photo (6/29/2008, Sunday):
After about 9 and 1/2 hours of cruising, the Blue Star ferry docked at Piraeus at 5:30am. Two of Andy's buses were waiting at the pier to take us to the Divani Acropolis Palace hotel (just south of the Acropolis) to check in and have a bountiful buffet breakfast.
Since this is an unexpected extra day in Athens, OAT organized a tour for us to Cape Sounion to see the Temple of Poseidon. Half of the team members opted not to go. Some of them went to the National Archaeological Museum on their own, some did other things they felt could better use the extra time in Athens.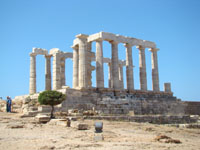 The four of us went by the bus to Cape Sounion. The one-way ride was 1.5 hours. We saw many beautiful beaches along the way. It was very windy at the cliff top where the temple is, but the scenery was spectacular!. Cannot imagine the hardships the folks in the old days went through to haul so many huge rocks to such a barren and windy hilltop to build this temple.
In the evening, we had a farewell dinner (in place of the "Captain's Dinner" on Galileo) at a restaurant somewhere south of the Acropolis. The restaurant has nice views of the Parthenon of the Acropolis. However, we were served a main course very similar to an American dinner (turkey with gravy, mashed potato, vegetables). For our last night in Greece, it would be special to have a traditional Greek dinner.
Day 14 - Fly home to Boston (6/30/2008, Monday):
The four of us were scheduled to fly out of Athens at 10:45am, so perhaps we did not have to get up very early in the morning, and might even have a chance to enjoy another bountiful buffet at the hotel's restaurant? Wrong again. We were assigned a wake-up call at 5:30am, boarded a shuttle bus at 6:30am to head to the airport. Menelaos was there to say good-by. We arrived at Athens airport at 7am, 15 minutes before the Delta counter opened. Our flight from Athens to JFK was smooth and full.
In conclusion, we enjoyed the trip. Although small ships gave us so much unpredictability, we enjoyed the intimacy of a small ship. We felt like we knew everyone on the ship, and felt like going home to Galileo after a day's tour on an island. Will we do a small ship again? Yes we will, but we'll choose a traveling season and an itinerary more carefully.