Trip Summary:
After our successful three-generation trip to Taiwan in 2019, we were keen to find a destination for a family reunion trip again. It was the granddaughters who suggested Japan. We all love Japan and Japanese food, so Japan it was.
During the COVID-19 period when schools were closed, Angelina (then 12) and a manga-loving school friend took the initiative to learn the Japanese language at home. They started by pasting Hiragana and katakana alphabets on the walls to memorize them, as well as reading Japanese children's books. Later, they asked Aunt Ayumi to give them Japanese lessons conducted over Zoom.
Summer is the only time our two granddaughters can take a longer vacation. At their age, they do not want to miss school days anymore. Although summer in Japan is hot and humid, we'll have to manage it. For Angelina and Gabby's first trip to Japan, we drafted an 11-day itinerary with a mix of modern, tradition, culture, history, and scenery as an introductory tour for them. Our itinerary comprises of
- 4 nights in Tokyo,
- 1 night in Kanazawa,
- 5 nights in Kyoto (including a day trip to Hiroshima & Miyajima)
We used high-speed trains to travel between cities.
Pictures on this trip report came from everyone's camera, especially the younger generation's Facebook page, IG account, or iPhone photos shared while on the trip.
Below is our customized Google Maps showing our travel route and stops in Japan. The diamonds denote cities where we stayed overnight. You may click on the "View Larger Map" symbol (

) on the upper right corner below to view the map in a larger window.

Transportation

AIR: We started looking for r/t airfare from Boston to Tokyo in December of 2022. Delta was $2200/pp and the non-stop JAL was $3200/pp. The prices were unusually high! Luckily, in mid-January, Delta airfare dropped, so we purchased Delta's main-cabin tickets at $1800/pp, which allowed us to choose seats right away as well as to cancel and receive a Delta credit. (Pay $100/pp more and you may cancel for a refund. There were so many ticket tiers!)

Between January and June, Delta changed our flights twice. Delta was consolidating flights for the summer, and our first leg of flights from Boston to a gateway city was canceled twice. Eventually, we settled on:

Outbound: Boston -> Atlanta -> Haneda.
Inbound: Haneda -> Minneapolis -> Boston.

TRAIN: We purchased a 7-day Nation-Wide JR Pass voucher in the Green class (1st class) for everyone. We bought them online from MYJRPASS dot com, which belonged to Nippon Travel Agency in California, and paid $15 for a 2-business-day FedEx delivery. Your name on the voucher must match that of your passport. Here is a list of authorized Japan Railway agencies in North America: https://japanrailpass.net/area_04.html, and Nippon Travel Agency is one of them. As of this writing, you may also purchase rail passes online directly from Japan Railway's official website (japanrailpass dot net) at an inflated price. The advantage of doing so is that you can start booking your train seats right away, which is a plus if your train dates coincide with major Japanese national holidays.

The 7-day Green class pass was priced at JPY39,600, and the Ordinary class at JPY29,650 when we purchased them in May. If we were to buy all the train tickets individually based on our itinerary, the sum would double the cost of a 7-day rail pass.

By the way, Japan Railway has announced that starting from October 1, 2023, the prices for nationwide rail passes will be increased by 65% ~ 67%. (Other rail passes will be with more moderate price increases.)

We do not think there is a big difference in comfort level between the Shinkansen's regular class seats and green class seats. Yes, the green class seats are wider, so it depends on how important that benefit is to you.

The size of a rail pass has also changed. It is no longer taped to a 4x6 inches of cardboard paper. It is now 2.25x3.3 inches, the same size as a regular train ticket, so that you may use it to pass through the electronic gates. (Rail Pass holders are no longer required to go through manned gates.)

Here is a list of various Japan rail passes: https://www.japan-guide.com/e/e2357.html. A rail pass gives travelers great flexibility and low stress about missing a train.

As for train timetable search, the beloved hyperdia.com no longer provides real-time train data - a casualty of the COVID-19 pandemic when no travelers were visiting that English-language website. So now I use a combination of westJR, Navitime, and Jorudan. Depending on where you are traveling, one site may work better than others.

KYOTO BUS: Watch this YouTube video https://www.youtube.com/watch?v=_PgoQ40IxvE to learn about how to use Kyoto Buses (sorry, it is only in Chinese). Bus terminals are out in front of the Kyoto train station. A lady in a purple jacket can help you with bus questions. Look up a board based on your destination to find out which bus to take and where the bus platform is. Since almost all the buses start from Kyoto Station, getting on at Kyoto Station has a better chance of getting seats. The OP spent a lot of time explaining where to buy a bus day pass or a rail+bus day pass, which can be skipped if it won't apply to you.

Online Resources:

Guide Books:

In the past, I used Ramsey Zarifeh's Japan By Rail. But for this trip, I mainly used online search results and Google Maps as well as printed maps.

Lodging

We were looking for hotels with inter-connecting rooms so that our two granddaughters may have a hotel room of their own, but are inter-connected with their parents' room. We emailed a few candidate hotels with questions about whether they had inter-connecting rooms and what types of rooms they were. Based on the responses, we were able to book the correct type of rooms on booking.com and requested that two of the rooms be inter-connected.

We booked all of our hotel rooms back in January. Japan just opened its borders a few months prior (October/2022), so hotels were eager to welcome customers back. Some hotels offered 10% off, and booking.com also offered 5% off to its loyal customers. In all, we booked our hotels at a good timing, before the rates went up.

Japanese hotel rooms tend to be small, so you'll need to pay close attention to the room size in square footage described on the booking page so as not to choose a room that turns out too small for comfort. In general, Japanese twin rooms are bigger than double rooms.

We also noticed the lack of drawers or shelves in the guest room for guests to unpack. Each room came with a closet to hang clothes, but none of the rooms, including the 5-star Hotel Granvia Kyoto, have drawers or shelves for guests to unpack their T-shirts, pajamas, socks etc.
Tokyo(東京) (4 nights) - Richmond Hotel Premier Asakusa International (リッチモンド ホテル プレミア 浅草). We booked 4 "Superior Twin non-smoking" rooms at 291 ft²/each, and requested two of them be inter-connected. Asakusa is Tokyo's old city center and the streets are lined with traditional shops. It was fun and convenient to take a stroll in the neighborhood. This hotel has received great reviews on Fodor's traveler forum. The other reason why we chose to stay in Asakusa was because of the draw of the Takashima brothers' band (東京大衆歌謡楽団), hoping to catch one of their outdoor concerts in Asakusa while we were there.

Kanazawa(金沢) (1 night) - Hotel Nikko Kanazawa (ホテル日航金沢) is near the Kanazawa train station. We booked 4 "Stylish Twin non-smoking" rooms at 333 ft²/each with two of them inter-connecting. Vincent and MC visited Kanazawa in 2018 and liked it very much. Staying near the train station is very convenient for arrival and departure. The city's loop buses also start and end at the train station. The hotel's breakfast buffet was the best on this trip. Offers included chawanmushi, Nanban soba (soba with duck breast slices and green onion), smoked duck breast, Mediterranean seafood stew etc. Hotel Nikko is a subsidiary of Okura Hotels.

Kyoto(京都) (5 nights) - Hotel Granvia Kyoto (ホテル グランヴィア 京都 ) is right on top of the Kyoto station. This hotel did not have inter-connecting rooms, but it had several "Family Room" at 667 ft²/each that could accommodate up to 5 people. These family rooms could only be booked directly with the hotel's reservation department, so that was what we did to book a family room for Austin's family. The rates quoted for our dates were a lot more reasonable than the numbers shown on the hotel's Family Room web page. Philip & Ayumi, VT & MC, each booked a "Superior Twin Non-Smoking room with Kyoto Tower view" at 355 ft²/each on Booking.com. Upon arrival, they assigned our two Superior Twin rooms to be adjacent to Austin's family room facing the eastern mountains. Since it was a long walk from the elevators to the rooms, we thought it was the hotel's good intention to assign our 3 rooms adjacent to each other, so we did not inquire at the front desk about the views not matching what we had booked for.
Internet & pocket WIFI:
We rented several MIFI (pocket WI-FI routers) so that each family could have their mobile hotspot while out and about. There are many Pocket WIFI vendors with (more or less) similar plans. Philip and Ayumi had rented from Japan Wireless before and were very happy with it, so we all rented from Japan Wireless this time. The rental fee for a Premium WIFI (187 Mbps download speed and up to 10 devices connected), unlimited data, for 11 days was USD$69. If one were to rent for a longer period then the cost/per-day decreases. Some vendors have counters in an airport so that you may pick up and return to the airport. Some will ship the pocket WIFI to your hotel. We had the vendor ship the pocket WIFI to our hotel in Tokyo, and the device was waiting for us at the hotel.
To return our rental pocket WIFI, the vendor sent us self-addressed mailers for us to place the unit in the mailer and drop it in any Japanese postal box. In Haneda Aiport Terminal 3 (the International Terminal), there are postal boxes by the escalator in the departure lobby. You will see an information counter. After arriving at the departure lobby, head towards the information desk. From there, if you face towards the check-in counters, you will see the red post boxes between the E and F check-in counters. Drop it here, because once you walk past this point, there is no more postal box. See detailed photos and directions from this GenkiMobile's web page.
Each member of our group also sets up a WhatsApp account on the iPhone so that we may call each other when the situation arises that we need to talk instead of text.
In hindsight, a family of 4 needs to rent two WIFI routers, because not all 4 members will spend the whole day together. When splitting into two groups, it is a life-saver that each group has its own WIFI to keep in touch with others.
We had an anxious moment at Hiroshima Shinkansen station when our group of 8 was separated into two groups. A group of 4 with everyone had a pocket WIFI. Another group of 4 without any WIFI. Luckily, we found each other on the platform before the train arrived.
Money Matters (Cash, ATM etc):
At the time of our visit, 1 USD = 144 ~ 139 JPY (fluctuating). The Japanese Yen has depreciated against the U.S. Dollar since 2022. When we last visited Japan in 2018, 1USD=110JPY. Therefore, the cost of hotels, restaurants, souvenirs, train/bus/taxi fares etc. all felt like 30% off on this trip.
Japan is a cash-based society. Although three years of the COVID-19 pandemic converted many merchants to accepting credit cards, a small number of shops and restaurants are still cash-only. Taxis always take credit cards. We had some Japanese Yen purchased from AAA before leaving home, but also used ATMs and money-changers to get some Japanese Yen on the trip.
For the ATMs, the Japanese Postal Office's ATM max limit was 50,000 JPY per withdrawal for foreign debit cards. For the 7-11's ATMs, we heard (unconfirmed, because we did not use them) the max limit was 30,000 JPY per withdrawal. On the other hand, on the busy shopping streets of Tokyo Shibuya and Kyoto's Shijo-Kawaramachi downtown area, the money changers were changing USD to JPY at a very slim profit. (A much more modest profit than what our local AAA set to get.) Considering Bank of America charges $5 and a 3% for international ATM withdrawals, one wants to avoid withdrawing small amounts of JPY frequently. Therefore, try to pay for everything with 0-transaction-fee credit cards, and supplement with cash from money-changers or ATMs.

NOTE: After coming home, we checked our bank statement. Bank of America waived the $5 and 3% international transaction fees because we are Preferred Reward customers. Therefore, the 50,000 JPY ATM withdrawal cost us $355.49, which is about 1 USD = 140 JPY, very close to the published bank-to-bank interchange rate on 7/11/2023. If fees were not waived, then it would have cost us $15 more, equivalent to getting 1 USD = 135 JPY.
Laundry:
Tokyo - Hotel Richmond Premier Asakusa International has several coin-operated laundry machines on its premises for guests' use.

For the other two cities, we had to Google "Coin laundry near xxxx" to scout out well-maintained coin laundry facilities near our hotel.

Kanazawa - There is a 24-hour coin laundry with many machines called "Kanazawaya 金澤屋 Coin Laundry" which is about a 10-minute walk from our Hotel Nikko Kanazawa.

Kyoto - The WASH & DRY Kyoto Ekimae is about a 10-minute walk south of Kyoto station, but it only has 3 washing machines. On the other hand, in downtown Kyoto near the "Kawaramachi Sanjo" intersection, there is a Kokone Coin Laundry with many machines, and it also looks like a more pleasant place to wait or to walk around the neighborhood. It is located upstairs from the internet cafe "NetCafe CoCoNe".
Food:
Everything was good - udon, ramen, gyoza, sushi, grilled-eel rice, pasta, shabu-shabu, ... all good. We often split up during part of the day, so we did not eat in the same place all the time. But in general, the sushi, grilled eel rice, udon, ramen, and gyoza, were all good. The hotel breakfasts always provided abundant varieties to choose from. The kids' friends back home were interested in hearing about 7-11 stores and Japanese McDonald's, which we also checked out.
---
Itinerary and highlights:
Day 1 - Arrival in Tokyo (7/3/2023 Monday): Link to our photo
The Delta flight #295 we boarded yesterday at 1:20 pm in Atlanta to fly to Haneda was quite new and very comfortable. It was an Airbus A350-900. As we stepped on board, the air-conditioning was blasting cool air and on each passenger seat was a package containing a fluffy pillow, blanket, eye mask, ear plugs, and slippers. During the long flight, the lavatories were also tidied up, so that there were no overflowing trash bins or blocked sink drains or wet floors. Maybe Delta took a cue from their Asian competitors flying the Pacific route?
The Massachusetts group of 6 arrived at Haneda International Termina (T3) at 4:00 pm today, after a 17-hr total flight time and not counting the 2.5 hr layover in Atlanta. We were lucky that there were no weather-related flight delays. It took us 40 minutes to pass immigration, retrieve luggage and pass customs. Not bad at all.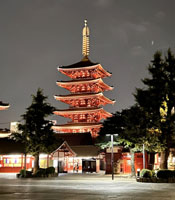 From Haneda airport, our transportation options to the hotel in Asakusa were (1) a straight taxi ride, or (2) take the Tokyo Monorail from Haneda Airport T3 to its end point, Hamamatsucho Station (浜松町駅, 13-min). From there, take a taxi to our hotel in Asakusa. The monorail fare was 500JPY/pp, and the taxi fare from Hamamatsucho probably would be about 6,000JPY. We were not considering getting on a metro/subway/commuter train, mainly because we were tired and also, during rush hours, the metro/subway would be crowded and we had luggage with us.
We decided to take 2 taxis from Haneda T3 to Asakusa. The taxi fare was 11,000 JPY. As our taxi driver maneuvered the narrow streets lined with traditional shops near our hotel, Angelina said, "Oh, I like this already."
Philip and Ayumi arrived at Narita airport ahead of us. They had already checked in to the hotel by the time we reached Hotel Richmond Premier Asakusa International.
We had an 8 pm pre-booked dinner for 12 at a sukiyaki (すき焼き) restaurant in Asakusa called ChinYa with Ayumi's sister's family who was visiting Japan from Sweden. Chin Ya is an established restaurant with a long history, and is about 10-min walk from our hotel. At the restaurant, we had to take our shoes off, change into slippers, and go upstairs to where our dinner tables were set up.
Day 2 - Tokyo: Asakusa, Ueno, Ginza, Robot Cafe (7/4/2023, Tuesday): Link to our photo
For our first full day of sightseeing, we covered a few tourist attractions in Asakusa, then went to Ueno station with passports to exchange/activate our rail passes and get all the long-distance train seats reserved, then went to Ginza.
Here is our customized map for Tokyo. The map is initially zoomed in on Asakusa. You'll have to zoom out to see other wards of Tokyo, then zoom in on the particular district you want to see details for:
https://www.google.com/maps/d/edit?mid=1QalbQID88us0pMNbUqR2GEfcMfiOYt1y&usp=sharing
For our sightseeing purpose to other parts of Tokyo, we relied on the Metro Ginza line, Tsukuba Express train (2 stops to Akihabara, then connecting to the Yamanote loop line if necessary), or taxi.
Sensoji Temple is about a 3-minute walk from our Richmond Premier Asakusa hotel. We also strolled along the Nakamise-dori (仲見世 商店街) shopping street, and visited the Tourist Information Center (WIFI, free maps, toilets, currency exchange etc.) which has an 8th-floor observation deck to view the bustling Asakusa from above.
Ueno station's "JR East Travel Service Center" was our one-stop shop to finalize our train-travel arrangements for this trip. Before leaving home, we printed out a list of long-distance train schedules that we needed seats reserved to give to the service rep. She took care of everything for us. Our 7-day rail passes were set to start counting on Friday, July 7th, the day we left Tokyo for Kanazawa.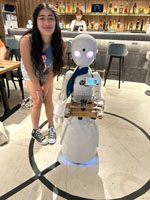 Ginza - is Tokyo's most famous high-end shopping, dining, and entertainment district. The Wako (和光) Department Store with a clock tower on the rooftop is one of the most recognizable landmarks in Ginza. The famous sushi chef, Jiro's restaurant, Sukiyabashi Jiro (数寄屋橋 次郎), is not far. MC steered everybody to lunch at Sato Yosuke Ginza Inaniwa Udon (website:佐藤養助銀座稻庭烏龍麵, 6-min walk from Ginza Wako) - it served cold udon (涼麵) unlike any udon noodles you've ever had. Many choices of other dishes.
Gabby wanted to go shopping at the 12-floor UNIQLO Ginza store because it is the largest Uniqlo store in the world. We were glad that she wanted to go there because everybody wound up buying something in the store. At 1 USD=144.20 JPY currency conversion rate, everything was a good buy.
Dawn Avatar Robot Cafe - located in Nihonbashi (to the north-east of Tokyo station), was a stop the two granddaughters requested. It was fun to have beverages and dessert here served by a robot. (Open 11 am ~ 6 pm. Closed Thursdays.) See the cafe website https://dawn2021.orylab.com/en/ for details.
Akihabara was on our itinerary for today too, but since we spent a few hours shopping in Uniqlo, it fell off to another day.
Day 3 - Tokyo: Shibuya, Harajuku, TPMB concert (7/5/2023, Wed, hot & humid): Link to our photo
We split up three ways today. VT opted to stay in Asakusa. Philip had an appointment with a former colleague to lunch in Asakusa. The rest went to Shibuya & Harajuku for the day, but MC was planning to leave Shibuya to come back to Asakusa to attend a 2:30 pm concert by the Tokyo Popular Music Band (東京大衆歌謡楽団, consisted of 4 Takashima brothers) singing early Showa era (昭和, 1926-1989) Japanese pop songs. Here are links to their Wikipedia, performance schedule and their official YouTube channel.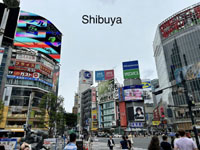 Shibuya (渋谷) is a popular district in Tokyo for shopping and entertainment, as well as youth fashion and culture. The busy Shibuya Crossing has been pictured in many films and magazines. From JR Shibuya station, take the Hachiko Exit (Exit #8) to the Shibuya Crossing, past the statue of the faithful dog Hachiko.
MC suggested lunch at Katsu-Midori (活 美登利) sushi restaurant on the 8th floor of the Seibu department store in Shibuya. But she did not have time for lunch, she had to go back to Asakusa for the 2:30 pm concert.
After lunch, Ayumi and the rest of the team went to Harajuku (原宿), a trendy fashion center for teenagers. The girls and their parents all had a good time.
Regarding the Tokyo Popular Music Band (東京大衆歌謡楽団), VT and MC first met the band in October/2013 in Osaka when they sang on a street corner in Namba. We were attracted by the beautiful melody of the song and were curious about the singer's hair and eyeglasses, which were styled as if he was from a by-gone era. It was not until 2018 that we learned about the band's name, 東京大衆歌謡楽団, pronounced in Japanese as "Tōkyō taishū kayō gakudan". By then, they had gained popularity in Japan and there were many YouTube videos of their performance uploaded by fans.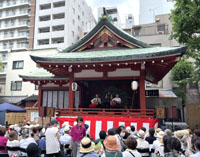 When COVID-19 hit in 2020, everybody hunkered down at home. The only communication line to the outside world was via the internet. That was when we discovered that not only was the YouTube domain flooded with 東京大衆歌謡楽団's videos uploaded by fans (with varied qualities), but also the band had created its own official YouTube channel to upload high-quality videos of its outdoor concerts without monetization and free of charge to viewers. MC studied the band's popular songs by learning the history and meaning of their lyrics and became a fan. When the band sang outdoors, it was free of charge and revenue came from donations. When they performed in a musical hall or theater or auditorium, revenue came from ticket sales.
Back in Asakusa, MC quickly found VT and Philip in front of Asakusa Shrine's Kagura Stage (神樂殿). VT said the 1:00 pm concert was performed by the 3 young apprentices.
When the 4 Takashima brothers arrived for the 2:30 pm performance, MC could see that Kotaro (髙島孝太郎) had not styled his hair back with wax as seen in countless videos. Was he not going to sing? (See today's photo link for the rest of the story.)
One of our favorite YouTube videos of the band is this one from 2020: 令和二年 十月二十五日 浅草神社奉納演奏. It's a happy feeling to see them performing from this spot and surrounded by loving fans from all sides. And here is the song list of the concert.
Day 4 - Tokyo: teamLab Planets, Akihabara, Tokyo Station (7/6/2023, Thursday, hot & humid): Link to our photo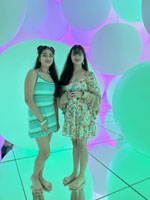 Today was a free day. Every family chose what they wanted to do.

Austin's family had booked a 10:30 am admission to visit teamLab Planets, then we'd all meet up in Akihabara. Ayumi had a hair appointment with a salon in Shibuya for the afternoon.

teamLab Planets Tokyo is a digital art museum created by a group of digital artists called teamLab. The group had created another digital art museum in Tokyo called teamLab Borderless, also located in Odaiba, Tokyo. Due to the redevelopment of the Odaiba seafront area, teamLab Borderless Odaiba was closed on 8/31/2022 and is scheduled to be reopened in a new location in central Tokyo in 2023. Meanwhile, teamLab Planets Odaiba is slated to close on 12/31/2023. Not sure where its new location will be.

The girls were very excited about visiting teamLab Planets, that's why they booked timed-tickets before leaving home. teamLab Planets Odaiba is located very close to the Toyosu Market (豊洲市場) (large fish auction market that replaced Tsukiji 築地市場) and is time-consuming to get to from Asakusa by public transportation. So they took a taxi from Asakusa. The taxi fare was 6,000 JPY and took only 30 minutes to reach the destination.

VT, MC, and Philip took a taxi from Asakusa to Akihabara to rendezvous with Austin's family at 12:30 pm. JR Akihabara station has many malls/shops connected to it, so it is a maze. We found a cool place for beverages to sit and wait, but also wondered how Austin would find us in such a huge place. Before long, Angelina walking toward us. Wow! They found us so effortlessly. But Philip said with a proud smile that it was also because he gave good directions.

Akihabara (秋葉原) is famous for its anime, manga and electronics shops. The girls were interested in seeing what the anime shops were like. We also visited a few electronics stores.

We spied a McDonald's near a street corner. Since eating at a Japanese McDonald's was one of the items the girls wanted to check off, so Philip said, why not now? A few ordered shrimp burgers because they are not available in the USA. The verdict? Not much shrimp flavor at all. I'd like to try their fish sandwich next time, to see how it tastes.

Today was hot and humid. From Akihabara, VT and MC took the Tsukuba Express train for 2 stops back to Asakusa, while Philip took the rest of the team to Tokyo Station to see the underground food shops.

Day 5 - To Kanazawa (金沢) (7/7/2023, Friday): Link to our photo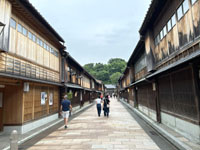 For today's transfer, we took the 10:38 am Shinkansen Hakutaka train from Ueno to Kanazawa, and the ride took about 3 hours. There was a faster Shinkansen Kagayaki train to Kanazawa that left a bit earlier, but we chose the train based on a departure time that would not rush us too much.
From our Asakusa hotel to hail a taxi to JR Ueno station, we heeded our hotel clerk's advice by walking 2-min west past the Don Quijote store to Kokusai-dori (国際通り), which is a wide and busy street with many taxis passing. The ride to Ueno station took 12 minutes. For the eight of us with luggage, we took 3 taxis.
The train ride to Kanazawa was very comfortable. Before long, we arrived in Kanazawa.
Hotel Nikko Kanazawa is about a 5-min walk from Kanazawa station's Drum Gate. The check-in time was 3 pm, so we left our luggage at the hotel and went to Mori-Mori Sushi in the Forus building for lunch. VT and MC loved Mori Mori Sushi during their 2018 visit to Kanazawa.
Here is our customized Kanazawa map:
https://www.google.com/maps/d/edit?mid=1KHzGMtyzlO9ODNauh3kwkDacc7a-NHo0&usp=sharing
Kanazawa (金沢, literally gold swamp), bordered by the Sea of Japan, is a mid-sized city rich in culture and arts & crafts. See its Wikipedia page for history and its Japan-guide page for attractions.
During the Edo Period (1600-1868), Kanazawa served as the seat of the Maeda Clan (前田), the second most powerful feudal clan after the Tokugawa in terms of rice production and fief size.
The Maedas channeled their vast wealth into arts and crafts, instead of military pursuits, and Kanazawa became the centre of the "Million-koku Culture", which helped ease suspicions held by the Shogunate over the domain's wealth. Accordingly, Kanazawa grew to become a city of great cultural achievements, rivaling Kyoto and Edo (Tokyo).
The Maeda clan continued to rule Kaga Domain (加賀国, an ancient name) from Kanazawa Castle until 1871, at the end of the Edo period. During World War II, Kanazawa was Japan's second largest city (after Kyoto) to escape destruction by air raids.
To get around Kanazawa, we used Kanazawa's loop bus. The RIGHT Loop (RL) bus is in RED, and the LEFT Loop (LL) bus is in GREEN. They both start and end at Kanazawa station.
With barely 24 hours in Kanazawa, we set a low bar on what we could do and see:
Eat sushi at Mori Mori - high-quality sushi made fresh at a reasonable price. Mori Mori has two locations in Kanazawa, one at Omicho market (open till 4 pm) and the other on the 6th floor of the Forus building next to the train station (open till 11 pm). Mori Mori also has branches in Kyoto, Kobe, Osaka. etc.

東茶屋街 Higashi Chaya District: A chaya (lit. teahouse) is an exclusive type of restaurant where guests are entertained by geisha who perform songs and dance. During the Edo Period, chaya was found in designated entertainment districts, usually just outside the city limits. Kanazawa has three well-preserved chaya districts, Higashi Chaya (Eastern Chaya District) is the largest and the most interesting.
ACCESS: take the Right Loop bus to Hashiba-cho (橋場町) bus stop (RL4 stop), from there it is a 5-min walk. Or take the Left Loop bus (in green color) for a sightseeing ride and get off at the LL11 stop, Higashiyama 3-chome, but this is a longer walk. Most shops close at 5:30 pm or 6:00 pm.

兼六園 Kenroku Garden:日本三名園之一, is considered one of Japan's "three most beautiful landscape gardens". The spacious grounds used to be the outer garden of Kanazawa Castle and were constructed by the ruling Maeda family over a period of nearly two centuries. (Free admission for over 65-y-o. Show your passport with your birth date on it.) Open 7:00-18:00 in the summer. It is vast inside. The garden is next to the Castle. Both can be visited or a drive-by from the loop bus, depending on our timing and interest.
ACCESS: RL7 stop or LL9 stop.

金澤城 Kanazawa Castle - 14 generations of the powerful Maeda Clan ruled from this castle for more than 280 years. Most of the castle was burned down from the 1881 fire. Today's castle is mostly rebuilt.

近江町市場 Omicho Market:Omicho Market has been Kanazawa's largest fresh food market since the Edo Period, with over 200 stalls. Today, it is a busy and colorful network of covered streets lined by about 200 shops and stalls.
ACCESS: Take any bus heading to the city center, get off at Musashigatsuji 武蔵ヶ辻 stop (Left Loop bus LL1 stop, Shuttle bus S1 stop, or Right Loop bus RL15 stop). It is served by most buses departing from the Kanazawa station, including the loop bus and JR buses. Walking between the market and the train station takes 15~20 minutes.
After lunch, we checked into our hotel rooms and then went to visit Higashi Chaya as well as have soft ice cream cones. After that, there was no longer enough time to go inside the Kenroku Garden, so we went uphill to see part of the castle from outside and have a glimpse of the gardens. Afterward, the younger generations went to check out the central downtown Korinbo (香林坊) area.
Since we split up in downtown Korinbo, dinner became an "as you wish" affair. MC went to eat oden at the Kuroyuri 黒百合 (おでん+季節料理) inside the train station building for its local specialties. VT had an eki-ben. Several youngsters went to an izakaya located in the basement level of our hotel building.
Day 6 - Leave Kanazawa for Kyoto (7/8/2023, Saturday): Link to our photo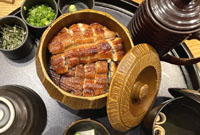 Hotel Nikko Kanazawa's buffet breakfast was sumptuous. It was included in our hotel room rate, but if not, then it was 3,000 JPY/pp, not the most expensive of this trip, but was the best breakfast of this trip. (See today's photo link for pictures.)
We had reservations on the 12:14 pm Limited Express ThunderBird train to Kyoto, arriving in Kyoto at 14:37 pm.
We were planning to visit Omicho Market this morning. But from the breakfast restaurant's windows, we could see that it was raining hard outside. In the end, there was not enough motivation to brave the rain, so we did not go to Omicho Market.
Angelina saw a camera shop on the first floor of the Hotel Nikko Kanazawa's building. She wanted to see if they had a particular film for her camera. (She looked for the film while in Akihabara, Tokyo, but none was found.) So, a few family members went with her to browse the 1st-floor shops. In the end, they found the film in a store inside the Kanazawa train station. She bought all 7 of the films the store had in stock.
Hotel Granvia Kyoto's lobby was located on the 2nd floor of the Kyoto Station. There were about 3 lines open for check-in, and each had a long line, so it took a while for all of us to check in. Austin's family had a joyful "WOW!" moment when they saw how bright and spacious their "family room" was. The other two family's Superior Twin rooms, at 355 ft² each, were very comfortable too.
On Saturdays, the hotel room rates hiked up, so we knew Saturday was a busy day for Kyoto. Before leaving home, we asked Ayumi to make a dinner reservation for 8 people at an unagi (grilled eel, 鰻魚) restaurant located on the 11th floor of the Kyoto Station building called うなぎ四代目菊川京都駅 キューブ店 (Unagi Yondaime Kikugawa Kyoto Station, Cube Store.) The restaurant's name indicates it is the 4th generation of the family running this business, so it had to be reputable and good, and it was.
When planning for this trip, MC looked into several restaurants located in the Kyoto station building to select a few dining options. Besides the unagi restaurant mentioned above, there were:
• Tonkatsu (thick juicy fried pork cutlet served with rice, miso soup and shredded cabbage salad): Two national chains have branches in the Kyoto station. Katsukura the Cube Store and Wako (和幸) Tonkatsu. Both are on the 11th floor of the Isetan department store. MC and VT dined at Katsukura one evening, and it was excellent.

• Seasonal Kyoto cuisine beautifully crafted & reasonably priced: Manshige Shoan (萬重小庵) Kyoto Porta. Open 11:00~22:00 (Last Order 21:15). Philip and Ayumi dined here one evening and they highly recommended it.

• 金沢まいもん Kanazawa Maimon Sushi - Kyoto Porta: A conveyor-belt sushi restaurant hailed from Kanazawa. Kanazawa Maimon opened a branch in Taipei in 2021 with much fanfare. VT and MC had lunch here one day. It was good.

• 551 Horai (蓬莱) - a popular Chinese restaurant in Osaka famous for its meat buns, gyoza, shumai & ebi-shumai opened 3 branches in the Kyoto station vicinity. There was always a long line of customers.

• The ramen alley on the 10th floor turned out to be not to our liking. Not only because the shops were small, but also because there was a very strong smell emitting from one of the shop's simmering pots that turned us away.

Day 7 - Kyoto: Kiyomizu-dera, Gion (7/9/2023 Sunday, raining & humid): Link to our photo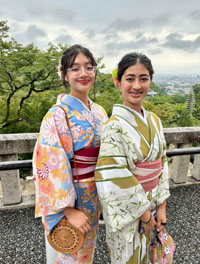 Hotel Granvia is a modern 4 ~ 5-star hotel chain owned by JR (Japan Railways). A Hotel Granvia is usually located on top of a JR train station. VT and MC had stayed at Hotel Granvia Hiroshima in 2013, therefore did not hesitate to stay at another Hotel Granvia again. For this trip, since we were arriving and departing Kyoto by train, and also planned to make a day trip to Hiroshima by train, and an excursion to Arashiyama by train, it made sense to stay close to the train station. Besides, there is an abundance of restaurants in and around Kyoto Station to choose from for dining.
Our breakfast was included in the room rates. If not, then it cost 3,200JPY per person per day. The buffet breakfast was served in the hotel's Le Temps restaurant on the 2nd floor by the hotel's lobby. Wish there were restaurants not far from home serving breakfast like this, or even better, like the Hotel Nikko Kanazawa's breakfast, so that we could go and have a treat from time to time.
Kyoto was Japan's capital for more than 1000 years before it was moved to Tokyo. The Kamo river (鴨川, kamo-gawa, literally Duck River) cuts Kyoto into east and west sides. Today, our itinerary was to visit sites on the east side of the Kamo river.
Our customized Kyoto map is linked below. One needs to zoom in on a particular area to see the details: https://www.google.com/maps/d/edit?mid=1UAE1WIGhG5aaNq2oIZWUbiC9-OALoXBQ&usp=sharing
• Kiyomizu-dera - (清水寺, literally "Clear Water Temple") in the eastern mountain district (Higashiyama (東山)), is an iconic UNESCO site. The way to the temple is a slop up, then followed by many steps.
The girls decided to dress in kimonos to visit the temple, and it took more than an hour for the kimono rental shop to get all of them ready. This was a highlight of the trip - four pretty ladies and one gentleman in beautiful traditional Japanese garb.
After the temple, the sky suddenly opened and rained very hard. Even with umbrellas, we had to duck under stores' eaves to wait for the rain to pass. Although we planned to walk along the narrow streets of Ninenzaka and Sannenzaka to Gion, Apple Maps took us on a different path to Gion, bypassing Ninenzaka and Sannenzaka.
• Gion (祇園) - is a famous geisha district with many old shops, restaurants, and matcha tea houses. We walked along the Hanamikoji-dori (花見小路通り) but did not have a chance to stop at the popular Tsujiri Tea House (茶寮都路里), Gion Main Shop(祇園本店) to have a cool treat. This tea house has a branch on the 6th floor of the Isetan Department Store in the Kyoto Station building. MC stopped by there twice but had to give up due to the long line of customers waiting to be seated.
Day 8 - Day Trip to Miyajima and Hiroshima (7/10/2023, Monday): Link to our photo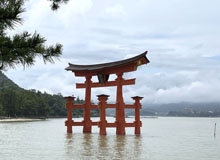 Today is our long-awaited excursion to Miyajima Island (literally the shrine island) and the Hiroshima Peace Park. We left Kyoto on the 8:43 am Shinkansen to Hiroshima, and returned from Hiroshima on the 6:33 pm Shinkansen, arriving back in Kyoto at 8:34 pm. It was a 12-hour outing.
Here is our customized map for Miyajima and Hiroshima. You'll have to zoom in on Miyajima or Hiroshima separately to see the details of each location:
https://www.google.com/maps/d/edit?mid=1ROSJYi9XbAN5CxYUjfslMI18UVX_EGc&usp=sharing
How to get to Miyajima island?
1. After arriving at Hiroshima station by the bullet train, walk through the concourse to the southern side of the station to find JR Sanyo Line (山陽本線, a local train, usually on platform #1) bound for Iwakuni (岩国) or Ono-Ura (大野浦). The train is every 15 minutes. You will see the sign for Miyajima (宮島) and will find the platform easily. Take this train to Miyajimaguchi (宮島口) (27 minutes). Miyajimaguchi is the 9th stop from Hiroshima. (The stop just before Miyajimaguchi is AJINA, and is only 2 minutes prior.)
2. The interval stops on the Sanyo Line between Hiroshima and Miyajimaguchi are: HIROSHIMA -> SHIN-HAKUSHIMA (新白島駅) > YOKOGAWA (横川駅) > NISHI HIROSHIMA > SHIN INOKUCHI > ITSUKAICHI > HATSUKAICHI > MIYAUCHIKUSHIDO > AJINA (阿品駅) > MIYAJIMAGUCHI.
3. Alight the train at MIYAJIMAGUCHI, walk 5 minutes to the ferry dock to take a JR ferry (covered by our JR Pass) to Miyajima island (10 minutes). Two ferry companies run this route; we want to take the boat operated by JR.
The star attraction on Miyajima island is the century-old Itsukushima Shrine (厳島神社, Itsukushima Jinja) and its iconic "floating" torii gate.
The 53-foot-tall vermillion floating torii gate was erected in 1875 and is the largest in Japan and is so famous that it often appears on the cover of guidebooks or travel brochures.
A torii (鳥居, literally bird's house) is a gate to distinguish the sacred shrine grounds from the human world. Once you walk across the torii gate, it means that you have entered the sacred, special space. Why are torii gates painted red? It is believed that the red torii in front of a shrine wards off evil spirits, danger, and bad luck.
Miyajima island was delightful, everyone in the family liked it. Besides the sandy beaches and roaming deers, there was the Omotesando food street (表参道商店街) lined with restaurants, souvenir shops, and eateries.
Oysters harvested from the Seto Inland Sea (瀬戸内海) are a specialty of Hiroshima. On the island's Omotesando Street, there are two famous grilled oyster restaurants. One is called 焼き牡蠣の林 Yakigaki no Hayashi (70-year-old restaurant), and the other is called 牡蠣屋 Kaki-ya (Grilled Oyster House, similar menu to its rival restaurant 20 meters down the street.)
紅葉堂 Momijido Main Store (famous maple-shaped manju with various fillings) is a shop not to be missed. They also offer free tea, bench seating, and washrooms.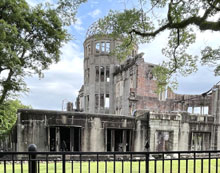 We left Miyajima island around 2:30 pm, took the JR ferry to Miyajimaguchi, then a Sanyo line train back toward Hiroshima station.
To visit Hiroshima Peace Park, we got off the JR Sanyo Line train at YOKOGAWA (橫川) station (2 stops before Hiroshima), followed the taxi sign to find taxi ranks as well as tram line #7. We took tram #7 to Genbaku Dome-Mae stop (原爆ドーム前駅). One could also take the JR Sanyo Line train all the way back to Hiroshima station and then take tram #2 or #6 to Genbaku Dome-Mae stop (原爆ドーム前駅).
Besides seeing the park and monuments, all 6 younger generations went to visit the memorial museum to see the exhibition, which VT and MC skipped.
From Hiroshima Peace Park we took tram #2 back to Hiroshima station, walked across the concourse to the northern side of the station where the Shinkansen platforms are, then left on the 6:33 pm Shinkansen.
The day was a bit rushed. We could have come to Hiroshima directly from Kanazawa, stayed a night in Hiroshima and visited Miyajima Island the next morning and Peace Park in the afternoon, checking into Kyoto Hotel Granvia in the evening. But that would have been a long day too and also required a hotel check-in & check-out, as well as riding the Shinkansen with luggage.
Day 9 - Kyoto: Arashiyama, Kinkakuji, Fushimi Inari (7/11/2023, Tuesday): Link to our photo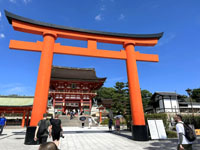 We split up today, with 6 going to Arashiyama in the morning, then 5 continuing to Kinkakuji and Fushimi Inari by taxi in the afternoon.
• Arashiyama (嵐山) Bamboo Forest - located to the NW of Kyoto city. From Kyoto station, take the local train, JR Sagano Line (嵯峨野線) to Saga-Arashiyama Station. (A one-way ride takes 15 minutes and costs 240 yen, but is covered by our JR pass. The train is every 15~20 minutes. ) From the station it is a 5-10 minutes' walk to central Arashiyama. Kyoto is the starting terminus of the JR Sagano Line. The train heads toward Kameoka(亀岡) or Sonobe(園部). Search train timetable on JRWest site. There are other private trains heading to Arashiyama. But if you have a JR Pass, or if you are already in Kyoto station, then take the JR train.
What to do in Arashiyama? Wandered through the Bamboo Grove, and walked to the Togetsukyo Bridge (渡月橋, literally, Moon-Crossing Bridge). We did not get to explore the UNESCO Zen temple, Tenryuji and its beautifully landscaped garden, because the heat and humidity at noon time was getting to us.
• Kinkakuji (金閣寺, Golden Pavilion) - An iconic photo-op, it is located far out of the way in the NW corner of the city. Subway then taxi, or taxi straight to it. Afterwards, take a taxi to visit the Nijo Castle (二条城 ), since it is also located in the north-west of the city center.
• Fushimi Inari Taisha (Fushimi Inari Shrine, 伏見稲荷大社) - in southern Kyoto, is famous for its thousands of vermilion torii gates. Always open, no admission fees. How to get there? Scroll down from the linked Japan-guide page to see the map and directions. From Kyoto station, take the local JR Nara line (5-min, 150 yen one-way, but is covered by our JR Pass) to JR Inari Station, the second stop after Kyoto Station along the JR Nara Line. (Don't take a rapid train, because rapid trains do not stop at Inari station.) Search train timetable on JRWest site by entering from "Kyoto" to "Inari". Or, if you are a group of two or more, just hop on a taxi.
Fushimi Inari is the most important of thousands of shrines dedicated to Inari, the Shinto god of rice. Foxes are thought to be Inari's messengers, resulting in many fox statues across the shrine grounds. No wonder the sushi of fried-tofu skin filled with rice is called Inari sushi (稲荷寿司).
Day 10 - Kyoto: downtown, Nishiki Market (7/12/2023, Wednesday): Link to our photo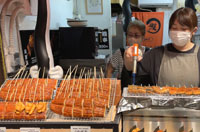 Visiting Osaka (30-min direct to Osaka station by rapid train) or Nara (from Kyoto, take the Miyakoji Rapid train (for NARA), 45 minutes one-way and about every 30 minutes. If taking the slow local Nara line train, then it would take 70 minutes and about one train every 15 minutes) was on our radar for today, but with the weather being hot and rainy, besides, there was still plenty to see in Kyoto, we decided to stay in Kyoto instead, visiting downtown Kyoto, Nishiki market and doing last-minute souvenir shopping.

We took a city bus to downtown - the intersection of Kawaramachi (河原町) and Shijo dori (四条通り), anchored by the Takashimaya department store. As we walked past the corner at Takashimaya onto Shijo dori, we could not help but chuckle because we could hear the same haunting Gion-festival music which had been playing non-stop in our Hotel Granvia's hallways day and night, and now it is even broadcast by PA systems downtown. Not meant to be disrespectful, this eerie flute melody was not only not musical to our ears, but it was also a bit scary hearing it at night in the dimly lit hallways of the hotel. We inquired at the hotel's front desk as to their choice of music to play in the hallway and was told that it was because July is the month of the Gion festival. (Gion festival for this year was from 7/15 to 7/24, with parades of floats in downtown on 7/17 and 7/24. You may find some of the parade videos on YouTube.)

• Nishiki Market (錦市場, Nishiki Ichiba) – is a five-block-long narrow street of food stalls running east-west. Customers are forbidden to walk and eat simultaneously in the market. So, if you buy any food item, eat by the vendor's stall before walking away.

After the Nishiki market, we split up in different ways. Elena and the girls went shopping accompanied by Ayumi. VT and MC went back to the hotel, then to the adjacent Isetan department store for souvenir shopping.

We had a grilled-meat dinner at 6 pm in the Porta Mall (a mall beneath the Kyoto station), then everyone had to finish packing.

Day 11 - Going Home (7/13/2023, Thursday): No photo link

The Massachusetts group of 6 left Kyoto on the 10:33 am Shinkansen Hikari train to Shinagawa (2h:32m). Philip and Ayumi were staying 10 more days in Japan before flying home.

When we reserved today's train tickets in Ueno on Day 2, we asked the service rep to assign our seats on the left-hand side of the train car (seats C and D), so that we might have a glimpse of Mount Fuji if the weather were clear. We did see a mountain in the shape of Mt Fuji looming so close outside the train window that it felt unreal. Here is a video of the mountain seen from our moving train: https://youtu.be/dF0sma9f2kA. Angelina said she wanted to visit Mt. Fuji in the future.

From JR Shinagawa station (JR 品川駅) we walked to the adjacent Keikyu Shinagawa station (京急品川駅) to take the Keikyu Airport train to Haneda Airport T3.

The Keikyu Airport train was about every 10 minutes. There are many markings on the platform, you'd just line up on the markings in blue color that state "Haneda Airport". The train ride took about 13 minutes. The fare was 300 JPY and could be paid with an IC card.

The first thing we did after arriving at Haneda T3 was to look for the information desk between the E and F check-in counters. From there, we located the postal box behind an escalator to drop off our rental WIFI units to return to Japan Wireless.

The 4:20 pm Delta flight from Haneda to Minneapolis was on time, but the connecting Minneapolis to Boston flight was delayed due to bad weather in Boston, causing Logan Airport to shut down for the remainder of the evening. Our flight had to divert to Detroit Airport. After waiting for some time to hear what Delta decided to do with our flight, whether to treat it as a delayed flight or a canceled flight? It was announced ours would be a delayed flight and would continue at 8 am the next morning to Boston. There was not enough time to find a hotel for shut-eye and not worry about oversleeping, so we spent the night at the airport.

Luckily, this flight delay happened on the way home. If it were to happen on the way to Japan, we would have lost at least one day in Tokyo.

Epilogue

:

Our two granddaughters enjoyed this trip very much. They loved all the food they ate in Japan. The location of the hotel they liked the most is Asakusa, Tokyo, (Hotel Richmond Premier Asakusa International), because they like the neighborhood of so many shops clustered together, and felt safe to walk around in the early morning or late at night.

The best shopping was in Ginza and Harajuku, Tokyo. The 12-story "Uniqlo Ginza" in Ginza is the world's largest UNIQLO store. At $1 USD = 144.50 JPY exchange rate when we were in Tokyo, everyone had a great time shopping in UNIQLO. Tokyo is a city they definitely will come back to in the future.

The hotel room they liked the most was the Hotel Granvia Kyoto, because their family of four shared a large 667 sq ft. "family room". (Prior to this point, the girls and their parents shared two inter-connecting "superior twin" rooms. The girls liked that too, because they had their own bathroom.)

Wearing a kimono and having their hair beautifully done in Kyoto was a highlight of the trip.

For the majority of the adults, the best meals were the grilled eel rice dinner in Kyoto, the Mori Mori sushi in Kanazawa, and the oysters on Miyajima island.

Vincent thought it would be nice if we were in Kanazawa for a longer time, so that we could see more places and enjoy sushi and oden (おでん, Japanese fish cake & daikon stew) a couple more times.