Summary:
We have been interested in Princess cruises' "British Isles" itinerary since 2016, but every year we went somewhere else.
In mid April, we looked at this cruise again and saw that the two departures in May were on promotional sale for the remaining cabins. Airfare from Boston to London Heathrow was also surprisingly low on Delta ($359/pp round trip). And, at a relatively low Pound-to-US Dollar exchange (1GBP=1.29USD), we felt it was a good timing to go.
We booked 4 nights at The Bailey's Hotel London to spend time in London before the cruise. The last time we traveled to London was in 1992 with Philip and Austin, visiting MC's older brother Chester's family living in London at that time.
Below is our 12-night cruise map. This itinerary had many port days. On some days we had to order room-service breakfast at 6:30am in order to meet our excursion bus at 7:30am.
The RMS Titanic had a connection to many ports on this itinerary. The ship was built in Belfast and was registered in Liverpool. Her embarkation port was Southampton UK, and the ship's last port of call was Cobh, Ireland (the town was named Queenstown back then). The last passengers (123 of them) boarded the ship on 11 April 1912 from Cobh for the ill-fated trans-Atlantic passage to New York.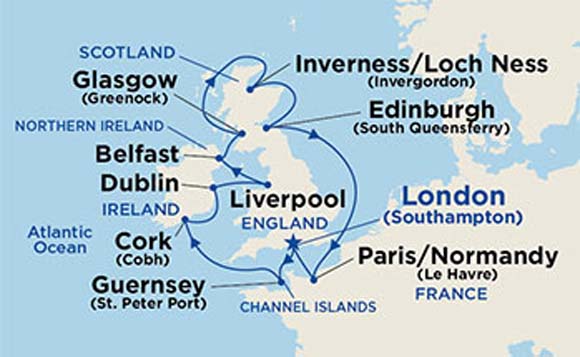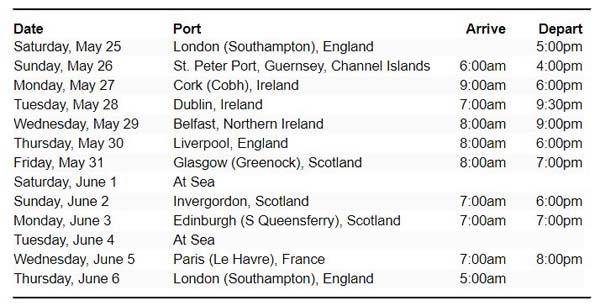 And below is our customized Google map with attractions at each port highlighted:


Money Matters (Cash, ATM etc):

Almost everything could be paid with a credit card, except for hotel porter's tips and some taxi drivers who said that their credit card machine did not work, or that they preferred cash. Therefore, use a credit card that does not charge foreign transaction fees to pay for most of your expenses, and withdraw a small amount of British pound cash from an ATM machine attached to a bank after you get to the city.

We withdrew cash from a Barclays ATM at 1GBP=1.2646USD exchange rate, which was very good. Bank of America waived their $5 transaction fee (because Barclays is BoA's partner bank in the UK), but Barclays still charged us a $4.55 fee per transaction for using their ATM machine.

Trip Planning Resources:

1) Getting from Heathrow airport to Central London: by bus, Heathrow-Express train, underground Piccadilly line, or an airport transfer service. See https://www.heathrow.com/transport-and-directions/getting-to-central-london for detail.
2) London Toolkit - a wealth of information and links to transportations, sights, transfers and tours etc.
3) Rick Steves' United Kingdom Guide book
4) London Walks: http://www.walks.com/, inexpensive guided walking tours for near and far.
5) Google Search and Google Map
6) Fodor's UK travel discussion board to ask questions: https://www.fodors.com/community/tags/united-kingdom/
7) Cruise Port: http://www.whatsinport.com

Transportation:

CRUISE: booked with vacationstogo.com

AIR: We searched airfare on Matrix Airfare Search https://matrix.itasoftware.com/, but purchased tickets directly from Delta's website. Delta charged $60 per checked-in luggage (USA <->Europe) if you don't have a status or credit card to waive the baggage fee.

London UNDERGROUND: For our purpose, a regular (blue colored) Oyster Card suited us. Oyster Cards can be purchased at any London tube station via machine. The card came with a £5.00 non-refundable deposit, then you may add money to the card at multiples of £5. See https://www.youtube.com/watch?v=LlZ_xDx2Zl0 and https://www.londontoolkit.com/briefing/oystercard.htm for details.

TRAIN: we took a train from London's Waterloo station to the cruise port at Southampton. UK's National Rail website: https://www.nationalrail.co.uk/ but we purchased train tickets online at https://www.thetrainline.com/ to print tickets at home.

Lodging

We booked "The Bailey's Hotel London" in south Kensington for 4 nights using booking.com. The hotel is a historical building (see its wikipedia page), very elegant and very well located just opposite the "Gloucester Road" tube station on the Piccadilly line.

Internet:

Our London hotel came with a loaner Android cell phone for guests' use, and the hotel offered free WIFI, so we were all set with internet in London. But we wanted to buy a local SIM card for cruise ports, just like what we did in 2017 when cruising the Norwegian coast.

Vodafone had many retail locations in London. We stopped at the first one we saw to purchase a £10 SIM card which came with 3 GB of data and x minutes of calling, and worked for many countries in Europe. A store clerk installed the SIM card in one of our unlocked iPhone and activated it. This was the best spent £10 of our entire trip - all through out the cruise in UK, Ireland and France, as long as we could see land, the iPhone would have a cellular signal, therefore it could serve as a hotspot for our other devices to connect to the internet.

Food:

London - Fish and Chip, sushi, scone etc. We did not take many food pictures on this trip.
Princess Cruise - This was our first time cruising with Princess. The food was comparable to Holland America's, although some people may rate one higher than the other based on personal preferences. Between HAL and Princess, we liked HAL ships better, not only for HAL ships' smaller size but also for HAL ships' open access to the front glassed-in viewing lounge and the outside deck in the back.
---
Itinerary and highlights:

Pre-cruise

: 4 days in London (5/21 ~ 5/24/2019): Link to our photo

From LHR airport to our hotel we took Heathrow Express to Paddington station and then taxi to our hotel in south Kensington. A one-way ticket on the Heathrow Express train was £22, but they were discounted if you purchase tickets 30-day in advance (£14.30) or 14-day in advance (£16). Weekend rates are lower than weekdays'. Follow links off https://www.heathrow.com/transport-and-directions/getting-to-central-london for detail. However, if you are a group of 3 people or more, then pre-booking an airport transfer (such as JustAirports.com) could be a better deal. See https://www.londontoolkit.com/travel/heathrow_taxi.htm for comparison.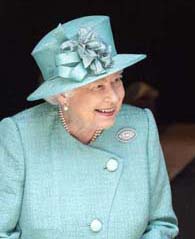 We saw the Queen!

On the 2nd day while standing by the curb outside the National Gallery and wondering whether we should hail a taxi or walk to Covent Garden, two policemen on motorcycle appeared on the street in front of us. The first policeman blew whistle urgently while waving his arms for all automobiles on our side of the street to halt. We waited to see what was going on. In less than a minute, a two-car motorcade came into view. Our eyes were fixated on the back seat of the first car, and lo and behold, it was the Queen! There was another elegantly dressed lady sitting next to her.

From the evening news, Vincent learned that the Queen was heading to Covent Garden to visit a newly opened Sainsbury's store which was set up like a Sainsbury's 150 years ago.

The Queen's photo here was taken from the internet news on that day. This blue/green dress and matching hat was what we saw her in.

We had 4 days of sunny and pleasant weather in London. As a matter of fact, London had the best weather of our 17-day trip. Our London highlights includes:

1. British Museum - A great collection of artifacts of Western civilization, including the Rosetta Stone and the Parthenon's Elgin Marbles. http://www.britishmuseum.org/ . The museum was very crowded and under-staffed when we visited.

2. National Gallery - Collection of European paintings (1250-1900), including Leonardo, Botticelli, Valzquez, Rembrandt, Turner, Van Gogh, and the impressionists. We popped in to see what we came to see, then left.

3. Victoria and Albert Museum - the best collection of decorative arts, vases, stained glass, fine furniture, clothing, jewelry, carpets and more, all quite beautiful. http://www.vam.ac.uk . The museum displayed many beautiful artifacts from China. Cannot help wondering how did these beautiful stuff from China come into a museum in London?

4. Covent Garden - The square's centerpiece is a covered market place. A market has been here since the medieval time. Today it is a mix of shops, eateries, and markets, just like Boston's Quincy Market. We also joined a 45-minute guided tour of the Royal Opera House at Covent Garden, see https://www.roh.org.uk/visit-us to pre-book tour tickets.

5. Borough Market - http://boroughmarket.org.uk/ in the Southwark neighborhood, just south of the Southwark Cathedral. Closed Sundays. (Tube: London Bridge.) It was interesting, but should not be a high priority.

6. Wimbledon's All England Lawn Tennis and Croquet Club - The tennis ground is in West Brompton. From Wimbledon's website, https://www.tennistours.com/wimbledon/arrival: tube to Southfields Station then walk 16-min (0.8 mile), or find a taxi. We visited the Museum and joined a 90-min guided tour of the grounds where we visited the Center Court, the 1st Court, the media room, players' area etc. https://bookings.wimbledon.com/stadiumtours/booking/default.htm (tours start almost every 30-min from 10:30 to 15:30)

Even though we did not visit Tower of London nor Westminster Abby because we had seen them in 1992, they should be on one's high priority if you have not seen them.

CruiseDay 1 - transfer to Southampton (5/25/2019, Saturday, sunny): Link to our photo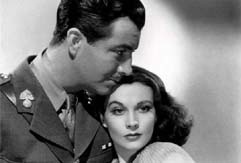 If you were a movie fan in Taiwan during the 1960's, then you can tell the picture to the right was Vivien Leigh and Robert Taylor in the 1940 heart-wrenching movie called "Waterloo Bridge" (魂斷藍穚). Both the Waterloo Bridge and Waterloo station were featured prominently in the movie's story line.
Southampton cruise port is about two-and-half hours' bus ride from London's Victoria Station, or 90-min by train from Waterloo station. We chose to get there by train, because we wanted to go to Waterloo station to pay homage to the movie. So, how was it? Today's Waterloo station is too modern, no resemblance to what we had imagined from the 1940 black and white movie. But one had to see what one wanted to see, especially coming from this far (across the pond).
Below are some of the transportation options from central London to Southampton port:
1) By train: We pre-purchased train tickets online at TheTrainLine http://www.thetrainline.com/train-times/london-waterloo-to-southampton-central and printed the tickets at home. The train fare can be as low as £12 to £16 for advance purchase. Train time is 80 to 90 minutes. Departure platform at Waterloo station were displayed on the big overhead electronic boards 15 or 20 minutes before departure.
2) National Express bus from London Victoria Coach Station to Southampton was only 5 pounds (if pre-booked) and took 2h:30m. They also depart from the airport. https://www.nationalexpress.com/en/destinations/southampton.
3) Princess' transfer was $59/pp. You'd go to Victoria Station to meet the motor coach. (Princess also offered direct transfer from airport to the ship.)
4) Book a shared transfer via LondonToolKit: https://www.londontoolkit.com/travel/southampton_london_transfers.htm Straight transfer in a shared 8-person van was £76/pp. In a coach with a stop at Stonehenge was £91/pp.
5) Book a private transfer: For example, look into SmithsForAirports.com, BlackberryCars.com, or JustAirports.com.
After reaching Southampton Central station, we took a short taxi ride to the ship. The check-in process was very efficient, soon, we were in our room. Crown Princess is a 3000-PAX ship, very big and required a long walk from our cabin to the buffet restaurant, walking past two swimming pools where it could be very windy in the evening.
CruiseDay 2 - St. Peter Port, Guernsey, Channel Islands, UK (5/26/2019, Monday, cloudy & windy): Link to our Photo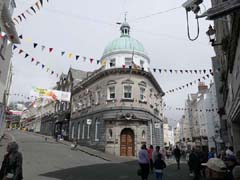 The British isle of Guernsey lies just eight miles off the coast of France, it is closer to France than to the United Kingdom. The group of islands belonged to the Duke of Normandy, then it was passed to the English Crown after the Norman's conquest of England in 1066.
During WWII, the Channel Islands were the only part of the United Kingdom that was occupied by the Nazis.
Guernsey island is only 12 miles long and 5 miles wide. For tourists, the port city of St. Peter has a fort, museums, beautiful churches, gardens and a house which the French writer Victor Hugo lived for 15 years in exile and wrote Les Miserables while living there.
We took it easy and wandered through the beautiful waterfront, explored the shopping district, and went to the TI office to use fast and free WIFI to catch up with email and news.
CruiseDay 3 - Cork (Cobh), Republic of Ireland (5/27/2017, Monday): Link to our photo
Cobh (pronounced "KOHV", the Gaelic version of Cove) was the single most important port of emigration from Ireland. Over 1/3 of the nearly six million Irish people who emigrated to North America between 1848-1950 departed from here.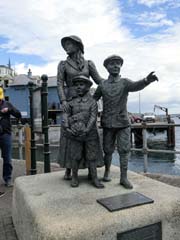 RMS Titanic has a connection to Cobh (the town was named Queenstown back then). This was the ship's last port of call. The last passengers, 123 of them, boarded the ship on 11 April 1912 from here.
15 miles away from Cobh is Cork, the third largest city in Ireland after Dublin and Belfast.
From Cobh, the popular shore excursion was to visit the Blarney Castle, kiss the Blarney Stone, and visit a woolen mill. For that, you may book your seats with one of the two coach tour companies, Butler eCoach tours or PaddyWagonTours. We had read reviews which said Blarney castle was in a very neglect state, and since we'd have opportunities to see more stately castles during this trip, we decided to stay in Cobh instead.
We pre-booked a 1-hr guided walking tour called The Titanic Trail in Cobh. We explored the streets and visited locations connected to the Titanic and other historical events related to Cobh.
In the afternoon, Mei-Ching went to "The Titanic Experience" housed in what was then the "White Star Line Ticket Office" in 1912 where passengers waited to get on tenders to board the Titanic. It is designed to tell the story by stepping back in time and following in the footsteps of the ship's passengers. We saw a short film of the ship's arrival in Cobn, picture of the captain and first officer, a reconstructed 2nd-class stateroom, exhibit of suitcases and artifacts passengers would have brought on board etc.
CruiseDay 4 - Dublin, Ireland (5/28/2019, Tuesday, 48~53F, windy & chilly): Link to our photo
Dublin is the capital of the Republic of Ireland. Today, this cosmopolitan city is one of Europe's premier destinations.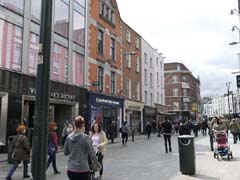 Dublin possesses a storied history. A settlement has existed on the banks of the River Liffey for at least a millennium and a half. Succeeding waves of Gaelic, Viking, Norman and English invaders have left their marks on the city.
With only a day in Dublin, we drafted a very short what-to-see list, but we did not even get to see half of them.
1) Trinity College / Book of Kells. The Book is a 9th-century illuminated manuscript of Gospels in Latin. Tickets for the admission to see the Book of Kells cost 14 EUR and is crowd-controlled, meaning you have to book your timed entry. The Book is on permanent display at the Old Library of Trinity College, the oldest university in Ireland.
2) Downtown shopping area including the GRAFTON STREET and O'CONNELL STREET.
3) St. Patrick's Cathedral - founded in 1191, it is the National Cathedral of the Church of Ireland, and is the largest church in Ireland.
4) Guinness Storehouse - a brewery experience telling the story of Ireland's famous beer, with tasting and a rooftop bar. You can book a tour, see https://www.guinness-storehouse.com/en for details, or just pop in to enjoy a beer.
We originally booked a 3-hour Sandemans Free Walking Tour, but then cancelled it to choose to wander leisurely on our own. There were also two competing HOHO (Hop On Hop Off) bus companies as additional options.
Our ship docked at an industrial port 2 miles from the city centre. Princess offered continuous shuttle buses to the Merrion Square in downtown for $16/rt/pp, or one may take a taxi for about 12Euro one-way. From Merrion Square we walked 15 minutes to the Trinity College.
We had not planned to see the gospel book, but only wanted to see the Long Room (photo attributed to Wikipedia) in the Old Library. However, it turned out that the Long Room and the Book of Kells were both in the same admission ticket. You'd have to buy a ticket to see the Book of Kells in order to see the Long Room, and the earliest tickets available were for admission at 12 noon. We did not want to come back 3 hours later for that, so we passed.
Downtown Dublin was very pleasant and some streets looked as if we were in London. We lingered along the pedestrian shopping street of Grafton, enjoyed a long coffee break of Irish fruit scone at a M&S (Marks and Spencer) before heading back to Merrion Square to take a shuttle to the ship. We could have stayed longer in the city to see more sights, but Vincent felt he had already reached his walking quota for the day. :-)
CruiseDay 5 - Belfast, Northern Ireland, UK (5/29/2019, Wednesday): link to our photo
Belfast is the capital of Northern Ireland, therefore is part of the United Kingdom. Our cruise terminal was about 2 miles from the city center, and Princess offered r/t shuttles between them for about USD$16/pp, or one might take a taxi.
Belfast was an industrial giant in the 19th century, famed for its linen trades and shipyards. H & W (Harland and Wolff), a heavy industrial company, built many ships including the RMS Titanic.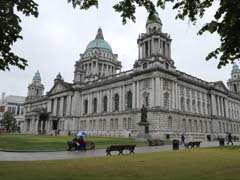 The most popular excursion from Belfast was to see the Giant's Causeway, a unique hexagonal rock formations 60 miles north of Belfast. Many tour operators touting their excursions by combining Giant's Causeway with a few shooting locations of "Game of Thrones" TV series and other attractions. Odyssey Tours and PaddyWagon Tours were two such local tour operators.
If one wished to spend the day in Belfast city, then there were a 2-hour Belfast Free Walking Tour (book your space online), City Hall (Belfast has a very grand city hall), and the Titanic Museum (book your timed-entry-ticket online).
We chose to take a ride to see the northern coastal scenery, therefore booked 2 seats with PaddyWagon tours to the Giant's Causeway. Our lunch stop was at a restaurant frequented by "Game of Thrones" crew members when they filmed on location near by. The drive from Belfast to Giant's Causeway was 2 hours each way, so besides the 4-hr drive round trip, 1h20m at Giant's Causeway and 1-hr lunch break, we were left with only about 1h20m in downtown Belfast. Is it worthwhile to spend 4 hours on a bus to see the Giant's Causeway? May be, or may be not. Browse our pictures and draw your own conclusion.

CruiseDay 6 - Liverpool, UK (5/30/2019, Thursday):Link to our photo
Our ship docked right in downtown Liverpool. We could just walk into town instead of relying on shuttles or taxi.
The industrial port of Liverpool grew to prominence as a result of trades with the Americas. It was an important hub in cotton trade and slave trade. Liverpool was friendly with the South during American Civil War (1861-1865). As if to prove the point, our HOHO bus tour guide asked if we remembered in "Gone with the Wind" (亂世佳人) movie, Rhett Butler told Scarlett that his money was all tied up in Liverpool.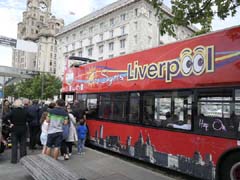 Liverpool also has an association with Titanic, thus there is a Titanic exhibition in the city, because Titanic was registered in Liverpool, the home of the White Star Line.
We did not have a firm excursion plan before arriving. We knew we'd be happy to see some Beetles' sites without hiring a Fab Four Taxi Tours. Or we could walk to some city sights and then spend the rest of the day in the Royal Albert Dock and the Museum of Liverpool.
After walking off the ship and talked to a kind lady at the TI office in the cruise terminal building, we quickly formed a plan. We'd take the RED HOHO bus and go on the Blue route (90 minutes) to see the Beatles' roots outside the city, and then do a 45-minute Red Route for the city sights on the same ticket. A ticket cost £16, but concession for seniors was £12. The Blue route had a live guide, who sang/talked non-stop the whole trip. Whenever he mentioned a Beatles' song he would strum his guitar and sing a few phrases to help us recall the melody. He deserved a big applause for the effort. Afterwards, we switched to the Red route HOHO bus to go on the city tour, which used a recorded narration to point out the city landmarks along the way.
We spent the rest of the day in the Museum of Liverpool, which had a wing exhibiting John Lennon and Yoko Ono's photos, news clippings, news videos and mementos. No doubt Yoko Ono contributed a chunk of resources to help set this up.
The harbor-front area was very pleasant, and we had a fun day touring on HOHO buses. We thought Liverpool was a very delightful port to visit.

CruiseDay 7 - Glasgow (Greenock), Scotland (5/31/2019, Friday, 50~55F, foggy): Link to our photo
Although our cruise itinerary stated "Glasgow (Greenock)" for today, our port in Greenock is approximately 45 minutes from Glasgow by car, not close at all. Therefore, today was as good an opportunity as any to sign up for an excursion to see the highlands.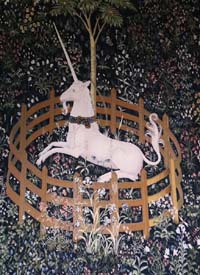 The two main attractions we wanted to see from this port were:
1. Stirling Castle -"He who holds Stirling, holds Scotland", situated between Edinburgh and Inverness, the town of Stirling was once the Scottish capital, and is a mini-Edinburgh. The castle of the Stuart kings and Mary Queen of Scots is one of Scotland's most historic and popular.
2. Loch Lomond - The centerpiece of Scotland's leading national park called "Loch Lomond & The Trossachs National Park", it is about 15 miles north of Glasgow. A Scottish folk song, The Bonnie Banks o' Loch Lomond《羅夢湖的美麗湖岸》, is referring to this freshwater lake.
By the time we emailed Discover Scotland Tours to book their shore excursion to Stirling Castle and Loch Lomond, their tour was already full. But luckily, by googling we found another local tour provider, Slainte Scotland Tours (co-branded with Clyde Coast Tourism), which had openings for this itinerary at £53/senior. We gladly booked two seats.
Stirling Castle was one of the highlights of our 12-day cruise. The castle was small enough for visitors to easily walk through, and the "Great Hall" looked just like what we saw in the "Mary, Queen of Scots" movie.
What is Scotland's national animal? Unicorn. We saw many rooms decorated with brilliantly colored tapestries of unicorns.
Today was a rainy day. After Stirling Castle we drove to Loch Lomond in the rain, therefore did not get to see the lake under the best weather condition. Our tour stopped at an old tavern for lunch where we ordered fish and chip and it was very good.
CruiseDay 8 - Sea Day (6/1/2019, Saturday):
This sea day was much-needed. We used the opportunity to relax and do laundry using the self-service launderette on the ship.
CruiseDay 9 - Inverness (Invergordon) (6/2/2019, Sunday):Link to our photo
The area of Scotland north of the imaginary line between Stirling Castle and Edinburgh is called the Highlands. Our cruise port, Invergordon, is in this region, and today our elected excursion was to see attractions listed below in the Highlands: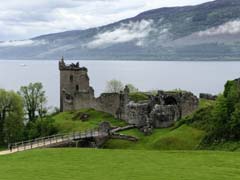 1) Inverness - with about 60,000 people, it is the "Capital to the Highlands". Its name means "Mouth of the River Ness", the Scottish word "inver" = mouth of a river. River Ness flows from nearby Loch Ness.
2) Lock Ness - the lake is narrow and long and very deep. In spite of the alleged sighting of the Loch Ness monster called Nessie, the lake itself was very scenic.
3) Urquhart Castle [UR-kurt] - this castle is dramatically situated by the lake Ness with a view of virtually the entire lake. Founded in the 13th century, Urquhart played a role in the Wars of Scottish Independence in the 14th century. This castle had a very modern visitors center continuously showing a short film about the history of the castle. The Visitors Center also had a cafe, souvenir shop and comfort facilities. Our lake cruise also started here, so tourists not only would come here to visit the castle, they might also come here to get on a boat.
4) Cawdor Castle - the residence of the Dowager Countess of Cawdor. The castle's claim to fame is its connection to Shakespeare's Macbeth in which the 3 witches predict the protagonist will be granted the title "Thane of Cawdor". The play takes place in Inverness, 300 years before this castle was built. This castle was a popular site that was included in several excursions. But if your time were short and places to see were long, then you may give this site a miss.
We found two reputable local tour operators where we could book seats for bus excursions: WOW Scotland Tours (£75/pp, visited Inverness, Lock Ness, Culloden Battlefield, but no mention of Urquhart Castle), and Invergordon Tours (£99/pp, visited Cawdor Castle, Inverness, a 60-min cruise on the Lake Ness to visit Urquhart castle.)
We booked two seats with InvergordonTours.com because we wanted to cruise on Loch Ness. A few days prior to excursion, Gavin at Invergordon Tours emailed us with a new schedule. We'd be visiting more sites than what we originally booked for, including the Culloden Battlefield and Clava Cairns. Our guess was that they combined two different bus tours into one, due to low head counts in each, and combined the two itineraries as well. Were we happy to see more sights? Yes and No. Yes, we did not mind to get a glimpse of those sights. No, because we were rushed at every site due to time constraint.
We found the Highlands to be very pretty, with gentle hills covered by many shades of green. Scenery-wise, today was definitely a highlight of this trip.
CruiseDay 10 - St. Andrews & Edinburgh (6/3/2019, Monday):Link to our photo
It would be difficult to cram Edinburgh into one day, let alone a few hours. But after Vincent placed visiting St. Andrews Golf Course as a high priority, we had only a few hours left for Edinburgh.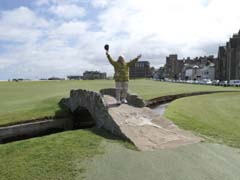 Edinburgh was a tendered port. Our ship anchored near the Forth Bridge in the estuary called "Firth of Forth". We were tendered to a town called South Queensferry. From S. Queensferry, Edinburgh was 25-min by car in the East-South direction, while St. Andrews was 80-min by car in the East-North direction, not on the same way.
To get from S. Queensferry to Edinburgh, Princess offered a round-trip bus transfer for USD$59/pp. But on the night before, the ship's daily activity newsletter stated that a local bus service would run a bus called "X99 Cruiselink" between S. Queensferry and Edinburgh every 20-minute for £9/pp round trip. A taxi from S. Queensferry to Edinburgh would cost £25. Obliviously, Princess' transfer was over-priced.
In order to see both St. Andrews and Edinburgh without stress, we contracted a private tour for 4 hours with EdinburghDayTours.com at £275/car from 9am to 1pm, starting from S. Queensferry to St. Andrews, and then dropping us off in downtown Edinburgh at the end of the tour.
We will let our pictures tell the story. This was an incredible day, VT got to see St. Andrews Links and MC got to see a bit of downtown Edinburgh.
On the way back from Edinburgh to S. Queensferry, since we did not take the X99 bus into town, we were not sure where the bus' drop off/pick up point was, even though the ship's activity sheet stated that it would be at the Waverley Bridge. So, after lunch break and a brief wander in Edinburgh, we walked to Waverley Bridge preparing to hail a taxi if we could not find the X99 bus stop. A young city greeter happened to be at the Waverley Bridge helping tourists. He said X99 bus stop should be at the north side of the St. Andrews Square, a bit further north of the Waverly train station. We walked there, saw the bus, paid the driver £5/pp for a one-way ticket to S. Queensferry. Everything worked out.
CruiseDay 11 - sea day (6/4/2019, Tuesday)
Watched three 2018-released movies in our room, A Star is Born, Green Book, and The Favorite.
The 2018 movie Mary, Queen of Scots was also available on our stateroom TV, but we had already seen that movie on the Delta flight coming over to London.
By the way, if you are interested in British monarchy history, the queen, Queen Anne of Great Britain (1665-1714), depicted in the black comedy movie "The Favorite", was a great-great-granddaughter (4th generation down) of Mary Stuart, Queen of Scots (1542-1587). Queen Anne was the last monarch of the House of Stuart. Because Queen Anne died without any living children, she was succeeded by her second cousin from the German side, the House of Hanover.
This Princess cruise ship, the Crown Princess, did not have as good a "lectures" program as other cruise line ships we had been on. This ship is also lacking a lounge with large wrap-around windows at the top-front of the ship where guests may relax and enjoy the sea views (like the Oceania, Holland America, and Viking Ocean ships.)
CruiseDay 12 - Le Havre, France (6/5/2019, Wednesday): Link to our photo
Le Havre [pronounced "luh ahv" in French] meaning "The Port", is France's 2nd largest port (just behind Marseille) and the gateway to Paris, the Norman countryside, and the historic WWII landing beaches.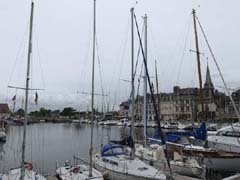 A few popular excursion destinations from Le Havre were
(1) Paris: 2.5-hr drive one-way under normal traffic,
(2) D-Day beaches: 2-hr drive one-way under normal traffic,
(3) travelers may opt to book tours or arrange their own transportation to other French towns near by, such as Rouen, Honfleur, Deauville etc.
Paris was just too far for a day-trip (those who went said one-way bus ride turned out to be almost 4 hours, due to heavy traffic and torrential rain). And all the D-Day beaches excursions were sold out, due to popular demand for activities commemorating the 75th anniversary of the D-Day landing, so we decided to visit Honfleur, 25 km from Le Havre.
The small town of Honfleur [pronounced "ohn-flur"] has a 17th-century harbor, and is known for its picturesque old port. Impressionist Claude Monet who was born in Paris and moved to Le Havre with his family when he was 5, painted with his mentor Eugene Bodin in Honfleur.
How did we get from Le Havre to Honfleur and back? Taxi cost 50-60€/one way, or 120€/rt and the driver would come back to pick you up after 3 hours. There were also shuttles operated by a local tour company called Bee Le Havre which ran 2 shuttles per day to Honfleur and back when there was a cruise ship in town. We booked 2 seats on the shuttle leaving at 11am (and come back 3 hours later) for 25€/pp. Bus departure was from Place Perret, a small square in the Le Havre city center about 1-min walk east of the city library.
We had a French lunch at one of the restaurants lining the old harbor in Honfleur. It was quite a mental switch to be reading menus with French dish names. On the way back, BeeLeHavre's shuttle dropped us off at the cruise port.
Going Home - Debarkation & Cotswold (6/6/2019, Thursday): Link to our photo
Princess offered a straight coach transfer from Southampton cruise port to Heathrow airport for USD$59/pp. For anyone needing to get to the airport quickly, this was a very good option.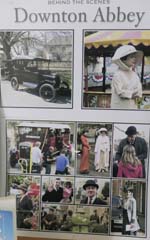 From reading LondonToolKit, we knew there were tour options from Southampton cruise port to visit a few places before being dropped off at London Heathrow airport around 4:30pm or London city hotel after that. Since we had already been to Bath and Windsor Castle in 1992, we booked a tour to Cotswold. Our return flight was scheduled to leave Heathrow airport at 8:10pm.
According to our friend, Ted Wang, "Cotswold" is the marriage of two English words, "wold" meaning gentle hills and "cots" referring to sheep enclosures. In medieval England, Cotswold sheep grew the best wool. The region prospered with Wool money. But with the rise of cotton and the Industrial Revolution, the woolen industry collapsed, the wealthy Cotswold towns fell on hard times. Today, visitors enjoy a harmonious blend of man and nature, a pristine English countryside decorated with time-passed villages. The Londoners with new money are buying vacation homes in Cotswold, bringing a new prosperity to the Cotswold.
Our Cotswold tour visited 3 villages, Bampton, Burford, and Stow-on-the-Wold, and included a very nice lunch in a tavern built in 1402 called "The Lamb Inn" located on Sheep Street in Burford. The cost of our tour was £99/pp. The village of Bampton gained its fame after being used as the Downton village in the British TV series "Downton Abbey". Bampton's "St. Mary The Virgin" church was the village church where the TV series' Grantham clan gathered for weddings, funerals and baptisms.
Our flight home on the Virgin Atlantic was very comfortable. The flight was less than half full, so we spread out to have empty seats next to each of us.
The highlights of this trip? If we had to choose favorites, they were London and Scottish Highlands. London, because we had 4 days of sunny, blue sky and dry weather, and London certainly had a lot to offer. Scottish Highlands, because the scenery was so green and pretty.