VIP Travel on the Cheap
Beleaguered travel agents are pitching themselves as gatekeepers to exclusive deals -- from cocktails with a maharaja to time with the Dalai Lama. How to do it yourself and save money
By CANDACE JACKSON


May 27, 2006; Page P1
Wall Street Journal Weekend edition
Any travel agency can book you a trip to Italy, but Abercrombie & Kent, a big tour operator, says it can give you something unique: a poolside lunch with Princess Maria Carla Borghese of Sicily. The lunch, along with a tour of the princess's estate and chauffeured transportation, costs $1,425.
But here's a little secret: You don't need Abercrombie & Kent to hang out with the princess. Though she doesn't advertise it widely, she'll book lunch and a tour directly -- for $422.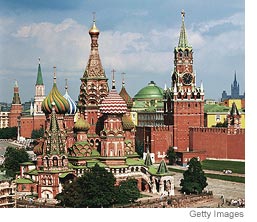 One of the hottest concepts in travel right now is the "insider" experience, where travelers are promised a chance to hobnob with celebrities, go behind the scenes where other tourists are barred and be treated like visiting dignitaries. For traditional travel agents and tour operators, these VIP extras are a way to fight back against Internet sites where consumers comparison shop and book trips themselves. Companies are selling tours of Russian President Vladimir Putin's entertaining room, visits with Olympic athletes and drinks with an Indian maharaja -- complete with an elephant parade.

INSIDER TRAVEL

Reporter Candace Jackson
explains why
1 some exclusive insider vacation experiences really aren't all that exclusive.
Plus, with a little legwork, you can duplicate VIP experiences by yourself -- sometimes for much less. See a
chart
of options around the world.
It turns out that in many cases you don't need to pay a middleman. Visitors looking to bypass lines at the Sistine Chapel, for instance, can pay travel agent Select Italy $3,995, which lets a group of up to 10 see Michelangelo's masterpiece "face to face in an exclusive, private, after-hours visit." You can buy the same access directly from the Vatican Museums, which sells the afterhours visits for $2,300. For an audience with the Dalai Lama at his residence in Dharamsala, India, anyone can phone his New York office and set it up at no charge -- while some agents tout it as part of packages costing thousands.
Booking your own trip with seven nights at hotels such as the Fairmont Palliser and the Emerald Lake Lodge could save about $500 off the price of a similar package from Adventures by Disney, a tour operator. The company promises a "unique lunch with an Olympian," but anyone can reserve time with bobsledders, ski jumpers or others directly through Canada Olympic Park. Disney says its $3,200 package includes guided tours and whitewater rafting, and takes the hassles out of doing it yourself.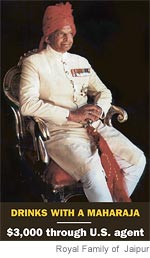 Travel agents say it's worth paying a premium for the convenience of one-stop shopping. Select Italy, for example, says the cost of its Sistine Chapel afterhours tour includes the company's commission, as well as the cost of its guide, who speaks English and has a master's degree in archaeology.
Sometimes the red tape can be daunting for consumers. Queen Nefertari's tomb in Egypt is closed to walk-in visitors. Tourists wishing to see the tomb must apply for permission from the country's Supreme Council of Antiquities. Los Angeles-based Destinations & Adventures International says it takes care of all the paperwork and follow ups as part of its fee. The cost to travelers: $4,220 for a one-hour tour, plus $20 for each extra person.
"There's a lot of bureaucracy there," says James Berkeley, president of Destinations & Adventures. "If a request comes from myself or my local ground operator, we'll get approval very quickly."
Traditionally, many high-end travel agents have specialized in more-exotic destinations, selling the convenience of having someone bundle flights and hotels along with things like restaurant meals and group tours. These agents often worked with big tour operators, many of which sold packages directly to travelers, too.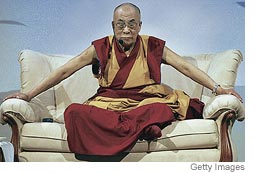 Now, big online travel sites, which have already transformed sales of airline tickets, are moving further into trip packaging -- putting pressure on high-end travel agents to differentiate their services. Some are explicitly marketing their "exclusive" tours or ability to grant "insider access" on their Web sites, brochures and advertisements. Others say they can add on VIP experiences at the request of their clients.
For the museums and people who provide the actual insider experiences, the motivation to cooperate with agents selling VIP access varies. In some cases, they're paid by the agent or other intermediaries. Others do it for exposure. Still others say they treat all requests equally: A spokesman for the Office of Tibet in New York says the Dalai Lama doesn't accept money from travel agents or travelers, and doesn't want the experience of a spiritual audience to become commercialized.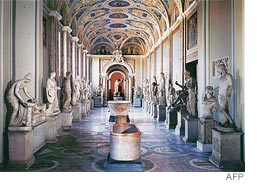 Abercrombie & Kent says personalized trips, many of which feature insider experiences, make up 50% of its business, up from 30% five years ago. Virtuoso, a network of 300 travel agencies, estimates that the demand for these types of trips has doubled in the past two years.
"I've got a Rolodex that took me 23 years to build up," says Richard Bruce Turen, president of Churchill & Turen, an agency in Naperville, Ill., that has taken travelers to off-limits areas of the Uffizi Museum in Florence, Italy. "It's about who you know."
Recognizing that it's possible for travelers to duplicate some of these experiences themselves, some agents and tour operators say they're taking steps to lock in exclusive agreements that ensure they're the sole gatekeepers.
Abercrombie & Kent, for example, says it has an agreement with the Whistler Blackcomb resort in Canada that gives its clients a chance to ride a snowcat, one of the specialized vehicles that grooms ski slopes.
For other tours, the company says it can't ensure an exclusive deal, as in the case of lunch with the Princess Borghese in Sicily. To do so, "you have to own the product, which we don't," says Geoffrey Kent, chairman and founder of Abercrombie & Kent, adding that the company is expanding into villa and lodge ownership, and working with its local offices to develop more restricted deals. "Inside access has become a huge priority."
The prospect of special access was what attracted Joan Auerbach to a tour of Vietnam, Laos and Cambodia through operator Cox & Kings. While some of the added perks -- such as a home-cooked meal and culinary lesson from a local chef in Hanoi -- came through, another one didn't. On the day she arrived, her guide told her that a meeting with a Vietnam War veteran to talk about his experiences had to be canceled because he couldn't make it.
"It didn't pan out," says the health-care marketing executive from New York, adding that she had been cautioned by the company about last-minute changes. "Those are the flukes that happen in travel and in life."
One reason it's hard for travelers to gauge the true exclusivity of an experience is that it's often bundled into an all-inclusive package. This lack of transparency can make it easier for operators to add hefty margins. Tacking on dinner with a prince, even if the cost of dinner is low, can also add enough cachet to boost the overall price of a trip. For the big online agents, margins on bundled trips can be as high as 15%, according to estimates by industry analyst PhoCusWright.
Travelers booking a package tour to Moscow and St. Petersburg with Exeter International, an agency in Tampa, Fla., can add on a number of side trips, called "exclusive excursions." For $2,400, Exeter takes travelers inside the Grand Kremlin Palace, a section of the Kremlin where President Putin entertains visitors; the cost can be added on to some trips and is bundled into others. Exeter says this area is "strictly closed to the public," but it is possible to get in through other agents who book it a la carte for less money. In New York, for example, the Russian National Group, a tour operator, says it can arrange a similar visit for $1,000 (plus $320 an hour for a guide) with a couple of weeks' notice.
Greg Tepper, the president of Exeter International, says his trip includes a car and driver, along with trusted guides. Travelers going on their own may have trouble "even getting to the Kremlin and finding the right door," he says. Mr. Tepper has been working in Russia since the late 1980s, and has stayed in touch with former colleagues from his days at one of the first non-state-controlled tourism organizations in the country. In the past decade, annual revenue at Exeter increased from $50,000 to $7 million, with more than 1,500 clients booking every year, Mr. Tepper says. Kremlin guards "trust us to bring people who hold it in the right reverence."
Regardless of how they arrange it, some travelers say these experiences can be the difference between a routine trip and a memorable vacation. On a business trip to India, Jennifer Joseph used a travel agent to arrange for cocktails with the maharaja of Jaipur. He met her and a group of her friends at the palace gates, where they had arrived on a horse-drawn carriage, and gave them a tour of his home.
"He was a little reserved, but very welcoming," says the 25-year-old television producer. The maharaja asked them about their travels and showed them photographs of previous visitors, including Jacqueline Kennedy. "It felt like something out of a movie."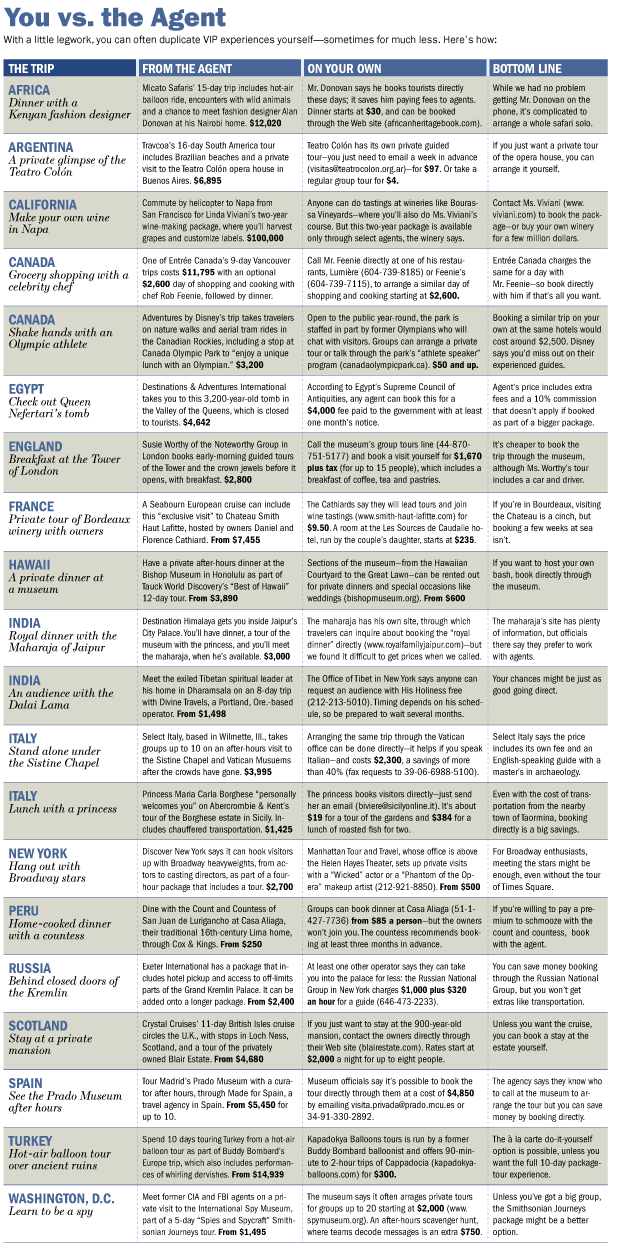 --Jacob Hale Russell, John Jurgensen and Rasul Bailay contributed to this article.
Write to Candace Jackson at candace.jackson@wsj.com2