Going To Taipei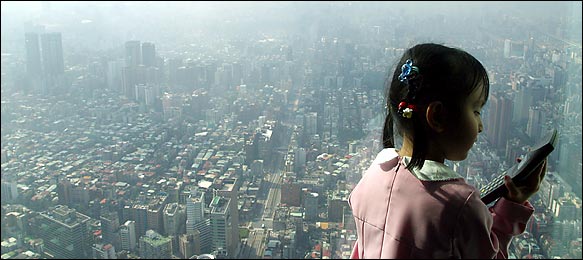 view from Taipei 101 observation deck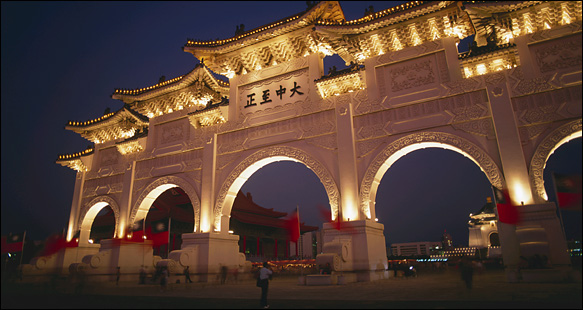 The Chiang Kai-Shek Memorial. Karen Smith/Lonely Planet Images
By MATT GROSS New York Times February 12, 2006
WHY GO NOW In the last few years, Taipei — the sprawling metropolis of 2.6 million that is the capital of Taiwan — has leapt into modernity with a panache that puts the casino moguls of Macao and the skyscraper-erectors of Shanghai to shame.
It's not just the hardware — the tallest building in the world (for now), Wi-Fi coverage over more than half the city and a speedy and expanding subway system — that is sophisticated. The people, too, embody all the complexities of a country that is at once forward-looking and historically aware, internationally plugged in but diplomatically isolated, and as multiculturally hybrid (influences include China, Japan and the United States) as it is full of hometown pride.
That pride has generated what may be Taipei's most vibrant cultural movement. It's called "tai-ke," a phrase that originally meant "redneck" but has now come to encompass a youth-focused lifestyle that celebrates both the déclassé (flip-flops, Long Life cigarettes) and the haute (Gucci, Macallan).
But tai ke is just one subculture among many in Taipei — there are jazz fans and gay-rights activists, bohemians and aborigines, calligraphers and computer geeks — and whatever the group identity, the motto generally is: Eat, drink and be merry, for tomorrow ... we'll do it all over again.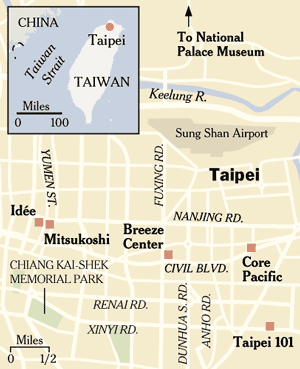 WHERE TO STAY The Grand Hotel (1 Zhongshan North Road, Section 4, (886-2) 2886-8888; www.grand-hotel.org; rooms can be booked online from 5,500 Taiwan dollars (about $187, at about 31 Taiwan dollars to the United States dollar). Once the height of Taipei style, it still stands as a symbol of old-school Taiwan. If you want to feel like you're sleeping in a Ming emperor's palace (but with décor that feels dated rather than deluxe), this is the place for you.
Sheraton — in America a somewhat generic brand, but increasingly upscale abroad — has filled the hole left by the gradual decline of the Grand Hotel, once the height of Tapei style. The Sheraton in Taipei, 12 Zhongxiao East Road, Section 1, (886-2) 2321-5511; on the Web at www.sheraton-taipei.com; doubles from 9,300 Taiwan dollars; reopened last summer following a three-year, $60 million renovation that transformed it into the hotel of choice for Taipei's elite (e.g., President Chen Shui-bian's son got married there).
Taipei has a small but growing collection of boutique hotels, too. The newest is the Ambience Hotel, 64 Chang-An East Road, Section 1, (886-2) 2541-0077; on the Web at www.ambiencehotel.com.tw; doubles from 4,600 Taiwan dollars, 10 all-white stories filled with Philippe Starck and Ferruccio Laviani furniture, flat-screen televisions with video-on-demand systems, and Botanicus aromatherapy products.
WHERE TO EAT People in Taipei are so obsessed with food that they won't leave the house without the promise of a dumpling or a plate of stinky tofu (yes, it's a real dish) at their destination.
Restaurants range from those offering quick bites like Ay-Chung Flour-Rice Noodle, 8-1 Er-Mei Street, (886-2) 2388-8808, which sells a thick, slightly sour noodle soup to standing-room-only crowds, to high-style establishments like Fifi, 15 Renai Road, Section 4, (886-2) 2721-1970 and (886-2) 2779-0528, which looks like something out of a Wong Kar-wai movie and has a great lunch special for 350 Taiwan dollars.
Dishes from Sichuan province on the mainland are perennial favorites. The cutesy Kiki, 47 Alley 280, Guangfu South Road, (886-2) 2781-4250; offers exceptional renditions of Sichuan
Sam Yeh for The New York Times
Mint, the latest club by the interior designer Mark Lintott, is in the 101-story Taipei 101 building.
standards like fly's head (no insects here — it's ground pork cooked with tons of fresh chilies) and dry-fried string beans.
Regional Taiwanese food is coming to the fore as well: At state dinners, President Chen serves the surprisingly delicate, Japanese-inflected cuisine from Ilan in eastern Taiwan. Don't wait for an invitation; go to Lu San Canteen, 12-5 Yongkang Street, (886-2) 2351-3323, and order tofu with spinach purée, steamed bean-fish, and noodle soup with intensely garlicky pork.
WHAT TO DO DURING THE DAY For just 100 Taiwan dollars, you can see thousands of years of Chinese art and artifacts at the National Palace Museum, 221 Chih-shan Road, Section 2, (886-2) 2881-2021. Only a small fraction of the enormous collection is on display at one time, with the rest stored in underground vaults dug out of the mountainside, but you can be reasonably assured of viewing such favorites as the piece of jade shaped like cabbage.
A more Taiwan-specific view of history can be found at Taiwan Storyland, 50 Zhongxiao Road, Section 1, (886-2) 2388-7158; a typical small Taiwanese town circa 1965 recreated in the basement of the technology-focused K Mall. This is the "Made in Taiwan" era of yesteryear, with a doctor's office, a classroom, a camera store, a general store, a cinema, a Black Cat bar, and of course, several restaurants. Entry for foreigners is 80 Taiwan dollars.
101-story Taipei 101 building.
The tallest in the world.
The epitome of today's Taipei, however, is Taipei 101, 7 Xinyi Road, Section 5, (886-2) 8101-8898; currently the world's tallest building, a 1,671-foot behemoth that may have disturbed an ancient fault line on the earthquake-prone island. A trip to the 89th floor costs 350 Taiwan dollars, a waltz around the 91st-floor observation deck is another 100 Taiwan dollars; children under 3 feet 3 inches tall get in free. Agoraphobics may wish to wander the high-end mall on the lower floors.
For the opposite of such advanced architecture, take a taxi to Treasure Hill, a grassy neighborhood of illegal dwellings that Taipei's Culture Department is starting to transform into an arts district. Its epicenter is the lovely Treasure Hive cafe, 3, Alley 16, Lane 230, Dingzhou Road, Section 3, which holds weekly outdoor concerts.
WHAT TO DO AT NIGHT If you're a hip teenager — or just want to do a little amateur trend-spotting — the West Gate neighborhood is the place to go (take the subway to Ximending station). Kids in elaborate haircuts and Converse All-Stars roam this dense network of streets, buying cheap, trendy clothes from stores with names like Milk, Donut and Whazzup?, and snacking on fresh-baked croissants and grilled stinky tofu. Nearby is a karaoke parlor, Partyworld, 55 Zhonghua Road, Section 1, (886-2) 2361-9898, which is reputedly haunted: It stands on the site of a movie theater that burned down more than a decade ago.
The music scene is kicking, but the main venue, Underworld, 45 Shida Road, (886-2) 2369-0103, lost its live-music license last fall. The D.J.'s still play Taipei indie and alternative rock, but the live scene has shifted to the Wall, 200 Roosevelt Road, Section 4, (886-2) 2930-0162, a bigger space that gets acts like Art of Fighting and Miniskirt. White Wabbit Records, (886-2) 8935-1454; wwr.idv.tw, in the Wall's basement mini-mall, sells CD's of almost every local band.
Taipei bars are raucous, with bottles of Macallan being tossed back like shots at places like Naomi, 65 Anhe Road, Section 1, (886-2) 2709-8259, a basement recreation room-cum-Art Deco lounge. For a more civilized tipple, stop by Mono Mono, 17 Alley 29, Lane 127, Anhe Road, Section 1, (886-2) 2754-0868, for its wide range of Scotch (to be sipped, not swigged) and occasional celebrities like Bobby Chen, known as Taiwan's Bob Dylan.
WHERE TO SHOP When Taipei people aren't eating, they're shopping.
The Idée department store, 14 and 15 Nanjing West Road, (886-2) 2564-1111; www.idee.com.tw, is Taipei's answer to Bloomingdale's, only with a bit more youthful élan; check out À la Sha, a local label, in the basement.
Around the corner, Wum, 1 Lane 16, Zhongshan North Road, Section 2, (886-2) 2581-9866; www.stephanedou.com, features the refined fashions — Balenciaga-esque tweed coats and organza evening gowns — of Stephane Dou and Changlee Yugin.
Design hounds will be delighted by the Dragonfly boutiques, which sell a host of clever products — wooden radios, enameled gothic tableware — from across Europe and Asia. The latest branch, at 11 Songkao Road, (886-2) 2723-3261; www.dragonfly.com.tw, was designed by Wei-Min Lee, the Ambience Hotel architect, and is in the basement of a brand-new Eslite, part of a chain of gargantuan bookstores that carry a university library's worth of novels, magazines, and Chinese poetry journals. The Eslite flagship, 245 Dunhua South Road, Section 1; www.eslitebooks.com, is open 24 hours a day.
New Yorkers in search of tea will notice a familiar name — Ten Ren, (www.tenren.com), the Chinatown purveyor of oolongs, is all over Taipei. But for a more intimate purchase of fragrant leaves, visit Mei's, 16 Lane 37, Yongkang Street, (886-2) 2394-2425; its proprietor, also named Mei, is a government-approved tea sommelier. (The state exam involves sampling 30 brews and identifying their mountain of origin.) Deep-pocketed tea lovers should ask for Assam from Hua Lien Country, 3,200 Taiwan dollars for 2.2 pounds.
HOW TO GET AROUND The Taipei Metro covers virtually the whole city and runs from 6 a.m. to midnight. Fares depend on how far you're going, and an all-day pass is 150 Taiwan dollars.
Taxis are ubiquitous and fairly cheap: 70 Taiwan dollars for the first mile or so, and 5 Taiwan dollars for every additional third of a mile, or two minutes spent waiting.
YES, IT IS FREE The Ming-style Martyrs' Shrine, 139 Bei-An Road, (886-2) 2885-4162, honors Taiwan's fallen heroes, but crowds come more for the hourly changing of the guard, when stony-faced soldiers juggle rifles in a ceremony that is equal parts Buckingham Palace and vaudeville.
YOUR FIRST TIME OR 10TH Taipei's night markets, festive streets lined with knickknack stalls and, more important, food vendors, never disappoint. The most popular was at Shihlin, but its stalls have been moved to the less atmospheric indoors. Hungry insomniacs now go to Raohe Street, lining up for northern Chinese buns filled with black-pepper pork and baked in stone ovens.
WHERE TO STAY WIRED At the end of 2005, half of Taipei had access to Wi-Fly, the city's public wireless Internet service; coverage is expected to be 90 percent by the end of 2006. Wi-Fly costs 100 Taiwan dollars a day. If you can't log on without a cup of coffee, go to the 60's-mod Zaka cafe, 37 Lane 177, Dunhua South Road, Section 1, (886-2) 2773-7009.
HOW TO GET THERE EVA Airlines, www.evaair.com, has the fastest routes to Chiang Kai-shek International Airport just outside Taipei, with daily one-stop flights leaving from Newark. Weekend departures start at about $800 for economy class, $1,200 for Evergreen Class.
original article posted at http://travel2.nytimes.com/2006/02/12/travel/12going.html