GO NUTS

AND FOLLOW THE NEW 2005 DIETARY GUIDELINES:

Advice from the International Tree Nut Council Nutrition Research & Education Foundation

Davis, CA—Just a handful (or 1½ ounces) of tree nuts every day can help you follow the 2005

Dietary Guidelines for Americans. Tree nuts, such as almonds, Brazils, cashews, hazelnuts, macadamias, pecans, pine nuts, pistachios and walnuts, play an important role in healthful eating.

As with all foods, portion control is critical. The 2005 Dietary Guidelines focus a great deal on

caloric intake and discretionary calories. While nuts are energy dense, a number of studies have shown an inverse association between frequency of nut consumption and body mass index. "Nuts tend to be filling, which can actually help with weight control," states Maureen Ternus, M.S., R.D., registered dietitian and Nutrition Coordinator for the International Tree Nut Council Nutrition Research & Education Foundation. "Since tree nuts have such rich and complex flavors, a single 1½-ounce serving is quite satisfying and can easily be eaten as a snack, or enjoyed throughout the day in main dishes or sprinkled on yogurt, salads, soups or pasta."

Chock full of vitamins and minerals, nuts contain many nutrients—vitamin E, calcium,

magnesium, potassium and fiber—that are lacking in the diets of both children and adults in the U.S. Nuts also contain a wide variety of phytochemicals, or plant compounds such as phytosterols (beta-sitosterol), carotenoids, flavonoids and proanthocyanidins, which may help protect against heart disease, cancer and other chronic diseases.

The new Dietary Guidelines highlight the DASH Eating Plan and the USDA Food Guide as

examples of recommended eating plans. Nuts play an important role in the DASH diet primarily due to the fact that they are rich sources of energy, magnesium, potassium, protein and fiber.

One and one-half ounces of nuts, or 1/3 cup, are recommended 4-5 times per week (as part of the

nuts, seeds and legumes group).

The same serving size of nuts is currently recommended by the Food and Drug Administration

(FDA) in one of the first qualified health claims—a claim for nuts and heart disease: "Scientific evidence suggests but does not prove that eating 1.5 ounces per day of most nuts as part of a diet low in saturated fat and cholesterol may reduce the risk of heart disease. [See nutrition information for fat content.]"

More than 30 studies have shown that including nuts in the diet can reduce the risk of heart

disease regardless of the individual nut studied. Clearly, nuts can and should play an important role in any healthy diet.

As more Americans move toward more plant-based diets, nuts can serve as an important source

of protein. The 2005 Dietary Guidelines recommend that vegetarians of all types substitute 1½ ounces of nuts and 2/3 cup of legumes for 5½ ounces of meat, poultry and/or fish. And, in the USDA Food Guide, ½ ounce of nuts is equivalent to one ounce of meat poultry or fish.

-end-

Nutrients in 100 Grams of Tree Nuts and Peanuts¹
| | | | | | | | | | | | |
| --- | --- | --- | --- | --- | --- | --- | --- | --- | --- | --- | --- |
| Nutrient | Units | Almonds | Brazils | Cashews | Hazelnuts | Macadamias | Peanuts | Pecans | Pine nuts | Pistachios | Walnuts |
| Calories | kcal | 580 | 660 | 570 | 630 | 720 | 590 | 690 | 670 | 570 | 650 |
| Protein | g* | 21 | 14 | 15 | 15 | 8 | 24 | 9 | 14 | 21 | 15 |
| Total Fat | g | 51 | 66 | 46 | 61 | 76 | 50 | 72 | 68 | 46 | 65 |
| Saturated Fat (bad) | g | 4 | 15 | 9 | 4 | 12 | 7 | 6 | 5 | 6 | 6 |
| Monounsaturated Fat | g | 32 | 25 | 27 | 46 | 59 | 25 | 41 | 19 | 24 | 9 |
| Polyunsaturated Fat | g | 12 | 21 | 8 | 8 | 1.5 | 16 | 22 | 34 | 14 | 47 |
| Linoleic acid (18:2) | g | 12 | 20.54 | 7.66 | 7.83 | 1.30 | 16 | 21 | 33 | 13.64 | 38 |
| Linolenic acid (18:3) | g | 0 | 0.04 | 0.16 | 0.09 | 0.20 | 0 | 1 | 0.16 | 0.26 | 9 |
| Cholesterol | mg** | 0 | 0 | 0 | 0 | 0 | 0 | 0 | 0 | 0 | 0 |
| Carbohydrate | g | 20 | 12 | 33 | 17 | 13 | 22 | 14 | 13 | 28 | 14 |
| Fiber | g | 12 | 7 | 3 | 10 | 8 | 8 | 10 | 4 | 10 | 7 |
| Calcium | mg | 248 | 160 | 45 | 114 | 70 | 54 | 70 | 16 | 110 | 98 |
| Iron | mg | 4.30 | 2.43 | 6.00 | 4.70 | 2.65 | 2.26 | 2.53 | 5.53 | 4.20 | 2.91 |
| Magnesium | mg | 275 | 376 | 260 | 163 | 118 | 176 | 121 | 251 | 120 | 158 |
| Phosphorus | mg | 474 | 725 | 490 | 290 | 198 | 358 | 277 | 575 | 485 | 346 |
| Potassium | mg | 728 | 659 | 565 | 680 | 363 | 658 | 410 | 597 | 1,042 | 441 |
| Sodium | mg | 1 | 3 | 16 | 0 | 4 | 6 | 0 | 2 | 10 | 2 |
| Zinc | mg | 3.36 | 4.06 | 5.60 | 2.45 | 1.29 | 3.31 | 4.53 | 6.45 | 2.30 | 3.09 |
| Copper | mg | 1.11 | 1.74 | 2.22 | 1.72 | 0.57 | 0.67 | 1.20 | 32 | 1.32 | 1.59 |
| Manganese | mg | 2.53 | 1.22 | 0.83 | 6.17 | 3.04 | 2.08 | 4.50 | 8.80 | 1.27 | 3.41 |
| Selenium | mcg*** | 2.80 | 1,917 | 11.70 | 2.40 | 3.60 | 7.50 | 3.80 | 0.70 | 9.30 | 4.90 |
| Vitamin C | mg | 0 | 0.70 | 0 | 6.30 | 0.70 | 0 | 1.10 | 0.80 | 2.30 | 1.30 |
| Thiamin | mg | 0.24 | 0.62 | 0.20 | 0.64 | 0.71 | 0.44 | 0.66 | 0.36 | 0.84 | 0.34 |
| Riboflavin | mg | 0.81 | 0.03 | 0.20 | 0.11 | 0.09 | 0.10 | 0.13 | 0.23 | 0.16 | 0.15 |
| Niacin | mg | 3.92 | 0.30 | 1.40 | 1.80 | 2.27 | 13.52 | 1.17 | 4.39 | 1.42 | 1.12 |
| Pantothenic acid | mg | 0.35 | 0.18 | 1.22 | 0.92 | 0.60 | 1.39 | 0.86 | 0.31 | 0.51 | 0.57 |
| Vitamin B6 | mg | 0.13 | 0.10 | 0.26 | 0.56 | 0.36 | 0.26 | 0.21 | 0.09 | 1.27 | 0.54 |
| Folate | mcg | 29 | 22 | 69 | 113 | 10 | 145 | 22 | 67 | 50 | 98 |
| Vitamin B12 | mcg | 0 | 0 | 0 | 0 | 0 | 0 | 0 | 0 | 0 | 0 |
| Vitamin A | IU**** | 5 | 0 | 0 | 20 | 0 | 0 | 56 | 29 | 262 | 20 |
| Vitamin K | mcg | 0 | 0 | 34.70 | 14.20 | n/a | 0 | 3.50 | 53.90 | 13.20 | 2.70 |
| Vitamin E | | | | | | | | | | | |
| Tocopherol, alpha | mg | 25.87 | 5.73 | 0.92 | 15.03 | 0.57 | 6.93 | 1.40 | 9.33 | 1.93 | 0.70 |
| Tocopherol, beta | mg | 0.43 | 0 | n/a | 0.33 | 0 | n/a | 0.39 | 0 | 0.14 | 0.15 |
| Tocopherol, gamma | mg | 0.89 | 7.87 | n/a | 0 | 0 | n/a | 24.44 | 11.15 | 22.45 | 20.83 |
| Tocopherol, delta | mg | 0.25 | 0.77 | n/a | 0 | 0 | n/a | 0.47 | 0 | 0.73 | 1.89 |
| Total Phytosterols | mg | 120 | n/a | 158 | 96 | 114 | n/a | 102 | 141 | 214 | 72 |
| Stigmasterol | mg | 4 | n/a | n/a | 1 | 0 | n/a | 3 | n/a | 4 | 1 |
| Campesterol | mg | 5 | n/a | n/a | 6 | 7 | n/a | 5 | n/a | 10 | 7 |
| Beta-sitosterol | mg | 111 | n/a | n/a | 89 | 107 | n/a | 89 | n/a | 199 | 64 |
| Carotenoids | | | | | | | | | | | |
| Carotene, beta | mcg | 3 | 0 | 0 | 11 | 0 | 0 | 29 | 17 | 157 | 12 |
| Carotene, alpha | mcg | 0 | 0 | 0 | 3 | 0 | 0 | 0 | 0 | 0 | 0 |
| Cryptoxanthin, beta | mcg | 0 | 0 | 0 | 0 | n/a | 0 | 9 | 0 | 0 | 0 |
| Lutein + zeaxanthin | mcg | 1 | 0 | 23 | 92 | n/a | 0 | 17 | 9 | 1,205 | 9 |
Source: USDA National Nutrient Database for Standard Reference, Release 16, 2003.
*g = gram; **mg = milligram; ***mcg = microgram; ****IU = International Units
¹All of the nuts are unsalted; almonds, brazilnuts, hazelnuts, pecans, pine nuts and walnuts are unroasted; cashews, macadamias, peanuts and pistachios are dry roasted.
Prepared by the International Tree Nut Council Nutrition Research & Education Foundation, 9/03.
For more information please visit website at www.nuthealth.org.
---
多吃堅果有益預防心血管疾病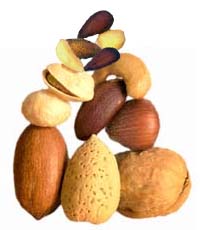 作者:駐法科技組 現職:駐法科技組

文章來源:CORDIS Wire 2005-05-09

發佈時間:94.07.04

堅果(tree nut)和預防心血管疾病之間的關聯受到廣泛研究的注意。初期的研究證明了多吃堅果和預防心肌梗塞或心絞痛之間的關係。

第一篇相關論文是基督再臨派健康研究(Adventist Health Study, 1992),針對3萬多名基督再臨派(Adventist)成員作飲食控制,包括規律攝取堅果。結果發現,食用愈多堅果,罹患心血管疾病的機率較低。經過六個月的觀察,每周食用五次堅果的實驗組,出現低風險的心肌梗塞的機率比未食用的實驗組少了51%。後續的實驗也獲得大致相同的結果,證明了食用較多堅果,可以延長壽命,而且不會罹患冠狀血管疾病,同時指出食用堅果和心血管疾病之間有負向的關係。

較新近的研究也得出類似的結論。在愛俄華婦女健康研究(Iowa Women's Health Study, 1996)裡面,一項研究對3萬4千位停經婦女做了7年的追蹤觀察。研究發現服用維他命E和冠狀動脈疾病死亡率之間存在負相關。而堅果是天然維他命E的主要來源之一。另一項發現是食用堅果和心血管疾病死亡率之間也存在負向的關係。

哈佛護士健康研究(The Harvard Nurse's Health Study, 1998),以8萬6千多位護士為樣本,連續觀察14年,得出一周食用5份(每份28克)以上堅果的婦女罹患冠狀疾病的機率,比從不食用或每周食用少於1份的婦女要低。

法國Lavedrine以793位18到65歲的男女的觀察樣本所做的研究指出,多食用堅果可以降低心血管疾病的罹患風險,同時提高人體內好的膽固醇(HDL cholesterol)。最近的醫師健康研究(Physician's Health Study)也得出相同的結果,即,每周食用一到兩次堅果的人,心血管疾病猝死的比例較小,而且多食用堅果可以降低整體心血管疾病的死亡率。

大多數研究的結論都是正面的,都認為食用堅果可以有效降低壞膽固醇(LDL)的比值,進而有利預防心血管方面的疾病。