Eat Better -- and Eat Less
By KELLY GREENE
May 29, 2005
Where do older adults fit into the new food pyramid? The answer isn't particularly appetizing.
The U.S. Agriculture Department last month unveiled a revamped, color-coded pyramid that for the first time emphasizes exercise. Its new Web site, mypyramid.gov1, uses your age, sex and activity level to generate one of 12 tailored eating plans based on the calories you need each day.
The bad news: Once you turn 51 years old, you generally need about 200 fewer calories a day than you did from ages 31 to 50. So, for example, if you are a moderately active 51-year-old woman, meaning you walk 1½ to three miles a day or do equivalent exercise, you need to consume 1,800 calories a day, rather than the 2,000 calories a day you needed for the past 20 years. Men doing the same activity at the same ages would drop to a range of 2,200 to 2,400 calories from 2,400 to 2,600.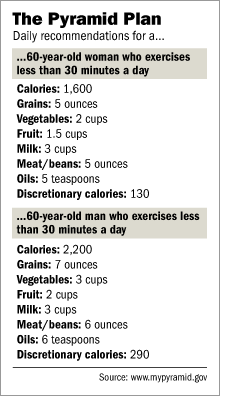 "As we lose muscle mass because of our aging, and maybe not being as physically active, our metabolism slows," says Eric Hentges, executive director of the Agriculture Department's Center for Nutrition Policy and Promotion.
Beyond telling you how many calories you need for your age, however, the new pyramid doesn't provide much in the way of age-related details. For those, you need to refer to the government's 2005 dietary guidelines, released in January, and available at the same Web site (mypyramid.gov/guidelines2).
Whatever your age, the guidelines say, you're generally supposed to be eating more fruit and vegetables -- five to 13 servings a day, up from the five to nine servings that the government recommended in its guidelines five years ago. The new rules also cut back the recommended amounts of grains, and set limits on salt and sugar.

Several specific recommendations for older eaters are sprinkled throughout the guidelines:

•

Many people over age 50 have a "reduced ability to absorb naturally occurring vitamin B12," so they should eat fortified cereal or other foods with the vitamin added, or take B12 supplements.



•

Older adults should consume extra vitamin D.



•

People who suffer from hypertension, along with all middle-aged and older adults, should try to consume no more than 1,500 milligrams of sodium per day.



•

The same group of folks also should get the recommended 4,700 milligrams per day of potassium through food (because potassium can lower blood pressure and blunt the effects of salt).



•

Older adults also should choose foods rich in fiber.



Another nutritional goal to keep in mind: variety, which the government is hoping to encourage with its multi-hued pyramid, in which each color represents a different food group. Most people's taste buds begin to wane with age, "and diets tend to become less balanced," Mr. Hentges says. "Trying to find a balance of foods, even when you have some changes in the taste and texture that you perceive, would be something that people ought to try to be aware of."