Vegetarian diet just as effective as drugs
A customized vegetarian diet can lower cholesterol levels just as effectively as state-of-the-art drugs, according to a new Canadian study.
Researchers found that a modernized "ape diet" -- one that is high in fibre, nuts, soy and extracts of leafy greens -- can reduce cholesterol by almost 30 per cent.
That is virtually the same reduction achieved with a combination of the popular drug lovastatin and a more traditional low-fat diet. "This study shows that people now have dietary alternatives to drugs to control their cholesterol," said David Jenkins, a professor of nutritional sciences at the University of Toronto.
The study was conducted on people with high cholesterol, but the diet can also be used by healthy people to keep their levels low, he said. (Low-density lipoproteins -- bad cholesterol -- tend to rise as people age. Cholesterol is dangerous because it clogs arteries, which can choke off the oxygen supply to the heart.)
"It's quite a manageable diet: You can find all these foods in the supermarket and the health-food store," Dr. Jenkins said.
The research, published in today's edition of the Journal of the American Medical Association, was conducted on 46 people recruited from the risk-factor modification centre at St. Michael's Hospital in Toronto.
The participants, with an average age of 59, all had high blood pressure and were overweight. They were placed into three groups and followed a strict diet for one month. Participants who took a 20-milligram daily dose of lovastatin and ate a vegetarian diet saw their LDL cholesterol fall 30.9 per cent.
Those who followed the same diet, but didn't take the drug, had reductions of only 8 per cent.
Members of the third group, who ate the customized diet, saw their LDL levels fall 28.6 per cent in four weeks.
In an accompanying editorial, James Anderson, a professor of medicine at the University of Kentucky in Lexington, said the findings have dramatic public-health implications. He suggested that physicians prescribe the "ape diet" to patients before even considering drugs.
A typical dinner for those on the "ape diet" was ratatouille made with tofu, eggplants, onions and red peppers, along with pearled barley and cauliflower. By contrast, a typical dinner for the more traditional low-fat diet consisted of an omelette made with egg whites (no yolk), fat-free cheese, onions and green pepper, along with pasta primavera and broccoli.
Participants consumed, on average, about 2,500 calories daily.
Those on the customized diet, however, consumed markedly more vegetable protein and fibre; they also consumed more fat and dietary cholesterol, but their health outcomes were still better.
In addition to the usual vegetables, fruits and beans that are central to a vegetarian diet, the "ape diet" features soy milk, almonds, psyllium (a soluble fibre often used to treat constipation), and a special margarine made with plant sterols (substances usually found in leafy greens and vegetable oils).
These foods have been shown, separately, to prevent the body from absorbing cholesterol.
Sample diet plan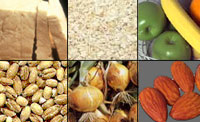 One day of the customized vegetarian diet:
Breakfast -- Hot oat-bran cereal; soy beverage; strawberries; sugar and psyllium; oat-bran bread; enriched margarine; double-fruit jam
Snack -- almonds; soy beverage; fresh fruit
Lunch -- Spicy black-bean soup; sandwich with soy deli slices; oat-bran bread; enriched margarine; lettuce; tomato; cucumber
Snack -- Almonds, psyllium, fresh fruit
Dinner -- Tofu bake with eggplant, onions and sweet peppers; pearled barley; vegetables
Snack -- fresh fruit; psyllium; soy beverage