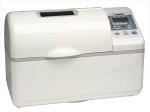 March, 2003 follow up review by Mei-Ching (seen as in Amazon.com)

Zoji - after 18 months, March 23, 2003

| | |
| --- | --- |
| | Reviewer: A Home & Garden enthusiast from Reading, MA USA |
I bought this Zoji bread machine in May 2001. I posted a glowing review at this forum on 7/8/2001.
A few months ago, I read a post on this forum challenging those who had said wonderful things about this machine to post an updated review aftr using it for a year.
So here I am, after 18 months, I have to admit that the noise during a particular kneeding cycle becomes even louder, and the coatings on both kneeding blades are peeling off. (listen to the machine noise up close, click here)
My machine still makes wonderful bread, but I am surprised that the blades do not last very long.
A bread lover in Massachusetts.
---
(Mei's original review is posted here)
3 of 3 people found the following review helpful:

What a delight Zoji brought to my family breakfast, July 8, 2001

Reviewer: Mei-Ching Tzeng from Massachusetts, USA

I often remarked to my family that this Zojirushi prabably is one of my best investment - because I get so much out of it. I made all kinds of bread, as well as citrus fruit cake and strawberry jam. The machine never failed me, every loaf was a delight! Zoji is my 2nd bread machine, I had an older model of a different brand for 4 years. When that machine went and I could not find replacement part, I started looking for a new one. The reviews posted at ... helped me focus on two models, I eventually decided on Zoji. During a particular kneading cycle the Zoji made noticable noise. Initially I thought my machine was a defect so I brought it back to the store to exchange for a new one. But the new one works the same after a few week's run, now I just accept it as normal, and it never bothers me. When we have overnight guests, I would set timer on the machine so that a new loaf of bread could be ready by 8 am. My guests would wake up to the baking aroma in the kitchen, it enhances a very enjoyable breakfast. (July, 2001)
Read otehr users' review on this bread machine at AMAZON site