Day 12, Lisbon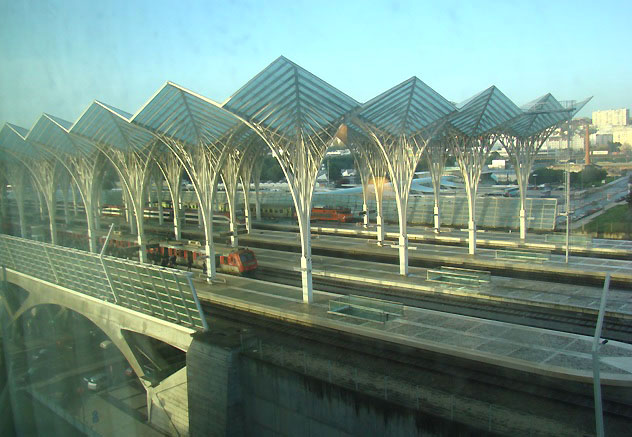 The modern Oriente train station across the street from our hotel in Lisbon.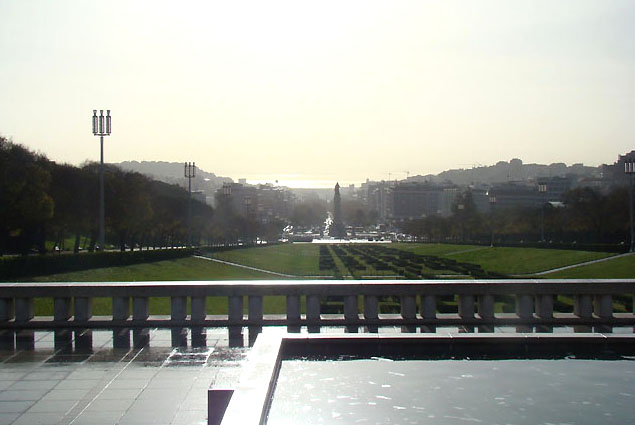 Our city tour made a stop at this city park, where one could see downhill
all the way to Tagus River, before it empties into the Atlantic ocean.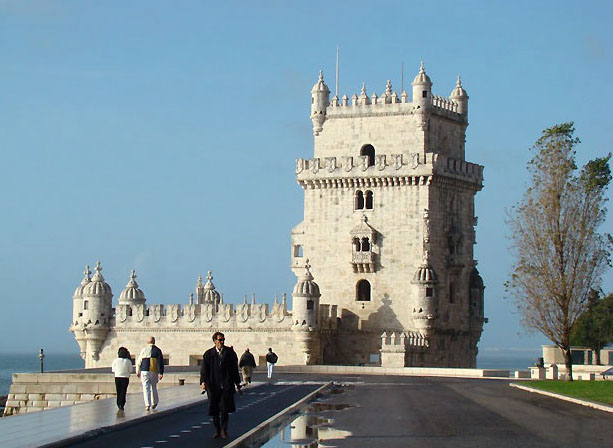 The Belém Tower, a defense system at the mouth of the Tagus River and
a ceremonial gateway to Lisbon.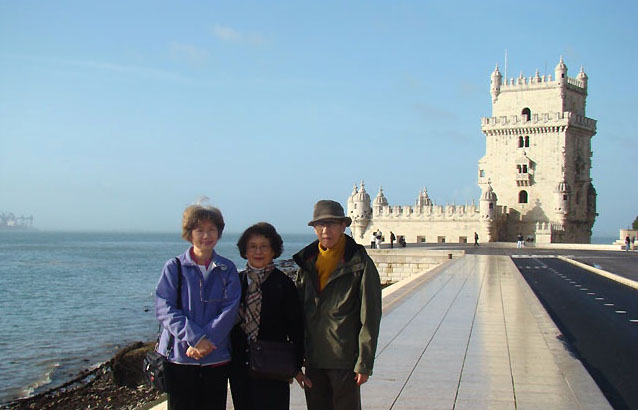 The Tagus River behind us is the longest river in Iberian Peninsula.
(The same river is called Tajo in Spanish, Tejo in Portuguese, and Tagus in Latin.)
The Belém Tower is a UNESCO World Heritage Site (along with the nearby Jerónimos Monastery)
because it represents the Portuguese maritime discoveries during the era of the Age of Discoveries.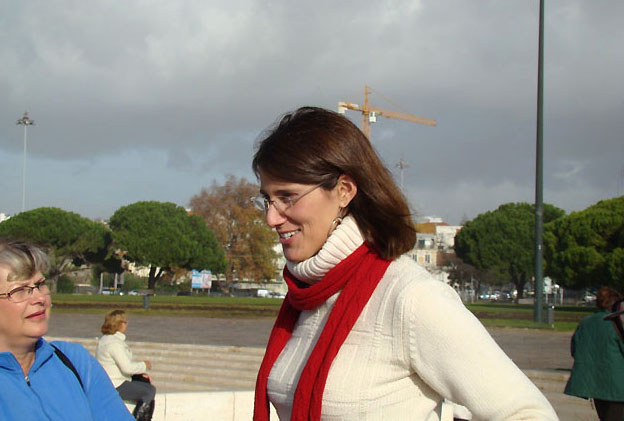 Our Lisbon local guide, she was delightful and spoke many languages.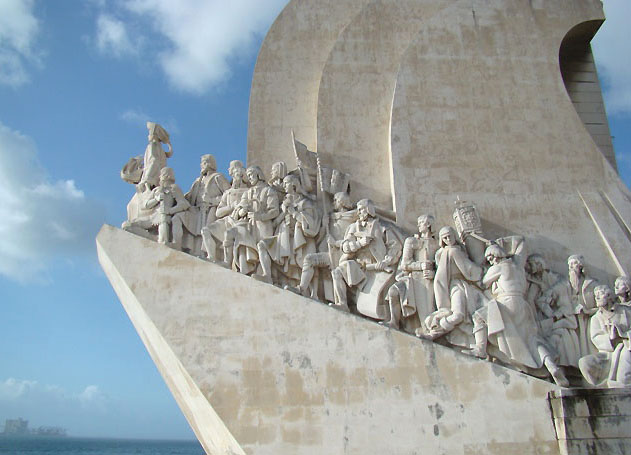 Eastern face of the Monument to the Discoveries in Belém, built in 1960.
The figure on the far left is Prince Henrique the Navigator (1394-1460) who financed the expeditions.
The 3rd person from left is Vasco da Gama (1460-1524) who established Portuguese trade routes in the Indian Ocean.
The 6th person from left is the Portuguese sailor Magellan who led the first circumnavigation of
the globe (1519-22) funded by Spain. He was killed in the Philippines before the voyage's end.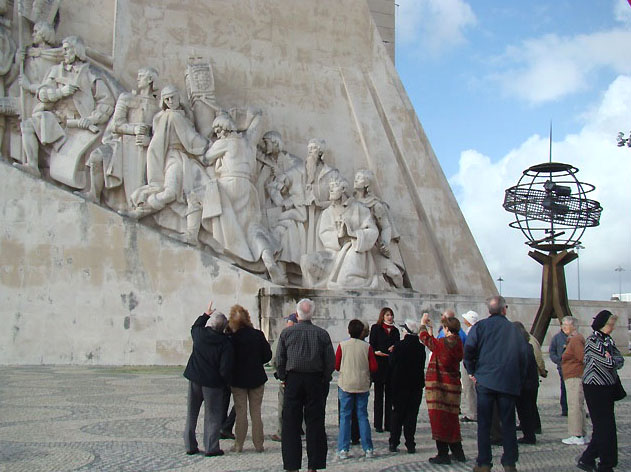 The rest of the Monument to the Discoveries.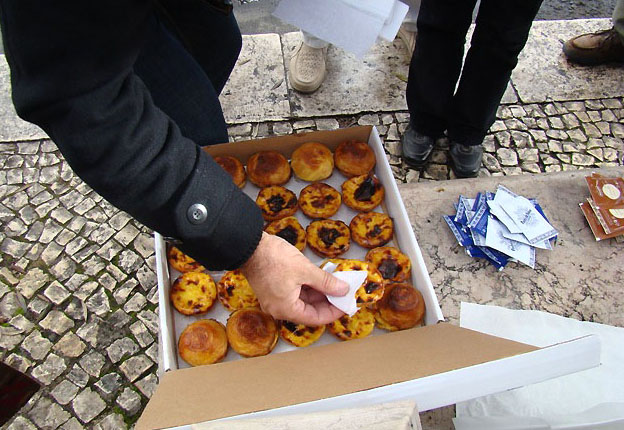 Pastéis de Belém, the egg custard from the original recipe by the original bakery.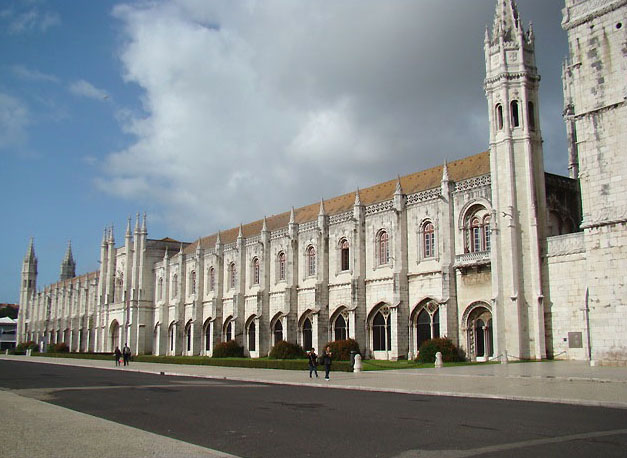 The 16th century Monastery of Jerónimos stretching 300 yard along the waterfront.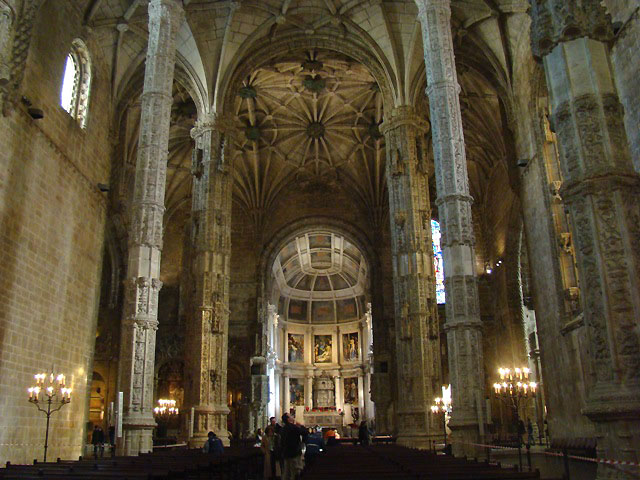 Santa Maria de Belém, the church of the Monastery of Jerónimos.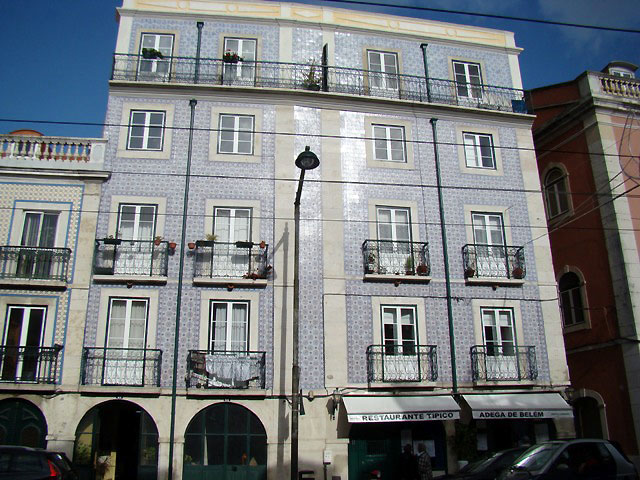 Many houses in Lisbon have tiled facade.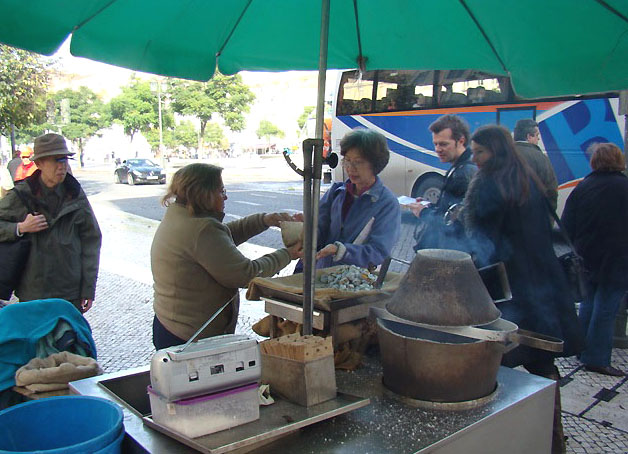 Buying roast chestnut near the historical Rossio Square.
Rossio square is where the modern part of the city begins, stretching uphill toward north.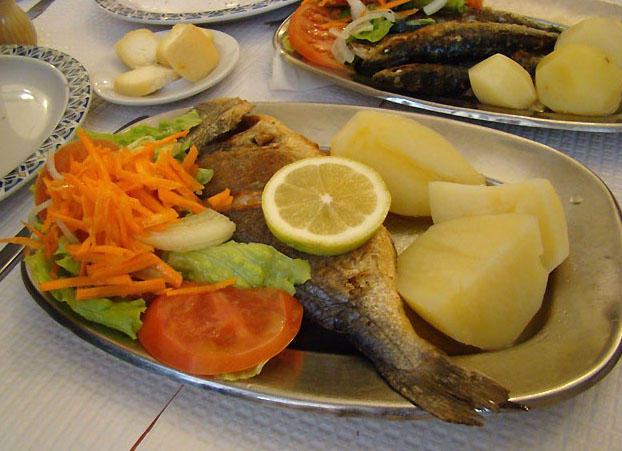 Our lunch in Lisbon, a grilled bream.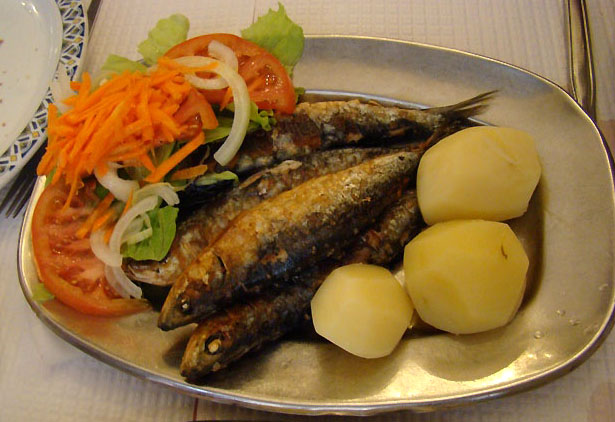 A plate of grilled sardine.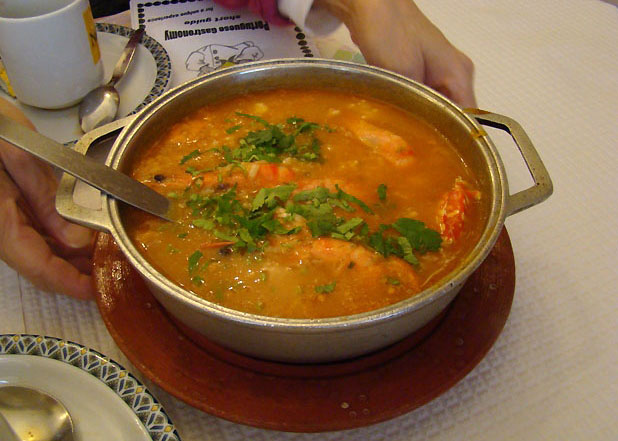 A Portuguese specialty - seafood rice. It was very good!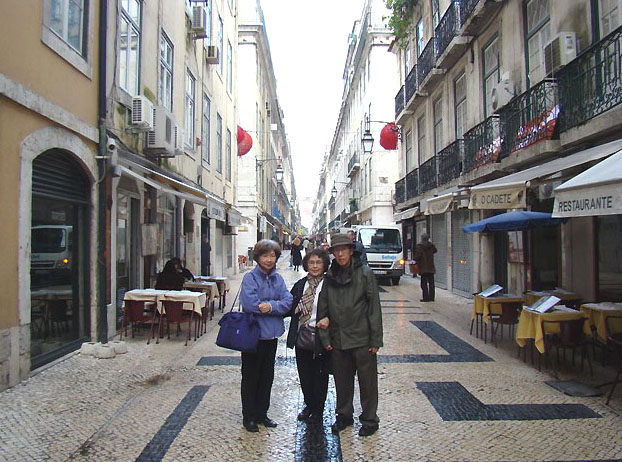 The street outside the restaurant we just had lunch.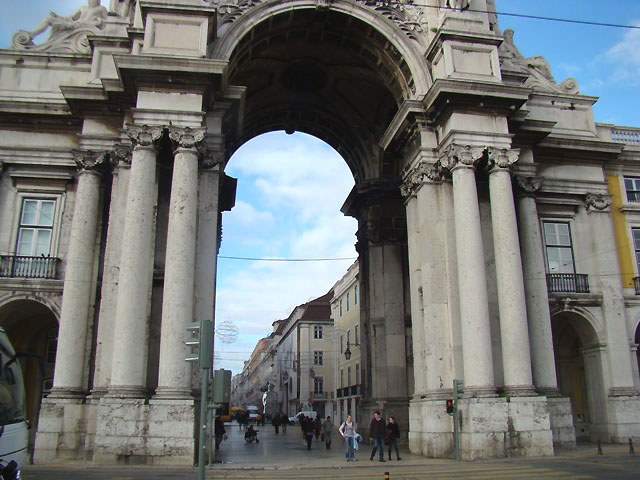 The triumphal arch in the Plaza do Comercio (The Trade Square).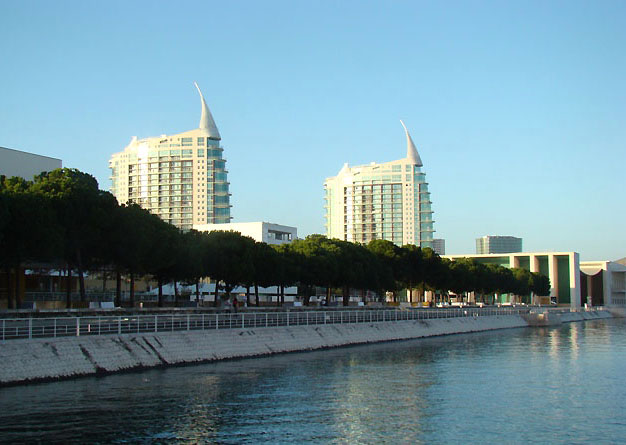 The new development in the eastern edge of Lisbon where our hotel was.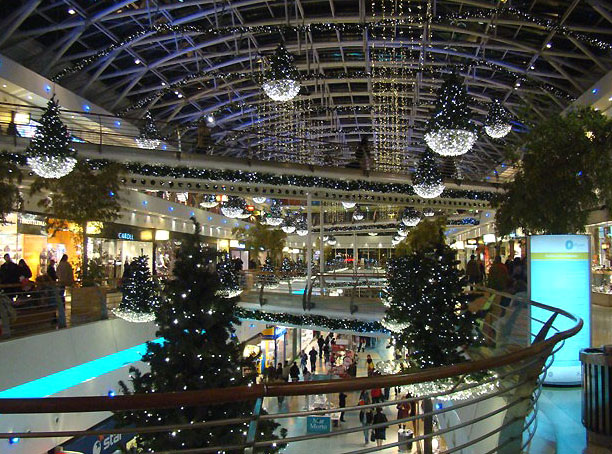 The modern Vasco da Gama shopping mall across the street from our hotel.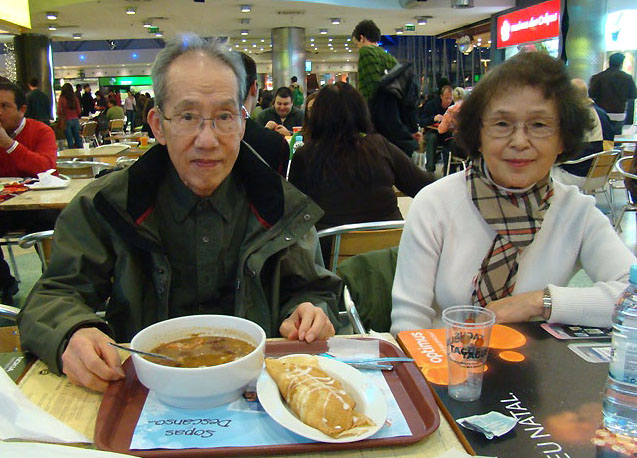 Ken's dinner, at the food court in the mall.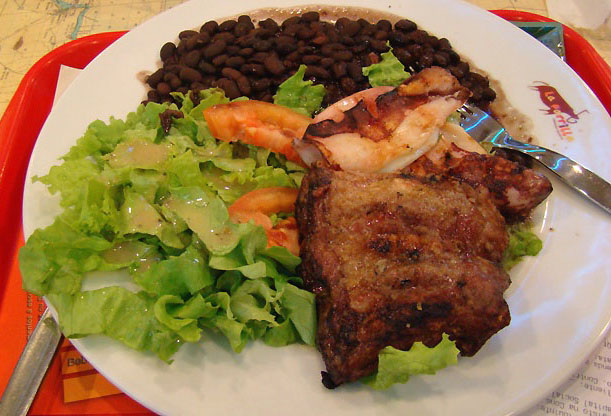 Vincent and Mei-Ching bought Argentine grilled spare rib and grilled calamari.
But we shared food, so Vincent's plate had half portion of the spare rib and one squid.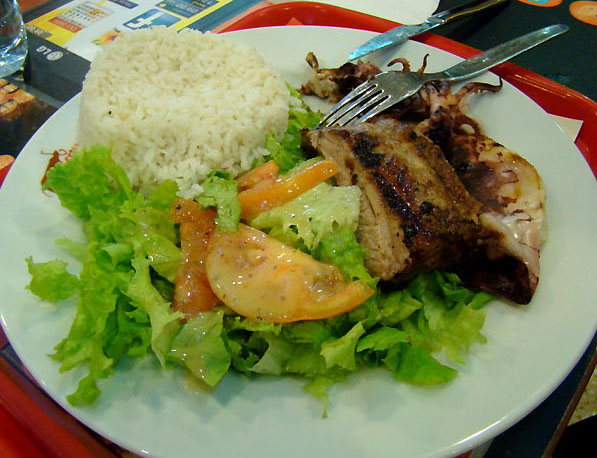 Mei-Ching's plate had two ribs and two squid. They were very good!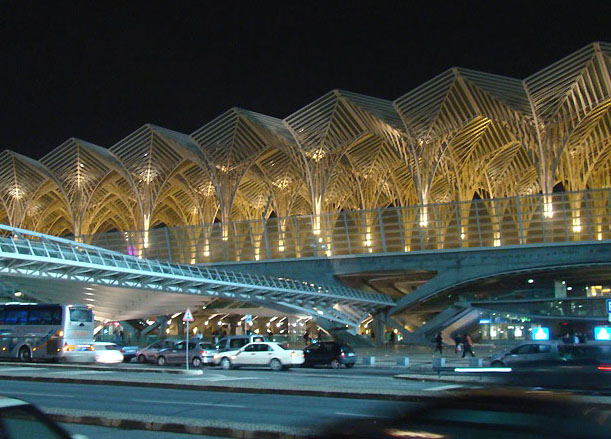 The Oriente train station in the night.