By Joe Connor / Special to MLB.com
TAINAN, Taiwan -- When Ted Heid examines baseball's growing, global landscape, he sees a country that could prove to be a hotbed of talent for years to come.
"I think Taiwan is kind of the prime area because the players there are willing to come over [to North America] right out of high school," said Heid, director of Pacific Rim Operations for the Mariners. "They play a lot of big games. Their style of play is more Westernized. They play a more power and speed game; it's not as mechanical, as in some other countries."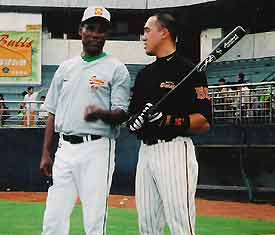 That Taiwan has a significant baseball talent pool has never been in doubt. This island nation of 23 million -- slightly smaller in size than Maryland and Delaware combined -- has won 17 Little League World Series titles, earned the silver medal at the 1992 Olympics and qualified for this summer's Games in Athens.
But what was in doubt -- at least until five years ago -- was the willingness of Taiwan-born players to test their talents in the Majors. That all changed in January 1999, when the Dodgers signed Chin-Feng Chen out of Tainan.
The Dodgers and Mariners have the strongest footholds in Taiwan, with three players in each organization's system. The Mariners, who are the only team to employ a full-time scout in Taiwan, have an interpreter work regularly with their Taiwanese players.
Unlike some Japanese and Korean players, who ventured to North America in the prime of their careers, Taiwan's most talented baseball players are in their late teens.
But what these players may lack in years they make up for in experience, as most are exposed to multiple international competitions when they are as young as 10.
Rockies prospect Ching-Lung Lo, a 6-foot-6, 190-pound right-hander from Tainan, was the youngest player in the Rookie Pioneer League in 2002, making his professional U.S. debut at the age of 17. Lo, who is now playing for Class A Asheville and will pitch in the Olympics, helped Taiwan win the 2001 Junior Asia Cup.
"He exceeded all expectations at a young age [playing in international competitions]," said Marc Gustafson, Colorado's assistant director of player development. "He already has played with a lot of pressure."
Gustafson added that Lo is "starting to fill out" and projected that the 19-year-old could grow into an intimidating, 220- to 230-pound presence on the mound.
"There's no question [Lo] has the skills to be a Major League pitcher," Gustafson explained. "It's just a matter of maturity, time and the development process."
Added Vincent Liao, manager of Chinese and Taiwanese affairs for Dodgers: "[Taiwan-born players] don't play in as many games as [U.S. high school players], but they have played in more important games. These kids have played in many single-elimination games."
Whereas most U.S. high schools play primarily a regular-season schedule, Taiwan is a country of tournaments. Much is at stake during these four to five annual events, with players who perform well earning college scholarships, and winning high schools receiving equipment, funding and prestige.
These tournaments also serve as the main attraction for Major League scouts. According to Liao, Taiwanese prospects are often easier to sign than players from Asia's two larger baseball titans because, unlike those in Japan and Korea, the professional league in Taiwan is not considered an option, as the competition and salaries are lower. Taiwan's college program is also less developed.
And in contrast to Korea, where the majority of exports to make the Major League thus far have been pitchers, Taiwan is proving to be generating gifted position players.
Two of the Mariners' three Taiwan-born prospects are shortstop Yung-Chi Chen, 21, and catcher Chao-Kuan Wu, 20. According to Heid, the 5-foot-11 Chen has great hands and displays some power with his bat. The native of Taitung County has been playing in extended spring training in Peoria, Ariz., but will likely be promoted to Class A or High-A this summer while also playing in the Olympics.
The 6-foot-4, 195-pound Wu played first base in high school but has been converted to a catcher, and his left-handed bat is viewed as a precious commodity. Last season he batted .279 for Peoria.
"We're giving him every opportunity to be a catcher," said Heid of Wu. "Whether he can be a Major League catcher remains to be seen, but his bat is his most exciting tool."
At the 2002 World Junior Championships, Wu strapped on the pads after Taiwan's starting catcher was injured. He batted .419 and belted four home runs in the tournament to help his country finish second.
Liao said that the Dodgers envision Chin-Feng Chen, currently playing at Triple-A Las Vegas, helping the Major League club later this season, especially down the stretch. The 26-year-old Chen began the 2004 season as a utility outfielder after belting 26 home runs for Las Vegas last season.
Chen batted leadoff and played center field for Taiwan's 1990 Little League World Series championship team and became the first Taiwan-born player to make the Majors, earning a late September 2002 call-up and posting a walk at Coors Field in his first at-bat.
Last July, Chen's countryman Chin-Hui Tsao, 25, made his Major League debut, for the Rockies. The right-hander -- signed by Colorado in 1999 after being wooed by Japan's Yomiuri -- received a standing ovation when he exited after pitching 7 1/3 innings in his debut, striking out five and allowing three runs and eight hits.
This season, however, Tsao has suffered from tendinitis and didn't make the Major League roster out of Spring Training. In fact, since they have been coming to the U.S., the durability of Taiwan-born pitchers has been questioned. Yankees prospect Chien-Ming Wang, 24, missed nearly 18 months following shoulder surgery. The 6-foot-3 right-hander is pitching for Double-A Trenton, and through 55 2/3 innings this season, was 2-4 with a 5.01 ERA.
Dodgers left-handed prospect Hong-Chih Kuo, 22, the first Taiwanese high school player signed by a Major League club, has had two Tommy John surgeries. He is still rehabilitating.
According to Colorado's Gustafson, Taiwanese pitchers throw a lot more innings in their youth than their U.S. counterparts, and it's not unusual for them to throw a complete game and then pitch again two days later.
In addition, some prospects have floundered after coming to the U.S. Earlier this season, the Red Sox parted ways with Jun-Chung Huang, 22, and Wang Chao, 19, a 6-foot-5 right-handed Seattle prospect from across the Taiwan Straits in China, has been slow to develop, said Heid.
Still, as far as durability, Liao doesn't believe it's a cause for concern.
"[Tsao and Kuo] are explosive-type pitchers. In high school they both pitched in the mid-90s, and with that comes some risk of having the ligament exposed," he said. "But they both are by far the best talent to come out of Taiwan as far as pitching."
The Dodgers are certainly invested in Taiwan, having maintained a partnership with the Sinon Bulls in the Chinese Professional Baseball League, Taiwan's pro league, since 1996. Bulls owner T.F. Yang helped the Dodgers sign Kuo and another prospect, 20-year-old shortstop Chin-Lung Hu, both of whom are on the Olympic roster. Like the Mariners' Chen, Hu has great hands and tremendous speed, said Liao.
Los Angeles has been sending coaches to Taiwan at least once a year to conduct clinics, former Dodger Teddy Martinez has been the Bulls hitting coach the past three seasons and another former Dodgers employee, Luis Trinidad, has been the Bulls trainer the past four years.
The Mariners have also sent coaches to Taiwan, and have hosted coaches and the national team in Peoria. In addition, Seattle recently signed high school pitcher Chia-An Huang, a six-foot, 195-pound right-hander who has a mid-to upper 90s fastball.
So while it remains unclear if, when and which Taiwan-born player will make a big splash in North America, Major League teams will continue to scour the island for talent, especially knowing that they can develop a prospect right out of high school. It isn't a stretch to assume that in a few seasons, Taiwanese players will be making a Major League impact much like Japanese-born players are today.
This story was not subject to the approval of Major League Baseball or its clubs.
---
By Joe Connor / Special to MLB.com
This report is the second in a three-part series.
KAOHSIUNG, Taiwan -- It's a Friday night in this bustling port city, four hours south of Taipei by train, and thousands of fans are pouring into the sparkling, 20,000-seat Cheng-Ching Lake Field, which opened in 1999.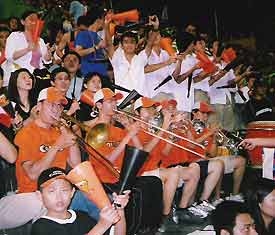 A large banner outside the ballpark proclaims the 15th season of the Chinese Professional Baseball League (CPBL) as its "Glorious Return." But just a few years ago, many here wondered whether professional baseball would even survive.
When the CPBL debuted on this subtropical island of 23 million people 14 years ago, residents appeared overjoyed, as a pro league was viewed by many as long overdue and a source of national pride.
By 1996 the CPBL had proven to be a winner, with sellouts at ballparks the norm, a multimillion-dollar cable television contract and an expansion, from four teams to seven. But everything changed when the calendar turned to 1997, and the CPBL has been on a long comeback trail ever since.
In January 1997, three players on the China Times Eagles were accused of deliberately fixing games in exchange for bribes. At the same time, the four-team Taiwan Major League (TML) was about to debut, owned by a cable television magnate who had just failed in his bid to acquire the broadcast rights to the CPBL.
The gambling allegations proved true, and were worse than imagined, with 21 players, one coach and 12 others convicted of various charges in September 1997. Games had not only been fixed, but players had been kidnapped and threatened.
The Eagles were dissolved in 1998 in the wake of the scandal, and several top players were banned from the game. Fan reaction was swift: Television ratings plunged, and CPBL attendance dropped by more than 50 percent from its peak of more than 1 million in 1996. Following the 1999 season, the financial ramifications forced two more CPBL teams to shut down.
"The fans were questioning the credibility of this game," said Jack Ren, general manager of the Sinon Bulls, who have maintained a player development and training relationship with the Los Angeles Dodgers since 1996. "It wasn't a fair game for the fans, so they stopped coming to the ballpark."
As TML teams signed many players from the CPBL, and both leagues traded charges over television rights and the recruitment of college and foreign-born players, attendance continued to sink.
But the TML failed to gain a foothold, with many fans turned off by the fact that all the league's teams were owned by the same company, the same company that also owned the league's TV contract. Fans were further alienated by the failure of both leagues to agree to interleague play, or at least a season-ending "Taiwan Series."
With fan apathy growing, there were serious doubts over whether the game-fixing scandal and the bitter rivalry between the leagues would stain the sport here forever, especially in the hearts and minds of future generations of Taiwanese.
"[The two leagues] separated the audiences; it split everybody up," said Chang Tai-Shan, 27, of the Sinon Bulls, one of the CPBL's most recognizable faces. Tai-Shan, nicknamed "Tarzan," was his league's Most Valuable Player last season and was also the youngest player to hit 100 home runs and knock in 500 RBIs in league history.
"I left when it got real bad. They started lowering salaries," said former Major Leaguer Mike Garcia, who pitched in Taiwan from 1996 to 1998 and is now in his second CPBL stint. "They lost credibility. Even if you weren't [cheating], if someone made an error or had a bad game, fans thought there had to be something going on."
The rise and fall of professional baseball stung the heart of many in Taiwan, because the sport had been considered a source of the island's pride ever since the early 1930s, when the Chiayi School of Agriculture and Forestry placed a surprising second in the Pan-Japanese High School Yakyu Tournament.
The sense that anything is possible on a level playing field has served as inspiration to the Taiwanese. It was the inspiration for the Hong Yeh (Maple Leaf) Elementary School, which stunned Japan in 1968 by winning, 7-0, despite having trained for the game using nothing more than pebbles, guavas and bamboo sticks. Hong Yeh was composed of mostly poor aborigines from the Bunun tribe in a small rural village in southeastern Taiwan.
During the 1970s, Taiwan dominated the Little League World Series. Taiwanese huddled around TV sets in the wee hours of the morning every August to watch the live feed from Lamade Stadium in Williamsport, Pa. Taiwan won almost every Little League World Series from 1969 to 1981, except 1970, 1975 and 1976.
"I still remember that time," said Ren. "A lot of people woke up in the middle of the night to watch those games. We have been isolated because of the politics between Taiwan and China. [Those victories] were recognition of our existence."
"It's not only a sport, but a symbol of glory," added right fielder Cheng-Min Peng, who plays for the CPBL's Brother Elephants and whose grandfather was the first in his family introduced to baseball, during the Japanese occupation. "[Baseball] is a way of proving oneself. You can do something great because it's a team sport -- you have to work with everybody to accomplish your goals."
Desperate to save a sport that had meant so much to its people, the government declared 2001 "Baseball Year" in Taiwan. The central and city governments focused on completing the construction of ballparks. This helped Taiwan outbid the U.S. in its quest to host the amateur World Cup that year.
Meanwhile, in October 2001, crowds of up to 10,000 attended the CPBL championship series, which was buoyed by a come-from-behind victory by the Elephants, the most popular team in Taiwan.
One month later, Taiwan toppled Japan in the World Cup to finish in third place, the top placement for an Asian team that year.
Following the 2002 season, officials with the CBPL and TML called a truce and agreed to a merger. Two TML teams were absorbed into the CPBL to form a new six-team league that debuted in 2003.
"I think the merger was a great accomplishment," said Peng. "The fans are no longer divided by supporting two leagues. The entire game is more exciting."
The participation of Taiwan's best players in the 2001 World Cup helped fans realize that legitimacy on the baseball diamond was still possible, and following the merger of the two professional leagues, attendance spiked 80 percent.
Since 1997, five ballparks have been built across the island, and the oldest park -- Tainan Stadium, built in 1948 -- has been renovated and is looking to add even more seats. Last season, Cheng-Ching Lake Stadium drew a record crowd of more than 20,000. Two more ballparks are expected to open within the next few seasons.
Today the CPBL boasts two television contracts, and is reportedly averaging 7 million to 8 million hits on game days at its official Web site. Merchandising sales are also brisk, with the Elephants recently opening a restaurant and retail store in Taichung, selling everything from player-branded boxer shorts to stuffed animals of "Pinky," one of the team's sponsors.
In August, the island will be on display at the Olympics, and also when it hosts the World Junior Championships in the capital city of Taipei in September.
According to Garcia, one of the recent changes that has helped the CPBL rebound is the reduction in the number of foreign players. In the past, teams could have as many as 10 non-Taiwanese on their roster, whereas today the maximum three.
The league has also brought in more U.S. and Japanese coaches and trainers, particularly in the case of the Dodgers. Former Dodger Teddy Martinez has been the Bulls hitting coach for the past three seasons, and Luis Trinidad, a one-time employee at the Dodgers' Dominican Republic facility, has been the Bulls trainer for four years.
"When I was here before the merger, a lot of local players were not showcasing their talent. Now, more locals are being given a chance to show their talent," said Garcia. "The talent here has just skyrocketed. This league and this country have come a long way. They've grown into the game of baseball."
Added Martinez: "Each year it's better baseball. They get stronger every year."
As for Taiwan's baseball's future, the pride will be tested not just at this summer's Olympics but over the next several years of international competition. That's because China has set its sights on fielding a competitive team for when it hosts the 2008 Summer Olympics, in Beijing.
Baseball is a new sport for the world's most populous country, which has had a tense relationship with Taiwan since 1949, when the Communist Party forced the Nationalist government to retreat to the island, which is 100 miles off the coast of China, across the Taiwan Straits. Those events paved the way for the founding of the People's Republic of China.
Although Taiwan has long maintained its own affairs and economic engine, China still considers the island part of the People's Republic -- and as a potential breakaway province. In fact, Taiwan must compete in international tournaments, including the Olympics, as "Chinese Taipei." In the Olympic qualifying tournament last year, Taiwan beat China, which had never fielded a team.
Entering its third season, the mainland's four-team professional league, the China Baseball Association, is only gradually winning fans because unlike residents of Taiwan, many in China don't understand the game.
In contrast, baseball has been a focal point of Taiwan's society since 1895, when the island was introduced to the game by Japanese occupiers. Many former Taiwanese players, including one-time Olympian Chiang Tai-Chuan, are now working in China as coaches, and the spectre of future Taiwan-China showdowns now looms.
"We want to show people on the other side [of the Taiwan Straits] something we do very well," said Ren. "We'll look at it as an international game, an international competition. We want to do well."
---
By Joe Connor / Special to MLB.com
TAICHUNG, Taiwan -- Osvaldo Martinez is long removed from his time in the Major Leagues -- more than eight years, to be exact -- but he's even farther away from his boyhood home, in Santiago, in the Dominican Republic's lush Central Valley region.
Former Major Leaguer Osvaldo Martinez is the all-time strikeout leader in Taiwan. (Joe Connor/MLB.com)
But you might as well be listening to countryman Sammy Sosa when Martinez talks about his life's good fortunes.
"Baseball has been very good to me. I really love playing here," said Martinez, a one-time Detroit Tigers pitcher turned strikeout king of the six-team Chinese Professional Baseball League (CPBL), which was founded in 1990. "The weather is the same here as the Dominican, too -- hot."
No foreign-born player has been hotter in the CPBL than Martinez, who is in his eighth consecutive season for the Sinon Bulls, who have a player development and training relationship with the Los Angeles Dodgers.
Last season, the 29-year-old Martinez set a CPBL strikeout mark when he fanned his 856th batter on Taiwan soil. Martinez, whom the Taiwanese fans call "Yung-Chuang" ("brave and strong"), is one of several former Major Leaguers to find a home on this subtropical island, 100 miles off the coast of China.
Martinez was 9-5 with a 2.62 ERA as a starter in 2003. This year, the Bulls -- seeking their first CPBL title after losing in the championship last season -- have made him their closer.
"He's got a healthy arm. He keeps his butt in shape," said Teddy Martinez, the Bulls' hitting coach the past three seasons. "When he's pitching for you, he's giving 100 percent all the time."
Teddy Martinez, like Osvaldo Martinez, is a former Major Leaguer from the Dominican Republic with ties to the Dodgers. He played for the Mets, Cardinals, A's and Dodgers in the 1970s, and coached in the Los Angeles system at various levels.
"I never expected to be playing in Taiwan," Osvaldo Martinez said. "I didn't even know Taiwan played baseball, but in the last two or three years, a lot of good young players have come into the league."
Arguably, the most striking difference between the CPBL and Major League Baseball -- other than the talent level -- is the schedule. Whereas MLB plays a 162-game schedule from April to September, the CPBL's six clubs play 100 games each from early March to mid-October, and the campaign is split into what could be classified as two seasons.
The playoff format dictates that the winner of the first half play the winner of the second half in the best-of-seven Taiwan Series in the fall. If the same team wins each half-season, the team with the second-highest winning percentage is the Taiwan Series challenger. And unlike most professional leagues, CPBL teams don't play daily. Each team usually plays three or four games per week, and therefore carries just three starting pitchers.
The two most successful franchises are the Brother Elephants and the Uni-President Lions. The Elephants, based in Taipei, have the strongest fan base and are looking to capture their fourth consecutive championship, and eighth overall. Their rivalry with the Bulls is the biggest in the league.
The Lions, based in Tainan, were the first club to win four titles, with their last crown coming in 2000, prior to the Elephants' streak. Tainan, which dates back to the 1600s, is the birthplace of five of the 10 Taiwanese prospects playing minor league baseball in the U.S.: the Yankees' Chien-Ming Wang, Colorado's Ching-Lung Lo, and the Dodgers Chin-Feng Chen, Hong-Chih Kuo and Chin-Lung Hu.
Many of the foreign-born players in the CPBL are former Major League pitchers in their mid-to-late 30s, which makes Martinez quite the anomaly, as he's been playing in Taiwan since he was in his early 20s. Most foreign-born players are paid monthly salaries and receive free housing from their team during the season. Each club is allowed to carry three non-Taiwan-born players on their roster, and only two can be playing at the same time.
Former Major League pitcher Jonathan Hurst, 37, has won championship rings the past two seasons with the Elephants.
A roommate of Sosa's when the two were in the minors, Hurst pitched only two Major League seasons, with the Expos and the Mets. Yet he has five championship rings: the two he earned with the Elephants, two won while playing in Mexico and one while pitching in Japan.
But Taiwan has been particularly special to Hurst, who recently married a Taiwanese woman.
The biggest adjustment ex-big leaguers have to make in Taiwan, according to Hurst, is coming to terms with how differently the game is played here. For example, stealing is commonplace regardless of the score of the game. In North America, stealing in the eighth inning of a 7-1 game is considered an insult.
Hurst drew the line in a recent game, though.
"I said, 'You [steal] again and somebody's going to get hurt,'" recalled the right-hander.
As is Hurst, Rusty Meacham is nearing the end of a proud career. The 36-year-old played for five teams over parts of eight Major League seasons, last pitching in 2001 for Tampa Bay. In 1992 he went 10-4 with a 2.74 ERA for the Royals.
One of the biggest adjustments the right-hander said he's had to make in Taiwan is for the 10-minute break at the end of the fifth inning, when the infield is groomed, batters' box re-chalked and new bases inserted. Players warm up down the lines as if they're starting a new game, just to stay loose.
---
"Over here there's more bunting, less home runs -- a lot more small ball, more hit-and-run situations."
-- Joe Davenport
---
"If you've got a [good] game working, and you've got to sit there for a while, it's a little tough on you," said Meacham. "You only get three [warmup] pitches to throw [from the mound] when the game resumes, so you've got to make sure you throw [during the break]."
Although to most Major League scouts CPBL players aren't Major League material, there have been some exceptions. Anaheim reliever Ben Weber and Baltimore third baseman Melvin Mora are alumni; Weber won a World Series ring with the Angels in 2002, and Mora was an All-Star last season for the Orioles.
So whereas Martinez and Hurst envision coaching or scouting down the road, the Lions' Joe Davenport is hoping to toe the rubber again stateside, or perhaps in Japan. The right-handed Davenport, 28, last pitched in the Majors in 2001 with the Rockies after beginning his career two years earlier with the White Sox.
"Over here there's more bunting, less home runs -- a lot more small ball, more hit-and-run situations," said the low-key Davenport, who is a starter in his third season with the Lions. "It's pretty funny -- I'm like a big celebrity here."
If Davenport doesn't return to the Majors or make it to Japan, he knows he'll be welcomed by Taiwan's passionate baseball fans. He is regularly stopped on the street, as his face graces the pages of the 10 newspapers that cover the CPBL on the island.
Here is a look at some other aspects of baseball in Taiwan:
Pregame rituals: You know you're in Taiwan when you see rows of motorbikes parked outside the ballpark. But motorbikes aren't the only preferred form of transportation. Many fans take public transportation or walk, as most ballparks are located in urban centers.
You also know you're in Taiwan when after an all-day monsoon, the grounds crew will use giant sponges to somehow manage to turn an infield that looks beyond repair into a playable surface.
In addition, players don their uniforms at their hotel and take a bus to the park, and prior to the first pitch, the six-team umpiring crew will bow to the crowd to show their appreciation for their patronage.
Ballparks and seating: Although each of the six teams boasts a home base, one of the most unique aspects of the CPBL is that many games are played in any of the dozen ballparks across the island. This is so every citizen has a chance to enjoy professional baseball.
Of the 12 ballparks used by the CPBL, five have opened since 1997, including the largest, the 20,000-seat Cheng-Ching Lake Field in Kaohsiung.
Most of the ballparks in Taiwan range in capacity from 10,000 to 15,000, with field dimensions essentially similar to the Majors -- roughly 320 feet down the lines and 400 feet to straight-away center.
Like Korea, but unlike Japan, Taiwan boasts mostly grass fields and no domed stadiums, and a few of the ballparks feature all-dirt infields.
Tainan Stadium features the best field in the league, but planes fly even lower above this throwback ballpark than they do at New York's Shea Stadium. Tainan Stadium also features a number of photo collages in the main grandstand that trace the Lions' history.
At Taichung Stadium, men never miss any of the action, as windows inside the men's room provide a view of the field.
Taiwan's ballparks, all built by the government, are cozy, quite similar to many of the new Double-A and Triple-A ballparks that have opened in the United States in recent years. They are located mostly in the heart of cities, such as Hsinchu Stadium, which has a Wrigley Field quality, with apartment balconies overlooking both the first- and third-base sides.
Seats in most ballparks are comfortable and close to the field. The average ticket price, in U.S. currency, is $7 or $8, and $3 for students.
Ballpark food: The Taiwanese take their food almost as seriously as their baseball, and there's plenty to eat at the parks, from grilled sausages with roasted garlic to instant noodles. But what makes the culinary experience particularly unique is that the choice of delicacies depends on the city.
In addition, as most ballparks are in urban centers, many fans bring their food into the ballpark after visiting nearby markets or shopping the multiple vendors in front of the yard. In Kaohsiung, one of the signature items is "meat bum" -- meatballs covered by deep-fried bread flour.
In Taichung, fans take to the nearby night market before the game, and in Hsinchu, famous for its rice noodles, visitors would be remiss without trying "tson yio bin," a green-onion pancake cast in flour.
Team and player nicknames: As with the pro leagues in Japan and Korea, CPBL teams are named after corporations, with company bragging rights at stake when teams compete. In addition to the Brother Elephants, named after a hotel, and Uni-President Lions (retail chain), there's also the Sinon Bulls (agriculture products), La New Bears (shoemaker), and China Trust Whales and Macoto Cobras (both banks).
Fan atmosphere: As do their counterparts in Japan and Korea, Taiwanese fans love to wave flags, pound drums, yell into bullhorns, and blow trumpets and air horns in support of their favorite team. They also like to dress in elaborate costumes, complete with headgear and long robes with their teams' colors.
The Lions and Bulls also have large contingents of fans in which a "leader" with a microphone will lead chants. And these rabid fans don't just cheer when their team is batting -- they cheer on every pitch.
Postgame routines: Following the final pitch, both teams shake hands, and all players bow to the fans to thank them for attending. An MVP is then chosen by local beat reporters, and that player briefly addresses the crowd before flinging a stuffed animal to one lucky fan.
Whether their team has won or lost, fans leave exhausted but happy, having indulged their passion for baseball for more than three hours -- in true Taiwanese style.
This story was not subject to the approval of Major League Baseball or its clubs.