Red Sox fans still appreciate Roberts' stolen base
Aug. 8, 2006 By Scott Miller CBS SportsLine.com Senior Writer
| | |
| --- | --- |
| | |
| Big runs never got bigger than this one vs. the Yankees in the 2004 ALCS. (Getty Images) | |
One day earlier this summer, San Diego center fielder Dave Roberts spied director Spike Lee in the Padres team hotel and did what any red-blooded movie buff might in a similar circumstance.
He did a double-take -- Spike Lee! In an Atlanta Ritz-Carlton? What up with that?! -- summoned his courage and walked over to introduce himself and tell Lee how much he enjoys his work.
"I know who you are," Lee snapped at Roberts, playfully. "You're the one who broke my heart."
They talked for 10 minutes. And as they did, undoubtedly, somebody, somewhere was scribbling another heart-rending letter to Roberts.
With sentence after sentence of emotion, sharing another deeply personal story about how Roberts' stolen base in the ninth inning of Game 4 of the 2004 American League Championship turned the New York Yankees upside down and sent the Red Sox on their stunning World Series run was a life-changing experience.
"It's non-stop, still," Roberts says, shaking his head. "It's ridiculous, two years removed, that they're still thinking of me. Hundreds a month. I could look at my mail right now, and 80 percent of it will be from Red Sox fans thanking me."
Through this week, Roberts has played in 621 major league games, swiped 192 bases, probably spent more than 1,500 hours of his life on a big league field.
Yet those 3.3 seconds or so it took Roberts to sprint from first to second -- safe! -- on a cold Boston night on Oct. 17, 2004, continue to remain as permanent as anything he has ever done.
"One guy said his 10-year-old boy was sleeping late at night, and he woke his son up to come watch before I stole the base because he had a good feeling," Roberts says. "He said he wanted his son watching because history was going to be made."
It isn't only New England. Roberts, the Red Sox and San Diego all hear from expatriate New Englanders who now live everywhere from Florida to Washington. And as they write, the lumps in their throats are evident with each successive sentence.
"We heard from people a lot more people last year, but people still call," says Luis Garcia, the Padres' director of media relations. "They call and say, 'I'm a long-time Red Sox fan and I live in Detroit now and I'd like to get Dave to sign this photo or that base.'"
Base?
"Oh yeah," Garcia says. "Some random base they have, maybe they bought it at some place like a Chick's (a sporting goods outlet). So he signs it and dates it."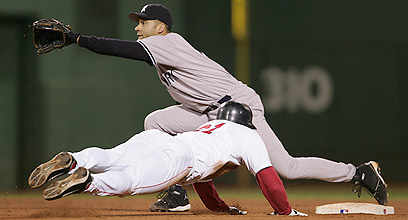 With Roberts' forwarding address long since in place, the Red Sox no longer get the autograph and address requests for him that they once did. But they continue to talk about him and hear about him as if he were still there.
"There are still profound echoes of the world championship taking place," says Dr. Charles Steinberg, Boston's executive vice president for public affairs. "The story of the steal of the century is told as often as any bedtime story.
"I'm ready for Simon and Garfunkel to write a new song and sing, 'Where have you gone, Dave Roberts?' Any time there is a critical moment in a Red Sox game and we need a stolen base, your mind goes back to that."
Of those 621 games, Roberts wore a Boston uniform for just 45 of them -- plus another three during the '04 postseason.
He never even batted that October. Not once. And he didn't play at all during the World Series. Yet there he was that fall on Jay Leno's show. And there he is in the movie Fever Pitch. And the mail.
Three-point-three seconds, and there's still no end in sight to that night.
Roberts, who was pinch running for Kevin Millar and scored the tying run on Bill Mueller's single -- setting up Boston's 12-inning win and preventing the Yankees from sweeping the Red Sox that night -- never hesitates to sign, which is why Garcia figures it's OK to keep bringing him the requests that arrive in the Padres' offices via telephone or e-mail.
"He's awesome," Garcia says.
Fans -- and clubs -- who have dealt with Roberts already know that. The Red Sox learned it as the '04 season rolled along. They acquired him in a trade with the Los Angeles Dodgers in late July, a deal that gave the Red Sox depth and speed but initially didn't do much for Roberts, who went from a starting job to a fourth outfielder.
But in one of those vivid lessons illustrating that sometimes positive, life-changing moments really do come to those who wait, work hard and keep their mouths shut, Roberts never squawked about all that time piled up on the bench.
"You know what, it's all karma," he says. "I ended up being a reserve, but I didn't complain."
Instead, he spent hours poring over videotape of opposing pitchers' moves, just to be prepared for when his moment did come. He kept working with then-first base coach Lynn Jones, practicing leads and jumps and timing.
"Instead of bitching, I waited for my opportunity," he says. "You can't think about yourself above the game. Some people run into that problem."
During his brief stay there, he got several tastes of the baseball passion that flows through Boston like the Charles River, most memorably during a meal with his wife, Tricia, at a sushi bar just before the playoffs were to begin. A man approached and asked whether he could say something.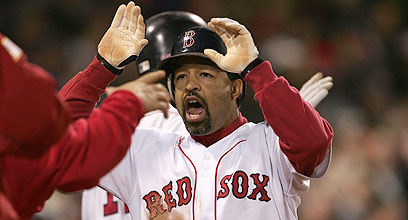 Roberts said yes, and the man began: "The Red Sox got my grandfather. The Red Sox got my father. And you guys are coming after me. Please don't break my heart this year."
"That's the only thing he said before he walked away," Roberts says, chuckling at the memory.
Now on the other side of the time capsule and nearly two years after the fact, nearly hidden in the late games out west and next to invisible without much national television coverage, Roberts' mail flow continues, unabated.
As do the almost daily encounters, with high profile types such as Lee -- "It blows my mind to think that Spike Lee knows who Dave Roberts is" -- to others who simply approach him and maybe save the cost of a stamp in the process.
"The random people who come up to me, from little kids to old ladies to old men," Roberts says. "Thanking me for their grandparents, who have passed. It's very heartfelt. People genuinely in tears, thanking me for stealing that base, because two weeks later their dad passed away."
Says Steinberg: "You get the impression that, if he wanted to, when his career is done, he could work the New England banquet circuit every year into perpetuity and get a standing ovation every night."
There is, as Roberts says, "a lot of good stuff" that continues to come his way daily as a result of those 3.3 seconds.
And he picks some of it up each time he walks over to the clubhouse mailbox.
Roberts' rule of order is: he does his best to personally answer every fan's note. But because of his moment in time, no question, that task is far more difficult for him now than it once was.
"I thought it would have slowed down, but that hasn't been the case," Roberts says. "But I enjoy every bit of it. I hope they can be patient, because I'm getting to it."
Original story posted at http://cbs.sportsline.com/mlb/story/9591923