Our nephew, Peter Chen, and Ms. Yayoi Sagisaka was to be married in Pasadena, California on 11/15, so we (Vincent and Mei-Ching) planned a mini vacation out of this trip to southern California. These are the highlights of the trip.

Arrival

Our AA flight arrived at Los Angeles International airport before noon.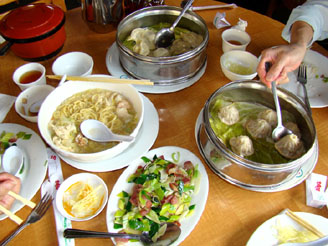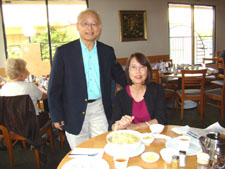 We picked up an Avis rental car, drove directly to a Chinese restaurant in Fountain Valley to rendezvous with Vincent's niece, Lien-Lee, for a late lunch.

The photo to the right is Vincent and niece Lien-Lee.

The far right photo was our lunch, a steamed vegetable dumpling, a xiao-long-bao,
a 蒜苗臘肉 (Chinese cured ham stir-fried with stem of garlic flowers, yummy), and a seafood noodle soup.
Palos Verdes
In late afternoon, we bid good-bye to Lien-Lee and drove along Pacific Coast Highway 1 to our old friend Bianca and Ted Wang's home in Rancho Palos Verdes. We stayed the following two nights at their beautiful home.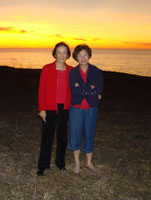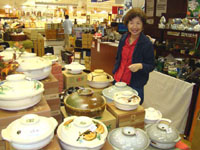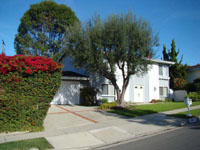 One evening, Bianca took us to a Japanese supermarket in Torrance called Mitsuwa. Oh, how I wish there were such a market place near Boston to go shopping! In this huge market there is a store selling Japanese pottery - bowls, dishes, tea pots, and many varieties of hot pots (Nabe pots).
The picture at far right was captured with the sun setting behind Palos Verdes.
Getty Center
On the 2nd day, 11/12, we went to the Getty Center to see the collections as well as its gardens and breathtaking vistas. The price is also right (FREE), you only pay $10 for parking.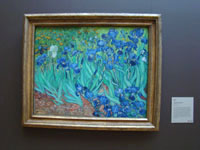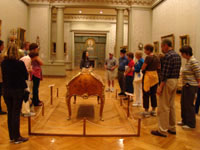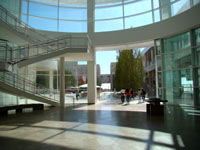 There are 5 main exhibition pavilions, an entrance hall, and a restaurant building which houses a formal restaurant and a cafe downstairs, both with stunning views of the Santa Monica Mountains.

We timed our visit so that we could lunch there. There were also daily guided tours free of charge. We joined a "Museum Highlight Tour" to see a few highlights (middle photo above.) One of the museum's prized collections is one of Van Gogh's Irises (far right photo above), which was acquired by the Getty Museum in 1990 for approximately USD$54 million. Here is a wiki page for that particular painting.

Getty Villa

On Thursday, 11/13, we made a stop at Getty Villa near Malibu (it is actually located in the township of Pacific Palisades) while on our way north to Santa Barbara. Although admission to the Villa is free, you'll need to reserve an entrance time slot online. We reserved a 10:30am slot which would admit us anytime between 10am to 11am (within 30 minutes before and after your designated time slot.) Look up the Villa's website for driving directions, because it can only be approached along the Pacific Coast Highway going north bound.

This Villa was modeled after the 1st century's Villa of the Papyri (in Herculaneum, Italy), which was believed to belong to Julius Caesar's father-in-law. We joined a guided introductory tour of the Villa, also free of charge. Thanks to Mr. Paul Getty's generosity.



Most of the art collections are exhibited on the 2nd floor. There are many familiar Greek Cycladic arts (far right picture) which we saw while visiting the Greek islands this June.

The villa grounds is full of rosemary bushes. It was the first time we saw a rosemary bush. They were very fragrant while fresh. We had a nice lunch at the Villa cafeteria before continuing on to Santa Barbara.

Santa Barbara

We drove along the scenic Pacific Coast Highway then switched to Highway 101 to reach Santa Barbara. This stretch of the coast around here is sometimes called the "American Riviera". Santa Barbara County is also a wine country. There are several vineyards located to the west and north of Santa Barbara (city). The movie "Sideways" shot locations in this area (Santa Ynez, Solvang, Buellton, Lompoc etc, along or near Route 246). You may obtain useful visitors info from Santabarbara.com. I clicked on one of the links to request (and received) a Sideways tour map, but wound up not having time to tour these vineyard towns.

We arrived in Santa Barbara at about 3 pm. Checked out two hotels we were considering, then decided on the classy-looking Hotel Santa Barbara. Off season, mid-week, a King-sized bedroom with AAA discount was $159, not bad at all. The location is ideal; 10 minutes' walk down the State St. to Stearns Wharf, and 10 minutes' walk up the State St. to the old town.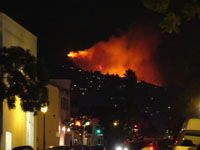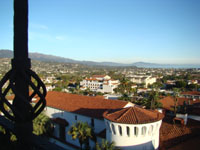 We walked along the historical old town, went up the City Hall bell tower to have a panoramic view of the surroundings. All was well and beautiful. Around 6:30pm we walked out of the hotel to State Street to look for a tapas restaurant, saw the mountains in the Montecito direction (eastern direction off Santa Barbara) on fire! We were worried, hoping firemen would have it under control soon. Before we finished our dinner, the whole State Street lost power. We paid our dinner bill under a flashlight, walked back to our hotel. Luckily, our hotel has its own generator, so we had power while most of the businesses on State Street were dark. The winds were strong at 60 miles per hour, spreading fires faster than firemen could get there. TV news said winds would die down the following morning, and it would be a window of opportunity to use both air and land resources to put out the fire.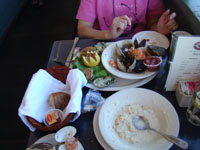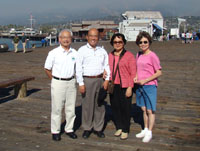 The following morning, there were no more visible fires near the mountains, but there were still spots of orange hues and a few billowing smoke. We walked to Stearns Wharf, and chanced upon Taiwanese ex-premier Su and his wife. (Click on the enlarged photo on the right with ex-Premier Su and you will see orange hues in the mountains in the background.)

Later we went to Brophy Brothers to try their famous New England clam chowder and seafood (right photo) for lunch before driving back to LA (Pasadena) in time to join the rehearsal dinner celebration.
Peter's Wedding at Pasadena
Peter and Yayoi's wedding ceremony took place in the beautiful garden of the Pasadena Westin. Weddings have been the joyous occasions for all the Chens to get together for three years in a row.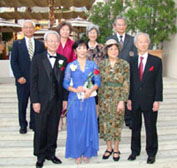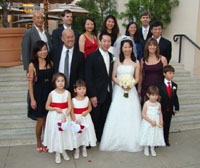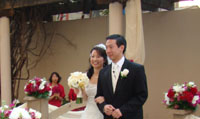 8-year-old Michael Chen had the honor of being the ring bearer. (His 3rd time being a ring bearer! Quite experienced by now.)
6-year-old Roslyn Lydick and 4-year-old Sarah Chen were the flower girls. 2-year-old Karen Lydick was too young to play a role in the bridal party, but she wore a dress as pretty as the flower girls'.

Sarah's impromptu dance to the tune of "High School Musical" at the wedding banquet was unforgettable.
The middle photo above is the newly wed with cousins (and their children) on Peter's side. The far-right picture is Peter's proud parents with the Chen siblings attending the wedding.
Las Vegas
Our son Philip and daughter-in-law Ayumi flew in from Las Vegas to attend the wedding. After the wedding, we all rode our rental car to Las Vegas to spend a few days together.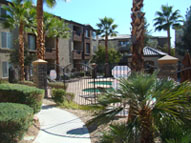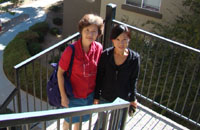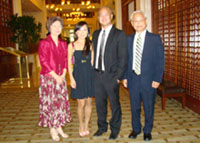 The left picture is Mei-Ching, Ayumi, Philip and Vincent taken at Peter's wedding in Pasadena Westin hotel.
The middle picture was taken at the stairs up to Philip and Ayumi's apartment. The far right picture is their apartment complex. It is a well maintained beautiful complex.

During this trip we discovered that Las Vegas' W. Spring Mountain Road is lined with Asian supermarkets and Asian restaurants (Taiwanese, Chinese, Japanese, Korean etc.) No more $15 bowl of beef noodles in Bellagio for us, there are tastier beef noodles at W. Spring Mountain Road for half the price.
We bid Philip and Ayumi good bye after a 3 days' visit, then flew back home to a frigid Boston. Thus concluded our wonderful nine-day trip.