2004 Journey to St. Petersburg and 4 Scandinavian Countries
( Russia , Finland , Denmark , Norway , Sweden)

Synopsis:
In May 2004, Vincent and Mei-Ching joined a Grand Circle Travel's Scandinavia Odyssey tour with a four day pre-trip to St. Petersburg.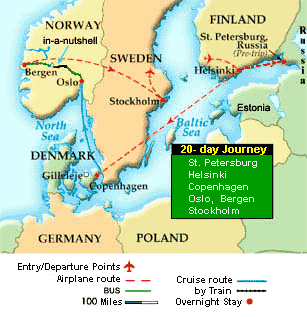 The main tour group consisted of 38 members, 30 of them went to St. Petersburg. We had a program director from Sweden who flew to Helsinki to wait for our flight from JFK and then flew to St. Petersburg with the group. She (Helena) stayed with us the whole 20 days.
In St. Petersburg, we had a local guide named Larissa, and a Mercedes bus driver, Serge, with us for 4 days. All our meals for our time in St. Petersburg were included.
In Scandinavia, we visited 5 cities: Helsinki, Copenhagen, Oslo, Bergen, and Stockholm. In each city we stayed for 2 to 3 nights.
We had overnight cruise from Copenhagen to Oslo; followed with the Norway-in-a-Nutshell tour by bus/train/boat/bus from Oslo to Bergen. The rest of the legs we traveled by air.
After arrival at each new city, we'd have a vicinity walk around our hotel led by the program director, and also a half-day sight-seeing tour on a bus with a local guide. Then the rest was free time, or you might join one of the optional tours at extra cost.
Weather wise, we were very fortunate to have sunshine almost every day, except for one morning of drizzle in Bergen and an afternoon of pouring rain in Stockholm. We were told that we were very lucky to have four sunny days in a row while in St. Petersburg.
On this tour, except for the hotel in St. Petersburg which was far from the city center, the rest of the hotels in Scandinavia were all centrally located and were all very good (Radisson, Admiral, Scandic, First Hotel). Besides daily breakfast buffet, only 6 dinners and 1 lunch were included in Scandinavia. However, all included dinners and lunch in Scandinavia were very good.
Here is a poem by Robbie F. - a travel group member from New York
---

St. Petersburg, Russia

: 5/21 ~ 5/25/2004
Russia and Russian people are still struggling amidst the country's transformation from communism to democracy and a free market economy. Today, the society, in all aspects, is not quite in as smooth order as other Western European countries. The main reason we decided to join a tour group in St. Petersburg rather than going by ourselves was a concern for general security. We did not feel comfortable traveling there alone. However, with its rich history, culture, and enormous abundance of natural resources, Russian people have a chance to become quite prosperous in the future.

For now, the best attractions to the tourists are the spectacular palaces built through history for the Tsars. We applaud and admire Russia's national dedication and devotion, despite the enormous cost, to the restoration and the maintenance of these historical treasures. St. Petersburg is known as the most cultured among all Russian cities. The glittering chandeliers, marble staircases, remarkable fountains, and precious collections are tremendous treasures of mankind, not just Russia's.

Lodging: Our hotel was at Pulkovskaya Hotel, a 4-star hotel that caters to bus tours. The hotel is 3 miles from the airport and 7 miles from city center, so walking to the city center was not an option. Two of the half-day tours were optional, but everyone signed up anyway because it was not easy to go sight-seeing by ourselves.

Money: We were advised to bring US dollars in cash for St. Petersburg. We paid for the optional tours in US$, and paid the driver and local guide tips in US$. Since all our meals in St. Petersburg were included, we did not anticipate needing Rubles for anything significant, therefore each person changed about US$20 into Rubles at the hotel for small expenses. The exchange rate at the hotel was US $1 = R26.6.
After check-in, Helena walked with us to a supermarket near the hotel so all of us could buy bottled water for drinking and for brushing teeth. Vincent also used the hotel's computer at the business center for internet access, the fee was 80 Rubles for every 30 minutes.

Food: Russian food was quite plain; even the beef Stroganoff (picture) did not look familiar. We passed Count Stroganoff's pink palace in St. Petersburg. Larissa said Count Stroganoff had bad teeth, and that's why his cook invented beef Stroganoff: it was easy for him to chew. We had beef Stroganoff twice in St. Petersburg, both times it came with rice instead of noodles.

Pickpockets: They are at all tourist attractions. The most notorious are Gypsy adults and children gangs robbing tourists on Nevsky Prospekt (St. Petersburg's most famous street) in broad daylight (Read the local newspaper story here). That was why Larissa did not let us take a walk on Nevsky Prospekt one day after having lunch at a restaurant on Nevsky Prospekt across from the Kazan Cathedral. Several of us skipped tea/coffee and took a 5-minute walk anyway.
Sights in St. Petersburg:
The winter palace - an impressive sight looking at it from Vasilevskiy island across the Neva river.
The palace consists of 5 linked buildings along the Neva river. From right to left they are the Winter Palace, the Little Hermitage, the Large Hermitage (combination of the Old and New Hermitages), and the Hermitage Theater. The Hermitage collection is housed inside these buildings.



Winter Palace view from across the Neva River

Peterhof with fountains - Peterhof is the name of the town where the Petrodvoretz palace is located. It is 30 km west of St. Petersburg on the Gulf of Finland. Peter the Great built these fountains and gardens to rival Louis XIV's Versailles and, in my opinion, he succeeded with the gardens. The gold on the sculptured fountains were re-gilded two years ago just before President Bush's visit.

We did not get to see the inside of the Petrodvoretz palace; instead, we were guided to see the interior of a smaller palace on the same ground used by Catherine the Great. The reason we did not see the Petrodvoretz palace, according to Larissa, is because we were going to see Catherine Palace the next day anyway, and the interior of the Catherine Palace is more beautiful than the Petrodvoretz palace. Not to be missed.
Catherine Palace : The palace with the most gold one has ever seen! Elizabeth I, daughter of Peter the Great, was responsible for the lavish interior. The famous Amber Room is inside this palace.
This palace was named after Peter the Great's 2nd wife Catherine I. The town where Catherine palace is located used to be known as "Tsarskoe Selo" (The Czars Village), later it was renamed to Pushkin, after the great poet Alexander Pushkin.

The palace opens at 10 am to the public. Our tour operator paid extra money for our group to be admitted at 9:30 am ahead of the crowd, but every tour operator was doing the same, so when we arrived at 9:30, there were already several buses there.

Here are some Cliff Notes on the Romanov royal linage if you need to get familiar with who Catherine I was and who Catherine II was.

Hermitage museum - crowded with tour groups from all over the world and with tour guides speaking all kinds of languages. From room to room sometimes it felt like we were in the Louvre (Paris).
Canal/Neva river cruise and Yusupov Palace - We did not care much for the palace where Rasputin was murdered, however the Neva river cruise was quite enjoyable. (It was sunny but quite chilly on the boat. The temperature was in the low 50F's)
Yusupov Palace: The richest of non-imperial of St. Petersburg, home of the powerful Yusupov family. In its cellar is where the infamous "holy man" Rasputin was murdered.
Neva river cruise (and theater photo) : We cruised along the Neva river and a few canals. It is quite a sight to see St. Petersburg from the water.
.
St. Isaac's Cathedral - beautiful inside. Built in 1818-1858, this is the main church of St. Petersburg.

St. Isaac Cathedral: We did not buy a camera permit to take pictures inside the Cathedral, thus no interior photos.

Church on Spilled Blood (The Church of Savior) - This multi-domed church, a classic Russian orthodox building, is also know as the Church of the Resurrection of Christ. It was built between 1883 and 1907 on the spot where Alexander II was assassinated by the People's Will terrorist group in 1881.

Church on Spilled Blood: The church is a museum now, not a place for worship. Our tour did not pay admission to get inside.

Peter & Paul Fortress - Founded in 1703, is one of the oldest structures in St. Petersburg. Although built for defense, it had been mainly used as a political prison. The Peter & Paul Cathedral, with its landmark needle-thin spire, is where all of Russia's rulers are buried from Peter the Great downward (except Peter II and Ivan VI). The bell tower remains the city's tallest structure.

Theater & Opera House: On the last night before our departure, we were offered a $65 option to see "Swan Lake" at the Alexandrinsky Theater. We had the St. Petersburg show schedule from St. Petersburg's Billboard and wanted to go to the Mariinsky Theater if possible. But the Mariinsky Theater was showing a modern ballet, "The Legend of Love", which we had no idea what it was about. In the end we (along with tour members Howard and Helene from Florida) bought four tickets from the hotel concierge to attend Bizet's opera Carmen at the Mussorgsky Theater. The theater was surprisingly plain, the stage was relatively small, and the chairs were not comfortable. However the opera performance (interwoven with very fine ballet dancing) was cheerful and quite enjoyable. The other group members who went to Alexandrinsky Theater also said the theater was old and the chairs were not comfortable. Therefore, if you have chance to go for a ballet or opera in St. Petersburg, try to go to the Mariinsky Theater.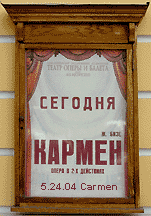 "Carmen" curtain call - St. Petersburg State Academy of Opera & Ballet
Dinner in a Russian home - GCT Tour arranged a home-hosted dinner with a family in the outskirts of St. Petersburg. Our tour bus took the whole group to a simple farm house with a sizeable vegetable garden. The house was not big, so we packed into their recently renovated living/family room. The hostess prepared a delicious home cooked meal with vegetables from their garden (we assumed), along with champagne and, of course, vodka. There was also a 4-person musical group singing Russian folk songs and dancing during dinner. After dinner, guests and hosts engaged in an interesting and candid question & answer session about Russian life. The Q&A was spontaneous and quite enlightening.

Home hosted dinner,&nbsp&nbsp Hotel, market, subway ride

---
Scandinavia : 5/25 ~ 6/8/2004
In Scandinavia we visited 5 cities: Helsinki, Copenhagen, Oslo, Bergen, and Stockholm. In each city we stayed for 2 to 3 nights. We cruised overnight from Copenhagen to Oslo, and followed a bus/train/boat/bus Norway-in-a-Nutshell tour from Oslo to Bergen. The rest of the legs we traveled by air. After arriving at each new city, we usually had a vicinity walk with the program director, and a half-day sight-seeing bus tour with a local guide. Then the rest was free time, or you could join one of the optional tours.
Helsinki, Finland

5/25 ~ 5/27
Helsinki was a welcome contrast from St. Petersburg - suddenly we were free to walk around without being on guard all the time, and there was freshly-squeezed orange juice and real Danish pastries on the breakfast table. Our hotel (SAS Radison) was not far from all the attractions in the city, so we took it easy, bought a 24-hr transportation pass, rode ferries, buses, and tram to places. Scandinavian long daylight hours seemed to extend our evening touring hours. On a clear day, it gets dark around 11 pm.

Finland is a relatively new independent democratic country and Helsinki is quite modern and prosperous. The country now has one of the highest per capital incomes in the European Union. We guessed that Nokia and other telecommunication giants could be key contributors toward this achievement. The Fins are proud of having a lady President, Tarja Halonen.

We arrived Helsinki on a warm sunny afternoon. People were sun-bathing on the park green, sitting at sidewalk cafes, and a concert band was playing in the park. They all seemed to enjoy the beautiful weather and to relax under the warm and gentle sun. After a brief vicinity walk with our tour director, we took our own walk to the famous Market Square by the harbor. At 4pm vendors were closing shop. We went back to the Market Square the next morning and saw many interesting vendors (food, gift, fish, local veggies/flowers etc.). We had a nice seafood lunch at one of the food stands - almost like a picnic.


Hot seafood vendor at Market Square near Helsinki harbor

On the second day, our group had a half day city tour on a bus. We visited the Rock Church, went to the site of 1952 Olympic Games, and toured one of the most prominent Helsinki's landmarks, Sibelius Monument, which was built in honor of their national composer Jean Sibelius (1865-1957, composer of "Finlandia"). Two contemporary sculptures (winning design of the keen 1961 competition) stand out in the park; one with multiple metal pipes and the other with a stainless steel cast face of the composer.
Copenhagen, Denmark

5/27 ~ 5/30
Coming from the US, we found everything in Copenhagen to be relatively expensive. Even though Denmark has two famous breweries, Carlsberg and Tuborg (now merged into one giant company), a glass of beer in a Copenhagen restaurant costs 45 DKR ($1 US = 6 DKR), quite expensive! A cup of tea in a restaurant costs 24 DKR. Minimum hourly wage in Denmark is about US$12.

Tourists link Denmark with fairytales. On arrival at the Hotel Admiral by the harbor, we attended a one hour lecture by a local tour guide. She told the life story (almost a fairytale itself) of Hans Christian Andersen, the distinguished author of many memorable fairytales. Denmark is planning a big celebration on Andersen's upcoming 200th birthday in 2005. You can read Andersen stories online, here is his "The Little Mermaid"

Hillerød and Frederiksborg Castle - After a day of sighting-seeing in the city, including the famous Little Mermaid statue in the harbor, we took off by ourselves to Hillerød to see Frederiksborg Castle on a free day. We enjoyed the tranquility of a small town for a change. Frederiksborg Castle is often called the Danish Versailles. (One-way transportation for two persons traveling together from Copenhagen to Hillerød requires 7 clips on a 10-ride public transportation clip card. A single person traveling requires 4 clips.)


Garden in the back of Frederiksborg Castle

Tivoli Gardens - established in 1843, it is known as the "grandmother" of all amusement parks. Walt Disney supposedly modeled Disneyland after Tivoli. Our tour group went to Tivoli together one evening. We noticed many Chinese decorations in the park, and thought their Chinese restaurants might be good, so we chose to eat at a Chinese restaurant in a pagoda. To our surprise, it was one of the worst Chinese meals we've ever had! After dinner, we did not stay long enough to see any shows or fireworks, and walked back to our hotel. It was relatively cold that night; many of our group members left the park soon after dinner. Some walked back to Nyhavn (New Harbor, a popular area by the canal) where our hotel was and had dinner somewhere along the way.

Dine with the Danes - One evening, we were divided into several small groups to have dinner in several Danish homes. We went with a couple, Bob and Marilyn, to a spacious apartment home in Copenhagen. Bob is a retired lawyer and Marilyn is a retired teacher. The atmosphere and the conversations with the hostess and her friend were very casual and enjoyable. Besides the delicious candle-light dinner with a local flavor, we also learned a lot about the life and lifestyle of Danish people.

Helsingør and Kronborg Castle - We joined an optional tour to Kronborg (the one with questionable Shakespearian ties to Hamlet) and then continued on to the fishing village of Gilleleje. Despite what several tour books said about Kronborg Castle, the trip was enjoyable, especially with a knowledgeable guide to make our visit interesting. The style of Kronborg Castle is very similar to the Frederiksborg Castle, only Kronborg is almost bare and Frederiksborg Castle is full of museum stuff and more grand in scale. The visit to the Gilleleje village was enjoyable. We sampled delicious fish cakes at a busy fish market and bought a few scoops of tasty ice cream at Gilleleje.

On the way from Copenhagen to Kronborg Castle our bus drove along the Danish Riviera with many beautiful homes along the sea shore. Our guide pointed out Karen Blixen's parents' house where Karen spent her later years and passed away there. Karen is the author of Out of Africa.

After Gilleleje, our bus took us directly to the pier in Copenhagen to board a DFDS Seaways ship with 1700 passengers for an overnight cruise to Oslo. As soon as we got off the bus at the pier, each person was handed a ticket/key with cabin assignment - very efficient. It was quite a sight to view the city, the Palace, the Mermaid, the opera house etc. for the last time on the highest deck of the cruise ship. The Smørgåsbord buffet dinner on the ship was quite good, although it was a bit crowded at the buffet stations. We saw a beautiful sunset that evening, but did not get up early enough the next morning to watch the sunrise as we were approaching Oslo.
Oslo, Norway

5/31 ~ 6/2
Oslo was a blur between the fairytale Copenhagen and the quaint Bergen. We visited the Oslo city hall where Nobel Peace Prize is awarded. We also visited Vigeland park (numerous bronze sculptures), saw Munch's famous "Scream" in the National Gallery, and rode ferries between Oslo harbor and Bygdøy peninsula. The weather was sunny, the harbor water was mirror-like, and the ferry rides were enjoyable.

On leaving Oslo, we rode our tour bus toward northwest for about 4 hours to Geilo, then got on a train at Geilo to start our Norway-in-a-Nutshell trip to Bergen. During the bus ride, several members of the travel group took microphone to tell their personal stories about Norway and Norwegians, including the WWII resistance efforts against Germans; special copper ore from Norway chosen for the Statue of Liberty restoration; and about the North Sea oil.

From Geilo we rode a train westward for about one hour to reach Myrdal. The scenic snow-covered mountain tops and many waterfalls along the way were great, but the beautiful views were often blocked by tunnels and snow-sheds. The train cars were well furnished and had good size windows, however, they were not as luxurious as the scenic train cars with panoramic windows we rode in Switzerland.
We changed train at Myrdal. From Myrdal the train winds down 2800 ft to Flåm (sea level) in 55 minutes. There is a famous waterfall (huge!) between Myrdal and Flåm. The train made a stop for passengers to get out to see the waterfall up close.
From Flåm to Gudvangen we rode on a boat for a 2-hour cruise through branches of the Sognefjord. The scenery on this boat ride was wonderful all the way. Blue skies and few clouds - it was a perfect day for picture-taking.
Our bus driver from Oslo was waiting for us at Gudvangen to drive us the rest of the way to Bergen. But before he did that, he motored us through 13 hair-pin turns on a canyon road leading up to the Stalheim Hotel for a spectacular view high above the majestic valley.

This long day-trip via the "Nutshell" was definitely one of the highlights of the entire tour. We finally arrived at the hotel in Bergen around 8 pm and had a group dinner at the hotel soon after. Guess what? We had Beef Stroganoff again. However, this time it was Norwegian style, with mashed potato (still no noodles). This Beef Stroganoff was a bit soupy but pretty tasty.

Norway in a Nut Shell (updated 7/5) in Oslo (updated 7/22)
Bergen, Norway 6/2 ~ 6/5
Bergen, on the coast of the Atlantic Ocean (North Sea), was Norway's capital in the 12th and 13th centuries. Today, the cultured and picturesque town is the main jumping-off point for journeys into the fjords (breath-taking inlets) in western Norway. Bergen's tourist business is booming. There were 220 cruise ships that called in 2003, and more are expected this year. Some ships bring in over 3000 tourists, many of them from England.


Bergen is quaint, and so was our hotel, the First Hotel Marin. At this stop we were assigned a very spacious room. It might be that tour members got turns to be assigned one of the larger rooms, and in Bergen we had our turn.

The famous Fish Market by the harbor (Bryggen) was a two-minute walk from our hotel. Many vendors sell all kinds of seafood, dried fish, shell fish, whale meat, caviar and, of course, salmon (fresh or smoked). Boiled shrimp (with heads on) was about US$5 per pound. Some of them looked delicious, but Vincent couldn't bear the sight of boiled shrimp after we ate one liter of boiled shrimp at a harbor front restaurant in Oslo. So we walked by, no more shrimp for him for a while.

One evening, we dined at the only Japanese restaurant in town called Nama, located across the street from our hotel. Their sushi was pretty good, and on a Friday evening the restaurant was packed. Our waitress told us that business is very good all year round.

On a free day, we took a bus and walked for another half hour to Troldhaugen to visit the home of Norway's most famous composer, Edvard Grieg. Grieg and his wife were both very short, that was why they named their house Troldhaugen, Trold as in troll - a supernatural being in Scandinavian legends depicted as a dwarf living in caves or under bridges. One morning during a bus ride in the countryside, our tour director played a CD of Grieg's "Peer Gynt Suite #1". The soft and soothing music passages went well with the peaceful early summer settings in western Norway.

By the way, Norway is much more expensive than Denmark, partly because everything is tagged with a 24% VAT tax, including food/drinks in restaurants.
We arrived at Stockholm in the middle of a 3-day national festival, Sweden's Flag Day. There was a marathon race and a food festival in the King's Garden with tens of thousands people. We had just left a relatively cozy Bergen that morning, in contrast, Stockholm felt like Manhattan - busy, noisy, and hustling. Consequently, many group members did not like Stockholm at first sight. However, after walking along the harbor to Gamla Stan (the old town) and seeing the beautiful harbor, we began to appreciate Stockholm. In the end, we liked Stockholm a lot. That evening we had a very nice Italian dinner in Gamla Stan. After dinner we strolled back to our hotel around 11 pm, the sun was just setting in the west.

The group went on a sight-seeing tour of Stockholm the next morning. We visited the Vasa Museum (the splendid 17th century battle ship which sank on its maiden voyage), walked part of the old town, went up to a hill for a good city view, and ended with a cooking demonstration of Swedish meatballs in a restaurant. We sampled pickled herring, drank a Swedish hot liquor, and then had meatballs for lunch there.



A Viking ship for tourists (pictured from a hilltop)

In the afternoon, we took a scenic boat ride to see Stockholm from the water. We also went to the famous Grand Hotel by the harbor. We were not hungry enough to pay US$50 for the Grand Hotel's smørgåsbord dinner at 4:30 pm, so we sat at the bar's veranda to have a drink and to enjoy a great view of the Royal Palace across the harbor. The Grand hotel is the grandest hotel in Stockholm and is where the Nobel Prize winners stay. The Royal Palace across the harbor is where the King works, not where he lives.

The next morning we walked to City Hall to join a 10 am public tour. City Hall tours are guided, and tours may be cancelled if there are important city functions. So if touring the City Hall is important to you, do it early. Don't wait until the 3 pm tour on your last day because it may get cancelled.

The City Hall is very impressive, it has a courtyard and a garden by the water. Built in 1908, it is very elegant and grand, and yet available to the citizens. The Blue room and the Gold room can be rented for weddings or parties. The Blue room is where the annual Nobel banquet takes place every December 10th, and the hall is actually red, not blue. After seeing all the red brick laid out, the architect liked what he saw, so he scrapped the plan to lay blue marble on top, but the name of "Blue Room" stuck.

After the City Hall tour, we took a train to see Drottningholm Castle (Queen's Palace), where the royal family lives. The gardens were very pretty and peaceful. We sat on a bench in the shade and just took it all in. We did not buy separate admission to see the Drottningholm Royal Theater on the same ground, but other members of the group who did said it was beautiful and is not to be missed.


There was a ferry dock just outside the Drottningholm Castle, so we took an one-hour boat ride back to the City Hall. The boat was crowded on the lower deck, so we climbed to the upper deck to sit in its spacious dining room. Even though it was already 3 pm, we had to order lunch because we were sitting in the dining room. The halibut plate was well-prepared and very delicious. We were pleased with the beautiful waterway scenery from the peaceful upper deck as well.

Our tour group had a farewell dinner at the City Hall's restaurant. The entrance to this restaurant is separate from the City Hall entrance, therefore you cannot tour the City Hall by dining at the City Hall restaurant. We had a cheerful farewell dinner, not quite the Nobel-style banquet, but it was very enjoyable.
We flew home the next morning on FinAir via Helsinki, JFK, then to Boston - a 20-hour traveling marathon to conclude our 20-day journey.
---

Note: links to photo pages will be continuously updated. You are welcome to come back soon and provide your comments.
All photos by Vincent May/June 2004
back to homepage