Trip Summary: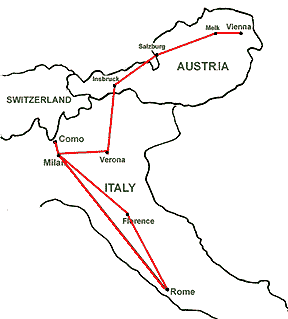 In May 2000, our family of four took a 16-day vacation to Austria and northern Italy. The timing coincided with Austin's college graduation milestone, and also coincided with Mei-Ching's changing job - she took a month off between jobs. Philip took time off from work at New York, and Vincent also managed to take time off from his business.
Our itinerary covered Vienna, Melk, Salzburg, Milan, Rome and Lake Como. Many friends asked why we chose these destinations. Here were the reasons:

Vienna and Salzburg had been firm at the very beginning of our planning. They are music shrines and it would be a pilgrimage to walk the same streets Mozart walked. What else besides Vienna and Salzburg took several turns and changes. Originally we were considering either Lucerne or Berner Oberland of Switzerland. But after reading several guide books, we decided that there were not enough time to do Switzerland Alps justice. An excursion from Vienna to Prague (Czech Republic) was also considered at the beginning. However, in the end, Milan and Lake Como in northern Italy had a stronger calling - especially after seeing the water fountain show at the Bellagio in Las Vegas, we just had to visit the real Bellagio, the town by Lake Como, to see how it influenced the architectural design of Bellagio, the casino in Las Vegas.
Rome was an on-the-spur add-on. On the morning on 6/4 after Vincent and Philip left for Milan's Malpensa airport to fly home, Austin and Mei-Ching were to continue to Lake Como for 5 days. But, sensing 5 days by a laid-back lake might be a bit boring to Austin's taste, I (Mei-Ching) asked him if he preferred spending two days in Switzerland or spending two days in Rome. He said Rome. So off we went to Milano Centrale and hopped on an EuroStar train for a 4-hour ride to Rome. Along the way we got off the train at Florence and walked to the Duomo so that Austin could see the beautiful cathedral. We spent nearly two days in Rome. It turned out that Austin was most impressed with Rome on this entire trip.
Transportation:
We flew from Boston to JFK to meet up with Philip and then flew together to Vienna.
We flew home from Milan.
In between, we took trains, and also took a Wachau River Cruise along the Danube from Krems to Melk.
Below was the URL I looked up for train schedules and planned our departures and arrivals between cities in Austria and Italy : http://bahn.hafas.de/bin/query.exe/en
Guide Books:
Rick Steves' "Germany & Austria", as well as his "Italy" guide books.
---
Itinerary with links to picture pages:
Vienna (5/26 ~ 5/29/2000): Link to our Vienna photo page
Hotel - we stayed at Konig von Ungarn (King of Hungary) which received great reviews on Eyewitness Travel Guides and AAA Europe TravelBook etc. This hotel is only one block from St. Stephen's Cathedral, and a short walk to the State Opera house via the traffic-free KarntnerStrasse. This hotel was part of a 17th century building that was once a lodging for Hungarian noble families during their stays in Austrian capital. (Note: The hotel rooms are much more expensive today than when we were there in year 2000, so it may not be a great value any more.)

Mozart lived in a flat next door to this hotel between 1784 and 1787 when he composed The marriage of Figaro. (See our Vienna's photo page for a look at the building.) The flat is now a museum called Figarohaus. The entrance to the museum is on 5 DomGasse, in an alley behind our hotel. A staff at the museum told us this was one of the best apartments Mozart lived in Vienna. (He moved 17 times in Vienna.) He was pretty successful by that time to afford such a spacious apartment. There were high quality headphones playing beautiful Mozart music in two of the rooms, make sure you try them if you go visit.

Stephansdom (St. Stephen's Cathedral) - All the distances to Vienna are measured from here. The cathedral's roof features a geometric pattern, which is uniquely Hapsburg style. Joseph Haydn sang in here as a choir boy, and Mozart married Constanze Weber in this church in 1782.
Opera - No visit to Vienna can be complete without a visit to the Staatsoper (State Opera), but there were no ticket to be had on any opera performances while we were there. The best we could manage was to get hold of four standing tickets on an evening performance of a modern dance. It was electrifying to be present in such a prestigious opera house on a performing night.

On another evening we went to a concert in a palace hall performing Mozart and Strauss' music.

Sightseeing - We rode trams around Ring Strasse, walked daily along Karntner Strasse, the city's traffic-free grand mall, on our going out and coming back to the hotel. We also visited Hofburg Imperial Palace, Schloss Schönbrunn (Schönbrunn Palace) – the Habsburgs' "Versailles". However, unlike Versailles which was used for show not for real living, Schönbrunn Palace was the real home where Empress Maria Theresa of Austria (1717-1780) raised her 16 children. Her youngest daughter was Maria Antonia, better known under her French name Marie Antoinette. Maria Theresa's son Joseph II (1741-1790) succeeded her and was the music-loving emperor featured in the "Amadeus" movie.
We took subway and then bus to Vienna Woods in Kahlenberg one day. However, this "woods" bore no resemblance to the image we had imagined since our teens after watching a very popular movie about Johann Strauss and listening to his "Tales from the Vienna Woods" countless times.
Wachau valley and Melk (5/29 ~ 5/30/2000) - our Melk photo page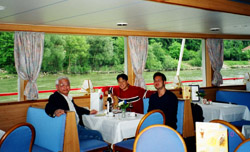 To go from Vienna to Salzburg, we took a train from Vienna to Krems, then changed to a Danube cruise from Krems to Melk.

The boat operated by Wachau River Cruises was a floating restaurant. Three hours' boat ride went by quickly after we had a very pleasant lunch and enjoyed the scenery along the way.

In Melk we stayed at the Hotel Restaurant zur Post.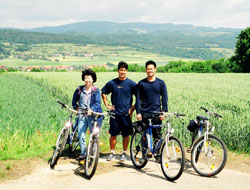 The following morning we rented four bikes (very good 21-speed mountain bikes) from our hotel and peddled along the Danube banks, then to the hills above the Abbey (pictured on the left).

Everyone enjoyed the exercise and the freedom of biking, stop and go as you wish.

In the early afternoon we got on a train and left Melk for Salzburg.



Melk – is a pretty town on the Vienna-Salzburg line, famous for its Baroque and gilded Melk Abbey beaming over Danube Valley - one of Europe's great sights.
Dürnstein – our boat passed this rock fortification where the English King Richard the Lionhearted was imprisoned in early 1193. (See our Melk photo page for a picture of Dürnstein.)
Salzburg (5/30 ~ 6/2/2000) - our Salzburg photo page

Our hotel, Altstadt Radisson (Old Town Salzburg) was luxurious and elegant. Its dining room stretches across the length of the building with windows looking out to the River Salzach. River Salzach was named not because its water contained salt, but because of the precious cargo it once carried.
Our hotel is in the heart of the Old Town, one minute walk to Mozartplatz (TI office), Residence (palace of Salzburg's powerful Prince-Archbishop Wolf Dietrich who ruled from 1587-1612), and Geburtshaus, Mozart's birth house.
Festung Hohensalzburg (Fortress high-above-Salzburg) – The white castle above the town can be seen in almost every Salzburg photo. We went to a dinner/concert at the Festung. The chamber music was held in the "prince's chamber". The dinner was so-so, the music was good (Mozart's pieces), but listening to 18th century's baroque music in an 11th century's dark fortress hall, the settings and the music were just not compatible. One might be better off going to a different concert at the Mirabell Garden and Palace (Palace Concerts) instead.
Sound of Music dinner show – immensely popular, offers a well-done Sound Of Music spin-off – featuring songs from the movie and local dances. We went to this dinner show. Austin was invited to do a few steps on the stage with the performers. All audiences were from America!
Sound of Music tours – the 4-hr tour was very worthwhile. It included a quick but general city tour, hits all Sound Of Music movie locations (including the stately home, gazebo, and wedding church) and showed a lovely stretch of the Slazkammergut lakes. There were 3 tour companies, all were very similar.
We enjoyed this tour. The town of St. Gilgen by Wolfgangsee (Wolfgang Lake) was very pretty. It could be a one-day trip from Salzburg. Take bus from Slazburg to St. Gilgen.
Milan (6/2 ~ 6/4/2000) - our Milan photo page
We took trains from Salzburg Hbf to Milano Centrale. The train ride was about 8 hours and required two train changes. We enjoyed the train ride; it passed Innsbruck, Brenner Pass, part of Italian Alps, and alongside a valley between Innsbruck and Verona that used to be a coach route. As we sat in the comfort of a fast-moving train, looking out the windows and imagined 240 years ago Mozart and his father had to ride horse-drawn carriages along the same valley on their way to Milan for music engagements. One cannot help wondering what kind of toll it might exact on a person's health after enduring such a long journey without modern day's convenience and comfort.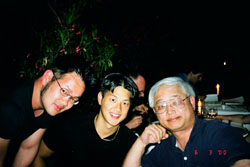 Milan is famous for its fashion, cuisine, the Duomo and the La Scala Opera house.
We had two fabulous dinners in Milan, one of them was in an outdoor piazza, pictured on the left.
Duomo – Milan's centerpiece. Arguably the 3rd largest church in Europe (after Vatican and St. Paul).
Galleria Vittorio Emanuele – a four-story-high glass-domed shopping arcade. There were many upscale stores and restaurants, including a very upscale MacDonald.
La Scala Opera House and Museum – One of the world-famous opera houses, it was here Verdi established his reputation and Maria Callas sang her way into Opera lore. It opened in 1778 with an opera by Antonio Salieri (of the "Amadeus" fame, but he was really not a bad guy at all). We went to an afternoon tour inside the La Scala. There were no opera performance in June.
Leonardo da Vinci's Last Supper (Cenacolo)– The fresco is in the refectory (dining hall) of the church of Santa Maria delle Grazie (Madonna of Grace). This ill-fated master piece suffers from Leonardo's experimental use of oil rather than the normal fresco technique. We did not know the admission was by reservation only and needed to be reserved weeks ahead, therefore we did not get in to see the Last Supper. But we walked to the church to take a look at the church exterior anyway.



Rome (6/4 ~ 6/6/2000) - our Rome photo page

As mentioned earlier, Rome was a last-minute addition. Along the way from Milan to Rome we got off the train at Florence and walked to the Duomo so that Austin could see the beautiful cathedral. It was a very hurried visit but better than not visiting at all.




Lake Como (6/6 ~ 6/9/2000) - our Lake Como photo page

We spent our three days in mid-lake region, at the town of Varenna and Bellagio. We left Rome Termini in the morning by EuroStar, the train was 40 minutes late pulling into Milan, causing us to miss our connecting train to Varenna. After waiting 90 minutes at Milan Centrale for the next train to Varenna, we finally arrived at Varenna around 5:30 pm without a hotel reservation. Rick Steves' book said that July and August would be tight, so I thought early June might not be too bad. We took a taxi from Varenna train station to the TI (Tourist Information) in the main square. The nice young lady at TI was able to book rooms for us at the Hotel Royal Victoria for only one night. She told us it is the best hotel in Varenna. The following two nights we had to move town because, she said, all the reputable hotels in Varenna were booked.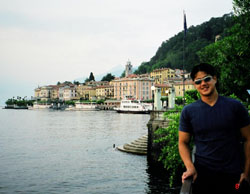 So for the next two nights we stayed at a hotel in Bellagio, which she also booked for us. Bellagio has more tourists, more hotels, restaurants and shops, therefore more choices for dinner, which suited us just fine.
Bellagio is a 15-min boat ride from Varenna. Make sure you book a room with views to take in the million-dollar mountain/lake view. A room with view costs about 50,000 Lira more (about USD$25), but it is a small price to pay.
One evening, over the course of a relaxing dinner at the roof-top restaurant of Hotel Du Lac in Bellagio, we asked our waiter if he was aware that there is a Bellagio in Las Vegas. He said Yes, and that Steve Wynn's team visited Bellagio a couple times to take in the general theme, but the casino building itself was not modeled after any particular villa. I imagine it must have been a big news on local newspaper when the architecture team from America descended in town.
Varenna – a delightful town with its many gardens and cypresses stands on a small promontory. Very very quiet in the evenings though.

50 yards' walk from Hotel Royal Victoria is a laundry service that charges customers by the kilos. We dropped our laundry there before 6:30 pm and then picked up the clean clothes next morning at about 11 am. Sometimes I plan our stays at certain towns to coincide with when we need a laundry done.

Bellagio - Austin rented a bike and rode for an afternoon. He also walked in to the 5-star Grand Hotel Villa Serbelloni to use their Gym facility. I strolled around the winding streets, tiny squares and visited villa gardens.
The Hungarian pianist Franz Liszt and his mistress, Countess Marie D'Agoult, used to rent a villa in Bellagio. They had a daughter named Cosima, who later caused a scandal of her own when she divorced her conductor husband to marry the German composer Richard Wagner. The 1991 movie Impromptu had a sub-plot about Liszt and Marie D'Agoult.
Villa Carlotta – A very lovely Italian villa with a beautiful botanic garden. If you have time only for one villa/garden, go to this one. A short ferry ride across the lake from Bellagio.
Going home– I asked our hotel to book a taxi to drive us from Bellagio to Milan's airport to catch a noon flight home. The taxi ride was 1 hour and 45 minutes, the fare was fixed, 280,000 Lira (about USD$140). Our other option was to take the 6:50am ferry from Bellagio to Varenna, hike up from the ferry dock to train station with our luggage in tow, catch a local train from Varenna to Milan, then get on an airport shuttle bus from Milan to Malpensa airport. But we did not feel like to work to a frantic state on the last day of a very relaxing vacation, so we took a taxi.
---
Please sent your comments to Mei-Ching's hotmail address.