2/19/2019, Lung Shan temple etc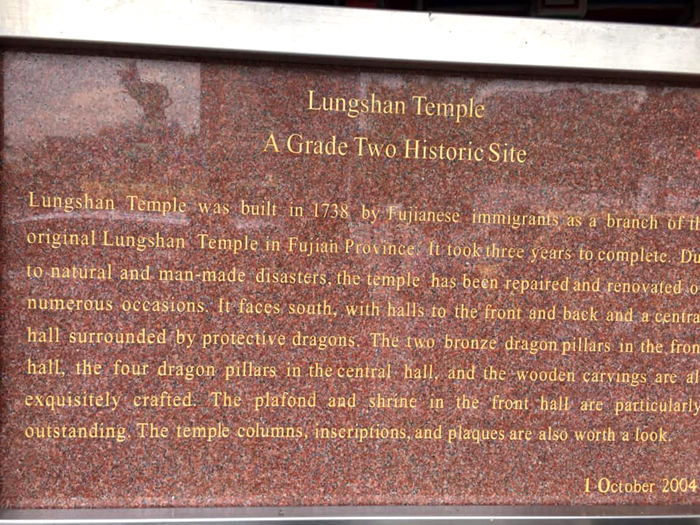 History of Lungshan Temple



Lungshan Temple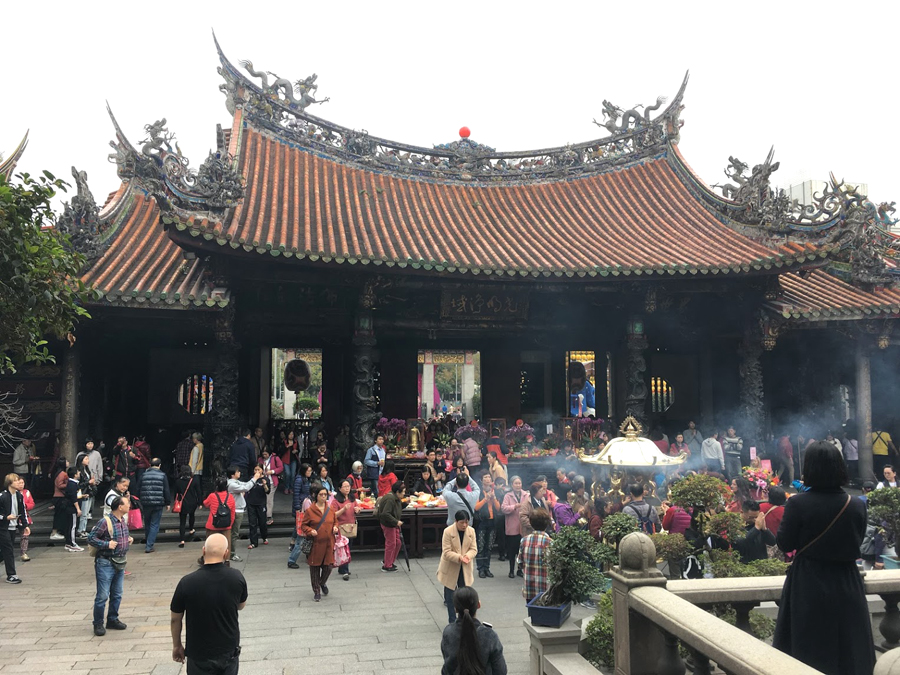 Carved dragons on the roof top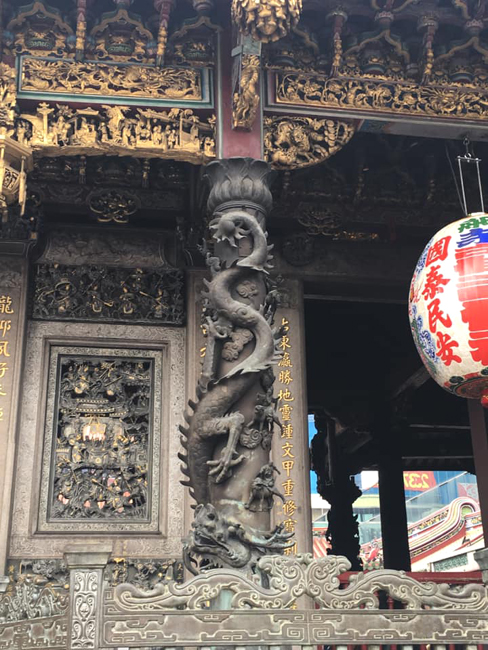 Carved dragons on marble columns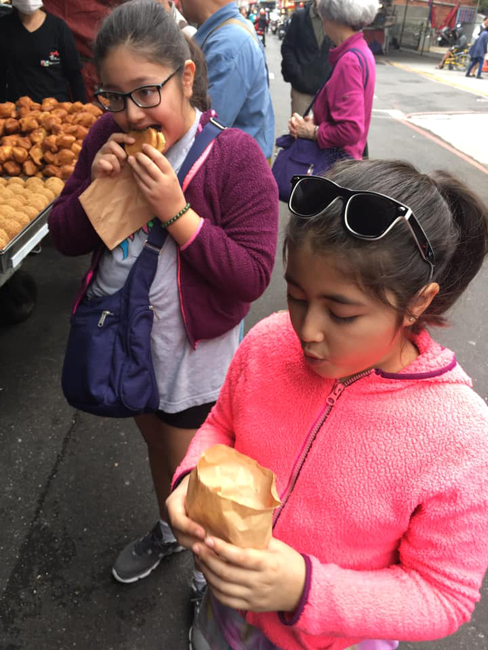 Munching on the round car-wheel cake (車輪餅) on the street which would become
part of the Lungshan night market in the evening.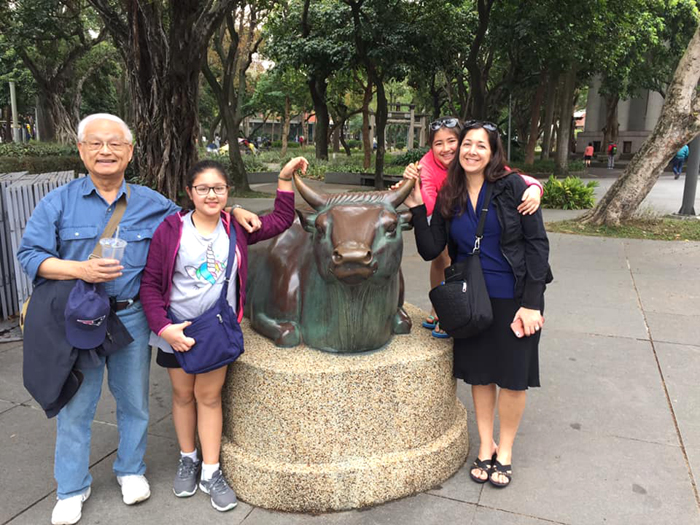 We made a brief stop at the February-28 Peace Park.
This is a statue of the popular Taiwanese water buffalo.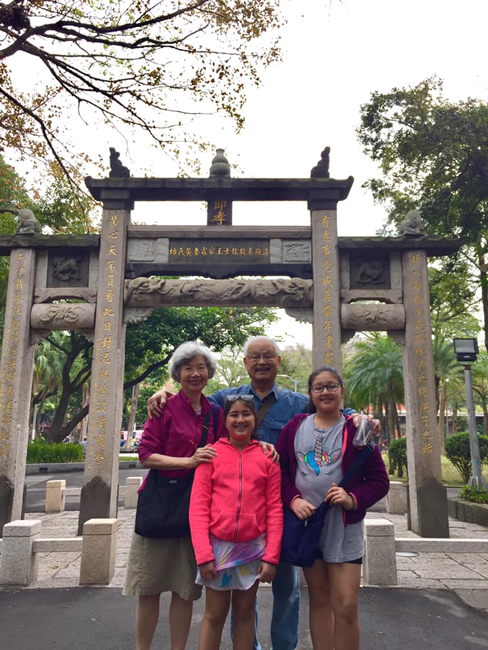 Inside the February-28 Peace Park.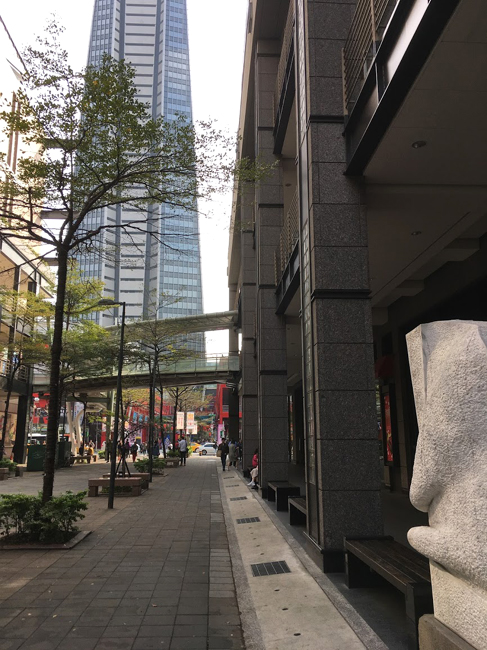 Mitsukoshi department store occupied several buildings in Shin-Yi district.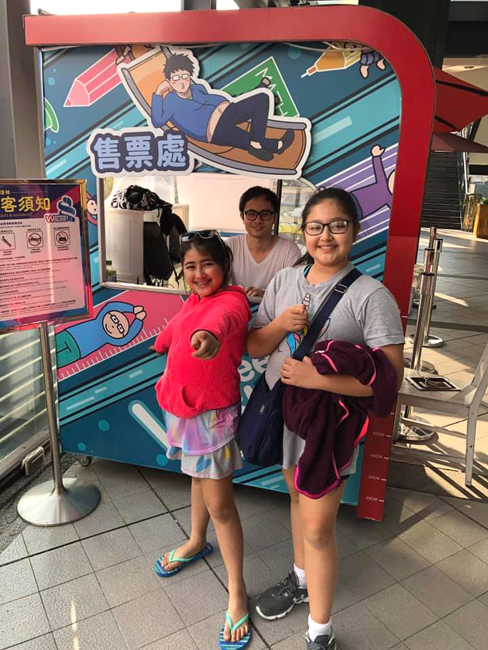 In this department store complex there was a fun slide that A/G enjoyed.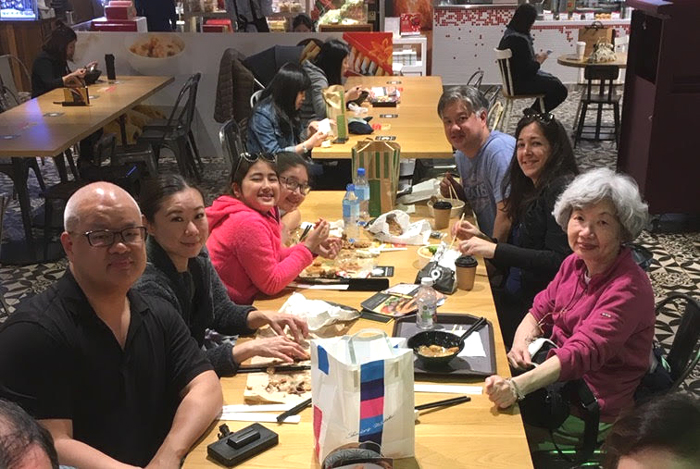 Lunch at one of Mitsukoshi's food court.
The youngsters had big pieces of fried chicken steak (雞排).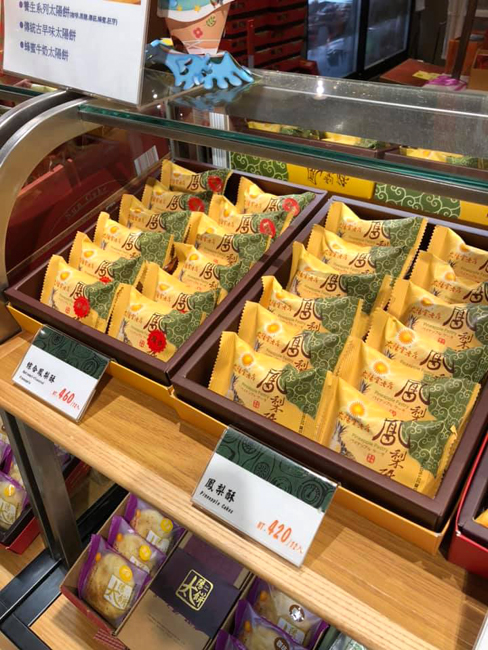 Many pineapple cake vendors on B1 level of the department store.
Each vendor's pineapple cake had different degrees of tartness and sweetness.
The dough also tasted different based on how much milk and butter were in it.
After tasting about 5 different vendors' products, Ayumi bought pineapple cakes from 太陽堂.
Elena bought from 奇華, a Hong-Kong based bakery but made them from Taiwanese local ingredients.
MC bought from 微熱山丘 (SunnyHills) located on a different floor.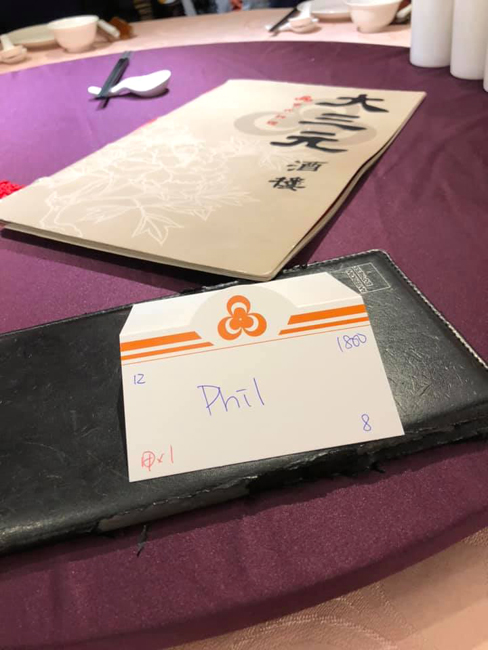 Philip made our dinner reservation in person last week.
Two days before our dinner date, the restaurant called to ask if we wanted roast duck,
because the restaurant only roasted 20 ducks per day, so we needed to reserve
ahead of time. Yes, we replied.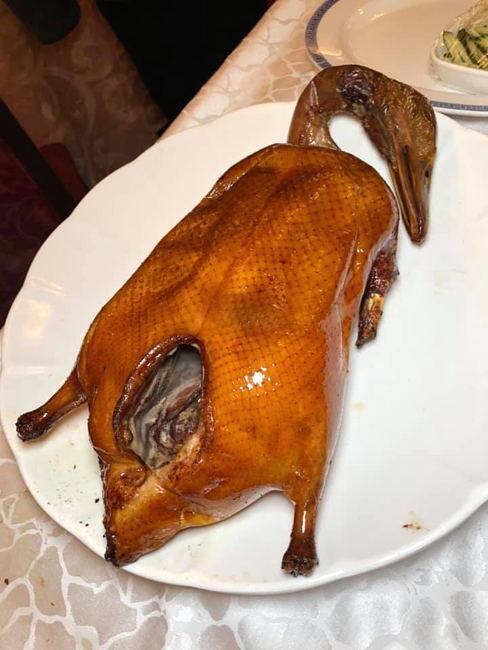 The grandkids were startled by the sight of the duck head.
These ducks are called Cherry duck (櫻桃鴨), because they were originally breed
by a UK-based firm called Cherry Valley Farms. (You may Google that.)
Today, Taiwanese Cherry ducks are raised in Yilan (宜蘭) in north-eastern Taiwan.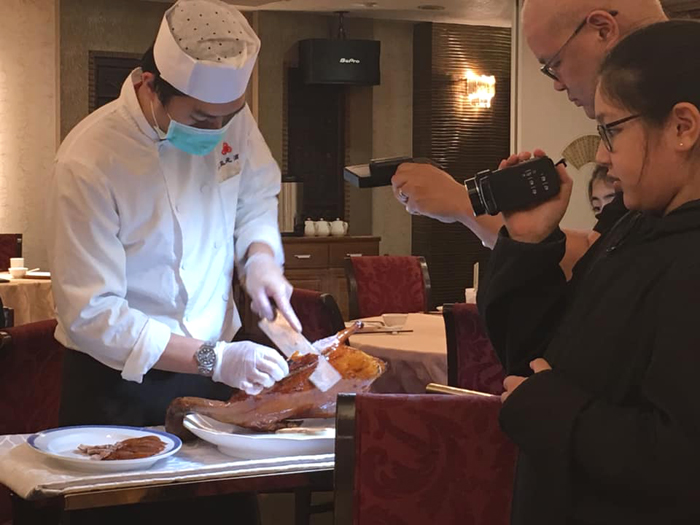 Two photographers taking videos of the chef carving the duck.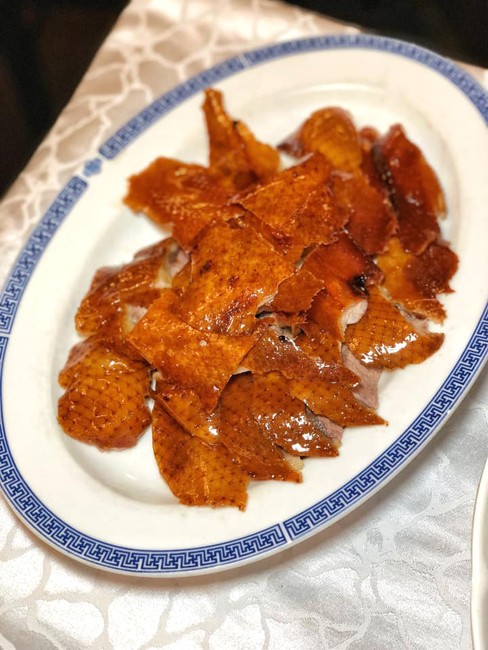 The first plate.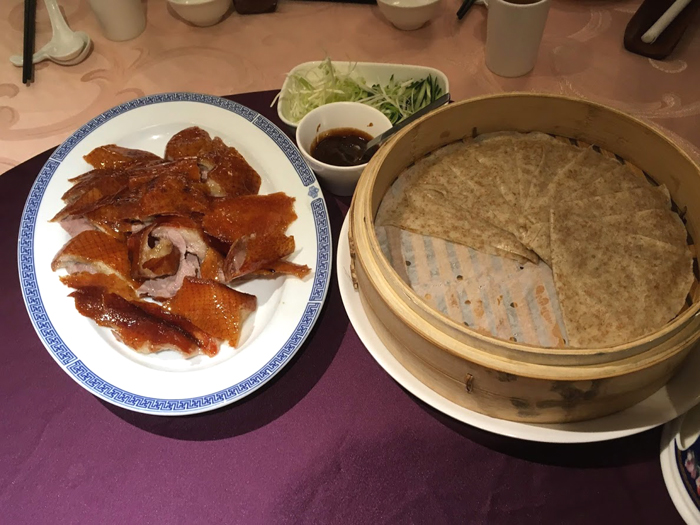 The second plate. The duck was melt-in-your-mouth tender.
The thin wheat pancake and condiments made the wrapped duck pieces very tasty.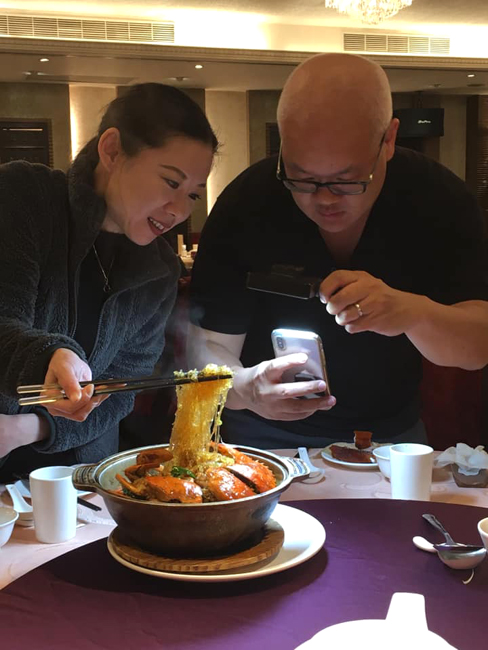 A well-practiced team taking Instagram food pictures.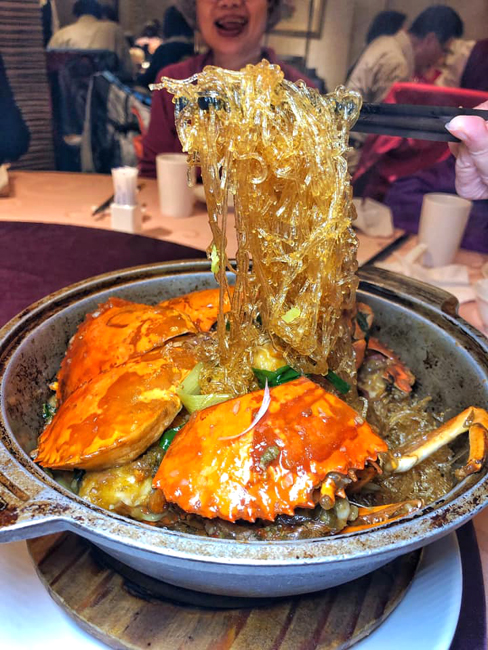 Sautéed crab on vermicelli (蟹肉粉絲)
The vermicelli soaked with the juice from crabs were SO good.
You may order it small with one crab (NTD1600), or two crabs (2 x NTD1600) like what's pictured.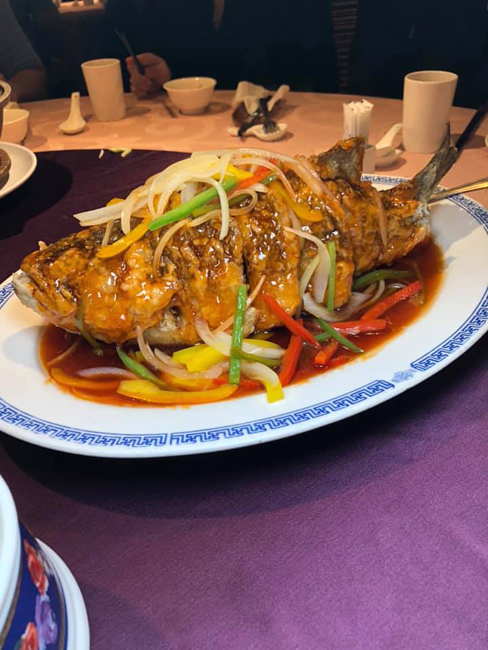 Sweet and sour fish (五柳魚), recommended by the restaurant, turned out to be mediocre.
The fish was pre-fried and cold, the sauce was too sweet.
We also ordered a 3-cup chicken (not on the menu, but the chef made it for us) which was below average.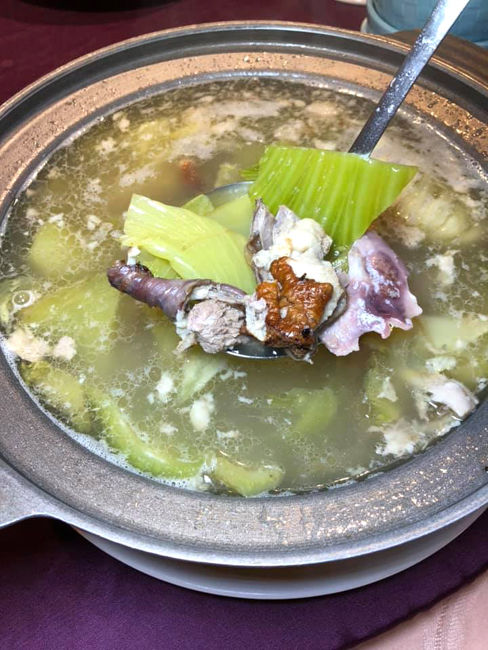 The duck bones was made into a huge pot of soup with vegetable for us.
By then we were already all full.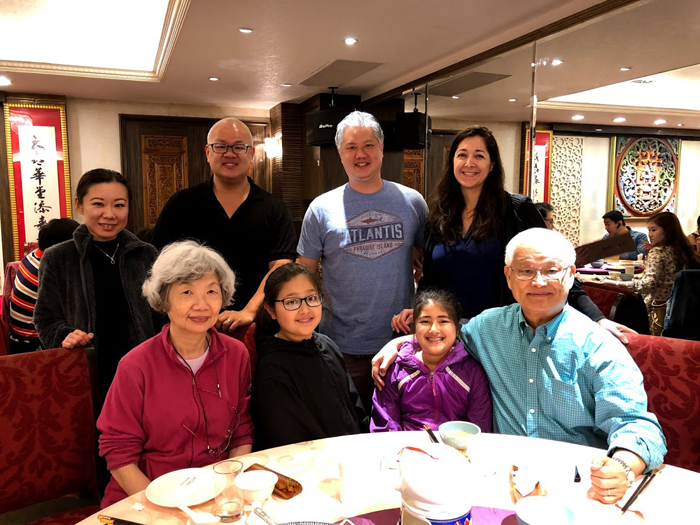 A nice photo to remember the good times we had together.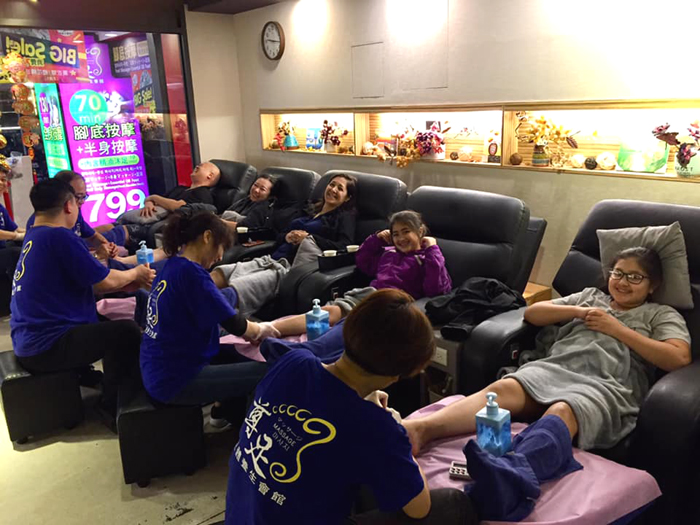 Enjoying an after-dinner foot massage at a foot massage parlor near our hotel.